Dill Pickle Potato Salad
This post may contain Amazon or other affiliate links. As an Amazon Associate I earn from qualifying purchases.
Dill Pickle Potato Salad: A creamy mustard potato salad recipe, fun and flavorful with crunchy dill pickles. This is how to make the best potato salad – it promises to be a summer favorite!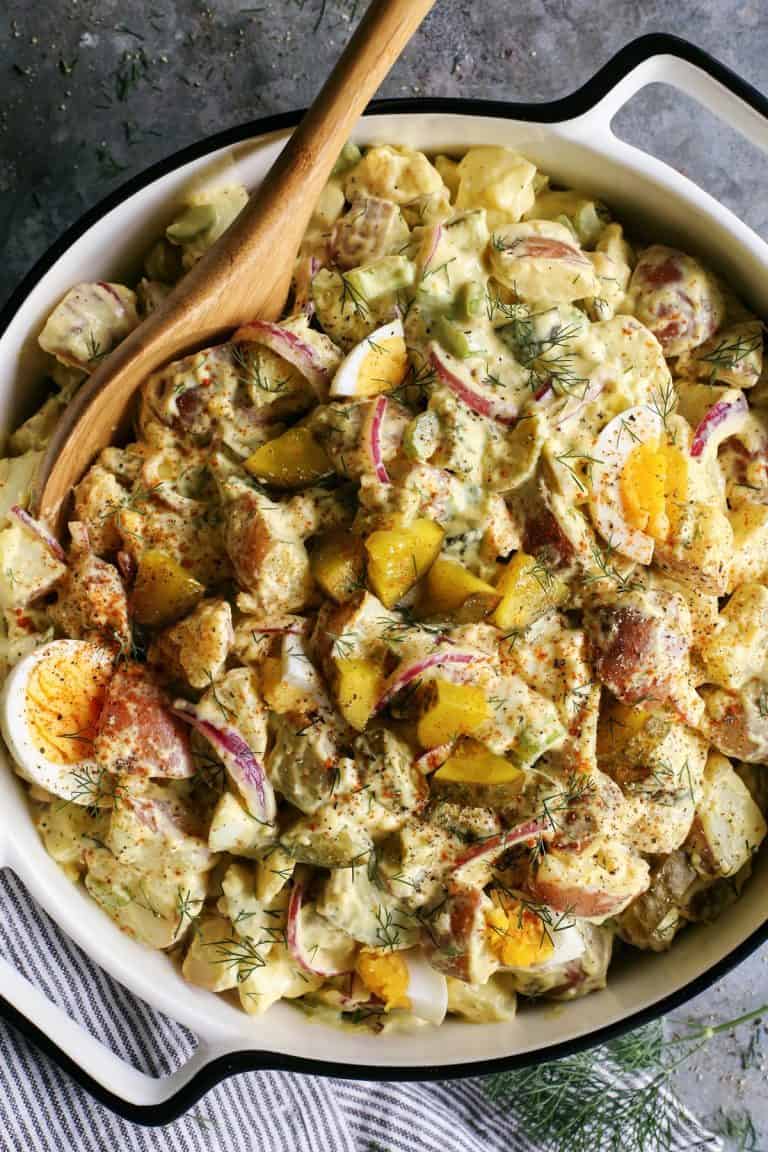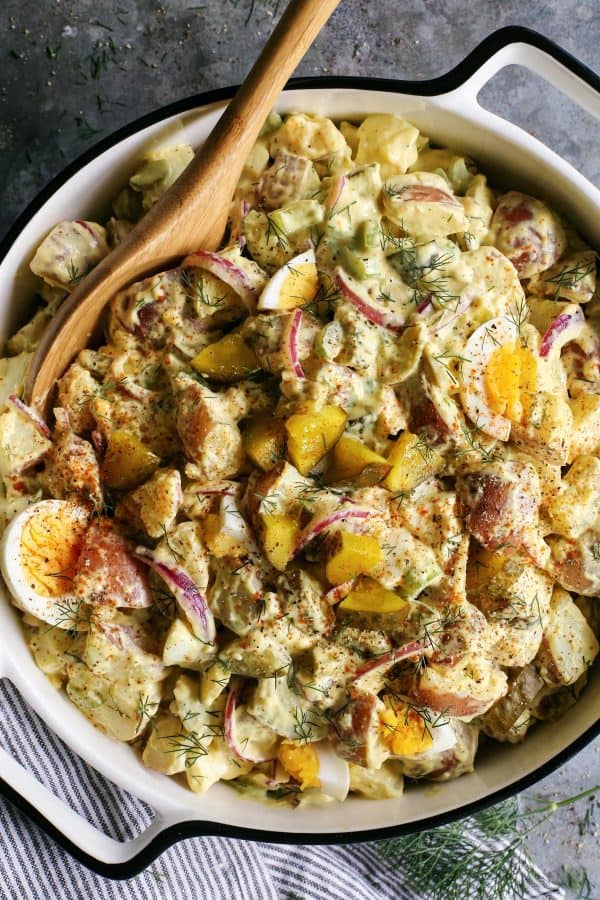 Dill Pickle Potato Salad is my favorite
I'm picky when it comes to potato salad.
Most important to me, I want the dressing to have a pronounced flavor of mustard.
And the salad cannot be dry; it must be well-dressed. With a fun dill pickly-tartness. Plus a nice amount of fresh dill…I get that dill thing from my mom. (Thanks, Mom!)
The salad also needs to contrast in texture, with both creamy and crunchy.
This Dill Pickle Potato Salad is all of these things. In my opinion, it's the best potato salad recipe out there.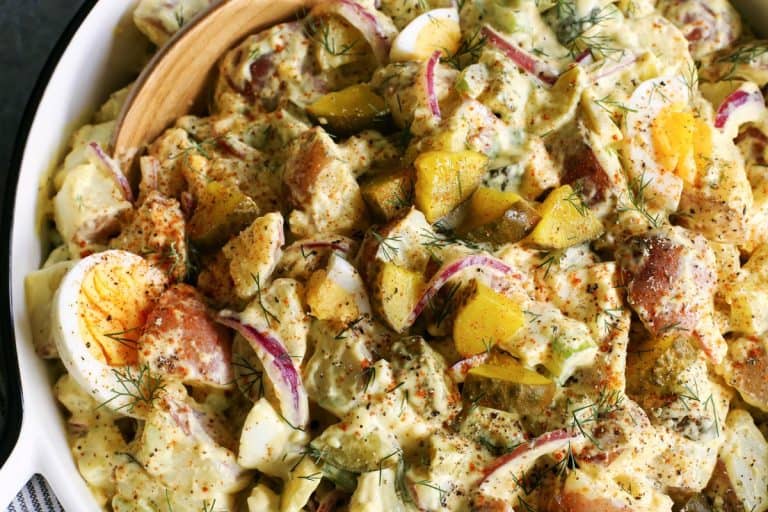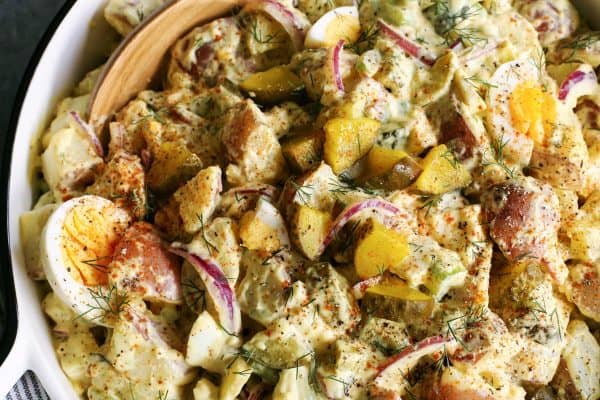 A riff on Roseanne Cash's Recipe
My dill pickle potato salad recipe is a riff on Rosanne Cash's potato salad. Yes, that's right – Rosanne Cash, daughter of the late Johnny Cash.
I found the recipe a couple years ago online and have been playing around with it each summer since, tweaking it to my own taste and texture preferences.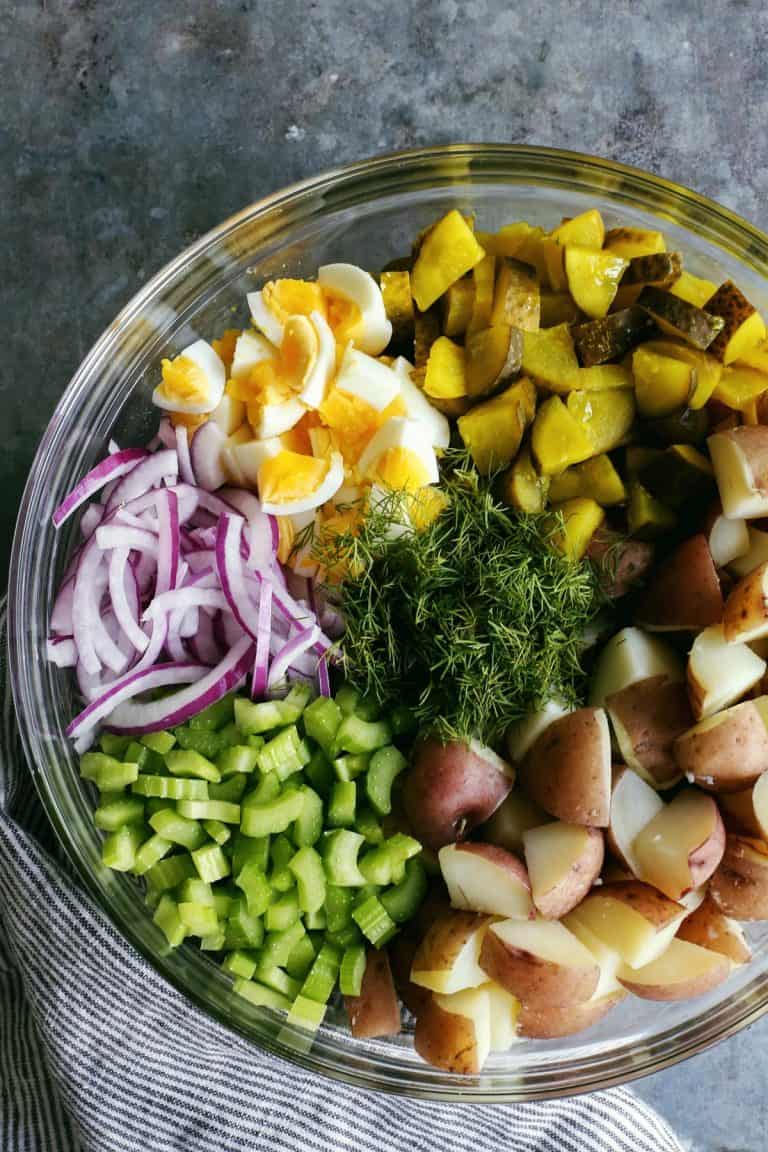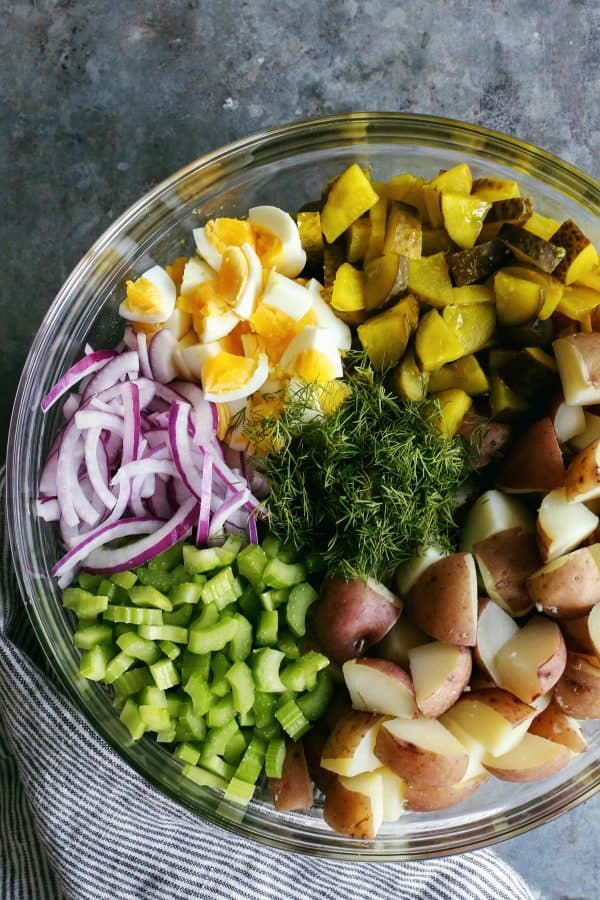 How to make the best potato salad
When it comes to the best potatoes for potato salad, I keep returning to red-skinned potatoes. Red potatoes are a waxy variety with thin skins. They have the least amount of starch and hold their shape when boiled. I like that they keep their firm texture, even after folding all the ingredients together with the potato salad dressing.
I look for potatoes that are no bigger than medium-sized for this recipe. Smaller potatoes yield better flavor. Also use potatoes that are similar in size, so they'll cook evenly in the same amount of time.
Beyond that, the rest of this salad's ingredients include:
dill pickles – I like how Rosanne Cash's recipe calls for spears, coarsely chopped
hard-boiled eggs – I'm a huge fan of potato salad with egg!
red onion – I like it sliced thin
celery – crunch, crunch, crunch!
fresh dill – just for you, Mom!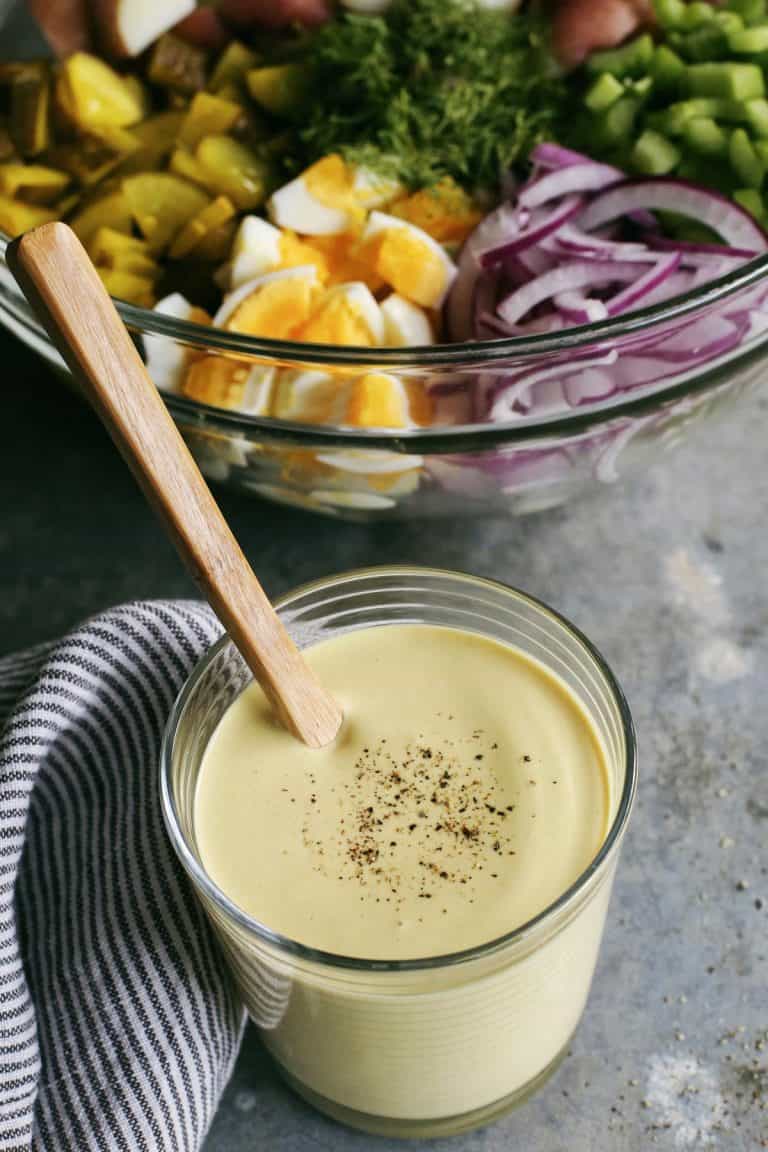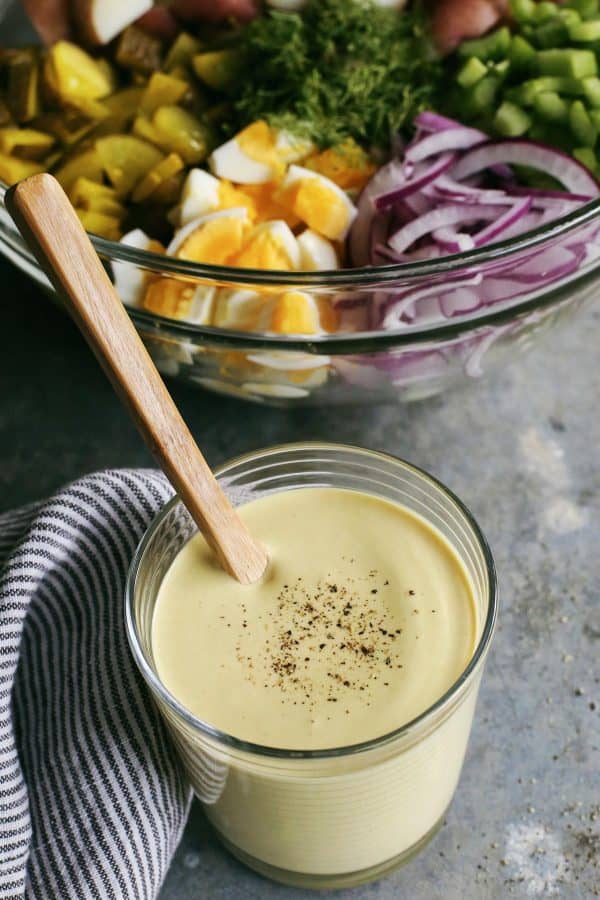 I love a creamy mustard dressing
And we all know that homemade potato salad calls for nothing but a tasty, homemade dressing.
At the base of this creamy mustard potato salad is mayonnaise, along with both yellow mustard and Dijon mustard. More of the yellow, less of the Dijon. I like the bright tang of the yellow and just of bit of Dijon's rich depth. A splash of white vinegar thins it out and brightens up the potato salad dressing even more.
While I like my salad well-dressed, the amount of dressing used is completely up to you. Fold in as little or as much as you like.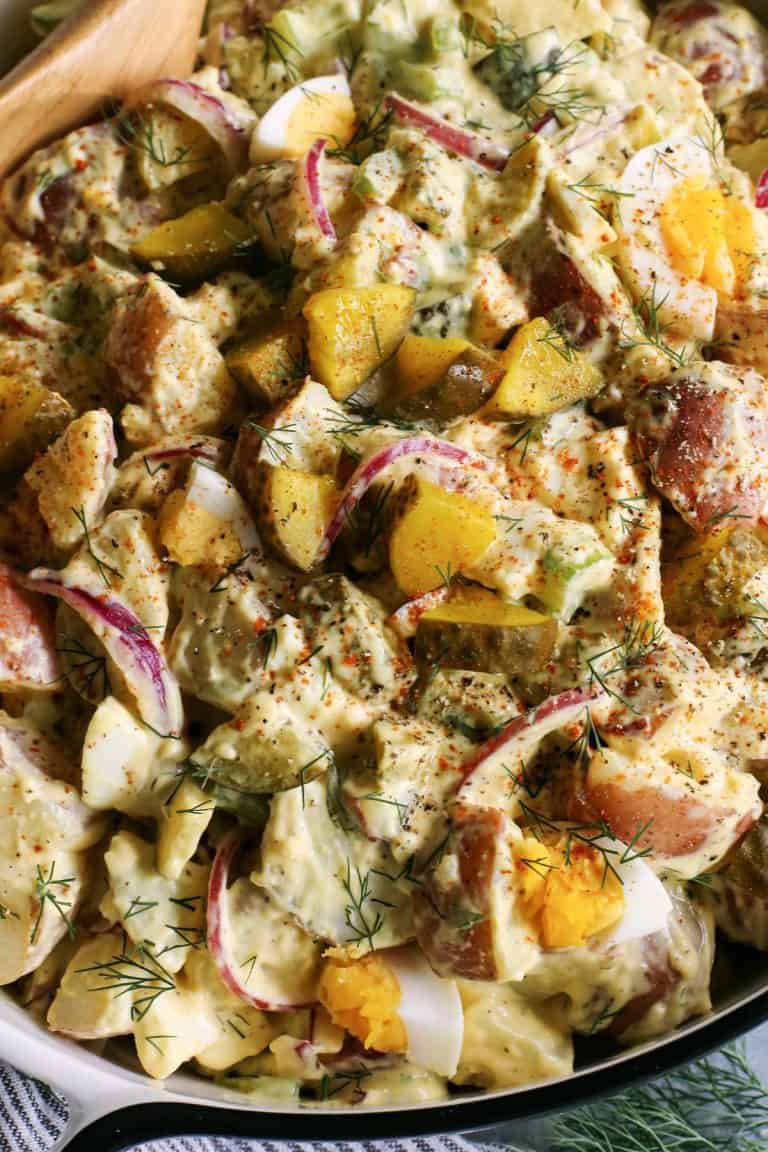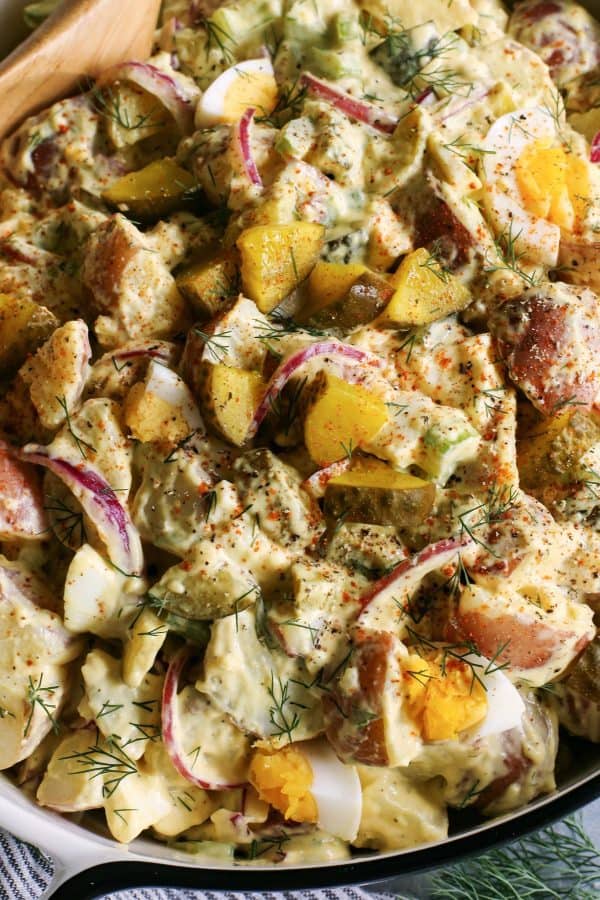 There's alot going on in this salad. And that's what I totally, completely love about it. It's all the very best stuff a classic potato salad is supposed to be.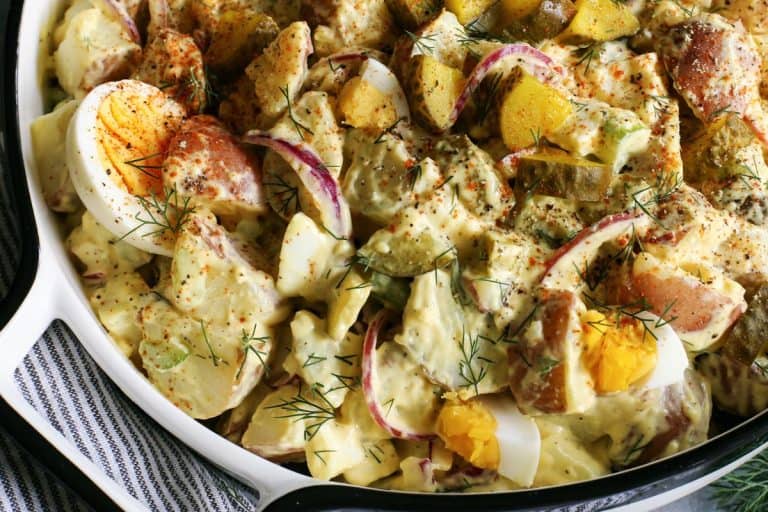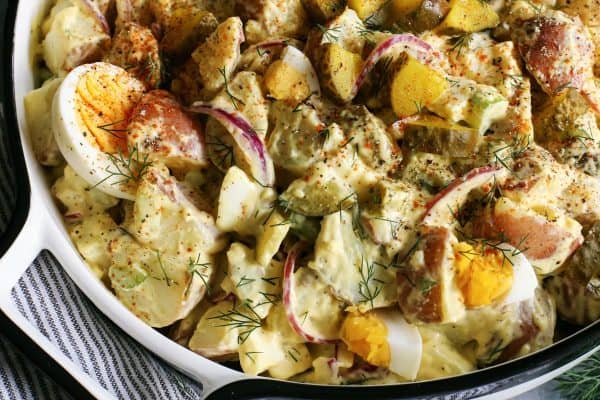 In the notes of the original recipe, it says that Rosanne Cash sometimes adds two-thirds cup chopped fresh cilantro and two teaspoons curry powder. Being a fan of curry, I do plan to try that variation at some point.
But for now, I'll be sticking to this recipe that I'm happy to now call my go-to. I hope it will become a summer favorite for you as well!
Like this recipe? Save it to Pinterest!
Like potato salad? Here are a couple more of my favorite recipes: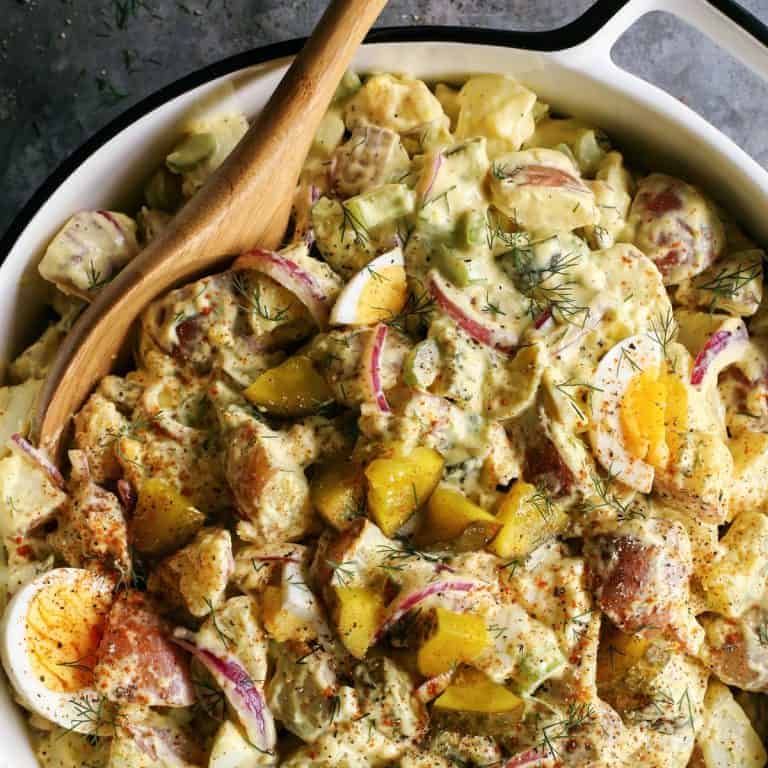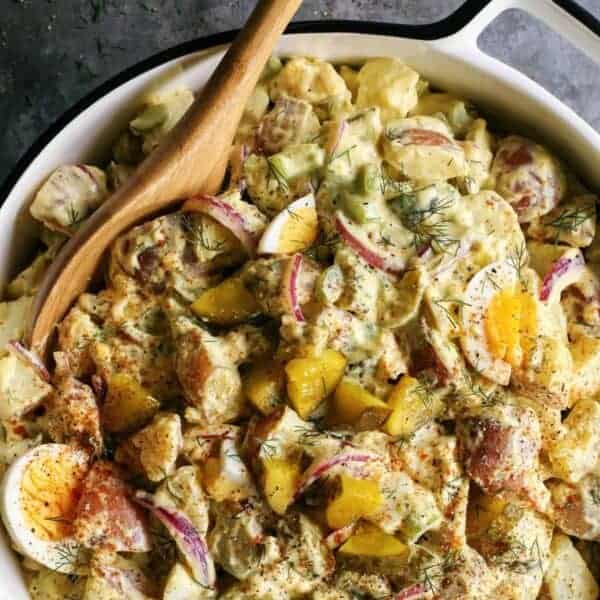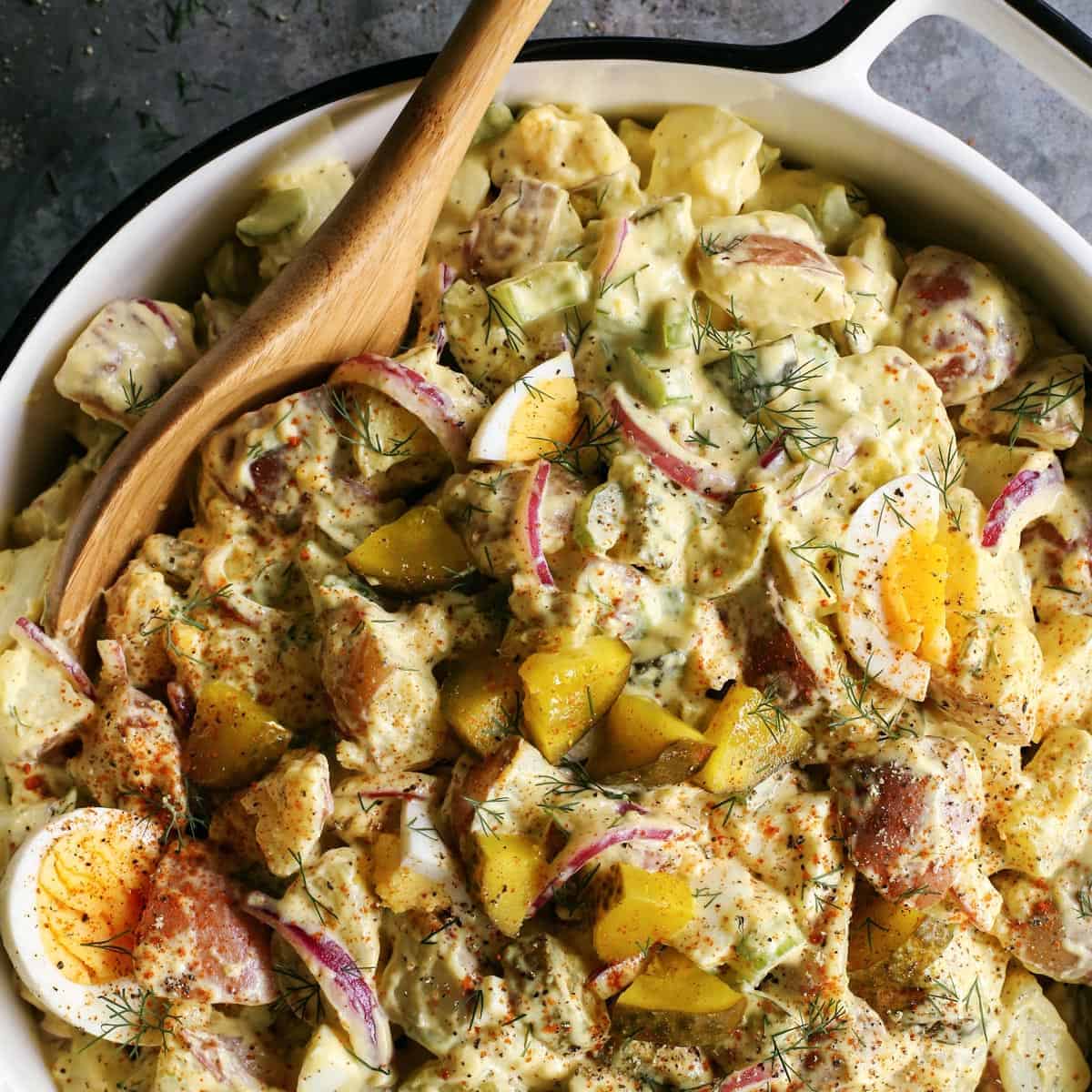 Dill Pickle Potato Salad
Yield: 10 servings
Prep Time: 30 minutes
Cook Time: 25 minutes
Total Time: 55 minutes
A creamy mustard potato salad recipe, fun and flavorful with crunchy dill pickles!
Ingredients
3 pounds medium red potatoes, unpeeled, scrubbed clean
1 T. kosher salt
1 c. mayonnaise
1/4 c. prepared yellow mustard
1 T. Dijon mustard
2 T. white vinegar
9 spears dill pickles, coarsely chopped, divided
3 celery stalks, chopped
half of a small red onion, thinly sliced
5 hard boiled eggs, peeled, coarsely chopped
2 T. finely chopped fresh dill, plus a bit more to sprinkle over the top
1-1/2 tsp. kosher salt, or to taste
1/2 tsp. freshly ground black pepper, plus a bit more to sprinkle over the top
a few pinches of paprika
Instructions
prepare potatoes: A few hours prior to serving, place potatoes in a medium-large pot and fill with water to cover by a few inches. Toss in the tablespoon of kosher salt. Bring water to a boil and cook potatoes until fork-tender, about 25 minutes or so. Transfer potatoes to colander in the sink and run cold water over them. Let drain and cool completely. If you are able to prepare the potatoes the day prior, that's even better. The potatoes will slice up cleaner.
prepare dressing: In a small bowl, combine mayonnaise, yellow mustard, Dijon mustard, and vinegar. Cover and place in refrigerator to chill.
assemble salad: Cut cooled potatoes into chunks, about 3/4" in size. Transfer to a large mixing bowl, and then add pickles (reserve a few pieces to sprinkle over the top), celery, onion, eggs, and dill. Fold to combine. Drizzle about half of the dressing over the salad ingredients, and then fold to evenly combine. If you want it saucier, add more dressing. I like it well-dressed and tend to use nearly all the dressing. Sprinkle with 1-1/2 teaspoons (or to taste) kosher salt and the black pepper, and fold again. Top with reserved pickle pieces, some freshly ground black pepper, and some paprika. You can serve the potato salad immediately, but I prefer to cover and let chill for a couple hours prior to eating.

To prepare ahead of time: Boil potatoes the day prior and store in a covered container in the refrigerator. Prepare dressing the day prior and store in the refrigerator. Prepare chopped salad ingredients the day prior and store in a separate container in the refrigerator. Then assemble and chill the potato salad a couple hours prior to serving.
We participate in the Amazon Services LLC Associates Program, an affiliate advertising program designed to provide a means for us to earn fees by linking to Amazon.com and affiliated sites. See our
disclosure policy
for more info.