Mom's Refrigerator Sweet Pickles
A quick and easy Refrigerator Sweet Pickles recipe to preserve all those fresh garden cucumbers. It has a short ingredients list, with no need for fancy equipment!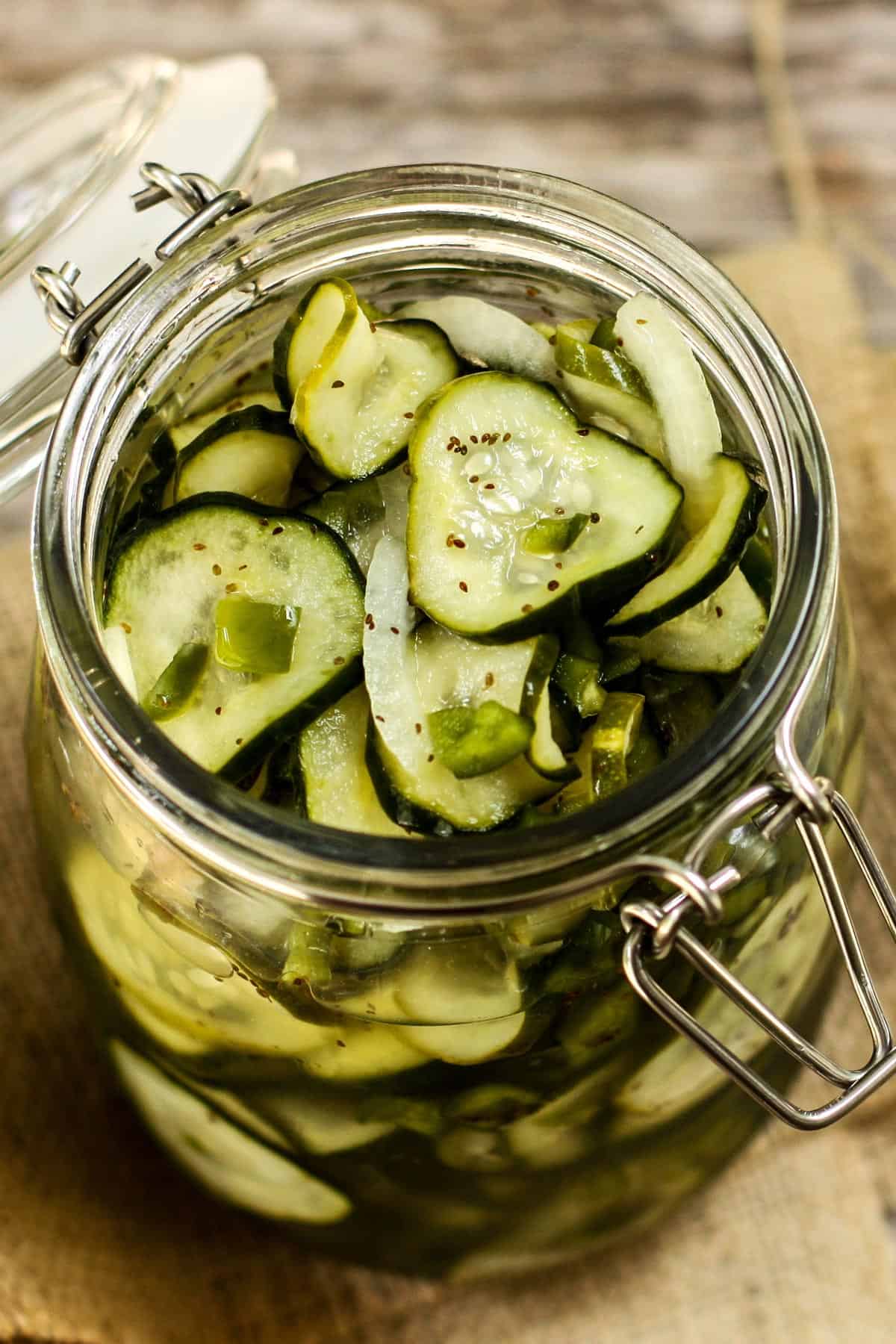 My Must-Make Refrigerator Sweet Pickles Recipe!
A number of years ago, my family – to include both my sisters and their husbands and kids – rendezvoused at my parents' home in South Dakota.
It was early August, in the heat of summer. And our entire family hadn't been altogether for way too long. For a few short days, we stepped away from routine to enjoy time together playing games, taking walks, swimming, catching fish, and just plain catching up.
And, oh yeh…eating.
Dad and Mom left no plate unturned, filling us up like only going home can do.
It was during this visit that I was reminded of, and treated to, Mom's Refrigerator Sweet Pickles. It had been yeeeeeears since I had enjoyed them. How could I have possibly forgotten about these crunchy summer bites that I grew up with?! They're now my must-make refrigerator sweet pickles recipe!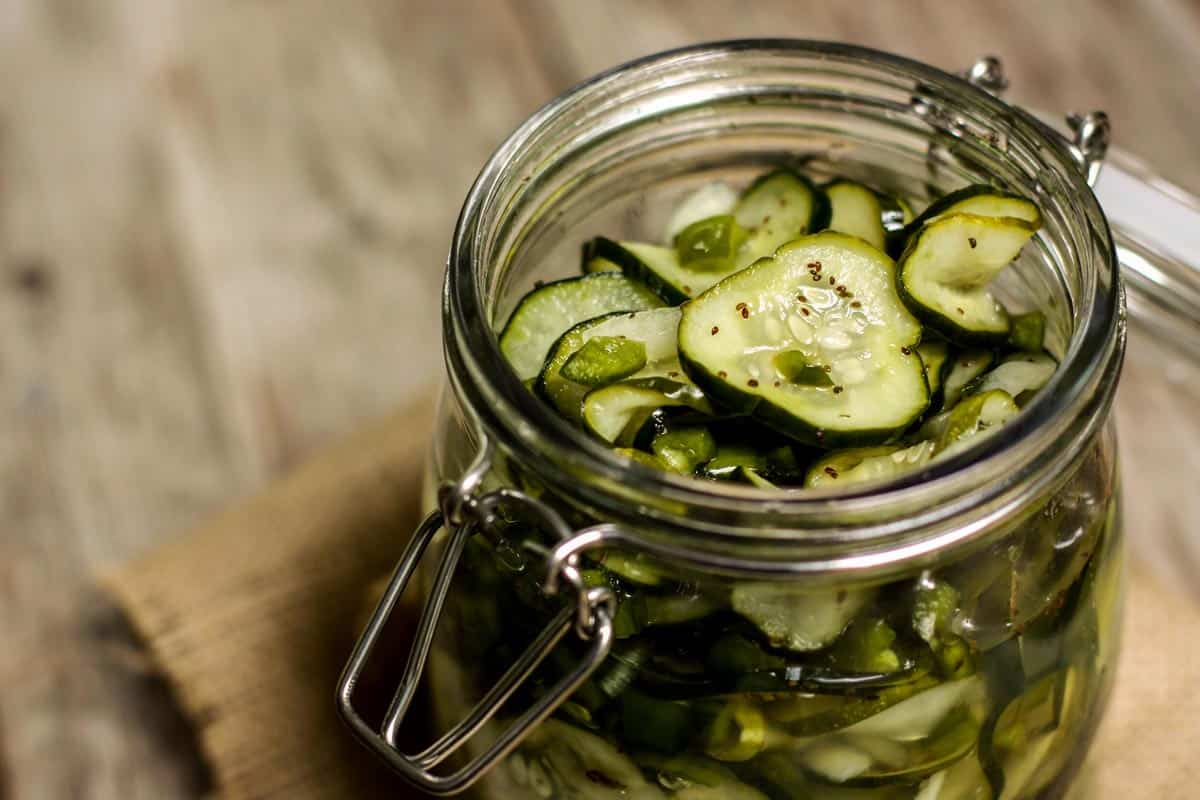 Well, I'm not ashamed to say that I ate more than my fair share of Mom's pickles. I spooned that tangy goodness onto my plate as if it were a salad, each and every meal.
Such is the case with me and pickles. Set some Pickled Squash in front of me. Or Pickled Asparagus. Or these Pickled Red Onions, that I'm never without. And I'm a happy prisoner to their pickled goodness.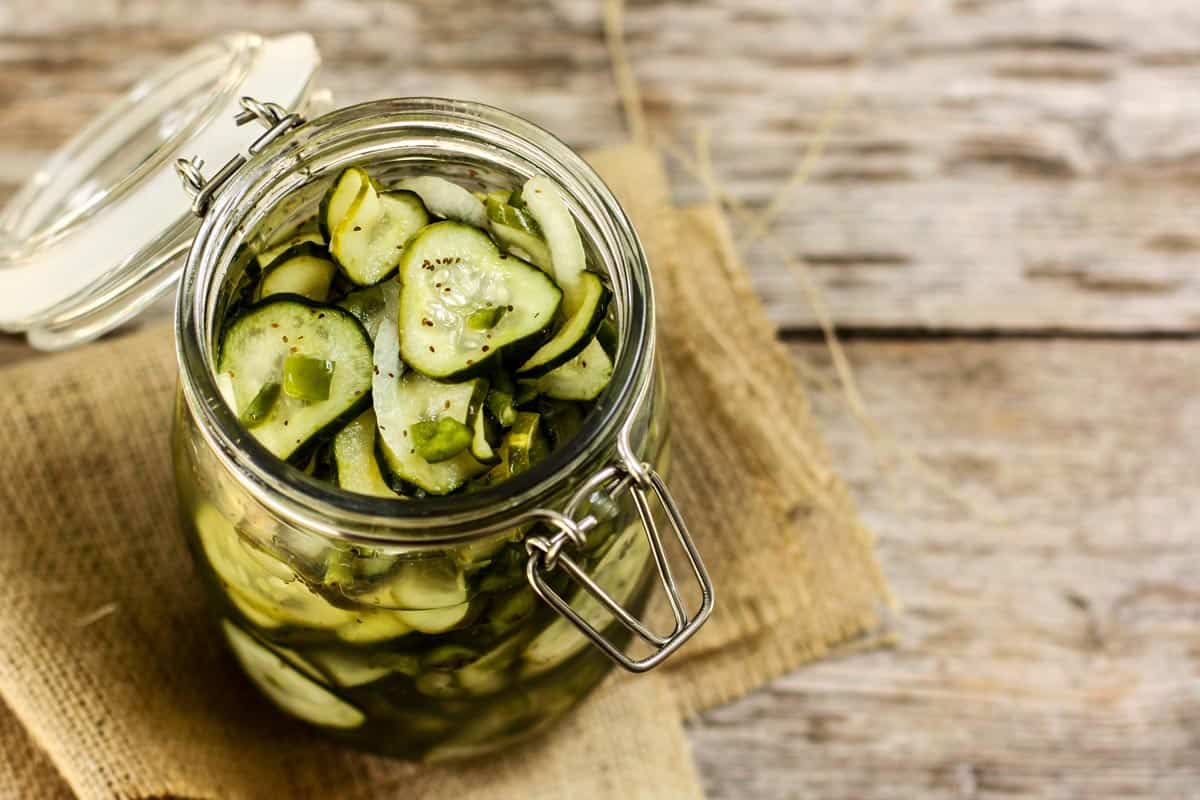 So, before we left, I asked Mom for the recipe.
Seems like every time I visit Dad and Mom, I take at least two or three recipes back home with me.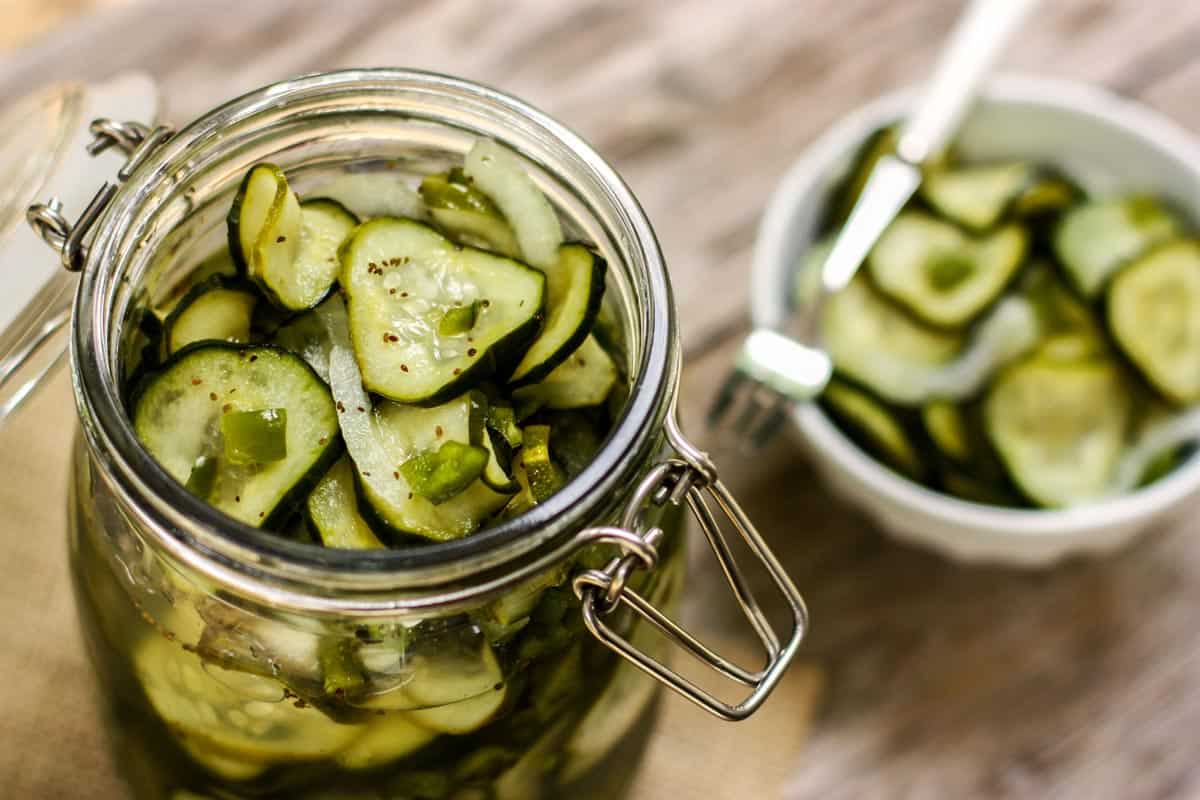 How to Make Refrigerator Sweet Pickles
This recipe for refrigerator sweet pickles is a perfect way to preserve all those fresh end-of-summer garden cucumbers. The pickles come together in quick and easy fashion, with a short list of ingredients. And there's no need for any fancy equipment.
Here's what you need to do:
Make a simple pickling brine on the stovetop – I love the celery seeds in this!
Pour the brine over sliced cucumbers, onions, and green pepper – use a mandoline for quick, even veggie slices!
Store in the refrigerator. And you're done!
THAT. Is the beauty of refrigerator pickles.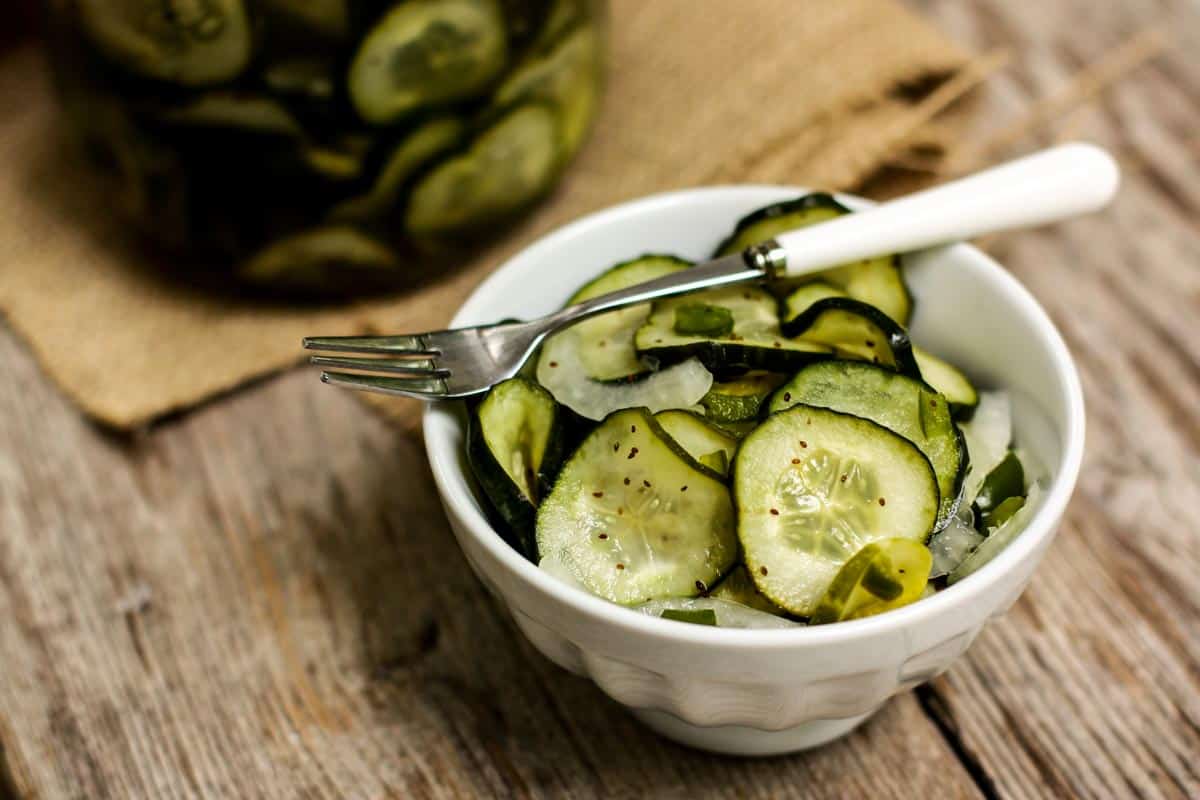 What to Serve with Sweet Pickles
I like to eat these refrigerator sweet pickles absolutely any time of day, from breakfast to supper.
The pickles are great with a plate of breakfast eggs. They're an excellent topper for burgers, hotdogs, egg salad sandwiches, tuna salad, and fried chicken sandwiches.
Anytime you're looking for a fresh, bright, tangy contrast…these sweet pickles are your friend.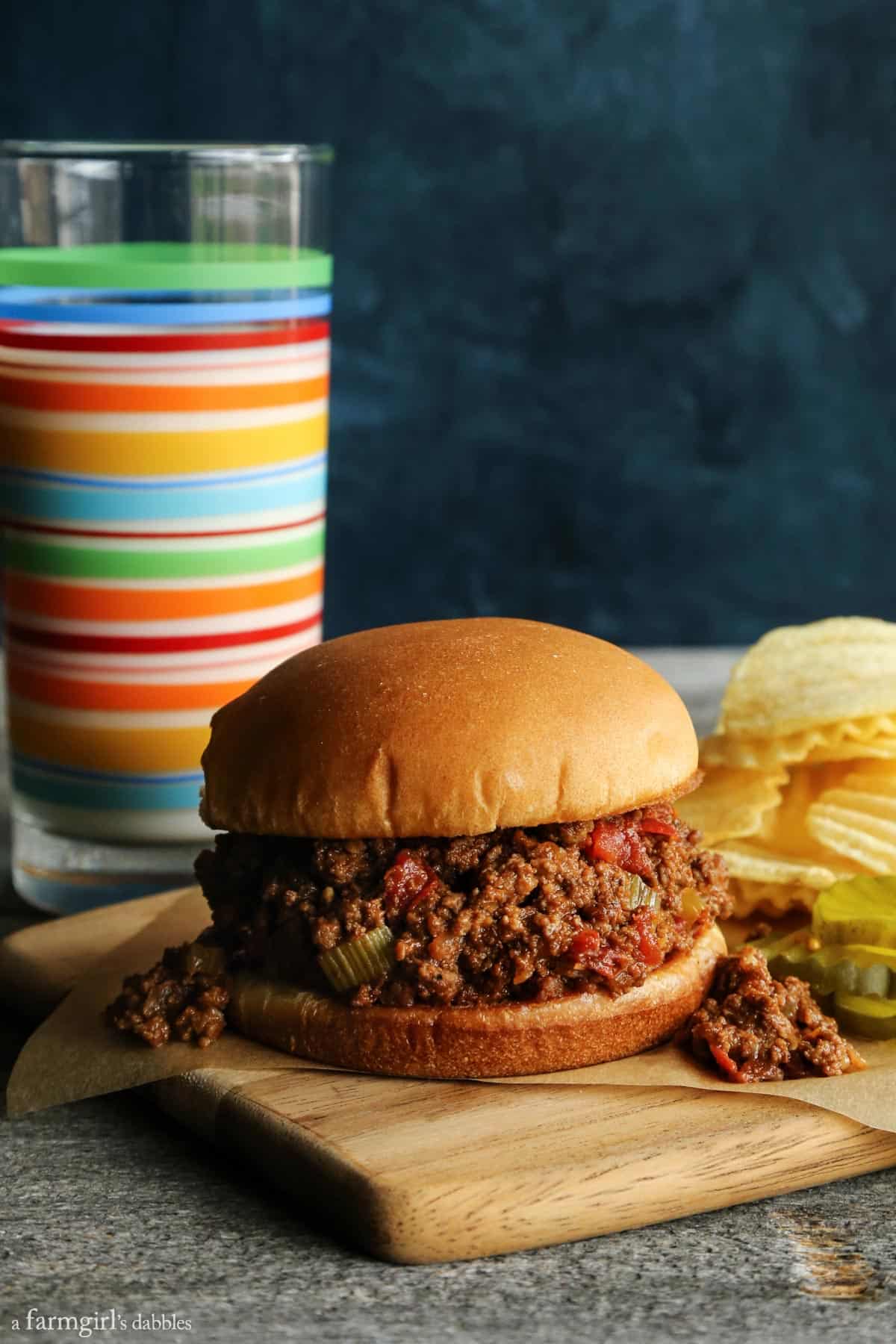 One of my very favorite combinations, though, is to serve Mom's sweet pickles with slow cooker sloppy joes and thick, rippled potato chips. It's the very best food trio!
Like this easy pickles recipe? Save it to Pinterest!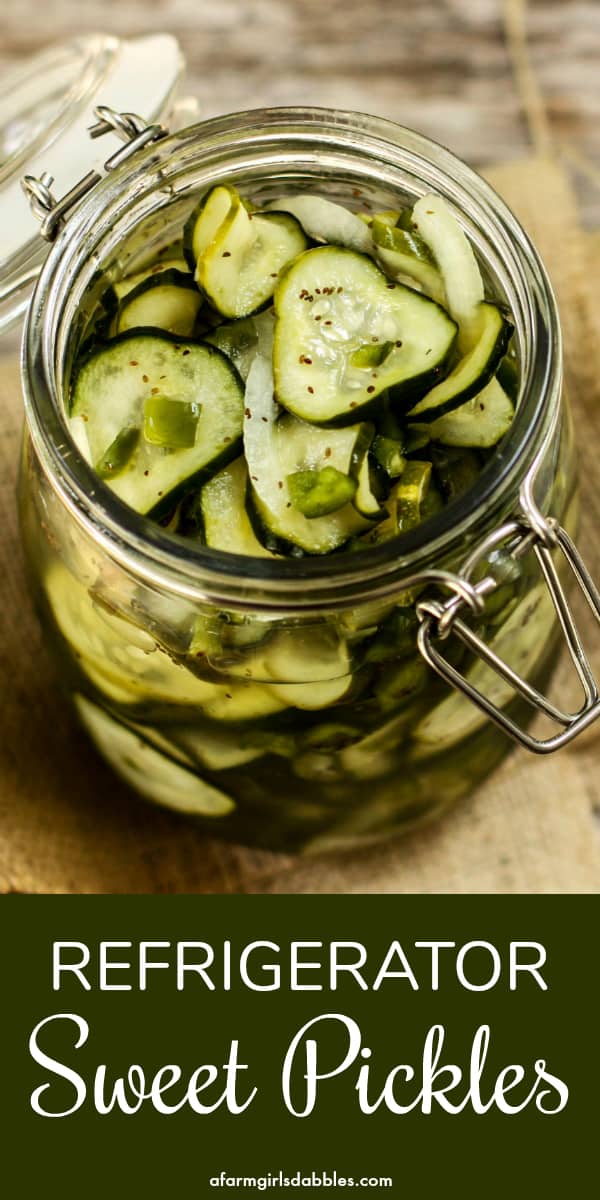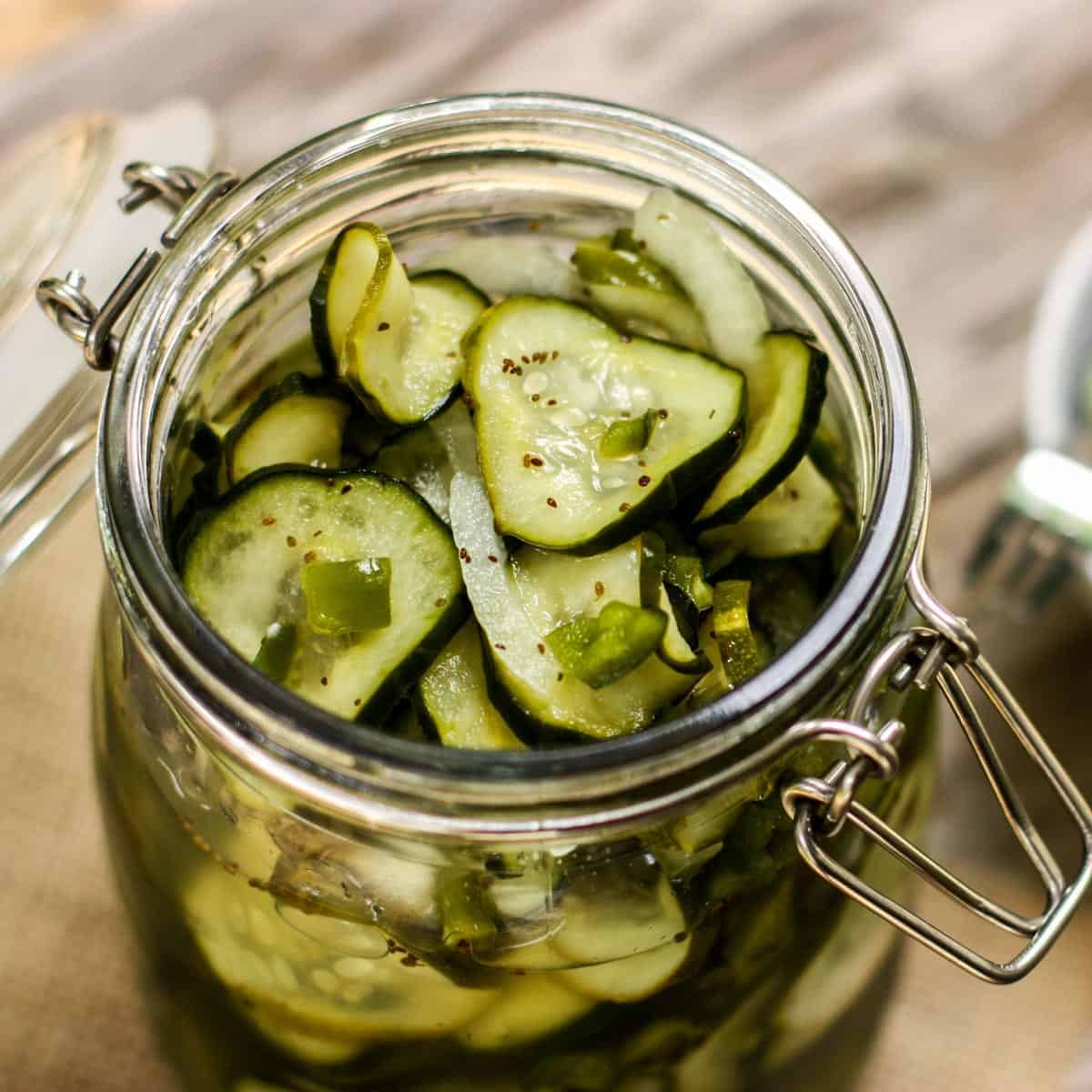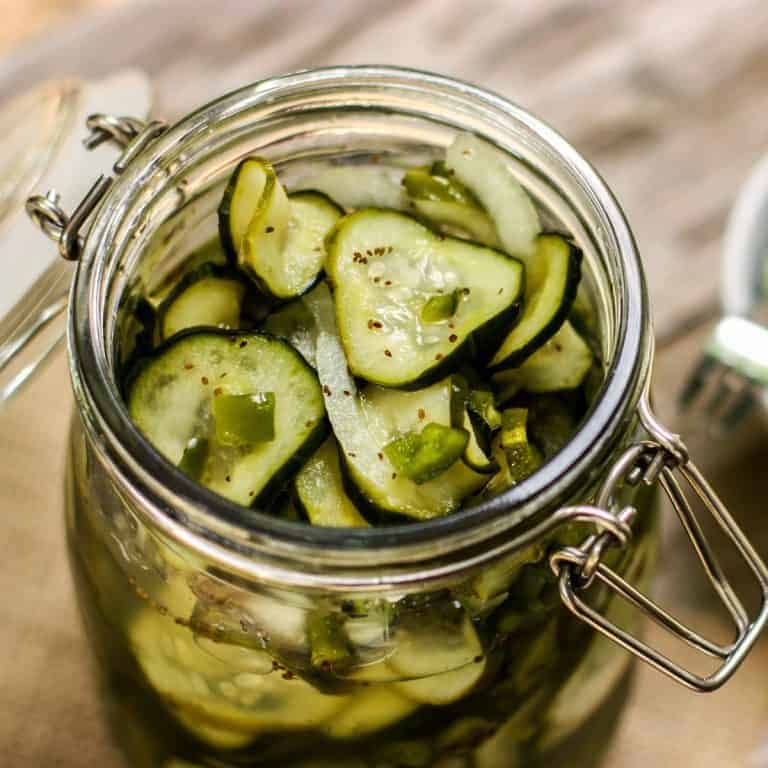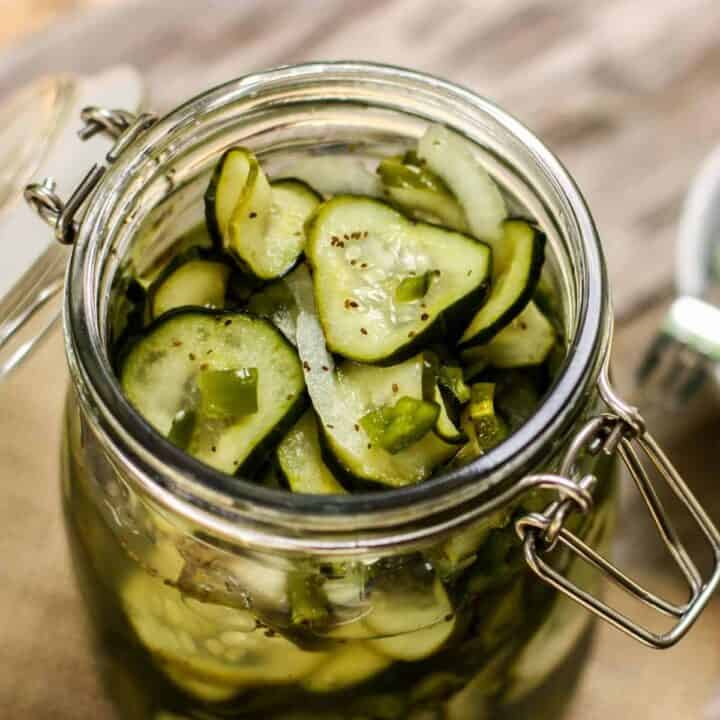 Mom's Refrigerator Sweet Pickles
Yield: about 2 quarts
Prep Time: 20 minutes
Cook Time: 5 minutes
Total Time: 25 minutes
What a great way to preserve all those fresh end-of-summer garden cucumbers! This sweet pickles recipe is from my mom's recipe box, and comes together in quick and easy fashion. It has a short list of ingredients and there's no need for any fancy equipment!
Ingredients
7 cups thinly sliced cucumbers, ends of cucumbers discarded
1 cup thinly sliced onions, chopped into smaller pieces if desired
1 cup diced green bell pepper
1 tablespoon pickling salt
2 cups granulated sugar
1 cup white vinegar
1 tablespoon celery seed
big sprig of fresh dill
Instructions
Combine cucumbers, onions, bell pepper, and pickling salt in large heat-proof bowl, preferably one with a lid. Stir and let sit on the counter for 1 hour. Drain well. (I use a Benriner mandoline for thin, even slicing.)
Meanwhile, in a medium saucepan over medium-high heat, heat the sugar, vinegar, and celery seed. Whisk rapidly until sugar dissolves completely.
Remove saucepan from heat. If you like a crisper pickle, let brine cool to room temperature (If you want to speed up the cooling, pour the brine into a separate bowl and place in the fridge or freezer to cool down quickly). Otherwise, just pour the hot brine over the cucumber mixture - this is what I usually do!
Add the dill and fold everything to combine. Place a lid on the bowl and refrigerate for 2 days before eating, to let flavors mingle. Eat straight from the bowl, or transfer to jars if desired. Pickles keep well for up to 3 weeks.
Nutrition Information:
Yield: 20
Serving Size: 1
Amount Per Serving:
Calories: 95
Total Fat: 0g
Saturated Fat: 0g
Trans Fat: 0g
Unsaturated Fat: 0g
Cholesterol: 0mg
Sodium: 31mg
Carbohydrates: 23g
Fiber: 1g
Sugar: 21g
Protein: 1g
Nutrition information is automatically calculated by Nutritionix. I am not a nutritionist and cannot guarantee accuracy. If your health depends on nutrition information, please calculate again with your own favorite calculator.