Pickled Asparagus
Pickled Asparagus is a special springtime treat that's great for snacking. Include these delicious spears on your appetizer trays and cheese boards. They're also pretty awesome in a Bloody Mary!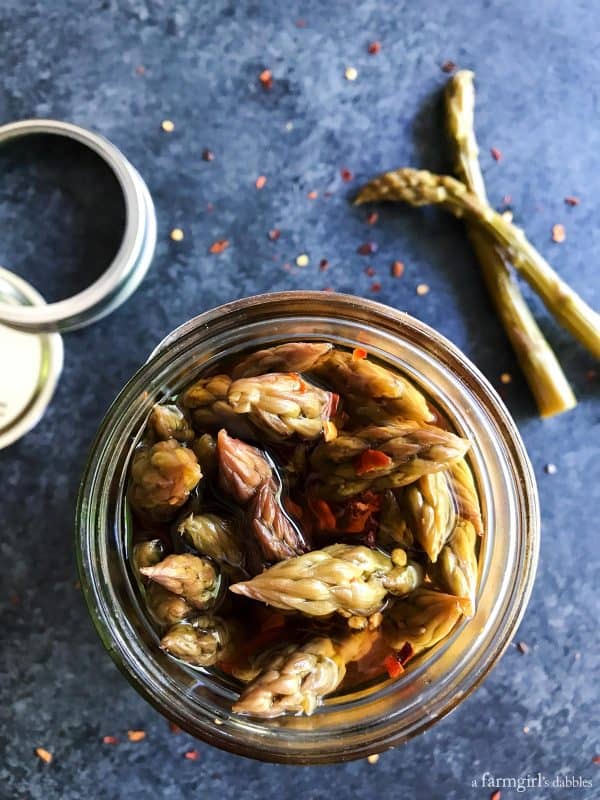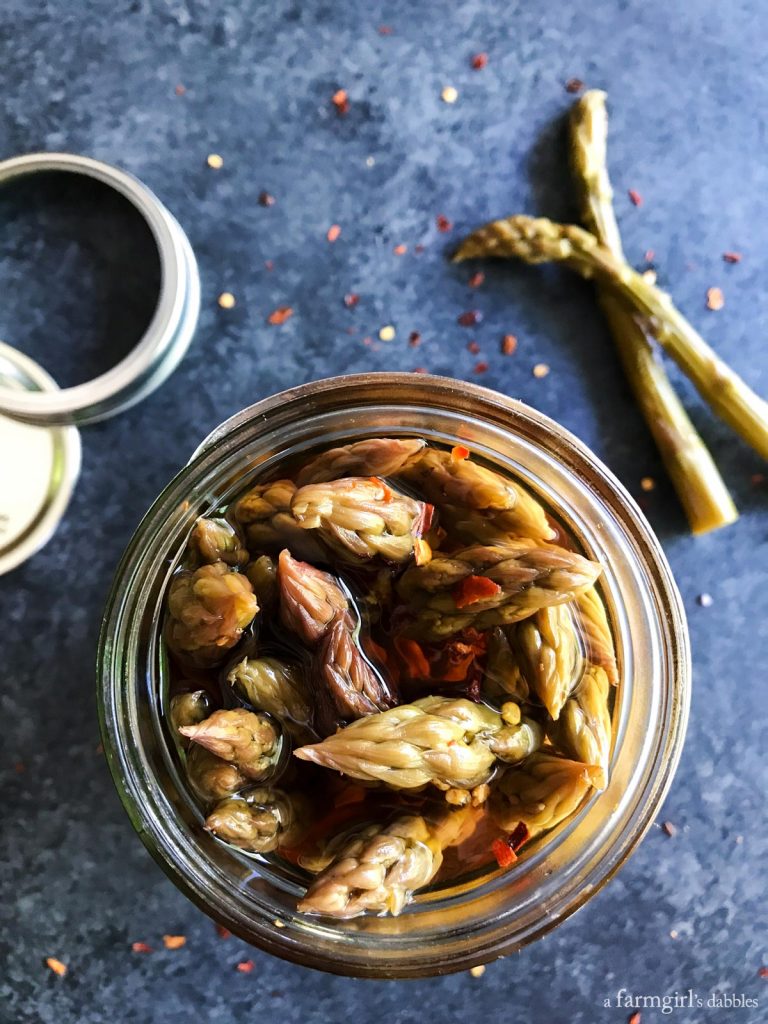 I dug out my huge black-and-white-speckled enamelware canning pot and boxes of jars last weekend, after not touching them for almost 10 years.
I was hyped.
My mouth was watering at the thought of biting into spears of pickled asparagus, an addictive treat I long for every spring when asparagus is abundant, extra sweet and tender, AND inexpensive.
Pickled Asparagus. I just love this time of year!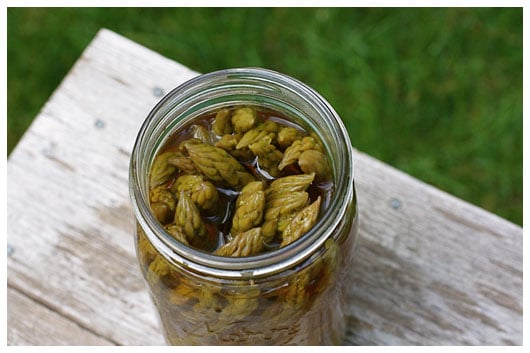 Pickled Asparagus
This pickling recipe comes from the husband of one of my girlfriends, during the time I lived in North Dakota. This was Jim's specialty, a treat that many people looked forward to whenever spring rolled around.
Jim had access to an asparagus field. Can you imagine?! Talk about an awesome backstage pass to fresh springtime eats.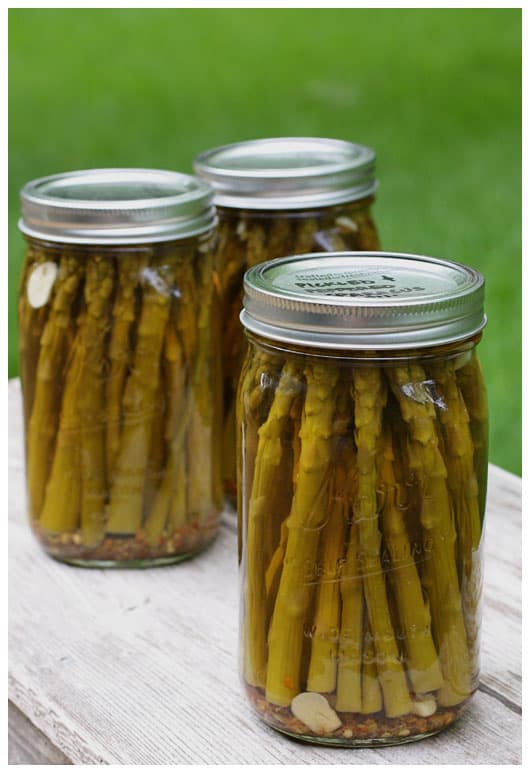 For most of the time I lived in North Dakota, I was on a Friday night bowling team with a handful of girlfriends. (The pickled asparagus frenzy comes from one of those girlfriend's husbands.)
We had so much fun those Friday nights. And even though my bowling was never spectacular, our time together always was.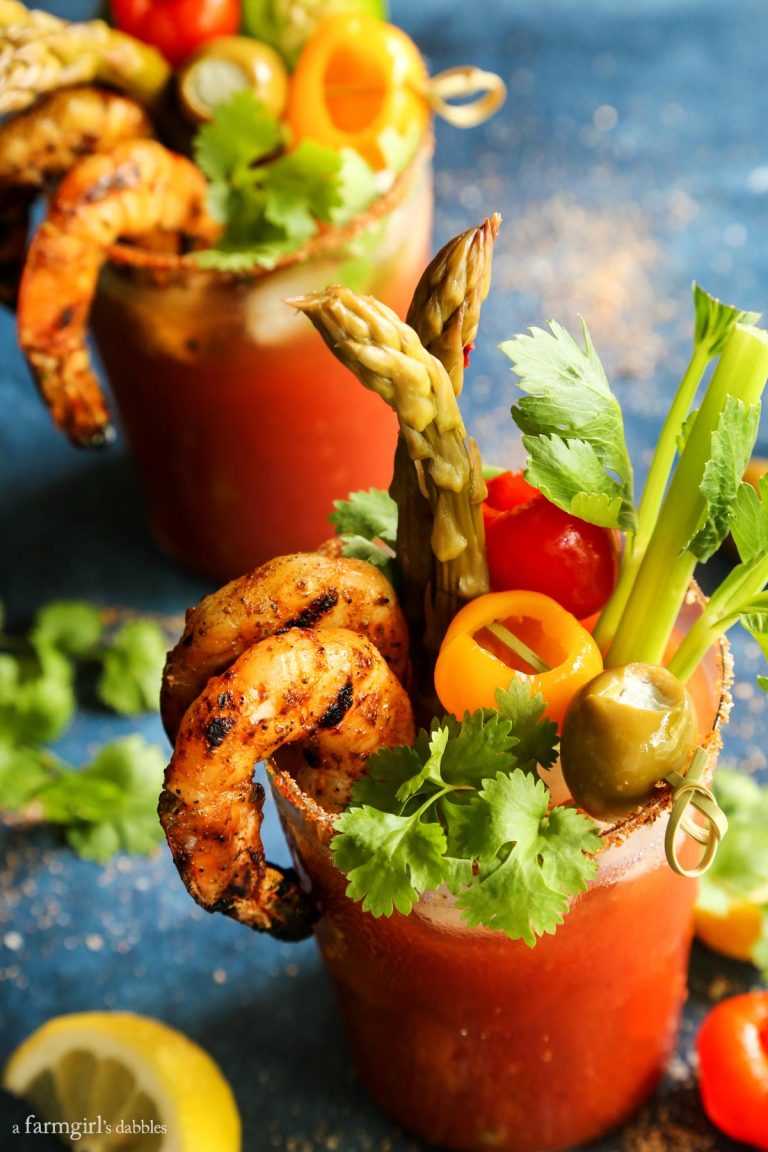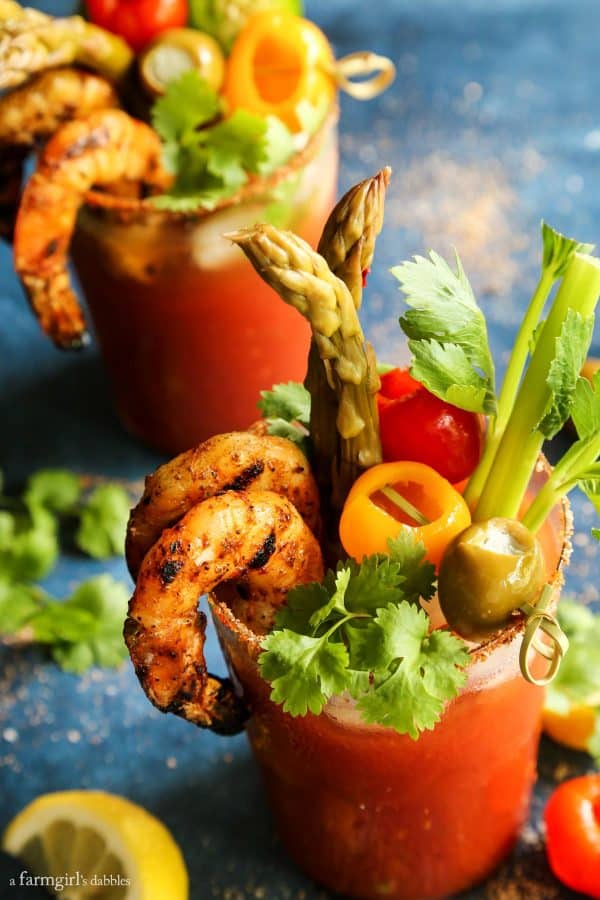 And so were the Bloody Marys (check out my recipe for loaded 5 Pepper Bloody Mary with Grilled Jalapeño Shrimp!).
The bowling alley served unbelievably good Bloody Marys.
I'm really not a tomato juice kind of person, so liking them even a teensy bit was a surprise for me. I can only imagine how delicious those drinks would have been with a few pickled spears of this asparagus.
In a drink, or simply as a nibble on an appetizer plate, these are some very special spears of springtime goodness!
Here are a few more of my pickled favorites:
Like this Pickled Asparagus recipe? Pin it!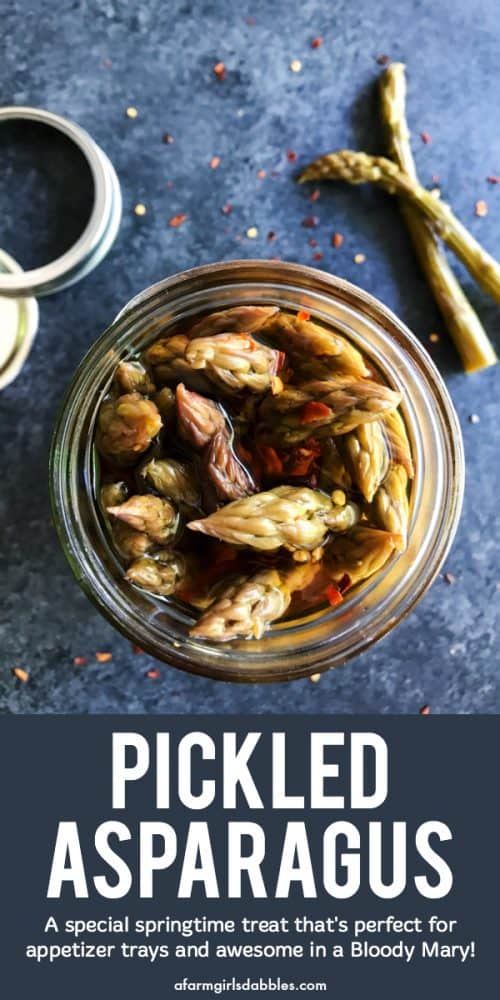 And here are a few appetizers to serve with pickled asparagus: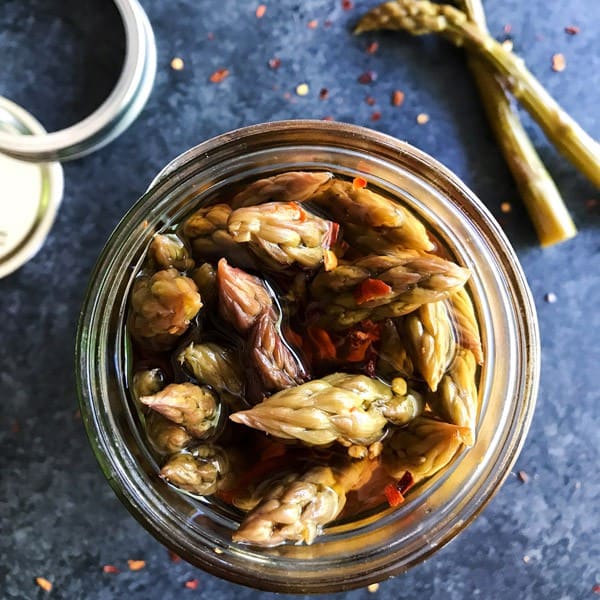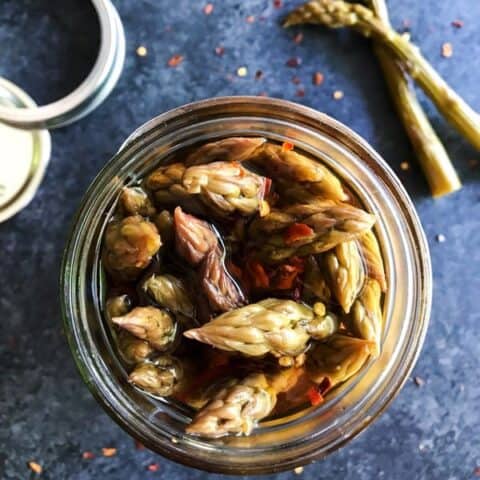 Pickled Asparagus
A special springtime treat that's great for snacking. Include these delicious spears on your appetizer trays and cheese boards. They're also pretty awesome in a Bloody Mary!
Ingredients
4 to 5 big bunches (about 6 to 7 lbs.) asparagus tips that are medium to thick in diameter
8 tsp. crushed red pepper flakes, more or less to taste
8 tsp. dill seed
8 garlic gloves, peeled, each clove cut into 3 slices
jalapeno slices, optional
5 c. white vinegar
5 c. water
7 T. kosher salt
1-1/4 c. sugar
Instructions
* Special equipment needed: four 1-quart jars, four rims, four brand-new lids (don't use lids over again), a large canning pot with a removable wire rack or a large stock pot and a jar lifter utensil
prepare for water bath canning: I use one of those big black-and-white-speckled enamelware canning pots with the removable wire rack that holds the jars. This recipe uses quart jars, which are tall, so you need a tall pot that allows the water to cover the tops. A tall stock pot would work, too. But if you don't have a removable rack to lift the hot jars out of the boiling water, a jar lifter utensil would be extremely helpful. Wash four quart jars, then set them in your pot, using the removable wire rack if you have one. Fill pot with enough water to cover the jars with one inch of water. Bring to a boil over high heat. My large pot took about 25 minutes to boil, so get this started right away. Covering the pot with the lid will speed up the process, too. Put your lids in a small pan with enough water to cover them. Bring to a slow simmer and keep hot until you fill the jars with asparagus. Fill a medium size stock pot or large pot about half full with water. Bring to boiling.
blanch the asparagus: While water is heating up, trim the asparagus to 6" lengths. (You'll end up with a pile of asparagus "scraps". Don't throw them away! I roast or grill them with a drizzle of olive oil and a sprinkling of salt and pepper, and enjoy them with other meals.) Once the water is boiling, add the asparagus. Bring back to a boil and then immediately drain and transfer to a bowl of ice water to cool. Drain well.
prepare pickling brine: In a medium pan, combine vinegar, water, salt, and sugar. Bring to a boil.
prepare spices: Using the removable wire rack (I maneuver it up out of the hot water using 2 wooden spoons) or a jar lifter, remove the jars from the canning pot, carefully pouring the water from each one back into the pot, and place them upright on a folded towel. Place two teaspoons each of crushed red pepper flakes and dill seed into each hot jar, followed by two sliced garlic cloves for each jar. All of this can be pre-measured while waiting for the water to boil.
fill the jars: Divide the blanched asparagus between the jars. I found it helps to switch the position of the jar back and forth, from upright to on its side, to pack in the asparagus. Go ahead and pack them as tight as easily manageable. Ladle the hot vinegar mixture into the jars, leaving 1/2" headspace at the top. Use a damp paper towel to wipe the rims of the jars clean, then put a hot flat lid and a ring on each jar, adjusting the ring so that it's just finger-tight.
process the filled jars: Return the filled jars to the canning pot, making sure the water covers the jars by at least 1". Bring to a boil. I put the lid on the pot to speed up the boiling. Then remove lid and boil for 10 minutes to process. Remove the jars to a folded towel and do not disturb for 12 hours. After one hour, check that the lids have sealed by pressing down on the center of each one. If the lid is dimpled and can be pushed down, it hasn't sealed, and the jar should be refrigerated immediately. Label the sealed jars and store in a cool, dark place.
Notes
Recipe comes from conversations with my mom about canning, an adapted dilled asparagus recipe from Jim Kolbe, and guidance from Canning For a New Generation by Liana Krissoff.
Please note that the high sodium count includes all of the brine within the jars, which does not get eaten.
Nutrition Information:
Yield: 32
Serving Size: 1
Amount Per Serving:
Calories: 41
Total Fat: 0g
Saturated Fat: 0g
Trans Fat: 0g
Unsaturated Fat: 0g
Cholesterol: 0mg
Sodium: 1529mg
Carbohydrates: 9g
Fiber: 0g
Sugar: 8g
Protein: 0g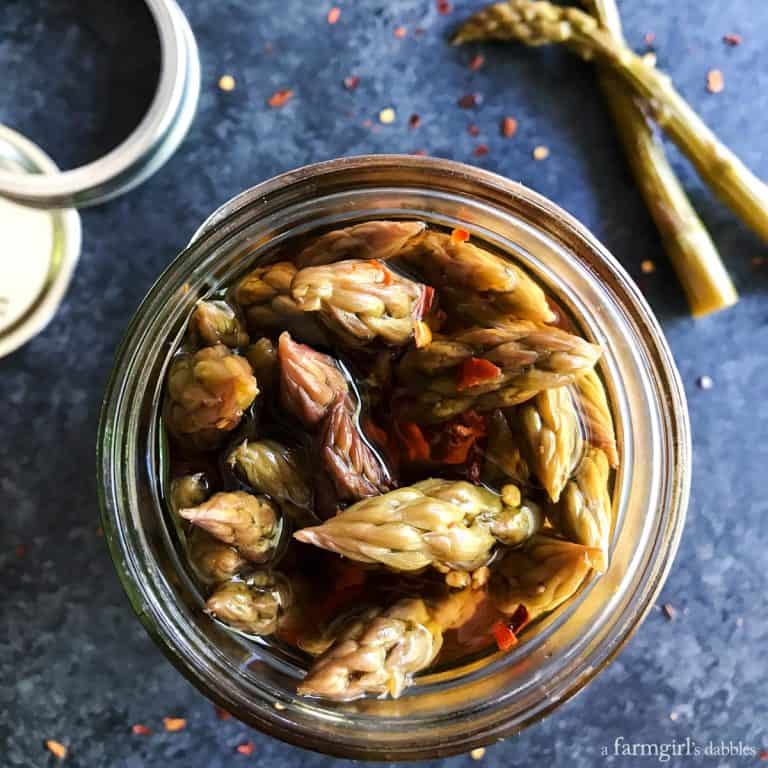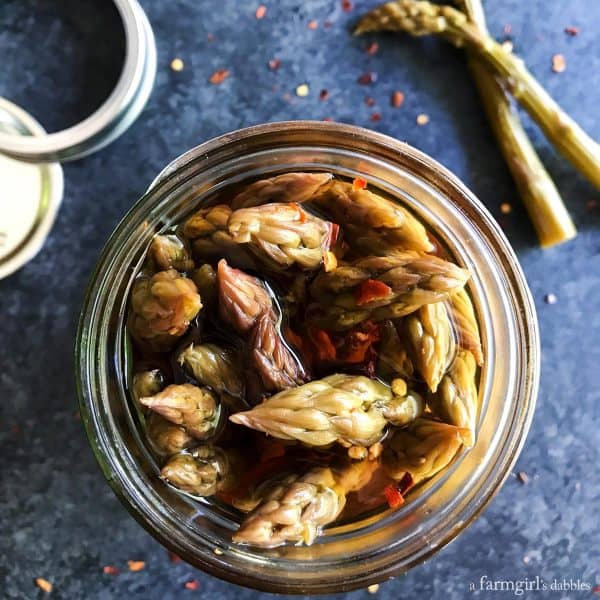 This post was originally published June 2011 and has been a popular reader favorite. Some of the photographs and text were updated June 2017.