Pickled Red Onions
These Pickled Red Onions are downright addictive! They are quick and easy to make, and are awesome with so many different meals! Watch the Video!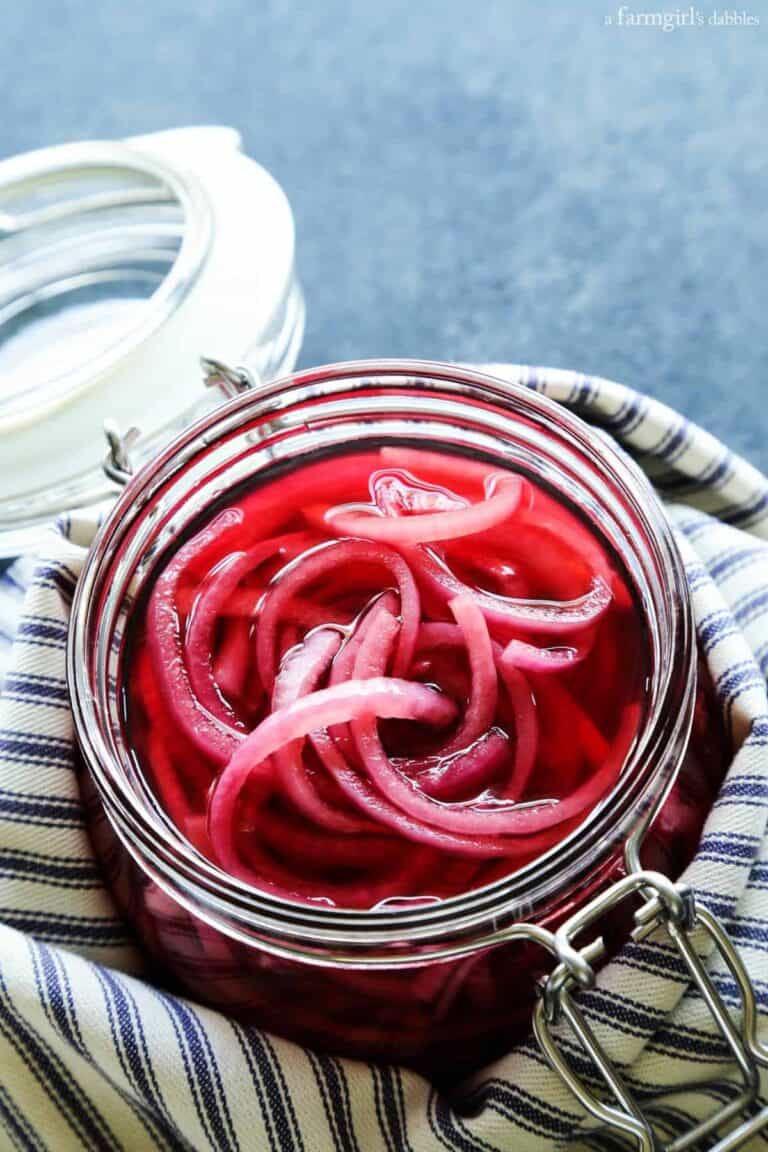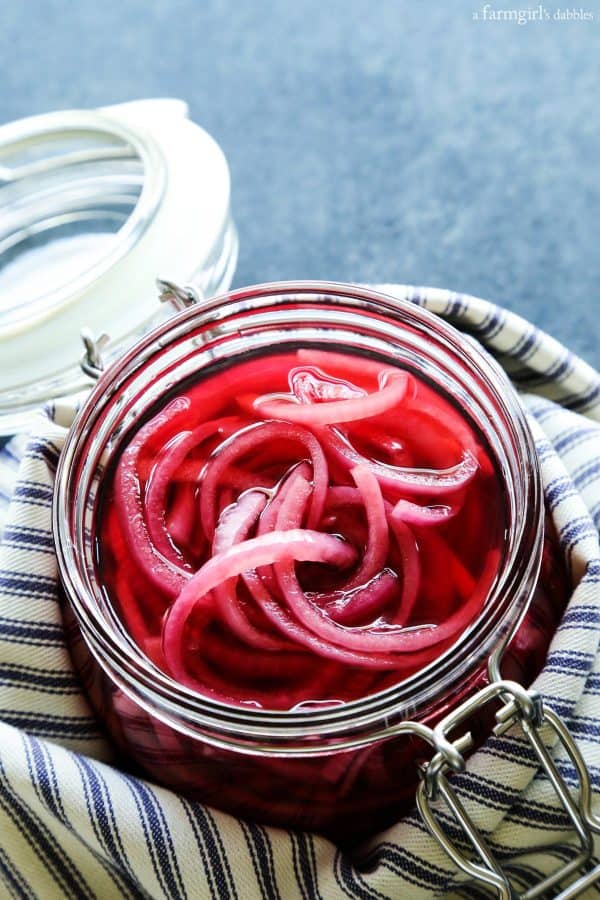 CLICK HERE to save recipe to Pinterest!
Welcome to one of my favorite condiments in the whole wide world.
Pickled Red Onions.
This refrigerator version is so easy, and takes only about 10 minutes to make!
The onions are crispity crunchity and perfectly tangy sweet, and last for weeks in the refrigerator (if you can keep your fingers out of the jar!).
There's no reason why you shouldn't have a jar of these pickled onions in your fridge at all times!
*Here are a few recipes where I particularly enjoy using these pickled red onions: Without a doubt, my number one way to serve these onions is with carnitas. They're also fabulous on egg salad and tuna salad.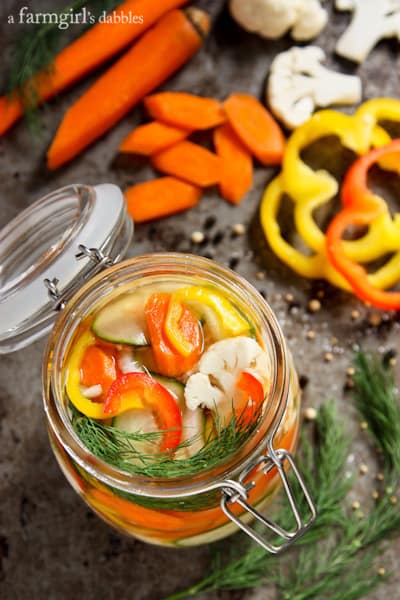 I loooooooove pickled vegetables, and it just doesn't get much better than quick refrigerator versions.
I've quick-pickled celery, carrots (our youngest daughter's favorite!), squash, and the most beautiful medley of mixed veggies (shown above).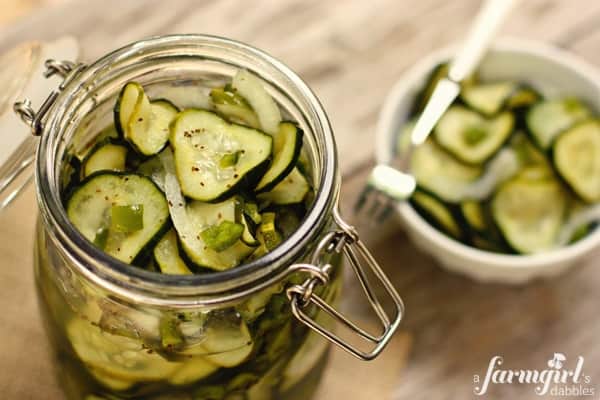 My mom's easy recipe for sweet refrigerator dill pickles (shown above) is also a longtime favorite.
I especially like to have them on hand when I make my slow cooker sloppy joes and during the grilling season. The pickles pair wonderfully with all kinds of grilled goodness, especially when using barbecue sauces!
How to pickle onions
In this recipe, you simply stir apple cider vinegar and red wine vinegar with some sugar and salt on the stovetop. Sprinkle in a bit of allspice and a few red pepper flakes, and then add in your onion slices.
To slice the onions, use either a sharp knife or a mandoline. If you like super thin slices, I highly recommend using a mandoline.
And this is how to pickle red onions. Easy-peasy!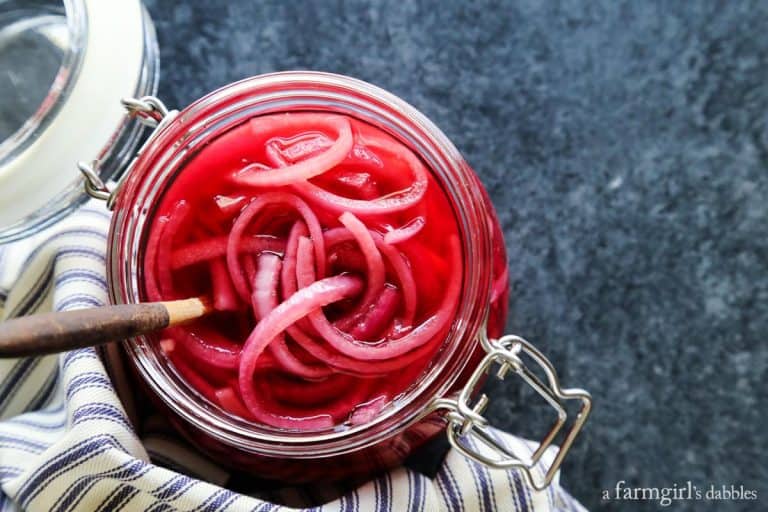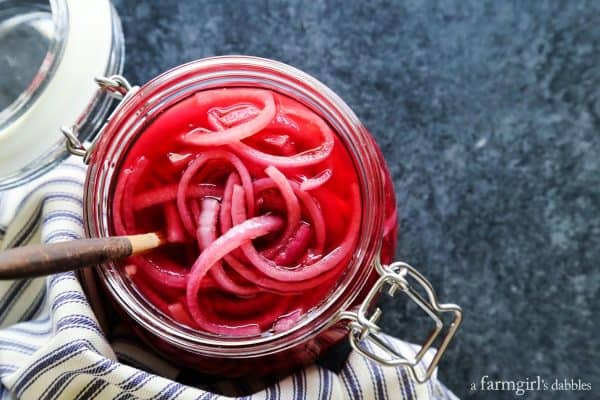 Quick Pickled Red Onions are a wonderful thing!
I've met many a friend and family member who has turned up their noses at pickled onions, saying "I don't like raw onions."
But I beg everyone to try these.
The pickling process transforms the onion slices into just the most wonderful thing, erasing that raw bite that so many people find offensive. The onions are softened just a bit, bright and tangy.
You must taste these quick pickled onions to believe this for yourself.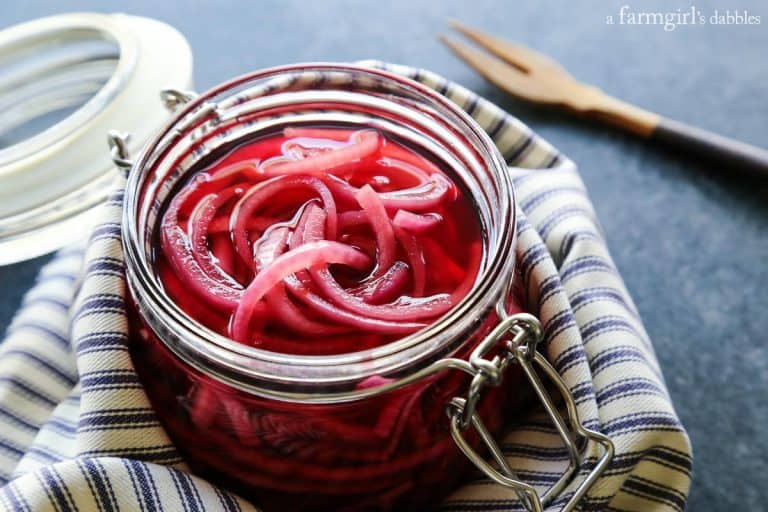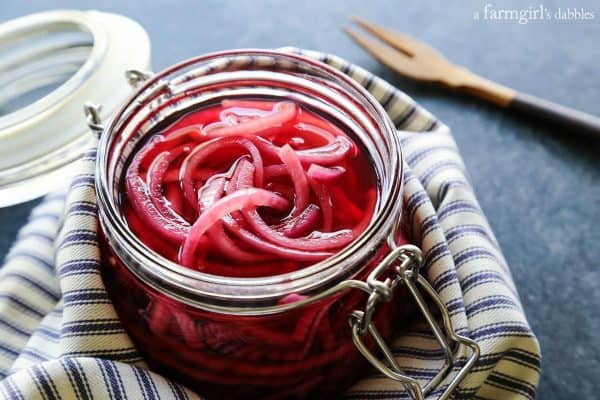 There are many ways to use this pickled onion recipe
Once you have a jar of these pickled red onions in your fridge, there are countless ways to use them!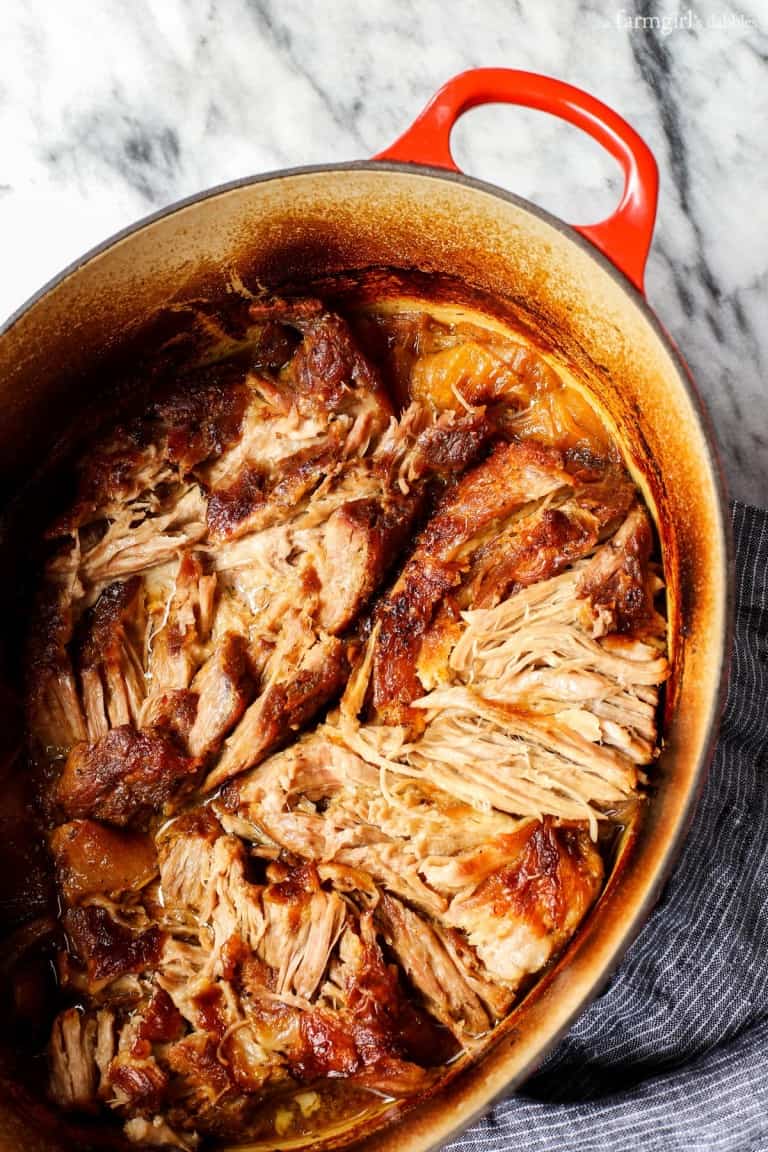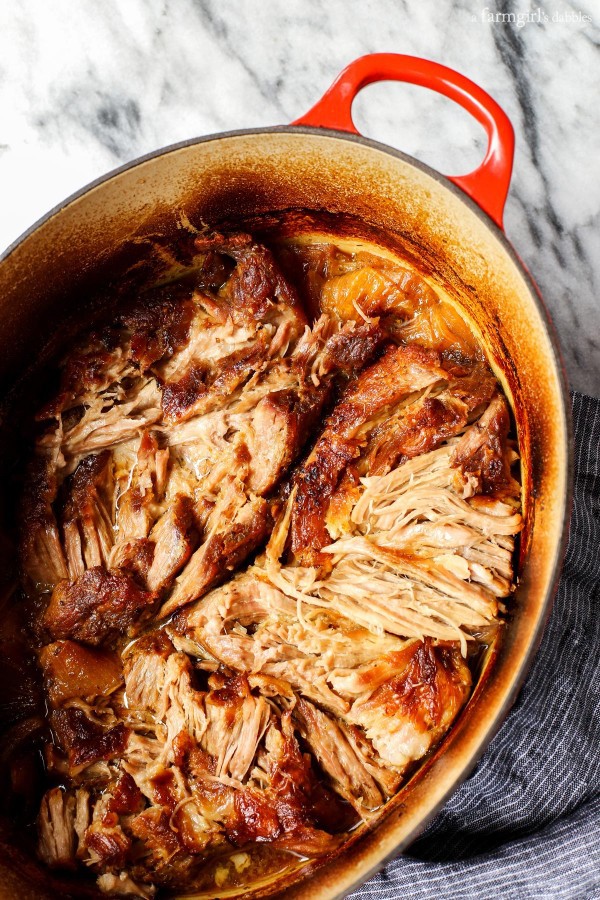 My favorite way to eat pickled onions
My favorite way is tucked into a carnitas taco, where their zesty bite contrasts brilliantly with the tender, rich pulled pork. (shown above) Pickled onions are great with almost any Mexican meal.
The tangy onions would also be great with slow cooker pulled pork!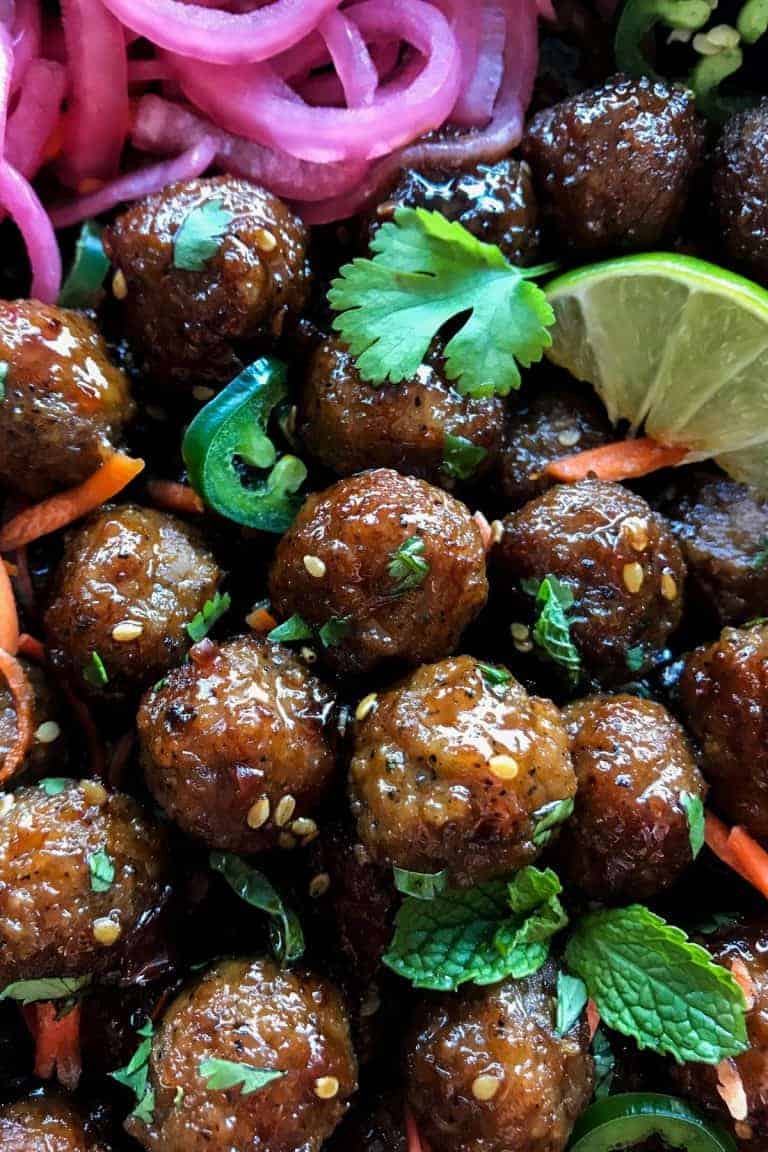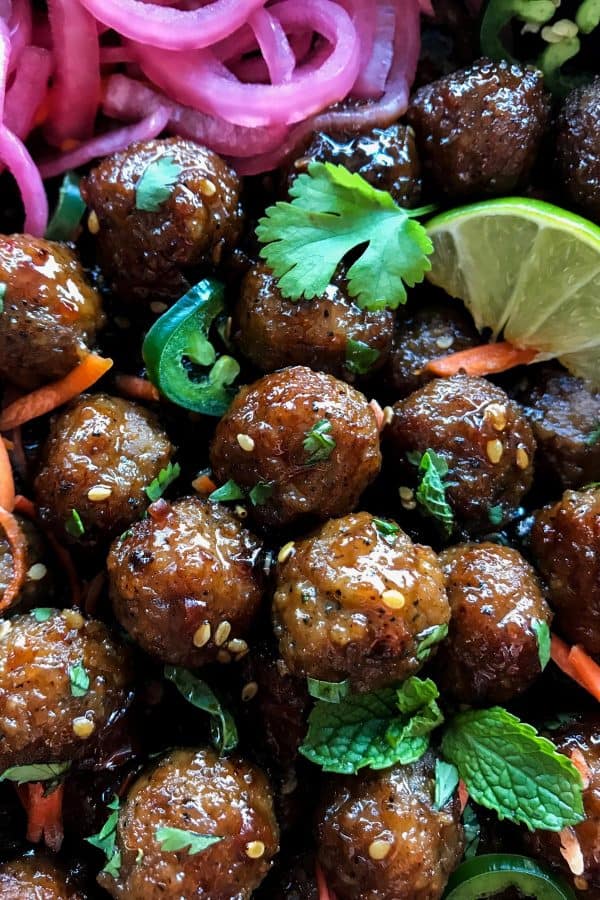 Pickled onions are also awesome with eggs, especially a plate of huevos rancheros. Check out this breakfast taco bar from Aimée at Simple Bites – so fun!
The bright onions go great with Asian flavors. Check out these banh mi meatballs (shown above) and this banh mi salad.
Pickled onions make most any sandwich or burger sing.
They're pretty wonderful on salads, too. Like this one from Heather Christo, using fresh greens. And this fresh watermelon salad from Food 52, so lovely.
The possibilities are truly endless.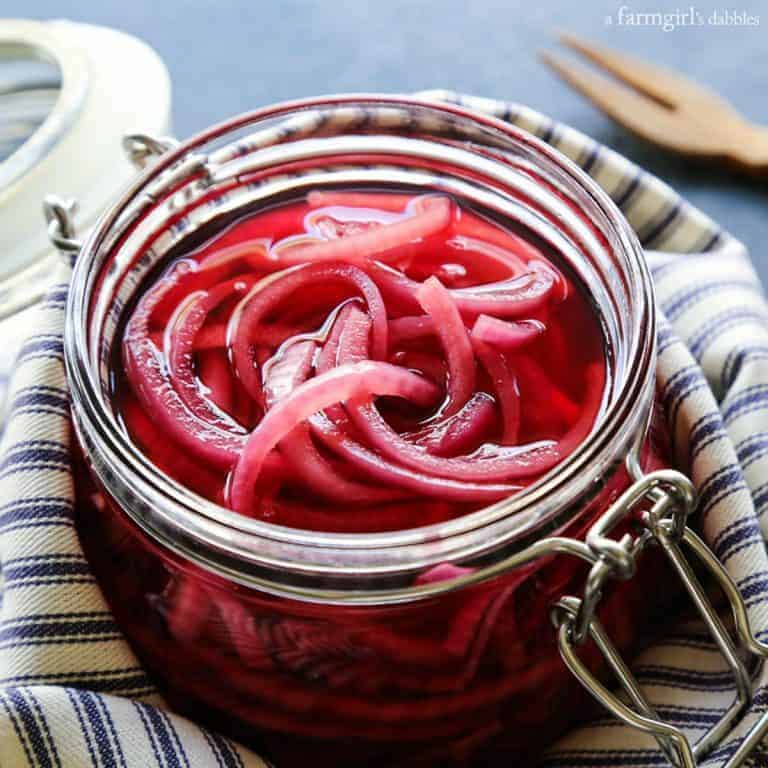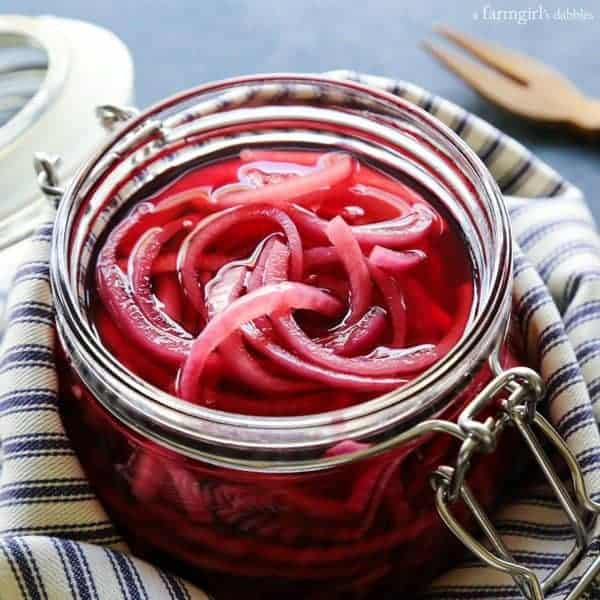 Here are a few more pickled recipes you might like:
*Here are a few recipes I'd like to try: Pickled Jalapeños from Honey and Birch and Sweet and Sour Asian Pickled Cucumbers from foodiecrush. And, oh how I love me some Pickled Ginger – this recipe comes from Foodie with Family.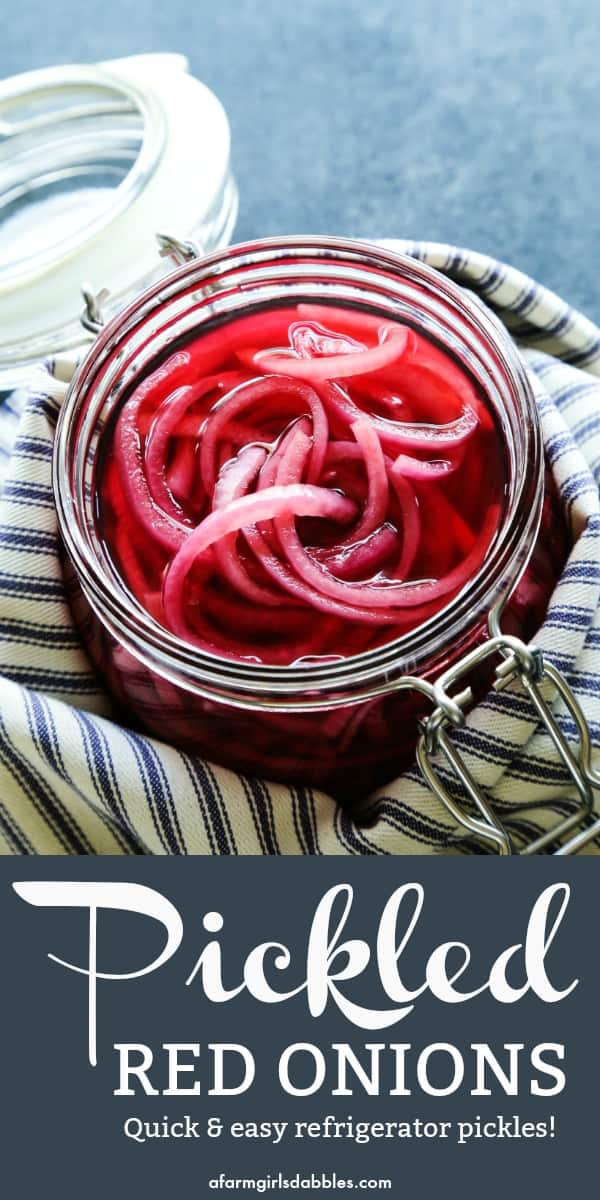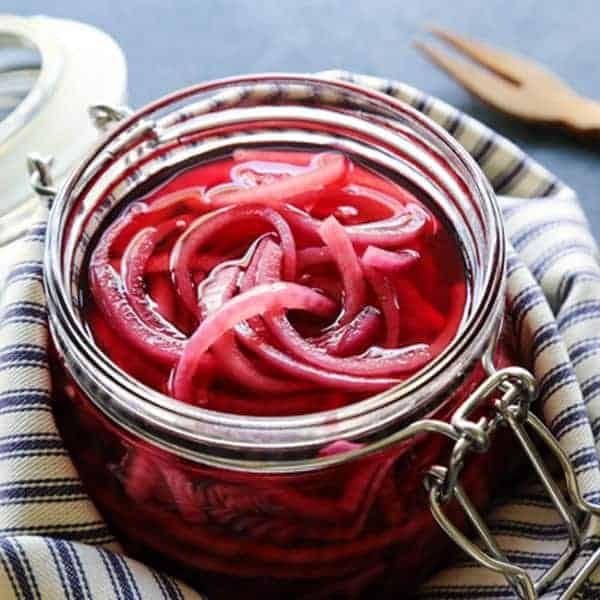 Pickled Red Onions
This recipe is incredibly quick and easy to make. The pickled onions are awesome with so many different meals - you'll quickly become addicted to having them on hand at all times!
Instructions
Slice the top and bottom off the onion and then slice onion in half, from top to bottom. Remove the outer peel. Lay the cut surfaces of the onion onto the cutting board, and then slice into half moons about 1/8" thick using a very sharp knife. I also recommend using a mandoline for slicing the onions, especially if you like super thin or very even slices.
In a medium saucepan, whisk together apple cider vinegar, red wine vinegar, sugar, and salt. Place over medium-high heat and bring mixture to a boil. Whisk until sugar and salt dissolve, then remove pan from heat and whisk in allspice and red pepper flakes.
Carefully add sliced onion to the pan and gently stir to combine. Let mixture cool completely at room temperature, stirring occasionally.
Pour into a glass container (I like to use a large canning jar), cover tightly with a lid, and refrigerate until thoroughly chilled. The pickled flavor will intensify over time, but it's good to go after resting overnight in the refrigerator. This recipe is for refrigerator pickling only and needs to be stored in a refrigerator. Enjoy for up to one month.
Notes
from a farmgirl's dabbles
Recommended Products
As an Amazon Associate and member of other affiliate programs, I earn from qualifying purchases.
Nutrition Information:
Yield:
16
Serving Size:
1
Amount Per Serving:
Calories:

24
Total Fat:

0g
Saturated Fat:

0g
Trans Fat:

0g
Unsaturated Fat:

0g
Cholesterol:

0mg
Sodium:

147mg
Carbohydrates:

6g
Net Carbohydrates:

0g
Fiber:

0g
Sugar:

5g
Sugar Alcohols:

0g
Protein:

0g
This post was originally published June 2014 and has been a popular reader favorite. Some of the photographs and text were updated May 2017.
We participate in the Amazon Services LLC Associates Program, an affiliate advertising program designed to provide a means for us to earn fees by linking to Amazon.com and affiliated sites. See our disclosure policy for more info.