Beer Can Chicken
Beer Can Chicken – This easy beer can chicken on the grill guarantees moist meat that falls off the bone and crispy, ultra flavorful skin. It's our go-to recipe for a grilled whole chicken!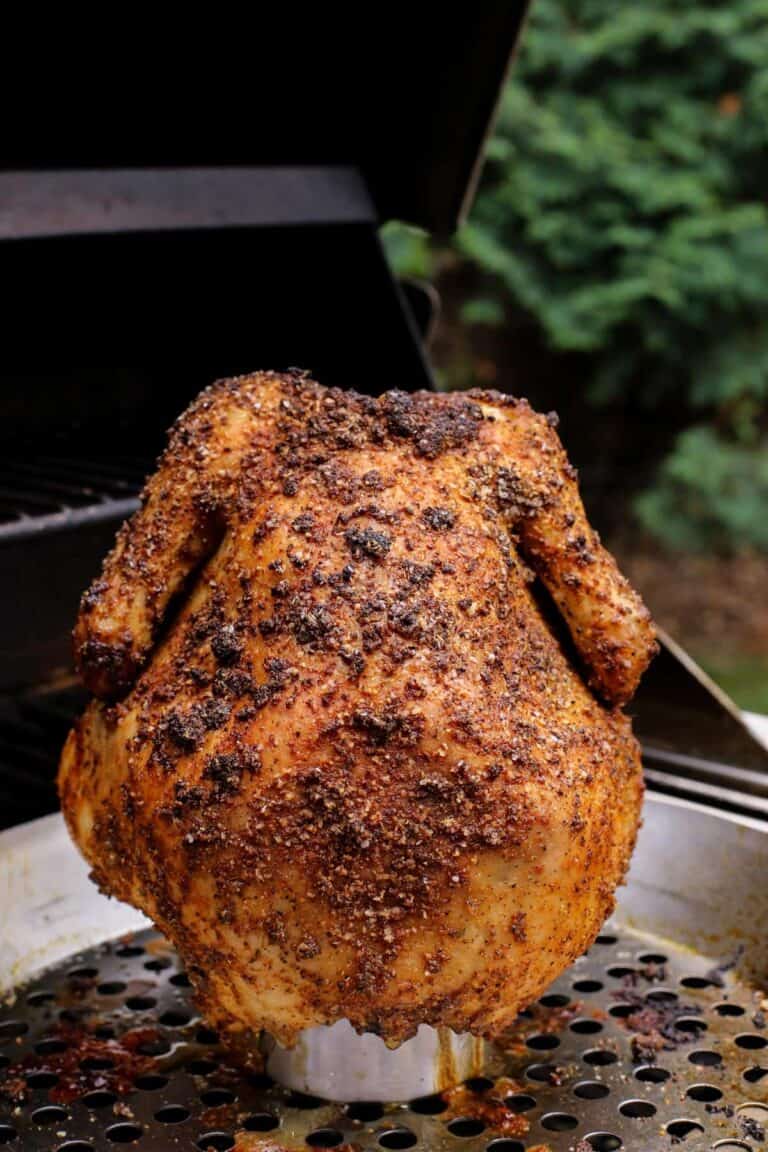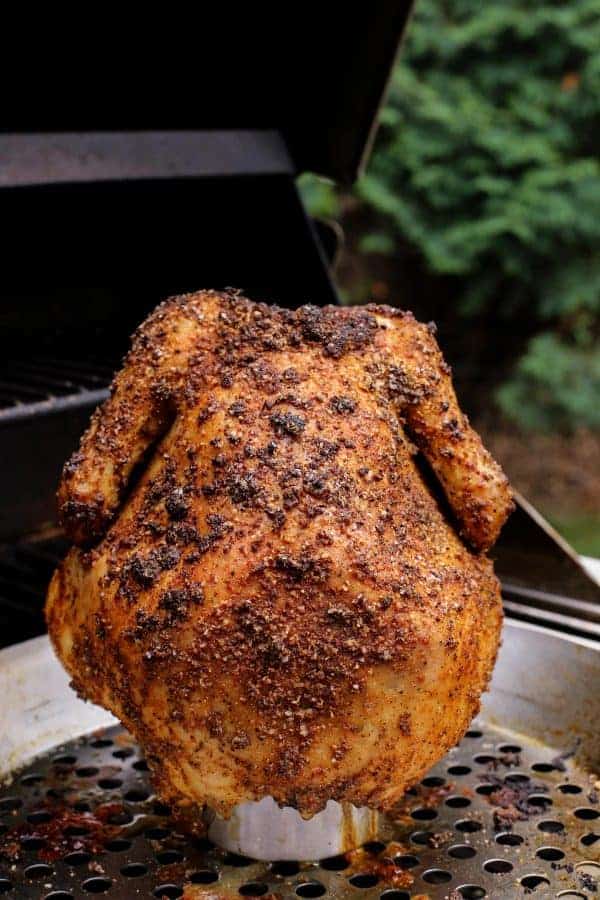 During that stretch of extreme heat here in Minnesota recently, I was suddenly craving a whole chicken. Moist and fall-off-the-bone tender, with crispy skin that was super charged with flavor.
Well, I knew I wasn't going to turn on the oven with those temps in the upper 90's. And, "Hey Blake, don't we have a beer can chicken holder around here somewhere?"
My husband found the specialty grill pan out in the garage, stored with the rest of our grilling and smoking supplies. I knew this was going to turn into an obsession for me, as I started to recall why we haven't used that pan in at least five years. (The reason? Flabby grilled chicken skin. Ack. No can do!)
I was bound and determined. We were going to perfect how to grill a whole chicken.
You're gonna love this Beer Can Chicken!
*Here are a few more grilling recipes I'm loving right now: Have you tried this Grilled Vegetable Salad yet?! And these Grilled Mini Sweet Peppers with Goat Cheese – our kids can never get enough. And we recently served these Grilled Cheesy Stuffed Mushrooms at a little gathering in the backyard – they disappeared FAST!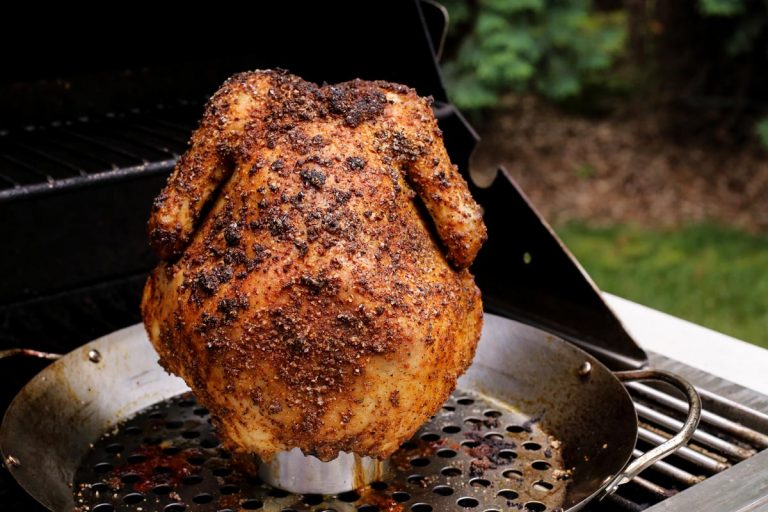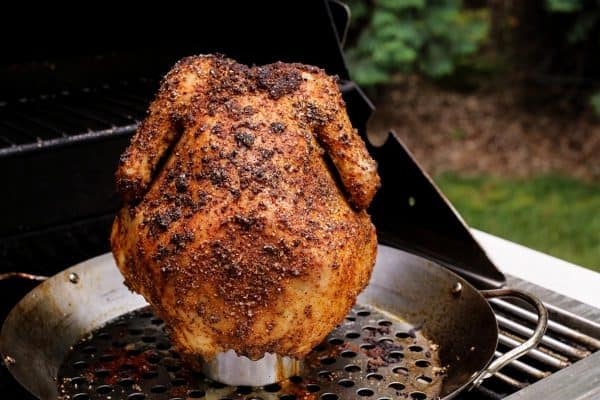 We've perfected the beer can chicken
Over the past few weeks, we've gone through quite a few whole chickens, trying to get this beer can chicken recipe juuuuuust right.
Just ask our daughters.
Our oldest might be questioning why she was so excited to get her drivers license, when she's been asked to run for a chicken every other day.
Ha!
(But totally not joking.)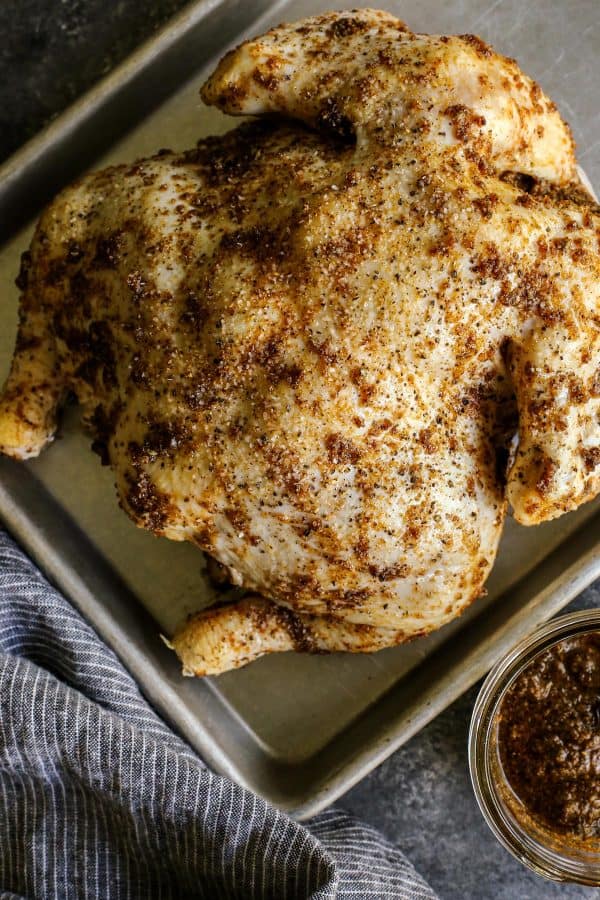 How to make beer can chicken
For our family of four, we've found that a five-pound chicken is ideal. It gives us a nice amount of meat for a meal, plus a bit of leftovers for an easy lunch the following day.
Once you have your chicken, it's time for some easy grilled whole chicken prep.
It's crucial to get the chicken skin as dry as you can. Wetness is the enemy of crispy grilled chicken skin. We use paper towels to pat and gently squeeze every single inch of the chicken.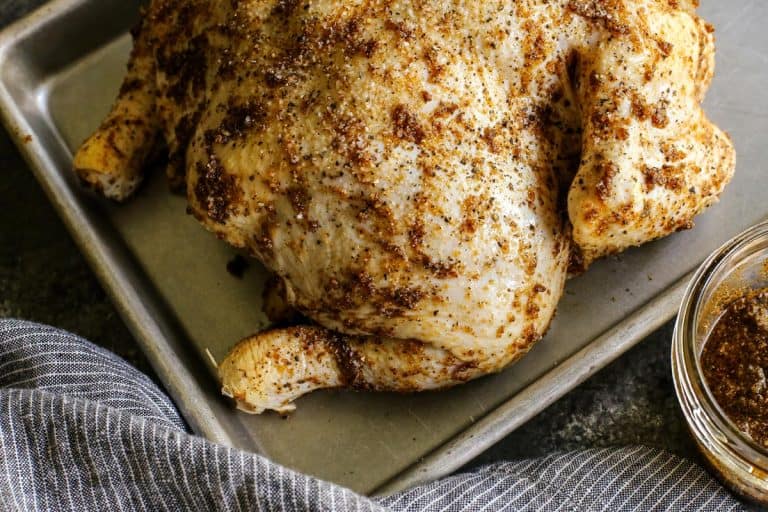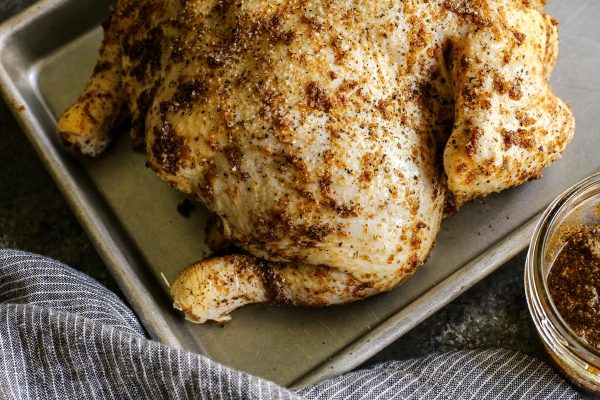 Time to make the beer can chicken rub!
Then we make a beer can chicken rub consisting of vegetable oil and a special mix of seasonings. And we rub every last bit of it over the skin and inside cavity.
We've experimented with different amounts of seasoning, especially with the level of saltiness. And the chickens that our family likes best are the ones that are highly seasoned…and with "just a little more salt than we normally use".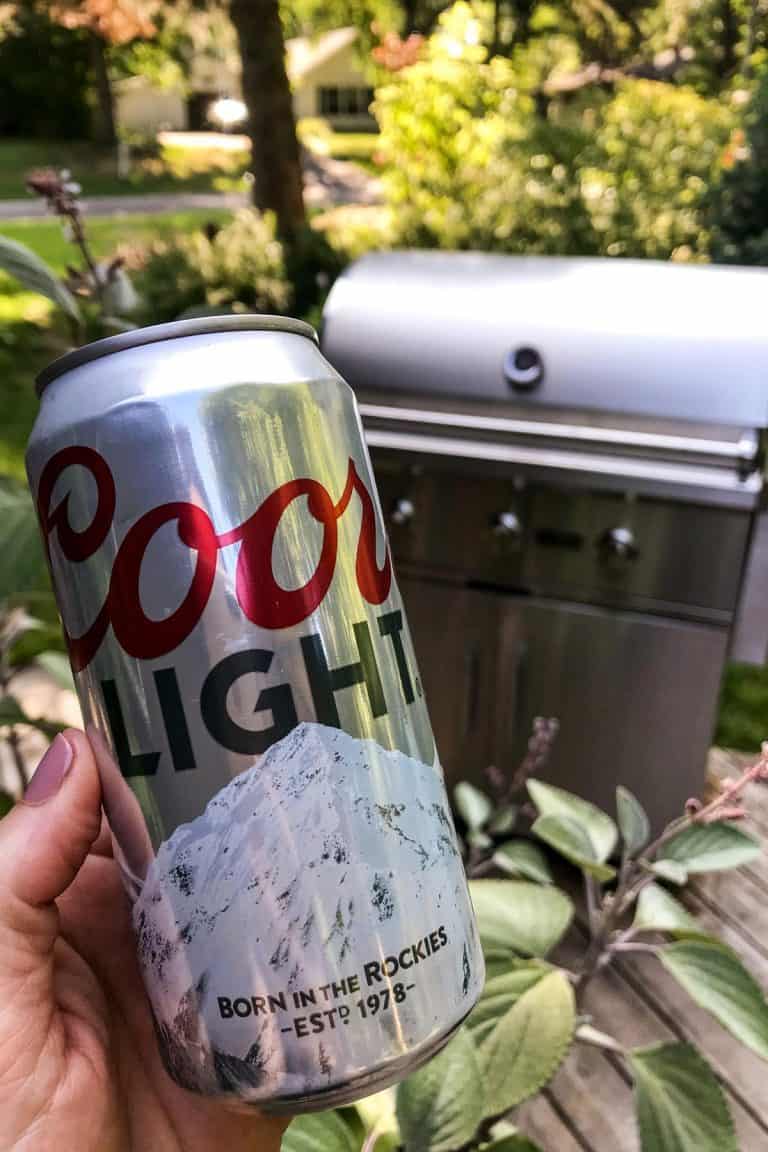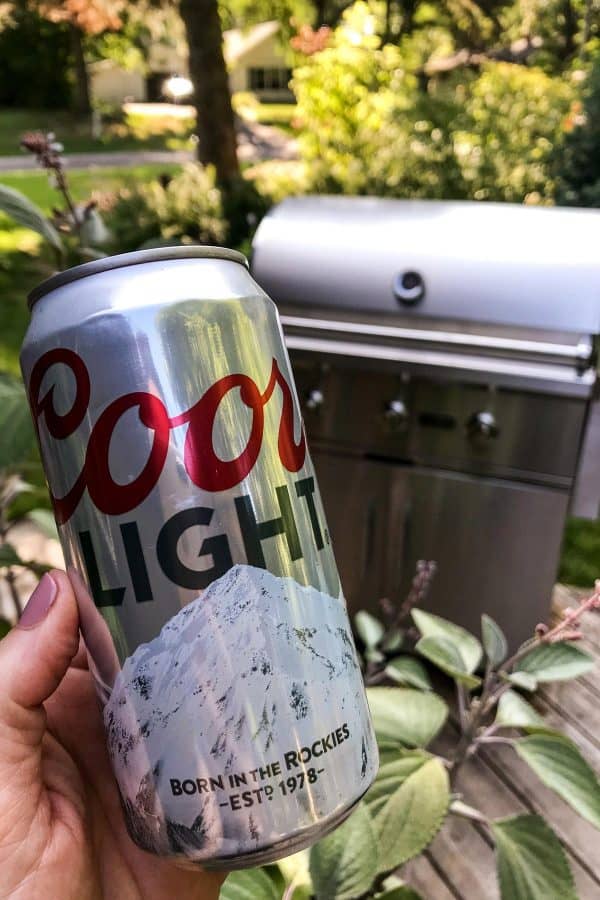 What beer to use in the beer can chicken holder?
A half-full can of beer not only helps prop up the chicken on the grill, but it also steams the meat. While the skin is dry roasting on the outside of the bird, the inside is all hot and steamy, ensuring incredibly moist meat.
There's no need to be all fancy and money-wasting here, using your favorite craft beer. Although your beer butt chicken (I don't prefer this name, but I know many people who call it this!) will most certainly still turn out wonderful if you do.
We've been using Blake's "lawn mowing beer". We keep it cold in our second fridge every summer, solely for the purpose of having a light beer to quench Blake's thirst after mowing the yard.
A bonus with this particular beer, is that it has a tall, skinny can. There are other lawn mowing beers that feature this kind of can, too. I like how the taller can sits inside the beer can chicken holder, helping to prop the chicken up just a bit higher.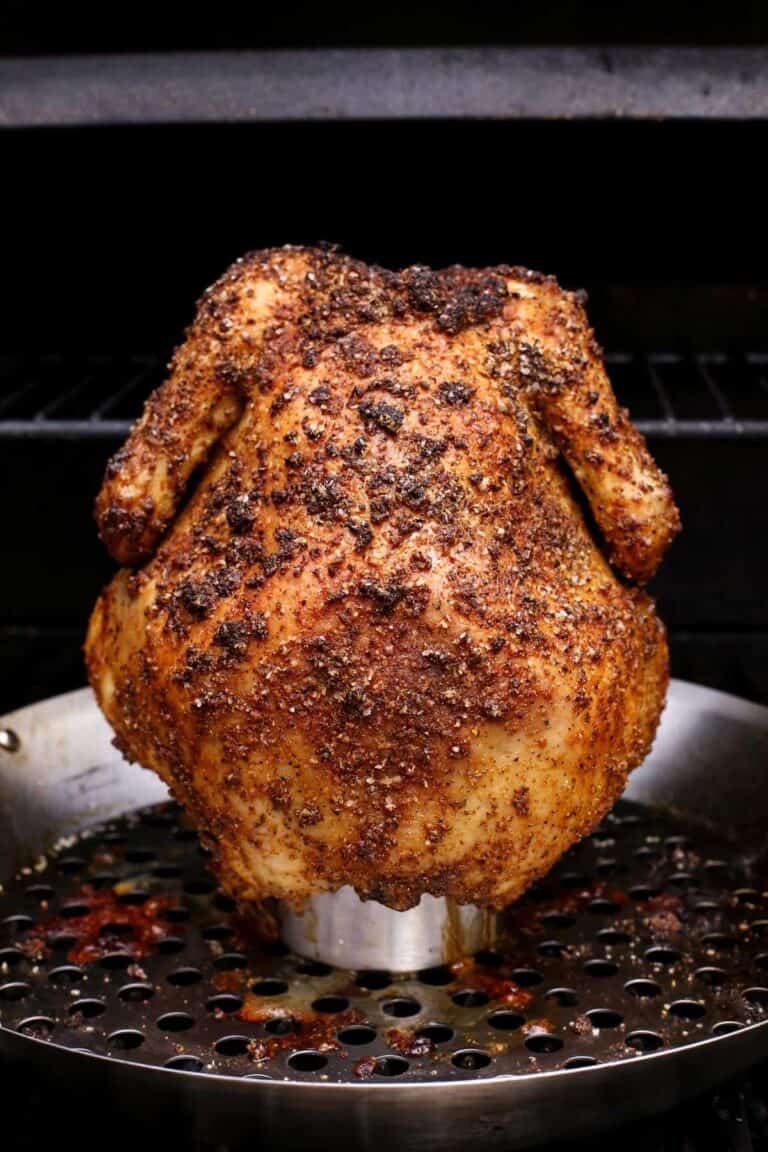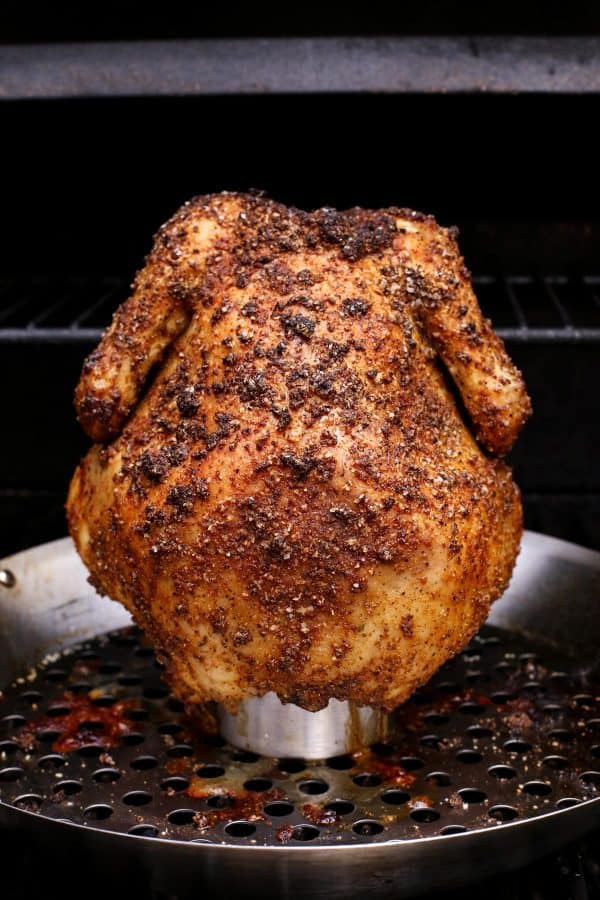 I can't even describe how much I like this beer can chicken. It makes me happy. And it makes the rest of my family happy.
It's a total win-win.
With a simple side salad, we have one awesome meal to gather around. A few suggestions would be MY FAVORITE coleslaw or grilled romaine with THE BEST buttermilk ranch dressing (a family favorite!). Honey Cornbread Muffins would also be great. And before the summer is over, I want to try this pasta salad from my friend Mary.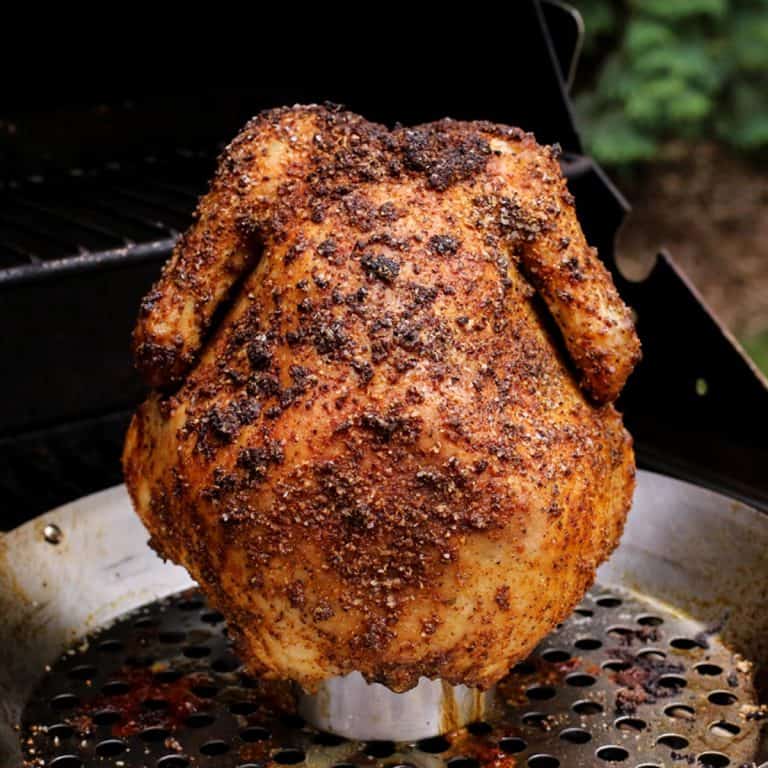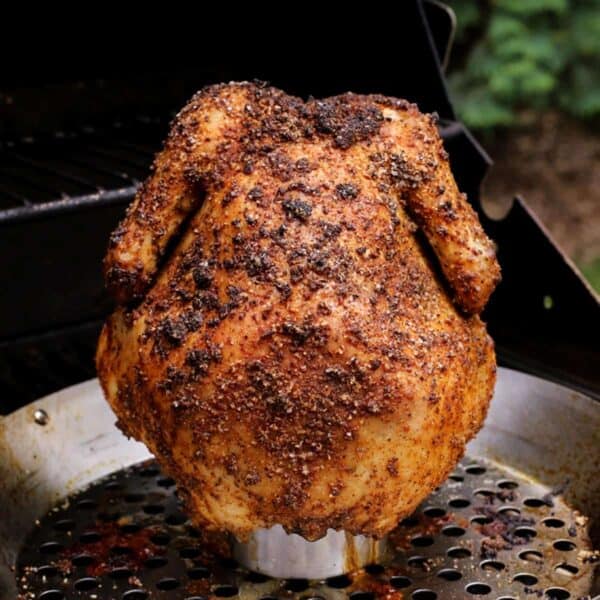 Pin this beer can chicken to save it!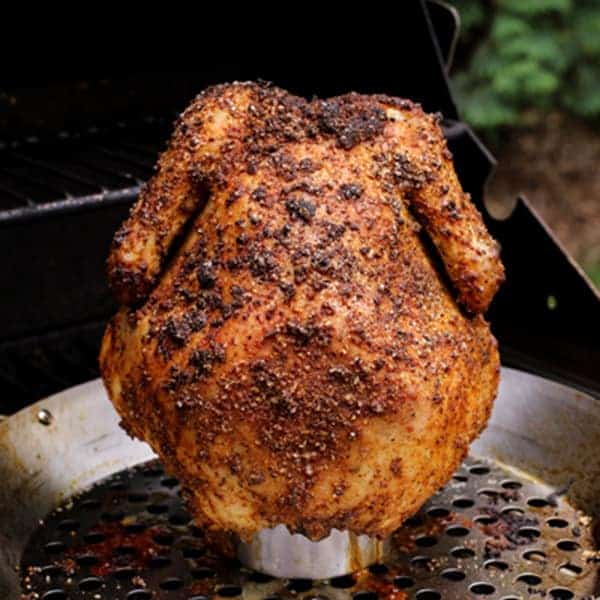 Beer Can Chicken
This easy beer can chicken recipe guarantees moist, fall-off-the-bone meat and crispy, ultra flavorful skin.
Cook Time:
1 hour
25 minutes
Additional Time:
10 minutes
Total Time:
1 hour
55 minutes
Ingredients
1 opened, half-full can of beer at room temperature (I like to use the tall, skinny cans)
1  5-pound whole chicken, neck and giblets removed
2 T. canola oil
1 T. cumin
2 tsp. garlic powder
2 tsp. onion powder
2 tsp. kosher salt, plus a bit more sprinkling over entire chicken
1 tsp. sweet paprika
1 tsp. chili powder
1 tsp. dried oregano
1/2 tsp. ground black pepper
freshly cracked, coursely-ground black pepper
Instructions
Preheat gas grill to medium-high heat, with all burners lit.
With paper towels, pat chicken as dry as you can. I even go so far as to somewhat squeeze around the legs and wings with the paper towel.
In a small bowl, combine oil, cumin, garlic powder, onion powder, kosher salt, paprika, chili powder, oregano, and black pepper. Rub it all over the chicken and inside the chicken cavity. Use every last bit.
Place half-full beer can into can attachment of beer can chicken holder. We have a beer can chicken holder similar to this one. Lower the chicken onto the open can, so the chicken is sitting upright, with the can in its cavity. Then tilt the chicken a bit to the side, and sprinkle chicken all over with a bit more kosher salt and a generous sprinkling of just-cracked, coarsely ground black pepper. It works best to have someone tilting and rotating the chicken as you add this final sprinkle of flavor and texture.
Turn off one grill burner and place chicken over this area, for indirect cooking. Reduce heat to medium and maintain a temperature of 325° to 350° F. Shut the lid and walk away. Let cook, without opening the grill lid, for at least 45 minutes. Let cook for 1 hour and 15 minutes total before inserting an instant-read thermometer into the thickest part of a thigh. Without touching bone, the thermometer should read 165° F. For every single 5-pound chicken we have grilled, this takes 1 hour and 15 minutes - but grills and temperatures vary, so just keep an eye on the temperature. Now turn heat up to high and let cook for 10 minutes longer, to amp up the crispiness of the skin. Every chicken we have grilled this way has turned out ultra juicy and moist, so we've let go of worrying about a dry chicken - we are more interested in producing a crackly, crisp skin at this point. With grilling gloves (we love these!!) or a heavy-duty set of oven mitts, carefully transfer chicken on the chicken holder to a rimmed pan and let rest 10 minutes. Then carefully lift chicken off the beer can, gently wiggling the chicken back and forth if it sticks. Cut chicken into pieces with a meat knife and serve immediately.
Notes
from a farmgirl's dabbles
Recommended Products
As an Amazon Associate and member of other affiliate programs, I earn from qualifying purchases.
Nutrition Information:
Yield:
6
Serving Size:
1
Amount Per Serving:
Calories:

454
Total Fat:

59g
Saturated Fat:

16g
Trans Fat:

0g
Unsaturated Fat:

38g
Cholesterol:

428mg
Sodium:

1131mg
Carbohydrates:

4g
Fiber:

1g
Sugar:

0g
Protein:

112g
We participate in the Amazon Services LLC Associates Program, an affiliate advertising program designed to provide a means for us to earn fees by linking to Amazon.com and affiliated sites. See our disclosure policy for more info.