Chicken Cheesesteak Baked Ziti
This Chicken Cheesesteak Baked Ziti is a fun twist on the classic cheesesteak sandwich, with pasta, tender and flavorful chicken, and the most awesome provolone sauce!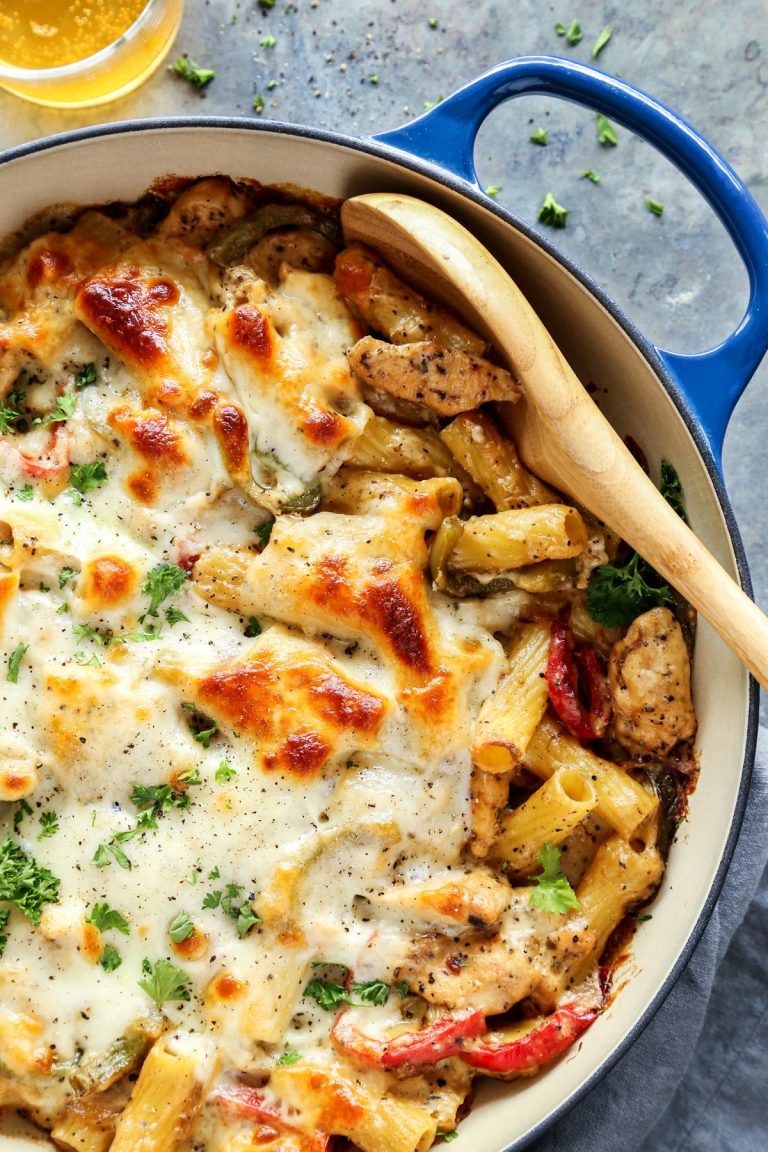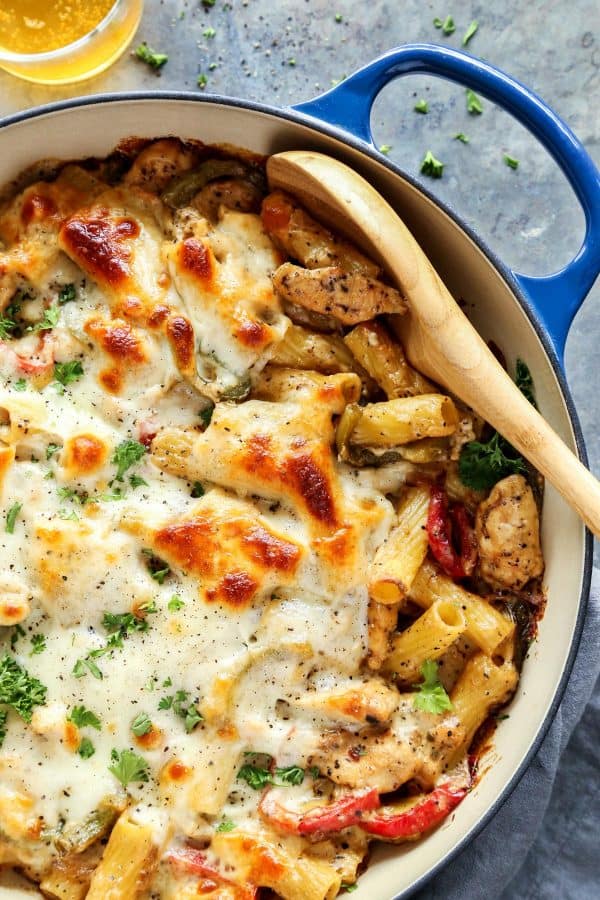 We go through quite a bit of chicken, alot of pasta, and a significant amount of cheese around here. These ingredients are mealtime staples that are easy to switch up with so many combinations of flavors, always winners at our table.
So I had absolutely no doubt that this Chicken Cheesesteak Baked Ziti was going to be a hit with my family.
But what I wasn't prepared for, was just how crazy my crew would be for it. This baked ziti always disappears in a snap!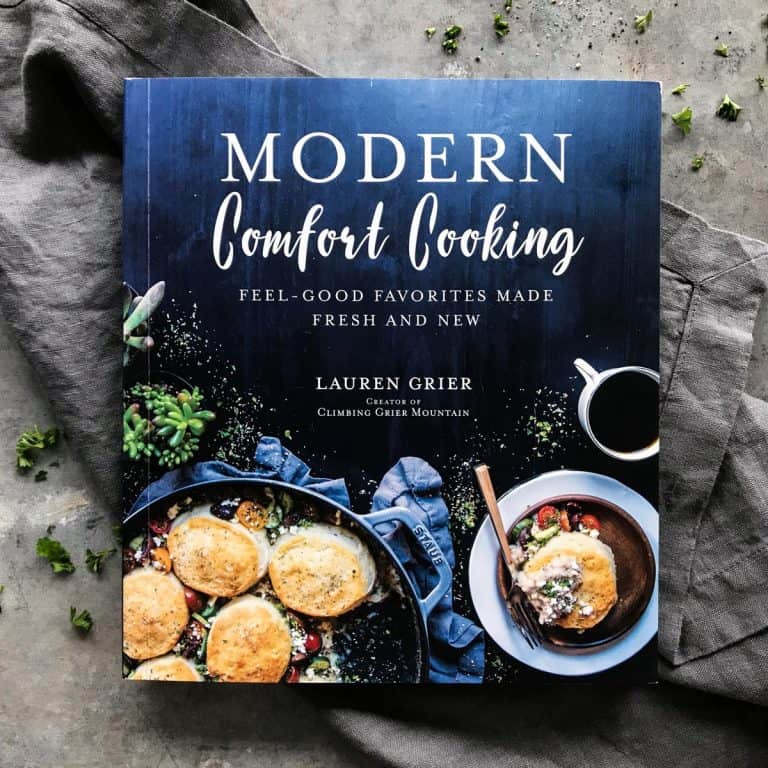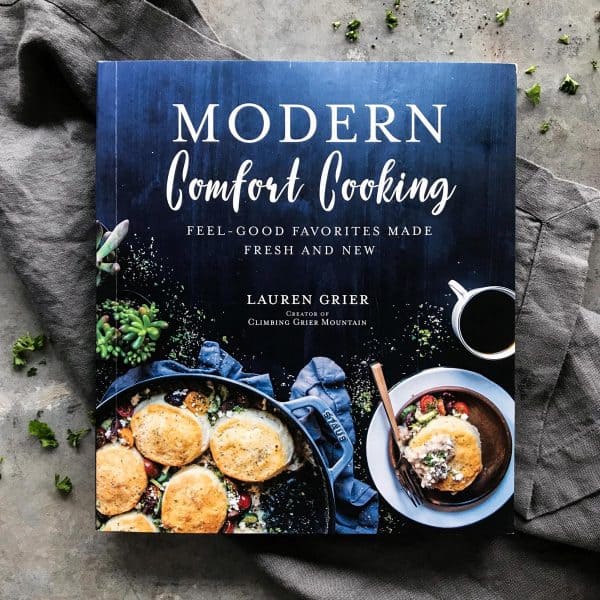 The recipe for this chicken cheesesteak baked ziti comes from the Modern Comfort Cooking cookbook by my friend Lauren.
Lauren founded the food blog Climbing Grier Mountain, and is known for her fun flavor mash-ups of classic dishes. Those creative twists are right up my alley!
Modern Comfort Cooking features over 80 recipes, with beautiful photos included of each and every one.
HERE ARE A FEW OTHER RECIPES I'VE TAGGED TO MAKE:
Pulled Pork Chilaquiles Frittata
Korean BBQ Burger with Miso-Candied Bacon
Mumbai Shrimp Tacos with Avocado Salsa
Spanish Wedge Salad
Champagne Marshmallow Treats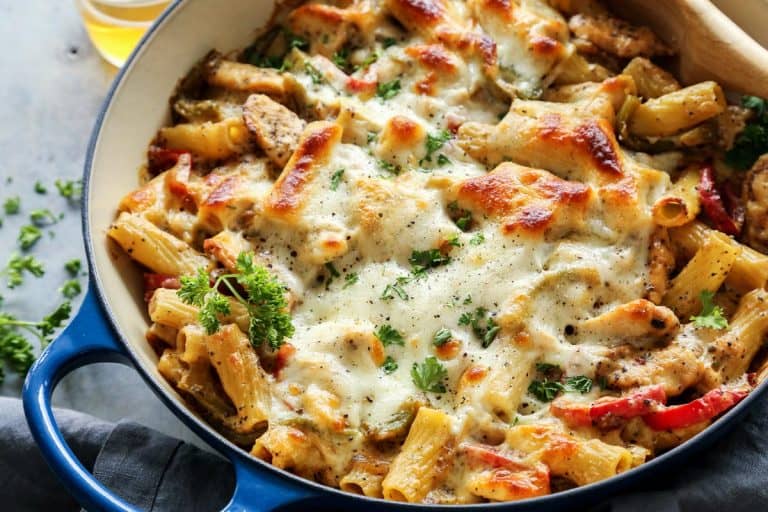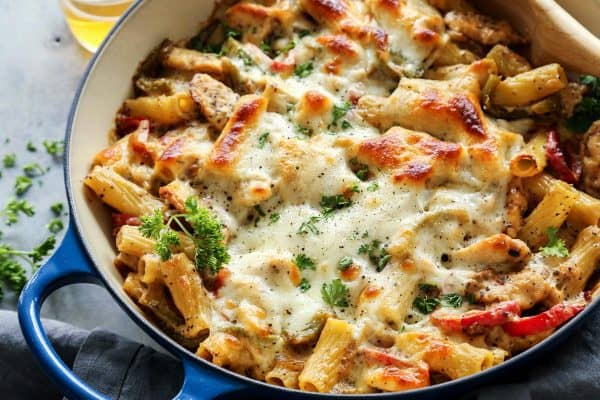 This dish is a riff on the famous cheesesteak sandwich, ditching beef for chicken, and bread for pasta.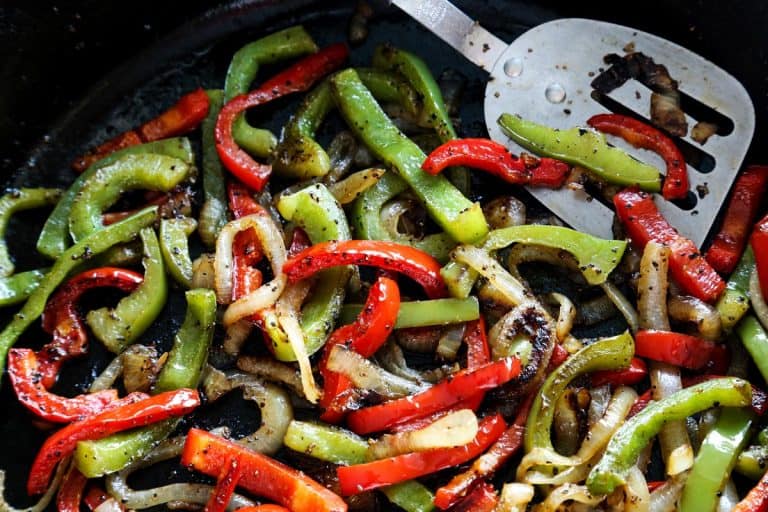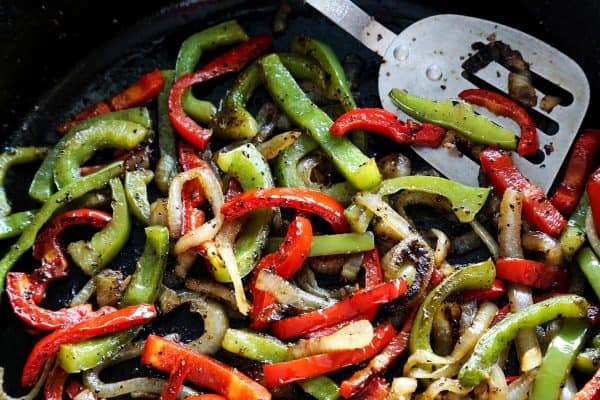 Onions and sweet bell peppers are always an awesome way to get a tasty jumpstart on a savory dish, and a must in a classic cheesesteak sandwich. I love how the veggies soften and caramelize in the hot cast iron skillet.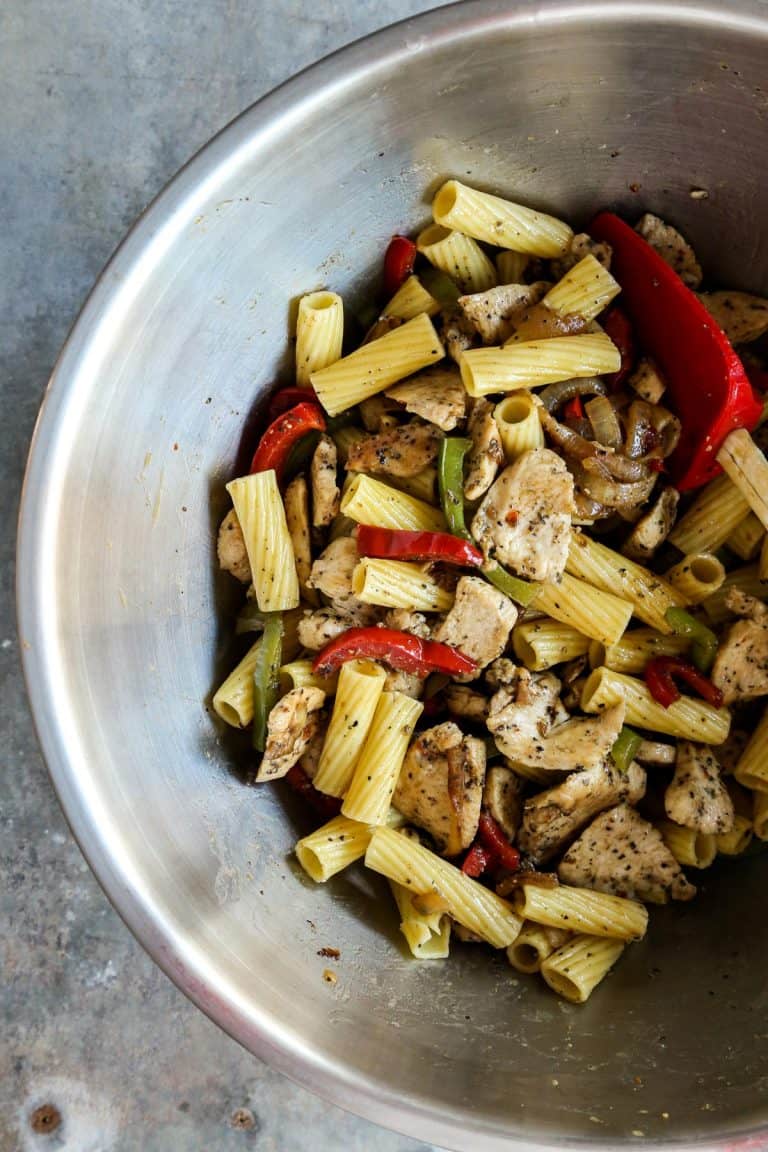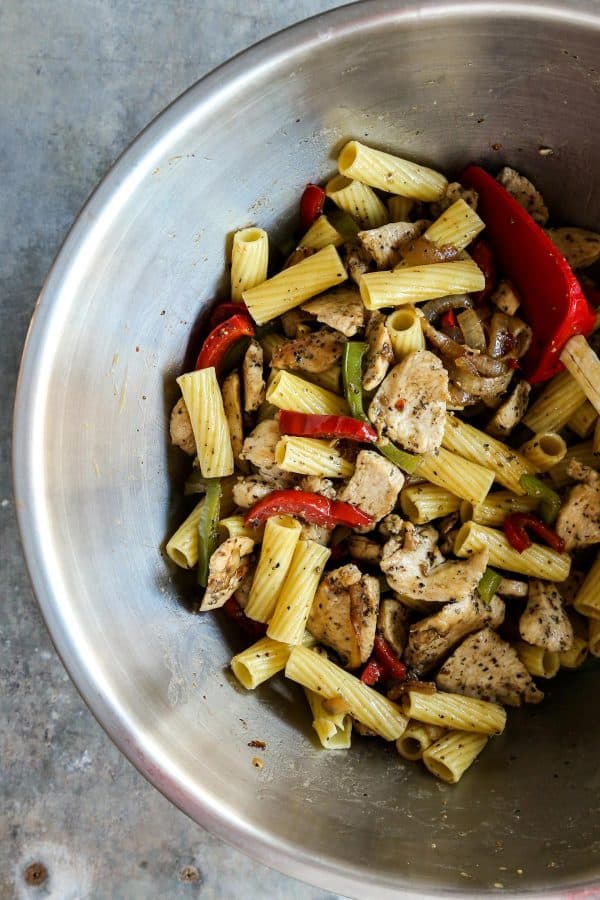 Then they're tossed with big tubes of pasta and tender slices of Italian seasoned chicken.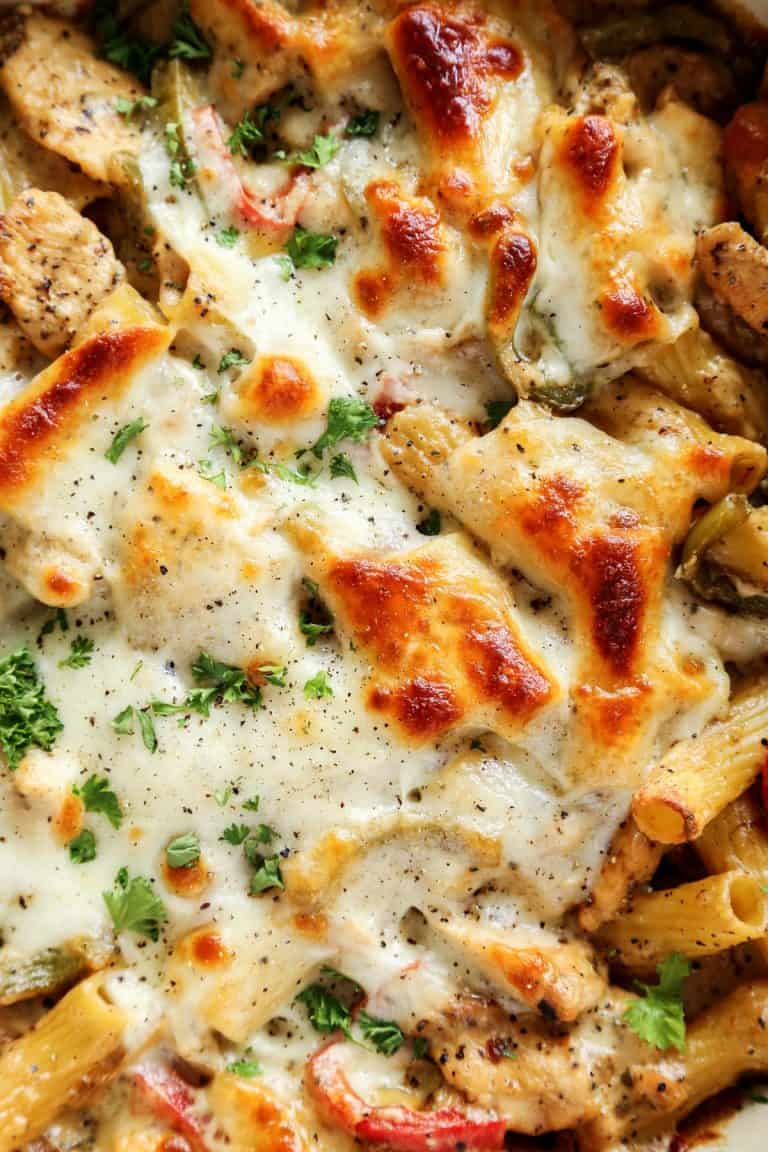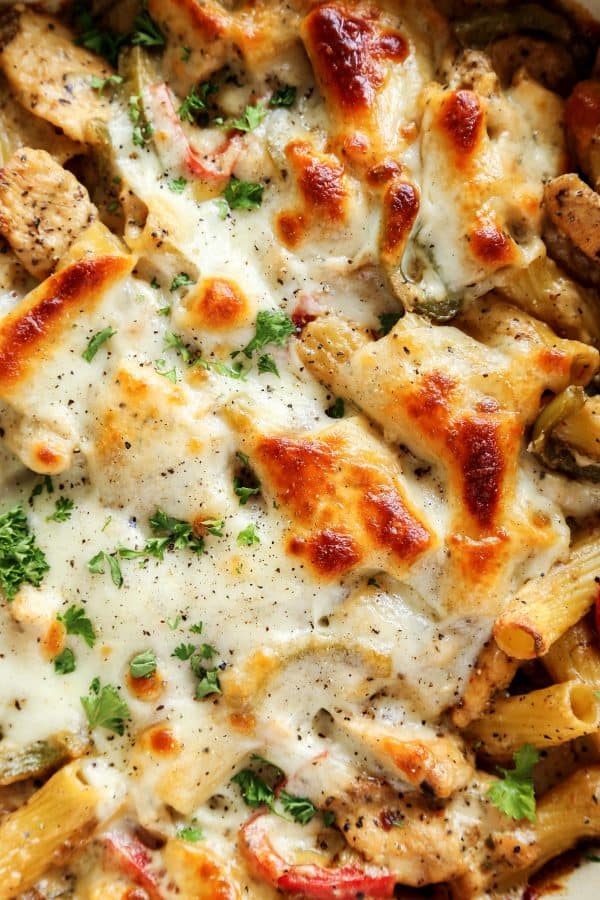 And then it's time for the real magic of this dish.
Rich and creamy provolone sauce.
Ohmygoodness, it's crazy delicious!
The provolone sauce binds the entire dish together in the most wonderful way. And then MORE provolone is baked over the top until melted and beautifully blistered.
Seriously. Who can resist hot, blistered cheese?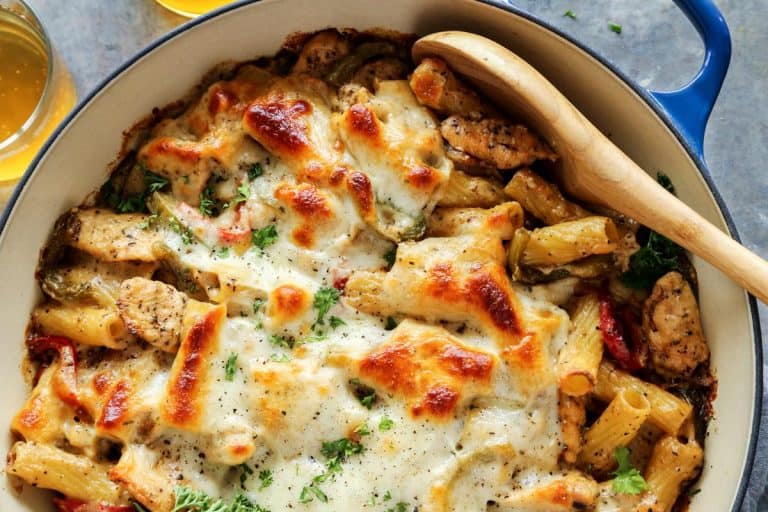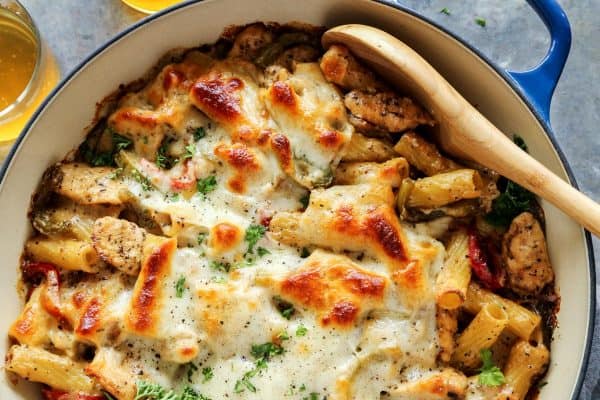 Chicken Cheesesteak Baked Ziti
This is one of those recipes that will find its way to our table regularly, I'm very certain. I highly recommend you give it a try!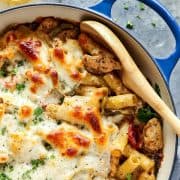 Chicken Cheesesteak Baked Ziti
Yield: 6 servings
Cook Time:25 minutes
Calories per serving: 596
Ingredients:
for the pasta:
8 oz. dry ziti or rigatoni (what I used) pasta
for the peppers and onions:
2 T. unsalted butter
1 c. thinly sliced yellow onion
1 c. thinly sliced red bell pepper
1 c. thinly sliced green bell pepper
1 tsp. kosher salt
1 tsp. ground black pepper
1 T. red wine vinegar
for the chicken:
2 T. olive oil
1 lb. boneless, skinless chicken breasts, thinly sliced
1 T. Italian seasoning
1 tsp. kosher salt
1 tsp. ground black pepper
for the provolone sauce:
4 T. unsalted butter
4 T. all-purpose flour
2 c. whole milk
1-1/2 c. shredded provolone cheese
1 tsp. kosher salt
1 tsp. ground black pepper
6 slices provolone cheese
fresh chopped parsley, for garnish
Directions:
for the pasta:
Boil pasta in salted water per package directions, until al dente. Drain pasta and transfer to a large bowl.
for the peppers and onions:
In a large skillet (I like to use this cast iron skillet) over medium-high heat, add the butter. Once butter has melted, add onion, red and green bell peppers, salt, and black pepper. Sauté, stirring occasionally, until veggies become softened and caramelized. Remove skillet from heat and stir in red wine vinegar. Transfer veggies to the bowl with the pasta.
for the chicken:
Return same skillet to burner over medium to medium-high heat and add olive oil. Sprinkle chicken with Italian seasoning, kosher salt, and black pepper. Add chicken to skillet and sauté for about 8 minutes, or until no longer pink inside. Transfer chicken to the bowl with pasta and veggies.
for the provolone sauce:
Return same skillet to burner over medium heat and add the butter. Once melted, sprinkle flour over the butter and whisk to combine (a flat whisk works awesome here!). Continue to lightly whisk for 1 minute. Gradually add the milk, whisking vigorously to combine and break up any clumps. Let cook for about 5 minutes, whisking every now and then, until mixture has thickened a bit. Add shredded provolone, kosher salt, and black pepper, stirring to combine. Let cook for a minute or two, and then pour sauce into the bowl with the pasta, veggies, and chicken. Fold to combine.
to assemble:
Preheat oven to 400°F. Lightly spray interior of a 13″ x 9″ or similarly sized baking dish with non-stick cooking spray. Transfer chicken cheesesteak mixture to prepared baking dish. Top with provolone slices and place dish in oven. Bake for about 25 minutes, or until everything is hot and bubbling, and the cheese is a bit blistered. Place under broiler to blister a bit more, if desired. Remove from oven and let rest for 5 minutes. Garnish with fresh parsley and serve immediately.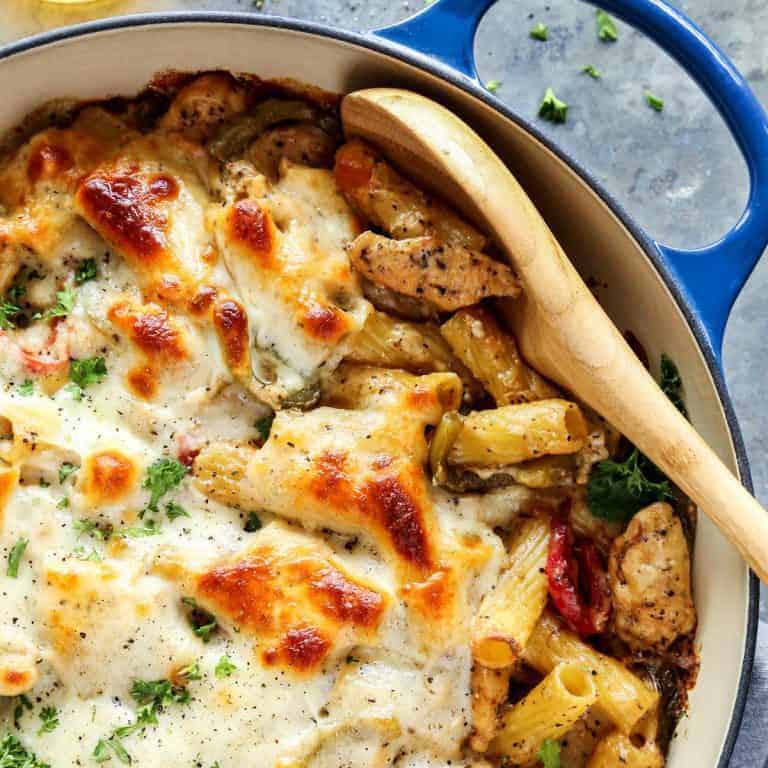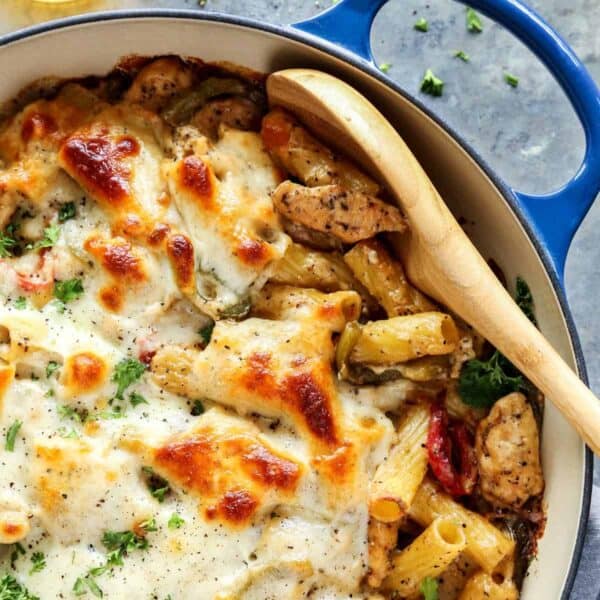 Here are a few more cheesy recipes you might like:
Recommended for this post:
We participate in the Amazon Services LLC Associates Program, an affiliate advertising program designed to provide a means for us to earn fees by linking to Amazon.com and affiliated sites. See our disclosure policy for more info.