Bacon Cheeseburger Pizza Rolls
This post may contain Amazon or other affiliate links. As an Amazon Associate I earn from qualifying purchases.
Bacon Cheeseburger Pizza Rolls bake up tender and ultra tasty, a fun riff on traditional pizza!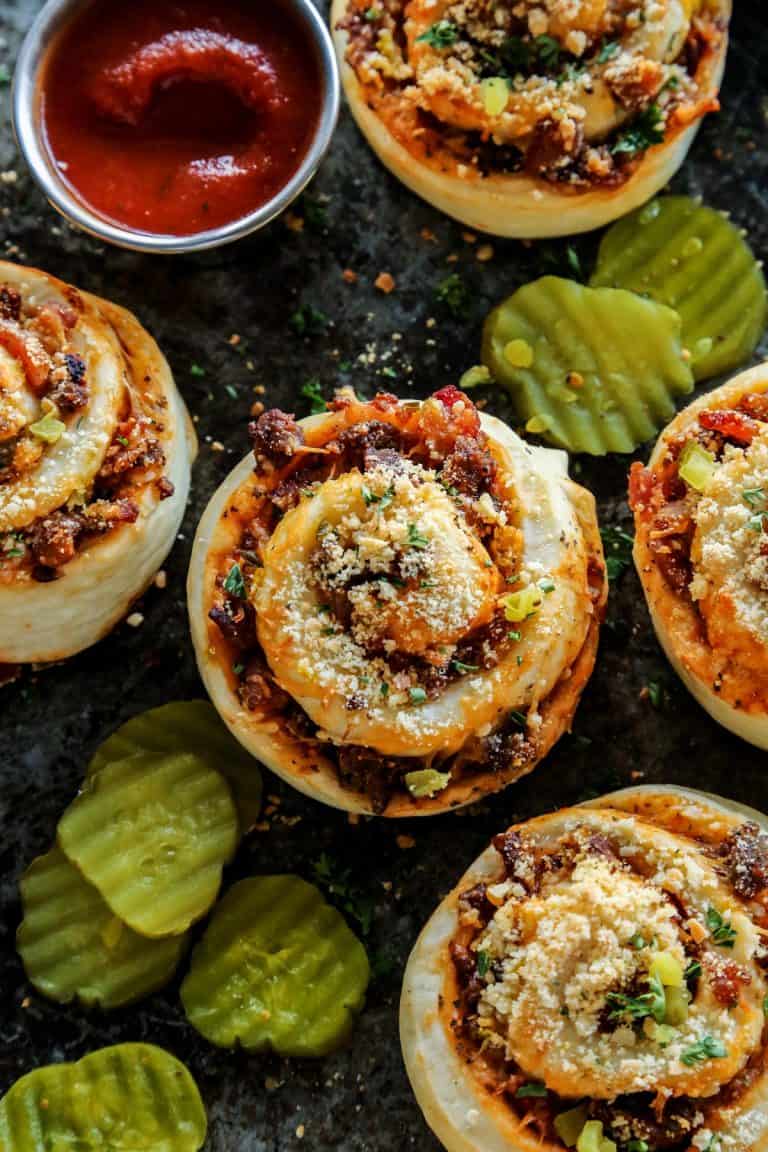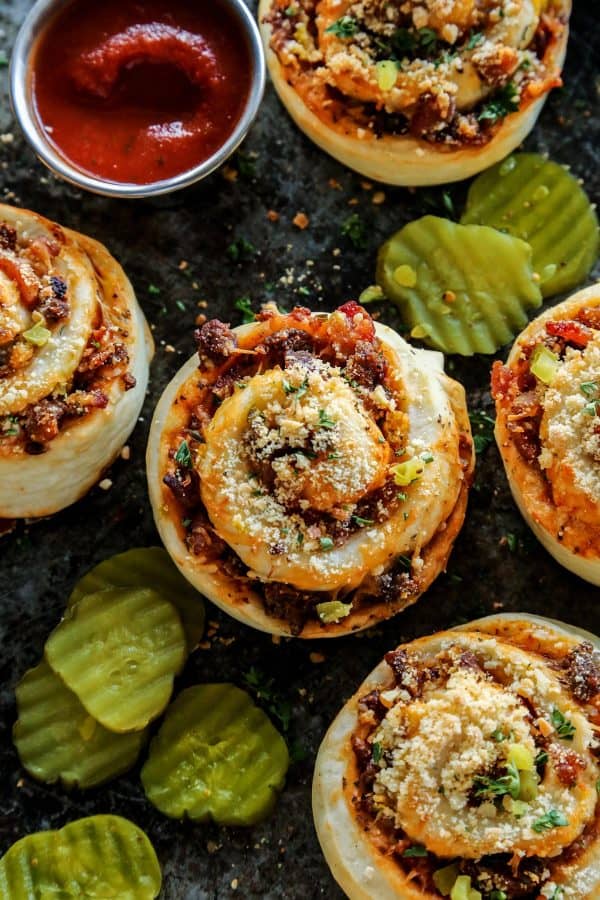 The Vikings 'Minnesota Miracle' had most all of us here in Minnesota in a happy, hopeful state of mind last week. Anticipating the upcoming NFC Championship Game, with a shot to play in this year's Super Bowl – in our very own shiny new USBank Stadium – our state was an upbeat lot.
But.
Miracle turned to misery in Sunday's loss to the Eagles. Super Bowl LII dreams vanished for those wearing Minnesota purple and gold, their season officially over.
We'll always remember this year, with our hometown Vikings being thiiiiiiiis close to playing in the Super Bowl game on their home field. It would have been a history-maker, as this scenario has never happened before.
But we're moving on.
Minnesota still plans to enjoy this event on our home turf. An estimated 1 million people will be visiting the Twin Cities for the Super Bowl game and Super Bowl LIVE, the ten days of planned activities leading up to the big event. It's gonna be big. It's gonna be fun.
And it promises to be delicious with these tender, tasty swirls of Bacon Cheeseburger Pizza Rolls. This recipe has been a HUGE hit with my family. I'm certain it's going to be a frequent request for years to come!
* This is a sponsored post, created in partnership with Rhodes®.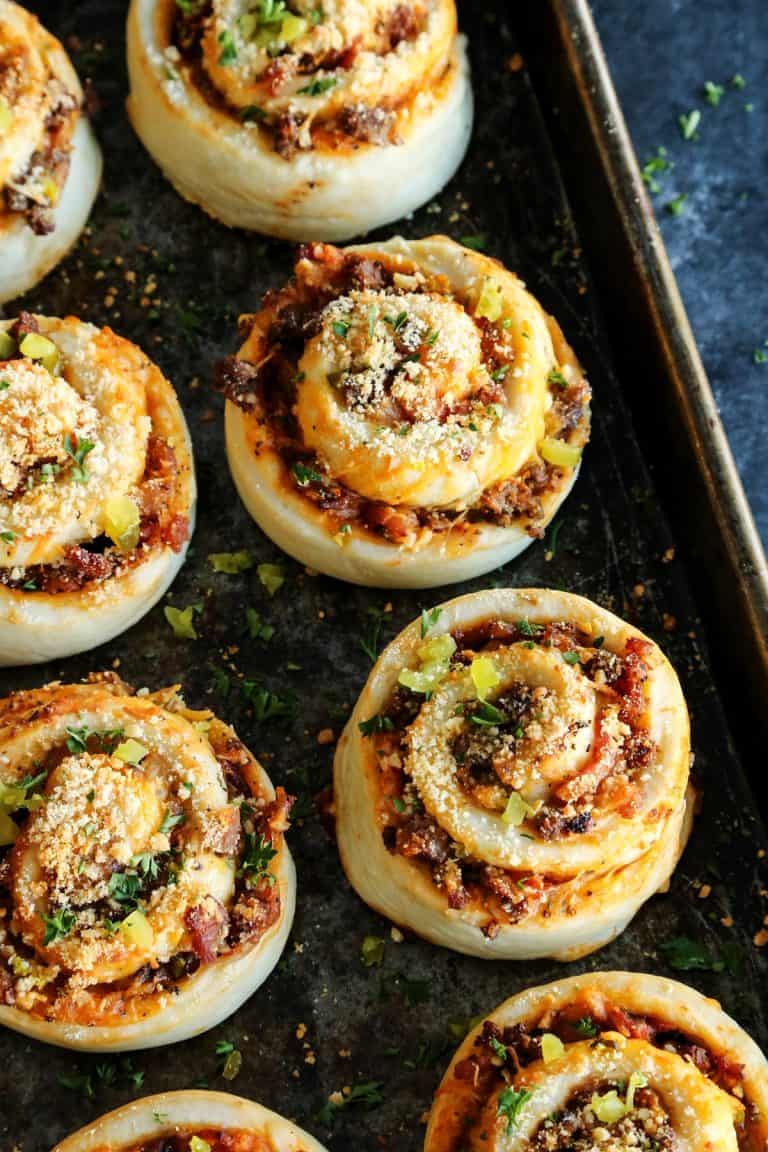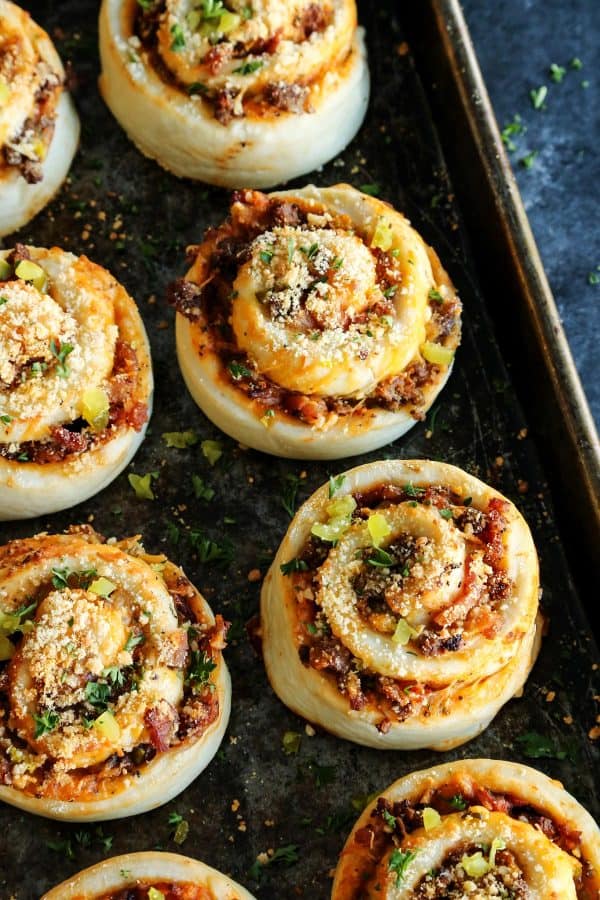 Most of our household are fans of the bacon cheeseburger. So I knew the overall flavor theme for these pizza rolls was going to be a winner. Even our youngest, who is not so fond of cheeseburgers, fell for these fun swirls.
Seriously.
Just look at those pretties.
Who could resist them?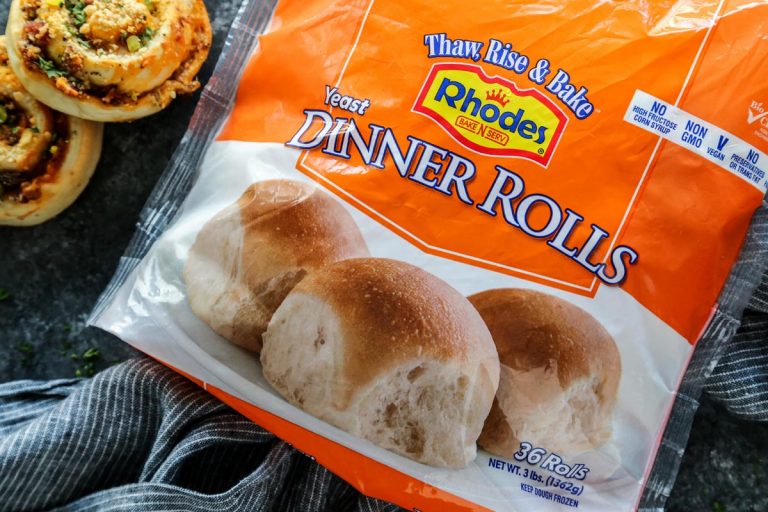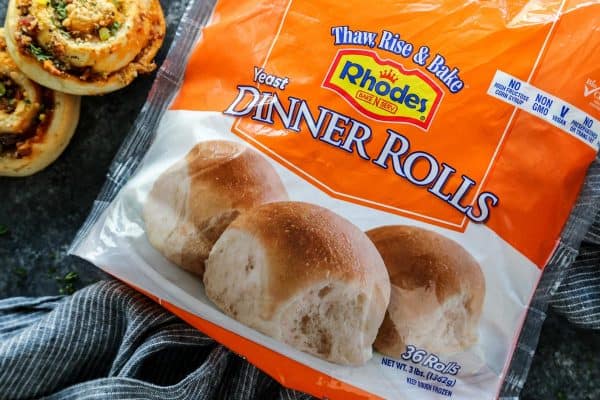 There's always a bag of Rhodes frozen yeast dinner rolls in our freezer. Simply because we enjoy a quick and easy caramel roll monkey bread recipe passed down from a co-worker friend many, many years ago.
And we now have these dinner rolls to thank for the ease and tastiness of the dough used in this bacon cheeseburger pizza rolls recipe.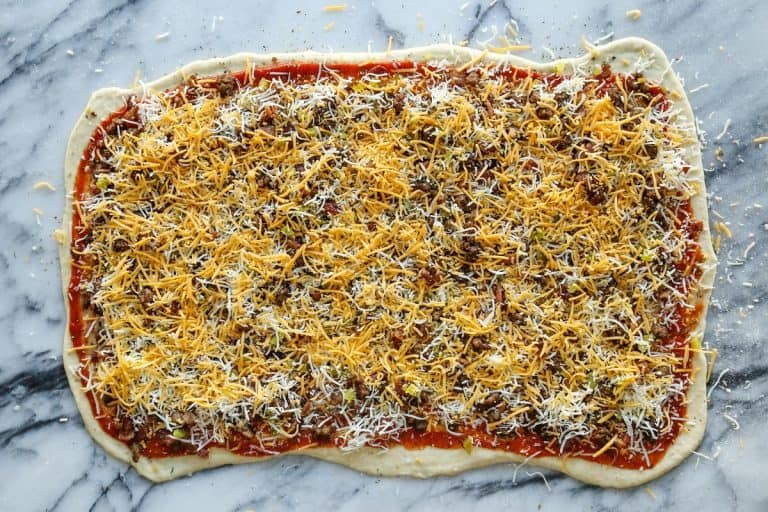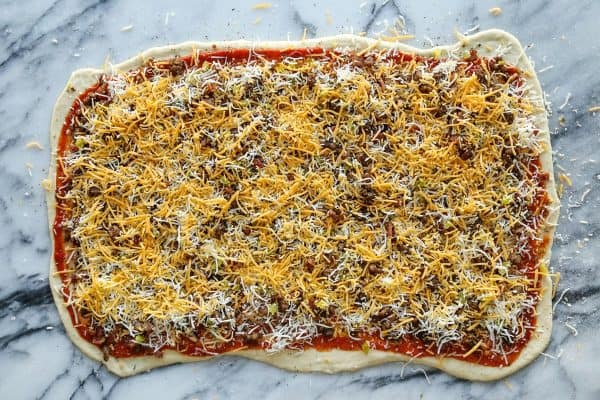 The concept here is easy.
Individual thawed dinner rolls are combined to form one larger ball of dough. That dough ball is then rolled out into a rectangle and topped with pizza sauce and bacon cheeseburger goodies.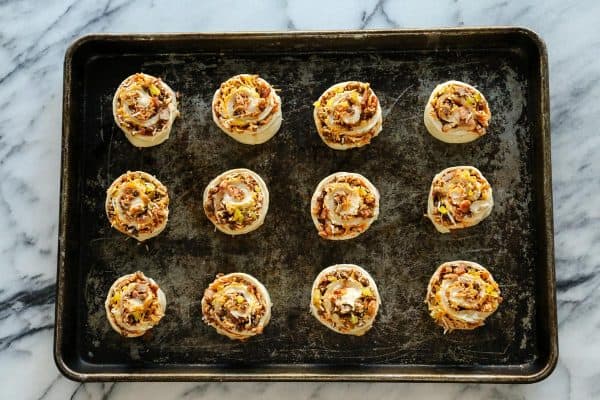 The rectangle is rolled up, jelly roll style, and then sliced into rounds and baked.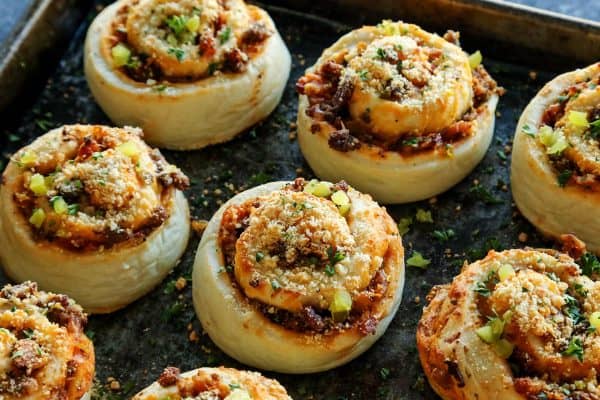 In the oven, the dough puffs up gloriously from the heat, showing off pretty swirls of pizza toppings tucked inside.
Don't be surprised if you find yourself camped outside the oven window, watching the pizza rolls bake. This is one of those recipes that make being in the kitchen so much fun!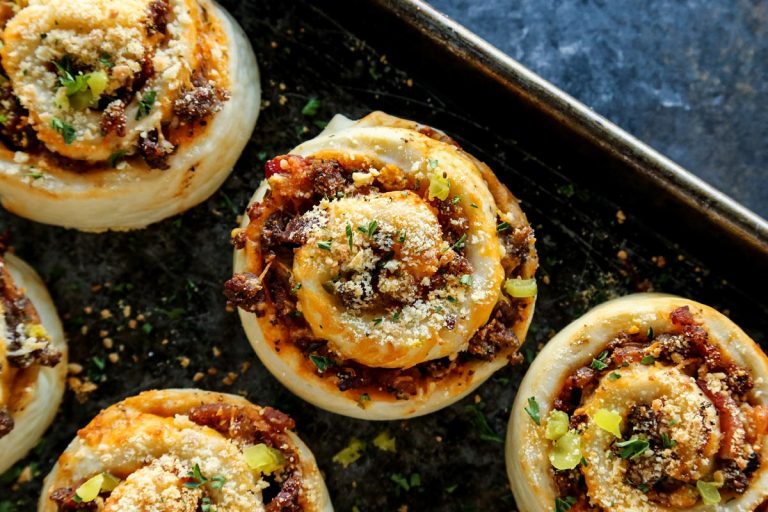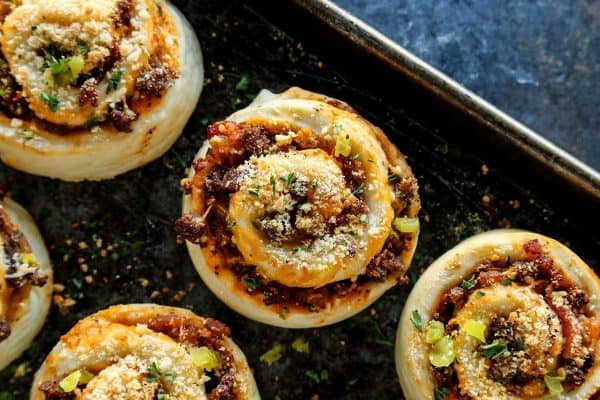 Bacon Cheeseburger Pizza Rolls.
The dough bakes up beautifully, perfectly.
And the result is a pan full of tidy individual packages of savory, irresistible "mini pizzas".
These pizza rolls make a great main dish, served alongside a fresh salad. And, of course, they fit in nicely on our list of appetizer recipes.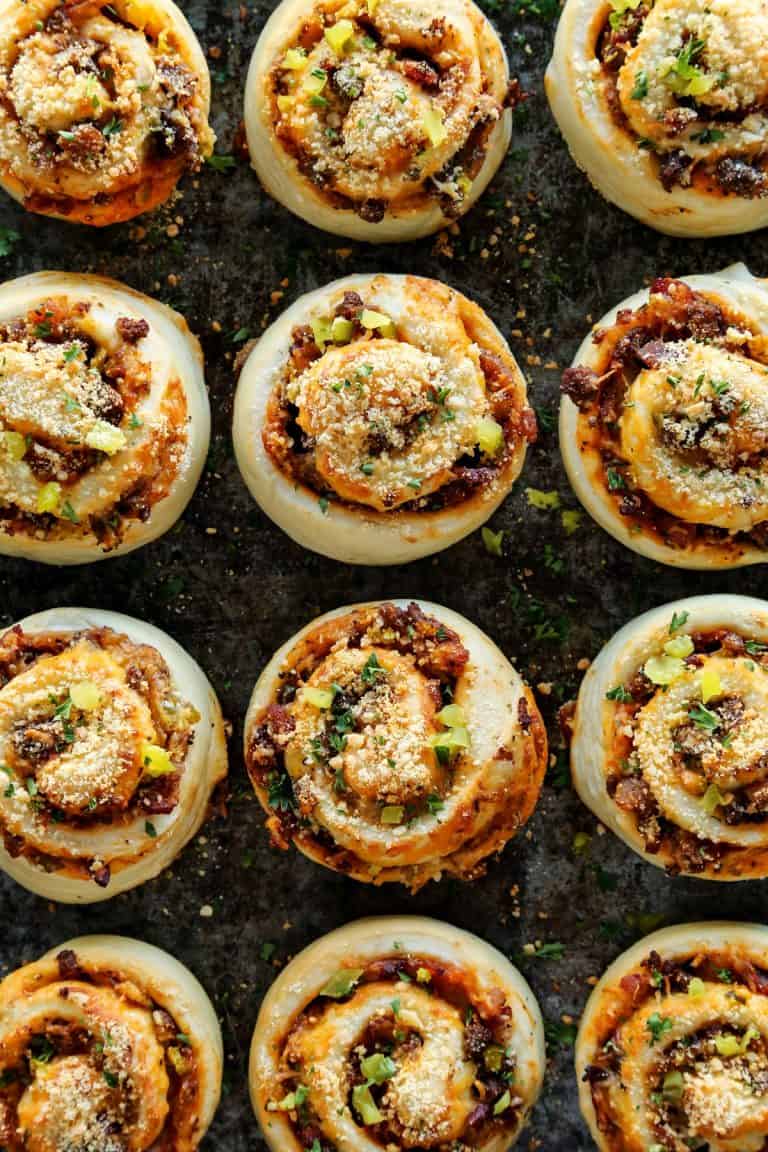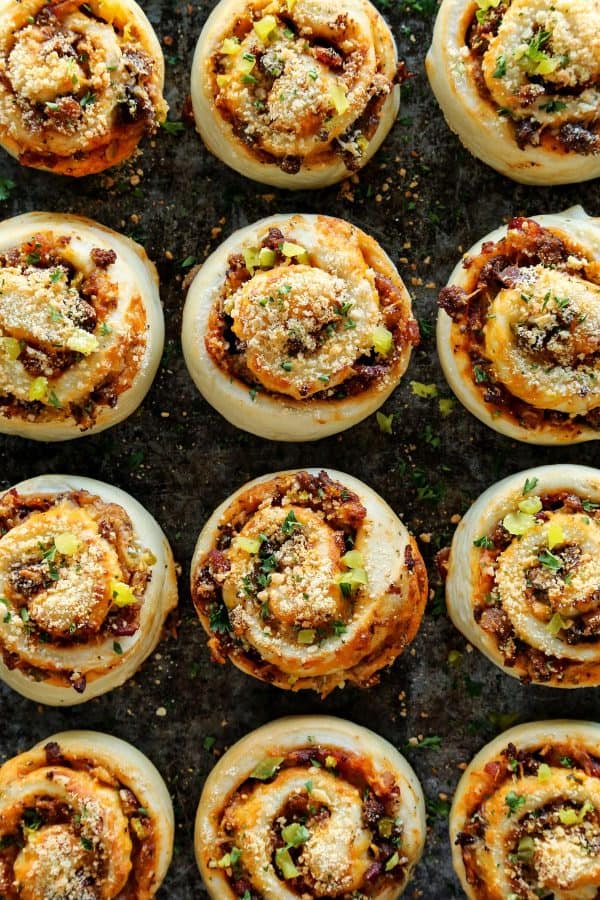 My family gets very excited when they see the pan of bacon cheeseburger pizza rolls come out of the oven.
And rightfully so.
Pizza Night is always a favorite dinner event at our house. And with this version, it's extra fun!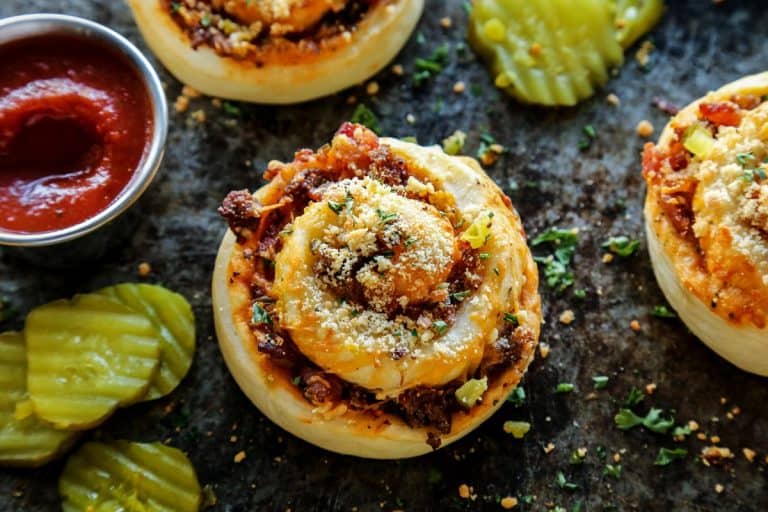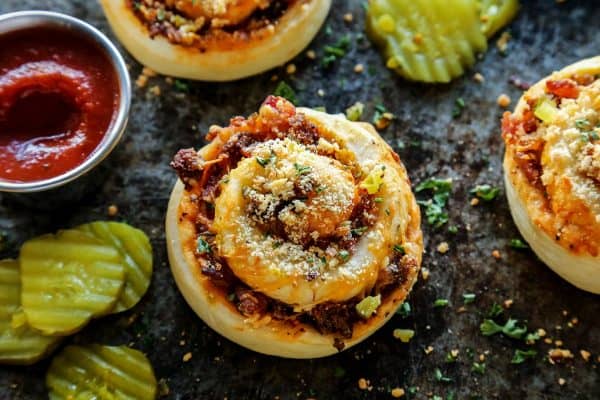 Our whole family recommends extra pizza sauce for dipping. And Blake and I, dill pickle fans through and through, suggest a few extra dill pickle slices on the side as well.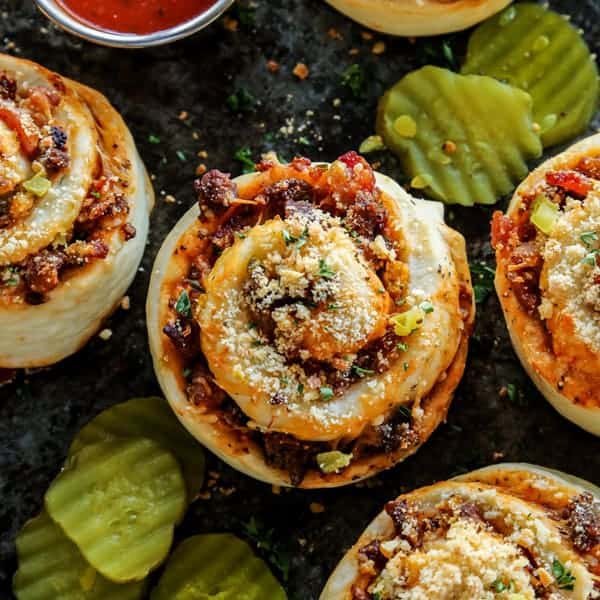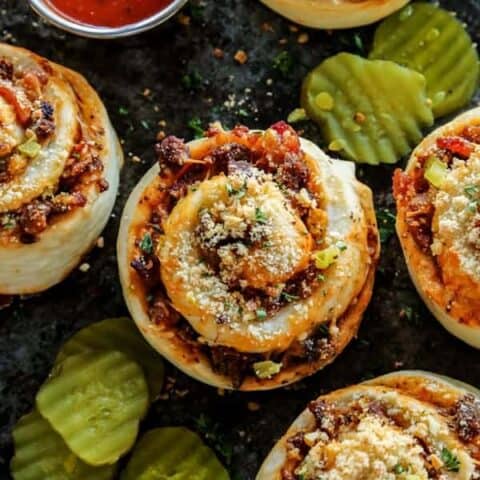 Bacon Cheeseburger Pizza Rolls
Yield: 12 appetizer servings
Cook Time: 24 minutes
Total Time: 24 minutes
Bacon Cheeseburger Pizza Rolls bake up tender and ultra tasty, a fun riff on traditional pizza!
Ingredients
12 Rhodes® Yeast Dinner Rolls, thawed
4 oz. well trimmed bacon, chopped into 1/2" pieces (You will need more than 4 oz. of bacon, with the total weight depending on how fatty your bacon is. Don't trim the bacon totally clean of fat, but do aim to have 4 ounces of mostly meat.)
1/3 lb. lean ground beef
1/4 c. minced yellow onion
1 tsp. Lawry's seasoned salt
1/4 tsp. black pepper
1/2 c. your favorite pizza sauce, plus extra for dipping finished rolls
1 tsp. dried Italian herb mix
1/4 c. chopped dill hamburger pickle slices, chopped into 1/4" pieces (use a bit more if you like!), plus a bit more for tops of finished pizza rolls
1 c. shredded sharp cheddar
1 c. shredded mozzarella
1/4 c. yellow cornmeal
2 T. grated Parmesan
2 T. chopped fresh parsley, optional garnish
Instructions
In a skillet over medium to medium-high heat, cook bacon for 5 minutes, stirring occasionally. Then add beef and onion, stirring to combine. As the beef is browning, break it up until there are small pieces, 1/4" in size or so, not larger than 1/2" in size. Drain any excess fat. Remove mixture to a paper towel-lined plate to cool.
Combine individual thawed rolls and roll into 12" x 18" rectangle with a rolling pin. The dough is very elastic and forgiving, but the cold dough will take a little work to get rolled to that size - just be patient, it'll come around. As you work with the dough, if it starts to stick to the rolling pin a little, don't be afraid to give your rolling pin a very light coating of all-purpose flour. I just keep a small amount available on the counter, to pat over the rolling pin every now and then.
Spread pizza sauce over dough, leaving a 1/2" bare edge of dough at the perimeter. Sprinkle beef and bacon mixture evenly over pizza sauce, followed by Italian herb mix, pickles, sharp cheddar, and mozzarella.
Place cornmeal on a small plate and set aside. Spray a large rimmed pan lightly with non-stick spray and set aside. Roll up dough jelly roll style, starting with the long side. Tuck and roll the dough fairly tightly. If dough sticks to surface below, grab a thin metal turner or spatula to nudge the dough. Again, the dough is very forgiving - don't worry about perfection here. Just keep rolling, nice and tight. With a large serrated knife (I like to use a bread knife), slice the roll into 12 pieces. Pinch seams on each individual roll together, to ensure the dough stays rolled while baking. Dip one of the cut sides of each piece into the cornmeal and place the cornmeal-dipped sides down on the prepared large rimmed pan. Spray one side of a piece of plastic wrap with non-stick spray and cover the rolls, sprayed side down over the rolls.
Let rise in a warm place for 30 minutes. Preheat oven to 350°F. Our stove top has a vent that sends some of the oven's heat out over the stove top. I like to place my pan of covered pizza rolls here on the stove top to rise, utilizing that warmth.
Remove plastic wrap. Sprinkle pizza rolls with Parmesan. Bake for about 24 minutes, or until rolls are nicely golden.
Remove from oven and top with a bit more chopped pickle. Add a sprinkling of chopped parsley, if desired. Serve hot with extra pizza sauce for dipping. And if you really like pickles, have some extra pickle slices available too.
Notes
from a farmgirl's dabbles
Nutrition Information:
Yield: 12
Serving Size: 1
Amount Per Serving:
Calories: 262
Total Fat: 16g
Saturated Fat: 7g
Trans Fat: 0g
Unsaturated Fat: 7g
Cholesterol: 55mg
Sodium: 504mg
Carbohydrates: 11g
Fiber: 2g
Sugar: 1g
Protein: 19g
Nutrition information is automatically calculated by Nutritionix. I am not a nutritionist and cannot guarantee accuracy. If your health depends on nutrition information, please calculate again with your own favorite calculator.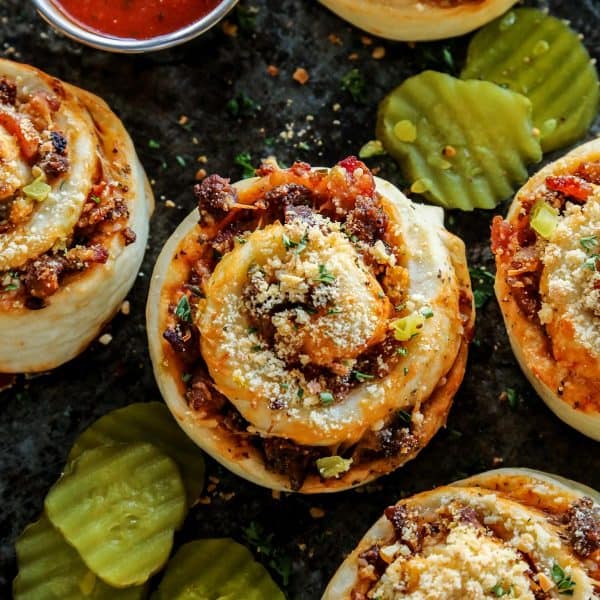 .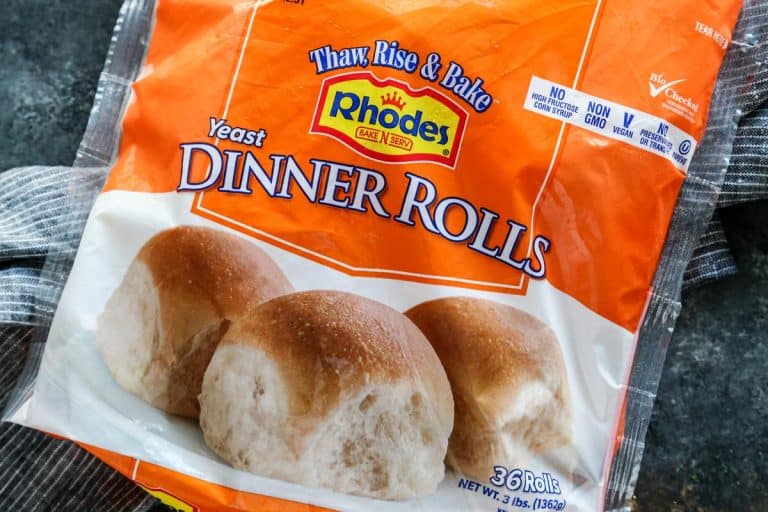 Rhodes Bake-N-Serv® was founded in 1958 by Mr. Herbert Rhodes. He did not allow any preservatives to be added to Rhodes White Bread Dough or White Roll Dough, and the flour he selected had to be of the highest quality, unbleached, with a high-protein content. Rhodes® is a family business that continues to be dedicated to producing home-baked quality frozen bread and roll dough, frozen sweet rolls, and partially baked frozen rolls.
Check out these recipes for quick and delicious sliders for Game Day, using Rhodes Warm-N-Serv® Rolls.
Connect with Rhodes on their website and social media channels: Facebook, Pinterest, and Instagram.
This post is sponsored by Rhodes®, a frozen bread and roll dough brand that's always in our freezer. All text and opinions are 100% my own. Thank you for supporting the brands that help make this site possible.
We participate in the Amazon Services LLC Associates Program, an affiliate advertising program designed to provide a means for us to earn fees by linking to Amazon.com and affiliated sites. See our
disclosure policy
for more info.