Hot Honey Chicken Wings
These Hot Honey Chicken Wings are perfectly sweet, spicy, and addictive. They're super crispy baked wings, with a thin, crackly skin – thanks to the parboil method! Perfect for game days or a fun, casual dinner anytime!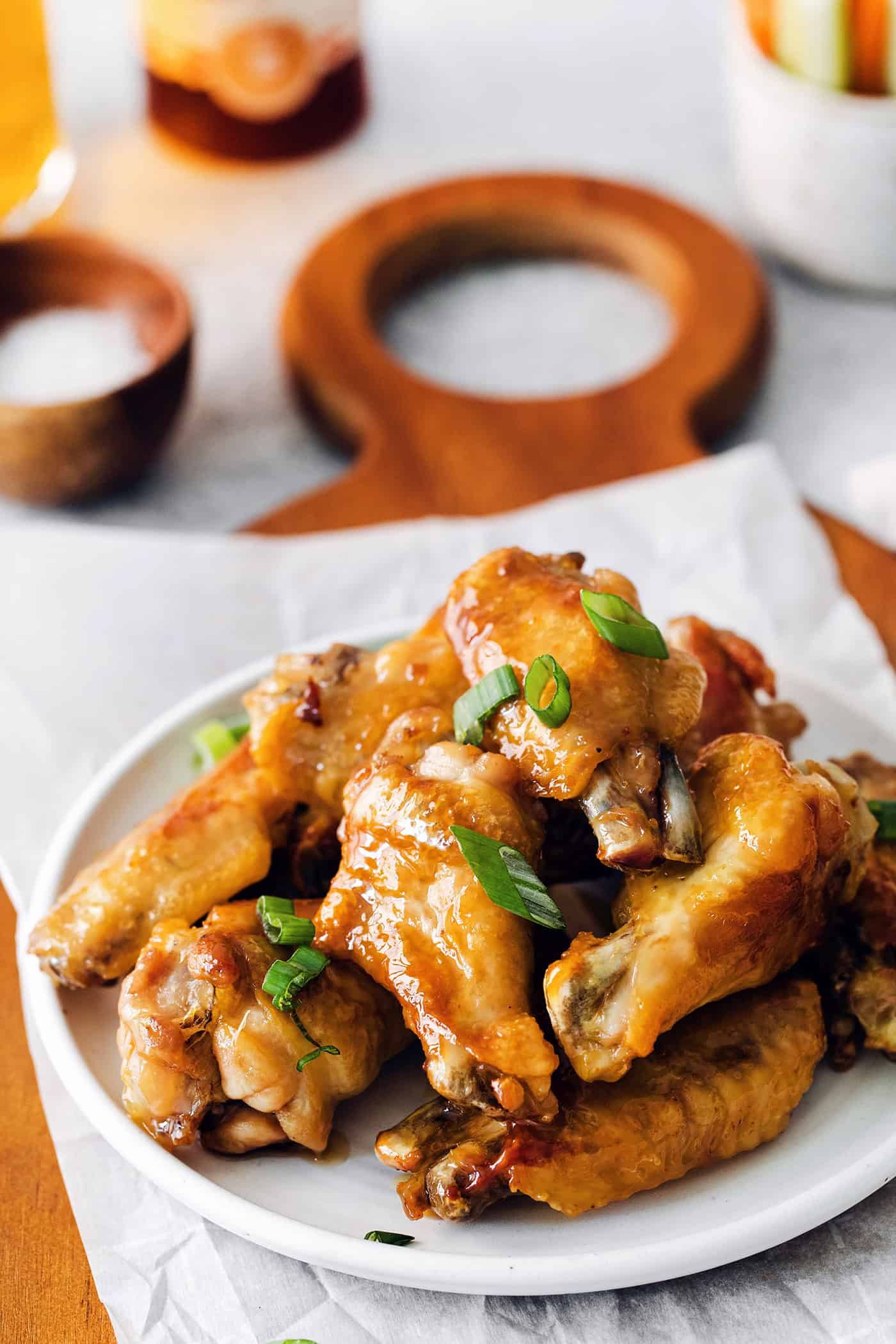 Easy, Crispy Baked Chicken Wings
Extra crispy chicken wings are my dynamite. I'm talking wings with a thin, shatteringly crisp skin on the outside and moist, tender meat on the inside.
After discovering how to make perfectly crispy baked wings without adding breading or deep frying in oil, there was no turning back. Because the flavor possibilities are endless! Next up are these Hot Honey Chicken Wings, another variation that my family has come to love. These wings are sticky sweet with just a bit of heat, all with that super thin, crispy skin and juicy, tender insides.
I will warn you, though – if you're making these for game day, go ahead and just make a double batch. Because, trust me. They disappear – fast!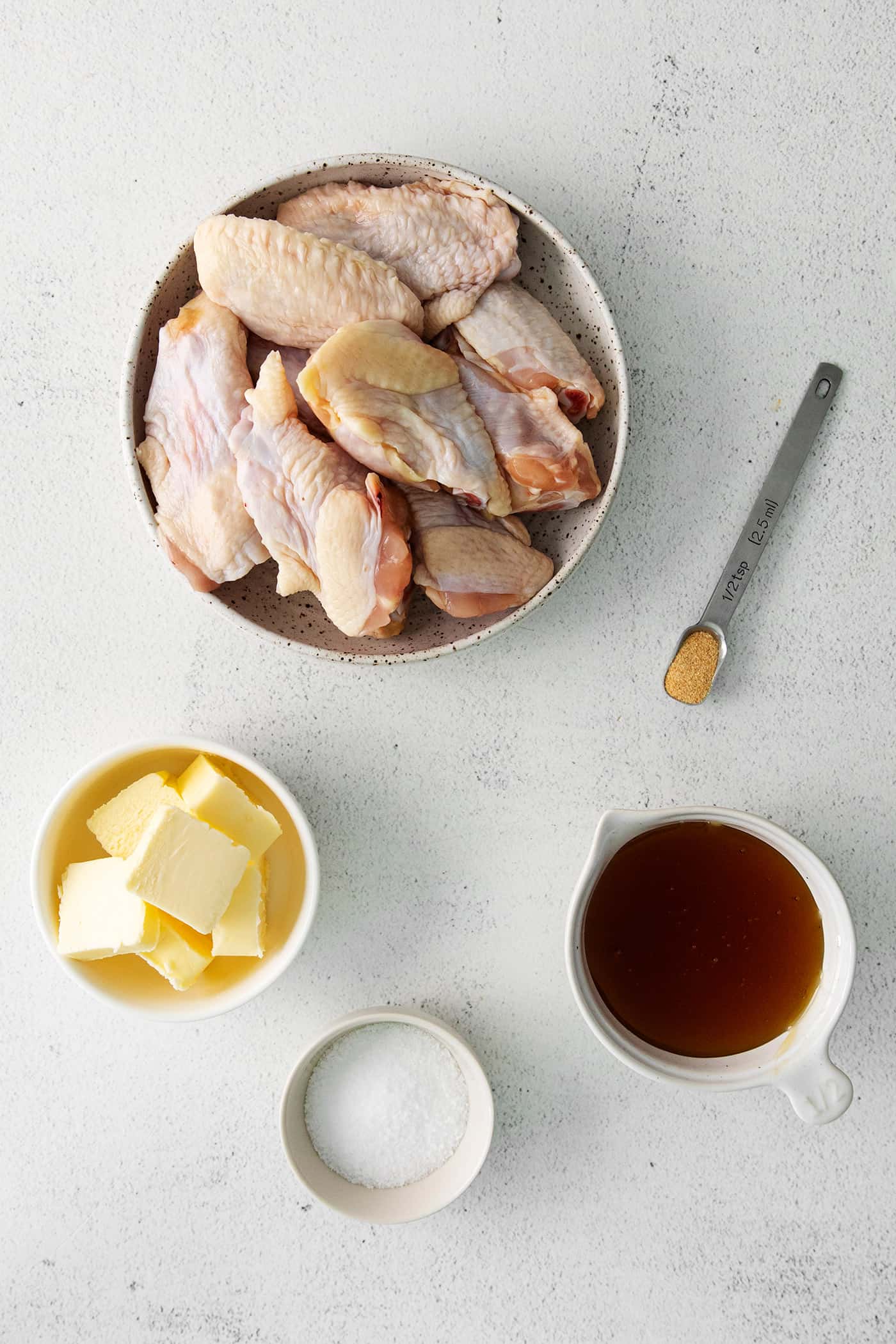 What You'll Need
These sweet and spicy baked chicken wings require only 5 ingredients, plus salt & pepper!
Chicken wings – I'm using chicken wing portions (also called "party wings") which have the flat and drummet separated. If you have whole chicken wings, make sure to remove the wing tip and separate the flat and drummet.
Kosher salt – Salt helps season the wings so they have great flavor, but it also helps pull extra moisture out of the chicken skin while boiling.
Unsalted butter – Butter thins the honey sauce so it isn't overly sticky. Plus it adds a great mouthfeel and richness to the hot honey butter sauce. It's delightful!
Hot honey – Mike's Hot Honey is awesome, but there are plenty of great brands out there. Or make your own by warming ½ cup honey and 3 tablespoons hot sauce together until combined – I use Frank's Original Hot Sauce for this method, which offers a hot honey that is less "hot" than Mike's Hot Honey. You could also add red pepper flakes if you like it extra spicy!
Garlic powder – I love the hint of garlic flavor that garlic powder adds to the sauce!
Sliced green onion – Sprinkle some fresh green onion over the finished wings for a tasty, beautiful contrast. Another option would be chopped parsley or cilantro.
How to Make Hot Honey Chicken Wings
The best, crispiest wings begin with an easy parboil before baking.
Parboil the wings. Boil water over high heat, then add 2 tablespoons of salt. Add the chicken wings and cook for 7 minutes.
Dry the wings & season. Drain the wings and transfer to a baking sheet lined with paper towels. Squeeze the wings with more paper towels to remove as much moisture as possible. The more moisture you remove, the crisper the wings will be. Sprinkle with salt & pepper.
Bake the wings. Bake the wings for 10 minutes then flip and bake for an additional 15 minutes. For extra crispy wings, broil on high heat for 5-8 minutes, taking care that they don't burn.
Make the honey sauce. While the wings are baking, whisk all of the sauce ingredients in a saucepan until the butter is evenly incorporated.
Serve. Toss the wings with some of the hot honey butter sauce and offer more of the sauce for dipping. Garnish with sliced green onion and serve immediately. They're at their absolute crispiest best straight out of the oven!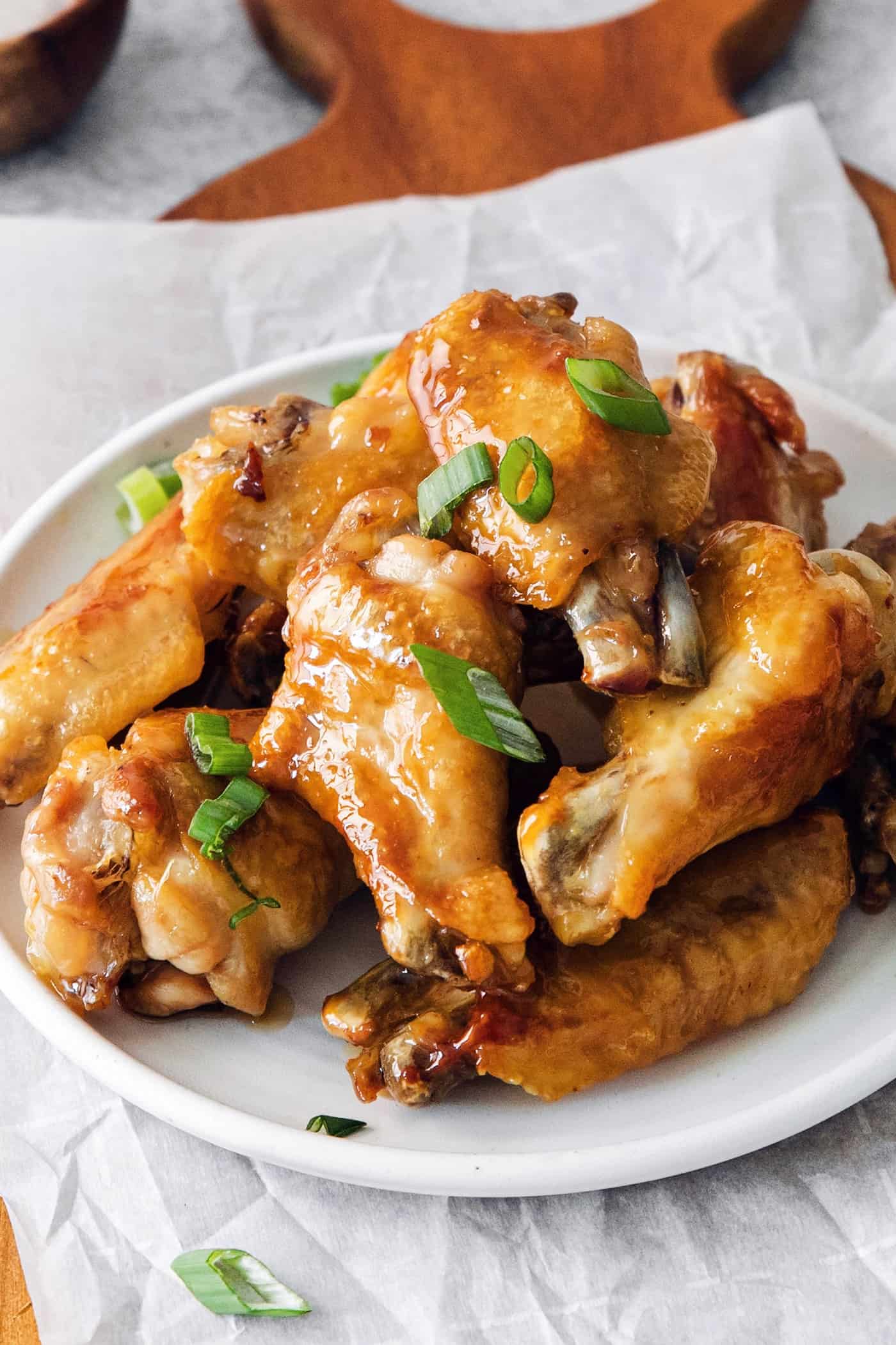 Why parboil chicken wings?
This is a technique that I discovered in a previous quest for the best, crispiest chicken wings. I didn't want to add extra breading or use baking powder – and I wanted to stay away from a deep fryer (or the way my kitchen smells all week after!).
Parboiling – which literally just means quickly boiling the wings before baking – cooks off some of the fat in the chicken skin, so that it's thinner and less flabby. This sets the wings up to get significantly crisper when baked in the oven.
It's an additional step, but an easy one. And the result is so very worth it!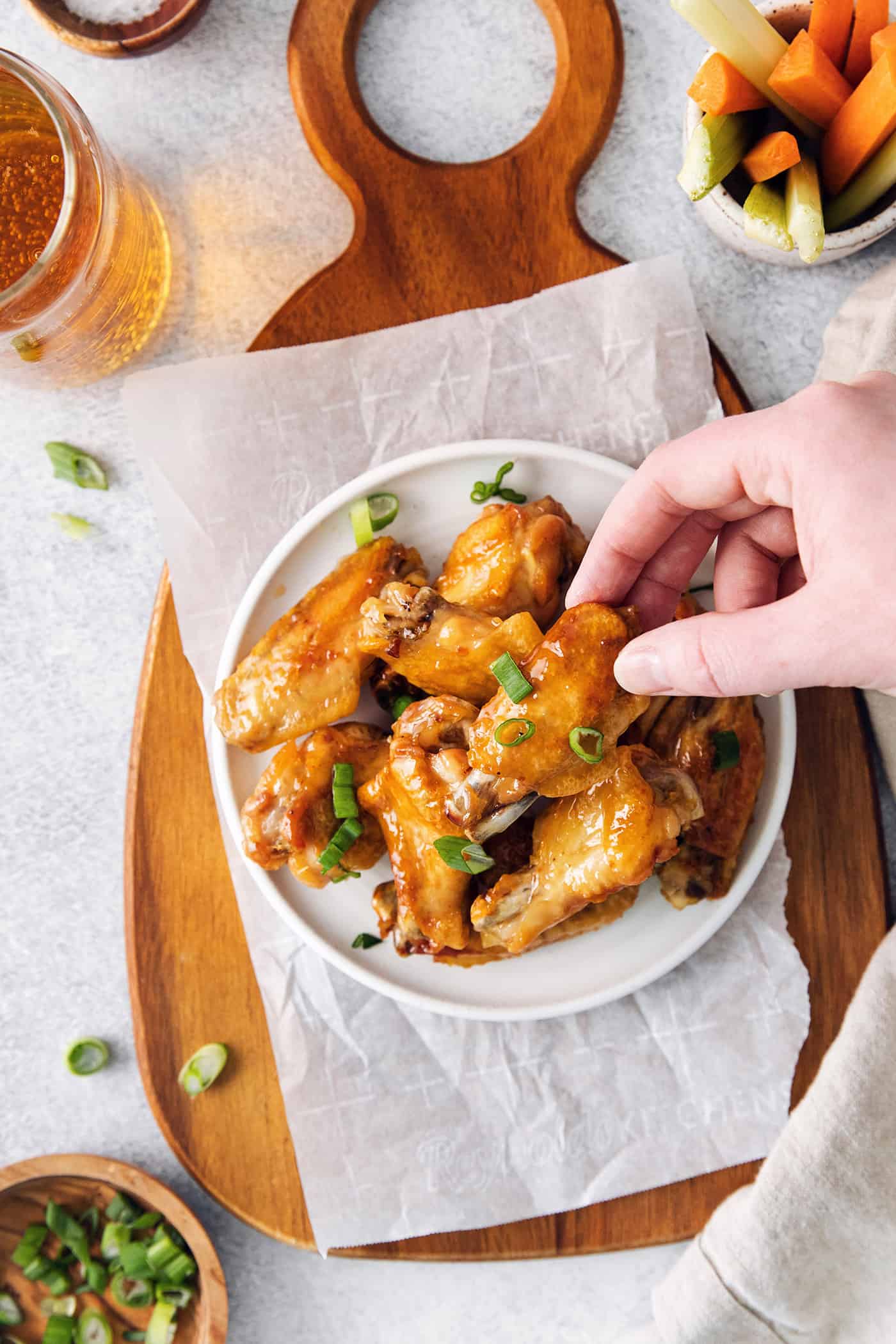 Tips for Success
For ultra crispy wings, here are a few considerations:
Use thawed wings. If using frozen wings, be sure to thaw them completely before making this recipe.
Don't overcook during the parboil stage. You want to boil the wings for 7 minutes only. The goal is just to cook off some of the fat from the skin, not completely cook the meat.
Make sure the water is completely boiling before adding the chicken. The water should be rapidly boiling BEFORE adding the chicken wings. Otherwise, the fat won't cook off quick enough and the meat will cook too much.
Line baking pan with foil. For the easiest clean-up, line your baking pan with heavy duty aluminum foil. I like to give the foil a light spritz of non-stick cooking spray, to help with any wings that want to stick.
Be sure to flip the wings in the oven. To ensure all sides are equally crispy, take the time to flip the wings over during baking.
Keep an eye on the broiler. I always finish by popping the wings under the broiler – make sure it's about 6 inches from the top – for about 5 to 8 minutes. You do want to keep a close eye on the wings during this part to ensure they don't burn. Broiling is essential to getting that skin extra crisp, do not skip this part!
Make it spicy. The butter does reduce the spiciness of the hot honey butter sauce. If you want to kick it up a notch, add in some red pepper flakes.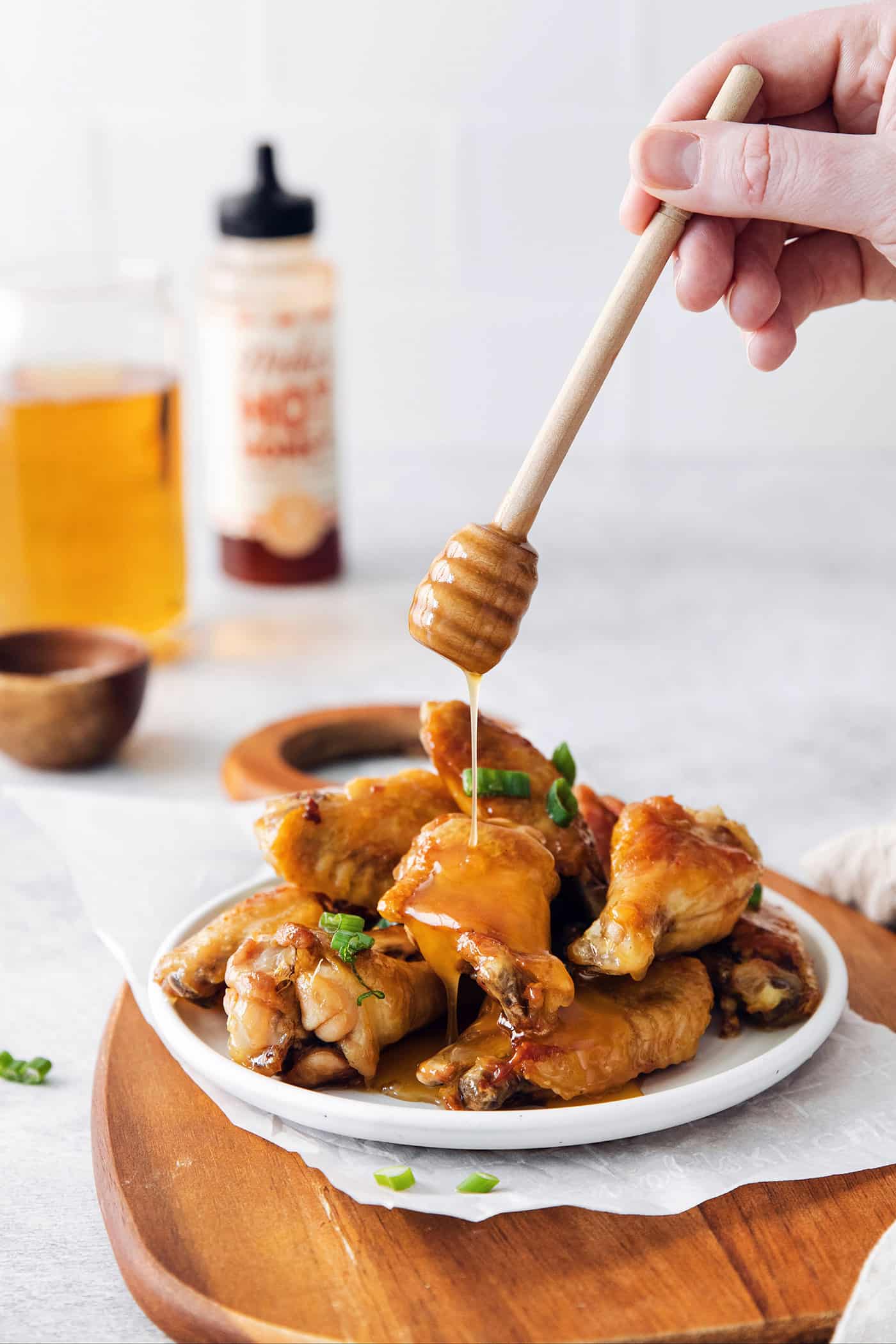 Serving Suggestions
These wings are a huge game day favorite. But we also turn them into a super casual meal as well, usually with a side of fries and/or a simple salad.
For serving as an appetizer, I keep it pretty classic with some fresh carrot and celery sticks and a side of ranch and/or blue cheese. I like to sprinkle some sliced green onion over the wings, for both flavor and presentation. And I always offer more of the hot honey sauce for dipping or drizzling as well. It's so addictive, I always want more!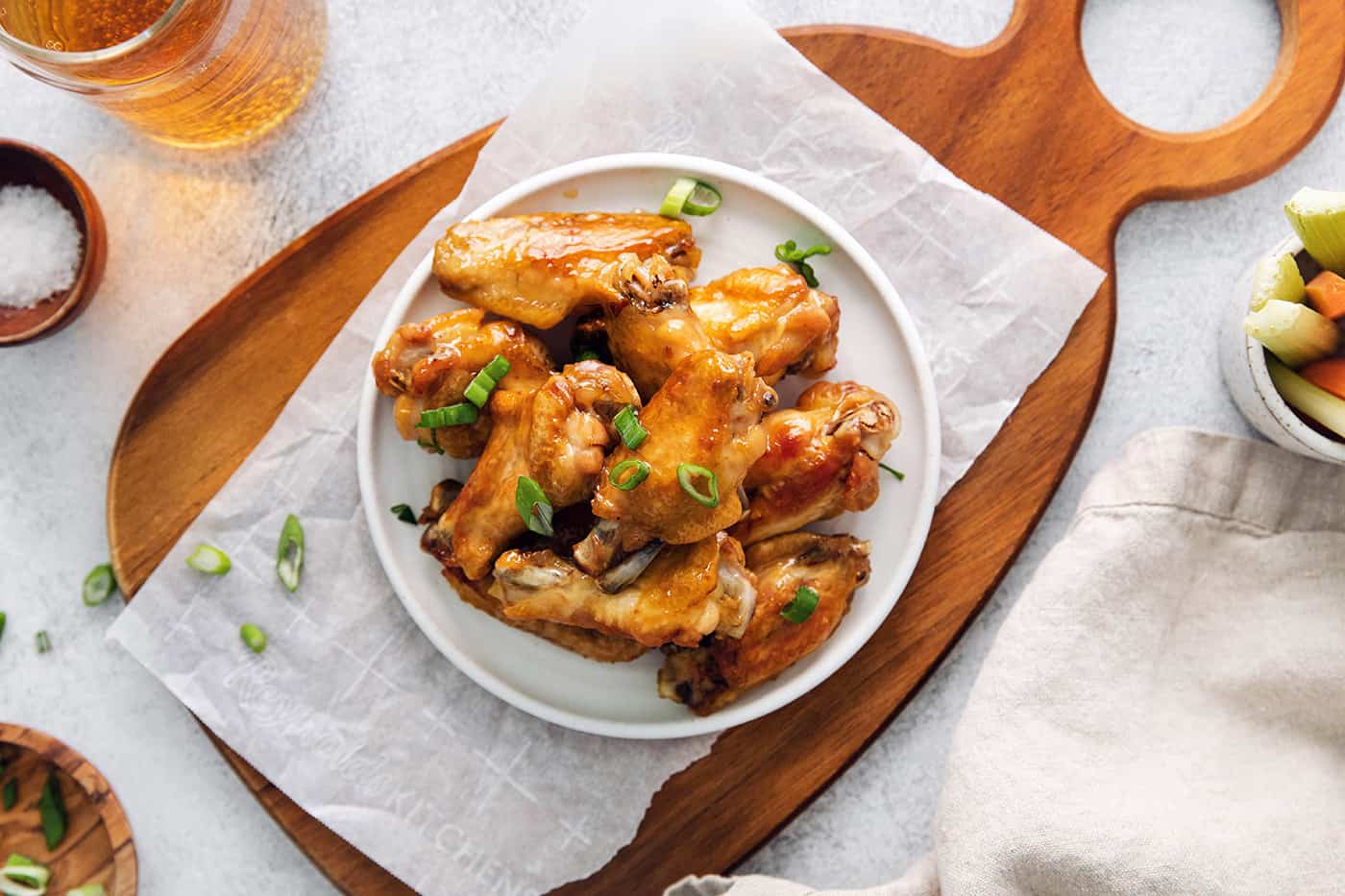 How to Store Leftovers
Crispy baked wings are best when enjoyed immediately. As they cool, they will begin to lose some of the crispiness so I don't recommend storing them. Best to just dive in right away and enjoy them!
However, if you do have leftovers…you can store them in an airtight container for a few days. Reheat in the microwave or oven. They'll still taste amazing, the skin just won't be crispy.
More Chicken Recipes:
Like this recipe? Save it to Pinterest!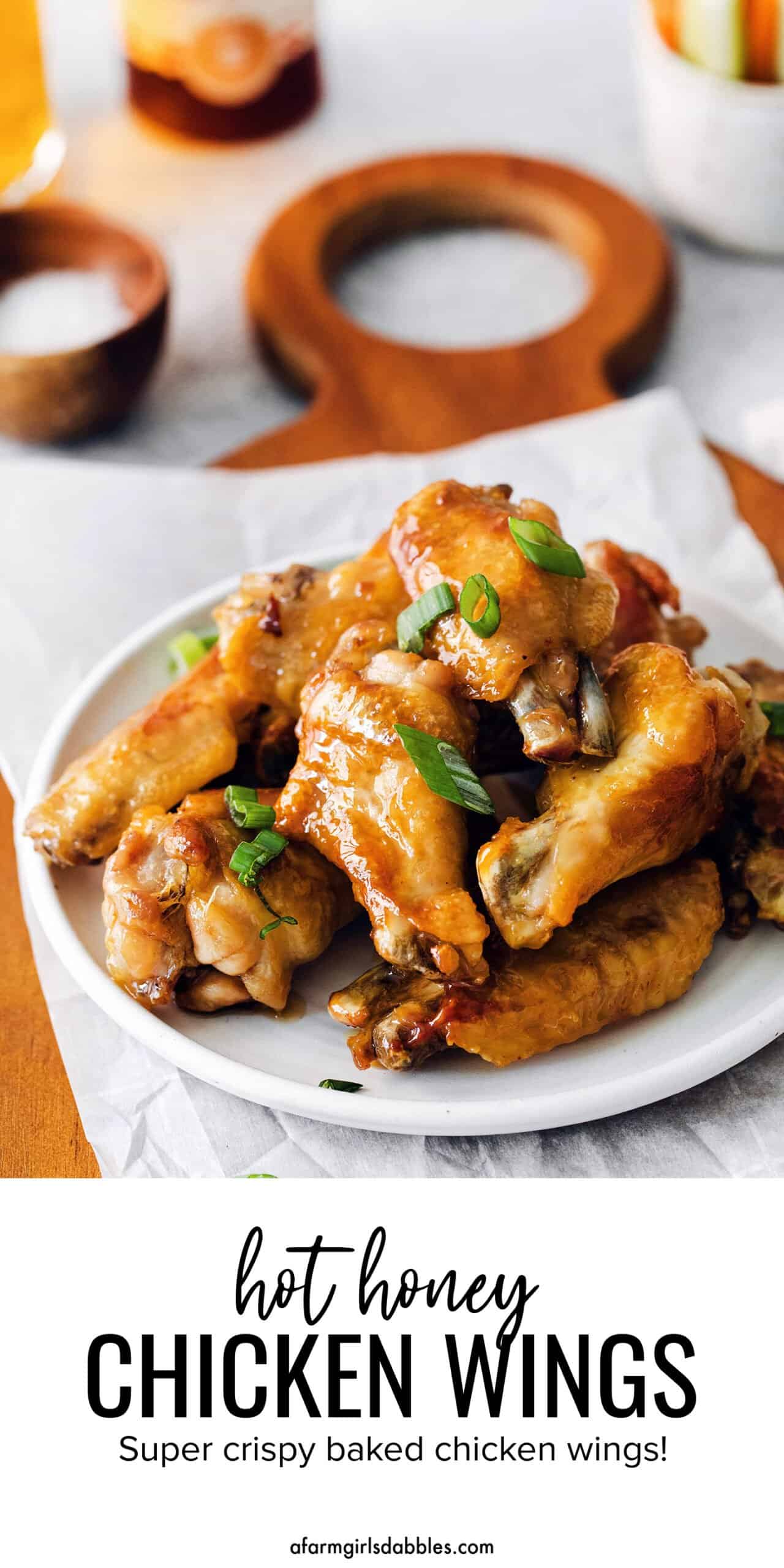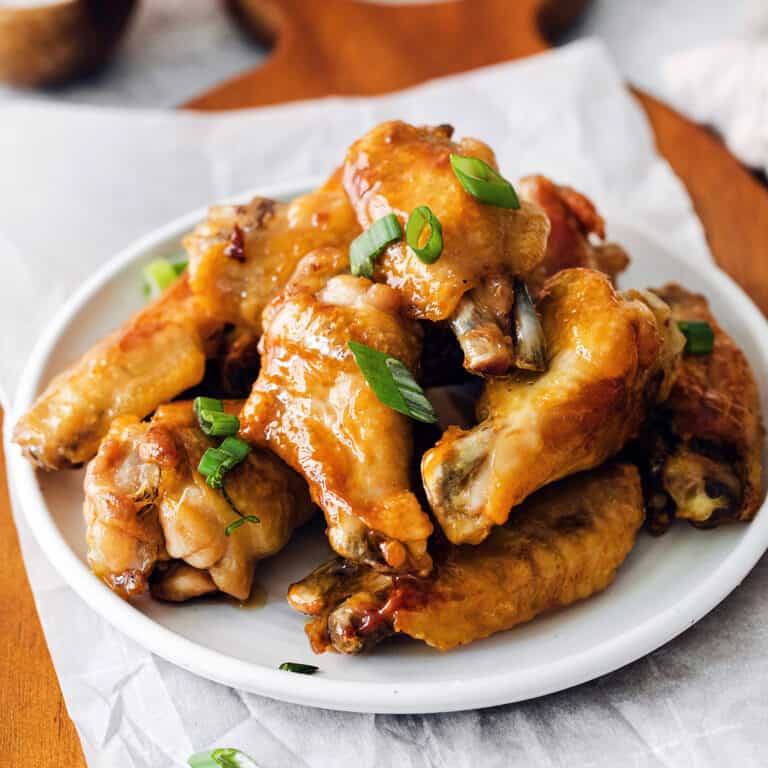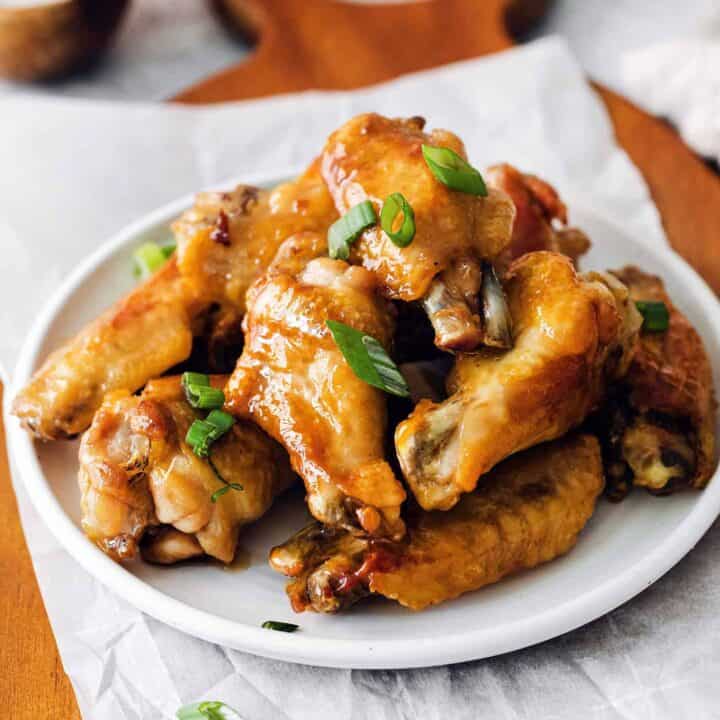 Hot Honey Chicken Wings
Yield: 4 servings
Prep Time: 10 minutes
Cook Time: 30 minutes
Total Time: 40 minutes
These Hot Honey Chicken Wings are perfectly sweet, spicy, and addictive. They're super crispy baked wings too - thanks to the parboil method! Perfect for game days or a fun, casual dinner anytime!
Ingredients
3 pounds chicken wing portions
2 tablespoons + 1 teaspoon kosher salt, divided
1/2 teaspoon black pepper
6 tablespoons unsalted butter
½ cup hot honey
½ teaspoon garlic powder
Sliced green onion or chopped parsley, for garnish
Instructions
Preheat the oven to 450° F and lightly spray a large rimmed baking sheet with non-stick cooking spray. For easy clean-up, line the baking sheet with heavy duty foil and lightly spray with non-stick cooking spray.
Line a second baking sheet with paper towels and set aside.
Bring a large pot of water to a boil over high heat. Once water is rapidly boiling, add 2 tablespoons of the kosher salt and stir to combine. Add chicken wings to the pot and cook for exactly 7 minutes, stirring occasionally so they don't stick together.
Once the chicken wings have par-boiled, remove them to the baking sheet lined with paper towels. When wings are cool enough to handle, squeeze them with more paper towels to ensure that they are completely dry - remove as much moisture as possible to ensure super crispy wings!
Place dried wings on prepared baking sheet and sprinkle both sides with remaining 1 teaspoon of the salt and pepper. Turn them skin side down and bake for 10 minutes. Flip the wings (skin side up) and bake for an additional 15 minutes.
For extra crispy wings, place the wings 6" away from the broiler and broil them on high heat for 5-8 minutes, or until the skin is bubbling, golden brown, and crisp. Make sure to keep an eye on them so they don't burn!
While the wings broil, place the butter, hot honey, and garlic powder in a small saucepan set over medium heat. Allow the butter to melt and then whisk the sauce until smooth and combined. Set aside until ready to serve.
When the wings are crisp, remove them to a large bowl and toss with the warmed hot honey butter. I usually toss about half of the honey butter with the wings and save the remaining half for dipping, but feel free to use as much or as little of the sauce as you like. Garnish with sliced green onion or chopped parsley and enjoy immediately for the crispiest wings experience.
Nutrition Information:
Yield: 4
Serving Size: 1
Amount Per Serving:
Calories: 1027
Total Fat: 72g
Saturated Fat: 30g
Trans Fat: 1g
Unsaturated Fat: 36g
Cholesterol: 232mg
Sodium: 2784mg
Carbohydrates: 58g
Fiber: 1g
Sugar: 35g
Protein: 39g
Nutrition information is automatically calculated by Nutritionix. I am not a nutritionist and cannot guarantee accuracy. If your health depends on nutrition information, please calculate again with your own favorite calculator.