Chinese Chicken Salad
This Chinese Chicken Salad recipe is hearty with shredded chicken and a colorful mix of fresh vegetables. With a creamy peanut butter dressing, this is one of our favorite ways to enjoy an Asian salad!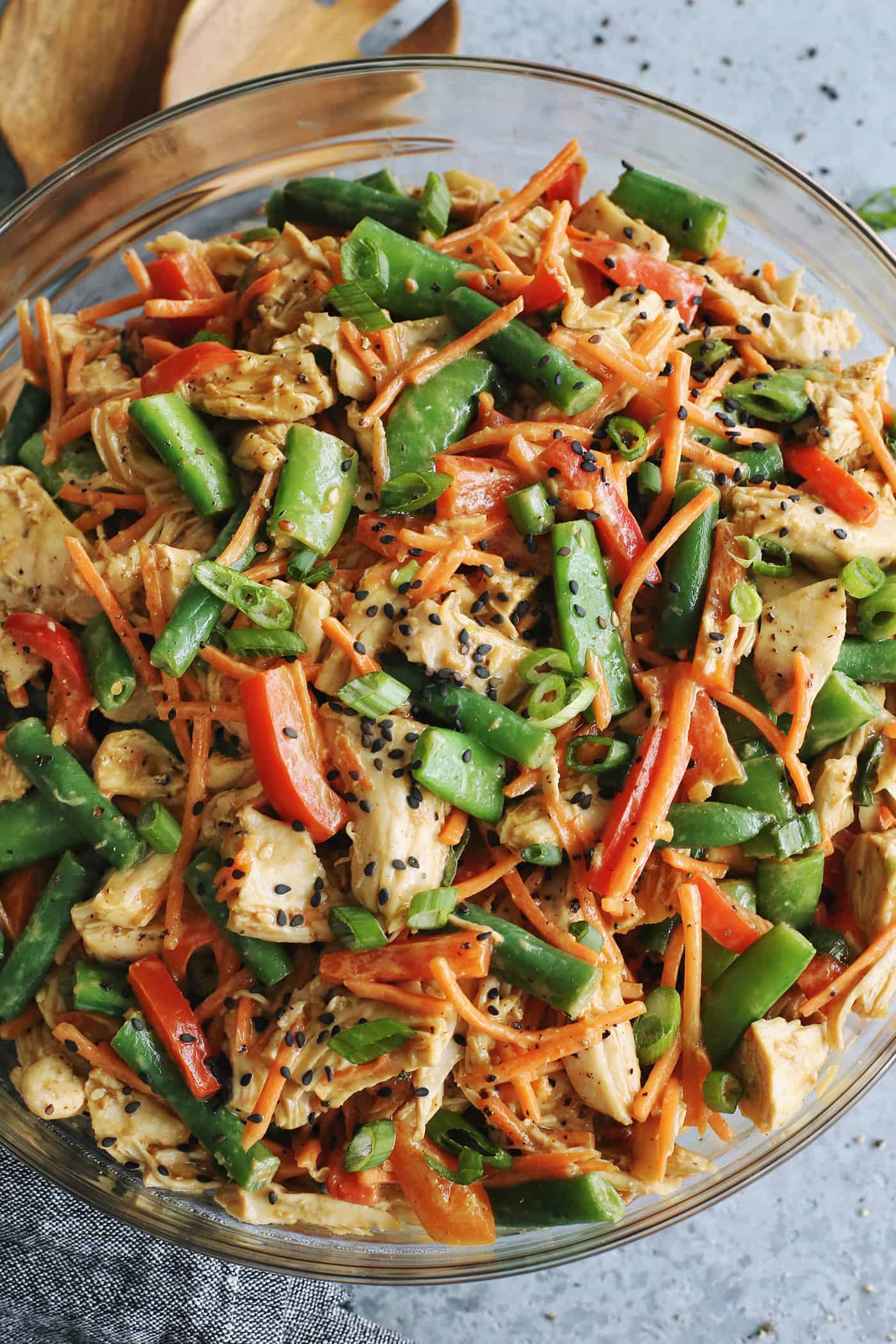 Chinese Chicken Salad Is A Family Favorite
When it comes to go-to salad recipes for our family, this is one of them. We have relied on this Chinese Chicken Salad recipe for toting along to summertime picnics and for packing in lunch bags during the school year. It's a winner all year 'round!
Every single one of us finds the Chinese chicken salad dressing in this salad to be irresistible. With a mixture of peanut butter and soy sauce at the base, plus fresh ginger and garlic, it's pretty amazing.
I also especially like that this salad is packed with lean chicken protein and a colorful array of fresh vegetables. It's a flavorful, hearty salad that makes all of us happy!
Here are a few more salads that work great for picnics and lunch bags: We never, ever tire of this Sun Dried Tomato Pasta or my mom's Macaroni Salad with Ham & Cheese. This Sweet Onion Coleslaw Dressing makes for a super easy and tasty cold salad. And our girls absolutely adore these Individual Caprese Pasta Salads!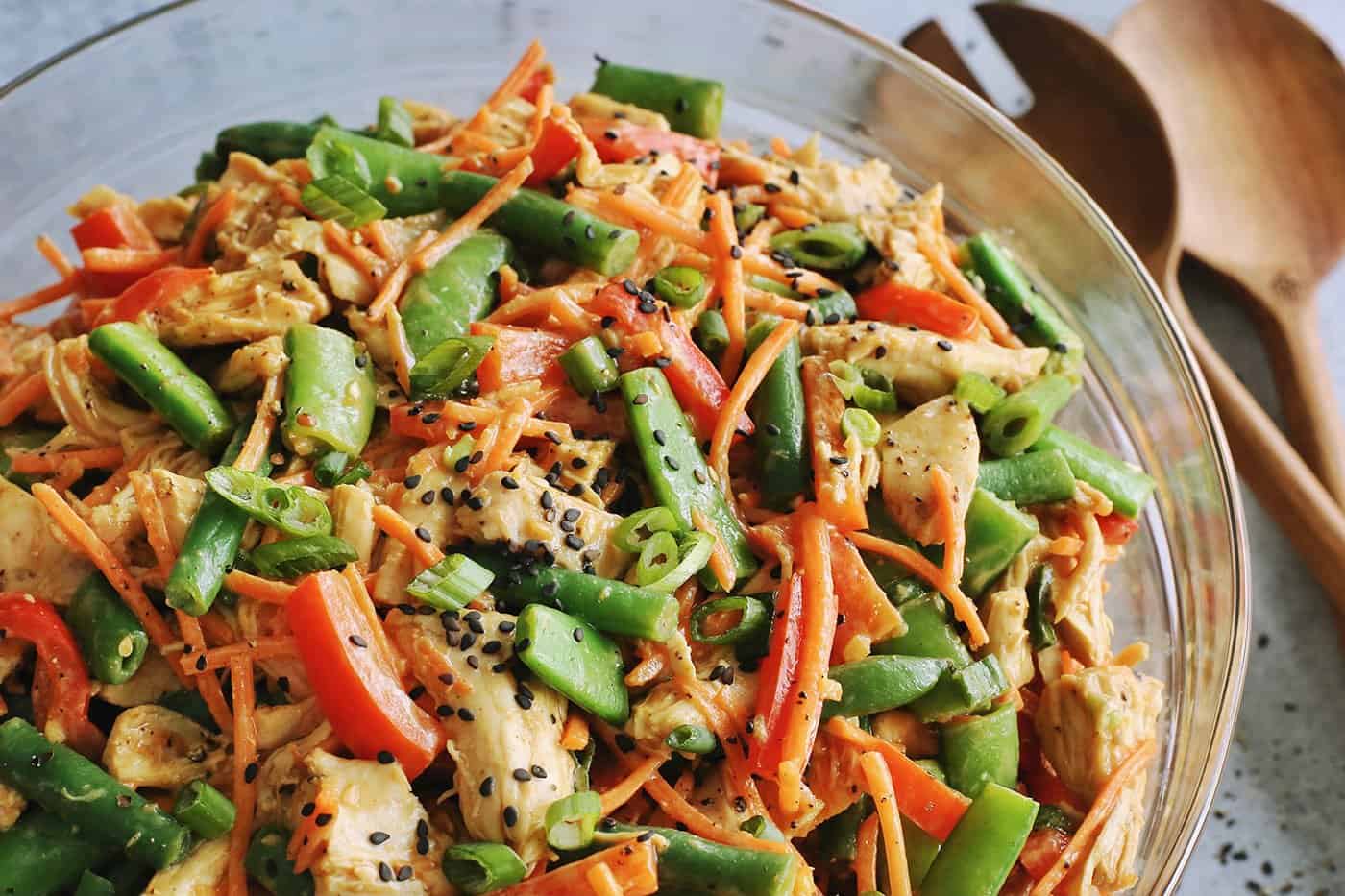 I've been making this Asian chicken salad since our girls were very young. And now that they're older and super capable in the kitchen, they are usually the ones who actually make it. Which I love!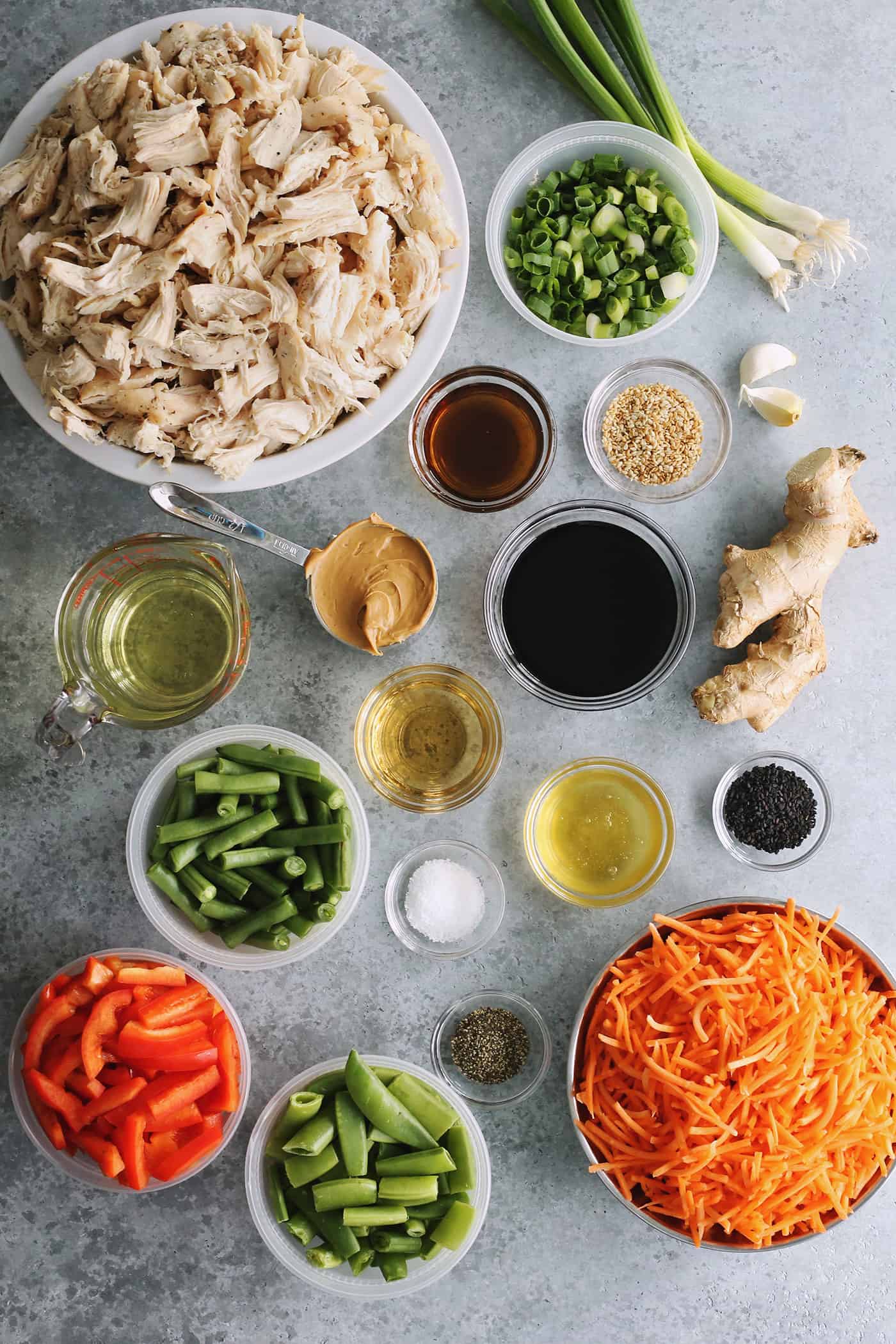 Ingredients
Just look at all the freshness that goes into this salad. Here's what you'll need!
For the dressing:
Vegetable oil – Use your favorite vegetable oil.
Apple cider vinegar – This vinegar adds tanginess and a little bit of fruity sweetness.
Sesame oil – This oil lends so much delicious flavor.
Honey – Just a little bit for sweetness.
Garlic – Fresh garlic is a must in this recipe!
Ginger – I love fresh ginger, so I tend to always be generous with it!
Sesame seeds – Toasted white sesame seeds add both flavor and texture.
Creamy peanut butter – The #1 reason my family loves this salad!!
Salt & pepper – Season to your own liking.
For the salad:
Shredded chicken – Use cooked chicken (white and/or dark meat) or rotisserie chicken from the store!
Olive oil
Salt & pepper
Fresh veggies – I most often include green beans, sugar snap peas, red bell pepper, carrots, and green onion…but use your own favorite vegetables!
Sesame seeds – Use toasted white sesame seeds or for a more striking contrast, use black sesame seeds (LOVE!).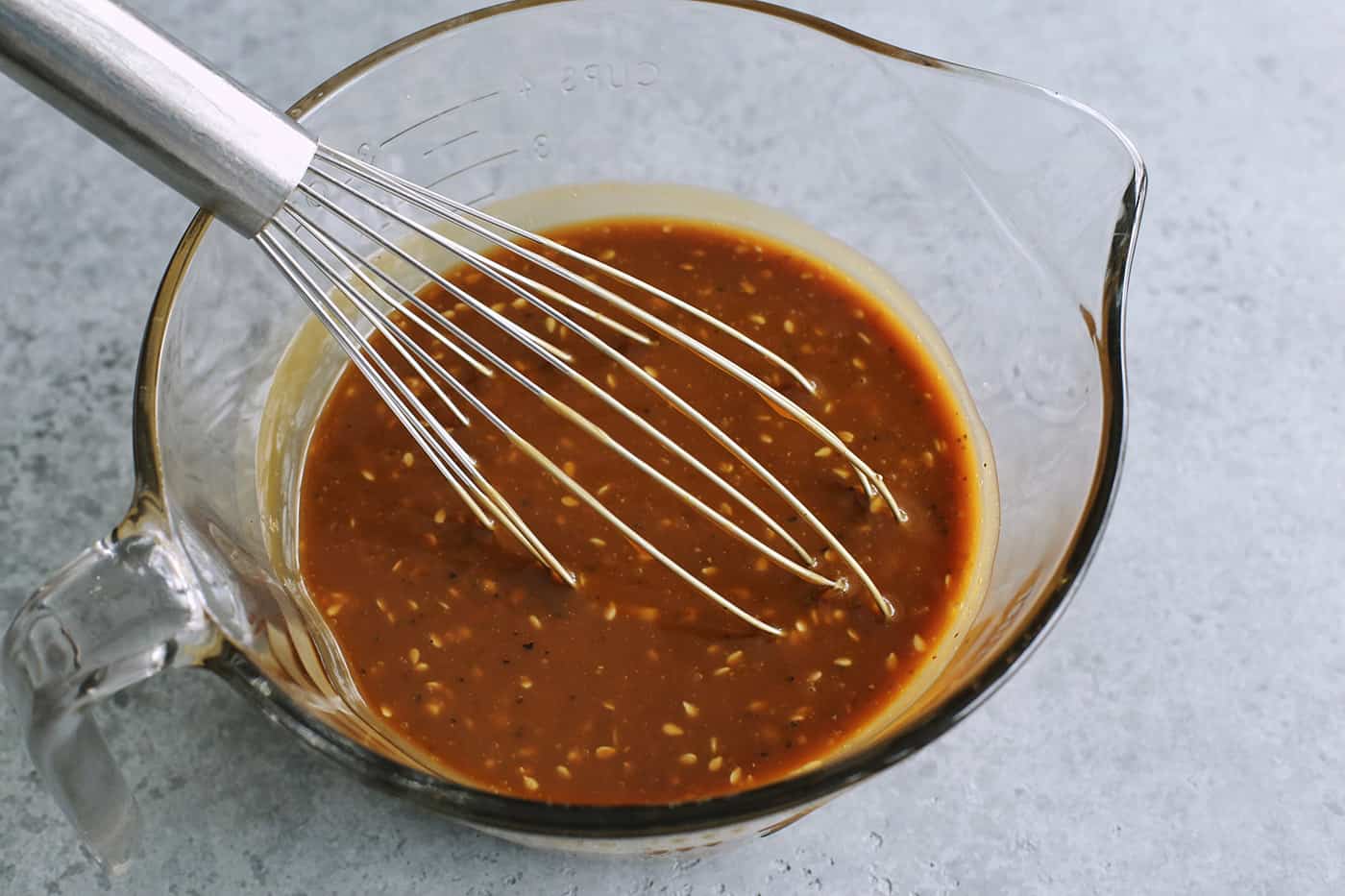 How to make Chinese Chicken Salad
This salad does take some chopping and measuring, but it's easy to make. Here's how!
1. Make the Asian salad dressing: Super simple. Just whisk all the dressing ingredients together!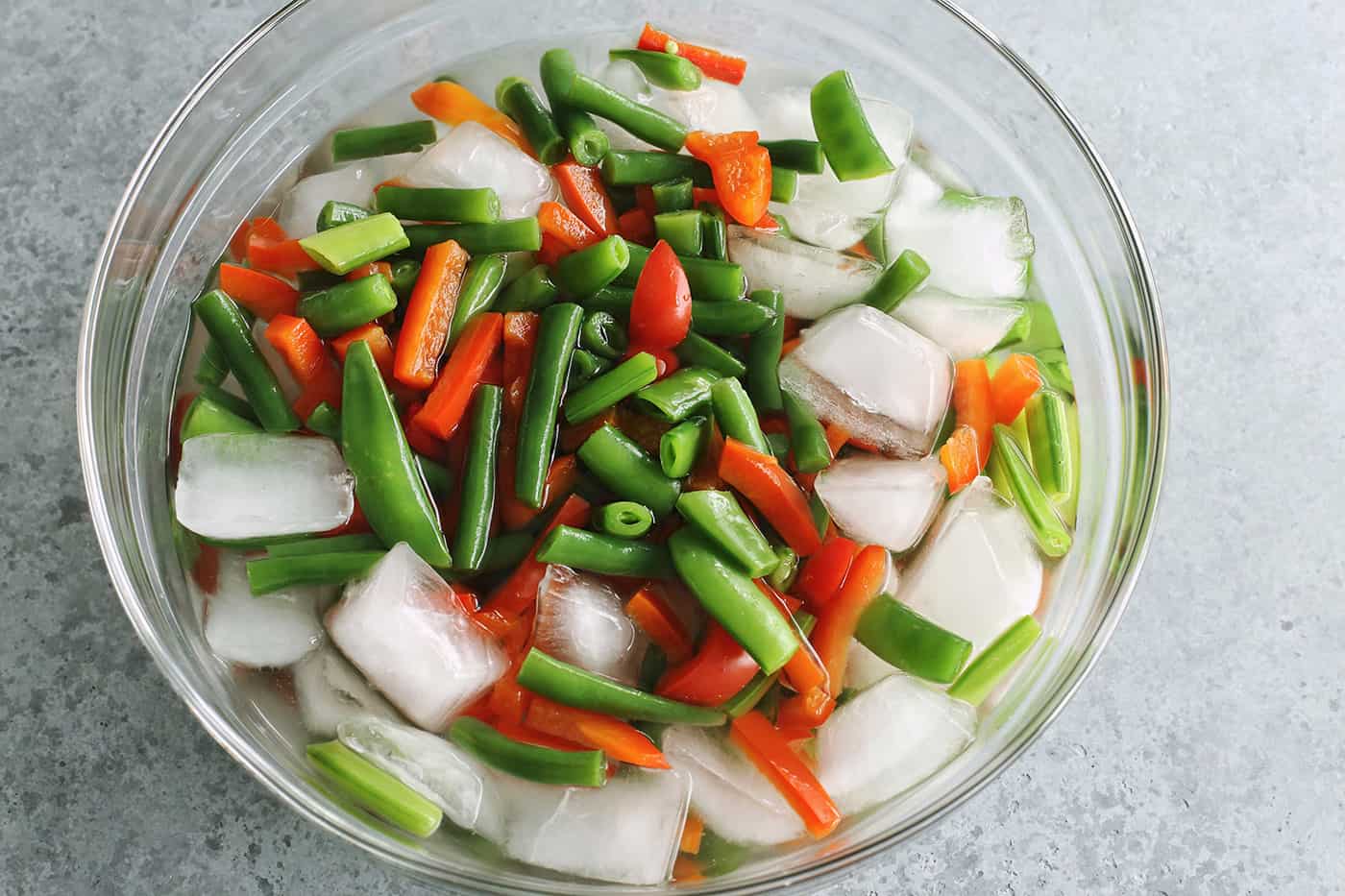 2. Prep the vegetables: Chop the green beans, bell pepper, and pea pods into 1″ to 2″ pieces. Then blanche them in a pot of boiling salted water for a few minutes, until just crisp-tender. Immediately place them into a bowl of ice water to stop the cooking – this is called an ice bath. Then drain and let cool.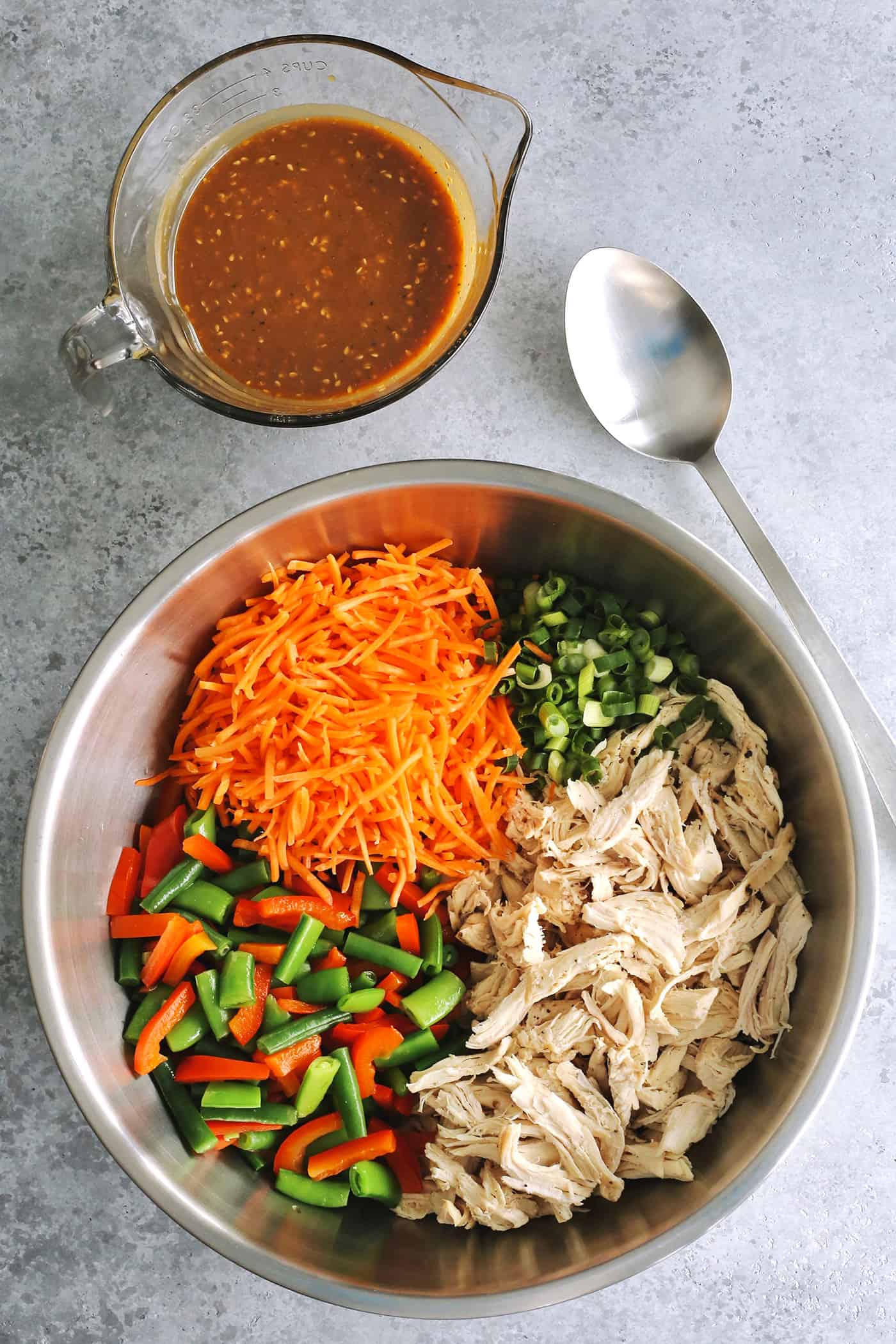 3. Shred the chicken: Use two forks to pull pieces of cooked chicken apart.
4. Combine the salad ingredients: Add the shredded chicken, blanched vegetables, shredded carrot, and sliced green onion to a large mixing bowl. Use a bowl with ample room, so it's easier to combine everything together.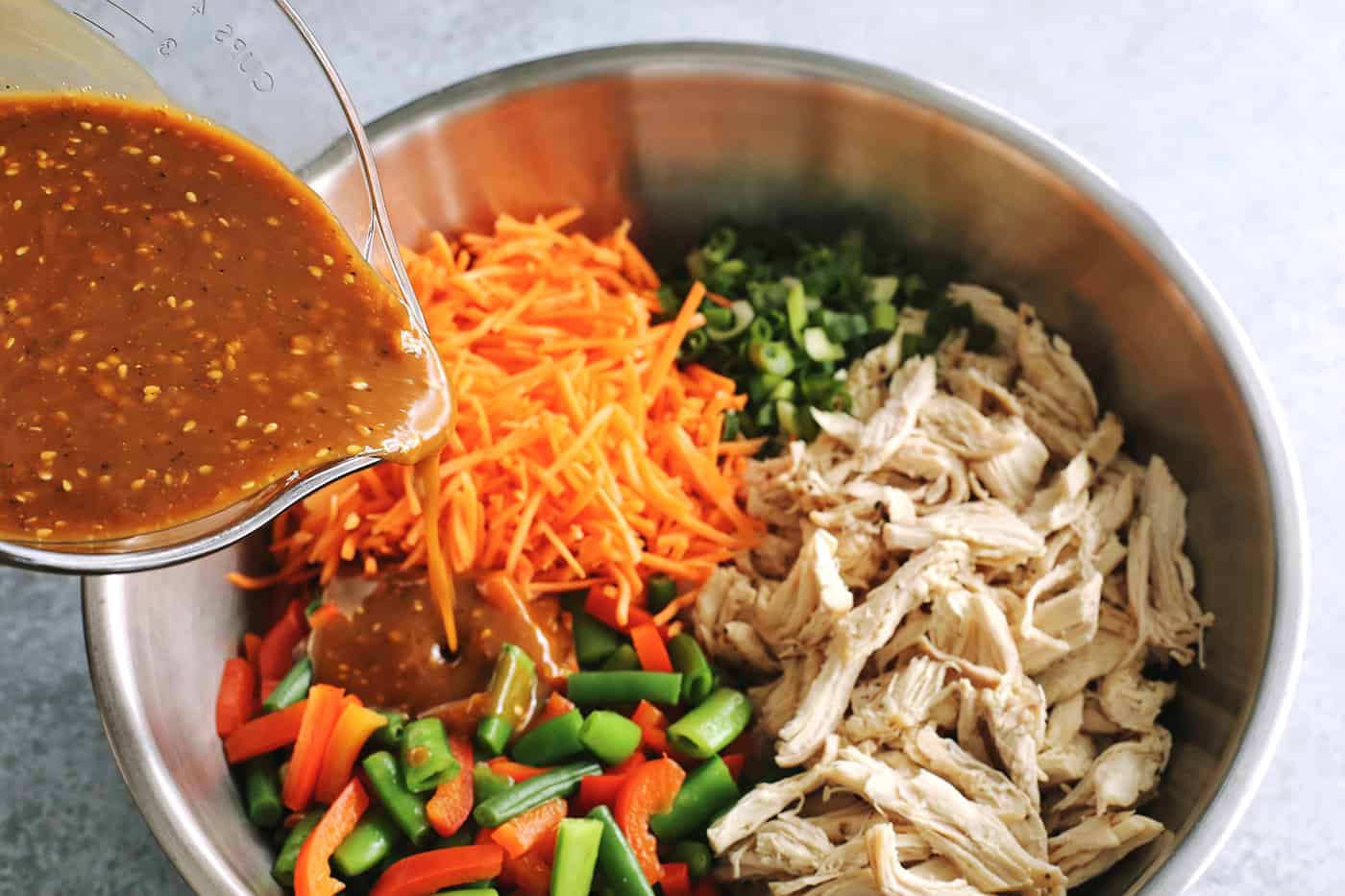 5. Add the salad dressing: Pour the dressing over the salad ingredients and then fold to coat evenly.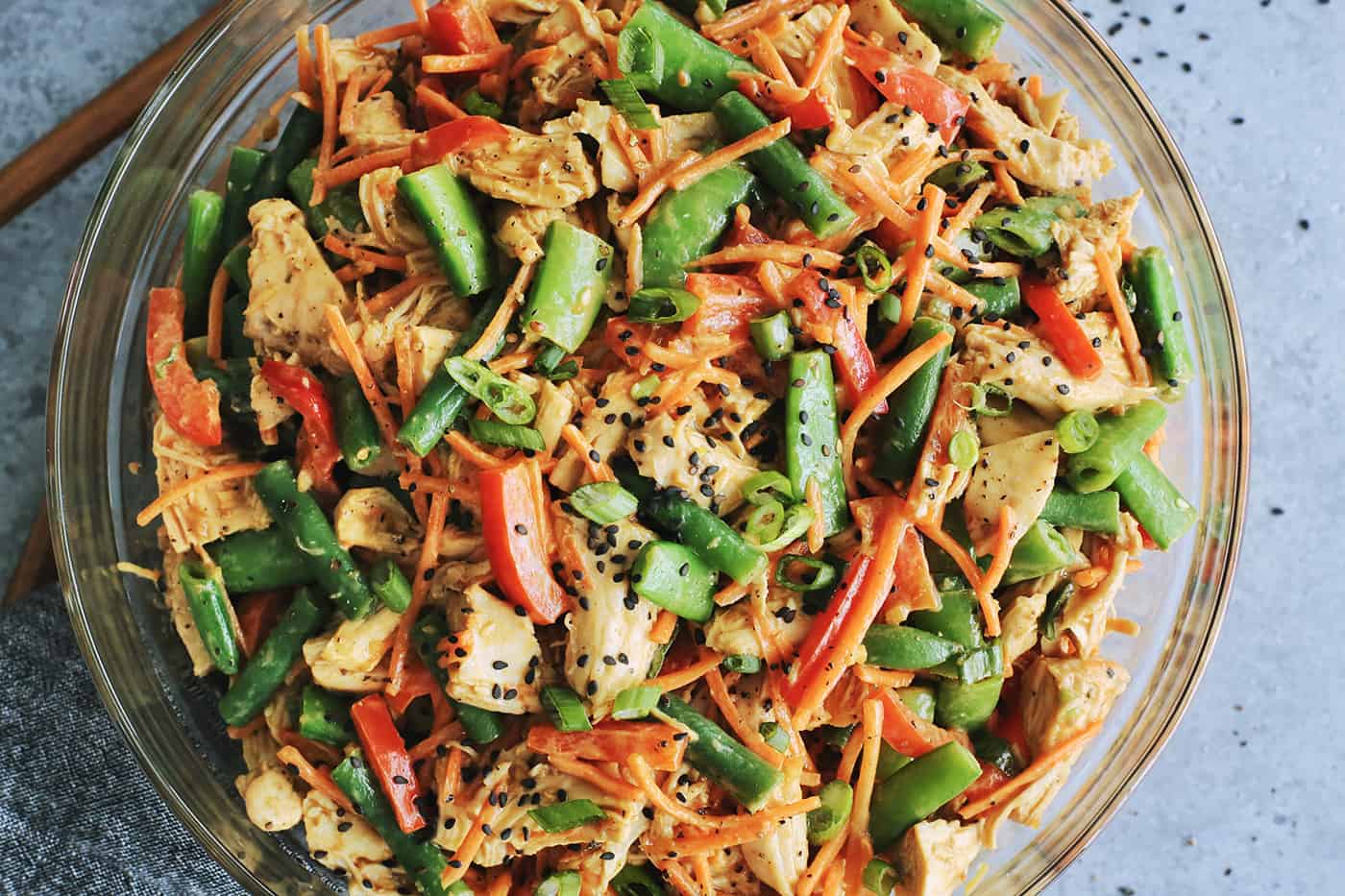 6. Add sesame seeds: The finishing touch! Use either toasted white sesame seeds or black sesame seeds.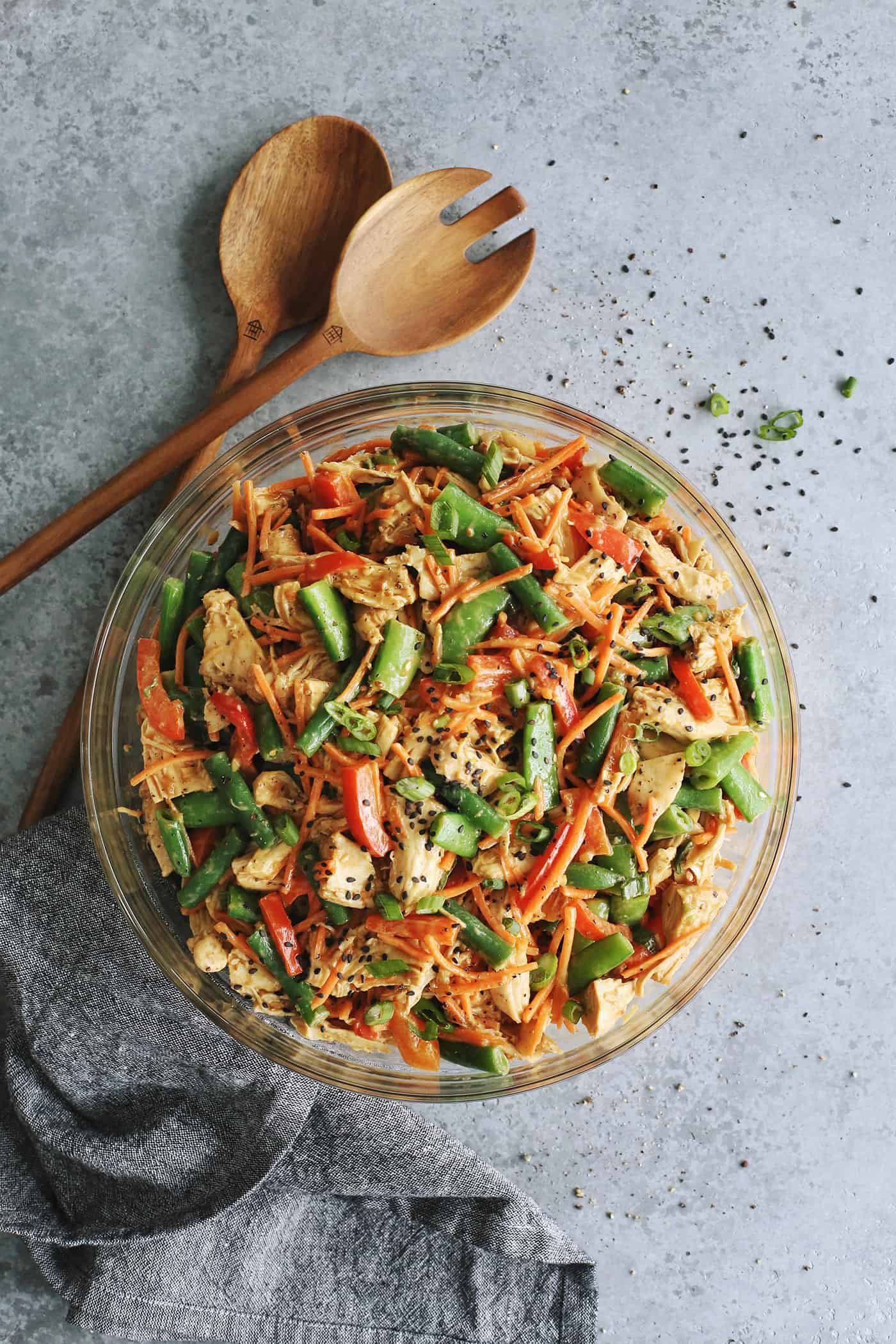 Variations
Chicken: I use roasted or grilled chicken breasts most often for this salad. But I also like to throw in some dark chicken meat sometimes. Oftentimes, I batch cook some chicken early in the week and then use it in a variety of recipes throughout the week, which works great. I also have been known to just pick up some rotisserie chicken at the store and use that!
Veggies: Our girls prefer this salad be made with green beans, but asparagus is also a nice choice. We also like sugar snap peas, full and plump, but snow pea pods would work as well. For the carrots, either shred your own or buy them pre-shredded from the store…or just cut whole carrots on the diagonal, nice and thin. I love the green onions in this recipe, but some diced or thinly sliced red onion would also be good. Use whatever color(s) of bell pepper that you like. And shelled edamame beans are super fun!
When To Serve Chinese Chicken Salad
Like I said earlier, we eat this Asian salad recipe all throughout the year. But here are a few suggestions for when to serve it:
Picnics and backyard gatherings – This salad travels well, whether in a cooler to a picnic or simply out your back door to your patio table. It's been a bit of a tradition for us to pack this when we go blueberry picking in Wisconsin each July!
Bridal showers and baby showers – These occasions are known for their salads, and this recipe is always a tasty, crowd-pleasing addition.
Easy weekday lunches – We often make this salad in anticipation of some leftover meals. Our girls have always thought it was a special treat to pack this salad in their school lunches!
Can I Make This Salad Ahead of Time?
It's always a bonus when you can prep a dish ahead of time. And this is one of those recipes!
Simply make the dressing, prep the veggies, and shred the chicken up to a day in advance. Then combine it altogether and enjoy!
Like this recipe? Save it to Pinterest!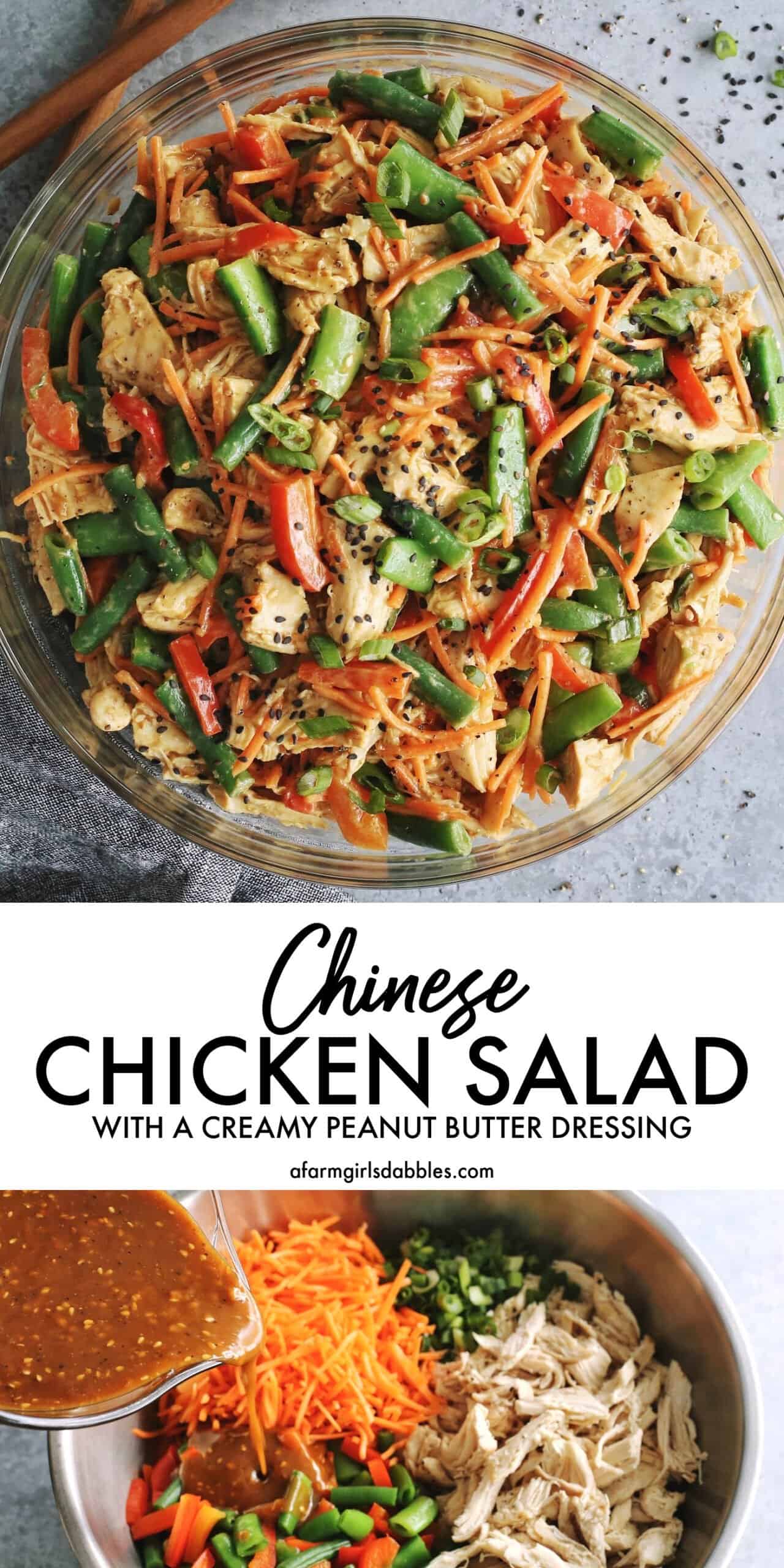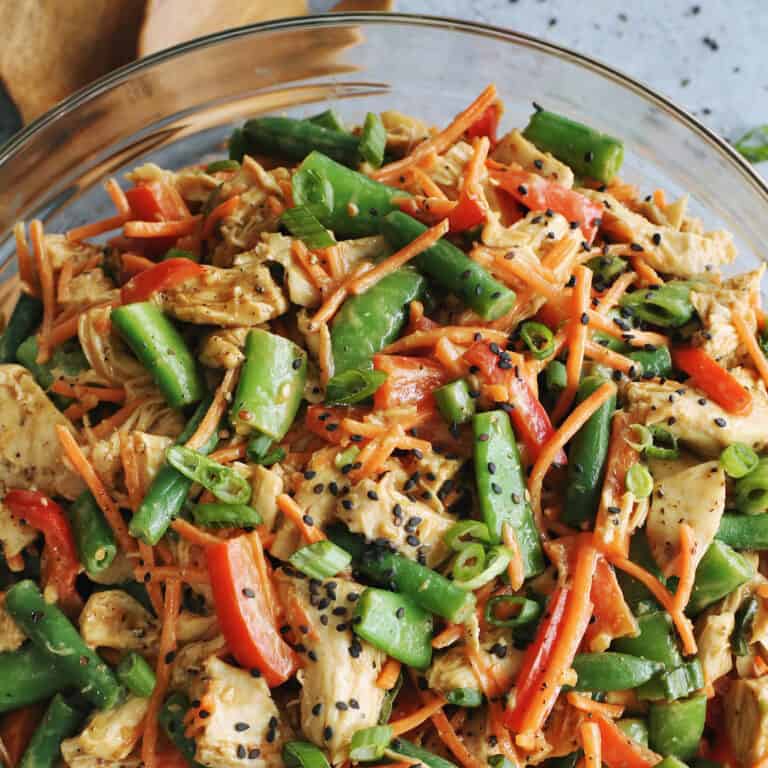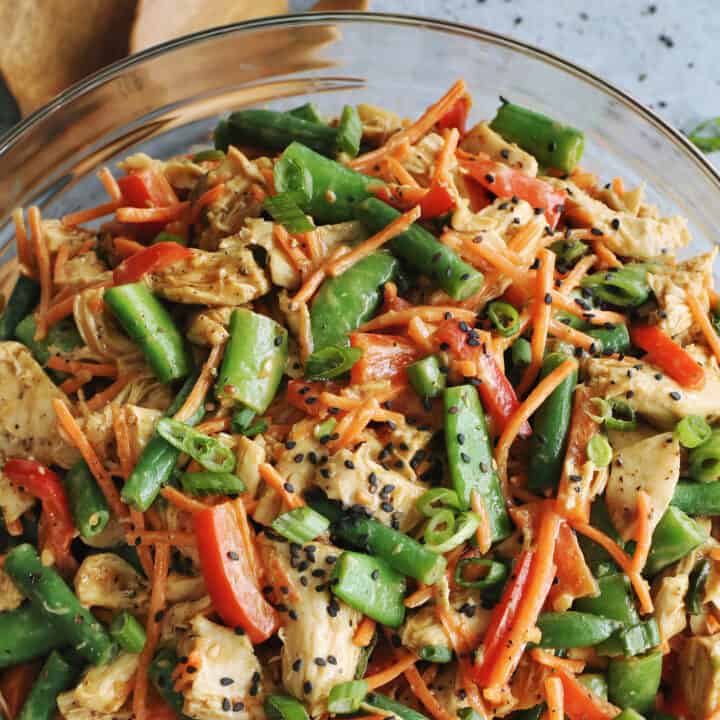 Chinese Chicken Salad
Yield: 12 servings
Prep Time: 35 minutes
Cook Time: 35 minutes
Total Time: 1 hour 10 minutes
This Chinese Chicken Salad recipe is hearty with shredded chicken and a colorful mix of fresh vegetables. With a creamy peanut butter dressing, this is a longtime favorite at our house!
Ingredients
for the dressing:
3/4 cup vegetable oil
1/4 cup apple cider vinegar
1/3 cup soy sauce
2 tablespoons toasted sesame oil
3 tablespoons honey
2 large garlic cloves, minced
1 tablespoon minced fresh ginger (add a bit more if you really like ginger!)
1 tablespoon toasted white sesame seeds
1/2 cup creamy peanut butter
1 teaspoon kosher salt
1 teaspoon freshly ground black pepper
for the salad:
8 cups shredded cooked chicken (from roasted or grilled chicken, or rotisserie chicken)
olive oil
kosher salt
freshly ground black pepper
1 pound green beans, asparagus, and/or sugar snap peas – ends removed, cut into 1″ to 2″ pieces
2 sweet bell peppers – red, green, yellow, or orange – cored, seeded, and sliced into 1″ to 2″ pieces
10 ounces shredded carrots, or a couple large carrots that are peeled and thinly sliced on the diagonal
4 green onions (white and green parts), thinly sliced on the diagonal
1 tablespoon toasted white sesame seeds (or use black sesame seeds for a more striking contrast)
Instructions
For the dressing: In a medium bowl, whisk together all of the dressing ingredients and set aside.
For the salad: Blanch the green beans, asparagus and/or sugar snap peas in a pot of boiling salted water for 3 to 5 minutes, until just crisp-tender. Immediately place them into a bowl of ice water to stop the cooking. Drain.
In a large bowl, combine shredded chicken, green beans, peppers, and shredded carrots. Pour prepared salad dressing over the top. Gently fold to combine. Sprinkle the green onions and remaining tablespoon of toasted sesame seeds over the top and season to taste. Sprinkle some freshly ground black pepper over the top. I prefer to serve this salad cold, but it's also just fine at room temperature.
Notes
Need to cook some chicken for this recipe? I most often roast or grill some chicken breasts. Whatever you choose to do, first rub some olive oil onto the chicken breasts and sprinkle liberally with salt and pepper. If roasting, place the chicken on a large rimmed pan covered in foil (easy clean-up!) and place in a 350° F oven for 35 to 40 minutes, until chicken is just cooked through. If grilling, place on a medium to medium-high grill and cook for 15 to 25 minutes, or until chicken is done. Cook time will depend on size of chicken pieces and cooking temperature.
Need to toast some sesame seeds? Place sesame seeds for the dressing and salad into a dry sauté pan. Sauté over medium heat for about 5 to 10 minutes, or until they are nicely browned and fragrant. Shake the pan every minute or two, to prevent burning. Remove sesame seeds to a plate to cool.
adapted quite a bit from Ina Garten's Barefoot Contessa Parties!
Recommended Products
As an Amazon Associate and member of other affiliate programs, I earn from qualifying purchases.
Nutrition Information:
Yield: 12
Serving Size: 1
Amount Per Serving:
Calories: 459
Total Fat: 33g
Saturated Fat: 6g
Trans Fat: 0g
Unsaturated Fat: 24g
Cholesterol: 85mg
Sodium: 270mg
Carbohydrates: 18g
Fiber: 4g
Sugar: 10g
Protein: 26g
Nutrition information is automatically calculated by Nutritionix. I am not a nutritionist and cannot guarantee accuracy. If your health depends on nutrition information, please calculate again with your own favorite calculator.
Here are a few more salads I'd like to try. They look great for picnics and lunch bags! I'm ALWAYS up for shrimp, so this Shrimp Pasta Salad from Wine & Glue looks fabulous to me. The flavors in this Greek Pasta Salad from Noble Pig are calling my name. And all the yes to this Cranberry Chicken Salad from Fifteen Spatulas!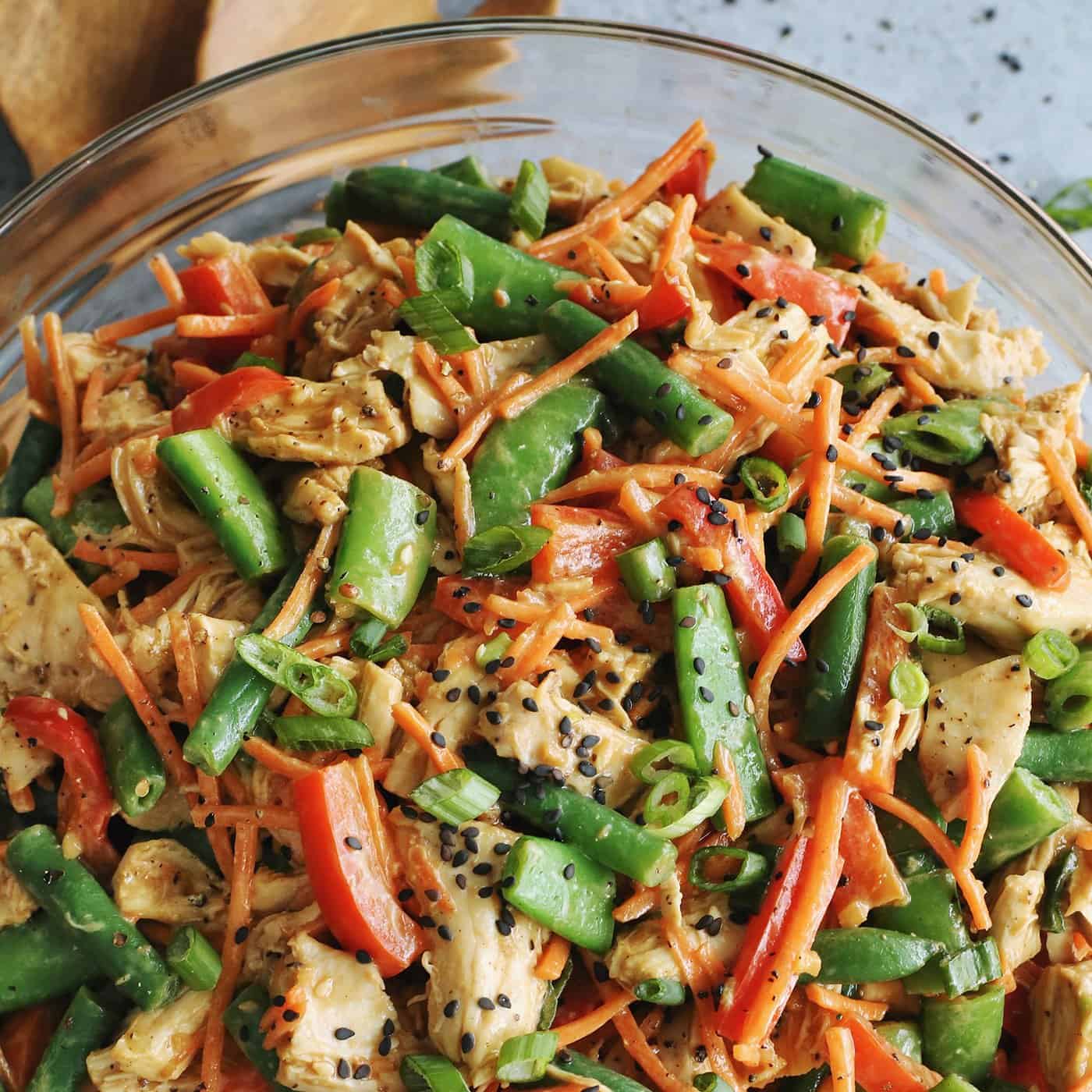 This post was originally published in 2012. Photographs and some of the text were updated in 2018 and 2021.