Blueberry Muffins with Crumb Topping
This post may contain Amazon or other affiliate links. As an Amazon Associate I earn from qualifying purchases.
This Blueberry Muffins with Crumb Topping recipe comes from my Grandma Renelt's recipe box. The muffins are moist and tender and loaded with fresh blueberries, and the streusel topping is perfectly crunchy. These are my favorite blueberry muffins in all the world!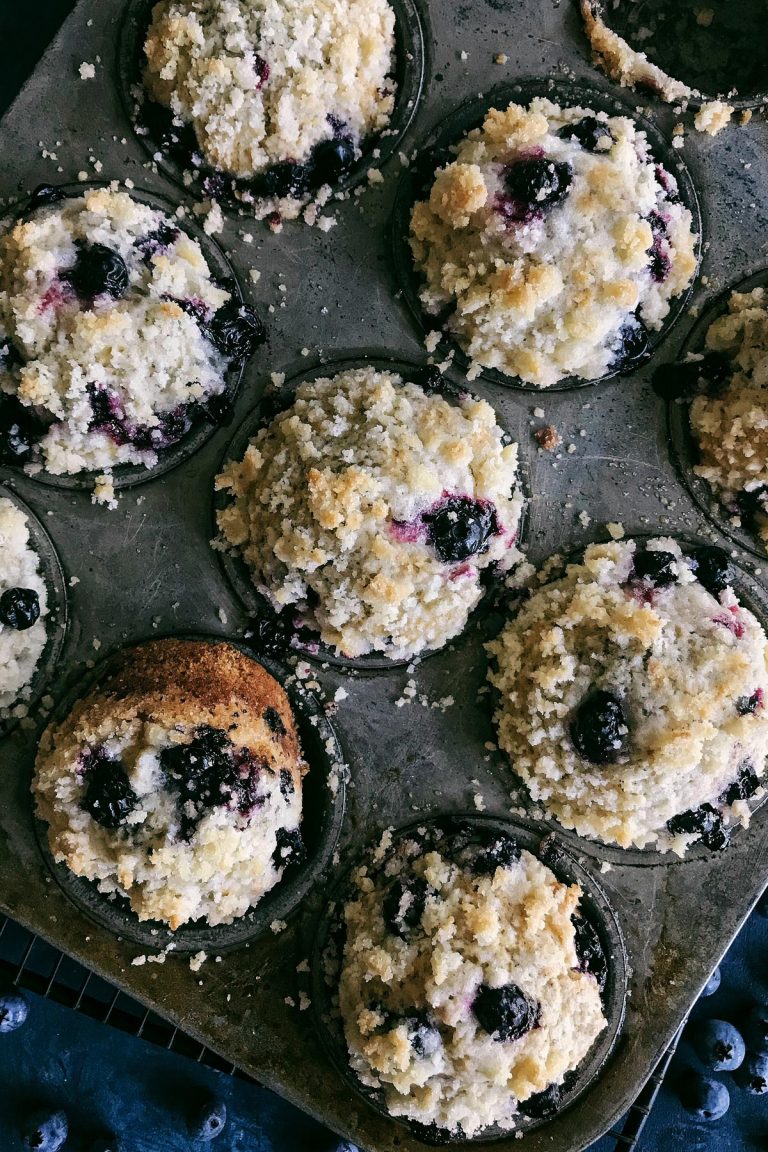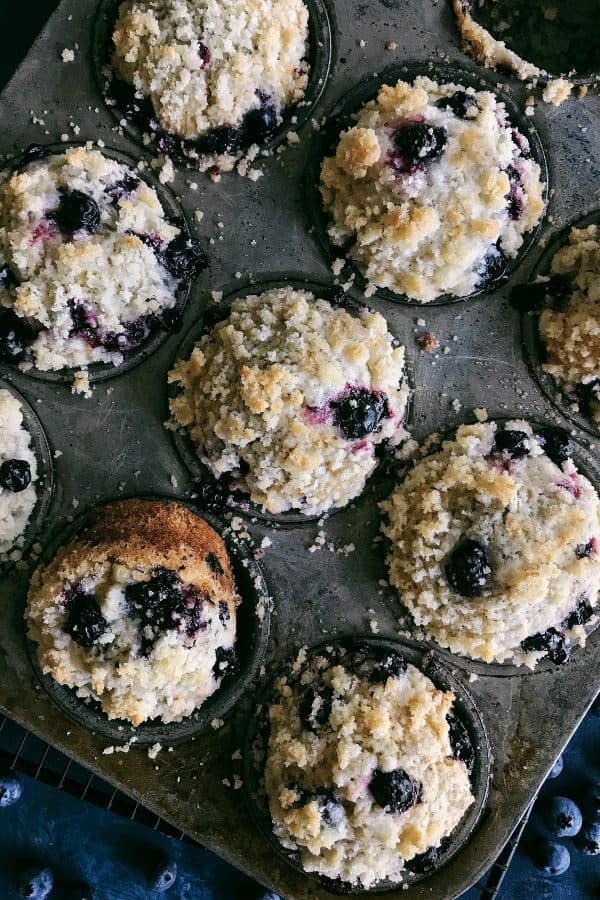 My Favorite Blueberry Muffins Recipe
I have no other recipes for blueberry muffins. This is it, folks. The recipe I grew up on.
My dear Grandma Renelt's recipe for Blueberry Muffins with Crumb Topping.
These muffins are tender and moist, and super flavorful with fresh summer blueberries studded throughout. And, as if that wasn't enough, there's a crunchy, buttery, sugary crumb topping that totally clinches the win for these muffins.
Friends and family have asked me for this recipe time and time again, and with very good reason.
Enjoy!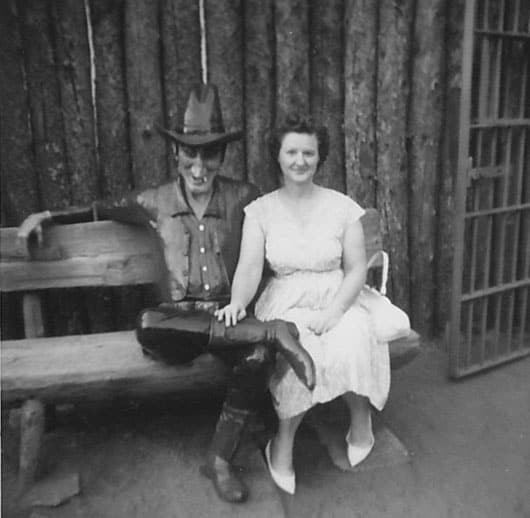 My grandma is an incredibly special woman to me. She has always worked hard and played even harder (just try to outlast this woman in cards, dice, or marbles!). And I'm positive that much of my domestic ways were passed directly from her, to my mom, to me.
I found this photo of Grandma in play mode and just had to share.
When I first came across this old photo, I passed on by it, looking for another one I had in mind. Then something was nagging at me to return to it…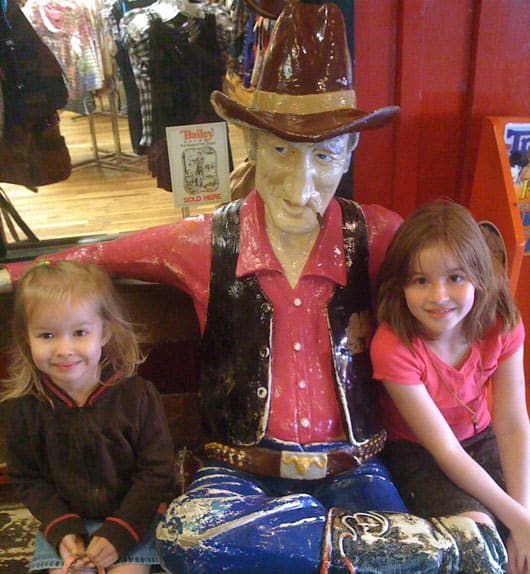 Of course!
The cowboy Grandma was getting cozy with bore a striking resemblance to the same one our girls sat by on our trip to the Black Hills.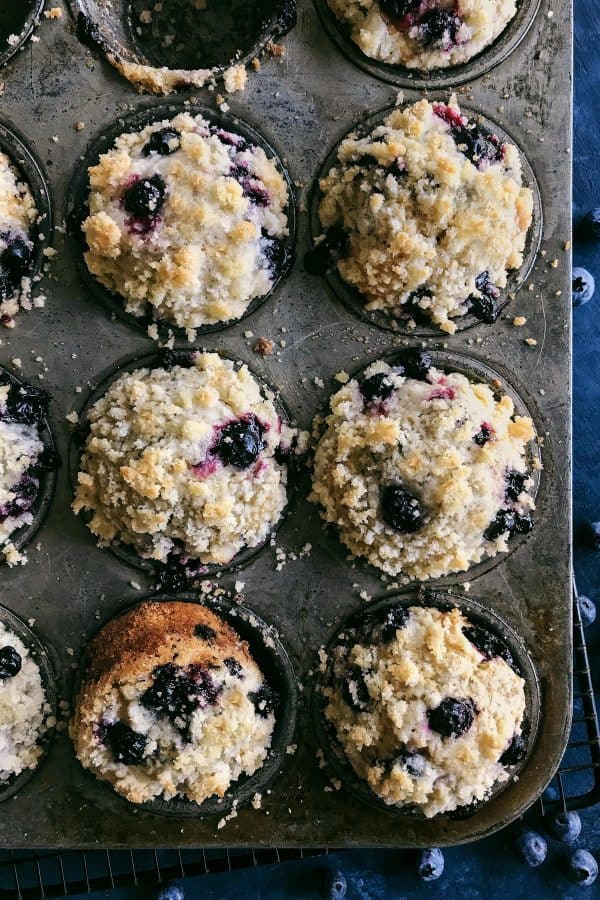 This recipe for blueberry muffins with crumb topping is not only incredibly delicious, but it also holds a very special place in my heart. I never tire of baking up a new batch. And I love how the whole process reminds me of Grandma each and every time I pull out the recipe.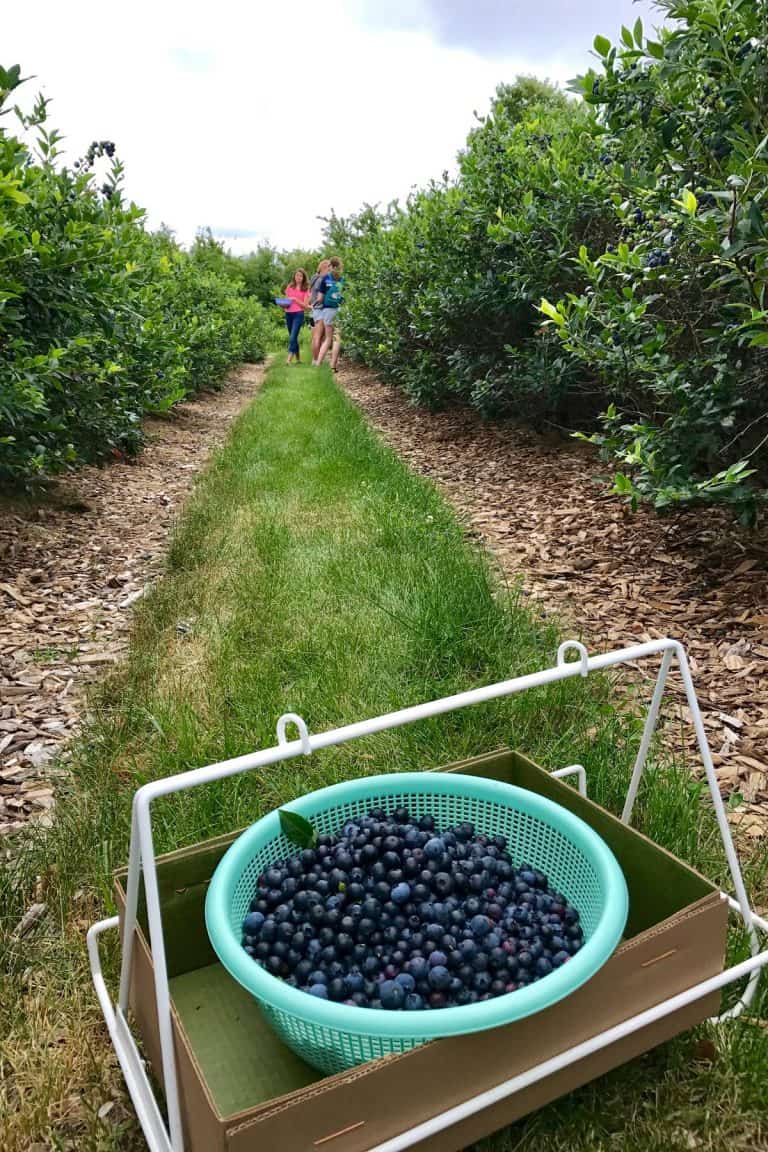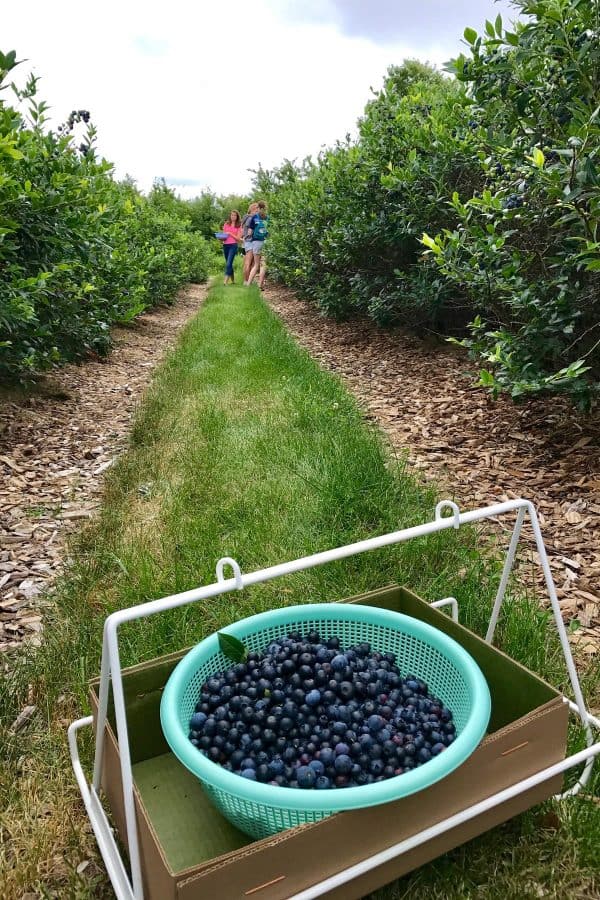 I've never had better blueberries than the ones we pick locally each July and August. The berries are sweet, tart, and perfectly firm.
And as a bonus, blueberry picking makes for a super fun day trip!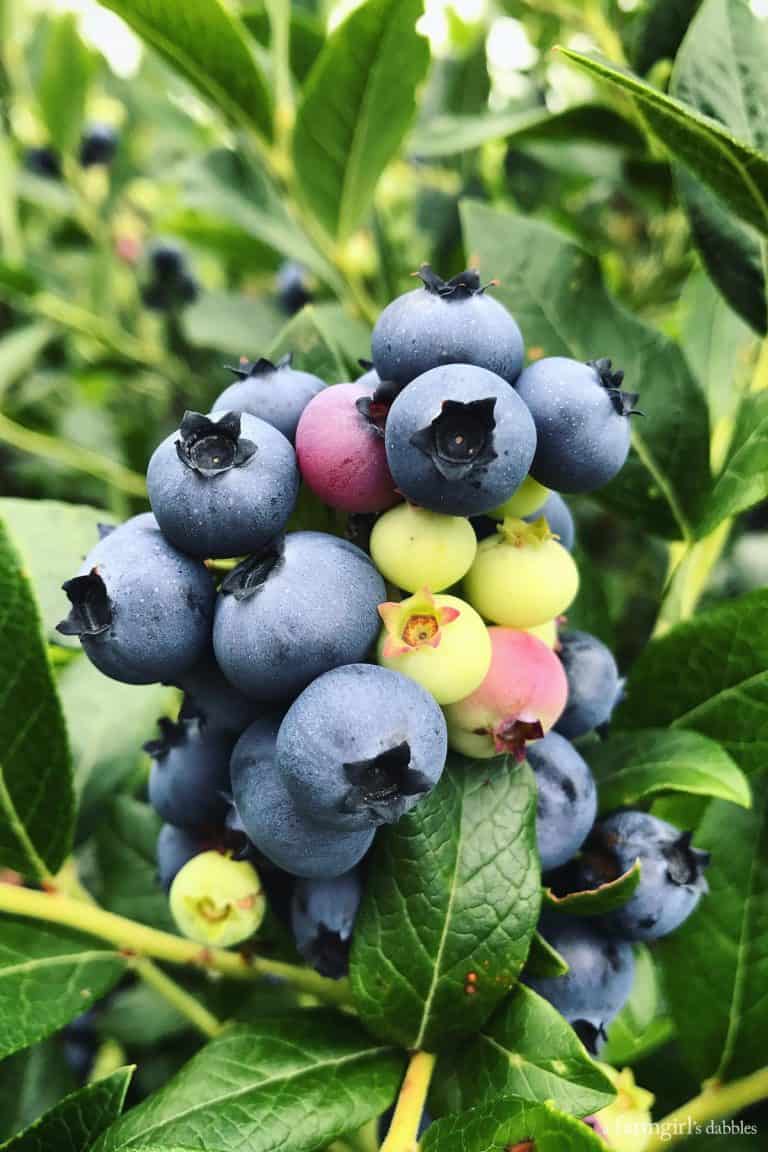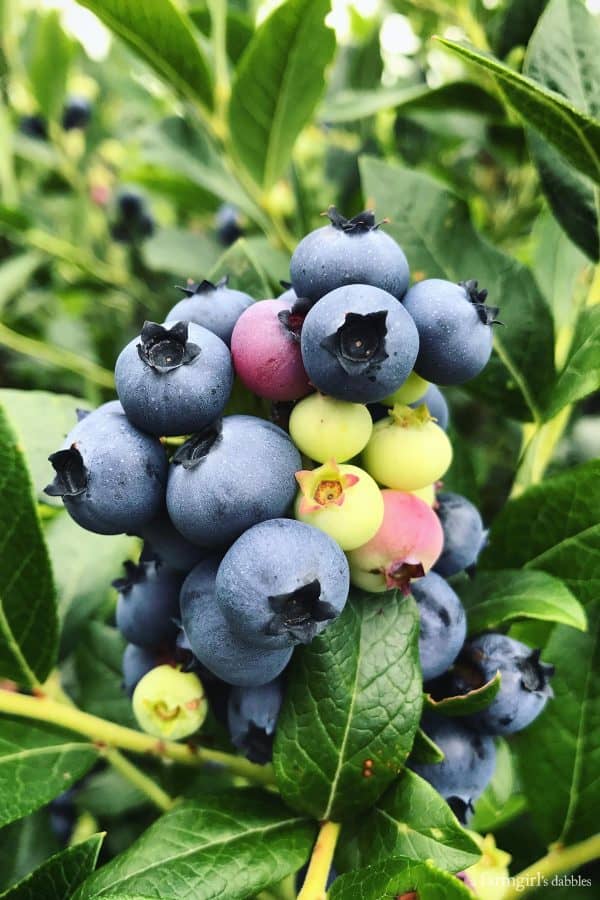 Can You Make Blueberry Muffins with Frozen Blueberries?
Every single summer, after we pick blueberries, we make a batch of blueberry muffins. The goodness of the just-picked berries is undeniable.
But I always make sure to pick enough blueberries to freeze, to ensure a few batches of Grandma's muffins over the upcoming months.
Yes, this recipe works very well with frozen blueberries! Simply fold the frozen berries (do not thaw) into the muffin batter, just like you would the fresh berries.
A few more of our favorite blueberry recipes: my mom's Blueberry Tea Cake, Blueberry Pot Pies, and this beautiful, tangy Roasted Blueberry Crème Fraîche Ice Cream.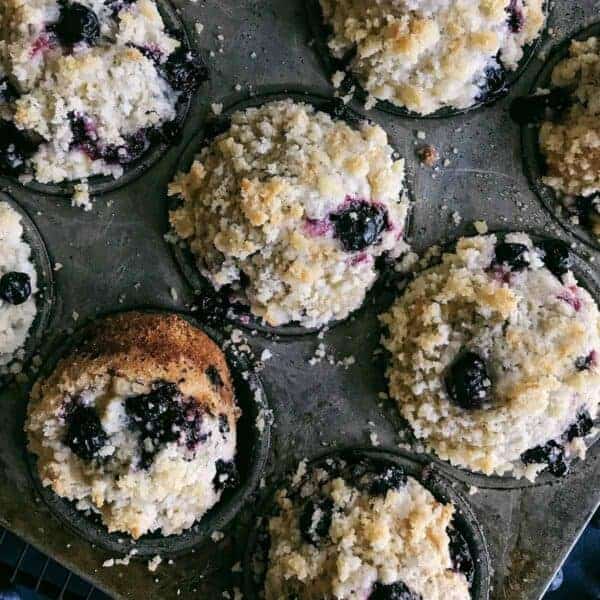 How to Make Crumb Topping for Muffins
My biggest piece of advice for making crispy crumb topping for muffins is to use butter that is just nicely softened at room temperature. Do not melt the butter. And then, with a fork, just keep pressing the dry ingredients into the butter until pea-sized pieces form.
When sprinkling the crumb topping mixture over the muffin batter, use your fingers to compress some of it into larger pieces.
To ensure the crumb topping stays crisp for a day or two, simply store any leftover muffins at room temperature, uncovered. Uncovered is the key!
Like this blueberry muffins recipe? Pin it!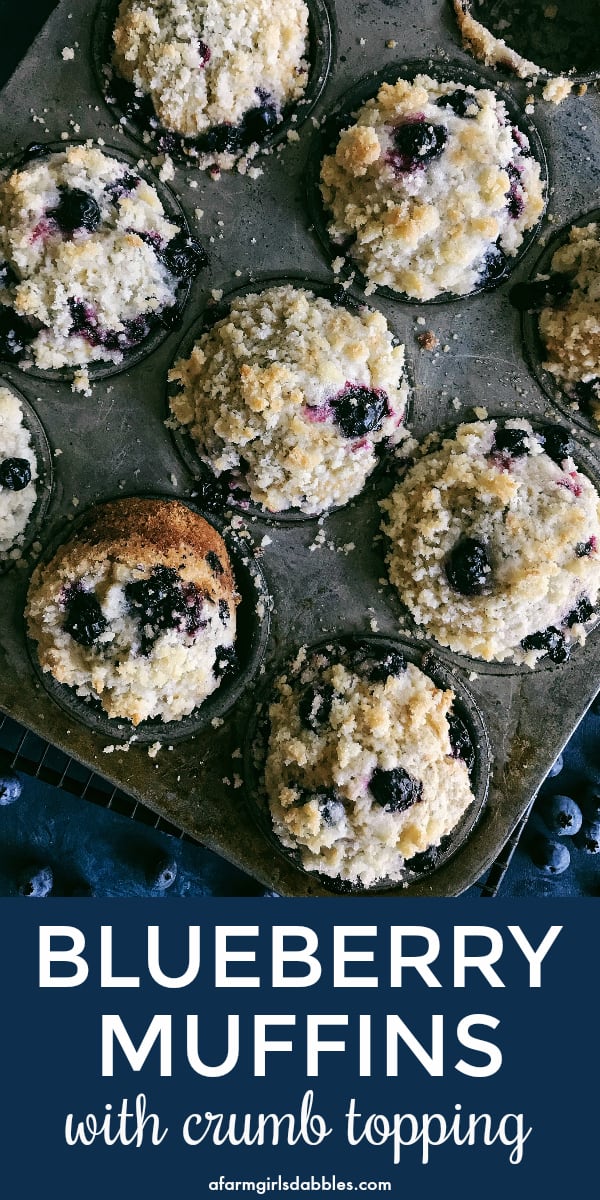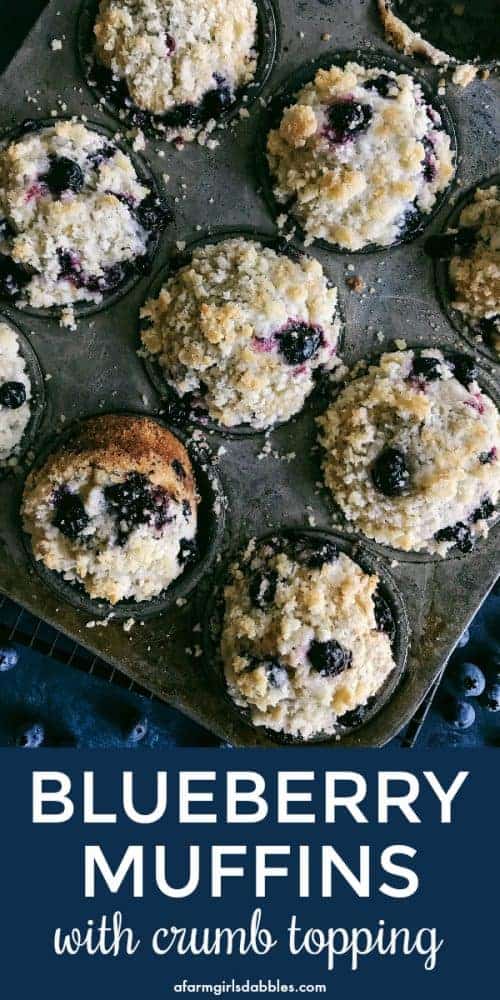 If you like this blueberry muffins with crumb topping recipe, you might like:
Blueberry Crème Fraîche Cheesecake (GORGEOUS!!!) from love & olive oil, Blueberry Waffles from Barefeet in the Kitchen, and Blueberry Banana Breakfast Cake from Reluctant Entertainer.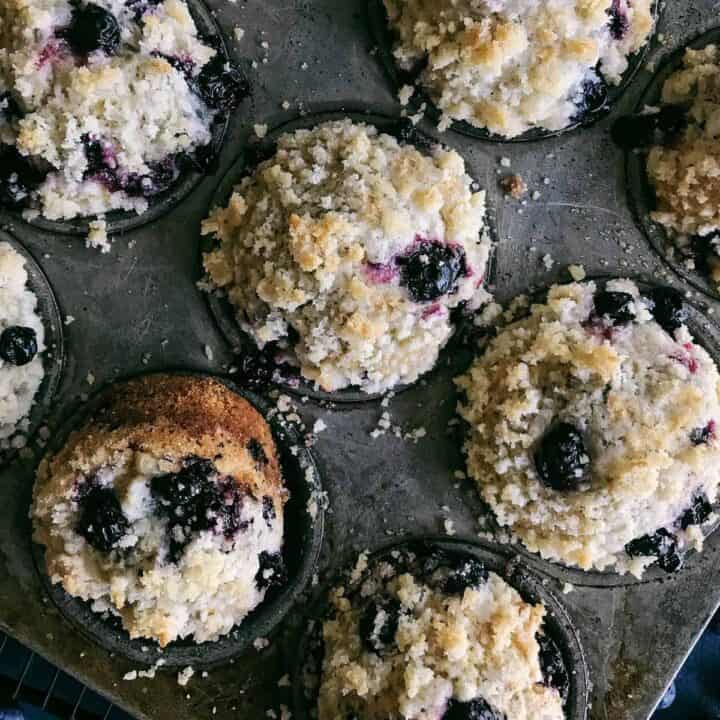 Grandma Renelt's Blueberry Muffins with Crumb Topping
Yield: 10 to 12 muffins
Prep Time: 20 minutes
Cook Time: 20 minutes
Total Time: 40 minutes
These blueberry muffins are tender, while the topping is crispy. The recipe comes from my Grandma Renelt, my favorite blueberry muffins in all the world!
Ingredients
for the muffins:
1 large egg
1/2 c. milk
1/4 c. vegetable oil
1.75 c. flour
1/2 c. sugar
2 tsp. baking powder
1/2 tsp. kosher salt
1/4 tsp. cinnamon
1.5 c. blueberries, fresh or frozen (if frozen, do not thaw)
for the crumb topping:
1/3 c. sugar
1/4 c. flour
2 T. unsalted butter, at room temperature
Instructions
Preheat oven to 400° F. Spray standard muffin tin with non-stick spray, or use baking cup liners, and set aside.
Mix egg, milk, and oil in small bowl. In a large bowl, whisk the flour, sugar, baking powder, salt, and cinnamon. Add wet ingredients to dry ingredients and stir. Do not overmix. Fold in blueberries. Spoon into muffin tin and let rest a few minutes while you prepare the crumble topping. For plumper, fuller muffins, divide batter between just 10 of the muffin cups (as shown in my photos). For smaller muffins, use all 12 cups.
In a small bowl, combine all topping ingredients with a fork, until crumbly. You want some pea-size pieces of crumble. Sprinkle over muffin batter.
Bake until crumb topping is a bit golden and a toothpick comes out just barely clean, about 20 minutes. Let rest in pan for about 5 minutes before removing to a cooling rack to cool. Muffins are best eaten on the day they are made, when the crumb topping is crunchiest. If we don't eat all the muffins in the first day, we leave them out on the counter, uncovered. This will help to keep the crumb topping more crisp.
Notes
From Grandma Renelt's recipe box.
Nutrition Information:
Yield: 12
Serving Size: 1
Amount Per Serving:
Calories: 212
Total Fat: 7g
Saturated Fat: 2g
Trans Fat: 0g
Unsaturated Fat: 5g
Cholesterol: 21mg
Sodium: 190mg
Carbohydrates: 34g
Fiber: 1g
Sugar: 16g
Protein: 3g
Nutrition information is automatically calculated by Nutritionix. I am not a nutritionist and cannot guarantee accuracy. If your health depends on nutrition information, please calculate again with your own favorite calculator.
This post was previously published July 2010. Photographs of muffins and some of the text were updated July 2016, and again in 2018.
We participate in the Amazon Services LLC Associates Program, an affiliate advertising program designed to provide a means for us to earn fees by linking to Amazon.com and affiliated sites. See our
disclosure policy
for more info.