Grandma Renelt's Blueberry Muffins with Crumble Topping
Grandma Renelt's Blueberry Muffins with Crumble Topping…my favorite blueberry muffins in all the world, from my grandma's recipe box.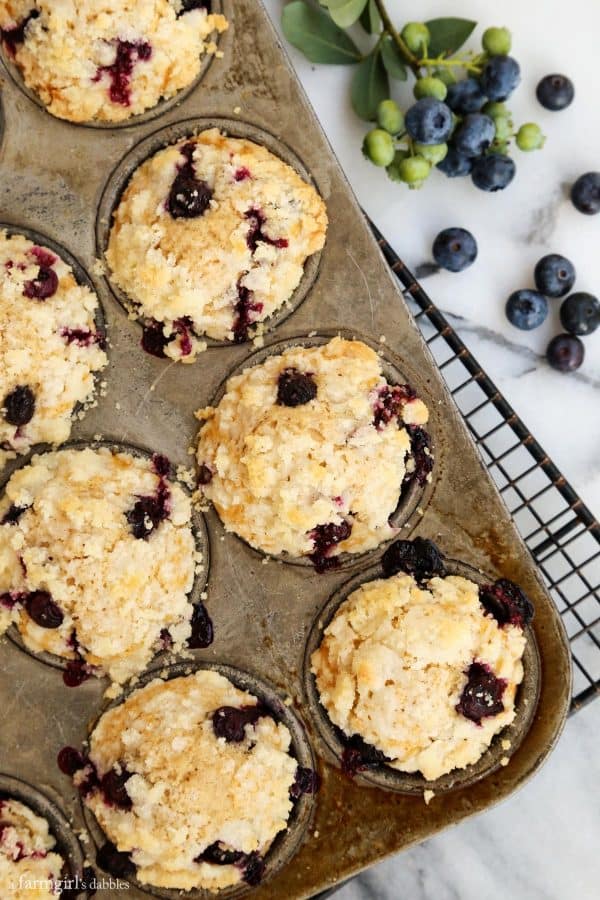 I have no other blueberry muffin recipe. This is it, folks. My dear Grandma Renelt's Blueberry Muffins with Crumble Topping.
These muffins are tender and moist, and super flavorful with fresh summer blueberries studded throughout. And the crunchy, buttery, sugary topping elevates these from "really good" to "super fantastic". I've been asked to share this recipe time and time again, and with good reason.
My grandma is an incredibly special woman to me. She has always worked hard and played hard (just try to outlast this woman in cards, dice, or marbles!), and I'm positive that much of my domestic ways were passed directly from her, to my mom, to me.
I found a picture of Grandma in play mode and just had to share. When I first came across this old photo, I passed on by, looking for another one I had in mind. Then something was nagging at me to return to it…
Of course! This "man" she was getting cozy with was the same guy I had photographed our girls with on our trip to the Black Hills. With Grandma's picture being in black and white, I hadn't seen the similarity at first. The photo of Grandma was actually taken at Brainerd's Paul Bunyan Center (which was relocated in 2003 and renamed Paul Bunyan Land), while the one with our girls was taken at the crazy fun Wall Drug Store. That cowboy really gets around! ;)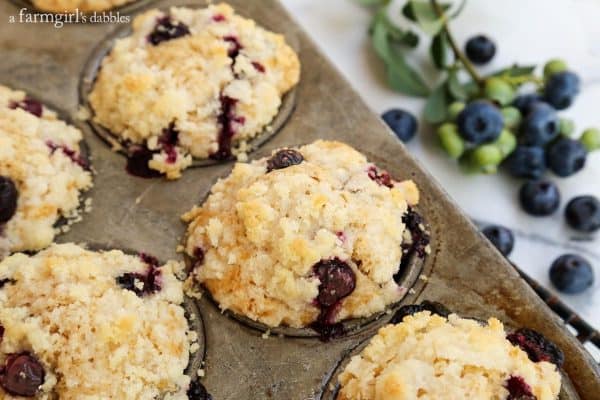 These blueberry muffins with crumble topping hold a very special place in my heart and on our table. It's one of those recipes that just never grows old. I hope you'll find this to be true in your home, too.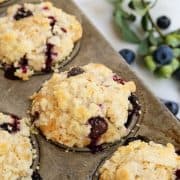 Grandma Renelt's Blueberry Muffins with Crumble Topping
Yield: 10 to 12 muffins
Cook Time:20 minutes
Calories per serving: 204
Ingredients:
for the muffins:
1 large egg
1/2 c. milk
1/4 c. vegetable oil
1-3/4 c. flour
1/2 c. sugar
2 tsp. baking powder
1/2 tsp. kosher salt
1/4 tsp. cinnamon
1-1/2 c. blueberries, fresh or frozen (if frozen, do not thaw)
for the crumble topping:
1/3 c. sugar
1/4 c. flour
2 T. unsalted butter, at room temperature
Directions:
Preheat oven to 400° F. Spray muffin tin with non-stick spray, or line with muffin papers, and set aside.
Mix egg, milk, and oil in small bowl. In a large bowl, whisk the flour, sugar, baking powder, salt, and cinnamon. Add the wet ingredients to the dry ingredients and stir. Do not overmix. Fold in blueberries. Spoon into muffin tin and let rest a few minutes while you prepare the crumble topping. For plumper, fuller muffins, divide batter between just 10 of the muffin cups. For smaller muffins, use all 12 cups.
In a small bowl, combine all topping ingredients with a fork, until crumbly. You want some pea-size pieces of crumble. Sprinkle over muffin batter.
Bake until golden, about 20 minutes. Let rest in pan for about 5 minutes before removing to a wire rack to cool. Muffins are best eaten on the day they are made, when the crumble topping is crunchiest.
From Grandma Renelt's recipe box.
©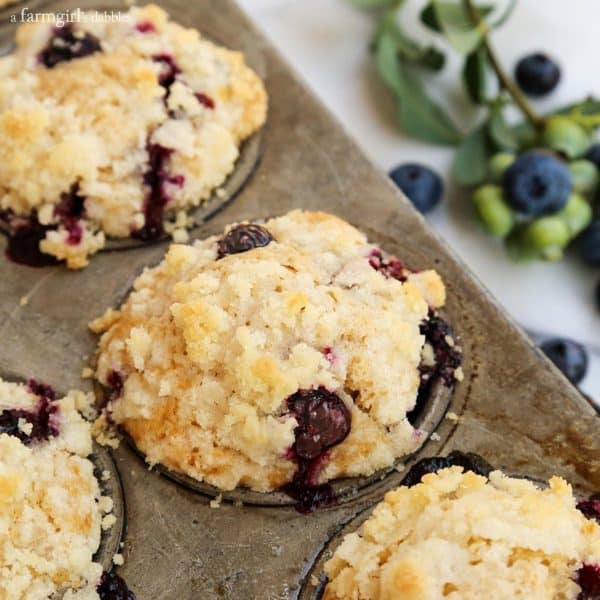 Here are a few more blueberry recipes you might enjoy:
This post was previously published July 2010. Photographs of muffins and some of the text were updated July 2016.
We participate in the Amazon Services LLC Associates Program, an affiliate advertising program designed to provide a means for us to earn fees by linking to Amazon.com and affiliated sites. See our disclosure policy for more info.