Cinnamon Honey Butter
This whipped Cinnamon Honey Butter recipe is made with only 5 ingredients, in less than 10 minutes. A delicious topping for popovers, toast, muffins, waffles, pancakes, and so much more!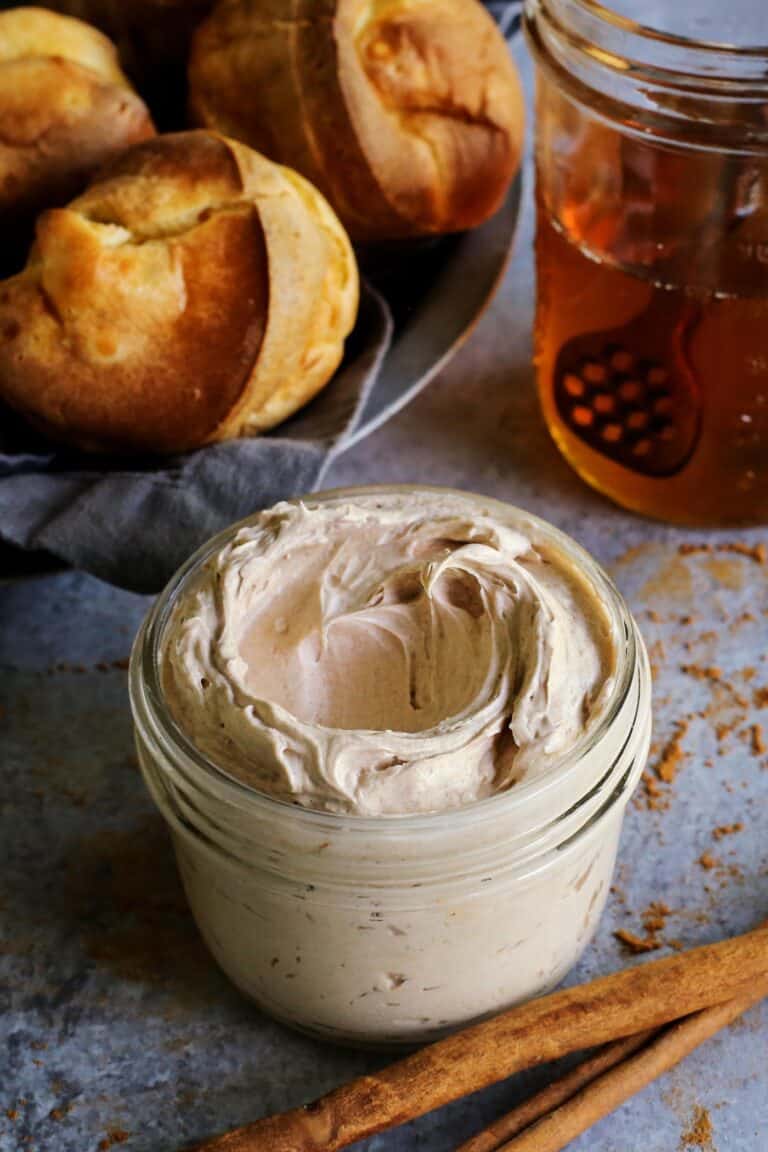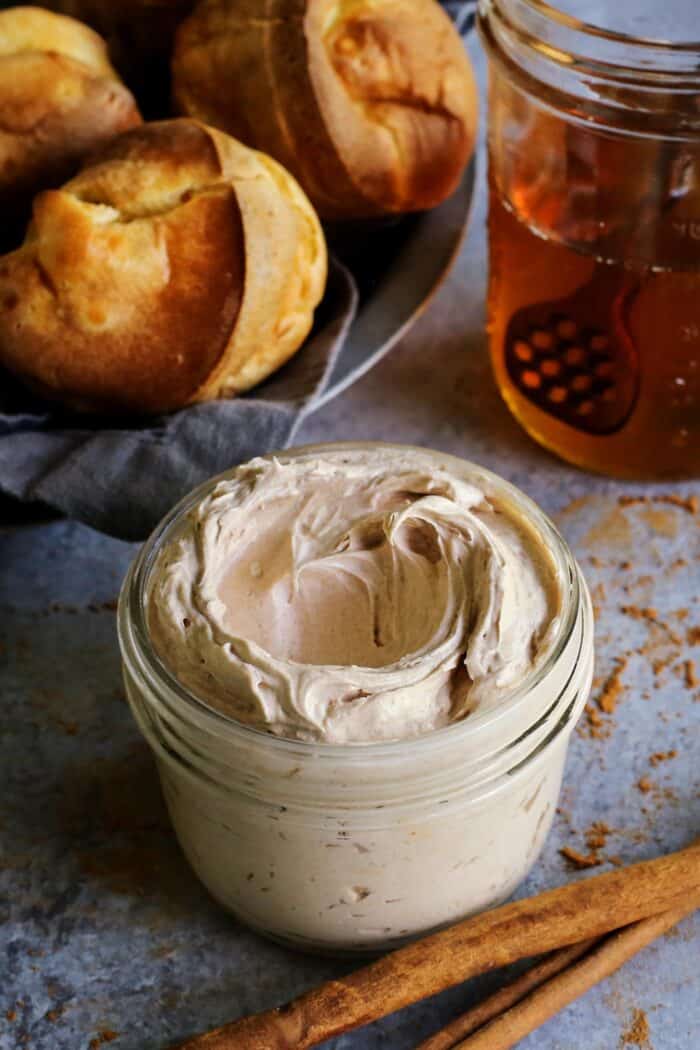 Cinnamon Honey Butter is a favorite topping
I'm not sure if you'd believe me if I were to share how many sticks of butter we've gone through the past few months. As we've spent more time than usual at home, we've found ourselves in the kitchen just that much more. I say it all the time: good food brings great comfort.
During this time, popovers have been on repeat. Besides being so very easy to make, they go with almost everything! And they transition wonderfully from the soups and comfort food of winter right into the salads and grilling of spring and summer. We go back and forth between this sourdough popovers recipe and these regular popovers.
And time and time again, no matter the meal, we come back to this light and fluffy whipped Cinnamon Honey Butter recipe. It's a favorite topping at our house, and such an easy treat!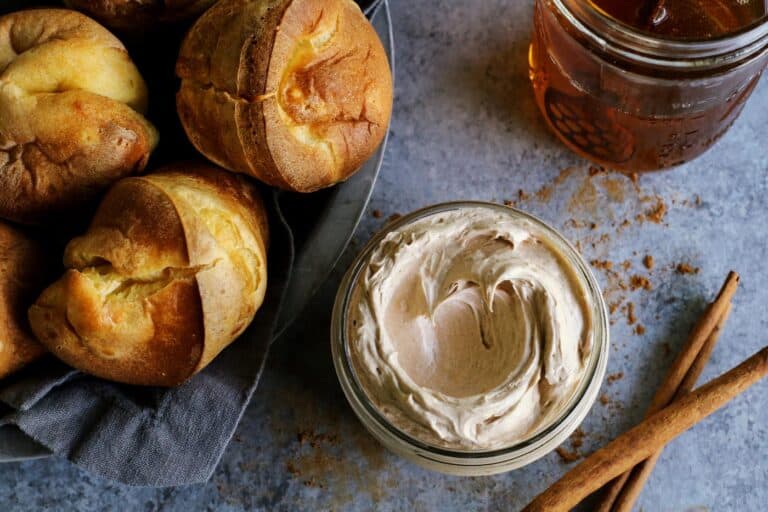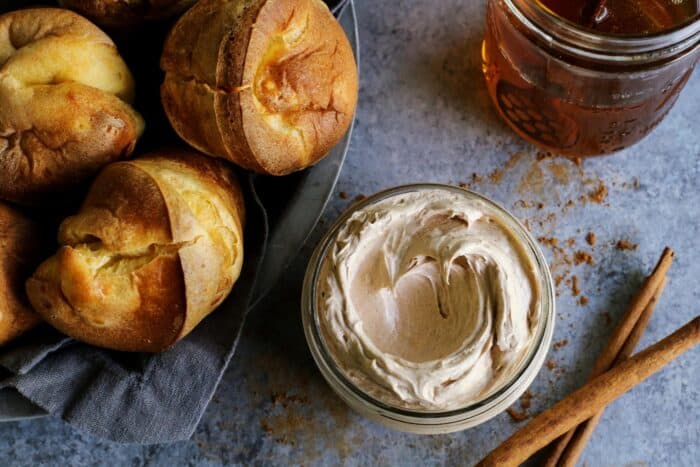 Better than Texas Roadhouse butter recipe!
If you've ever bitten into a warm roll slathered with cinnamon honey butter at Texas Roadhouse, then you already know about the deliciousness of this spreadable treat.
My recipe is very similar to the Texas Roadhouse butter recipe, but mine has more fluffiness and cinnamon, and less honey. It's how I prefer it. And I think it's BETTER!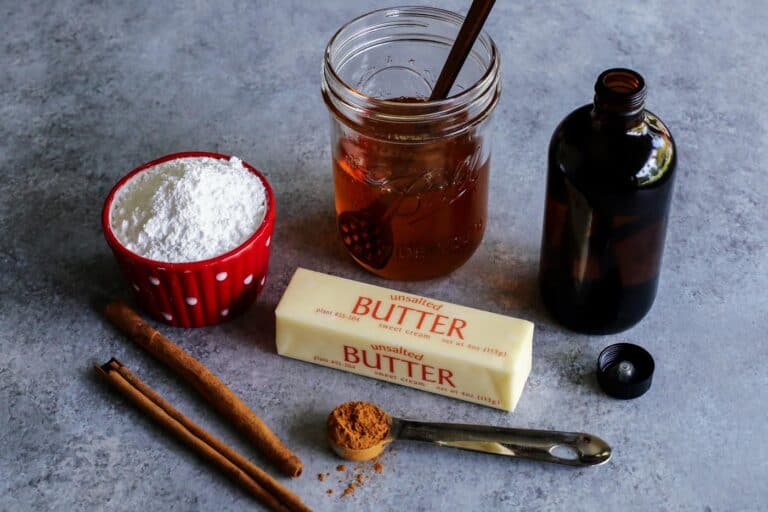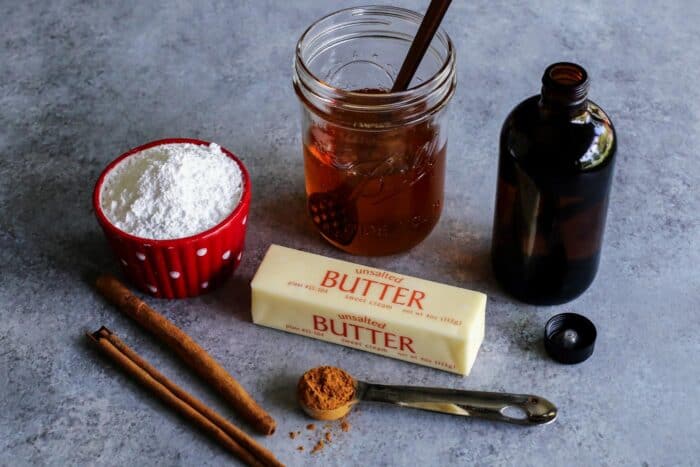 Ingredients for the best cinnamon honey butter, plus variations and substitutions
This recipe uses five super common ingredients:
Unsalted butter – I prefer to use unsalted butter in my cooking and baking, so I can regulate the amount of salt added to each recipe. You could also use salted butter, but then skip the added salt. Also keep in mind that the quality of butter does matter. Starting out with a better butter will result in a better tasting cinnamon honey butter in the end.
Powdered sugar – This is the secret weapon when it comes to whipping up a light and fluffy honey butter. The powdered sugar gives volume to the butter and helps everything hold together so nicely. There really is no substitute for this ingredient.
Honey – You'll find that I use less honey than most honey butter recipes. There's two reasons for that: 1) I prefer a more subtle honey flavor and 2) Too much honey messes with the fluffy texture that I love. I think too much honey gives the butter a "greasy" like texture. A good substitute is pure maple syrup, which is extra lovely when paired with fall and winter meals.
Cinnamon – I use a heavy hand when it comes to the cinnamon. I inherited that particular spice love from Mom. Feel free to back off that quantity if you're not as big of a fan. And again, the quality and strength of cinnamon will make a difference in the end product. If you've ever sniffed your way through a good spice company's jars, you know that cinnamon can vary from soft and mellow to rich and strong.
Salt – I use a coarse kosher salt for all my cooking and baking. If you use plain table salt, start out with a bit less and then add more back in if you like. Also, sometimes I simply prefer a little more salty flavor, and throw in another pinch or two!
Another fun variation is to add a splash of pure vanilla extract or pure almond extract (please don't use imitation extract!). You could also use vanilla beans, scraped straight from the pod. Or vanilla bean paste!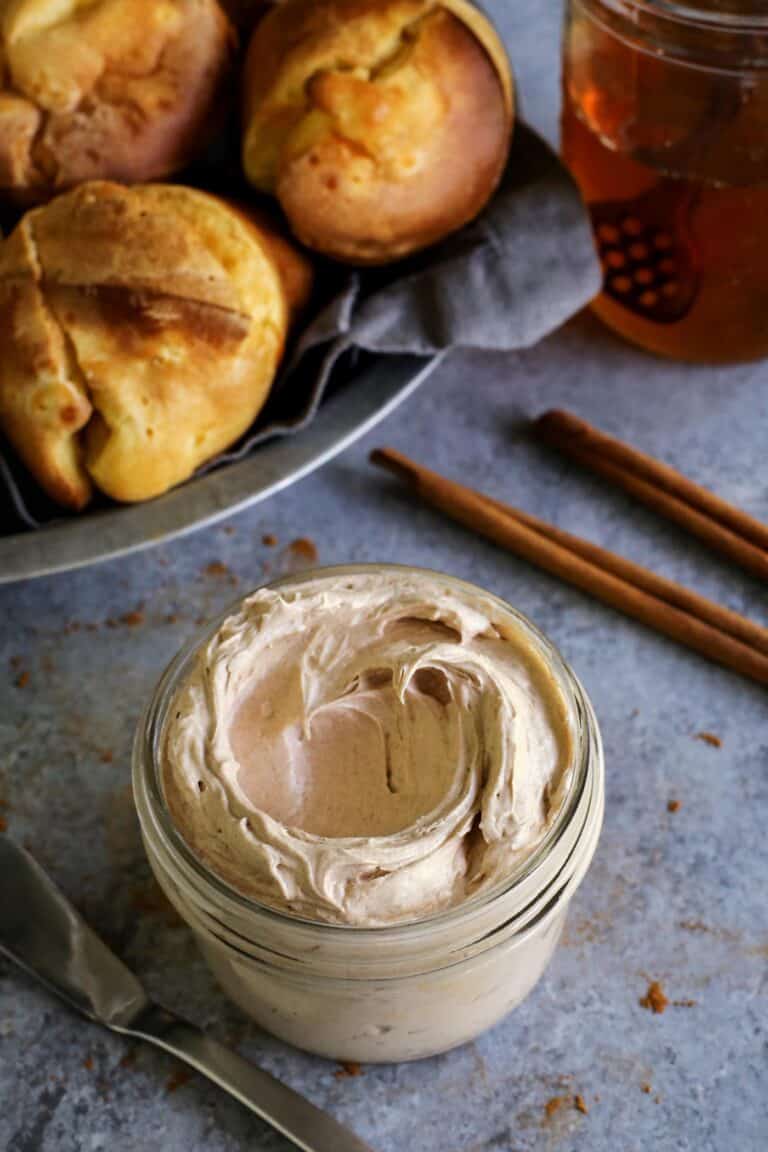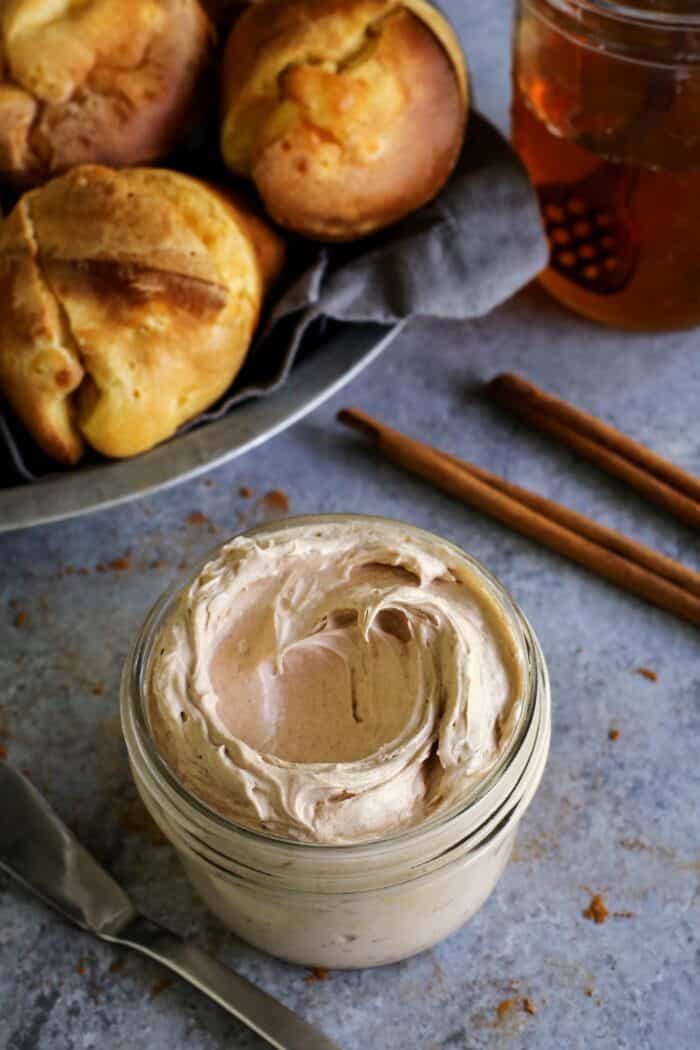 How to make whipped butter
This recipe is super simple to make. For a fluffy whipped butter, just follow these instructions:
Beat butter for 2 minutes. Be sure to use room temperature butter that is just slightly soft. Use a stand mixer or powerful hand mixer for best (fluffiest) results. Beating by hand will not give the same volume.
Add powdered sugar, honey, cinnamon, and salt.
Beat again for 2 minutes, to add increased fluffy texture.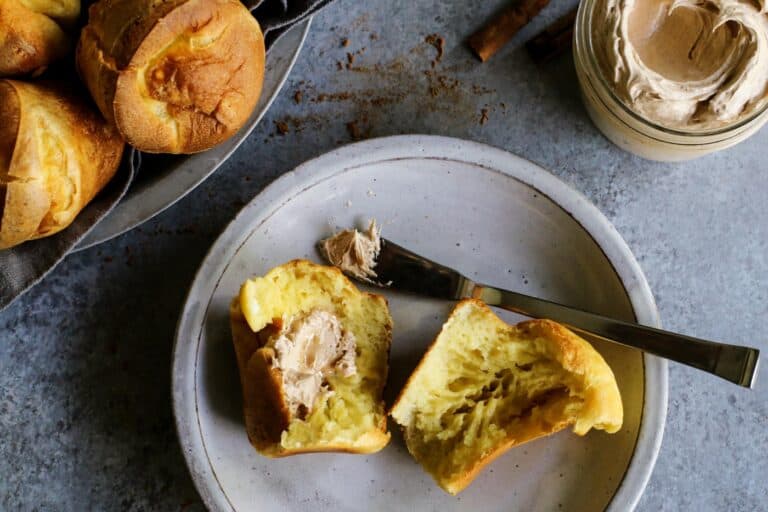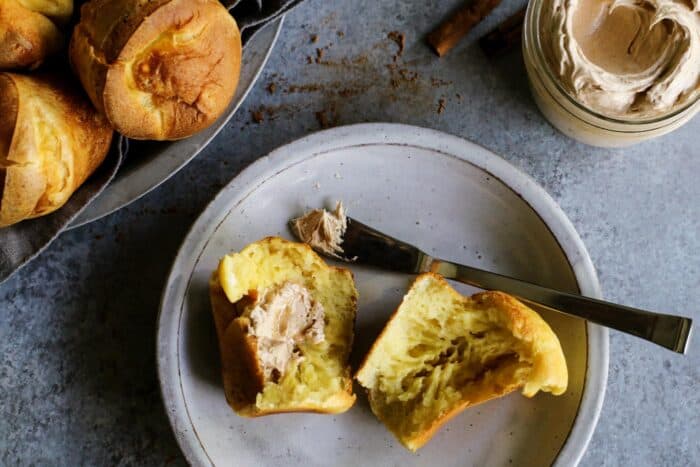 What to serve with honey butter?
Where to start?! Cinnamon honey butter is one of the best toppings around!
But here are a few suggestions for you. Serve this whipped butter with: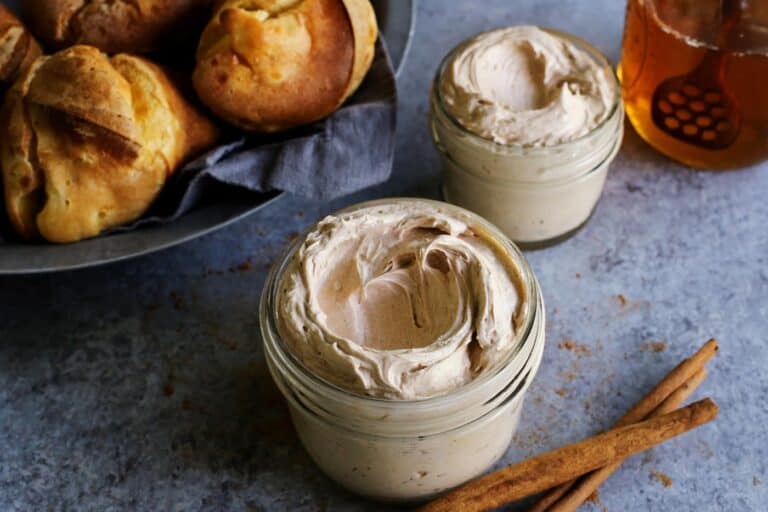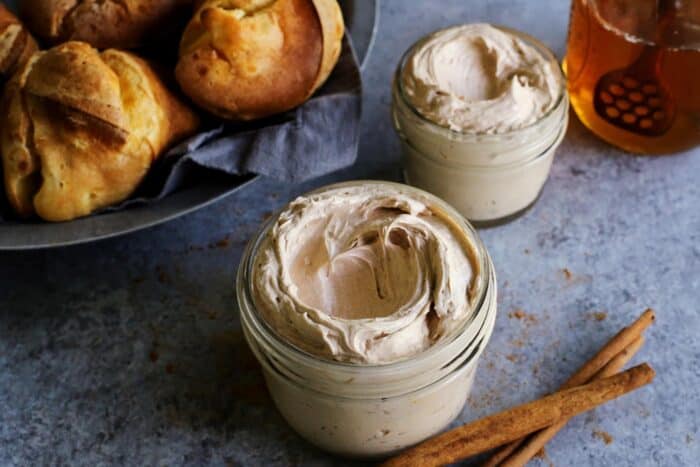 Honey Butter FAQ:
How do you store honey butter?
Store the cinnamon honey butter in an airtight container at room temperature for up to three days. This fluffy butter is most definitely most enjoyable at room temperature.
Do you have to refrigerate honey butter?
If you still have butter left after three days sitting at room temperature, then put it in the refrigerator.
If you store it in the refrigerator, just let it come to room temperature before serving again. Do not microwave, as this will break down the fluffy texture…and possibly end up in a soupy mess!
How long will cinnamon honey butter last?
When stored in an airtight container in the refrigerator, this honey butter will be good for about one month.
Can you freeze honey butter?
Yes. You can definitely freeze this butter.
Place desired amount of honey butter onto a piece of plastic and wrap it up tightly to remove any air. Wrap another layer of plastic wrap tightly over the first one, and then place in a freezer baggie. Freeze for up to 2 months.
Like this easy recipe? Save it to Pinterest!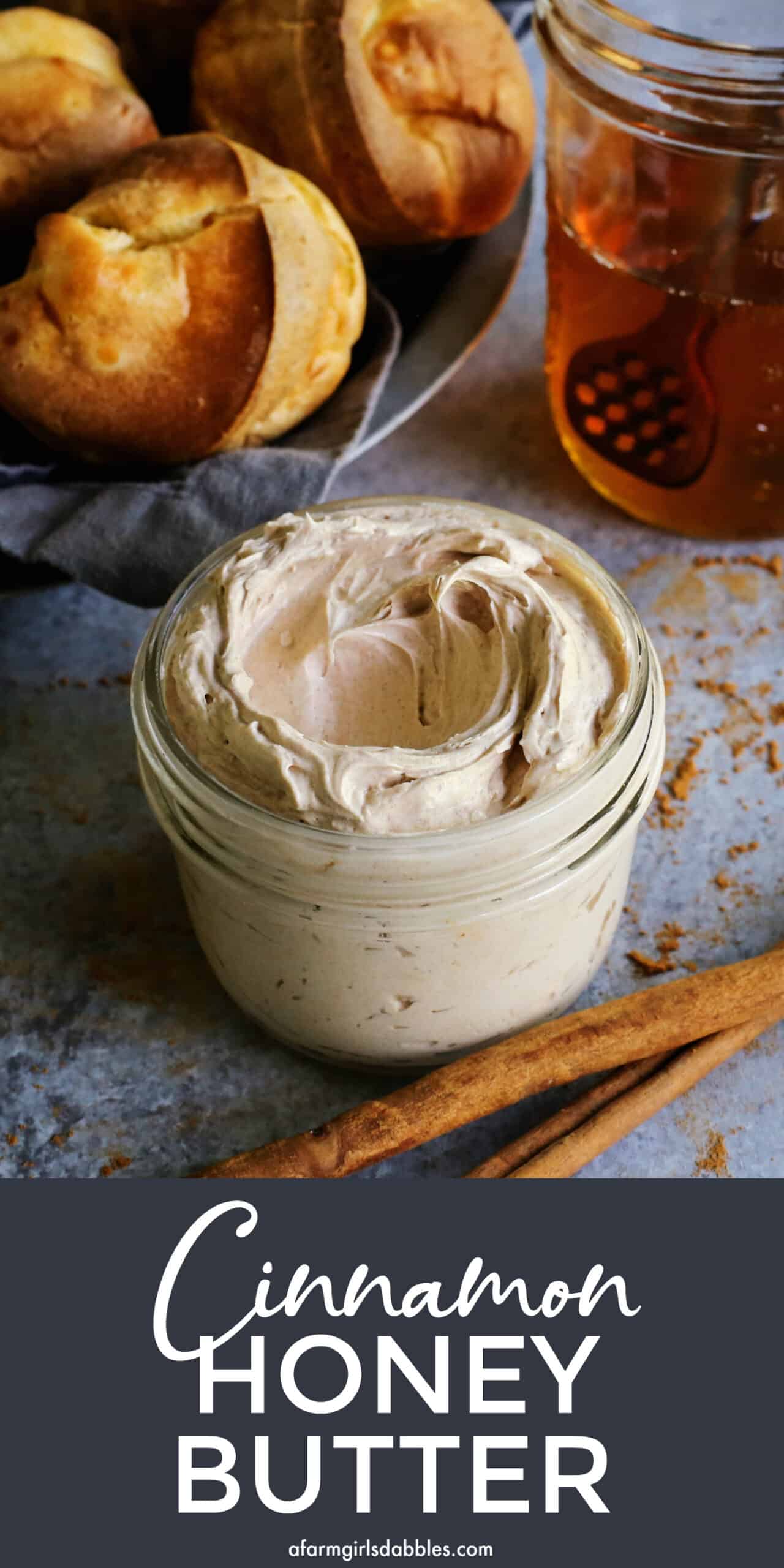 Here are a few more flavored butter recipes for you: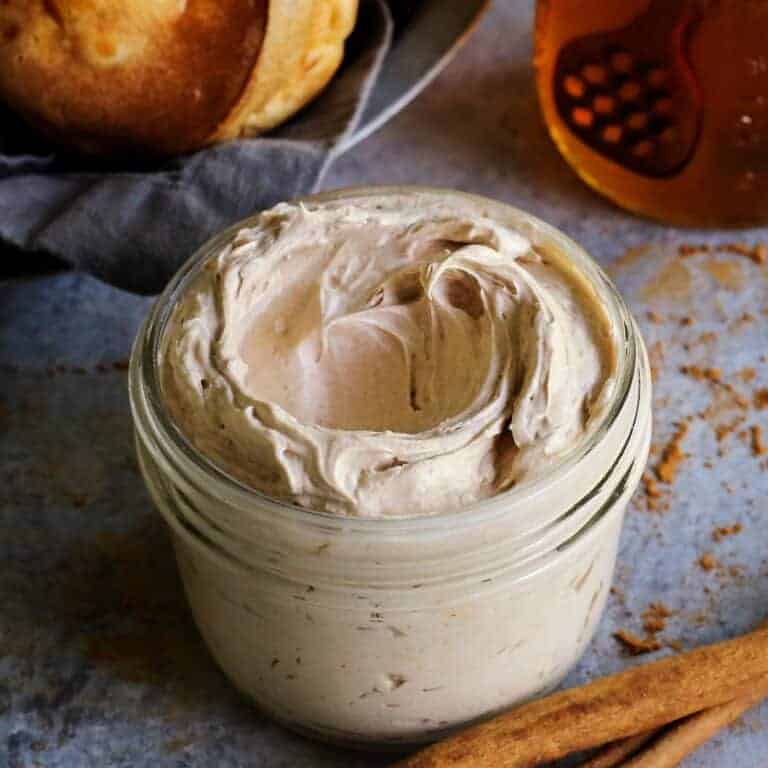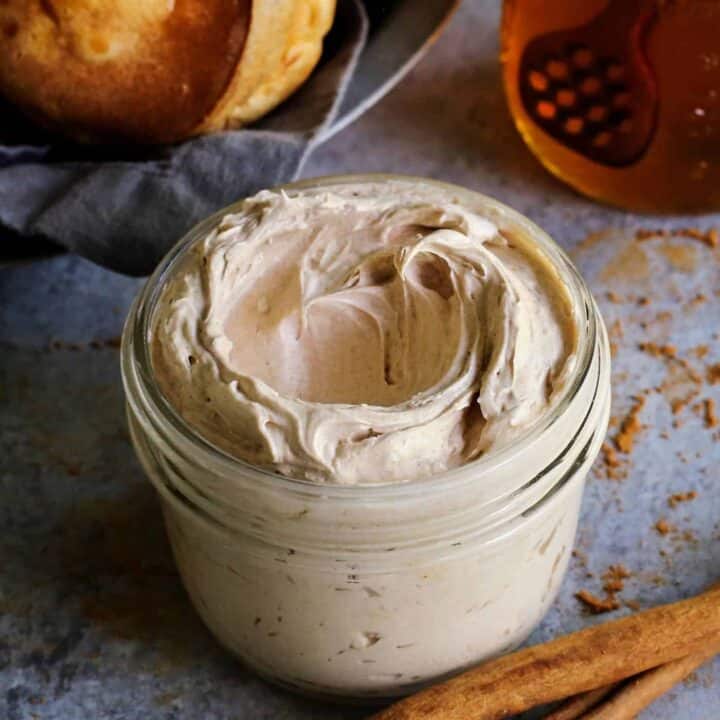 Cinnamon Honey Butter
Yield: 1 cup
Prep Time: 10 minutes
Total Time: 10 minutes
Just the perfect light and fluffy sweet topping for popovers, muffins, breads, pancakes, and more!!
Ingredients
1/2 c. unsalted butter, softened to room temperature
1/2 c. powdered sugar
1 T. honey
2 tsp. cinnamon
1/8 tsp. kosher salt
Instructions
Place butter in bowl of stand mixer and beat on medium-high to high speed for two minutes.
Add powdered sugar, honey, cinnamon, and salt, and beat for two minutes more.
Transfer to a jar or container. This is best served at room temperature. Store in an airtight container at room temperature for up to 3 days or refrigerate for up to 1 month. Bring to room temperature before serving again.
Notes
from a farmgirl's dabbles
Nutrition Information:
Yield: 16
Serving Size: 1
Amount Per Serving:
Calories: 70
Total Fat: 6g
Saturated Fat: 4g
Trans Fat: 0g
Unsaturated Fat: 2g
Cholesterol: 15mg
Sodium: 18mg
Carbohydrates: 5g
Fiber: 0g
Sugar: 5g
Protein: 0g
Nutrition information is automatically calculated by Nutritionix. I am not a nutritionist and cannot guarantee accuracy. If your health depends on nutrition information, please calculate again with your own favorite calculator.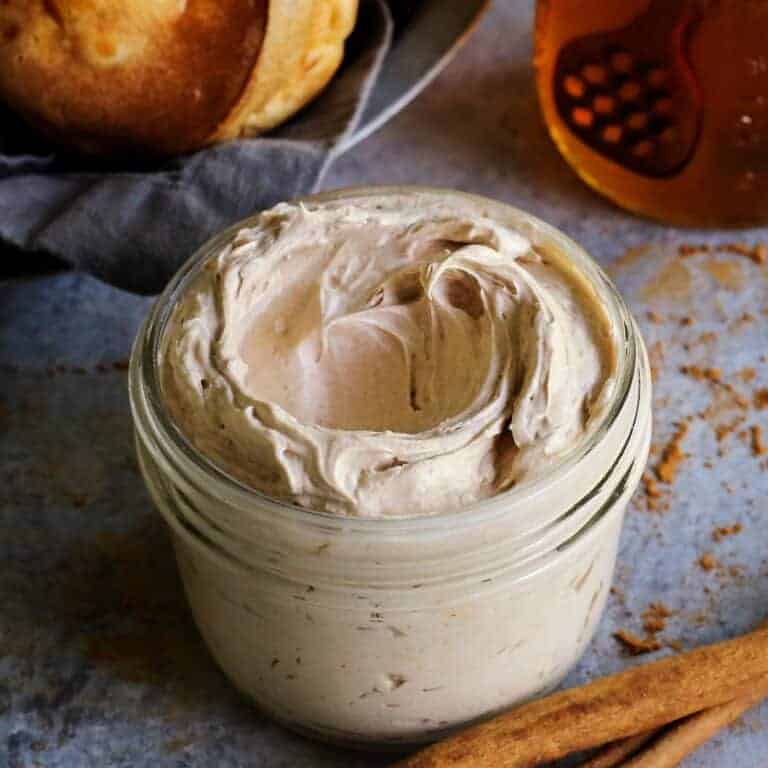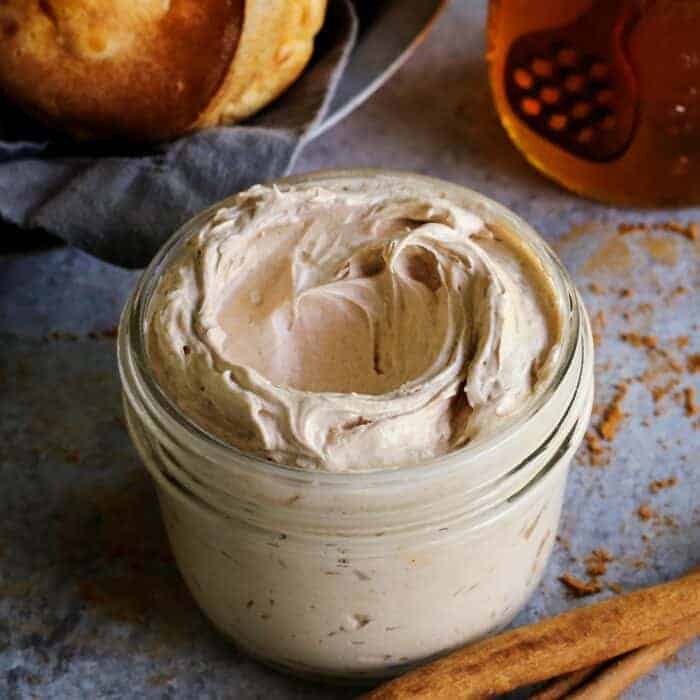 This post was originally published in 2010, and then updated in 2020.