Sour Cream Banana Bread Recipe (3 Ways!)
This post may contain affiliate links to products we use and love.
This easy Sour Cream Banana Bread recipe makes moist banana bread that's full of fresh banana flavor. This recipe has been a favorite for as long as I can remember! Learn how to make the best banana bread ever, plus 3 variations!
Moist Banana Bread with Sour Cream
Are you the kind of person that buys extra bananas, just to let them get overly ripe for making banana bread?
That is 100% me!
I grew up on a banana bread recipe with sour cream, from my aunt Mary's recipe box. Mom would make each batch a little bit different, sometimes adding either maraschino cherries or chocolate chips. Or both.
But more often than not, Mom would simply throw some chopped maraschino cherries into the batter. That was always my favorite.
Sour Cream Banana Bread is now one of my own family's favorite quick breads. And if our daughters had their way, every single loaf would include maraschino cherries!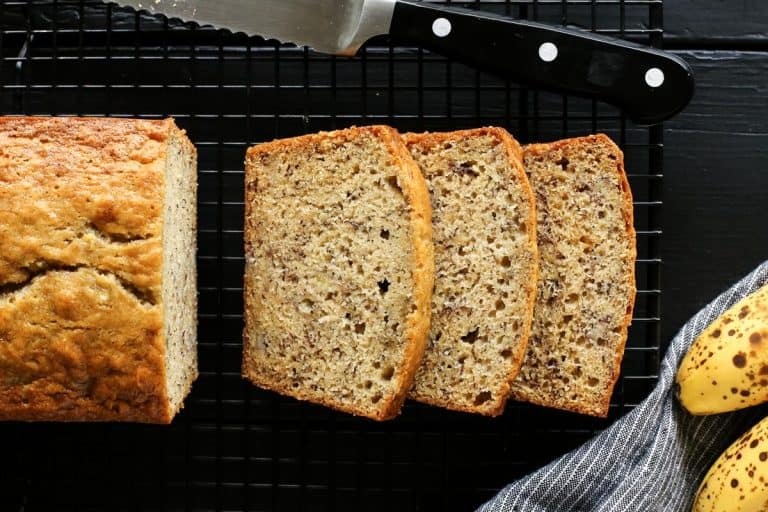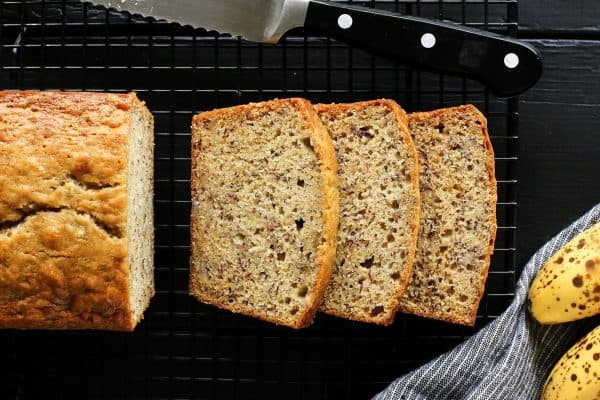 Of course, I believe this is the best banana bread recipe out there. Nostalgia is involved, for sure. I've been eating this gently sweet baked treat pretty much my entire life.
Sour cream adds tenderness and moistness to baked goods, and just a bit of tang. It's no wonder why this banana bread recipe with sour cream has been a family favorite for so many years.
For more baking recipes that use sour cream, I also recommend these: Sour Cream Coffee Cake with Cinnamon Ripple and Rhubarb Sour Cream Coffee Cake. And my friend Liz has a pear bread that uses sour cream, I'd love to try it!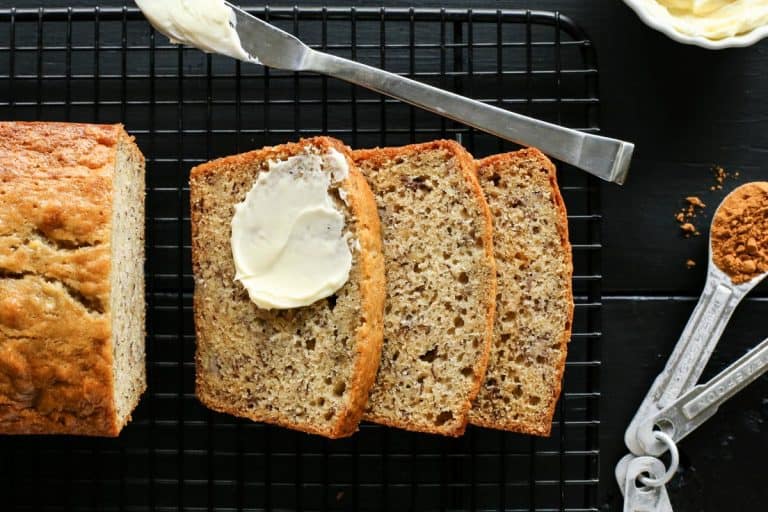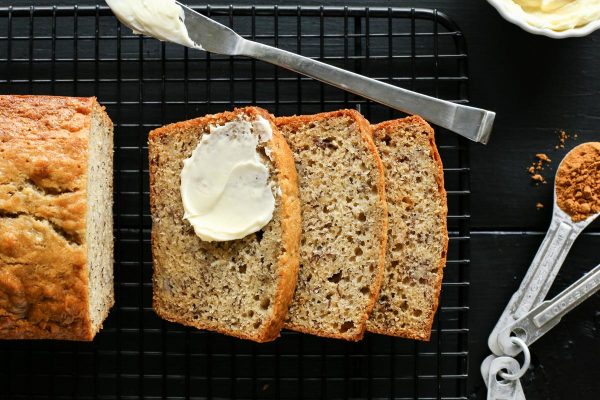 Tips for the Best Banana Bread
Use butter in your banana bread:
My aunt's recipe calls for shortening. A few years ago, I started experimenting with subbing in butter – with different ratios of shortening and butter. And with adding cinnamon, nonexistent in the recipe I knew as a kid.
While I do like the extra denseness that the shortening gives the bread, I have since converted to using butter only. I like the flavor that butter adds.
Add cinnamon:
I also like the comfort and flavor of cinnamon in baked goods…so you'll find that in my recipe as well. If you're not a fan of cinnamon, I won't be all judgy if you cross it off the ingredient list.
Use properly sized loaf pans:
These 3/4-pound loaf pans are my favorite. They're heavy duty and always release breads perfectly. I like their slightly smaller size, just a touch smaller than a more common 1-pound loaf pan. If you only have 1-pound loaf pans, no worries. Your bread will still turn out great.
Test for doneness:
Be sure to test the doneness by inserting a toothpick in the middle of the loaf, before removing from the oven. If the toothpick is still wet with batter, the loaf needs to bake a bit more.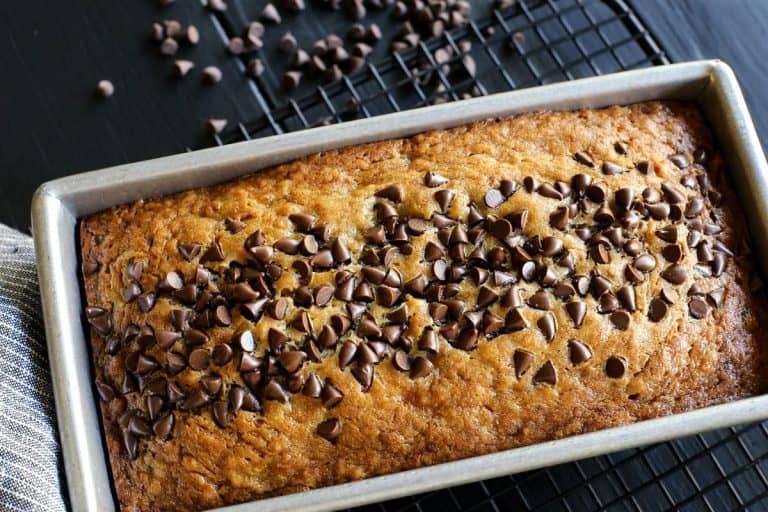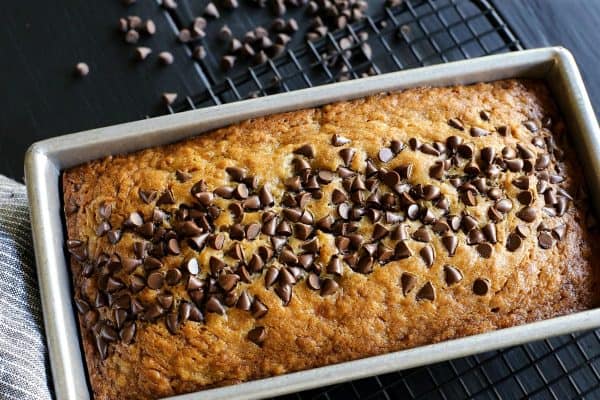 Banana Bread Variations
Homemade banana bread was meant for chocolate.
Most often when I add chocolate, I sprinkle a handful of mini chocolate chips (our favorite brand) over the top. But I've also been known to stir them right into the batter. Regular-sized chocolate chips work, too (our favorite brand).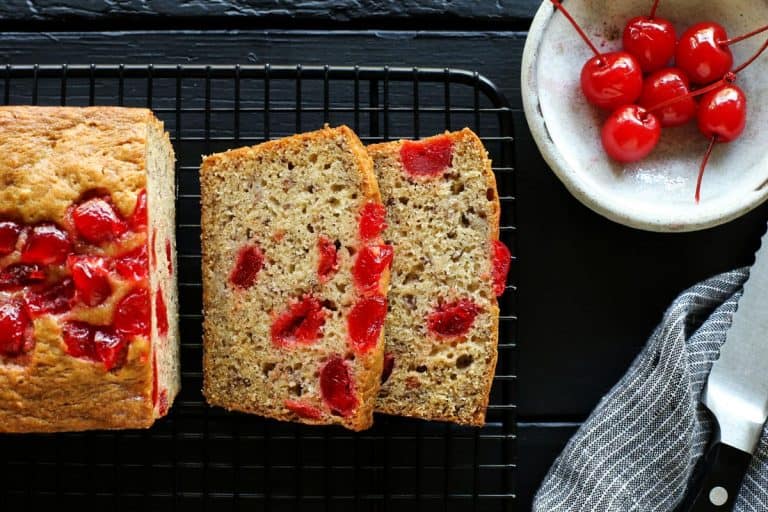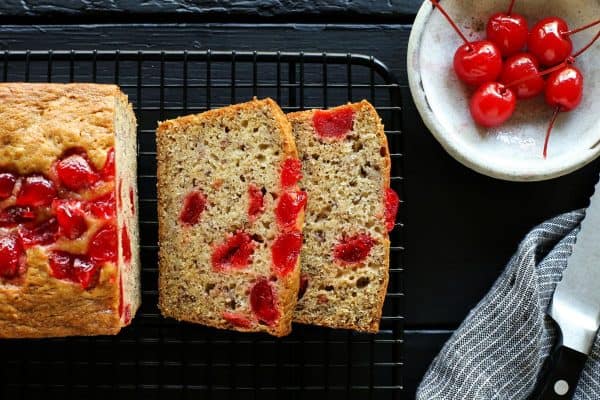 I like to stir the chopped cherries into the batter and then finish with a sprinkling over the top. The loaves turn out so pretty!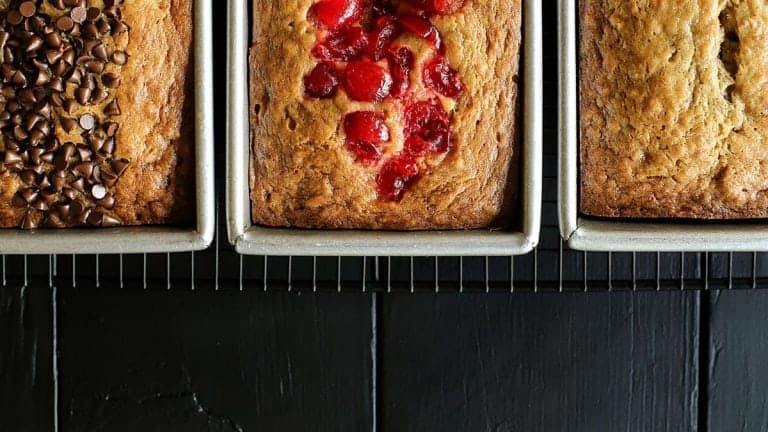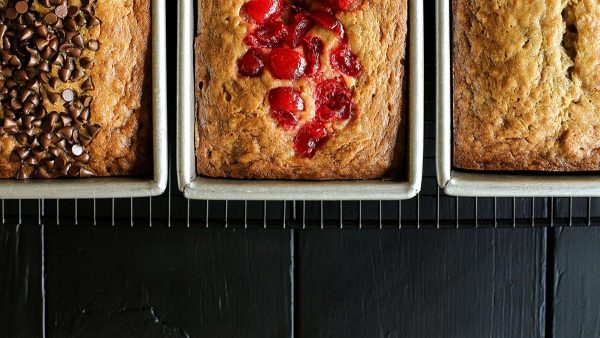 Chocolate. Cherries. Or plain.
What's your favorite?!
Like this recipe? Save it to Pinterest!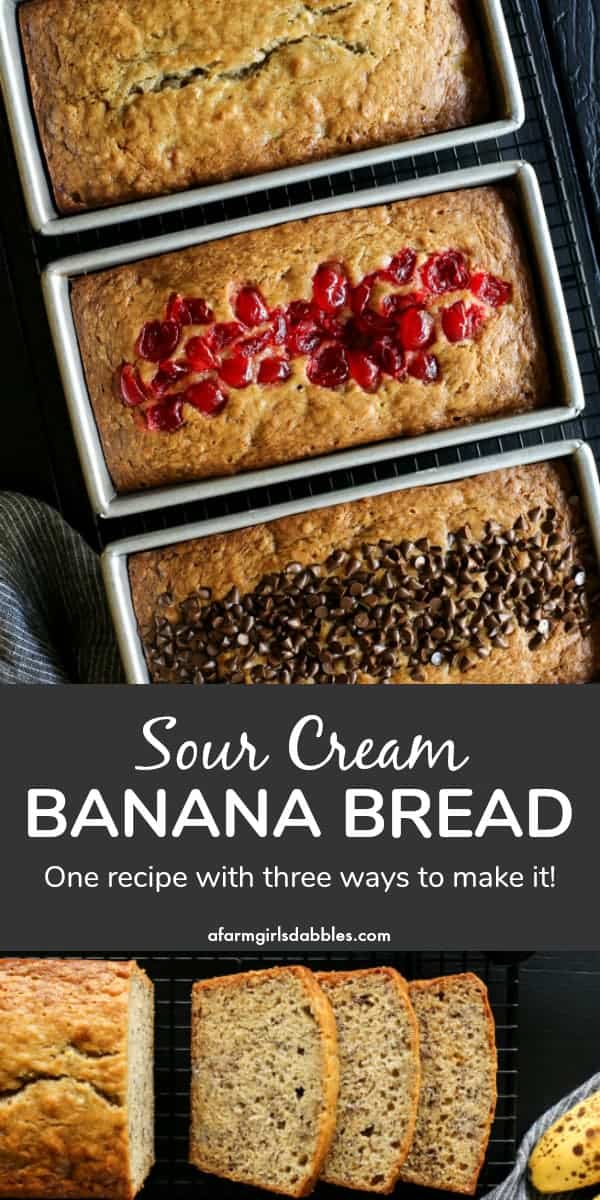 Here are a few more banana bread recipes you might like: Peanut Butter Banana Bread from Taste and Tell, Tropical Banana Bread from Inside BruCrew Life, and Nutella Banana Bread from Broma Bakery.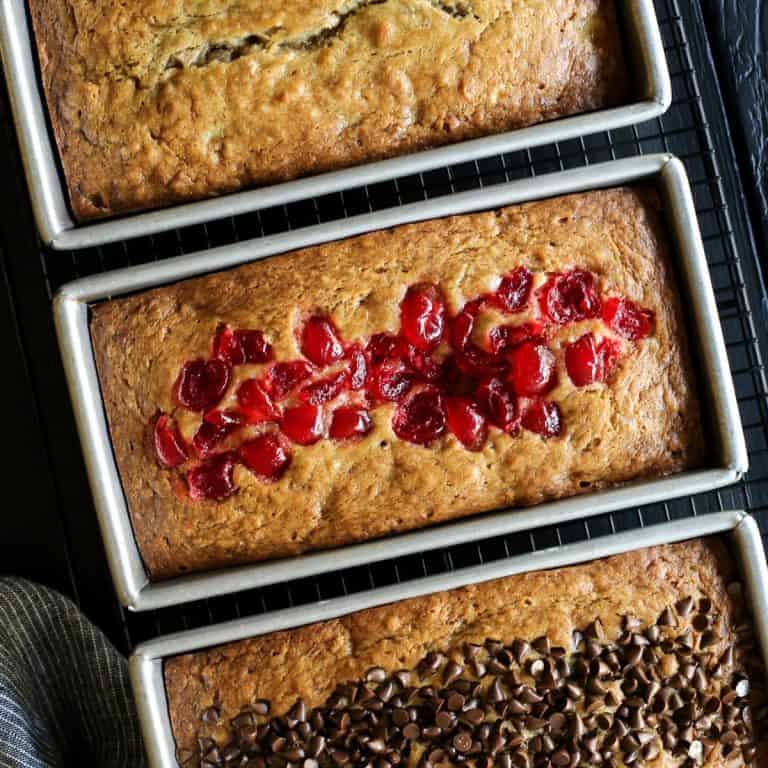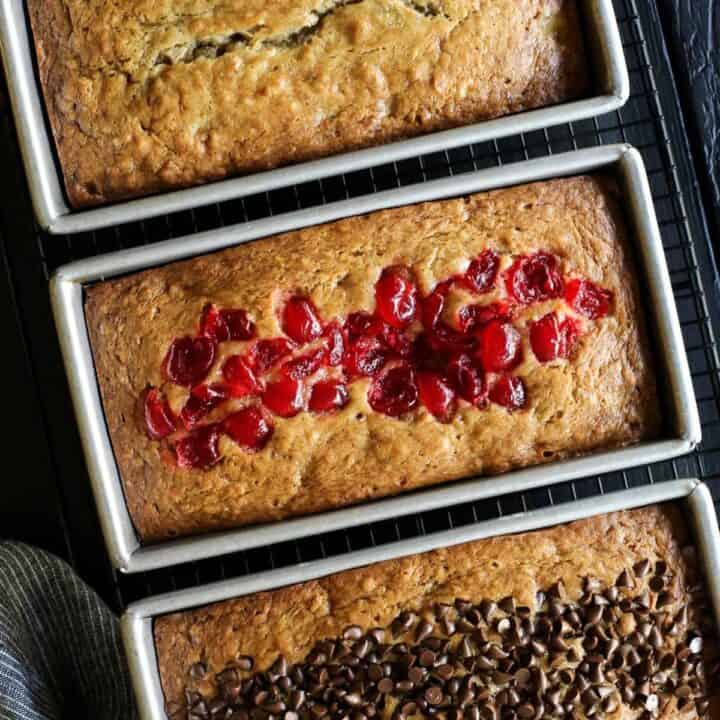 Sour Cream Banana Bread (3 ways!)
Yield: 24 servings
Prep Time: 20 minutes
Cook Time: 55 minutes
Total Time: 1 hour 15 minutes
This sour cream banana bread is moist and tender, and gently sweet with fresh banana flavor. Here I share our top three banana bread variations! (Also: this banana bread freezes really well!)
Ingredients
6 large bananas that are very ripe and softened
1 c. unsalted butter, very soft (almost to the point where it wants to melt)
2 c. sugar
4 large eggs
1/2 c. regular sour cream
4 c. all-purpose flour
2 tsp. cinnamon
2 tsp. baking soda
1 tsp. baking powder
1/2 tsp. kosher salt
mini chocolate chips, optional - here's our favorite!
maraschino cherries, quartered, optional
Instructions
Preheat oven to 325° F. Lightly spray three 8" x 4" loaf pans (these are my favorite pans) with non-stick spray and set aside.
In a medium bowl, mash bananas with a fork or rigid pastry cutter. Set aside.
In a large bowl, combine butter and sugar with a spatula. Add the eggs to one side of the bowl, and whisk them all on their own, without incorporating the butter/sugar mixture (no worries if a little bit gets mixed in). This is my way of not dirtying another bowl to whisk the eggs! Once the eggs are well whisked, add the sour cream and whisk the whole mixture together. Add 3 cups of the mashed bananas and stir to incorporate.
Next add the flour, cinnamon, baking soda, baking powder, and salt. Give the dry ingredients a little stirring together with a fork, and then use the spatula to incorporate all the dry ingredients into the wet ingredients. Stir until there are no visible pockets of dry ingredients.
Decide how you want your banana bread...plain, with chocolate chips, or with maraschino cherries. See "Banana Bread Options" below.
Place pans in preheated oven and bake for 50 to 60 minutes. Check for doneness by inserting a toothpick into the top center of each loaf. When the toothpick comes out clean, it's done. Note that any pans that have cherries stirred into the batter will probably need to bake a bit longer than pans without cherries.
Banana Bread Options:
*For three loaves of plain banana bread: Simply divide the batter evenly between the three prepared pans.
*For three loaves with chocolate chips: Scatter slightly less than 1/4 cup of mini chocolate chips across the top of each pan of batter. You could also play around with stirring chocolate chips right into the batter.
*For three loaves of banana bread with maraschino cherries: Stir 1 cup of quartered cherries into the batter, and then divide the batter amongst the three pans. Add more quartered cherries over the tops of the batter if you like. Just know that the cherries will start to weigh down the top of the loaf, the more you add - possibly causing the top to sink a bit when baking. Go light on the cherries if you want a plumper looking loaf.
*For one loaf of plain banana bread, one loaf with chocolate chips, and one loaf with maraschino cherries: Divide the batter evenly between the three prepared pans. Leave pan #1 as is, this is the plain one. For pan #2, scatter slightly less than 1/4 cup of mini chocolate chips across the top of the batter. For pan #3, stir 1/3 cup of quartered cherries into the batter, and then scatter a few more quartered cherries over the top.
*I'll also throw in another variation that we sometimes do. If you like chocolate and cherries together, stir both chocolate chips and quartered cherries into the batter. Or stir just quartered cherries into the batter and then scatter chocolate chips over the top.
Notes
This banana bread freezes really well!
Adapted from my aunt Mary Fritz's recipe box, the banana bread recipe I grew up on.
Recommended Products
As an Amazon Associate and member of other affiliate programs, I earn from qualifying purchases.
Nutrition Information:
Yield: 24
Serving Size: 1
Amount Per Serving:
Calories: 295
Total Fat: 12g
Saturated Fat: 7g
Trans Fat: 0g
Unsaturated Fat: 4g
Cholesterol: 54mg
Sodium: 190mg
Carbohydrates: 46g
Fiber: 2g
Sugar: 25g
Protein: 4g
Nutrition information is automatically calculated by Nutritionix. I am not a nutritionist and cannot guarantee accuracy. If your health depends on nutrition information, please calculate again with your own favorite calculator.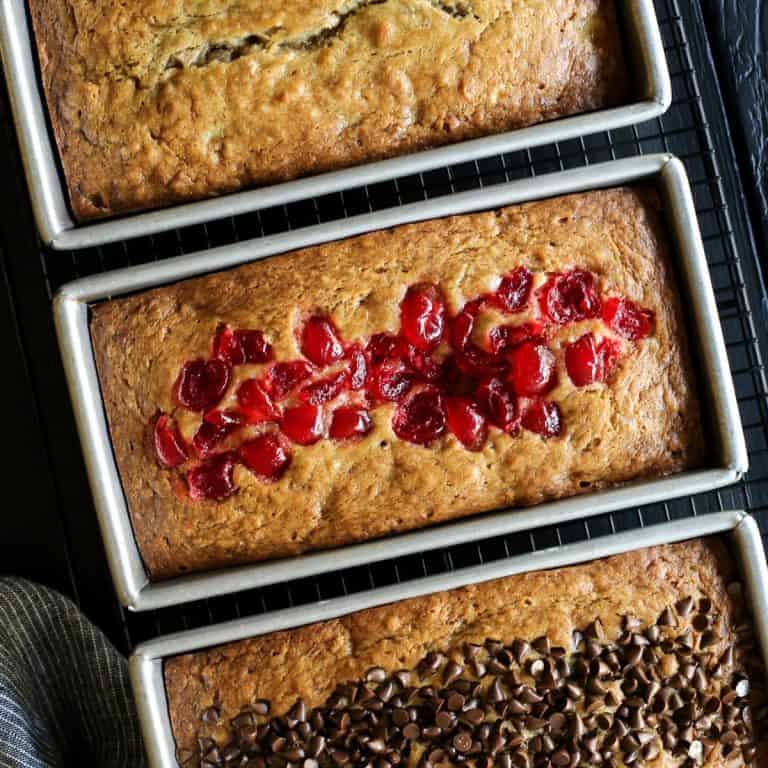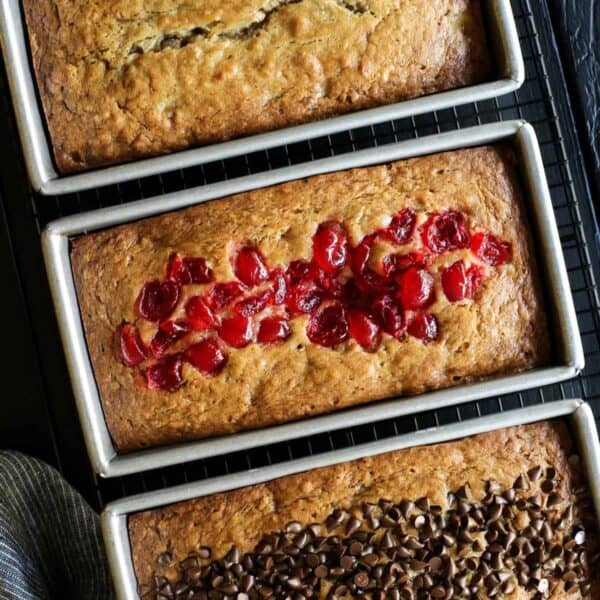 We participate in the Amazon Services LLC Associates Program, an affiliate advertising program designed to provide a means for us to earn fees by linking to Amazon.com and affiliated sites. See our
disclosure policy
for more info.