Broccoli Cheddar Soup Loaded With Vegetables
This post may contain Amazon or other affiliate links. As an Amazon Associate I earn from qualifying purchases.
This Broccoli Cheddar Soup recipe is loaded with all kinds of vegetable goodness. The soup is cheesy, creamy, and all from scratch. And there's bacon! What's not to love?!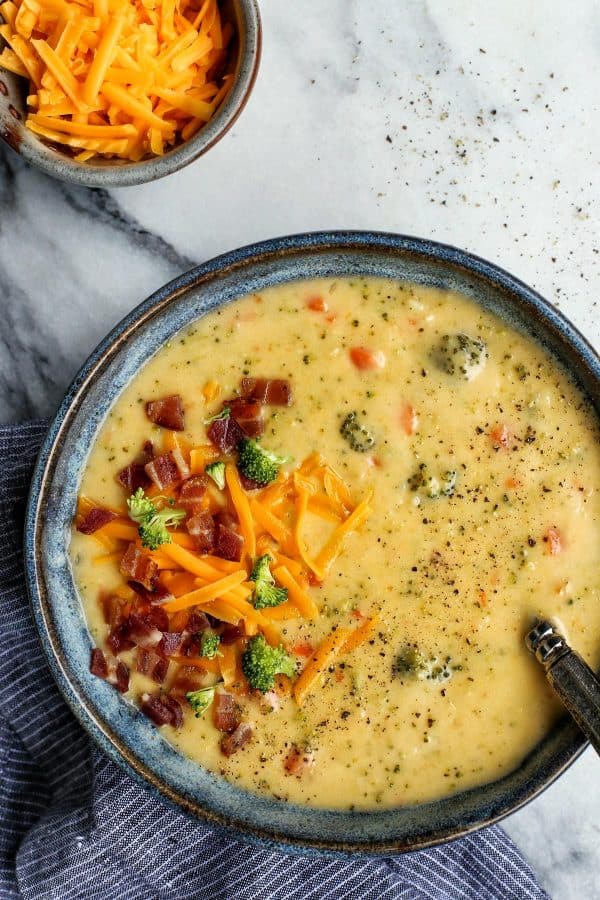 The Best Broccoli Cheddar Soup
Soup.
Soup.
And more SOUP!
It's time to bring on all the soup recipes!!
The temps have been chillier than normal for the first week of October. The sky's been overcast, drab and oh-so-very-dreary. Plus our daylight hours are just plain shrinking away from us. I've been craving all the comfort foods. AND my pj's and warm fuzzy socks, as soon as the supper table is cleared each evening.
Every year, I grow to love our Soups, Stews & Chilis recipe archives more and more. It's so hard to pick favorites, but my Chicken Wild Rice Soup, Lasagna Soup, and Slow Cooker Beef and Barley Stew are the most visited of these recipes, according to readers. Our Hungarian Goulash, Crab Bisque, and Smoked Turkey Pot Pie Soup also continuously get great reviews.
You are going to LOVE this latest recipe. I call it Broccoli Cheddar Soup Loaded with Vegetables, because it's no ordinary broccoli cheese soup. Oh no. It has more vegetables than I've ever seen in a broccoli cheddar soup, plus an extra good helping of sharp cheddar to put it over the top. Even our oldest daughter >>> who is not a soup fan <<< asks for seconds! It's the BEST broccoli cheese soup recipe!
* Thank you to Vitamix® for sending me the blender featured in this post.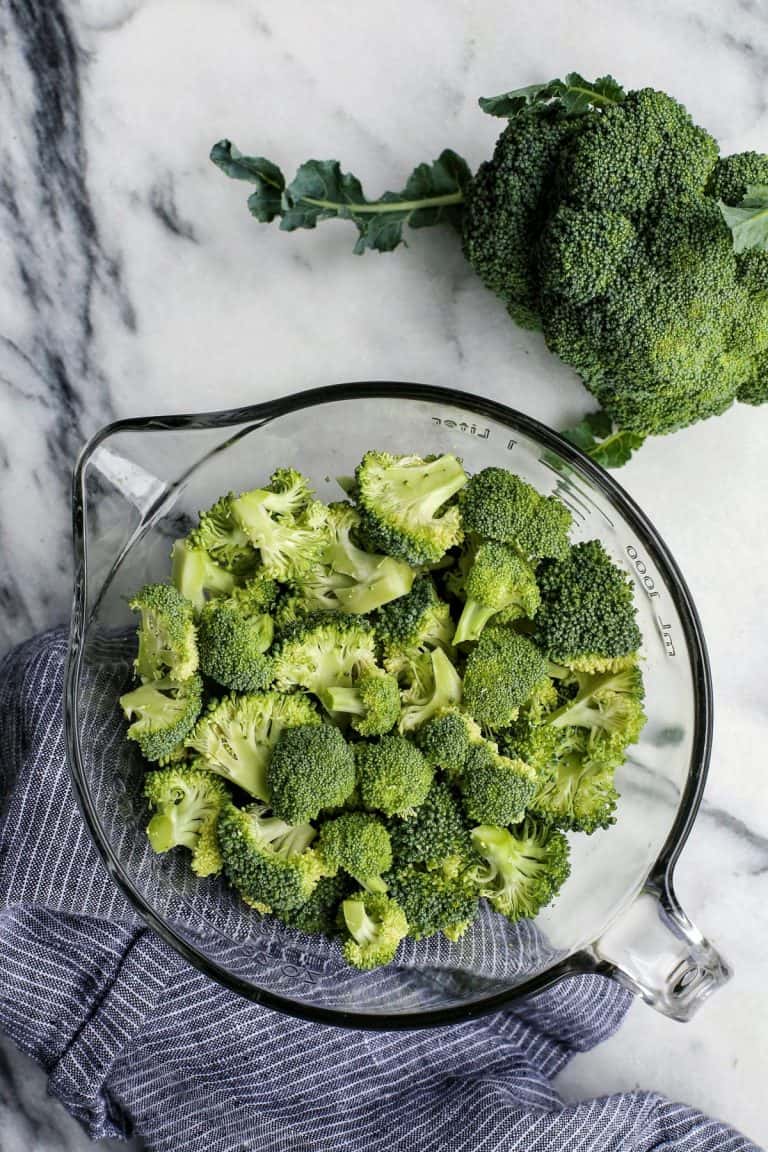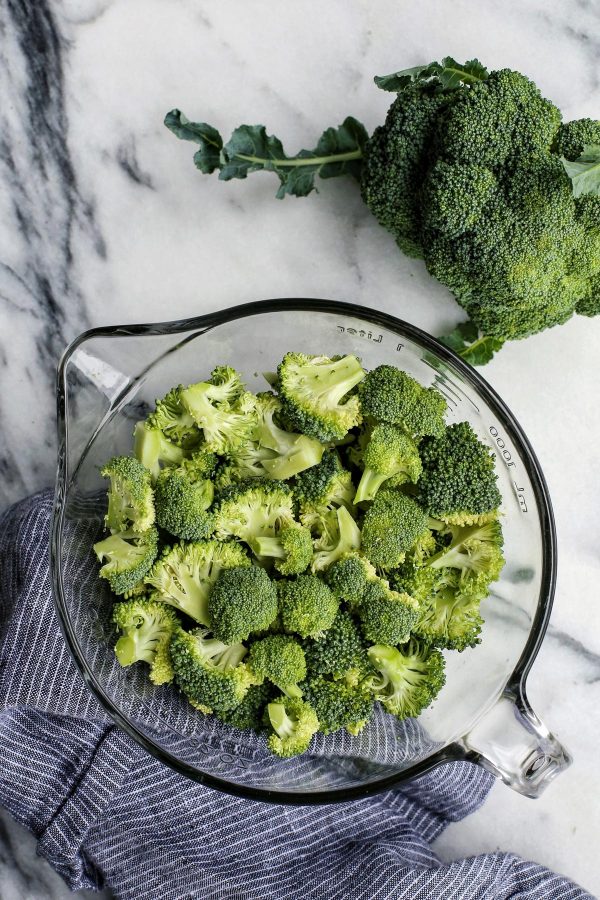 Why Broccoli Cheddar Soup?
I've always liked a good cheesy broccoli soup.
But I'm picky.
It canNOT be gloppy, like a big bowl of melted Cheez Whiz. You know what I mean, right? I've encountered that kind far too many times. Which is probably part of the reason I quit ordering it at restaurants.
It also canNOT be bland, with wimpy cheese flavor. For me and my family, sharp cheddar is where it's at.
So last year, during soup season, I decided to work on my own broccoli cheddar soup recipe. I ran out of time to get it perfected before the spring weather (finally) burst forth. But I vowed to get right back on it as soon as the leaves started falling.
It took a bit of time and a lot of testing, but the recipe is finally ready! And I am going to come right out and say it: this is the best broccoli cheddar soup recipe. Ever.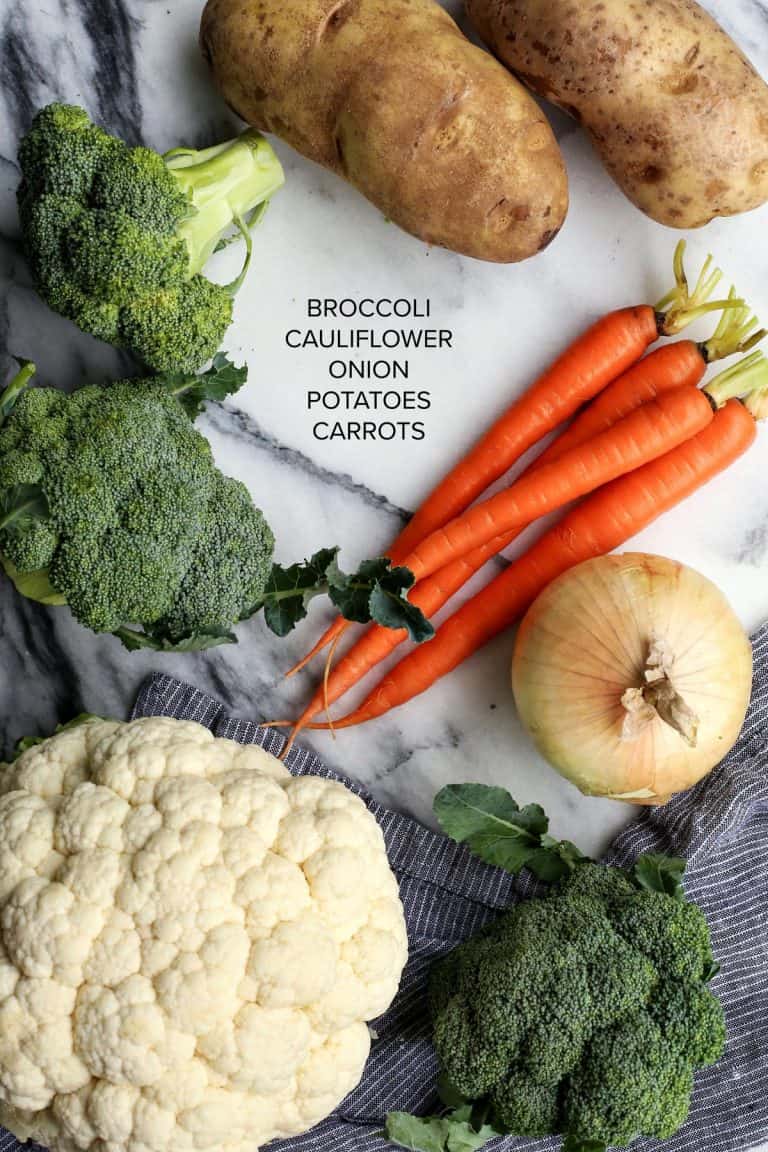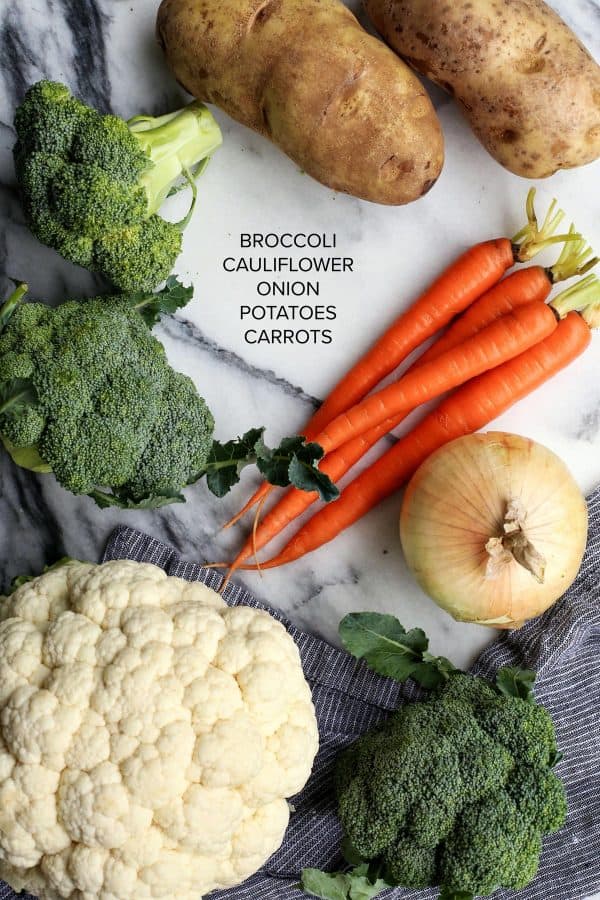 Recipe Ingredients
When I said this soup is loaded with vegetables, I meant it. Not only will you find the obvious broccoli here, but also cauliflower, onion, potatoes, and carrots. There's so much goodness going on!
Here is what you will need. Be sure to read the recipe card at the end of this post for specific amounts.
Thick cut bacon
Chicken broth: Low sodium broth is best.
Veggies: russet potato, cauliflower, yellow onion, garlic, carrots and broccoli.
Unsalted butter
Flour: To thicken the soup
Cheddar Cheese: For the soup itself and to sprinkle on top
Bay Leaf
Salt & Pepper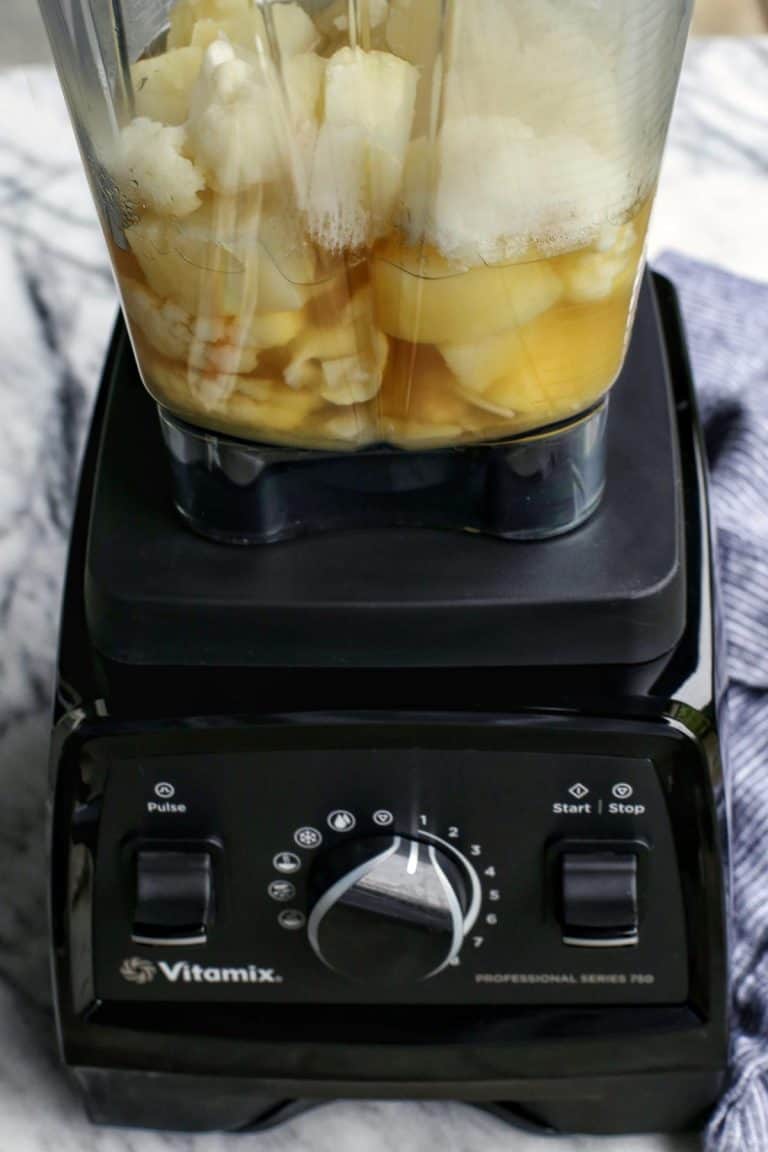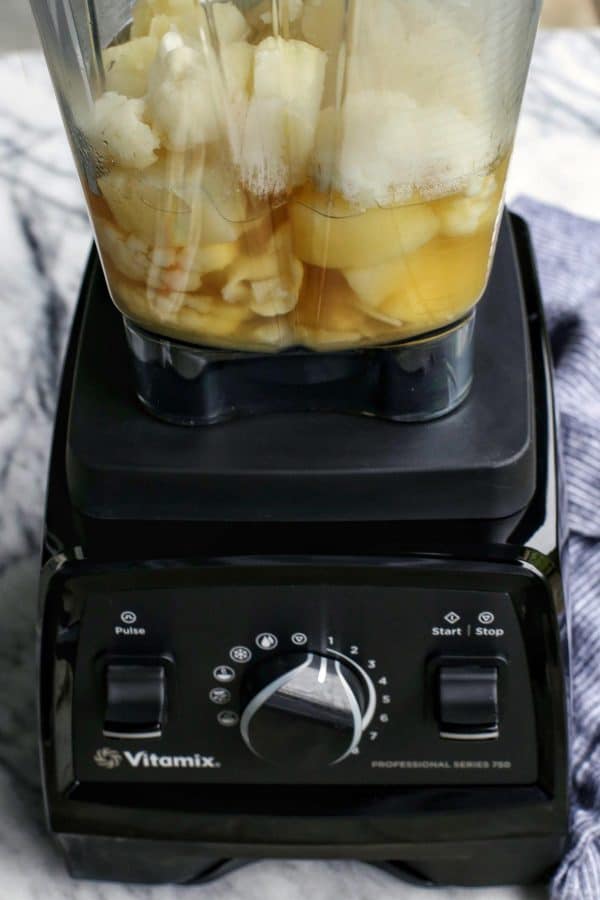 How to Make Broccoli Cheddar Soup
First, gently boil chunks of russet potato and cauliflower florets in chicken broth. When the veggies are softened, transfer all of it to a powerful blender. I highly recommend a Vitamix blender, such as this Professional Series 750.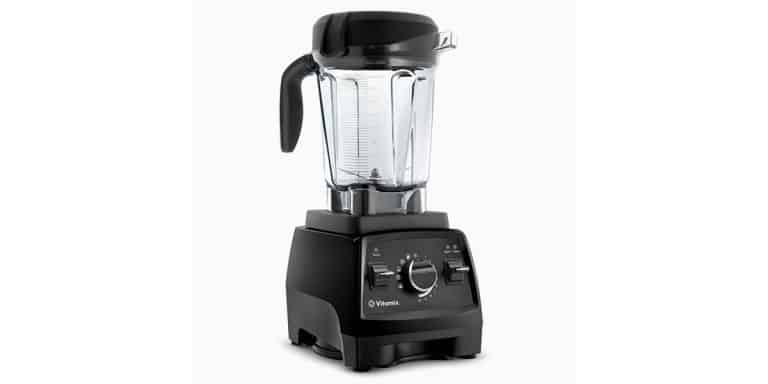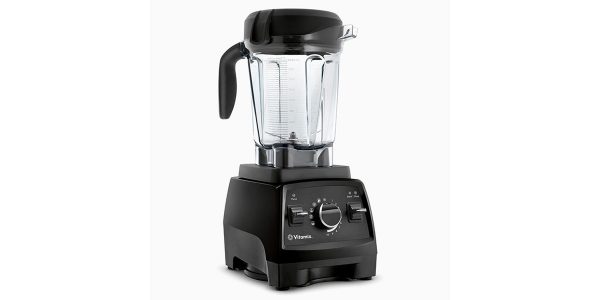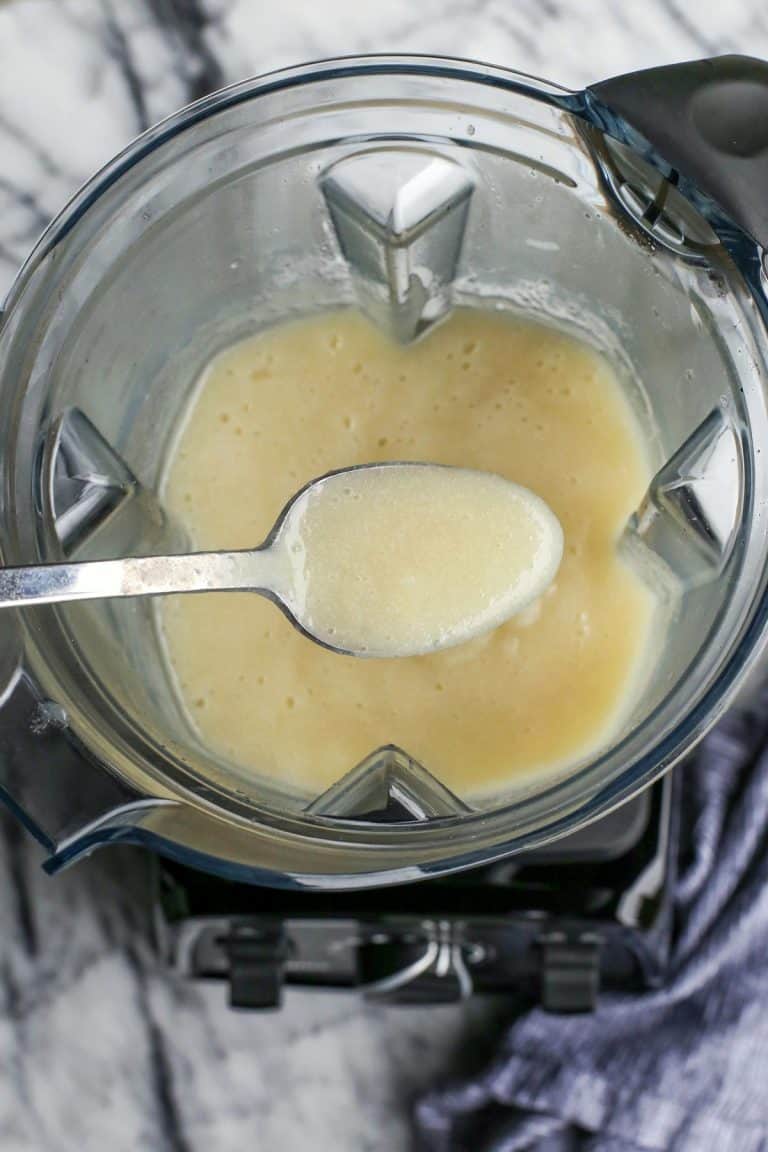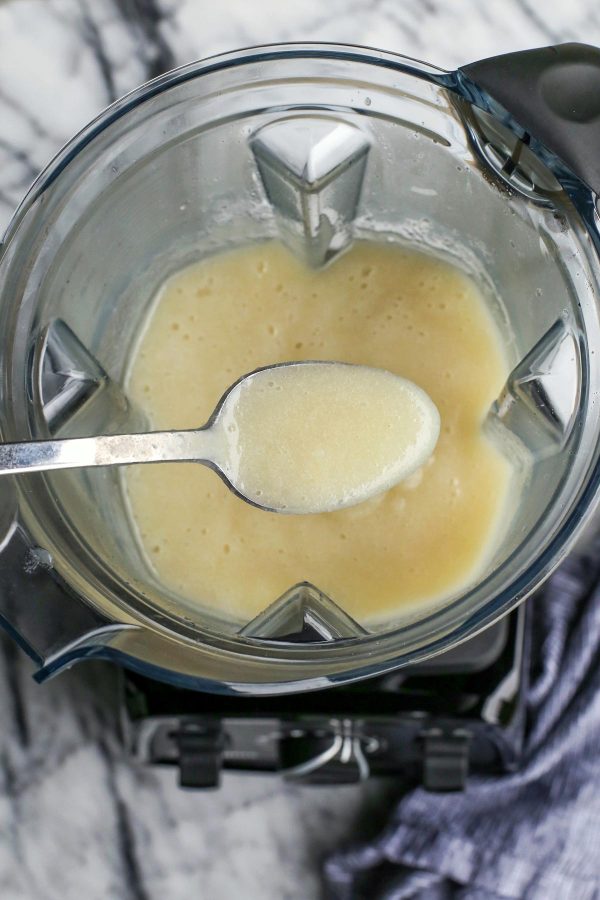 This blender continues to amaze me every single time I use it. There is so. much. power. It blends the potatoes and cauliflower into the silkiest consistency. Fast. And there's not one bit of graininess to it.
The potato and cauliflower mixture somewhat "melts" into the rest of this broccoli cheese soup recipe. It adds natural thickening power, extra flavor, and good-for-you nutrients…in a super secretive way.
I also want to share about how much we like the Personal Cup Adapter and the personal size blending cups. The Vitamix is so easy (and fun!) to use, that our daughters can now regularly be seen making their own smoothies. They especially like using this cup adapter, where they can customize exactly what goes into their own individual-sized smoothie, and then cap it off with a spill-proof lid. Off they go!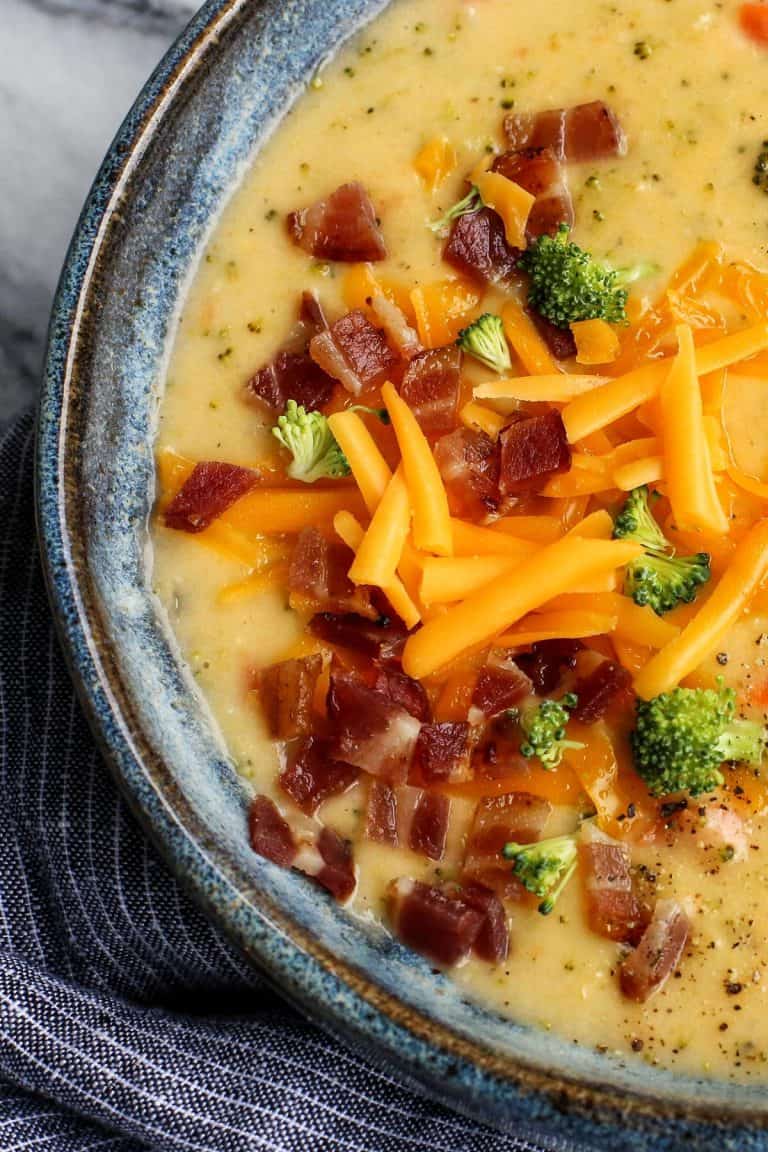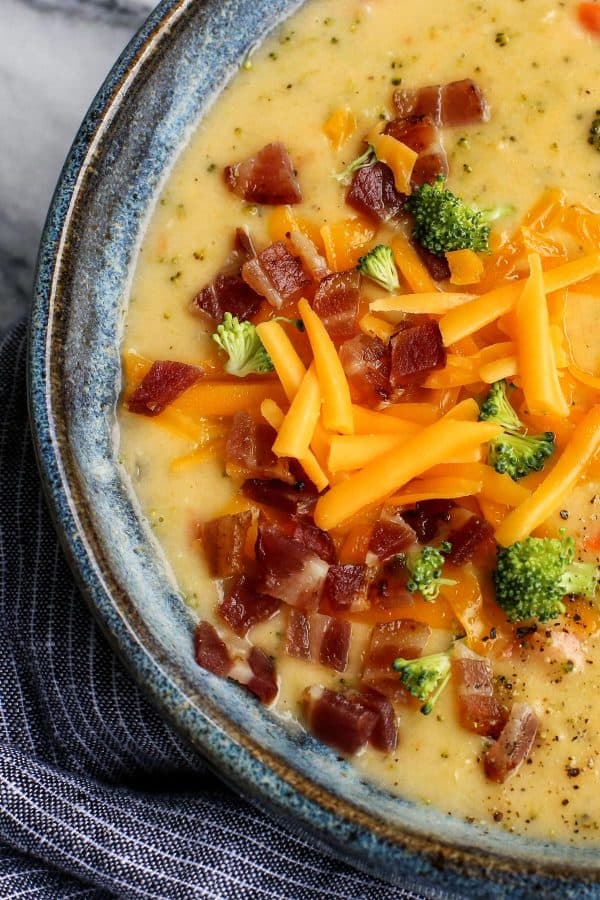 Bacon Makes this Broccoli Cheddar Soup Shine!
You may have picked up on this already, but there's also bacon. I love the smoky quality it gives to this soup. The bacon plays extremely well with all the vegetables and sharp cheddar. It's so very right.
But…if you'd like to keep this recipe in the vegetarian realm, I've included directions for omitting the bacon.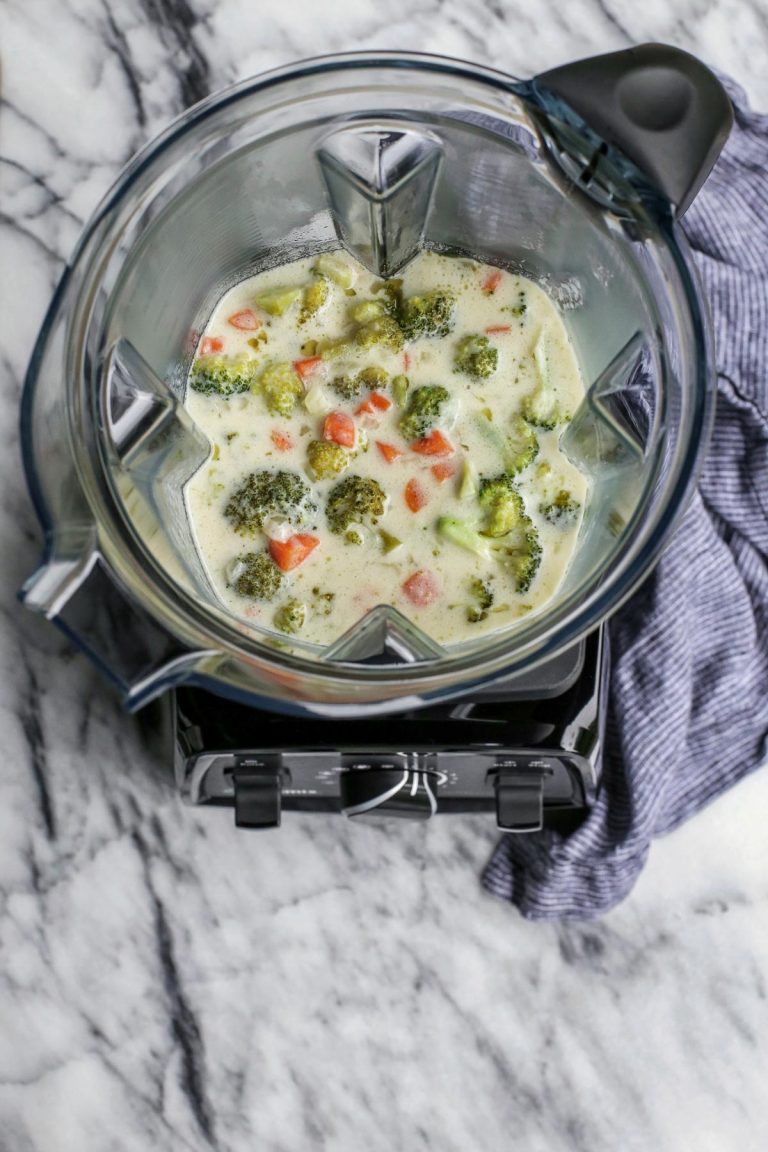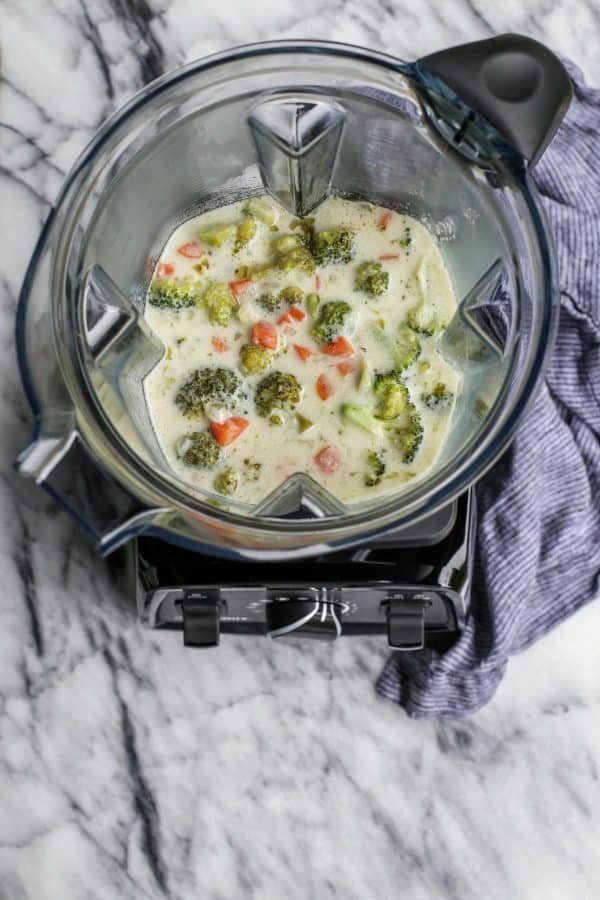 My "perfect" broccoli and cheese soup always includes a bit of chunkiness. I do not like it when the broccoli is blitzed to oblivion, giving the cheesy soup a one-dimensional texture and obvious all-over green hue.
So I only whirl about half of the mixture of cooked broccoli, carrots, and onion in the Vitamix. The rest stays perfectly chunky.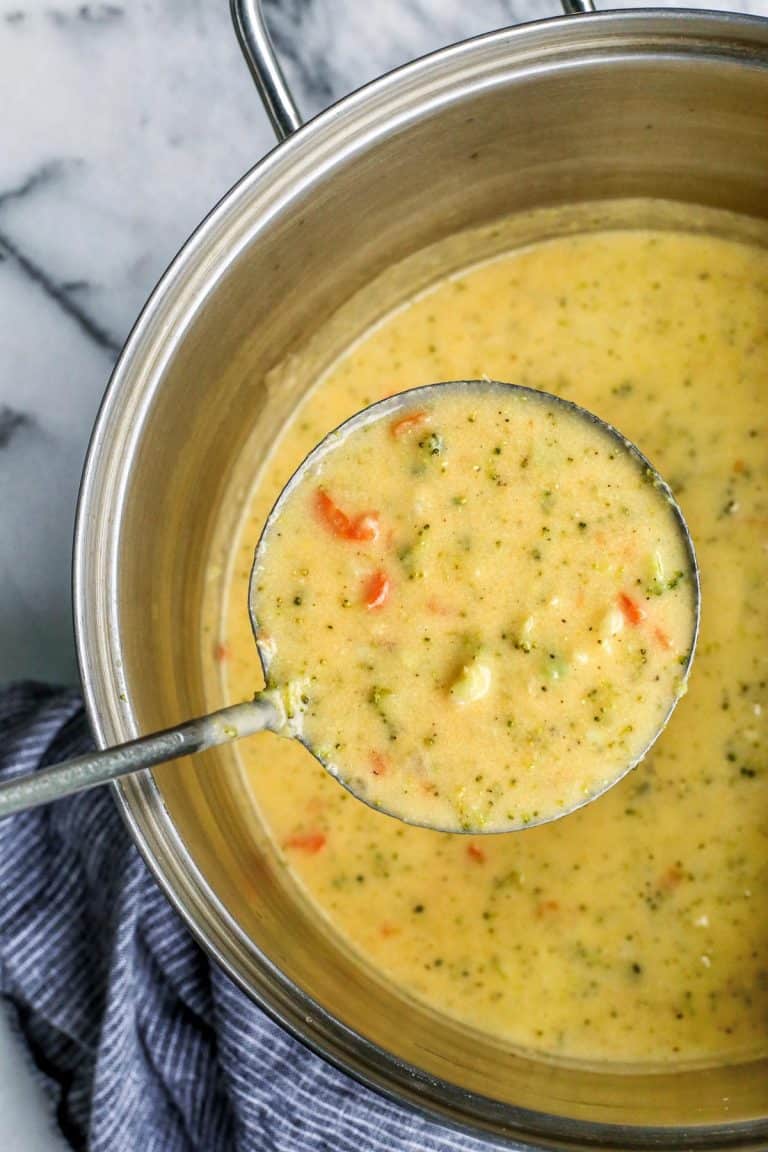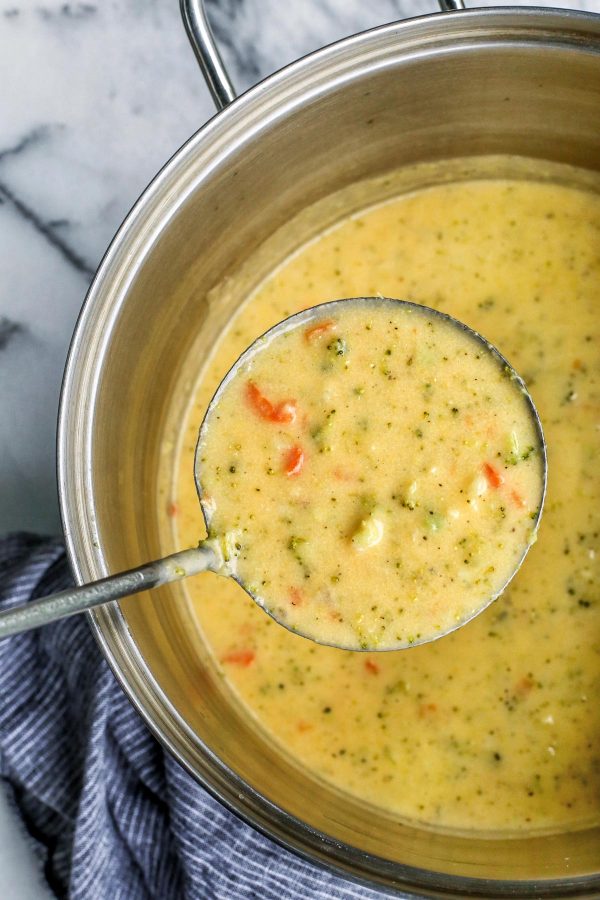 Like so.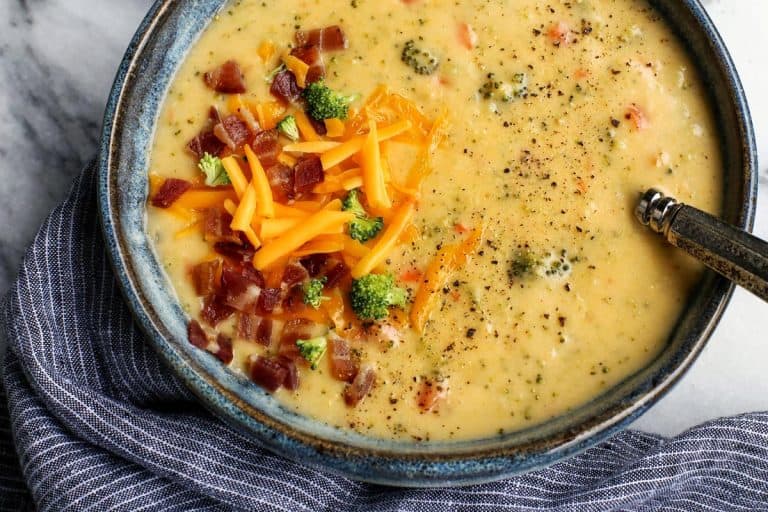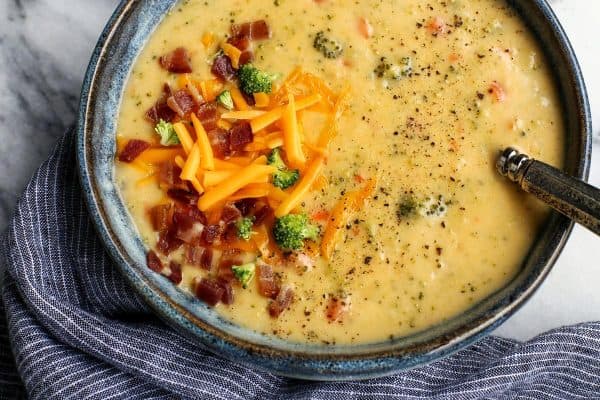 To finish off the soup, all that's needed is some sharp cheddar. Or should I say ALOT of sharp cheddar?!
I'm pretty sure this is the very reason that Hatti finds this broccoli and cheddar soup especially alluring. There are so many great flavors going on with each spoonful, but the cheese does have a slight edge.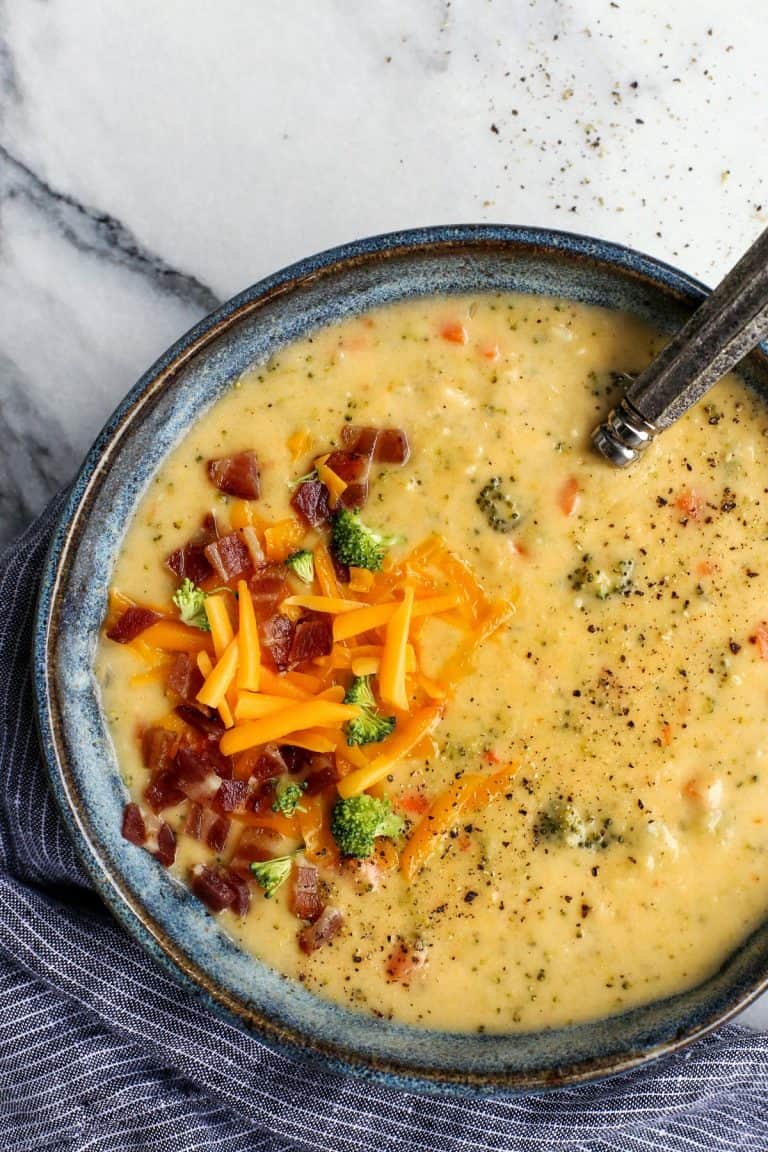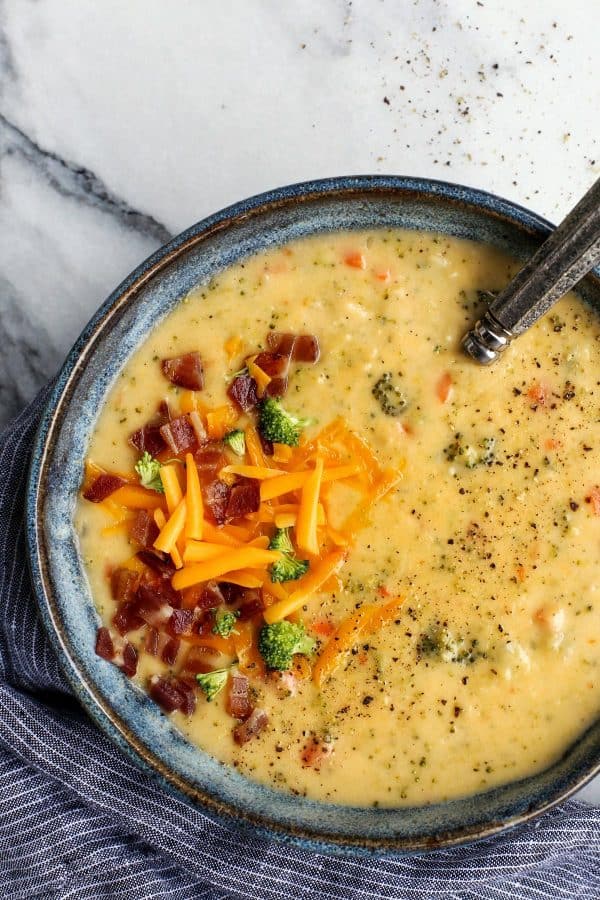 I can't even tell you how fast this soup disappears around here. I have quickly learned to just double the recipe.
Serving Suggestions
There are so many ways to serve a good bowl of broccoli cheddar soup, but I do have a few favorites:
Sourdough Popovers: These are pretty much begging to be served with a steaming bowl of soup. Slice them down the middle and slather them with butter, or dip them into your soup.
Honey Cornbread Muffins: These slightly sweet, cake-like cornbread muffins compliment this soup so well.
Cheesy Homemade Garlic Bread: If I'm being totally honest, I frequently look for excuses to make this garlic bread. Broccoli cheddar soup is a perfect reason!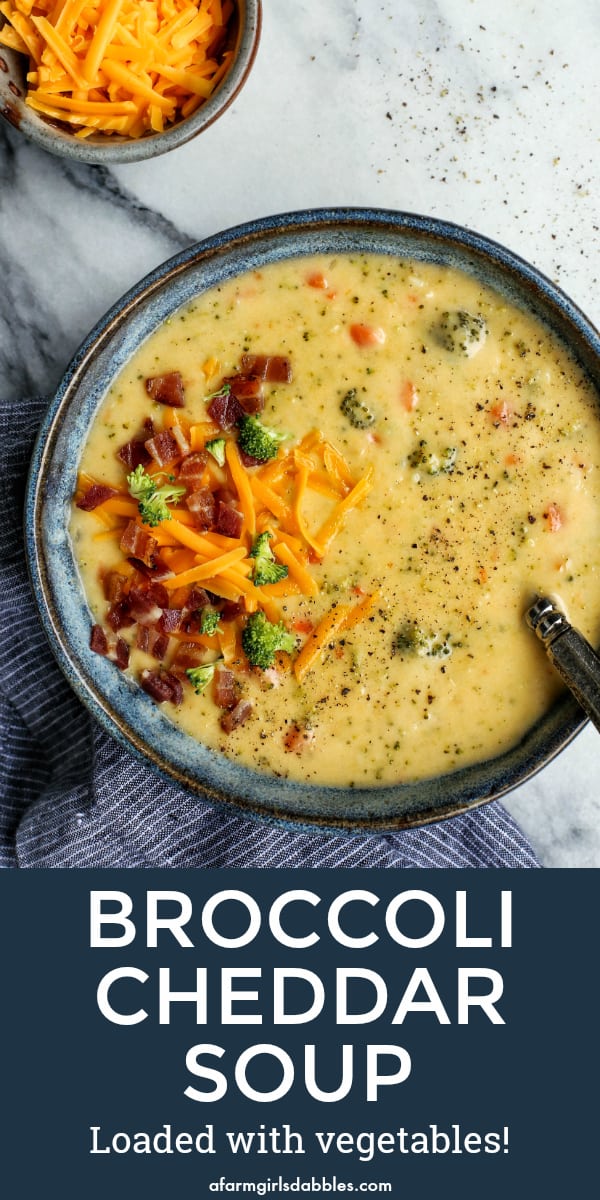 Like this soup recipe? Save it to Pinterest!
Here are a few more soup recipes you might like: Easy Weeknight Tortellini Soup from Fifteen Spatulas, Beef Stroganoff Soup from Belly Full, and Low-Carb Turkey Soup with Zucchini Noodles from Kalyn's Kitchen. Enjoy!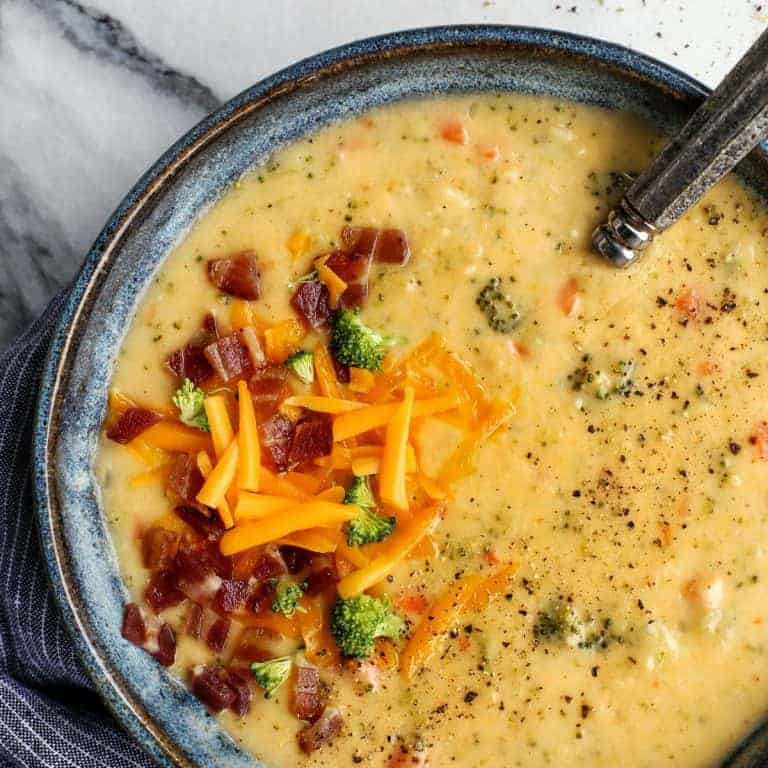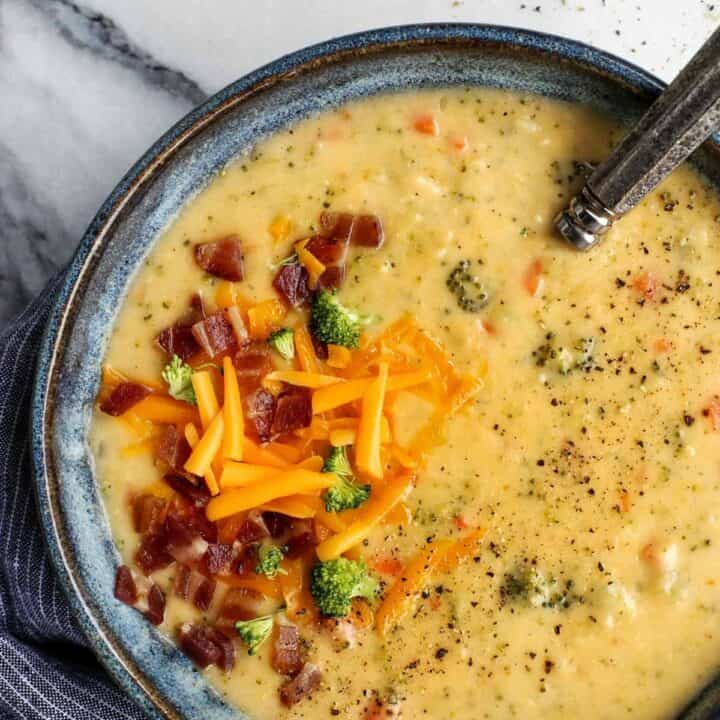 Broccoli Cheddar Soup Loaded With Vegetables
Yield: 8 servings
Prep Time: 20 minutes
Cook Time: 1 hour
Total Time: 1 hour 20 minutes
You'll love all the vegetable goodness in this cheesy, creamy soup. And did you see there's BACON?!
Ingredients
6 slices thick-cut bacon
5 cups low-sodium chicken broth, divided
1 large russet potato, peeled and cut into 1-1/2" pieces
2 cups chopped (about 1" size) cauliflower florets
4 tablespoons unsalted butter
1 cup small-diced yellow onion
2 large garlic cloves, minced
1/4 cup all-purpose flour
1 cup half and half
1 bay leaf
4 cups chopped (about 1" size) broccoli florets (no stems)
1 cup small-diced carrots
12 oz. coarsely grated sharp cheddar cheese, plus more for garnish - Use the large holes on a box grater.
1/2 teaspoon ground black pepper
1/2 teaspoon kosher salt, or to taste
Instructions
In a large heavy pot over medium heat, fry the bacon until chewy-crisp. Set bacon on a paper towel-lined plate to cool, and then crumble or chop into small pieces.
While bacon is frying, place a medium saucepan on another burner. Add 3 cups of the chicken broth and bring to a boil over high heat. Turn heat down to medium-high. Carefully add potatoes and cook for 10 minutes. Then add the cauliflower and cook for 5 minutes more. When both the potatoes and cauliflower are fork tender, remove saucepan from heat. Let sit for 10 to 15 minutes, to cool just a bit. Then transfer to the container of a powerful blender and puree until silky smooth. Pour mixture back into saucepan. No need to wash the blender container - you'll use it one more time yet!
Remove all but two tablespoons of bacon fat from the large pot, and then add the butter. Return the pot to medium heat. Once butter is melted, add onion and garlic, stirring occasionally until onion is nicely softened. Stir in flour and cook for 3 to 4 minutes, stirring occasionally. Then slowly whisk in the half and half until smooth. Add the remaining 2 cups of chicken broth and bay leaf, and bring to a simmer. Reduce heat to medium-low and cook until slightly thickened. This should take 10 minutes or so.
Add broccoli and carrots to the broth mixture in the large pot. Simmer for about 15 to 20 minutes, or until broccoli and carrots are tender. Remove bay leaf. Ladle half of soup mixture into blender container and blend until smooth. Add blended mixture back to the large pot, along with the pureed potatoes and cauliflower mixture. Add cheese and black pepper, and stir until cheese is completely melted. Now taste the soup and add kosher salt as you like.
Serve in bowls, garnished with bacon pieces and a sprinkling of grated sharp cheddar.
Notes
** If omitting bacon, simply add two more tablespoons of butter (6 tablespoons total) when sauteeing the onion and garlic.
from a farmgirl's dabbles
Nutrition Information:
Yield: 8
Serving Size: 1
Amount Per Serving:
Calories: 400
Total Fat: 28g
Saturated Fat: 15g
Trans Fat: 1g
Unsaturated Fat: 10g
Cholesterol: 77mg
Sodium: 639mg
Carbohydrates: 20g
Fiber: 2g
Sugar: 4g
Protein: 19g
Nutrition information is automatically calculated by Nutritionix. I am not a nutritionist and cannot guarantee accuracy. If your health depends on nutrition information, please calculate again with your own favorite calculator.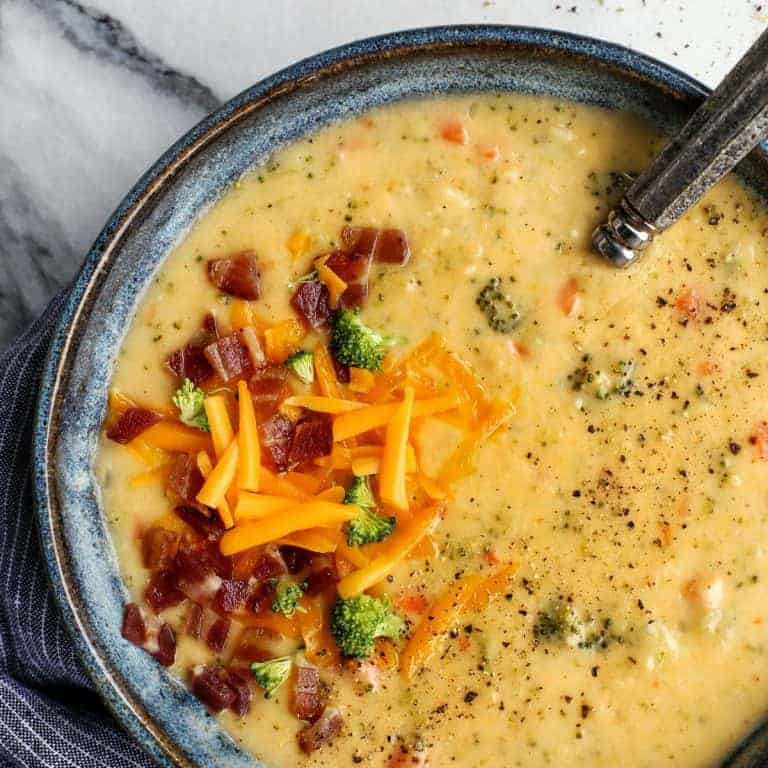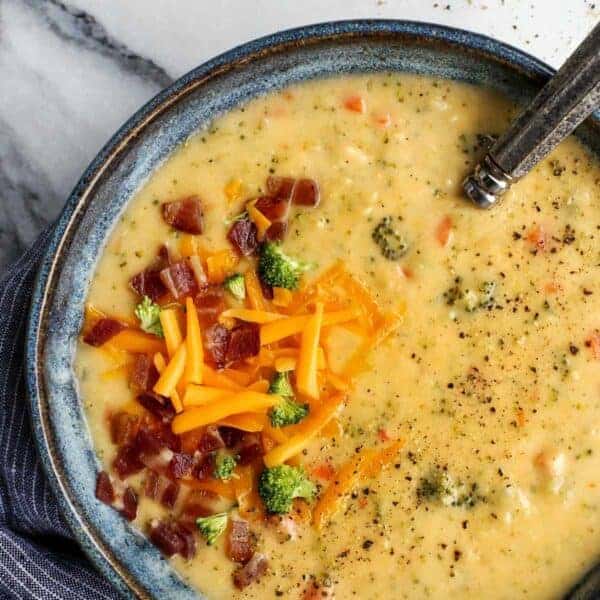 Connect with Vitamix on their website and social media channels: Facebook, Twitter, Instagram, and Pinterest.
Thank you to Vitamix for sending me the blender featured in this post and for providing another one as a giveaway prize.
We participate in the Amazon Services LLC Associates Program, an affiliate advertising program designed to provide a means for us to earn fees by linking to Amazon.com and affiliated sites. See our
disclosure policy
for more info.