Rhubarb Sauce
This post may contain Amazon or other affiliate links. As an Amazon Associate I earn from qualifying purchases.
With just 3 ingredients – rhubarb, sugar, and water – you can make this sweet and tart Rhubarb Sauce. It's the perfect topping for ice cream, angel food cake, yogurt, and more. So quick and easy to make!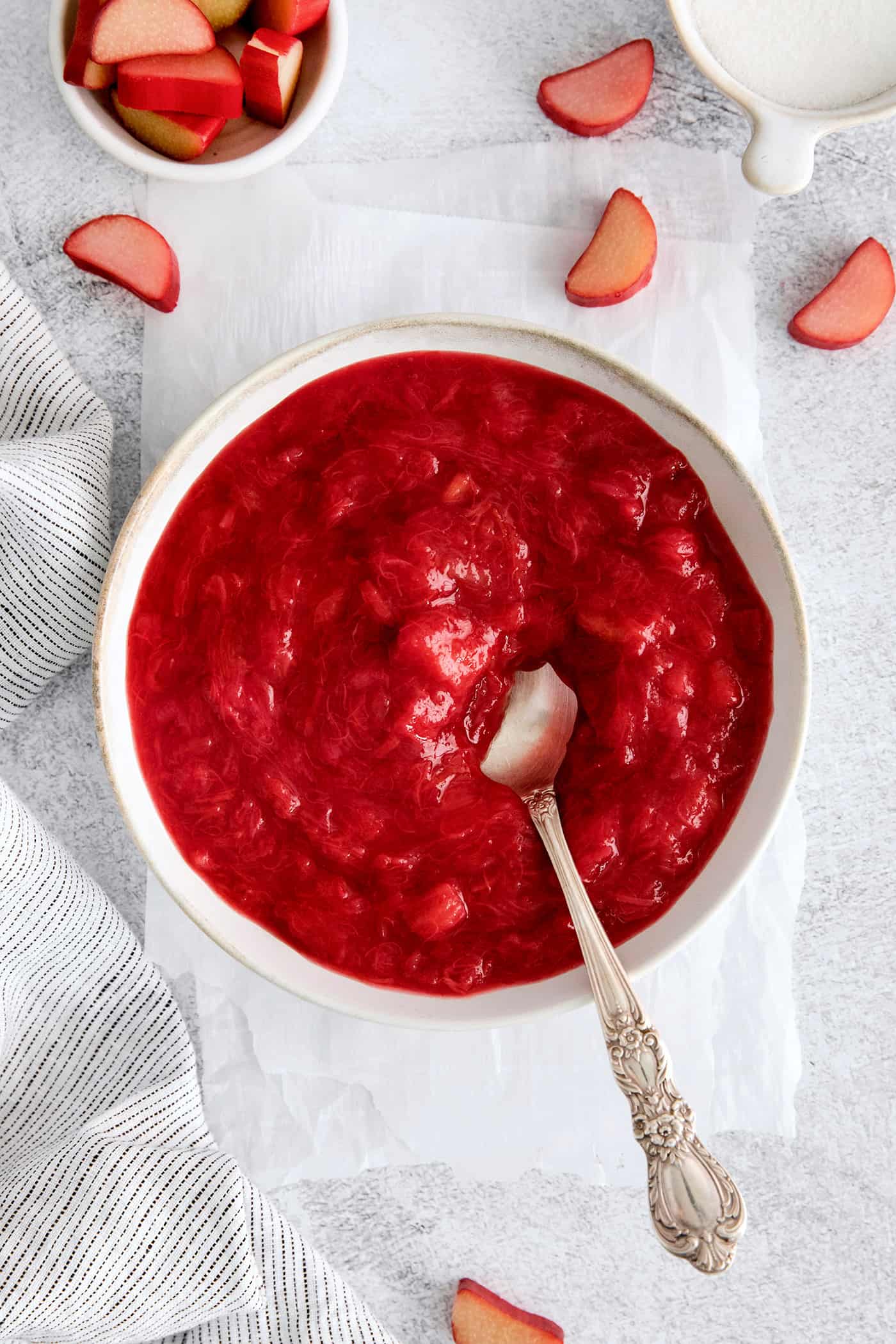 Easy Homemade Rhubarb Sauce
I've always liked my mom's Rhubarb Sauce. So when I texted her for the recipe many years ago, I was surprised to learn how super simple it was to make. Mom laughed and said she never uses a recipe. She just cooks rhubarb, sugar, and water on the stovetop, using more or less of each ingredient to alter the sweetness and consistency.
While it actually is as simple as that, I did nail down what I think is the perfect rhubarb to water to sugar ratio for a sauce that's a little sweet but still holds that wonderful tart rhubarb flavor.
This rhubarb sauce (or rhubarb compote, if you want to get fancy), is the perfect topping for so many things. Think desserts like angel food cake, cheesecake, and ice cream – but also breakfasts like pancakes, waffles, and biscuits. The possibilities are endless!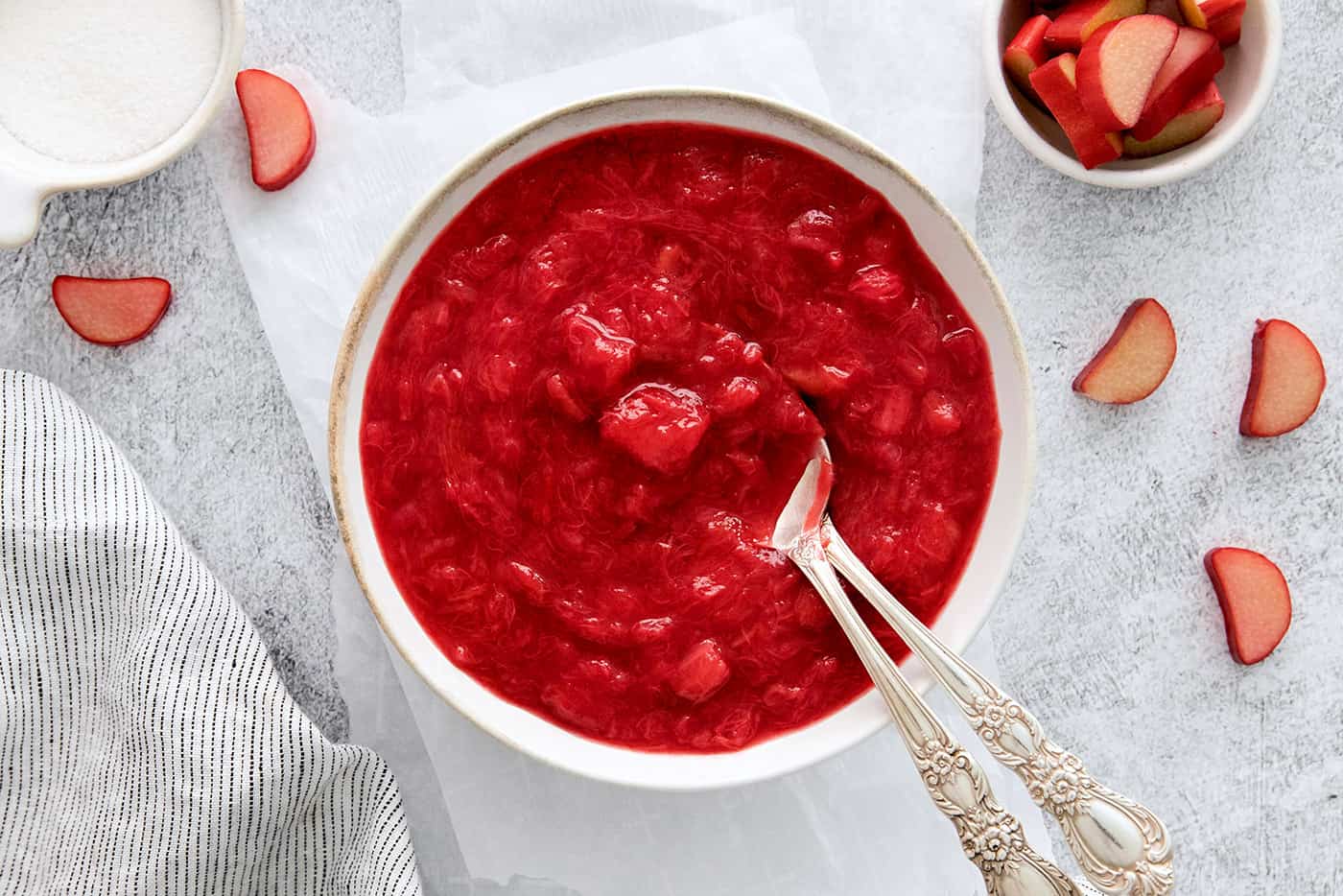 Sauce vs Compote vs Coulis
This recipe is for rhubarb sauce…but what's the difference between that and rhubarb compote or rhubarb coulis?
It's all about the texture.
Since this recipe still has some texture and chunks, it is rhubarb compote. If it were perfectly smooth with no chunks, it would be a coulis.
That's the only difference! All rhubarb compotes, like this one, are rhubarb sauces – but not all sauces are compotes. Make sense? In the end, I just keep it simple and call this a sauce!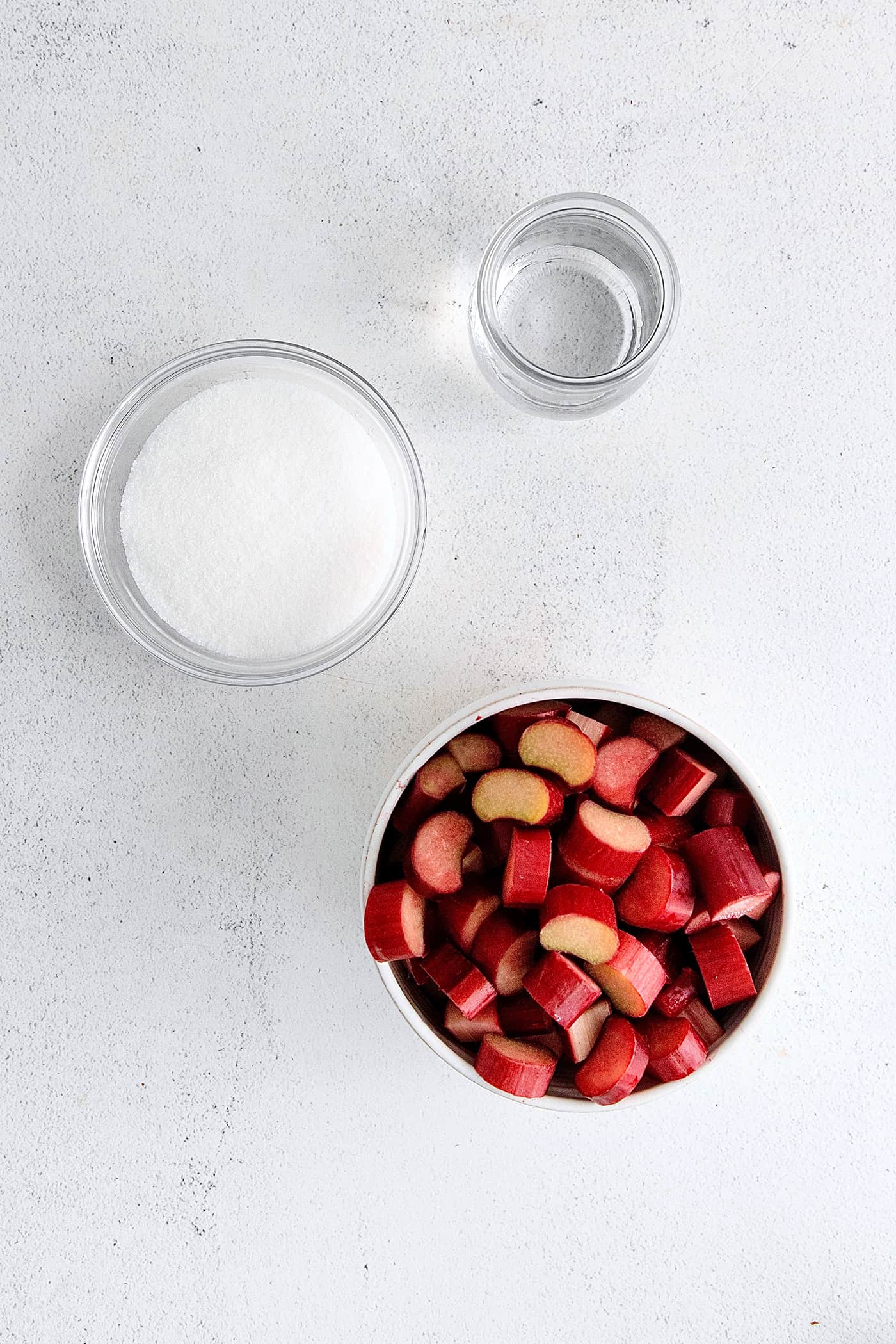 What You'll Need
All you really need to make this recipe is rhubarb, water, and sugar!
Red rhubarb – Cut into 1/2″ pieces.
Water
Sugar – Add more or less depending on whether you want your sauce to be more tart or more sweet.
Another ingredient that I sometimes use is a little bit of red food coloring. It just depends on how red the rhubarb is to start with, and what kind of mood I'm in!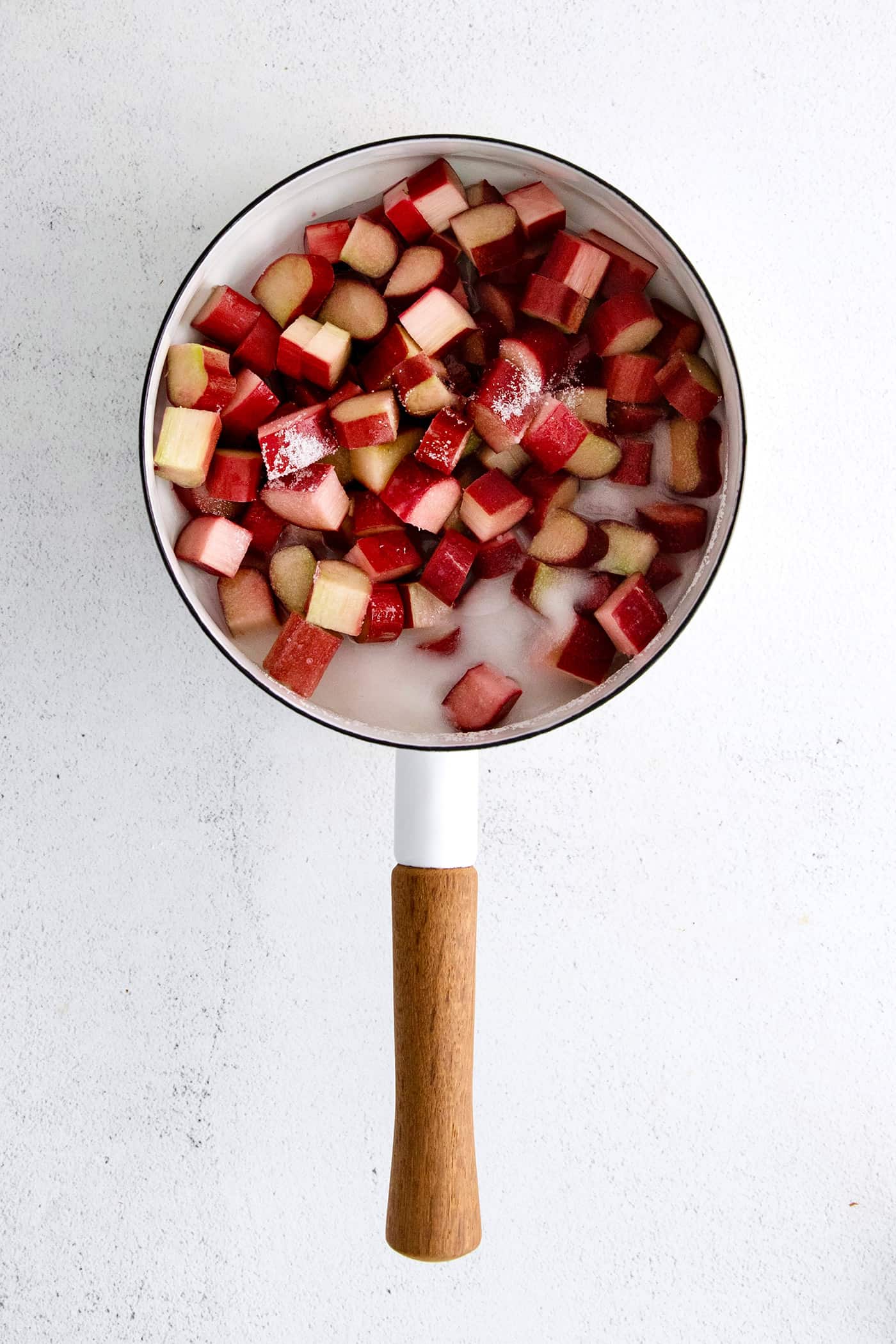 How to Make Rhubarb Sauce
Here's how to make this easy rhubarb sauce.
Simmer the mixture. Combine all ingredients in a saucepan. Bring to a boil then reduce to a simmer for 10 to 15 minutes. The rhubarb will break down with some chunks remaining.
Taste test. Taste the sauce. Add more sugar if desired, or add more water to create a thinner sauce.
Cool. If adding food color, stir in a drop or two at a time until you reach the desired color. Then remove the sauce from heat and let cool completely.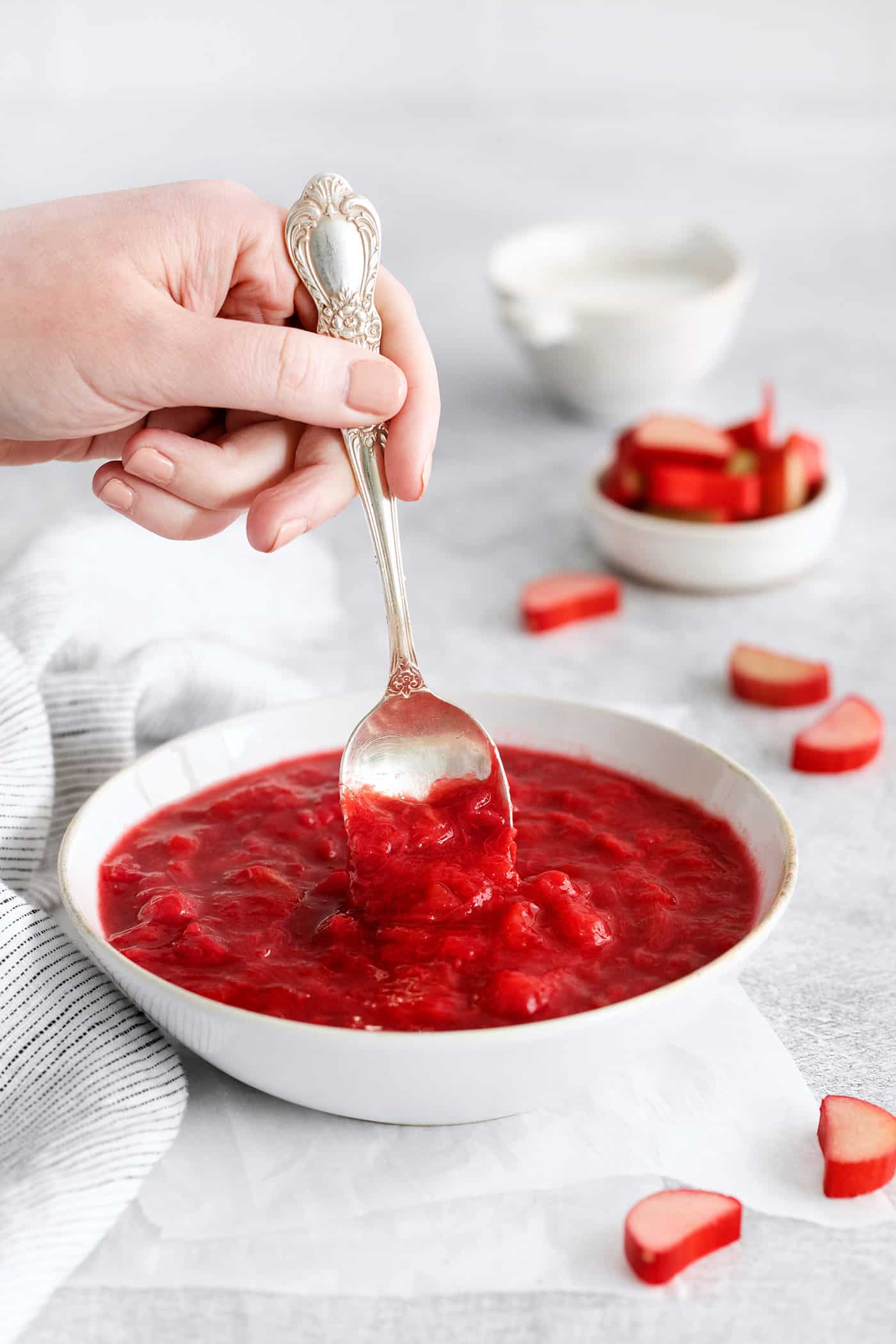 Serving Suggestions
My favorite way to enjoy this rhubarb compote is with grilled angel food cake and freshly whipped cream. It's a combination made in heaven!
But there are so many other ways to use this rhubarb sauce. Add it to almost any dessert or dish that could sauce some rhubarb flavor and a pop of color. Here are some ideas:
Biscuits
Ice cream
Yogurt with granola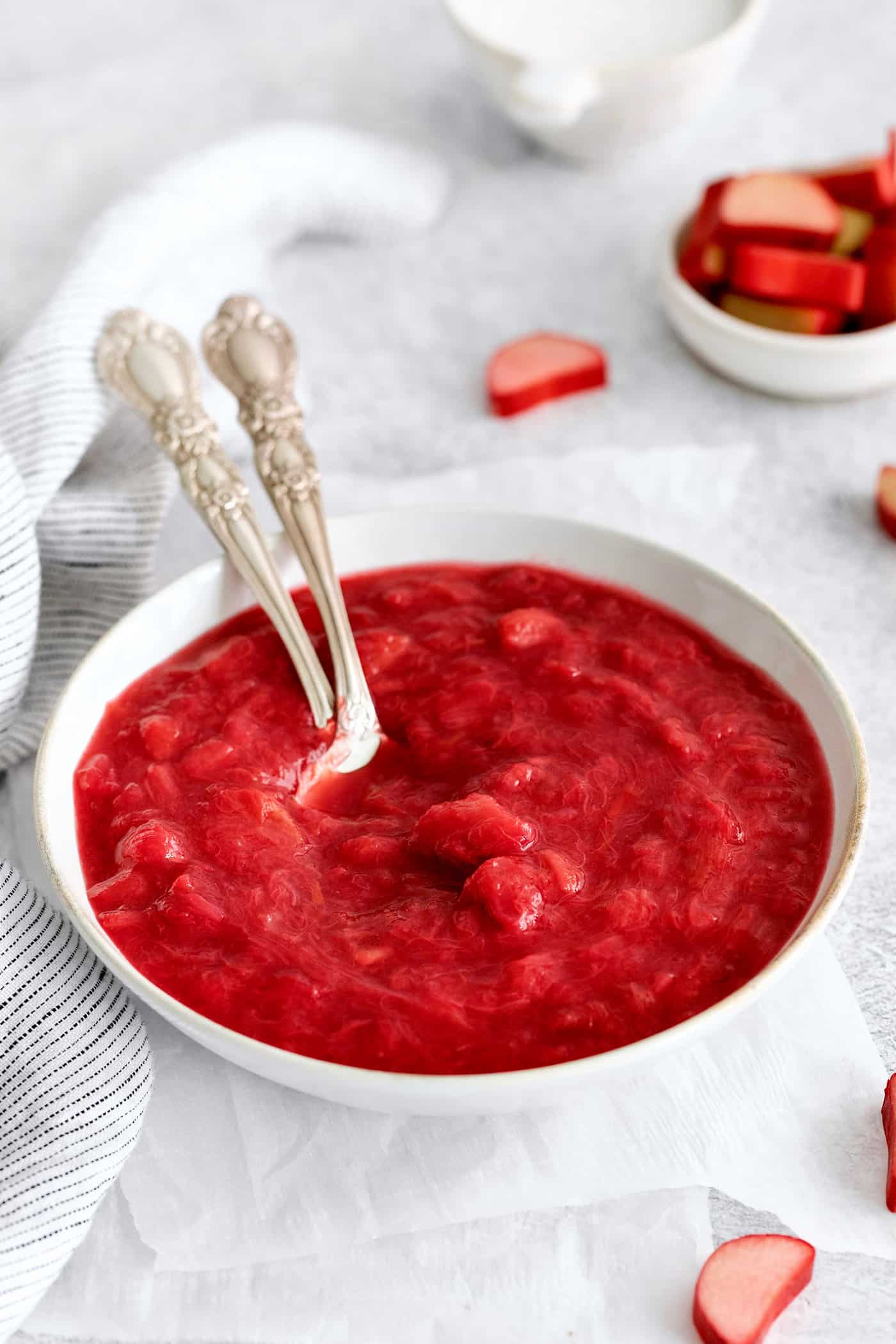 How Long Will This Last?
Once the rhubarb sauce has cooled completely, transfer it to an airtight container. I like to use a glass canning jar with a lid. Then store it in the refrigerator.
This sauce will keep well in the fridge for up to a week. Or freeze it for up to 6 months. When freezing, remember to leave 1/2″ an inch or so at the top of the jar to allow for any expansion.
More Rhubarb Recipes:
Like this easy recipe? Save it to Pinterest!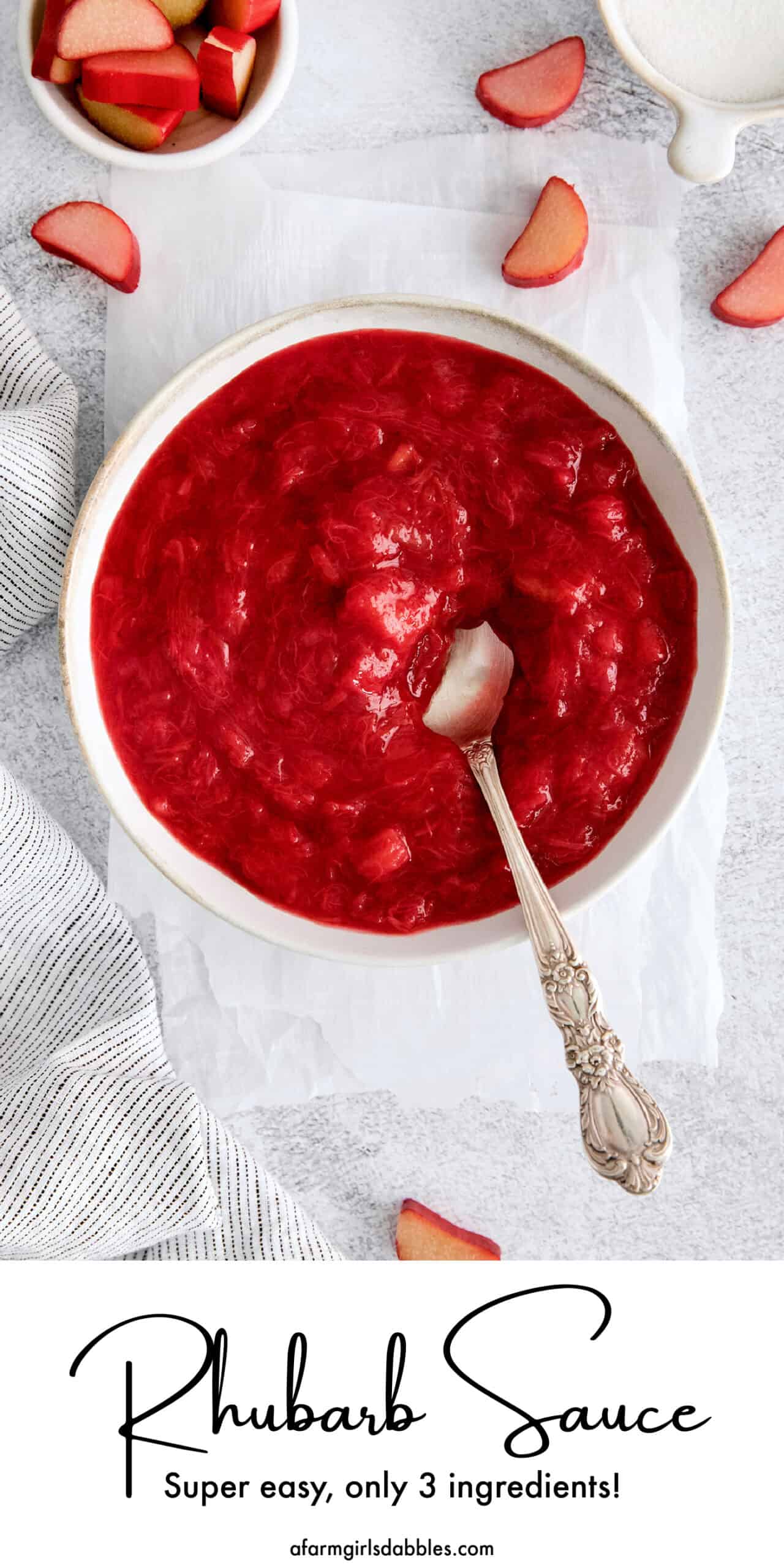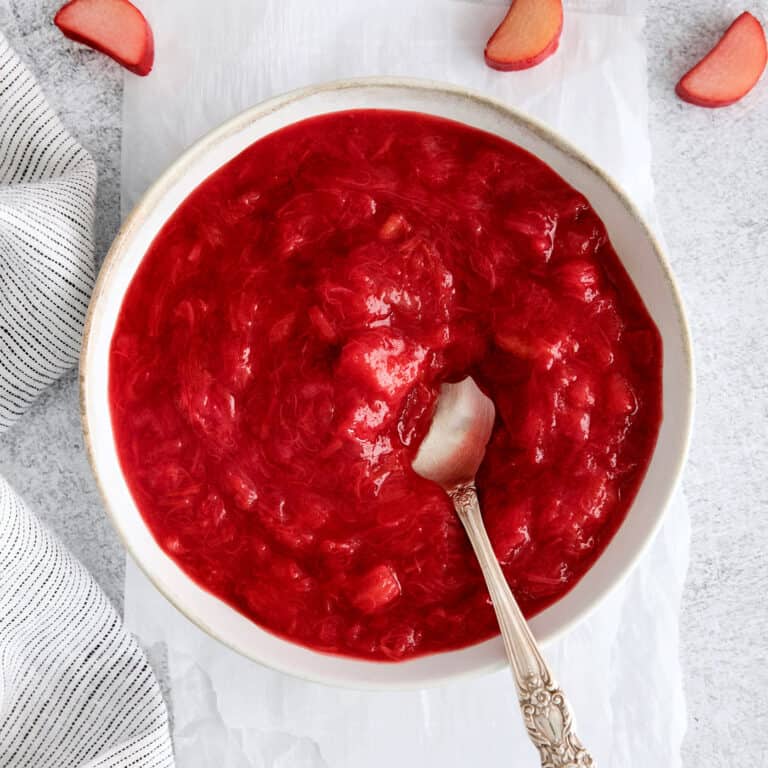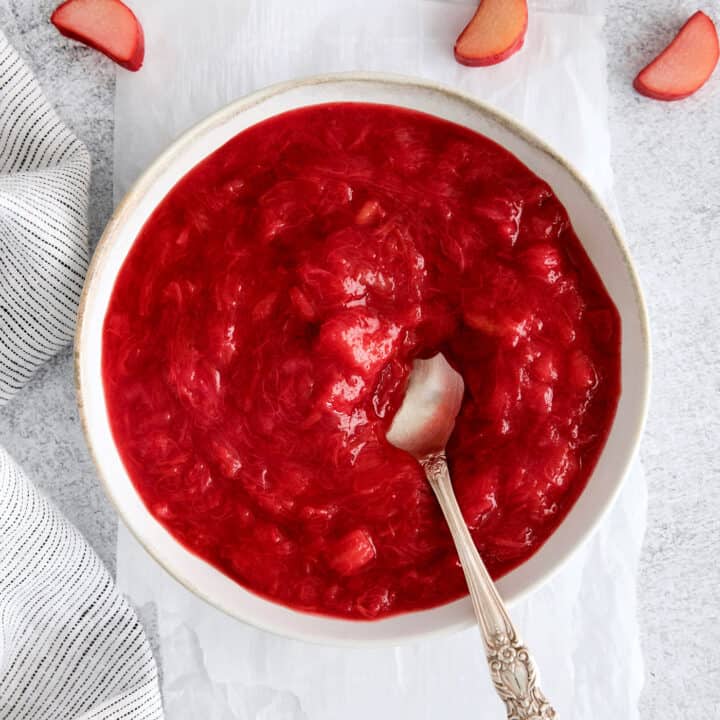 Rhubarb Sauce
With just 3 ingredients - rhubarb, sugar, and water - you can make this sweet and tart Rhubarb Sauce. It's the perfect topping for ice cream, angel food cake, yogurt, and more. So quick and easy to make!
Ingredients
2 pounds tender, red rhubarb, cut into 1/2" pieces
1/2 cup water, or more for a looser sauce
2/3 cup sugar (use less for a tart sauce, more for a sweeter sauce)
1 drop red food coloring, optional
Instructions
In a medium saucepan over medium to medium-high heat, stir together all sauce ingredients. Let mixture come to a boil and then turn heat down to medium-low and let simmer until rhubarb is broken down but chunks still remain. This should take 10 to 15 minutes, depending on the tenderness of the rhubarb.
Taste test the sauce while it is simmering. Add more sugar if you like a sweeter sauce. Add more water if you'd like a thinner sauce. If you'd like a little more color to your sauce, stir in a drop or two of red food coloring.
Remove pan from heat and let cool completely. Store in an airtight container in the fridge for up to 1 week. Store in a freezer-safe container in the freezer for up to 6 months.
Notes
"recipe" comes from my mom
Nutrition Information:
Yield: 12
Serving Size: 1
Amount Per Serving:
Calories: 62
Total Fat: 13g
Saturated Fat: 2g
Trans Fat: 0g
Unsaturated Fat: 9g
Cholesterol: 35mg
Sodium: 5mg
Carbohydrates: 27g
Fiber: 1g
Sugar: 12g
Protein: 14g
Nutrition information is automatically calculated by Nutritionix. I am not a nutritionist and cannot guarantee accuracy. If your health depends on nutrition information, please calculate again with your own favorite calculator.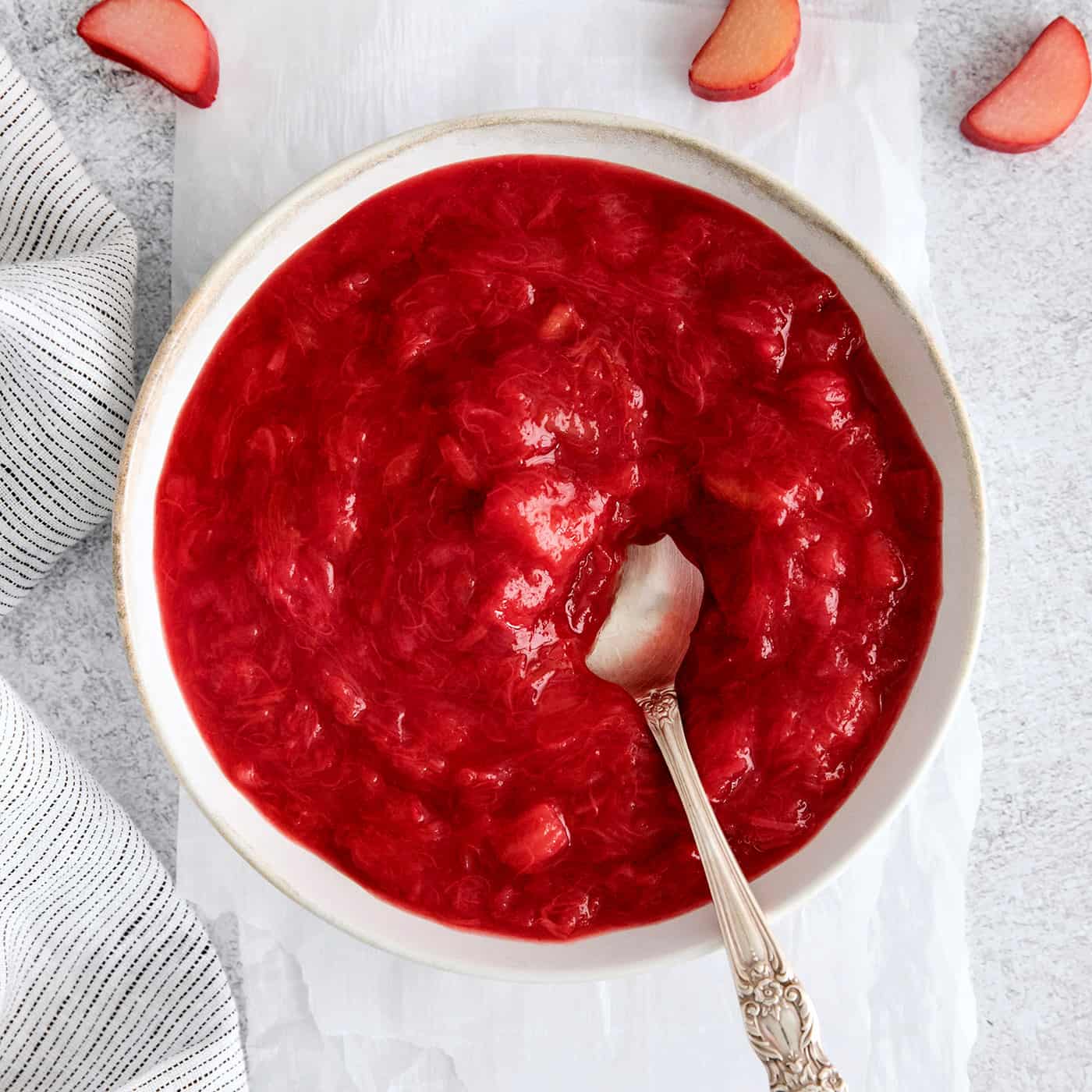 We participate in the Amazon Services LLC Associates Program, an affiliate advertising program designed to provide a means for us to earn fees by linking to Amazon.com and affiliated sites. See our
disclosure policy
for more info.