Buttermilk Pancakes
These Buttermilk Pancakes are simply the best homemade pancakes! Made with pantry staples, they're light and fluffy and perfectly moist, and have awesome flavor. Serve with butter and syrup, or with fresh fruit and whipped cream!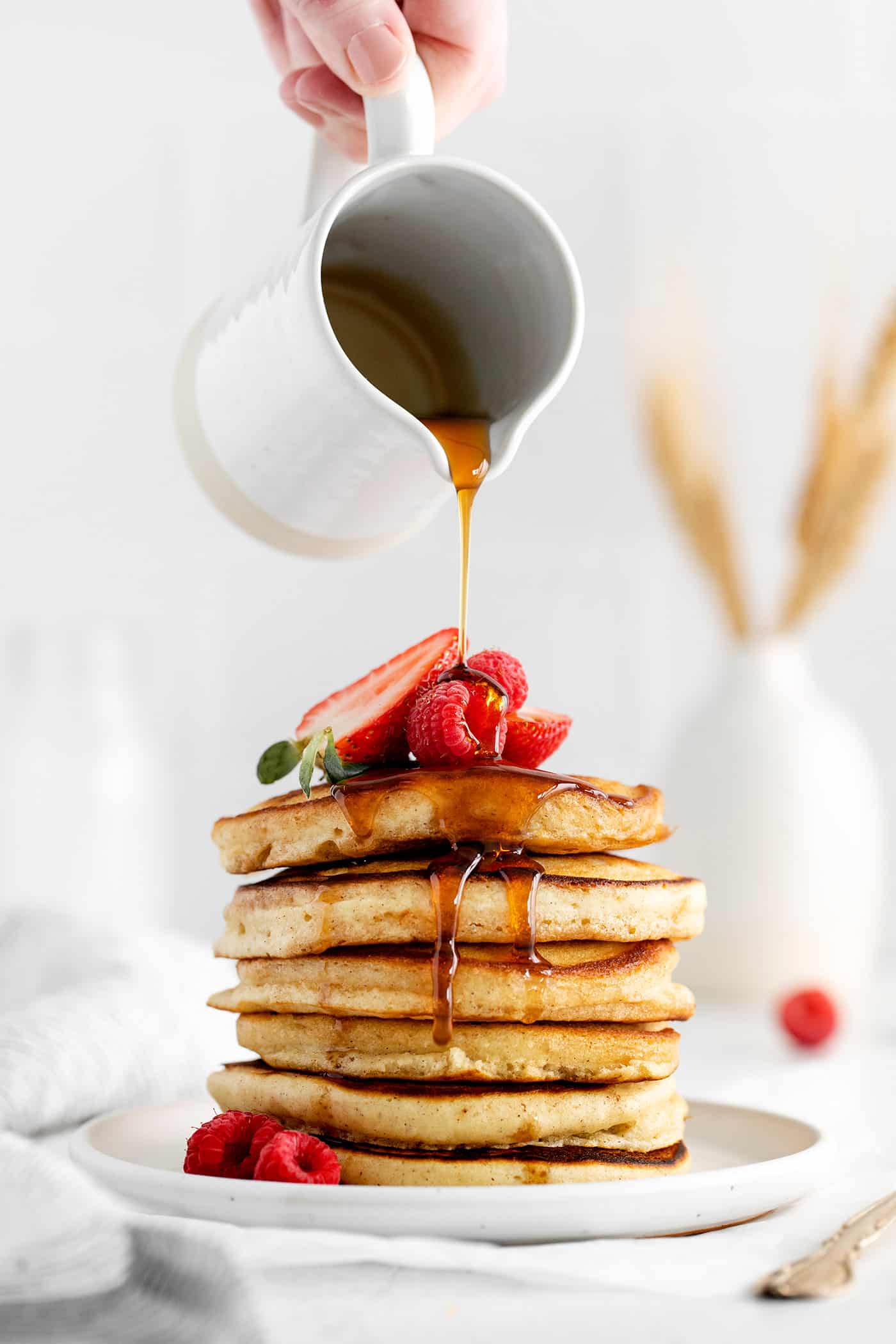 The Best Homemade Pancakes
These Buttermilk Pancakes are the best homemade pancakes around – I've been making this recipe for nearly 30 years, and everybody loves them!
These easy-to-make pancakes rise up light and fluffy, bake up golden brown, and are perfectly moist and tender.
But the best part?
In my opinion, the best part is the flavor. The buttermilk lends a little tang, while butter adds a subtle richness. And if you detect a bit of cinnamon…yep, that's in there, too. I inherited the "shake some cinnamon into most every baked good" trait from Mom.
If you adore a good pancake and haven't ventured out of the "pancakes from a box" yet, I beg you to give this recipe a try. I'm willing to bet that you'll give up your old ways after just one bite, and that you'll never buy another pre-mix again!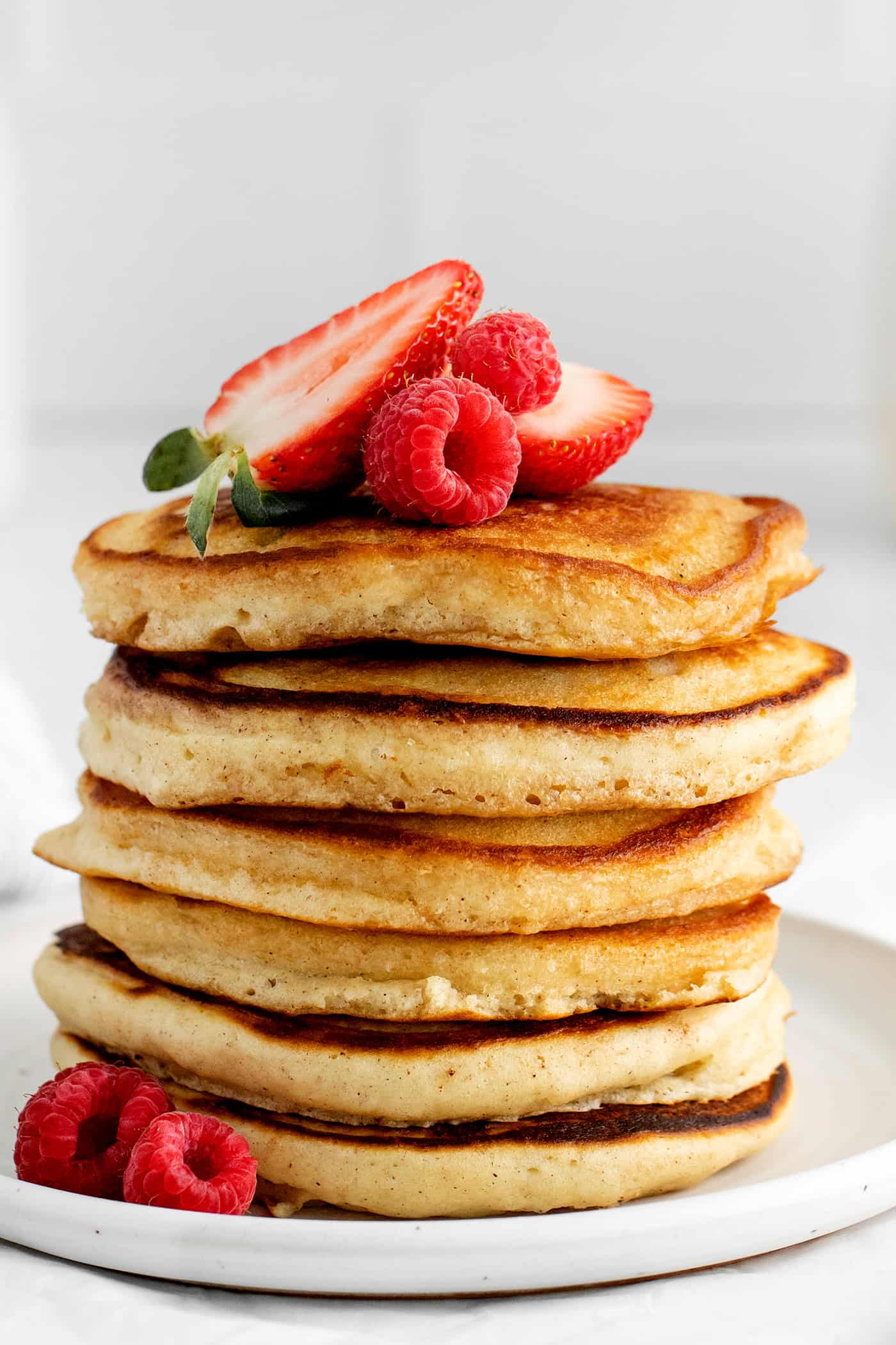 What Makes Buttermilk Pancakes Different?
Why are buttermilk pancakes superior to all other homemade pancakes? First and foremost, buttermilk is the secret to making fluffy pancakes. The acidity in the buttermilk reacts with the baking powder and baking soda to create a beautifully fluffy rise with a soft texture.
Second, buttermilk adds a bit of a flavor to the pancakes, giving them a slight tang. It's not super noticeable or strong, but it definitely makes these taste even better!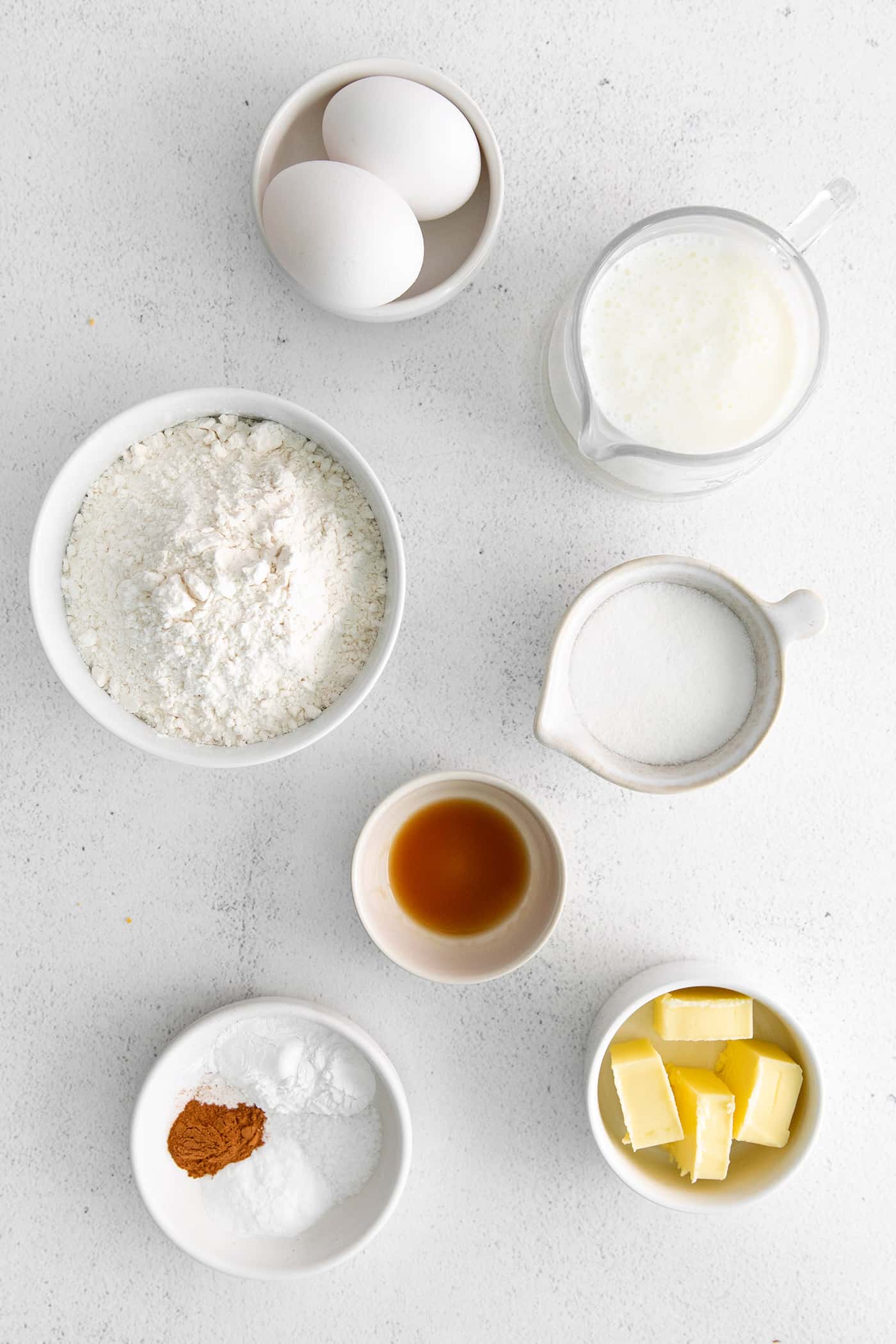 Ingredients
Grab some buttermilk and a few pantry staples. Here's what you'll need to make these ultra fluffy pancakes!
All-purpose flour
Sugar
Baking powder & baking soda – Both leavening agents react with the buttermilk, which helps create fluffy pancakes.
Salt, cinnamon & vanilla – for flavor
Buttermilk – The key ingredient for fluffy, delicious pancakes!
Eggs – Provide structure to the pancake, plus richness and flavor.
Butter – Adds a richness to the batter. You'll also need some for the griddle, to get that beautiful slightly crisped exterior on the pancakes!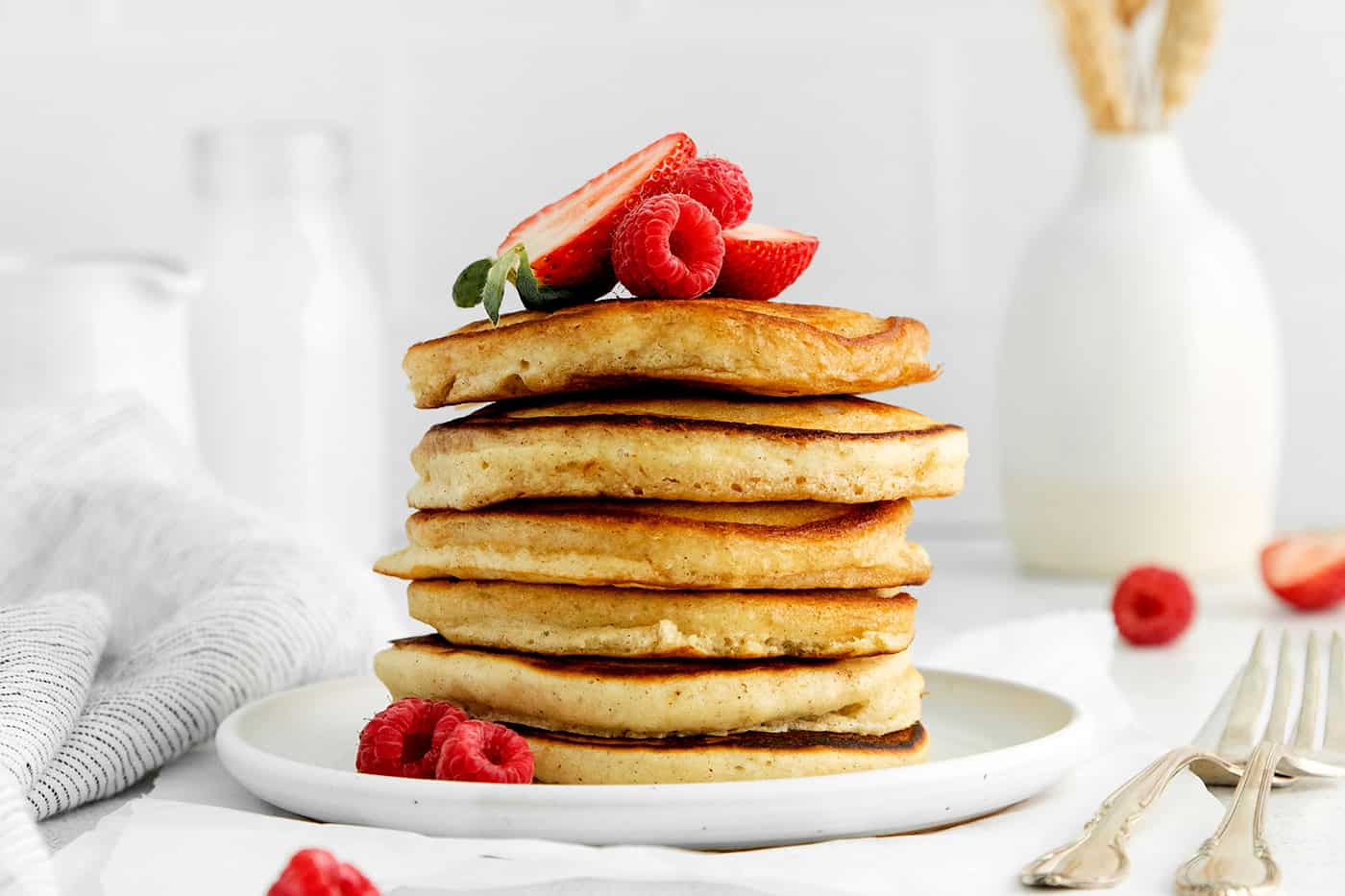 Can I Add Some Mix-Ins To This Batter?
If you're craving specialty pancakes, grab your favorite mix-ins, we do this all the time!
Our method: We add pancake batter to the griddle and then customize the pancakes to each person's request. Some add sliced bananas over the top (tastes like banana bread!). Others sprinkle chocolate chips or blueberries, or a combination of ingredients. And when the pancake is ready to flip, those ingredients will then be on the bottom (griddle side) of the pancake.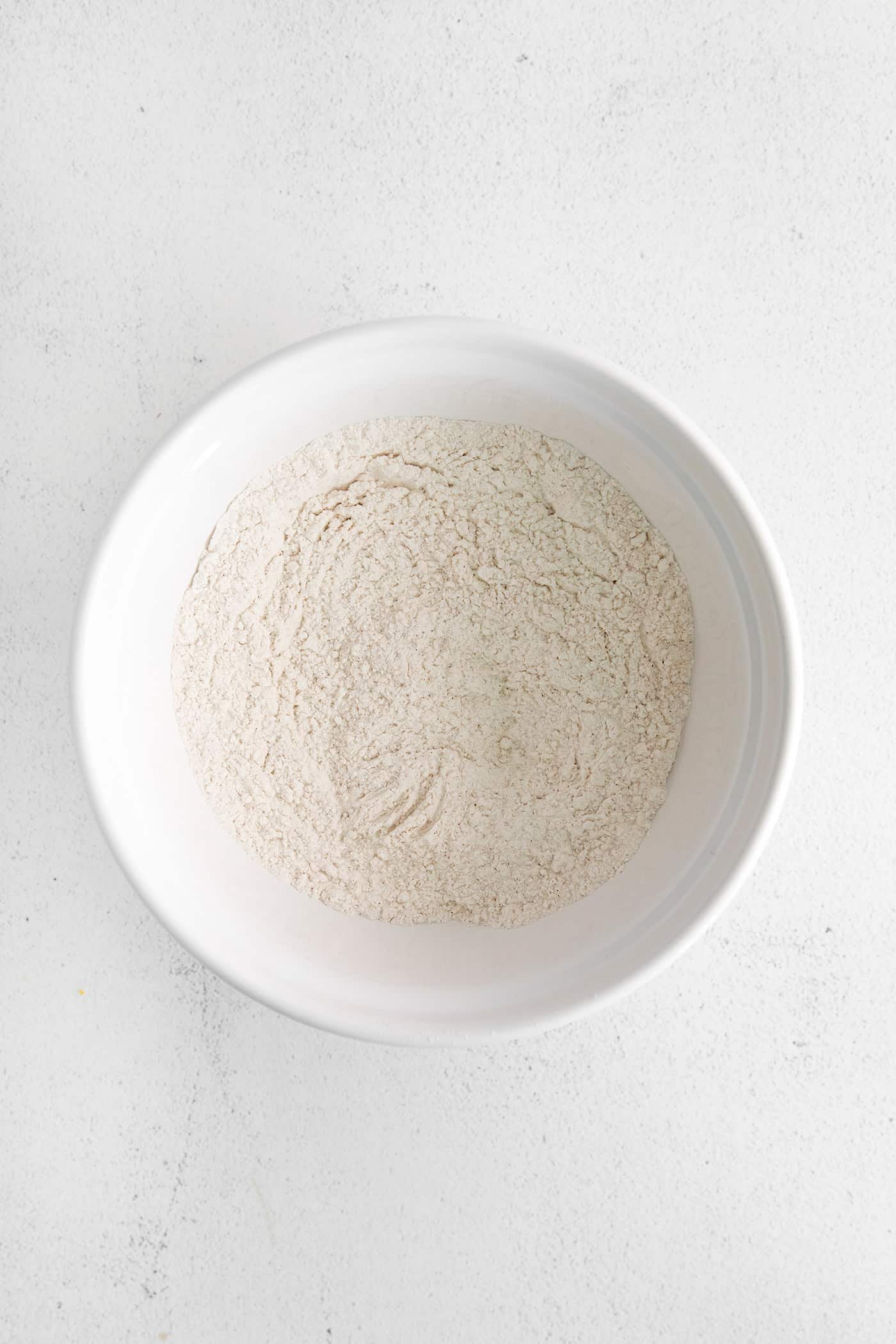 How to Make Buttermilk Pancakes
Ready to ditch the boxed mix and make your own pancakes at home? Here's how to do it!
Make the batter. Whisk together the dry ingredients, then fold in the wet ingredients – it should not be completely smooth. Allow the batter to rest while you preheat the griddle.
Cook the pancakes. Add butter to the griddle and let it melt. Then pour 1/4 cup portions of batter onto the heated griddle, leaving 1-2 inches between each one. After 3 or 4 minutes, flip the pancakes to the other side and cook for an additional minute or two.
Enjoy. Serve immediately with butter, syrup, or your other favorite pancake toppings!
How to Tell When Pancakes Are Ready
Flipping pancakes at the perfect moment is a bit of an art. You can tell when they're ready to flip when they look set around the edges and a number of bubbles have formed on the top of the batter. Use your spatula to peek underneath, and if you see a golden brown color, it's time to flip!
There aren't as many signals for when the pancake is completely done, though 2 minutes or so should do it. If you want to check for sure, use the spatula to poke a little crack in the top of the pancake. If there's no doughy batter visible in the center, it's ready. While our family doesn't like under-done pancakes, we don't like them overdone (which have a drier texture) either!
Topping Ideas
While butter and maple syrup are the traditional pancake toppings, why stop there? Here are a few other fun ways to serve your buttermilk pancakes:
Whipped cream
Fresh fruit – we especially like strawberries, blueberries, and raspberries
Chocolate chips – regular or mini – milk, semisweet, or dark!
Chocolate syrup
Peanut butter
Honey
How to Store, Freeze, & Reheat
Leftover buttermilk pancakes can be stored in a ziploc bag or airtight container in the fridge for up to 3 days. Reheat in the microwave – usually just about 30 seconds per pancake is all you'll need!
Pancakes can also be frozen. Place layers of parchment paper between each pancake to prevent them from sticking and place in a freezer-safe container or ziploc bag. You can reheat from frozen in the microwave or even pop them in the toaster oven.
More Breakfast Recipes:
Like this recipe? Save it to Pinterest!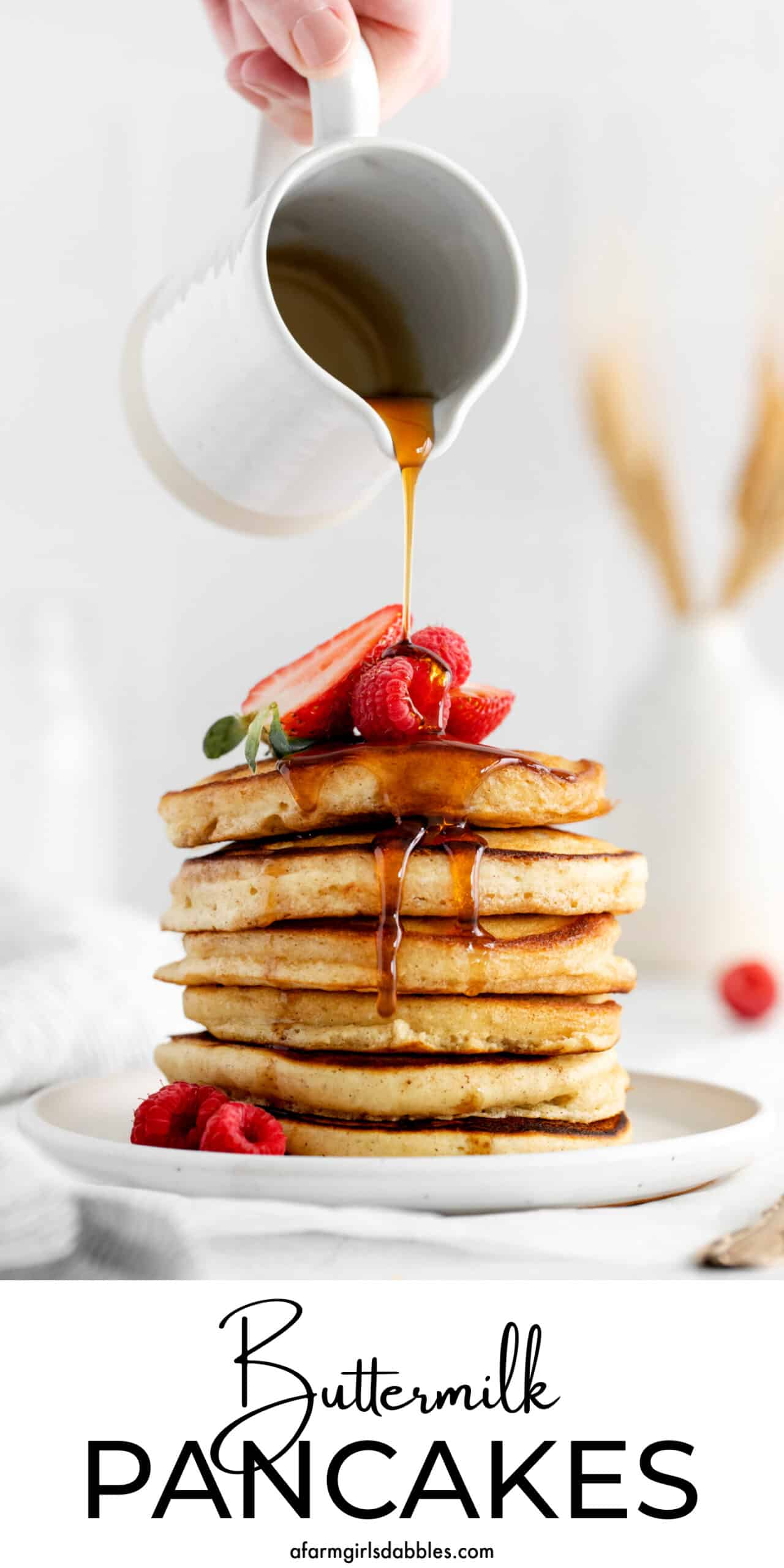 Buttermilk Pancakes
Yield: 4 servings
Prep Time: 20 minutes
Cook Time: 6 minutes
Total Time: 26 minutes
These Buttermilk Pancakes are simply the best homemade pancakes! Made with pantry staples, they're light and fluffy and perfectly moist, and have awesome flavor. Serve with butter and syrup, or with fresh fruit and whipped cream!
Ingredients
1½ cups all-purpose flour
¼ cup sugar
2 teaspoons baking powder
1 teaspoon baking soda
½ teaspoon kosher salt
½ teaspoon cinnamon
1 cup buttermilk
2 large eggs, beaten
¼ cup unsalted butter, melted, plus more for brushing the heated griddle
2 teaspoons pure vanilla extract
Instructions
In a medium bowl, whisk together flour, sugar, baking powder, baking soda, salt, and cinnamon.
Add buttermilk, eggs, butter, and vanilla, and fold to combine. The batter should be a bit lumpy, not completely smooth. Let batter sit while you preheat an electric griddle to 300° F, or place a cast-iron or non-stick skillet over medium heat.
Once griddle is heated, spread a little additional butter around the surface. Using a 1/4-cup measure, add batter to the griddle, leaving 1-2" of space between each pancake.
When the pancakes have noticeable bubbles on the surface and are golden brown on the underside, about 3 to 4 minutes, flip them. Cook until they are lofty and golden, another minute or 2.
Serve warm with additional butter and maple syrup, or with whipped cream and fresh fruit.
Notes
from a farmgirl's dabbles
Nutrition Information:
Yield: 4
Serving Size: 1
Amount Per Serving:
Calories: 389
Total Fat: 15g
Saturated Fat: 8g
Trans Fat: 0g
Unsaturated Fat: 6g
Cholesterol: 126mg
Sodium: 870mg
Carbohydrates: 53g
Fiber: 1g
Sugar: 16g
Protein: 10g
Nutrition information is automatically calculated by Nutritionix. I am not a nutritionist and cannot guarantee accuracy. If your health depends on nutrition information, please calculate again with your own favorite calculator.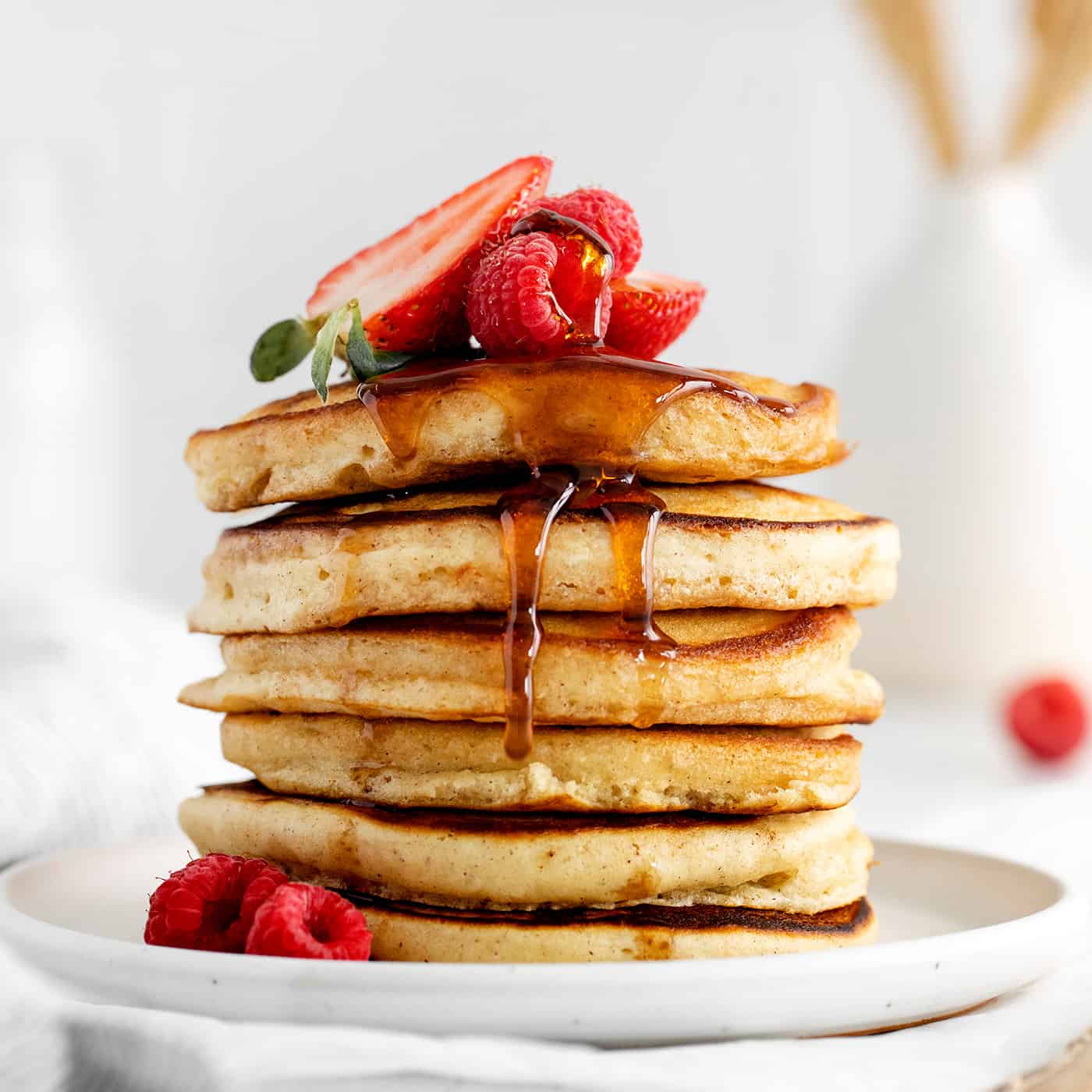 This post was originally published in 2012 and then updated in 2022.