Overnight Egg Bake Recipe
With layers of prosciutto, provolone, and goat cheese, this isn't your basic Overnight Egg Bake. This breakfast casserole is perfect for special occasions like Easter breakfast or brunch with friends. Make it the night before, then pop it in the oven before serving!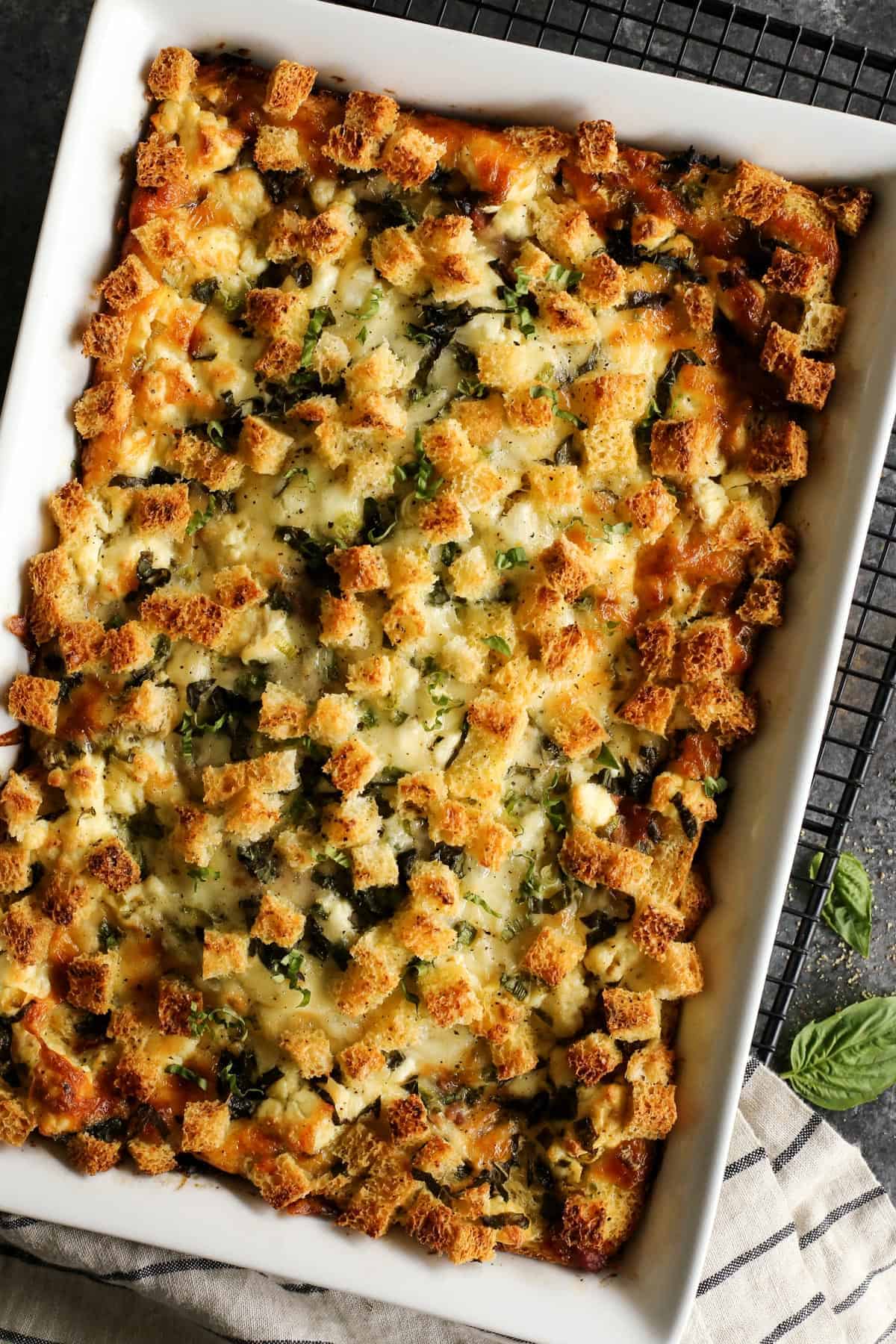 Easy Make-Ahead Breakfast Casserole
Maaaaaaaany years ago, a friend at work brought an egg bake into the office for a holiday brunch potluck. It didn't take long for me to seek out the pan that made the office smell so wonderful – it was a "fancy" ham and cheese egg bake!
This Overnight Egg Bake is stuffed with prosciutto, goat cheese, and provolone, and scattered with little nuggets of crispy, buttery bread cubes. Not only is it wonderfully tasty, but it's also so very pretty. The first time our oldest daughter ate it she said, "It's like a savory baked French toast!"
Our family likes to revisit this recipe again and again. It makes for a special weekend or holiday brunch, and is a lovely dish to serve guests at bridal or baby showers. Friends of ours have incorporated this egg bake into their Easter morning brunch tradition, which of course I love. It's absolutely the perfect brunch dish, worthy of tradition!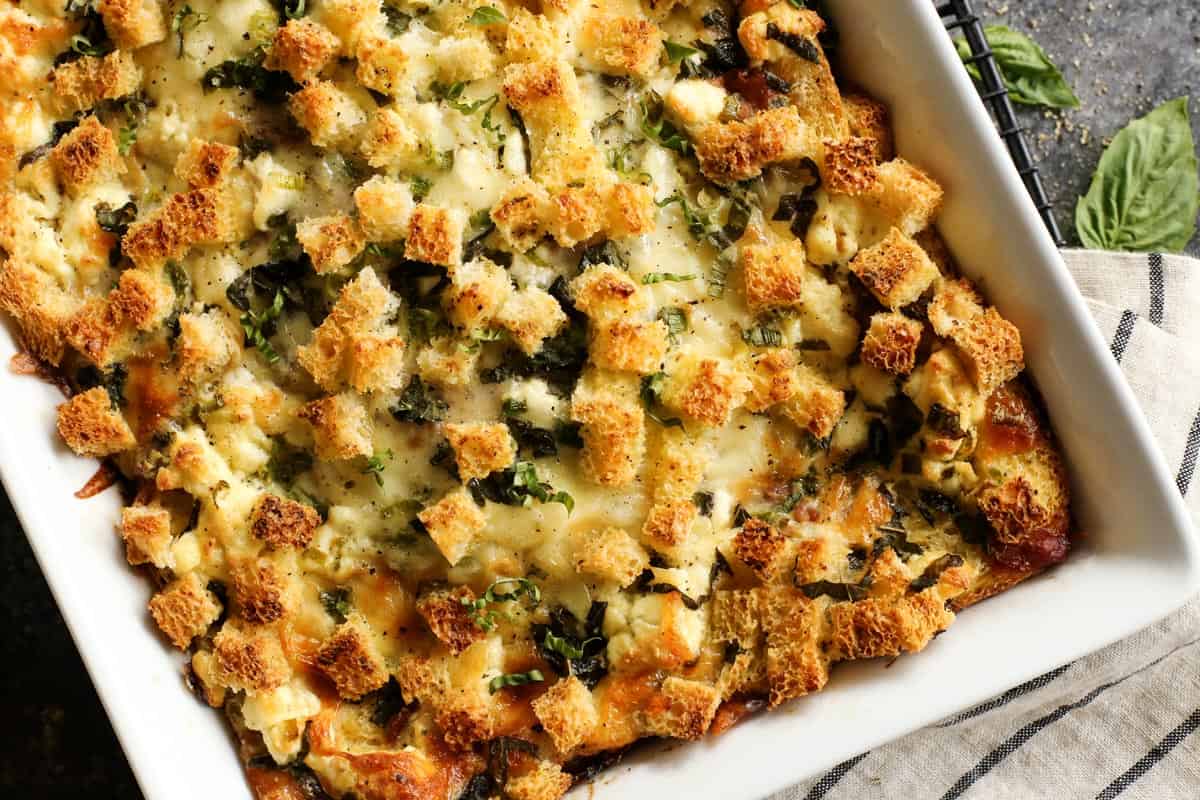 What You'll Need For This Egg Bake
Here are the ingredients needed for this tasty and, dare I say, "sophisticated" egg casserole.
English muffin bread – This creates the base of the egg bake, plus also adds delicious crispy, buttery bites to the top.
Prosciutto – We are big fans of prosciutto around here; it's a favorite on our charcuterie boards. Some quality ham would also work well – just dice it up.
Cheese – Equal amounts of crumbled goat cheese and shredded provolone. One's sharp and tangy, the other's rich and melty – they're a fabulous combination with eggs!
Green onions & basil – Add a pop of green and fresh flavor.
Eggs – Can't have an egg bake without eggs!
Whole milk – For creating the custardy egg base. 2% would also work fine.
Dijon mustard – Adds a sharp, tangy undertone that complements the other flavors.
Salt & pepper
Butter – Just a few tablespoons, melted, in this recipe.
Recipe Variations
The great thing about breakfast casseroles is the endless possibilities! Not a fan of an ingredient? Just leave it out or switch it up! Here are a few ideas of things to add to your overnight breakfast casserole, just ensure that the flavors you choose go well together:
Breakfast sausage, crumbled and cooked
Ham, diced
Bacon, chopped
Veggies like sweet peppers, jalapenos, broccoli, cauliflower, or spinach
Another firm white bread, instead of English muffin bread
Any type of cheese you desire
A splash of hot sauce or sriracha for some heat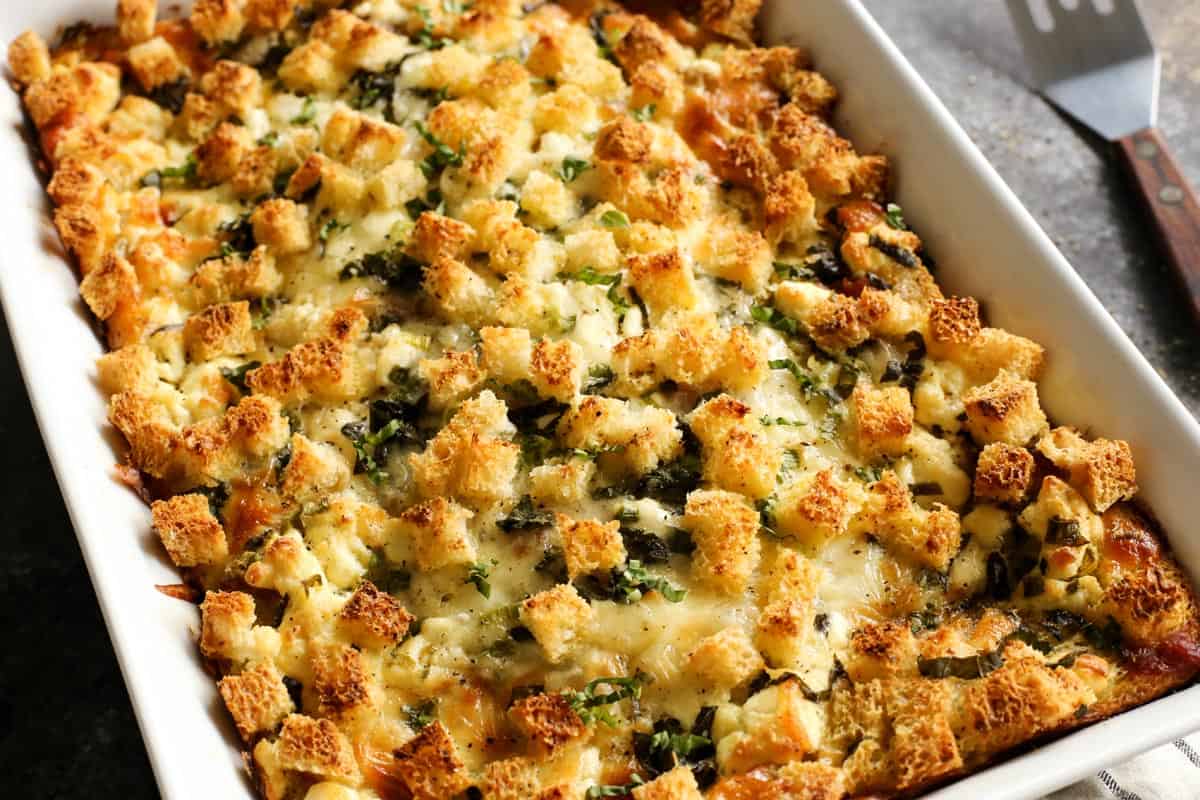 How to Make An Overnight Egg Bake
Making an overnight breakfast casserole is as simple as layering the ingredients, topping them with an egg mixture, and refrigerating until it's time to bake.
Layer the ingredients. Add a layer of bread on the bottom of a 9″ x 13″ baking dish, followed by half of the prosciutto, half of the goat cheese, and half of the provolone. Sprinkle with half of the green onions and basil. Repeat with the second layer of bread and remaining halves of all ingredients. Slice more bread into cubes and sprinkle over the top.
Add the egg mixture. Whisk together the eggs, milk, mustard, salt & pepper, and pour mixture evenly over the top of the dish. Drizzle with melted butter.
Refrigerate. Cover and refrigerate overnight. This hands-off time is important, to let the egg mixture soak through all the layers.
Bake. Uncover and let the egg bake stand at room temperature for 30 minutes. Bake until the center is set. Place under the broiler if desired to crisp up the top.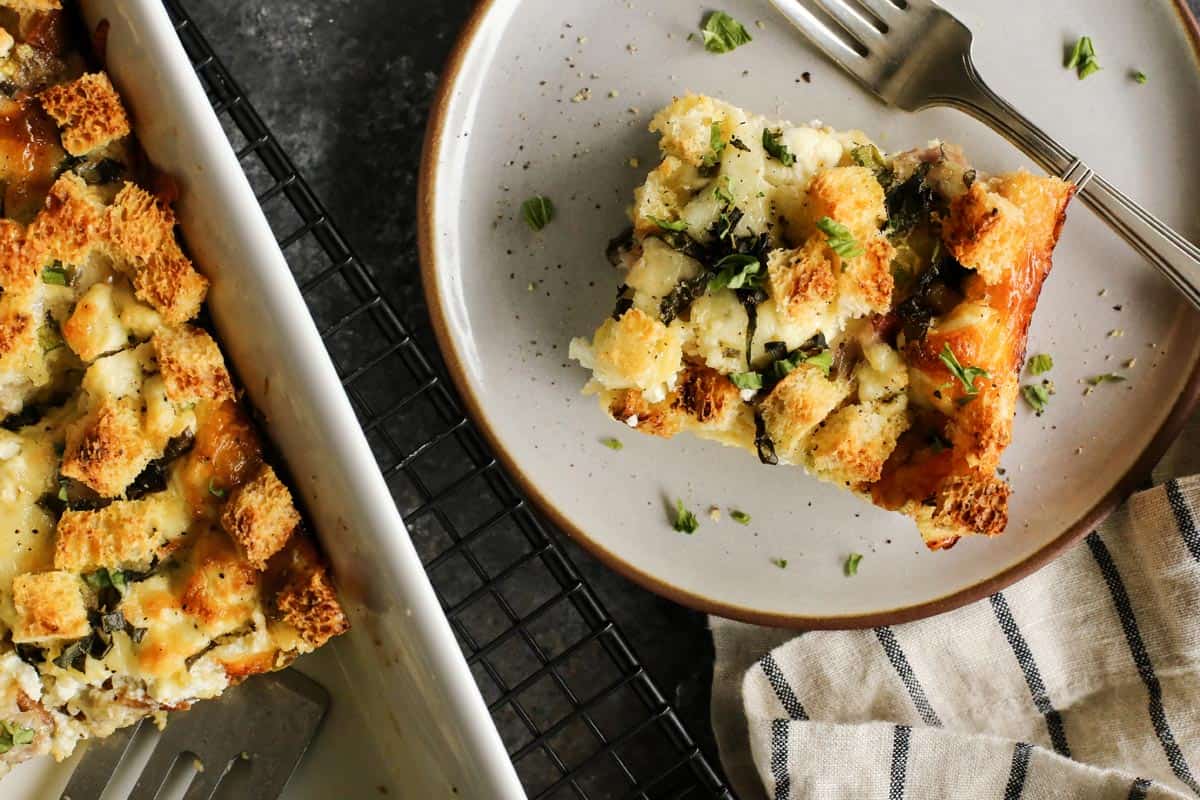 Egg Bake Tips for Success
It's hard to go wrong with this overnight egg bake, but here are a few tips to guarantee perfection.
Don't use fresh bread. I like the texture and density provided by English muffin bread. However, you can use any firm bread you'd like in this recipe. The one thing I do recommend is using day old, crusty bread. Soft, fresh bread drinks up the moisture and can turn very soggy after soaking in the egg mixture – leaving you with a mushy textured egg bake.
Make it your own. As I mentioned above, there are so many ways to customize this egg bake recipe. Play around with whatever ingredients you have on hand or the flavors you like.
Make sure it cooks fully. It will take almost an hour for this to bake fully. Be sure to allow enough baking time so it has the perfect firm texture.
Pop it in the broiler. For a crispy top, I like to pop the casserole in the broiler for a few minutes before I pull it from the oven.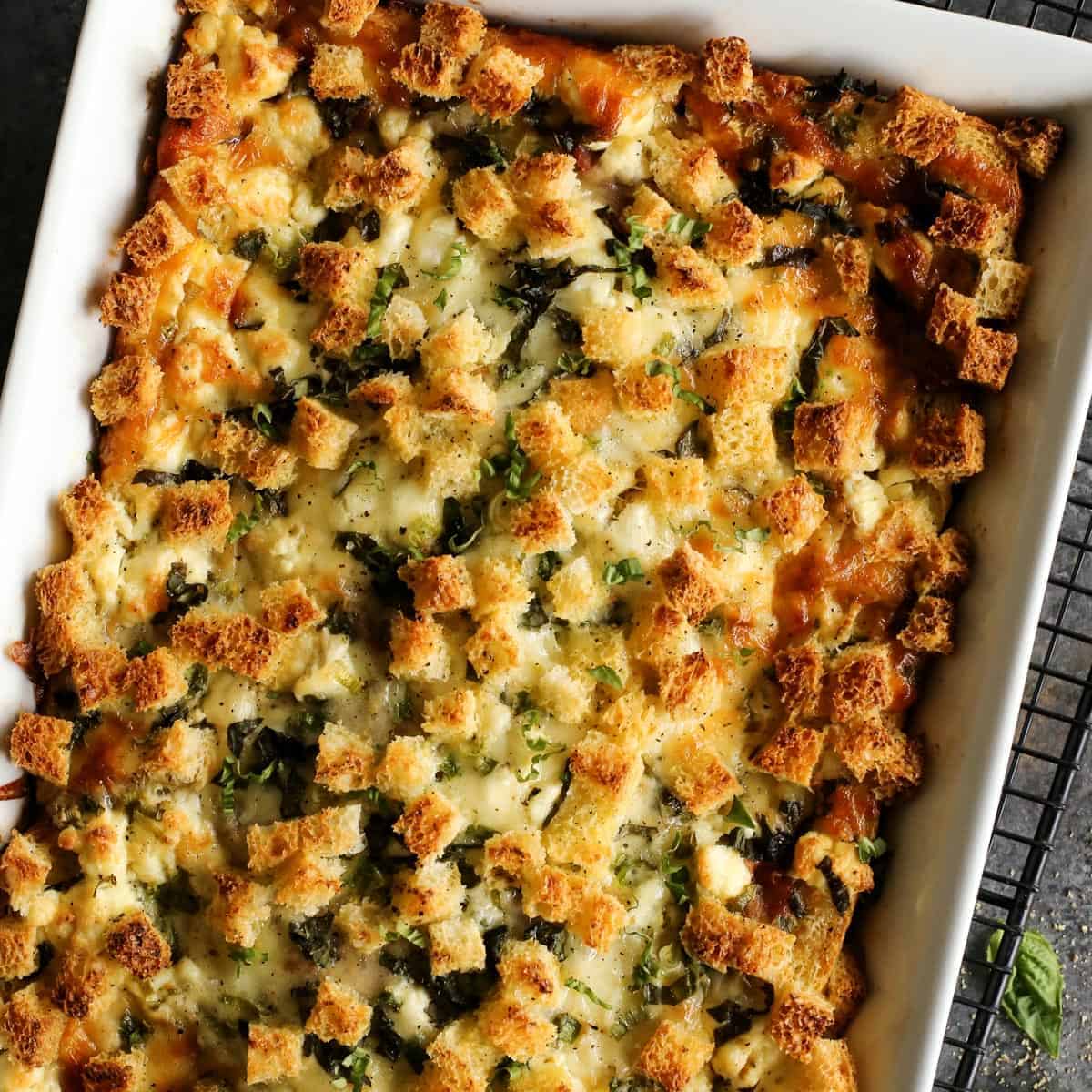 Serving Suggestions
Make-ahead dishes are such a great thing when hosting overnight guests, preparing for a holiday brunch or special event, or just plain enjoying an extra special weekend breakfast.
Just think about it…
Wake up. Take the overnight egg bake out of the refrigerator. Preheat the oven. Make a pot of coffee. Maybe clean up some fresh fruit or prepare a simple little salad to serve alongside the egg dish. Sit in your pajamas with a good book until the egg bake is golden and your house smells amazing. Enjoy said dish with your special peeps. Sounds like a plan for the weekend, don't you agree?!
Here are a few recommendations, things to serve with this egg dish:
And how about a mimosa or bloody mary for an extra special weekend brunch?!
How to Store Leftovers
How to store leftovers. Store any leftover egg casserole in the fridge for up to 4 days, either wrapped tightly in plastic or in an airtight container.
How to reheat. To add some crispiness back to the cubed bread topping, the best way to reheat your egg casserole is in the oven at 300° F until warmed through. You can also quickly/easily reheat portions in the microwave, although this will not crisp up the top.
Can I freeze this? Yes, this overnight egg casserole can be frozen once cooked. To freeze the entire pan, cover with a tight lid or with a layer of plastic wrap followed by 2 layers of heavy duty foil. To freeze individual pieces, wrap them in plastic and place in freezer-safe baggies or containers, just place pieces in a freezer-safe container altogether. Thaw fully in the fridge, then cover loosely with foil and reheat in a 300° F oven until warmed through. Place under the broiler to crisp up the top.
More Breakfast Recipes:
Like this recipe? Save it to Pinterest!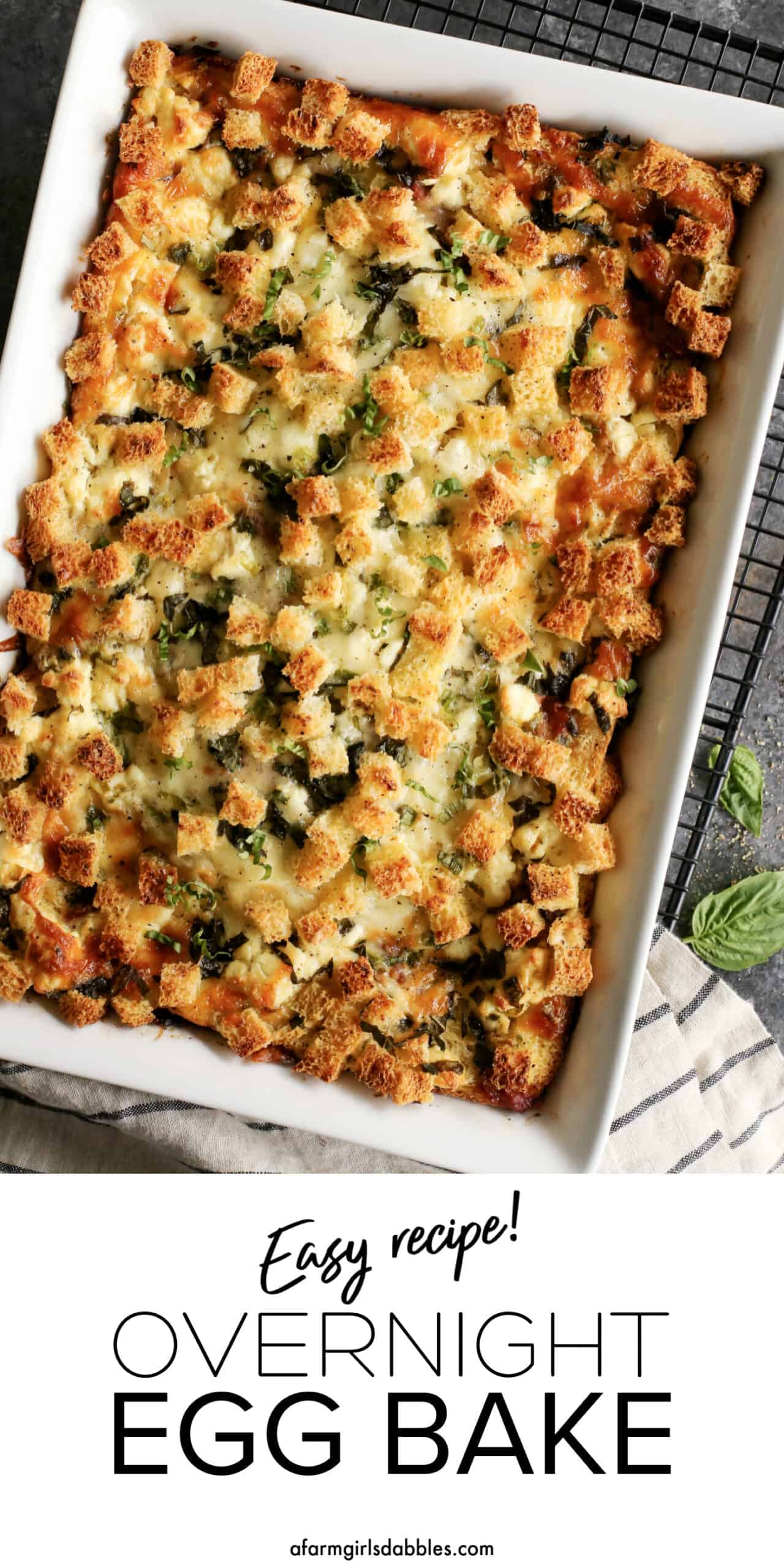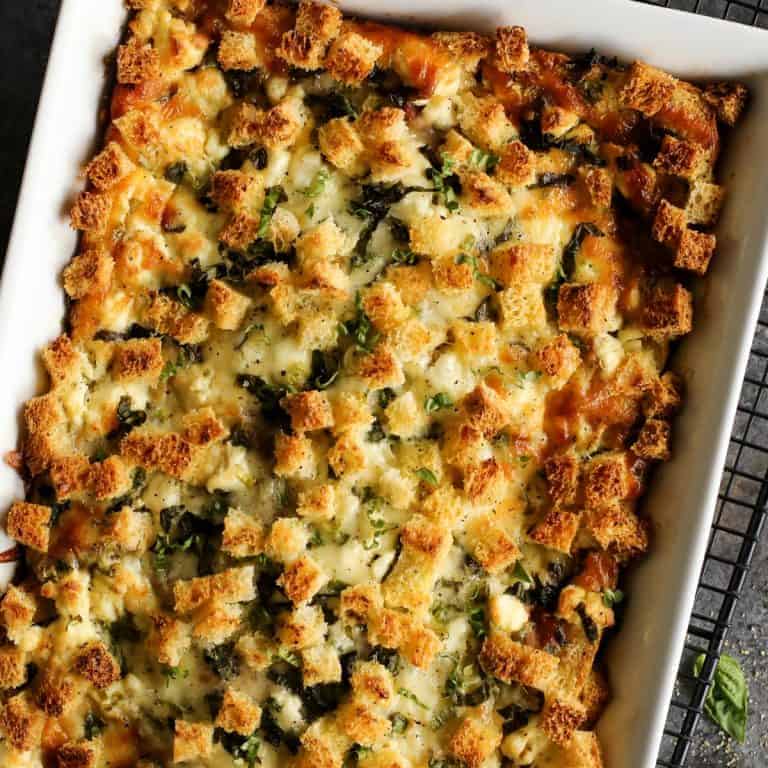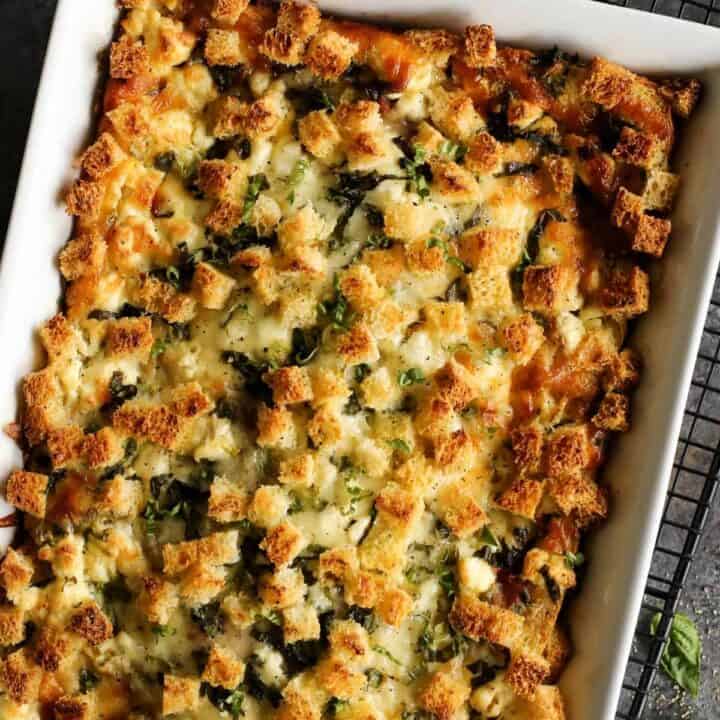 Overnight Egg Bake Recipe
Yield: 16 servings
Prep Time: 25 minutes
Cook Time: 55 minutes
Total Time: 1 hour 20 minutes
With layers of prosciutto, provolone, and goat cheese, this isn't your basic Overnight Egg Bake. This breakfast casserole is perfect for special occasions like Easter breakfast or brunch with friends. Make it the night before, then pop it in the oven before serving!
Ingredients
14 to 18 slices English muffin bread
6 ounces prosciutto, thinly sliced and torn into bite size pieces (or use some extra-good ham, small diced)
8 ounces crumbled goat cheese
8 ounces shredded provolone cheese
1/4 cup chopped green onions
6 tablespoons thinly sliced fresh basil
5 large eggs
2 cups whole milk
1 tablespoon Dijon mustard
1/2 teaspoon kosher salt
1/2 teaspoon ground black pepper
3 tablespoons unsalted butter, melted
Instructions
Spray a 9'' x 13'' baking dish lightly with cooking spray. Then line the bottom of the dish with 1 layer of bread, cutting some of the slices to fit if necessary. Arrange half the prosciutto evenly over the bread, followed by half the goat cheese and half the provolone. Sprinkle with half of the green onions and basil. Top with a second layer of bread slices. Layer on the remaining prosciutto, goat cheese, provolone, green onions, and basil.
Cut enough of the remaining bread slices into 1/2'' cubes to equal 2 cups of bread cubes. Sprinkle these over the top.
In a medium bowl, whisk eggs, milk, mustard, salt, and pepper until well combined. Slowly pour egg mixture evenly over the egg bake, letting it soak in. Drizzle melted butter evenly over the top. Cover and refrigerate overnight.
The next morning, preheat oven to 350° F. Uncover egg bake and let stand at room temperature for 30 minutes.
Bake until center of egg bake is set, about 55 to 60 minutes. If you want to crisp up the top even more, place under broiler for a minute or two, until golden. Cut into large squares and serve.
Notes
From the recipe box of friend Meghan Kell, adapted from Bon Appetit "Entertaining Made Easy", December 2003.
Nutrition Information:
Yield: 16
Serving Size: 1
Amount Per Serving:
Calories: 325
Total Fat: 14g
Saturated Fat: 7g
Trans Fat: 0g
Unsaturated Fat: 5g
Cholesterol: 91mg
Sodium: 882mg
Carbohydrates: 33g
Fiber: 2g
Sugar: 2g
Protein: 17g
Nutrition information is automatically calculated by Nutritionix. I am not a nutritionist and cannot guarantee accuracy. If your health depends on nutrition information, please calculate again with your own favorite calculator.
This post was previously published in 2011. I updated the photographs and some of the text in 2019 and 2022.