Overnight Egg Bake Recipe
This post may contain Amazon or other affiliate links. As an Amazon Associate I earn from qualifying purchases.
Overnight Egg Bake is a make-ahead egg bake recipe, perfect for entertaining. It's flavorful with prosciutto, provolone, and goat cheese, plus an easy homemade crouton topping that bakes up buttery crisp. I promise you'll get asked for the recipe!
Maaaaaaaany years ago, a friend at work brought an egg bake into the office for a holiday brunch potluck.
It didn't take long for me to seek out the pan that made the office smell so wonderful, a "fancy" ham and cheese egg bake.
Meghan's Overnight Egg Bake was stuffed with prosciutto, goat cheese, and provolone, and scattered with little nuggets of buttery bread cubes made crispy from the heat of the oven. With just one look, it was clear that this was no ordinary egg bake. It was so pretty. And did I mention how amazing it smelled?!
Our family likes to revisit this recipe again and again. Friends of ours have made the egg bake part of their Easter morning brunch tradition, which of course I love. Recipe traditions make my world go 'round.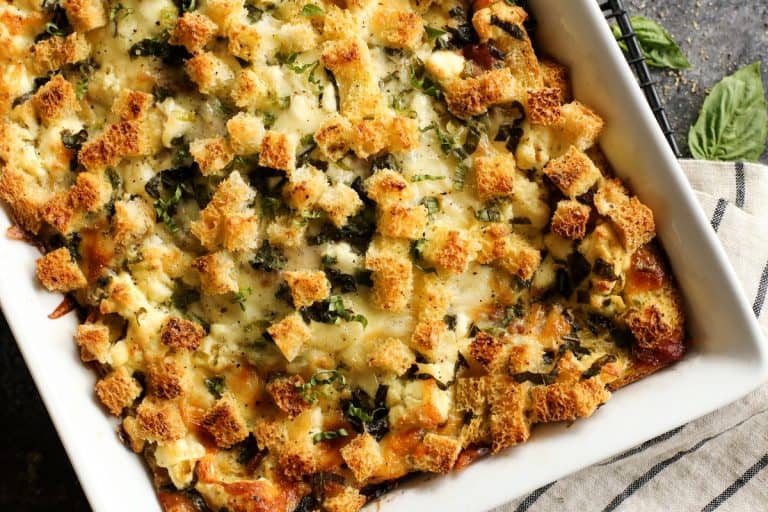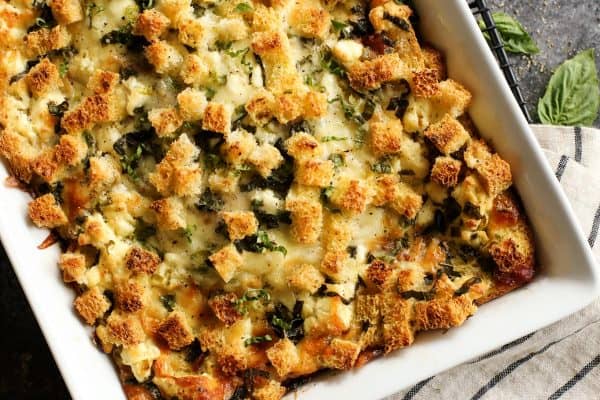 Egg Bake Recipe
Because I like eggs in general, I've always liked egg bakes. But until I met up with this particular recipe, my experiences had always been in the mediocre territory.
You know what I mean: A dish is good. It's enjoyable enough, and definitely better than some other options. But just not good enough to ask for the recipe.
Every time I make this egg bake recipe, I'm thankful for being present at that holiday brunch all those years ago. Since then, this is the only egg bake I've ever made.
I especially like to serve this egg bake during the Easter season. A few other recipes we make during this time are: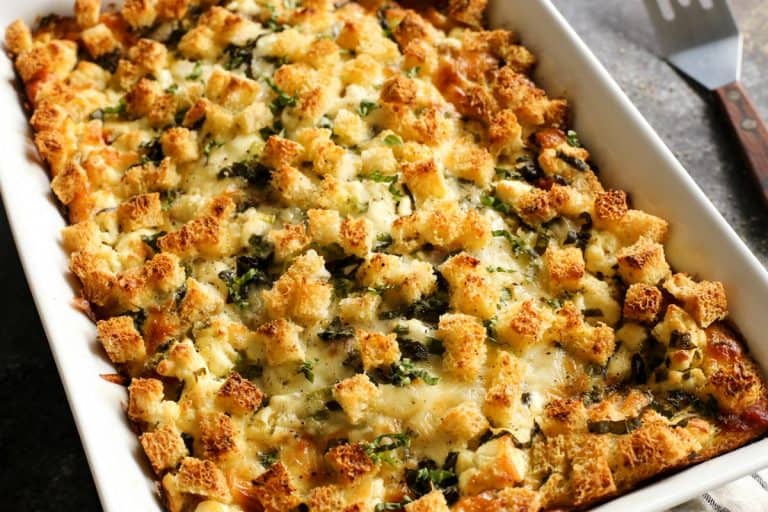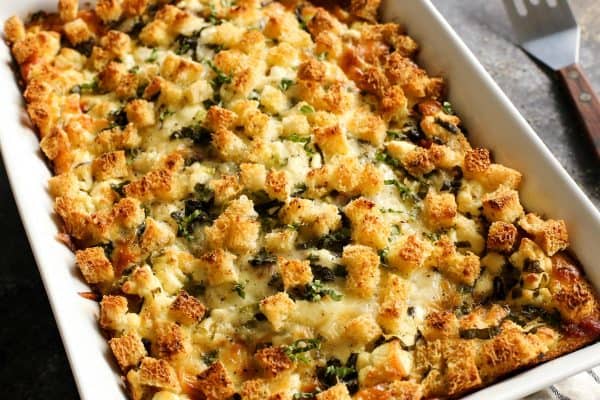 This overnight egg bake is perfectly textured throughout – eggy and firm, with an easy homemade crouton top that bakes up buttery crisp.
The prosciutto is lovely, and what I almost always use. But some extra-good diced ham is a less costly and very fine substitute.
And the cheese…how I love the cheese in this recipe. Melty provolone and tangy, salty goat cheese hold this dish together beautifully.
Our oldest daughter, who only likes eggs when they're incorporated in baked goods, even asks for a second helping when this is on the table. Hatti says it's like a savory baked French toast. An excellent description, I have to agree.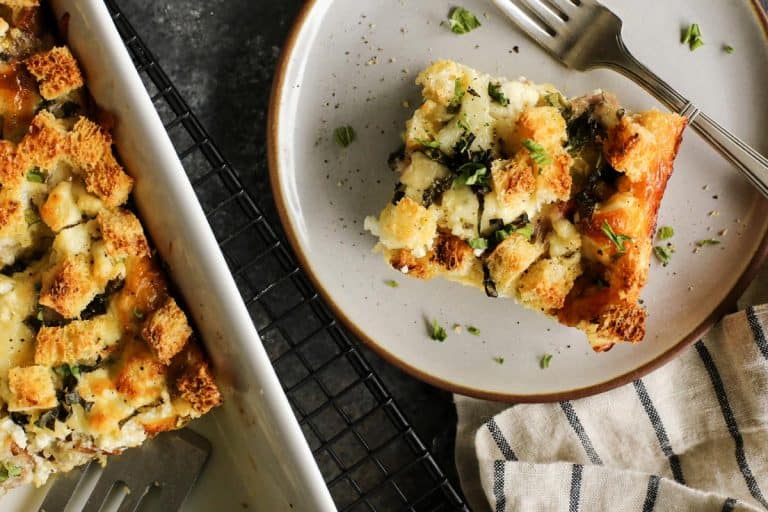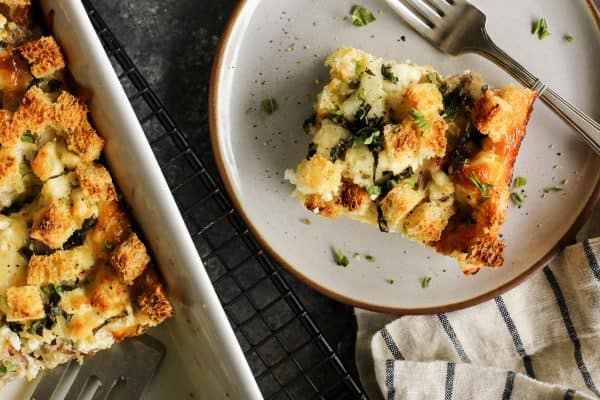 Overnight Egg Bake
Oh, and another awesome aspect I need to talk about. This recipe is meant to be prepared the night before.
I LOVE THAT!
Make-ahead dishes are such a great thing when hosting overnight guests, preparing for a holiday brunch or special event, or just plain enjoying an extra special weekend breakfast.
Just think about it…
Wake up. Take the overnight egg bake out of the refrigerator. Preheat the oven. Make a pot of coffee. Maybe clean up some fresh fruit or prepare a simple little salad to serve alongside the egg dish. Sit in your pajamas with a good book until the egg bake is all golden and bubbly and ready to come out of the oven. Enjoy said dish with your special peeps.
Sounds like a plan for the upcoming weekend, don't you agree?!
Like this recipe? Save it to Pinterest!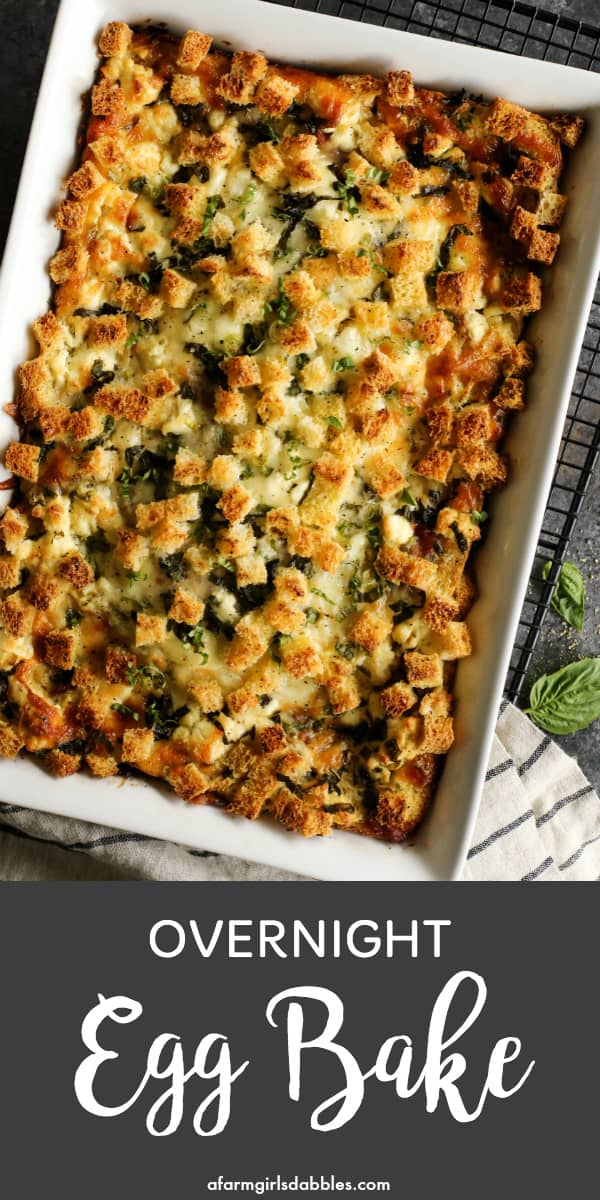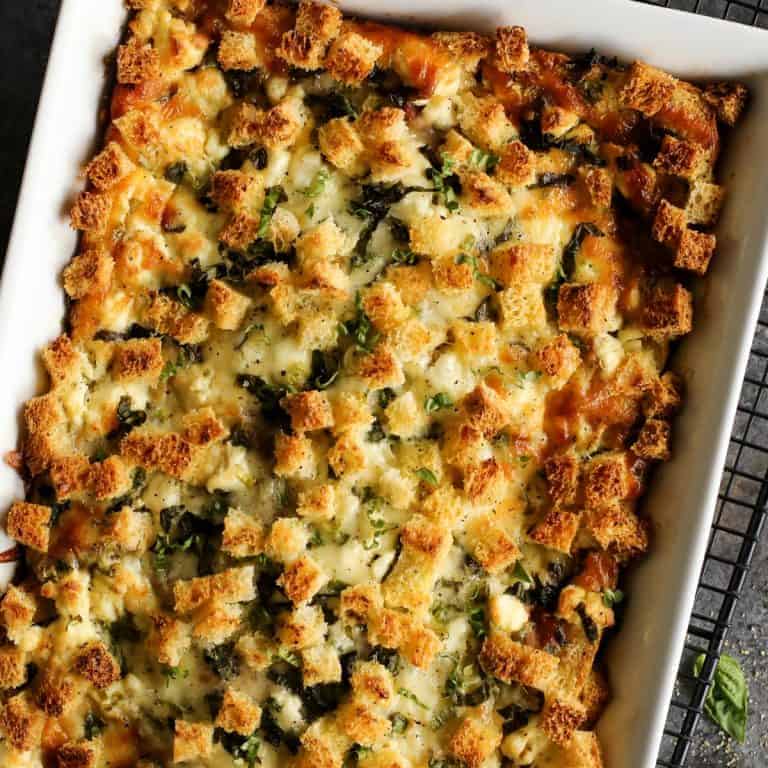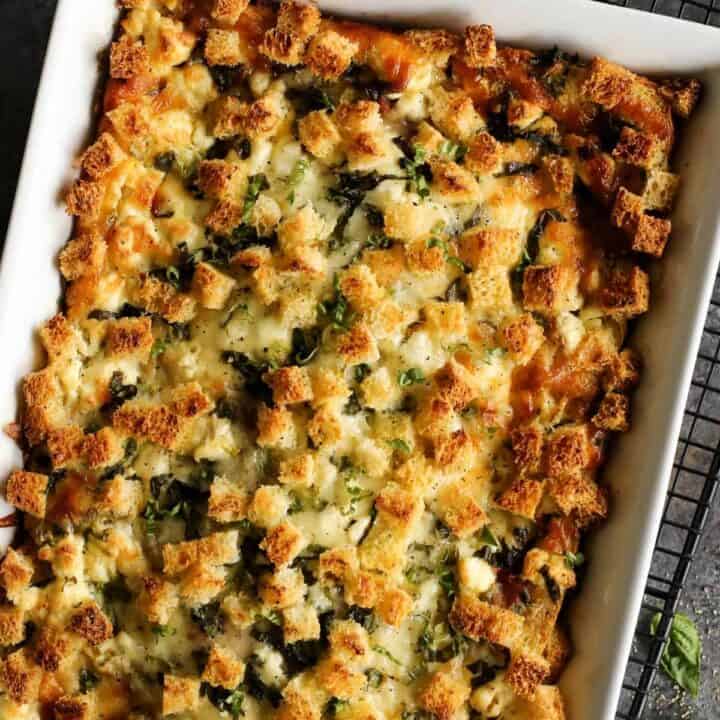 Overnight Egg Bake Recipe
Yield: 16 servings
Prep Time: 25 minutes
Cook Time: 55 minutes
Total Time: 1 hour 20 minutes
A make-ahead egg bake recipe that's great for entertaining. Flavorful with prosciutto, provolone, and goat cheese, plus an easy homemade crouton topping that bakes up buttery crisp.
Ingredients
14 to 18 slices English muffin bread
6 oz. prosciutto, thinly sliced and torn into bite size pieces (or use some extra-good ham, small diced)
8 oz. crumbled goat cheese
8 oz. shredded provolone cheese
1/4 c. chopped green onions
6 T. thinly sliced fresh basil
5 large eggs
2 c. whole milk
1 T. Dijon mustard
1/2 tsp. kosher salt
1/2 tsp. ground black pepper
3 T. unsalted butter, melted
Instructions
Spray a 9'' x 13'' baking dish with cooking spray. Then line the bottom of the dish with 1 layer of bread, cutting some of the slices to fit if necessary. Arrange half the prosciutto evenly over the bread, followed by half the goat cheese and half the provolone. Sprinkle with half of the green onions and basil. Top with a second layer of bread slices. Layer on the remaining prosciutto, goat cheese, provolone, green onions, and basil.
Cut enough of the remaining bread slices into 1/2'' cubes to equal 2 cups of bread cubes. Sprinkle these over the top.
In a medium bowl, whisk eggs, milk, mustard, salt, and pepper until well combined. Slowly pour egg mixture evenly over the egg bake, letting it soak in. Drizzle melted butter evenly over the top. Cover and refrigerate overnight.
The next morning, preheat oven to 350° F. Uncover egg bake and let stand at room temperature for 30 minutes.
Bake until center of egg bake is set, about 55 to 60 minutes. If you want to crisp up the top even more, place under broiler for a minute or two, until golden. Cut into large squares and serve.
Notes
From the recipe box of friend Meghan Kell, adapted from Bon Appetit "Entertaining Made Easy", December 2003.
Nutrition Information:
Yield: 16
Serving Size: 1
Amount Per Serving:
Calories: 325
Total Fat: 14g
Saturated Fat: 7g
Trans Fat: 0g
Unsaturated Fat: 5g
Cholesterol: 91mg
Sodium: 916mg
Carbohydrates: 33g
Fiber: 2g
Sugar: 2g
Protein: 17g
Nutrition information is automatically calculated by Nutritionix. I am not a nutritionist and cannot guarantee accuracy. If your health depends on nutrition information, please calculate again with your own favorite calculator.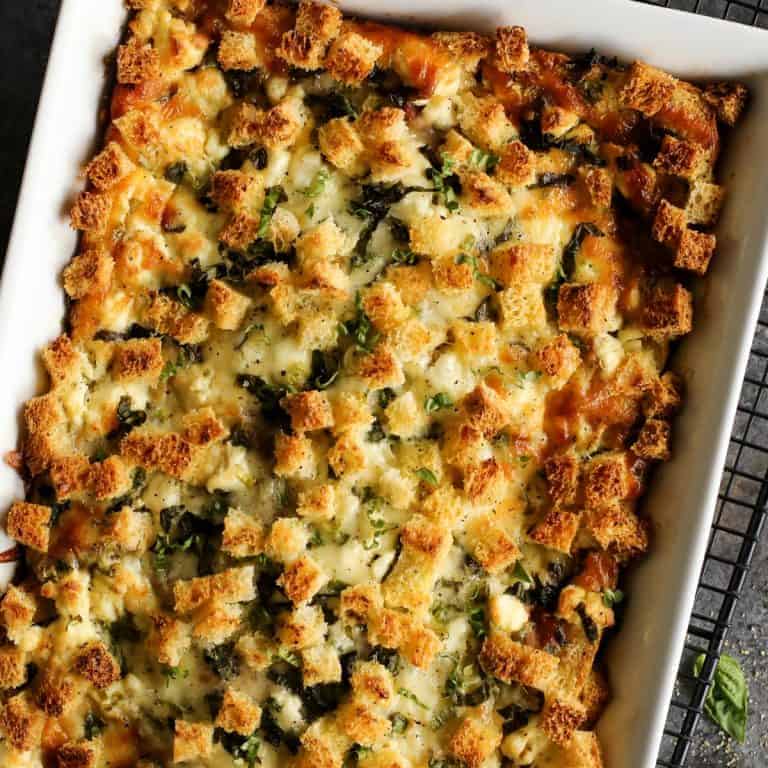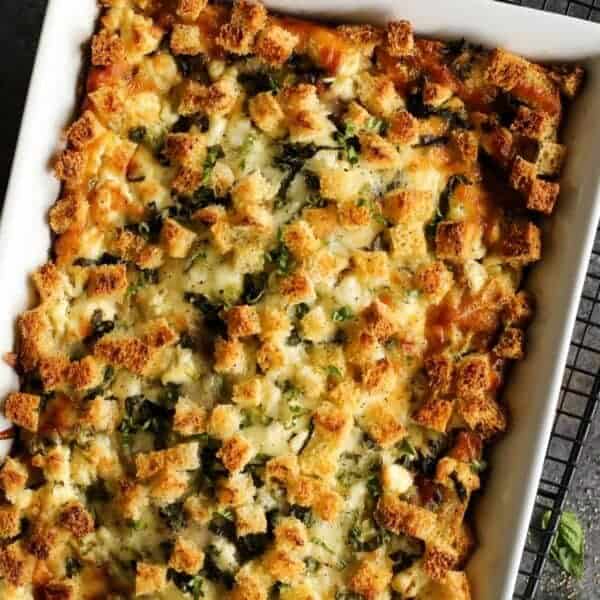 This post was previously published in 2011. I updated the photographs and some of the text in 2019.
We participate in the Amazon Services LLC Associates Program, an affiliate advertising program designed to provide a means for us to earn fees by linking to Amazon.com and affiliated sites. See our
disclosure policy
for more info.