Homemade Applesauce
This post may contain Amazon or other affiliate links. As an Amazon Associate I earn from qualifying purchases.
This easy applesauce recipe has been passed down from my parents. I love a chunky applesauce, but it can be made smooth as well. I include instructions for both simple refrigerator storage and for canning and longterm pantry storage. Delicious!
Looking for more apple recipes?
Try my Classic Apple Crisp (with an actually crispy topping!), my mom's Apple Bread, or these delightful Apple Peanut Butter Cookies!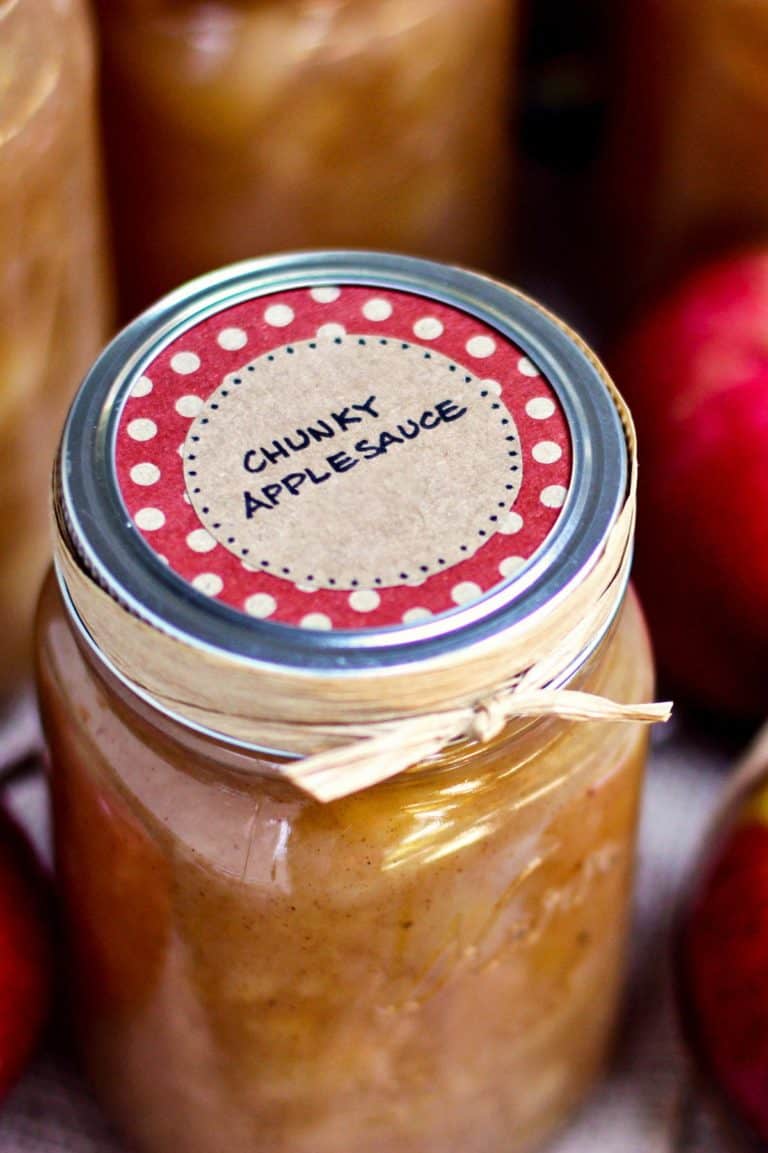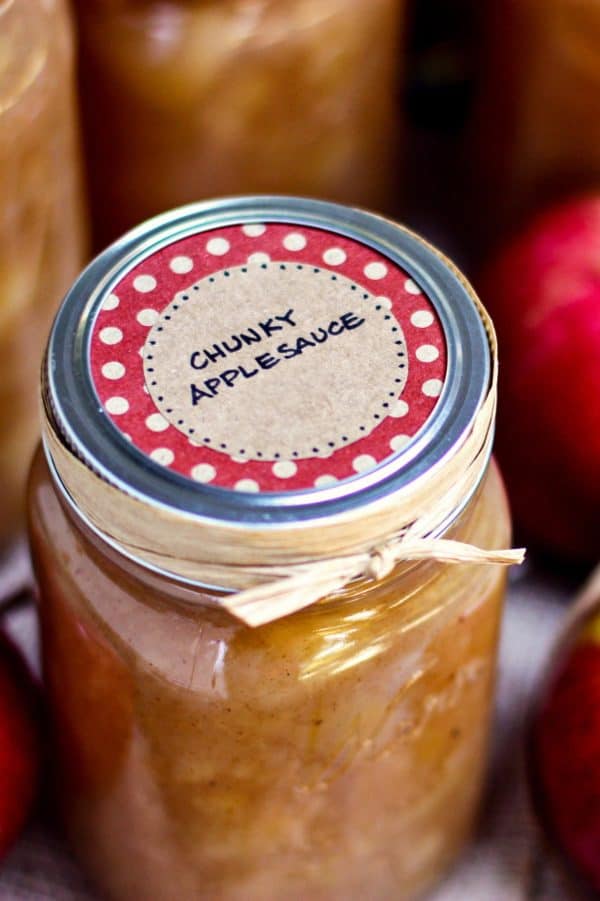 Mom & Dad's Homemade Applesauce
Every fall, we look forward to jars of chunky Homemade Applesauce from my parents' kitchen. Our girls go crazy for it. As soon as a lid is popped off, the jar is emptied. It's so good!!
This homemade applesauce recipe comes from my mom and dad. And it's really more of a method than a recipe. It's so incredibly easy to make, you'll be left wondering why you haven't been enjoying your own homemade applesauce all along!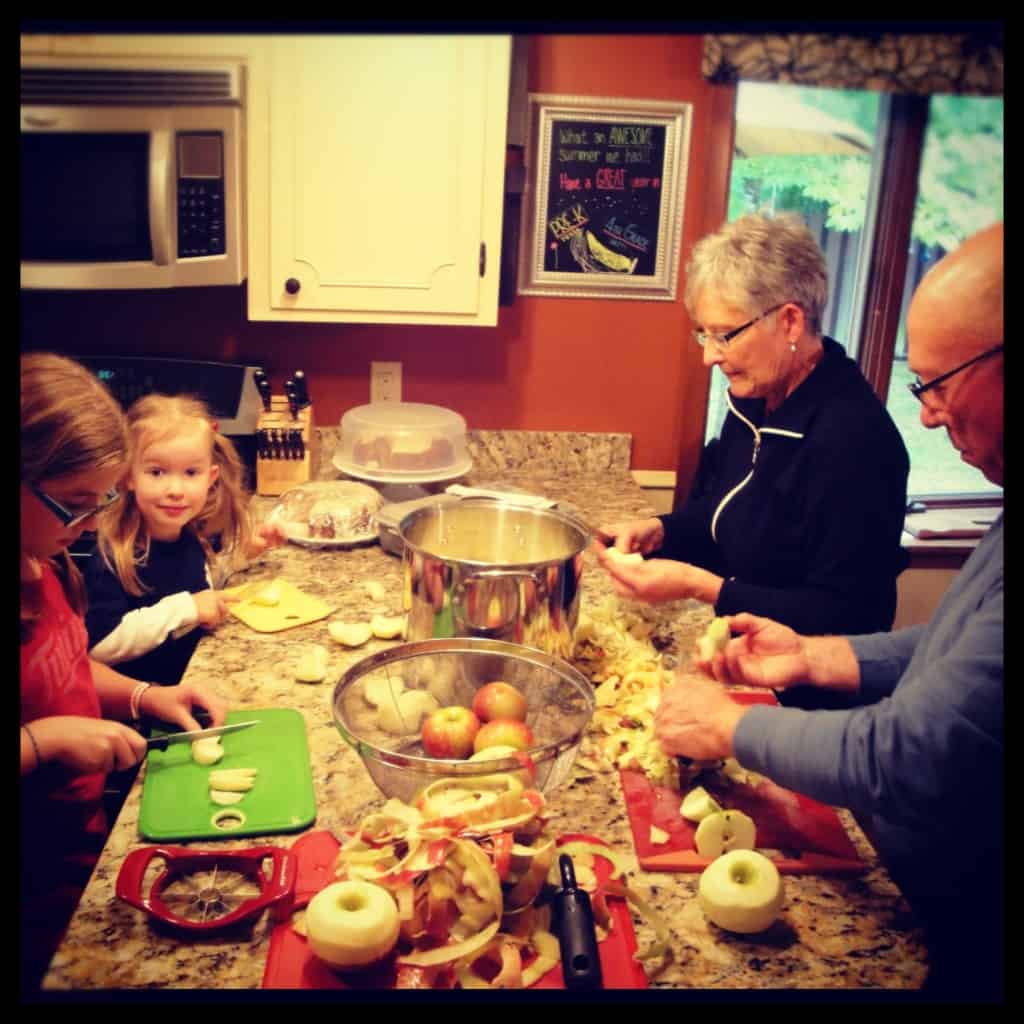 The Story Behind this Applesauce
The story behind this recipe goes back a number of years. My parents were staying with us for a few days during October, and they had brought some apples along. They've always had apple trees, and they enjoy sharing their harvest each year.
So I asked them to teach us their method for making applesauce. Mom and Dad don't follow a recipe, so I wanted to make the applesauce right alongside them and take notes. I wanted to be able to make it myself in years to come, and to pass their recipe down to our girls. And YOU!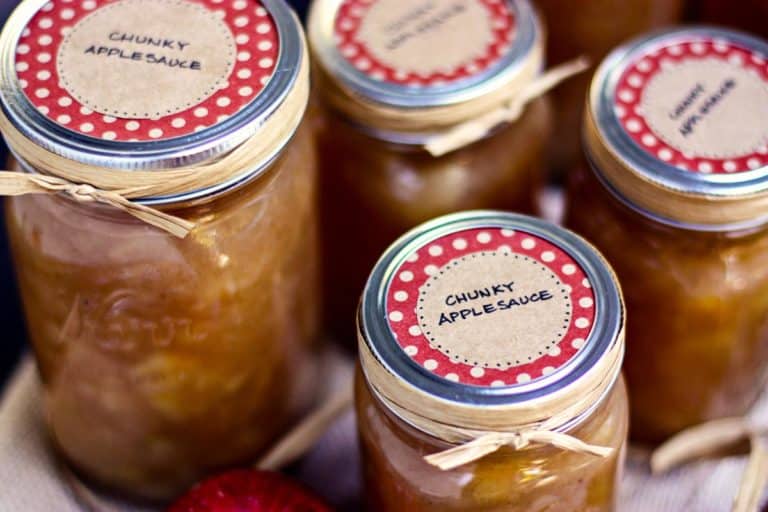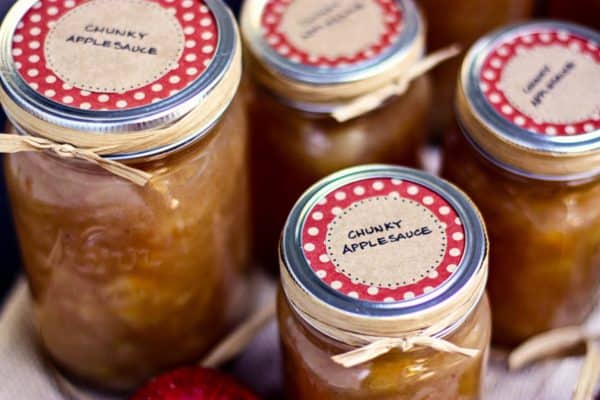 Why I Love Chunky Applesauce
I think this is the perfect applesauce because it's sweet and tart and CHUNKY.
Personally, I'm not a fan of applesauce that is completely smooth – it makes me feel like I should be sitting in a highchair with my bib on. I want to feel the chunks of apples in my mouth. (If you like it smooth, do not worry – this recipe includes instructions for both chunky and smooth!)
How to Use Applesauce
Top grilled pork chops. It's the most wonderful thing!
Make French toast or buttermilk pancakes and top them with a big spoon of applesauce.
Spoon warm applesauce over (vanilla, caramel, or cinnamon) ice cream. Y.U.M.!
Serve chilled applesauce as a side dish at lunch or dinner.
Serve warm applesauce over oatmeal for breakfast. What a great way to start the day!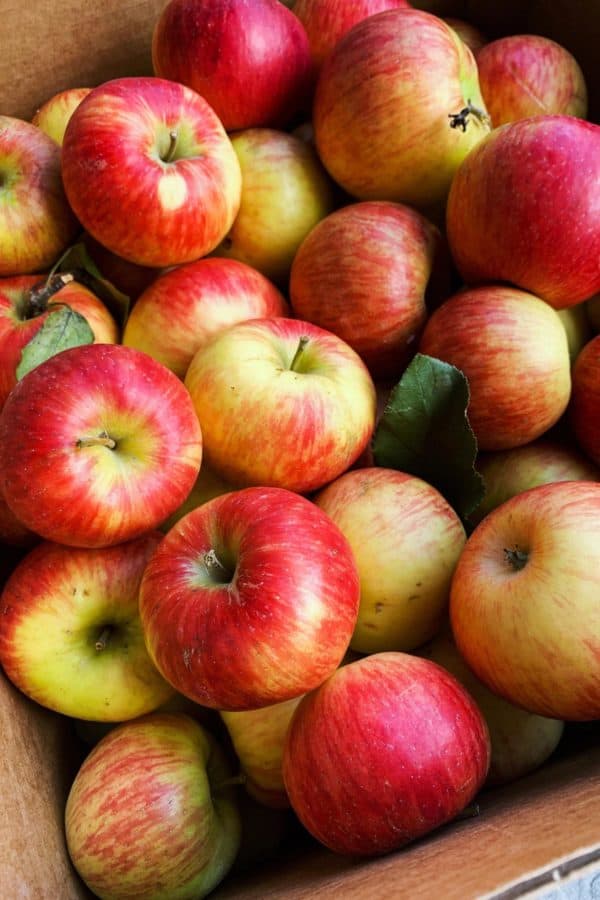 What are the best apples for applesauce?
One of the secrets to a chunky applesauce is to use firm apples that hold their shape when cooked or baked. Apples that turn to mush are a no-no here.
My all-time favorite apple is the Haralson, a product of the University of Minnesota. It is more tart than most, plus crisp and juicy, the perfect apple for baking with and making applesauce. We had Haralson trees on the farm when I was growing up, so they hold a dear spot in my heart.
I realize, though, that Haralsons are not that common around the country. Each fall, I find them for a short while at our local apple orchards and grocery stores. You can bet that I stock up when they're in season!
Beyond Haralsons, I like to use Honeycrisp (another apple bred at the University of Minnesota) and Granny Smith. The apples in the photo above are Honeycrisps that my parents gave us last week, from the tree in their backyard.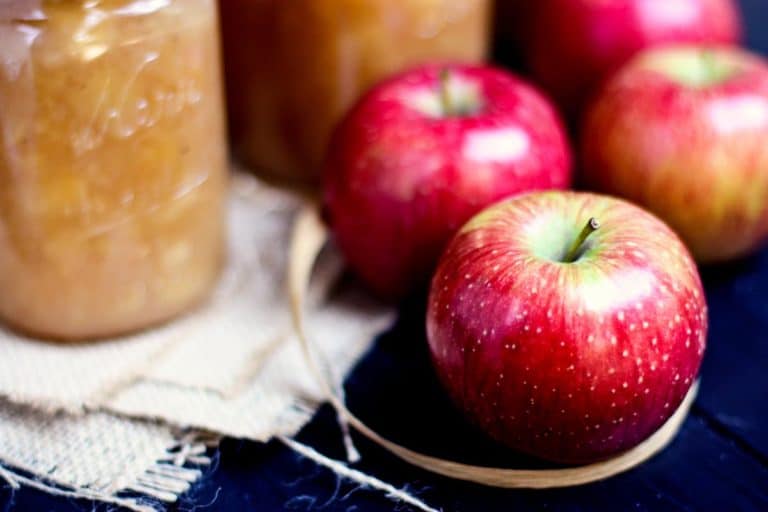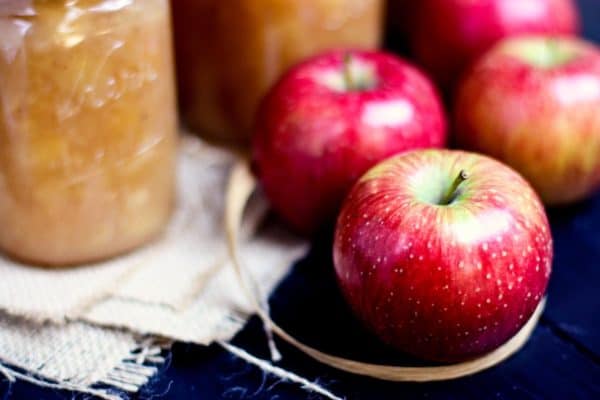 How to Make applesauce
If you've never made your own applesauce, or even tasted the extreme goodness of homemade applesauce, you've truly been missing out.
How to make homemade applesauce? It's easy!
Start out by peeling the apples. I like to see if I can peel each apple in one continuous coil, without breaking the peel. It's just one way I can still amaze my kids. Ha! Then core and slice the apples – I like to use this gadget.
Transfer the apples to a big pot, along with a bit of water (or use fresh-pressed apple cider from your local orchard, for even more apple goodness), a squeeze of fresh lemon juice, and then sugar and cinnamon in quantities to your own liking. My mom likes sweet applesauce and my dad likes it tart. I'm somewhere in between, but lean more toward tart.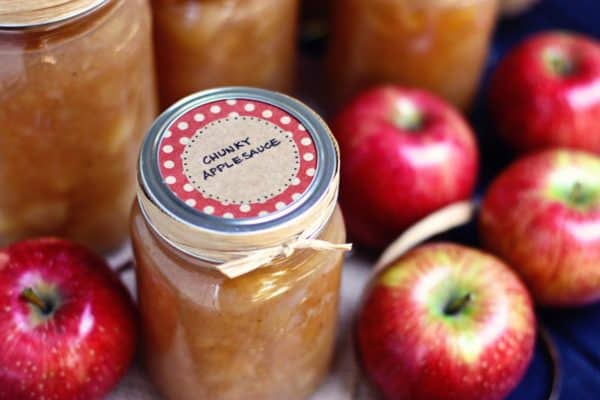 Then stir everything over medium heat for about 30 minutes. Actual time will vary, depending on how chunky you want the sauce. Chunkier, firmer applesauce will take less time to cook than a softer applesauce.
I like my applesauce with the apples broken down, but still with toothsome bites.
If you like your applesauce somewhere between chunky and smooth, a potato masher works great to help the texture along. And for a looser, smoother sauce, use a food processor or blender.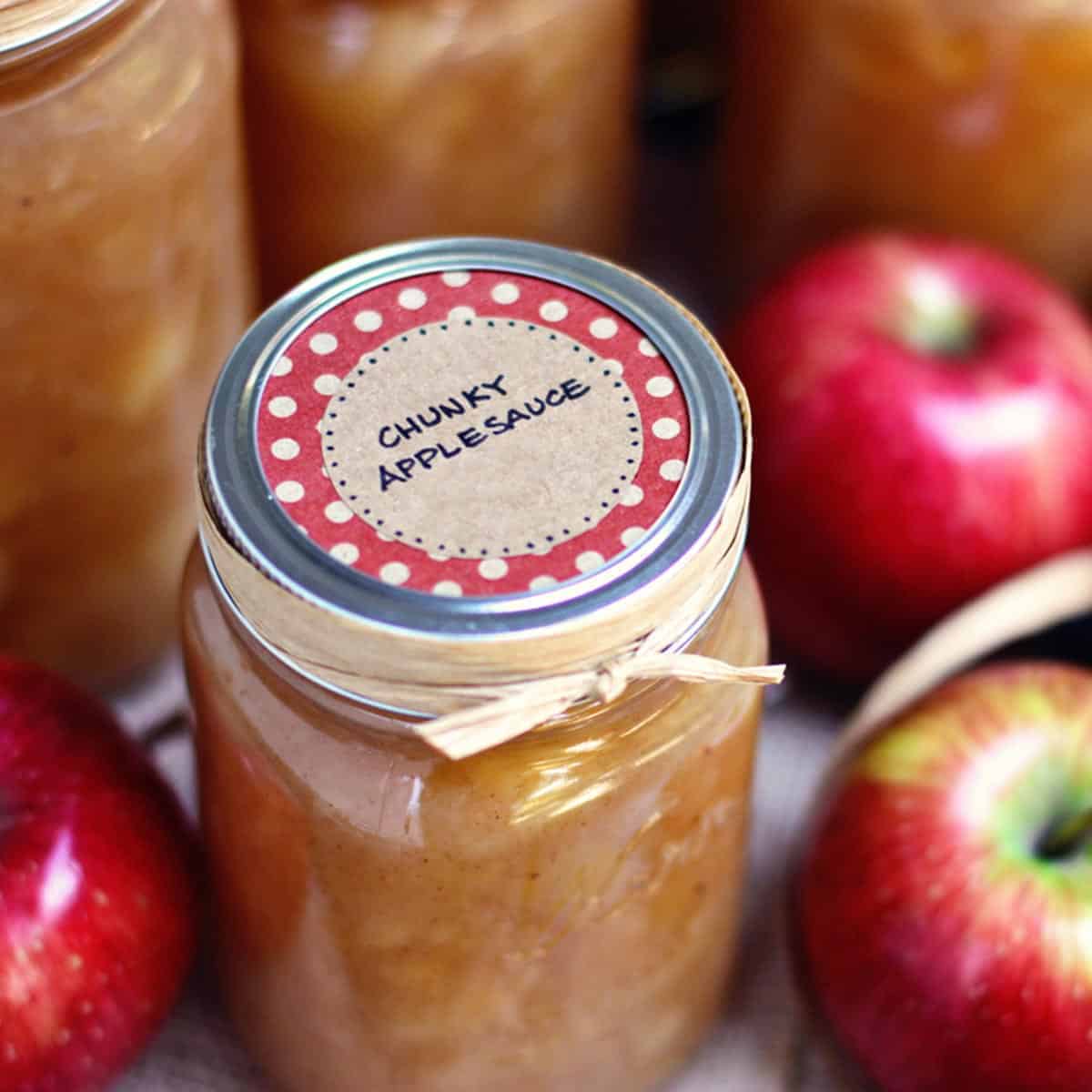 How to Store Homemade Applesauce
This recipe includes two sets of instructions. One is for applesauce that is simply stored in the refrigerator, to be consumed within a few weeks. It's relatively quick to accomplish and very easy to do.
The other set of directions is for canning applesauce. If you've wondered how to can applesauce, it's not difficult either. But it does take more time and involves a bit more equipment. But! Canning also gives you jars of applesauce that can be stored in the pantry and enjoyed for many months. That's a definite plus.
Now aren't you glad I took notes for you, so you can also enjoy a warm bowl of cinnamon-y apple goodness, too?!
Like this applesauce recipe? Save it to Pinterest!
A few more apple recipes from my friends: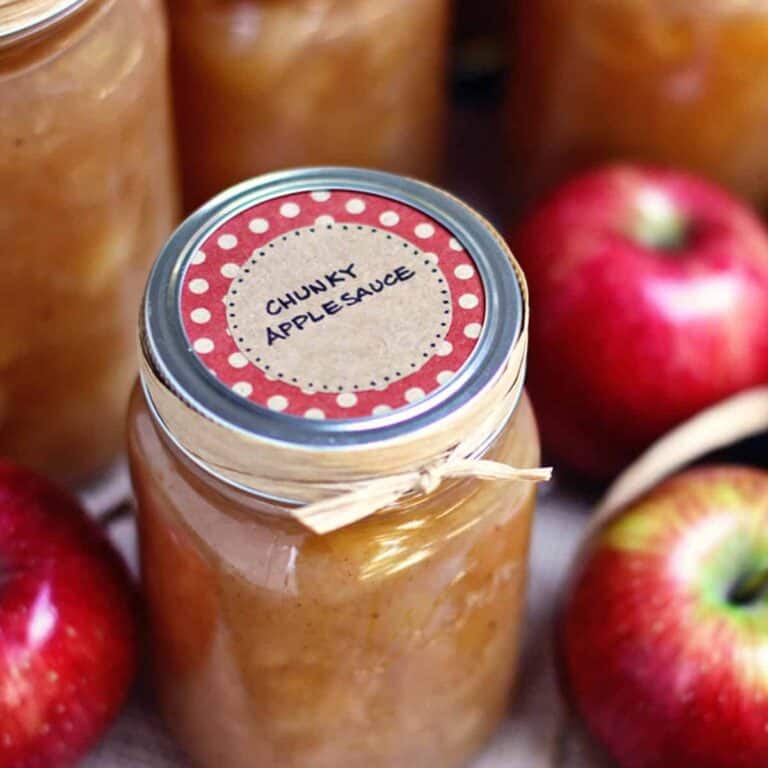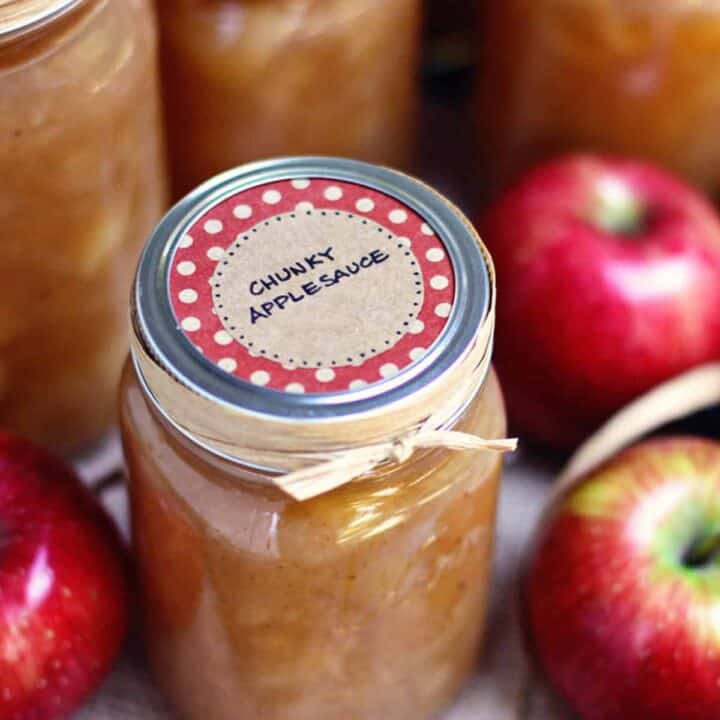 Homemade Applesauce
Yield: 8 servings
Prep Time: 25 minutes
Cook Time: 30 minutes
Total Time: 55 minutes
This easy applesauce recipe has been passed down from my parents. I love a chunky applesauce, but it can be made smooth as well. It's such a delicious treat!
Ingredients
6 lbs. apples of your choice – use 2 to 3 varieties to add flavor depth, if desired. Just make sure that at least half of the apples are a variety that is very firm and hold their shape well when cooked. This will allow for the chunks in the sauce. My favorite applesauce apples are Haralson, Honeycrisp, and Granny Smith.
2 c. water or fresh-pressed apple cider (I really like the cider!)
juice of half a lemon
3/4 c. sugar - use more or less depending on your desired sweetness
1 T. cinnamon - use more or less, to taste
Instructions
*Please note: My first set of instructions is for a simple applesauce that is stored in the refrigerator, for consumption within two to three weeks. The second set of instructions includes canning directions with a stovetop hot water bath. The canning method will take more time to accomplish, but will give you jars of applesauce that can be stored in the pantry and enjoyed for many months.
*Also note: This recipe will give you about 10 cups of applesauce. It's easy to halve the recipe for a smaller batch - or to double, triple, or quadruple it. Just be sure to use a pot that's large enough, to handle the multiplication factor. More apples will also take more time to cook.
Peel and core apples, and then cut each apple into 8 slices - we use this gadget to save time. Then cut each slice into pieces that are 1/4" to 1/2" thick, depending on how chunky you want your finished sauce to be.
Add apple slices and all other ingredients to a large pot over medium-high heat, adjusting sugar and cinnamon quantities to your liking.
Turn heat down to medium and stir the apples occasionally. Turn heat down a bit more if the apples are scorching on the bottom of the pot. If the mixture is lacking moisture, but the apples aren't soft and broken down to your liking yet, add a bit more water and continue cooking. When the sauce is getting close to your desired consistency, which will take 30 minutes or more, take a sampling out and let it cool a bit. Taste it for sweetness and add more sugar and cinnamon if desired. When the applesauce is to your liking in both texture and flavor, remove the pot from the heat.
Store applesauce in a large covered bowl or in jars, and refrigerate. It will keep well in the refrigerator for up to a few weeks. You can also freeze it in freezer-safe containers.
To can the applesauce for longterm pantry storage:
Be sure to sterilize the jars and lids. Turn canning jars upside down in a wide pan with 1" of water in it and bring to a medium boil. Let the jars get hot and steamy for 10 minutes in the boiling water. In a small pan over medium-high heat, add 1/2'' of water and the jar lids. Bring to a medium boil and sanitize for 10 minutes.
Working with 1 jar at a time, fill with finished applesauce, leaving 1" head space. Wipe off rims of jars with a clean dry towel, top with a hot lid, and screw on a ring, just finger-tight. Process in a boiling water bath, with water covering jars by 1'', for 20 minutes. Carefully remove jars from boiling water and let them cool on a towel on the counter overnight, undisturbed. After they have been sitting for awhile, you will start hearing the jars "pop", such a fun sound! The following day, check that the jars have sealed by pressing down in the center of the lids. If the lid pops up and down, the jar hasn't sealed and should be placed in the refrigerator to eat within a few weeks. If the lid is sucked down and does not move, it has sealed, and can be stored for a year or so in the pantry.
Notes
recipe handed down from my mom and dad
Recommended Products
As an Amazon Associate and member of other affiliate programs, I earn from qualifying purchases.
Nutrition Information:
Yield: 10
Serving Size: 1
Amount Per Serving:
Calories: 271
Total Fat: 1g
Saturated Fat: 0g
Trans Fat: 0g
Unsaturated Fat: 0g
Cholesterol: 0mg
Sodium: 79mg
Carbohydrates: 70g
Fiber: 9g
Sugar: 57g
Protein: 1g
Nutrition information is automatically calculated by Nutritionix. I am not a nutritionist and cannot guarantee accuracy. If your health depends on nutrition information, please calculate again with your own favorite calculator.
This post was originally published in 2012. It was updated October 2019.
We participate in the Amazon Services LLC Associates Program, an affiliate advertising program designed to provide a means for us to earn fees by linking to Amazon.com and affiliated sites. See our
disclosure policy
for more info.