Caramel Apple Almond Crisp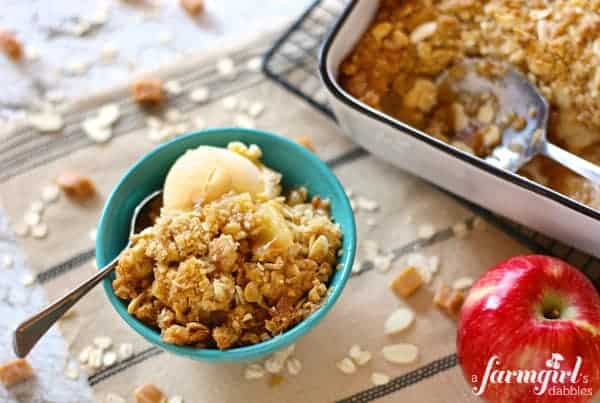 A few weeks ago, I ran across an apple crisp recipe I used to make while I was in college. On a recipe card in my handwriting, with past ingredients splattered and smudged across it, it begged me to revisit its goodness.
So I sliced up some of the last of the Haralsons we picked this fall, and slid a pan into the oven.
But it wasn't everything I remembered. Funny how that seems to happen to me every once in awhile with old recipes. I think my expectations for good food have a higher level now, and sometimes "good" just isn't good enough any more. I hope that doesn't sound like food snobbery.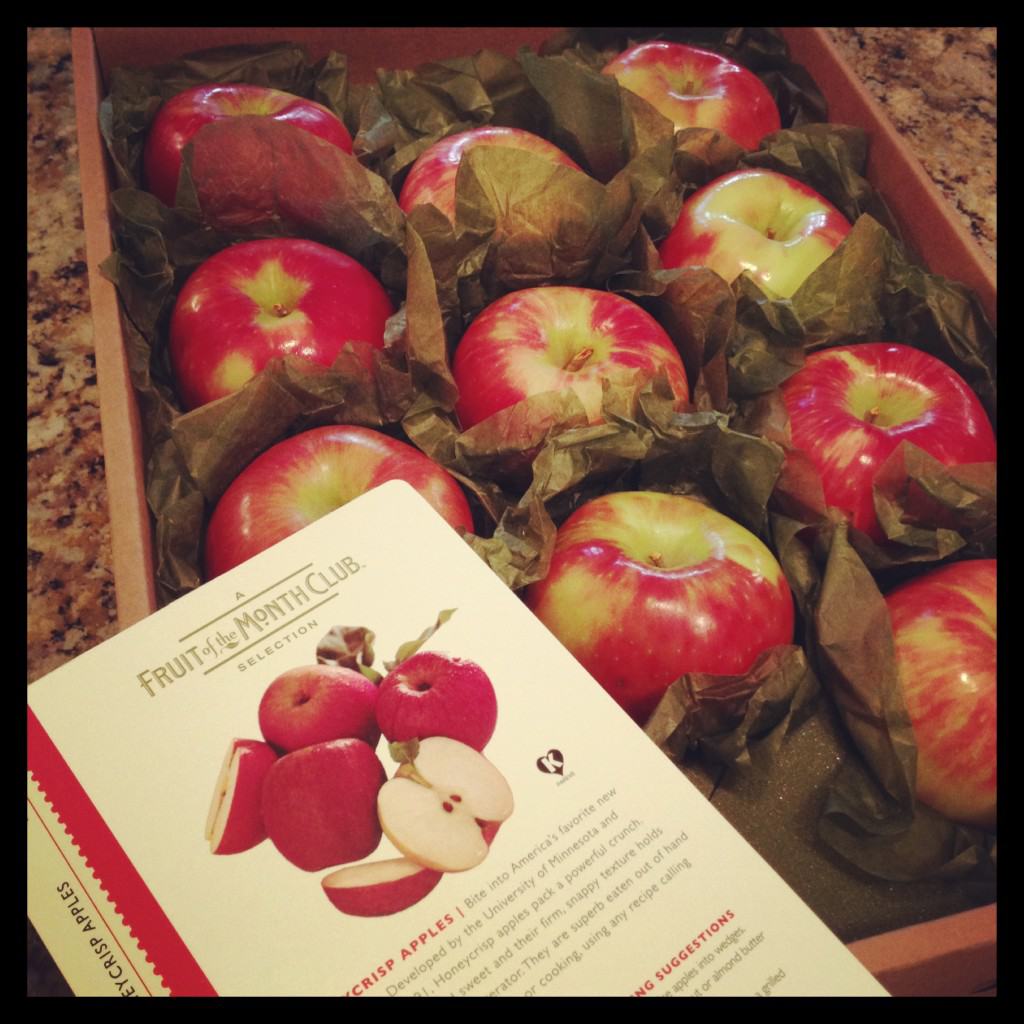 So when a beautiful box of sweet and super crisp Honeycrisp apples from Harry and David arrived at our door over the past weekend, I knew I was going to take another shot at that apple crisp. Because there was definitely potential in that recipe.
This Caramel Apple Almond Crisp now makes me seriously reconsider which recipe is my favorite apple crisp. The apples are sweetened with just the right amount of caramel, and topped with a bulked up oats and almond crisp that's crunchy, buttery, and just a little bit saltier than the norm…it's absolutely irresistible.
For those of you who haven't yet decided on Thanksgiving dessert, give this apple crisp some serious consideration.  It's quick and easy to put together, and so much better than "good".
It's fabulous.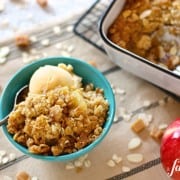 Caramel Apple Almond Crisp
Yield: 9 to 12 servings
Cook Time:35 minutes
Ingredients:
for the apple filling:
6 c. peeled and sliced apples – use a firm and flavorful apple, such as Honeycrisp, Haralson, or Granny Smith
2 T. orange juice
1/4 c. all-purpose flour
1/4 c. sugar
1 tsp. cinnamon
1/4 tsp. nutmeg
10 individually wrapped Kraft caramels, unwrapped and quartered (use more if you really love caramel!)
for the almond crisp topping:
3/4 c. all-purpose flour
3/4 c. rolled oats (not quick cooking oats)
3/4 c. brown sugar
1-1/2 tsp. kosher salt
1 tsp. baking powder
1/2 c. unsalted butter, at room temperature (do not melt!)
1/2 c. sliced almonds
Directions:
Preheat oven to 375°.
for the apple filling:
Place apple slices in large bowl and sprinkle with orange juice. Stir to combine. In a small bowl, combine flour, sugar, cinnamon, and nutmeg. Pour over apples and stir again to combine. Place apple mixture in a 9" x 9" pan. Spread caramel pieces evenly over top of apples.
for the almond crisp topping:
In a medium bowl, whisk together flour, oats, brown sugar, salt, and baking powder. Add butter and cut in with a fork or rigid pastry cutter until you have large pea-size crumbs. Then gently fold in the almonds. Sprinkle mixture over the apples. Bake for about 35 minutes, or until apples start to bubble just a bit, and the topping is nicely golden. This is best eaten on the day it is made, especially when it is still a bit warm. Serve with a scoop of vanilla ice cream.
Adapted from My Favorite Apple Crisp recipe and a recipe I used to make in college (but I have no idea of its origin!).
©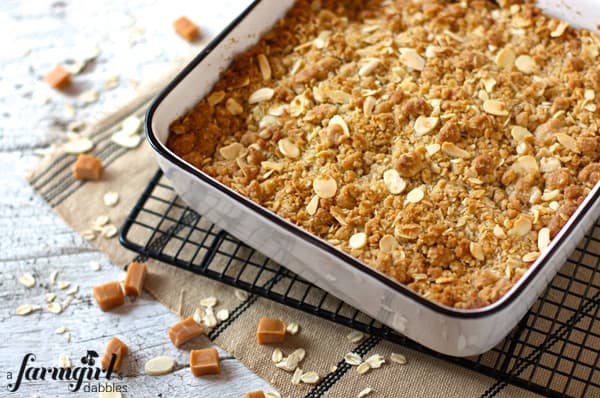 Disclaimer: After visiting Harry and David in Oregon last month, they signed me up for their Fruit of the Month Club. I am a very grateful recipient, and happy to share Harry and David's goodness with you. I was not compensated for this post.
We participate in the Amazon Services LLC Associates Program, an affiliate advertising program designed to provide a means for us to earn fees by linking to Amazon.com and affiliated sites. See our disclosure policy for more info.