Apple Crisp
This post may contain Amazon or other affiliate links. As an Amazon Associate I earn from qualifying purchases.
An easy Apple Crisp recipe with cinnamon apple filling and a crispy old-fashioned oats topping that actually stays crisp! It's one of the best apple desserts!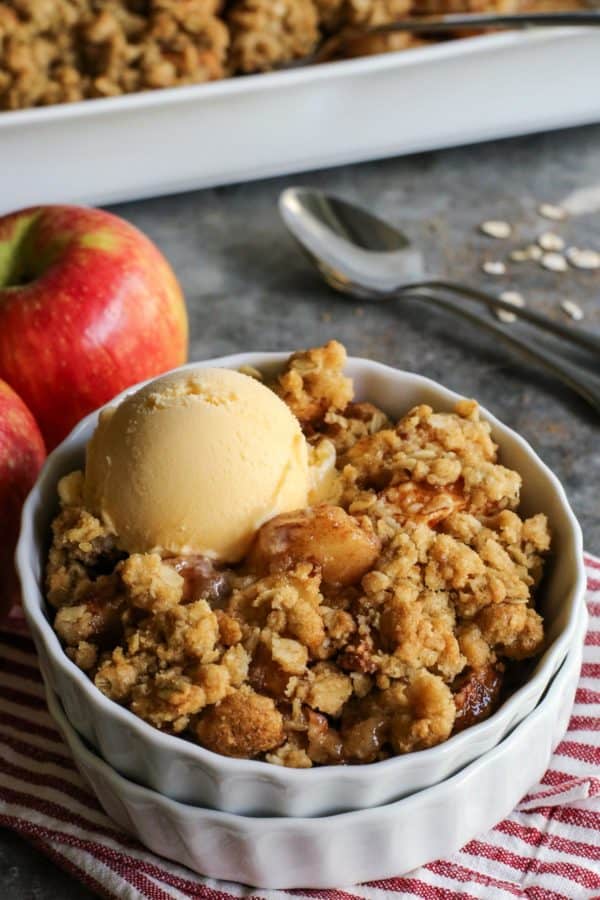 Easy Apple Crisp with Oats
Classic Apple Crisp has always had my number. I think it's one of the very best apple desserts, especially with a winning recipe like this where the topping actually stays crispy!
My husband's a different story, however. We were married in September (we just celebrated our 20th anniversary this week!), so apple season was in high gear during our first month together. And I was excited to make him my favorite apple crisp, of course!
As I was peeling apples, I asked Blake if he liked apple crisp. It was small talk, really. Because who doesn't like warm homemade apple crisp with a scoop of vanilla ice cream, getting all melty and delicious?!
But his exact words were, "I've never been a fan." Hmmmm…I wondered, who is this man I just married?!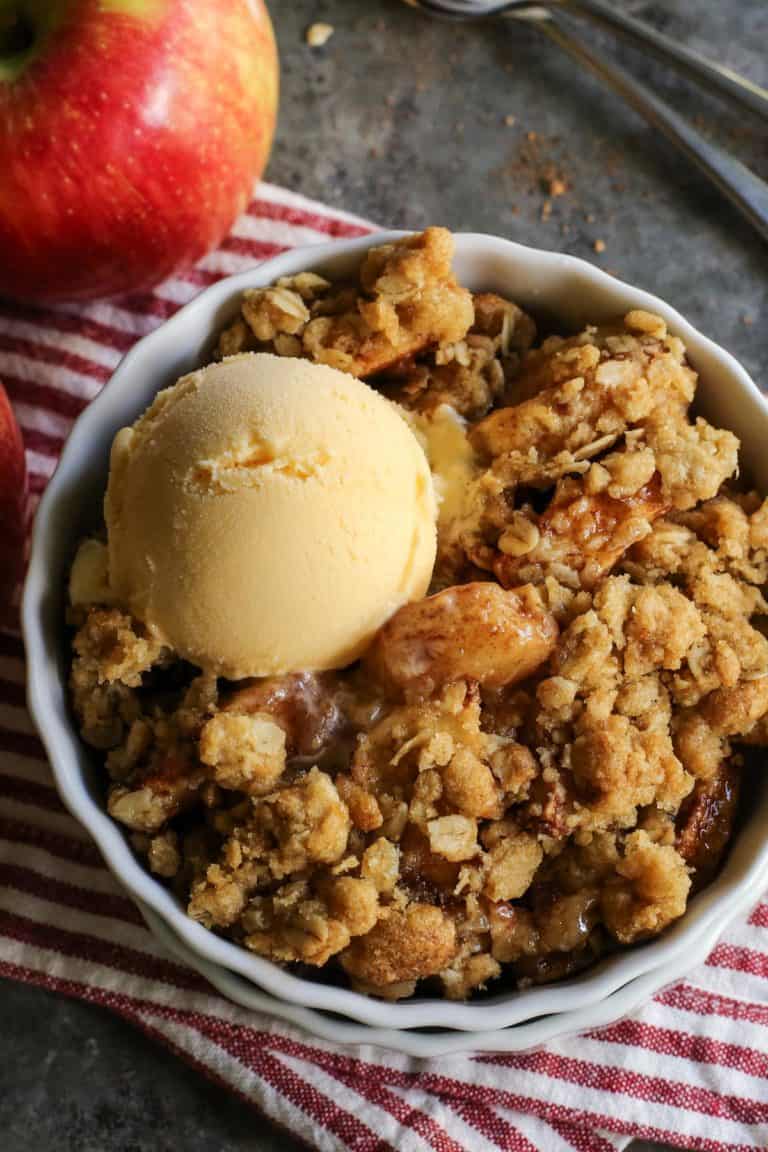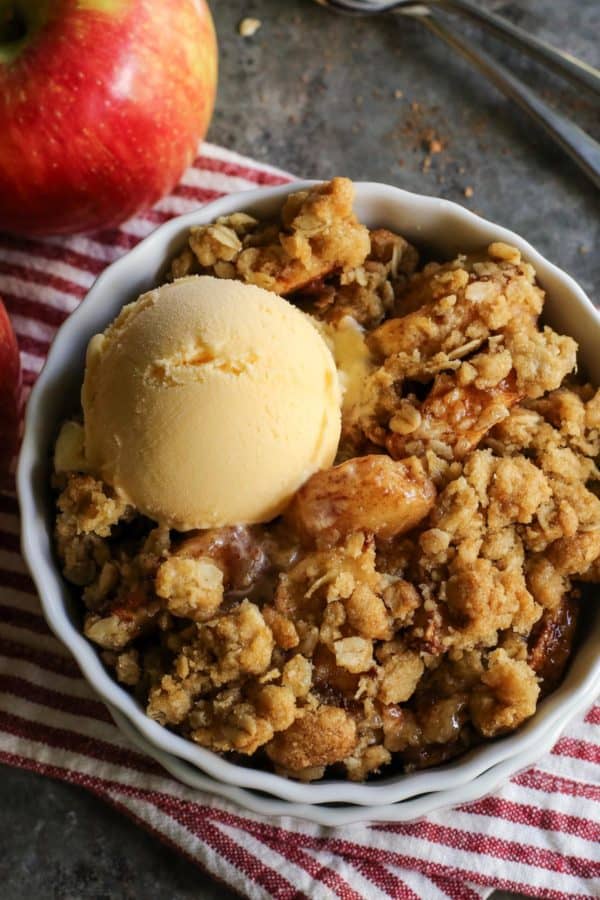 The Best Apple Crisp Recipe
But there was no turning back, both in marriage and that particular pan of apple crisp. So I just kept peeling apples. I knew deep down that I could eat the whole thing by myself if that's what it came down to.
Lucky for my waistline, that time never came. Because I had company at the apple crisp pan. He liked it! And it wasn't just a polite newlywed reaction. If you know Blake at all, he says what he means, and means what he says. I knew his approval of my favorite apple crisp was for real.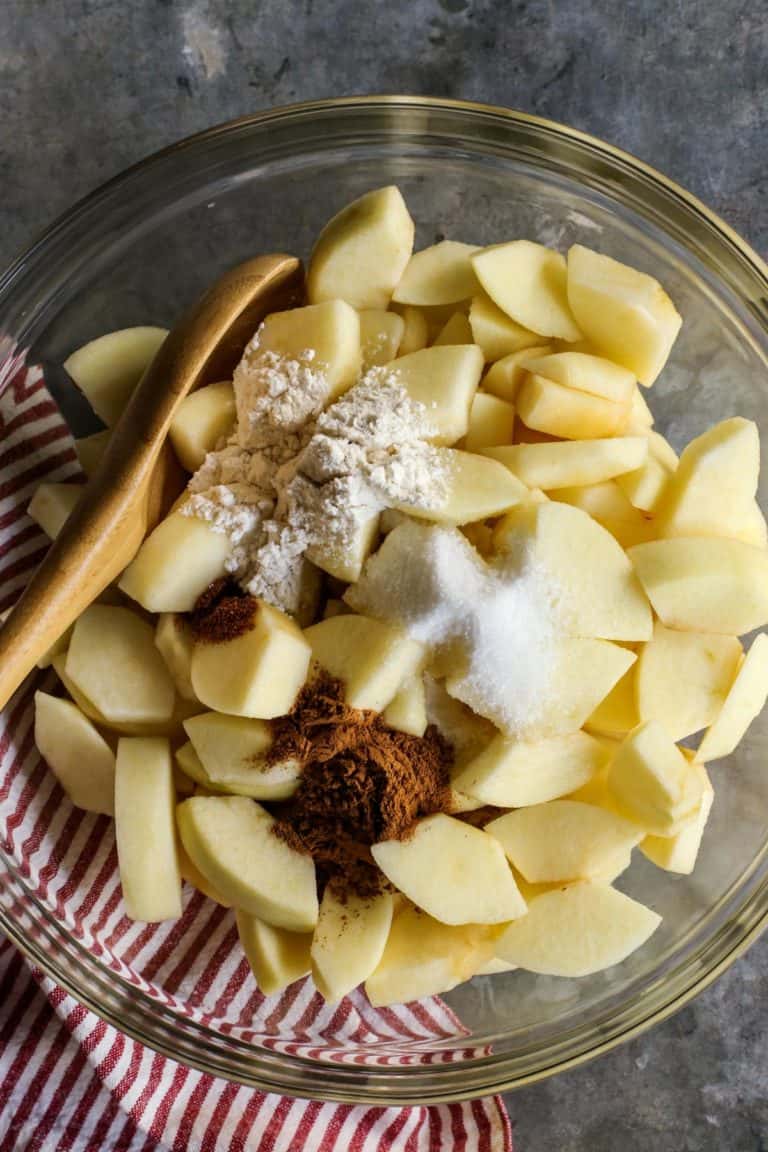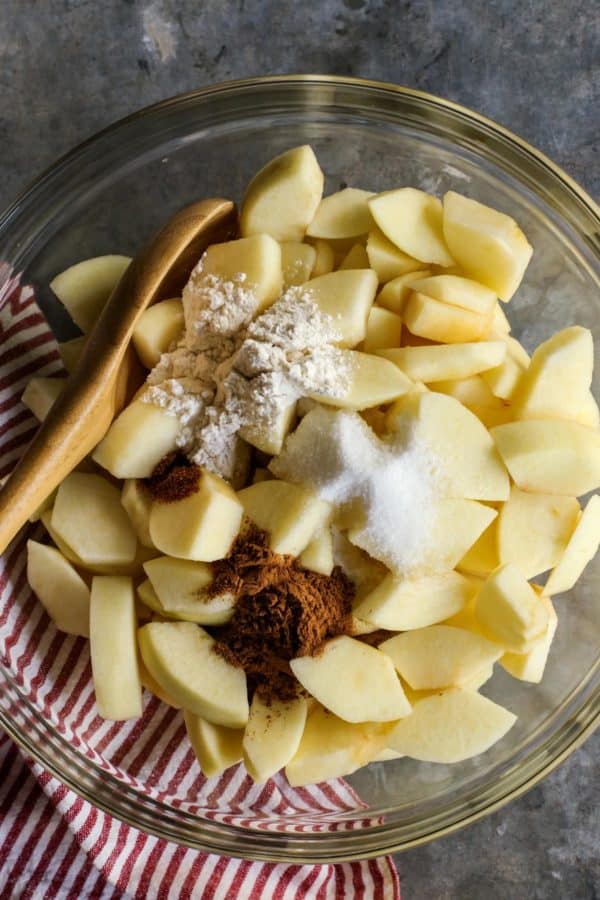 What Kinds of Apples are Best for Apple Crisp?
I insist on toothsome bites of apple in this easy dessert.
For me, the best apples to use in this recipe are Haralsons, no contest. They're firm and tart, and hold their shape when baked. I grew up with this late-fall variety on the farm; they've been a longtime favorite.
And when I can't find Haralson apples, I turn to Granny Smith and Honeycrisp, which are normally available year-round. They both work great. To add a little more flavor and texture interest, I often use more than one apple variety when making this recipe.
Besides using the right apple, it's also important to incorporate larger pieces of apple. Take a look at the photo above. Those slices are about 1/2″ thick. If you slice the apples super thin, you'll end up with an "apple mush" under your topping once it's baked. That's a no-no in my book!
Do You Need to Peel the Apples?
I recommend peeling the apples. The skin doesn't break down during baking, so peeling your apples is the best way to get that classic apple crisp texture. (But if you're a super fan of leaving the skin on the apple, go ahead!)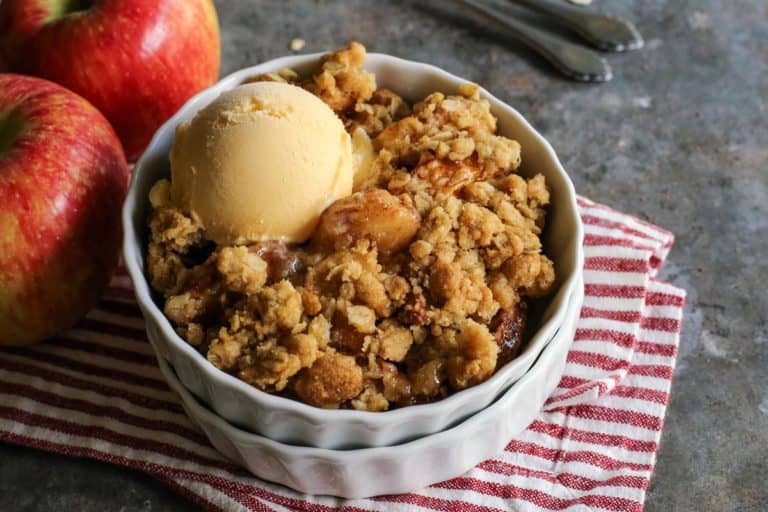 The Oatmeal Topping Takes this Apple Crisp Over the Top!
Are you wondering what is so persuasive about this particular apple crisp? Blake will quickly tell you that it's all about the super crispy topping.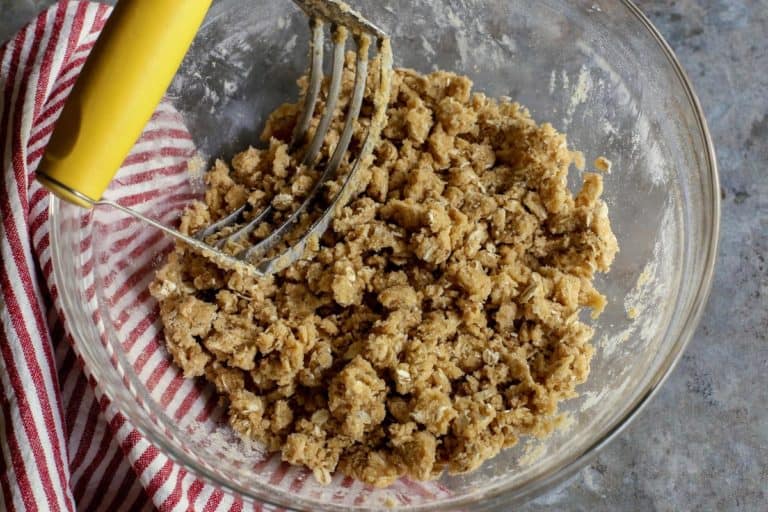 This flavorful topping has an old fashioned kind of vibe, with oats and brown sugar and plenty of butter. And it's heftier and crunchier than most, with a bit of baking powder to add a little bulk and lightened texture.
No flimsy topping here, I promise. It's actually a crispy oats topping!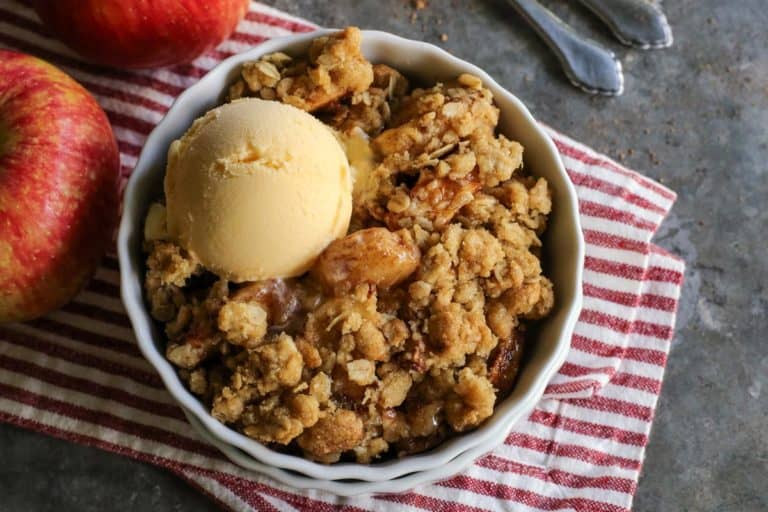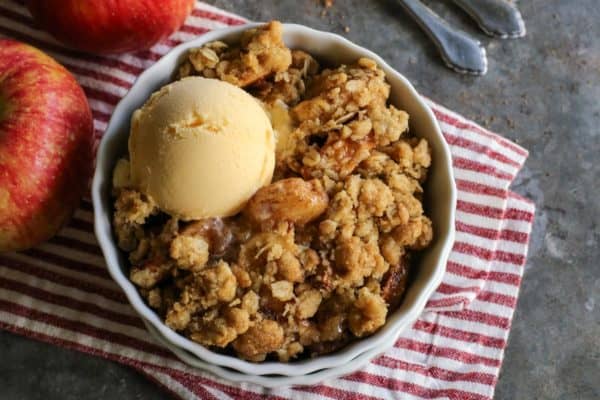 If you've been searching for the best apple crisp recipe, I challenge you to try this one. Use one of my preferred apple varieties, and cut them big and chunky. Then make and bake the topping, just as described in the recipe card.
And once the pan is out of the oven, let it sit for about 45 minutes or so on a cooling rack. While the crisp is still nicely warm, transfer a big spoonful of it to a bowl and top it with a scoop of vanilla or cinnamon ice cream. Then grab a spoon and see if you don't enjoy it just as much as we do. I'm betting that you will!
Tips for Success
When making the topping, be sure to cut the butter in evenly.
Use apple varieties that hold their shape when baked. I list a few of my preferences in the recipe card.
Incorporate more than one variety of apple for more flavor interest.
Cut the apples into thick slices (about 1/2″ thick) for a more toothsome texture.
Bake until the apple filling is bubbling and the topping is nicely browned.
Serve warm and freshly baked for optimum flavor and texture. Ice cream is always a wonderful bonus too!
Can Apple Crisp Be Made Ahead?
While this old fashioned crisp is at its peak fresh from the oven, you can also make it ahead if you're really in a pinch. I would caution against making it any more than 24 hours in advance, though.
After baking the crisp, store it on the countertop, uncovered. If you cover it, the crispy topping will get softer much faster.
When serving this to company, I always turn the oven on low – about 300° F – and heat the crisp back up again. If the topping has softened too much, I'll also place the pan under the broiler just a bit to crisp it up. And then I serve it warm (with ice cream!).
After a day, keep the crisp in the fridge. To heat it up, just scoop out the amount of crisp you want to eat and pop it in the microwave to warm it up. For a crispier topping, place the apple crisp under the broiler in the oven for a bit. Then top it with ice cream and enjoy!
Like this apple dessert recipe? Save it to Pinterest!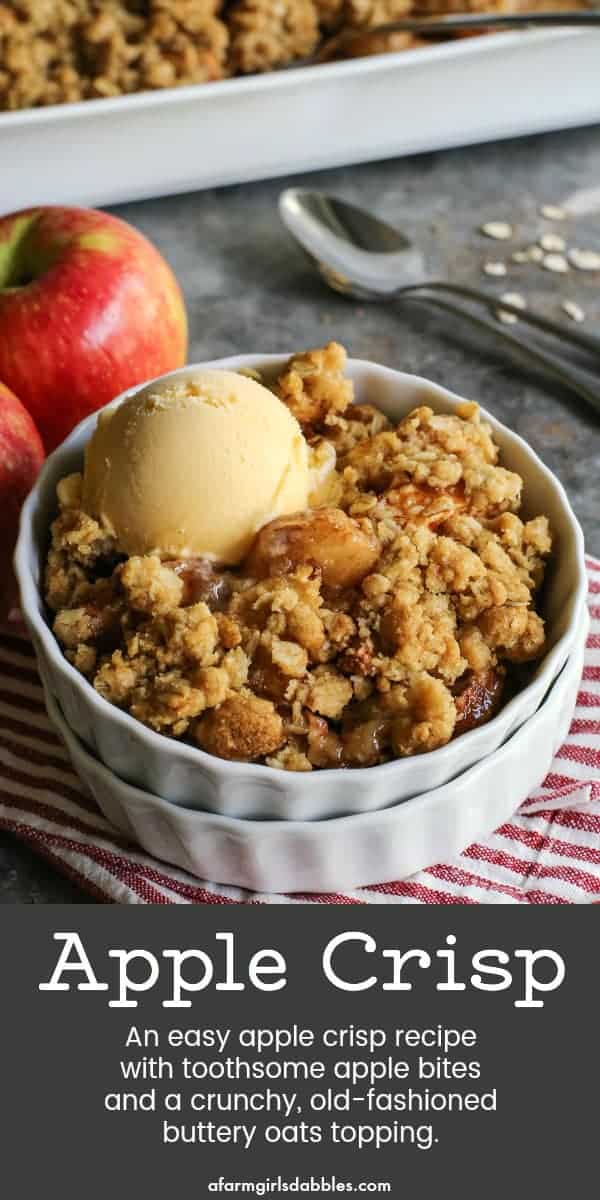 And a few more apple desserts from my friends that I'd love to try!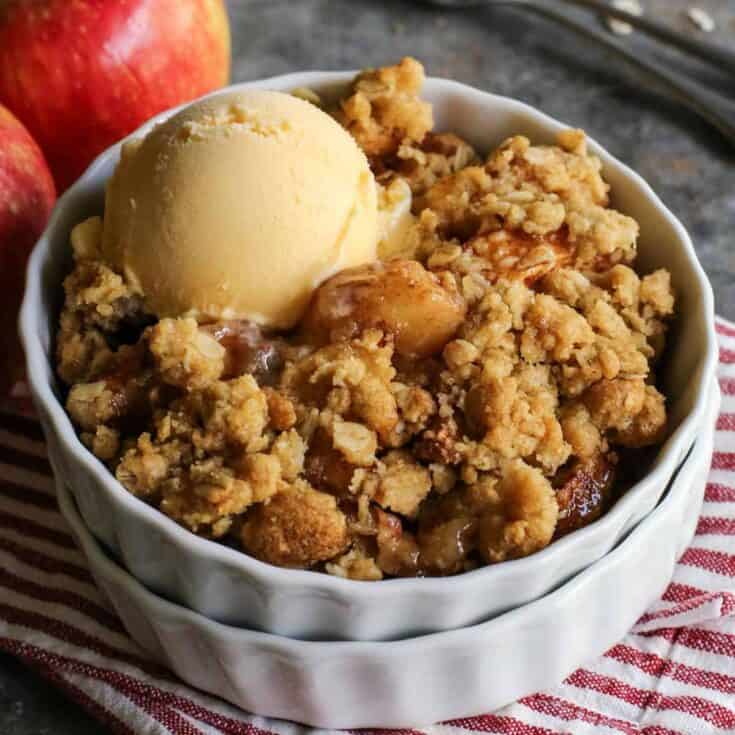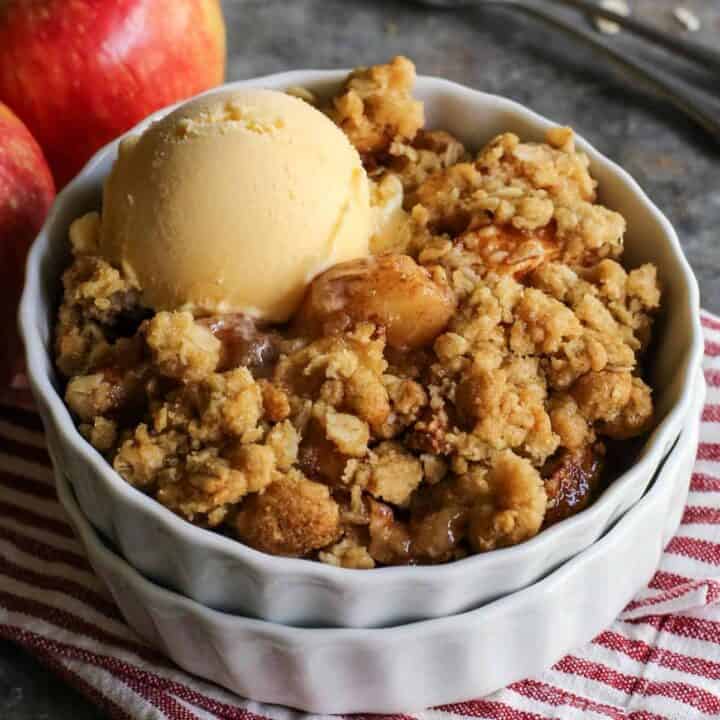 Apple Crisp
Yield: 12 servings
Prep Time: 15 minutes
Cook Time: 45 minutes
Total Time: 1 hour
An easy apple crisp recipe with toothsome apple bites and a crispy old-fashioned buttery oats topping. My favorite apple crisp!
Ingredients
for the apple filling:
2 T. all-purpose flour
3 T. sugar
2 tsp. cinnamon
1/8 tsp. nutmeg
8 c. peeled apples, sliced 1/2" thick – I like Haralson apples, Granny Smith and Honeycrisp also work well
for the topping:
3/4 c. all-purpose flour
3/4 c. rolled oats (not quick cooking oats)
3/4 c. brown sugar
1-1/2 tsp. kosher salt
1 tsp. baking powder
1/2 c. unsalted butter, softened to room temperature (do not melt)
Instructions
Preheat oven to 375° F.
for the apple crisp filling: In a large bowl, combine flour, sugar, cinnamon, and nutmeg with the sliced apples. Place in a 9'' x 13'' pan.
for the apple crisp topping: In a medium bowl, whisk together the first five topping ingredients. Add butter and cut in with a fork or pastry cutter until you have large pea-size crumbs. Sprinkle over the apples.
Bake for 40 to 45 minutes, or until the topping is nicely browned and some of the apple juices are bubbling through the topping.
This is best on the day it is made, especially when it is still a bit warm. The topping will be at its crispiest within the first four hours after being baked. Serve with scoops of vanilla or cinnamon ice cream.
Notes
Adapted slightly from one of our family cookbooks, "Cooking Cousins, A Treasury of Recipes from Braun-German Tradition", recipe from Marlene Le Clair Brandenburger.
Nutrition Information:
Yield: 12
Serving Size: 1
Amount Per Serving:
Calories: 237
Total Fat: 8g
Saturated Fat: 5g
Trans Fat: 0g
Unsaturated Fat: 3g
Cholesterol: 20mg
Sodium: 397mg
Carbohydrates: 41g
Fiber: 4g
Sugar: 26g
Protein: 2g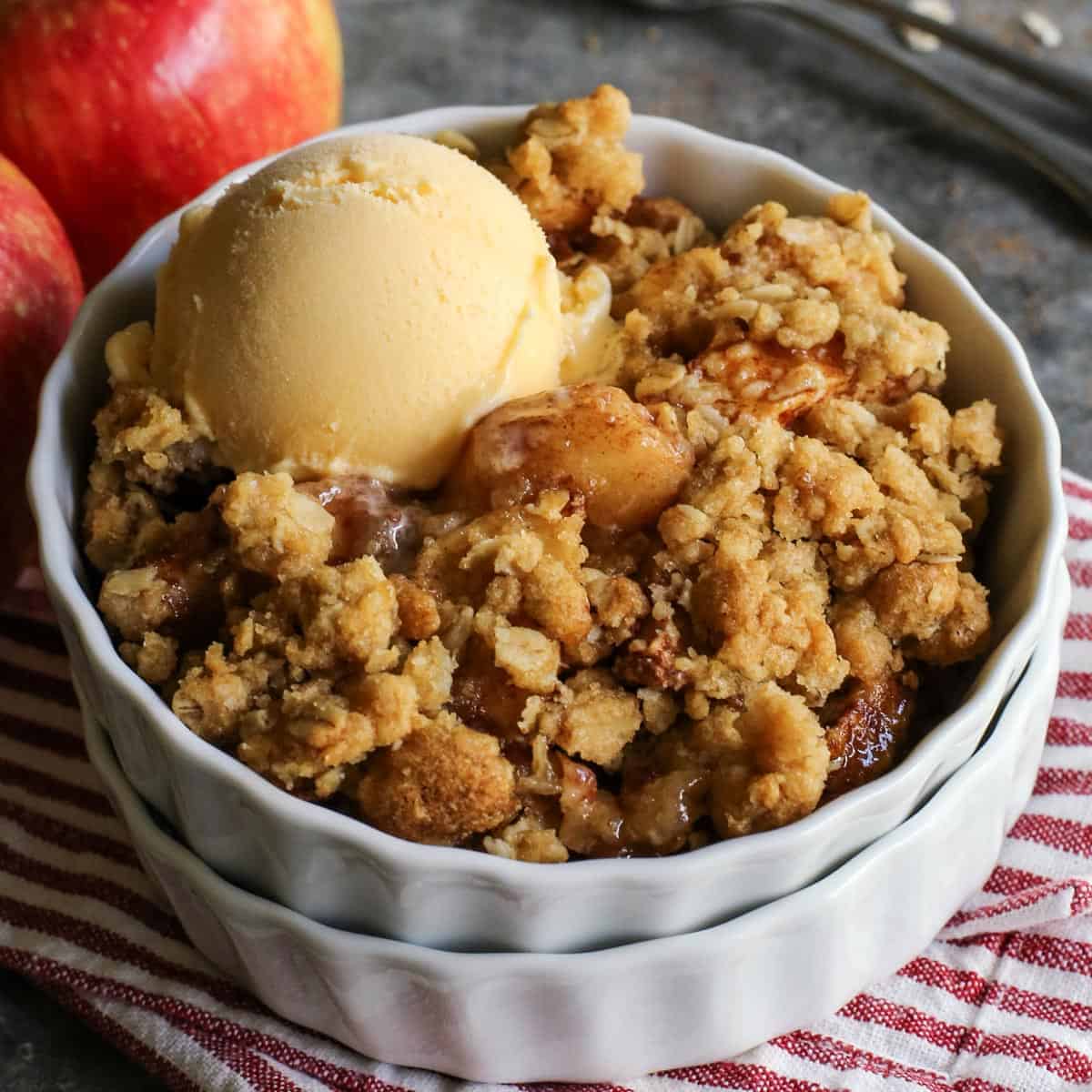 Where this Recipe Came From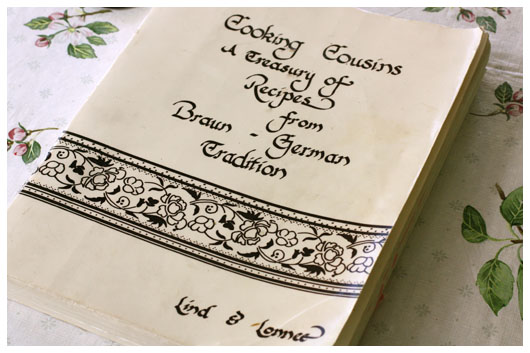 This recipe has been tweaked from one found in this giant family cookbook. This is where I'm from.
My dad was born of a long line of Braun-German descendants. And a good many of them live in close proximity, near my own family's farm in South Dakota. To give you a little perspective of my own generation of this line, when our family celebrated my Great Grandpa Braun's 90th birthday in 1985, he had 97 great-grandchildren. Isn't that fantastic?! And mind boggling?!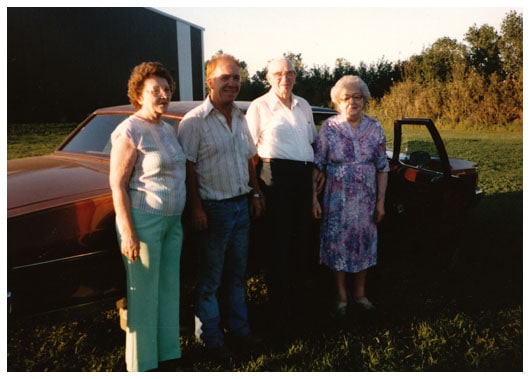 One of my favorite photos, this is my dad with his mom and grandparents on the farm I grew up on.
This post was originally published in 2010. I updated photographs and text in September 2019. Below is the original text:
We participate in the Amazon Services LLC Associates Program, an affiliate advertising program designed to provide a means for us to earn fees by linking to Amazon.com and affiliated sites. See our
disclosure policy
for more info.