Cinnamon Apple Puffs
This post may contain Amazon or other affiliate links. As an Amazon Associate I earn from qualifying purchases.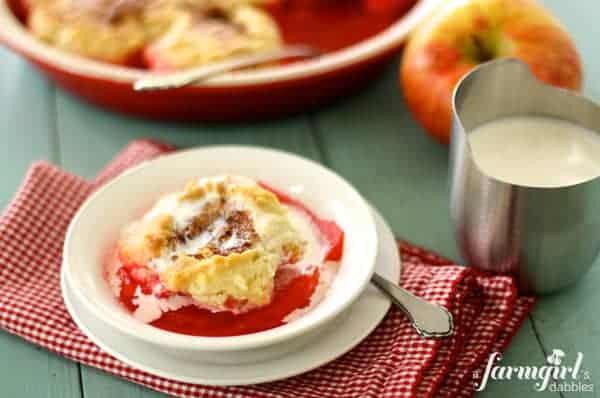 I adore the retro feel of these Cinnamon Apple Puffs. The apples swimming in red cinnamon syrup remind me of the spiced apple rings I used to nab from the relish tray when I was a kid. Remember those?! I haven't seen them in ages!
This recipe is a time honored favorite of my dad's. When Dad was a senior in high school, his neighbor hired him for farm work on an as-needed basis. This gig went on for a number of years and managed to pad not only Dad's pocketbook, but also his stomach, as this farmer's wife was a wonderful cook. Doris always prepared big meals with two kinds of meat and usually a choice of excellent desserts. And these cinnamon apple puffs were Dad's favorite. After my parents were married, Mom asked Doris for the recipe. It's been gracing our kitchens ever since.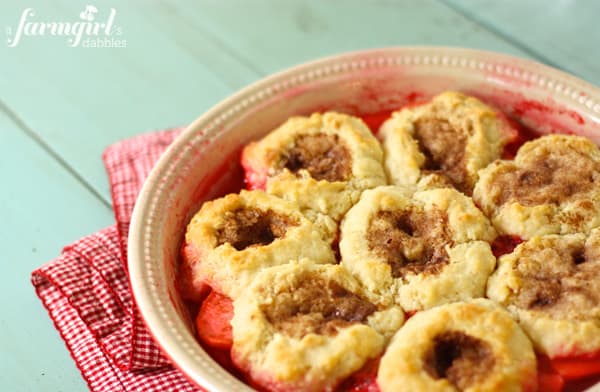 These puffs are basically tender little biscuits topped with a buttery cinnamon and sugar mixture. Baked on a sweet syrupy bed of sliced apples, they are so very pretty. I had never made this dessert for my family before, and they were big time intrigued when they got home from school and work to find it cooling on the counter. All it took was a splash of cream and a fork for them to agree with my dad's good sense of dessert.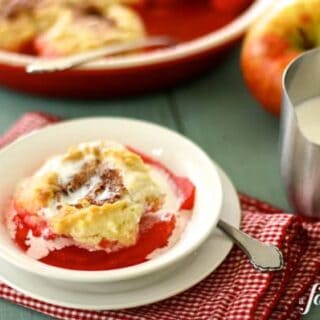 Cinnamon Apple Puffs
Yield: 8 to 12 servings
Prep Time: 25 minutes
Cook Time: 35 minutes
Total Time: 1 hour
These puffs are basically tender little biscuits topped with a buttery cinnamon and sugar mixture. Baked on a sweet syrupy bed of sliced apples, they are so very pretty.
Ingredients
1-.5 lbs. firm tart apples, peeled and thinly sliced (I like to use Haralsons)
for the syrup:
1 c. sugar
1 c. water
1/2 tsp. red food coloring with 1/2 tsp. cinnamon OR 1/4 c. Red Hots candies
for the pastry puffs:
1.5 c. all-purpose flour
2 tsp. baking powder
1/2 tsp. salt
1/4 c. shortening
3/4 c. milk
for the cinnamon topping:
2 T. melted butter
2 T. sugar
1/2 tsp. cinnamon
Instructions
Preheat oven to 375° F. Lightly butter a large deep pie dish (mine is 10'') or a 9'' x 11'' baking dish. Place apples in dish.
for the syrup:
In a medium sauce pan over medium high heat, combine the sugar, water, and red food coloring, and bring to a boil. Boil for 5 minutes to make a syrup. Pour syrup over apples. Sprinkle with cinnamon.
You can substitute the red food coloring and cinnamon for Red Hots candies, like Mom does. The Red Hots will melt into the syrup, giving it the red color and cinnamon flavor.
for the pastry puffs:
In a medium bowl, sift together flour, baking powder, and salt. With a rigid pastry cutter or 2 knives, cut the shortening into the flour mixture until it looks like big crumbs. Stir in milk to combine.
If using a large pie plate, divide dough into 8 portions, dropping by big spoonfuls on top of the apples. If using a rectangular dish, divide dough into 9 or 12 portions. With the back of a spoon, make a good-sized indentation in the center of each puff.
for the cinnamon topping:
In a small bowl, combine butter, sugar, and cinnamon. Divide mixture amongst the puffs' indentations.
Place in oven and bake for 25 to 30 minutes, or until puffs are nicely browned. Let cool a bit and serve while still warm with a splash of cream or a small scoop of vanilla ice cream.
Notes
Slightly adapted from Mom's recipe box, originally from the kitchen of Doris Pirmantgen.
Nutrition Information:
Yield: 12
Serving Size: 1
Amount Per Serving:
Calories: 255
Total Fat: 8g
Saturated Fat: 4g
Trans Fat: 0g
Unsaturated Fat: 4g
Cholesterol: 12mg
Sodium: 261mg
Carbohydrates: 43g
Fiber: 2g
Sugar: 26g
Protein: 3g
Nutrition information is automatically calculated by Nutritionix. I am not a nutritionist and cannot guarantee accuracy. If your health depends on nutrition information, please calculate again with your own favorite calculator.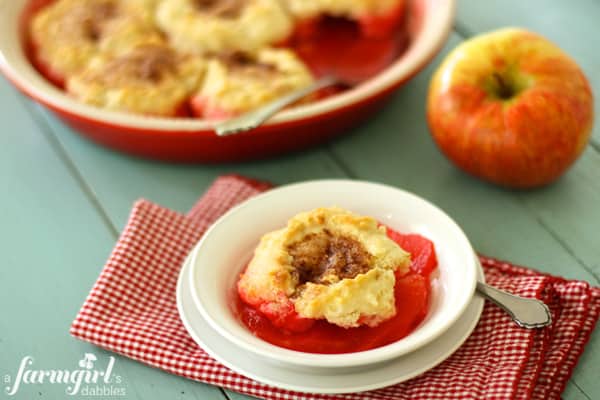 We participate in the Amazon Services LLC Associates Program, an affiliate advertising program designed to provide a means for us to earn fees by linking to Amazon.com and affiliated sites. See our
disclosure policy
for more info.