Cornbread Dressing with Sausage and Pecans
This post may contain Amazon or other affiliate links. As an Amazon Associate I earn from qualifying purchases.
Rich and savory with a touch of sweetness, this Cornbread Dressing with Sausage and Pecans is the perfect addition to your Thanksgiving feast. Make with day-old cornbread to pull this together quickly before dinner!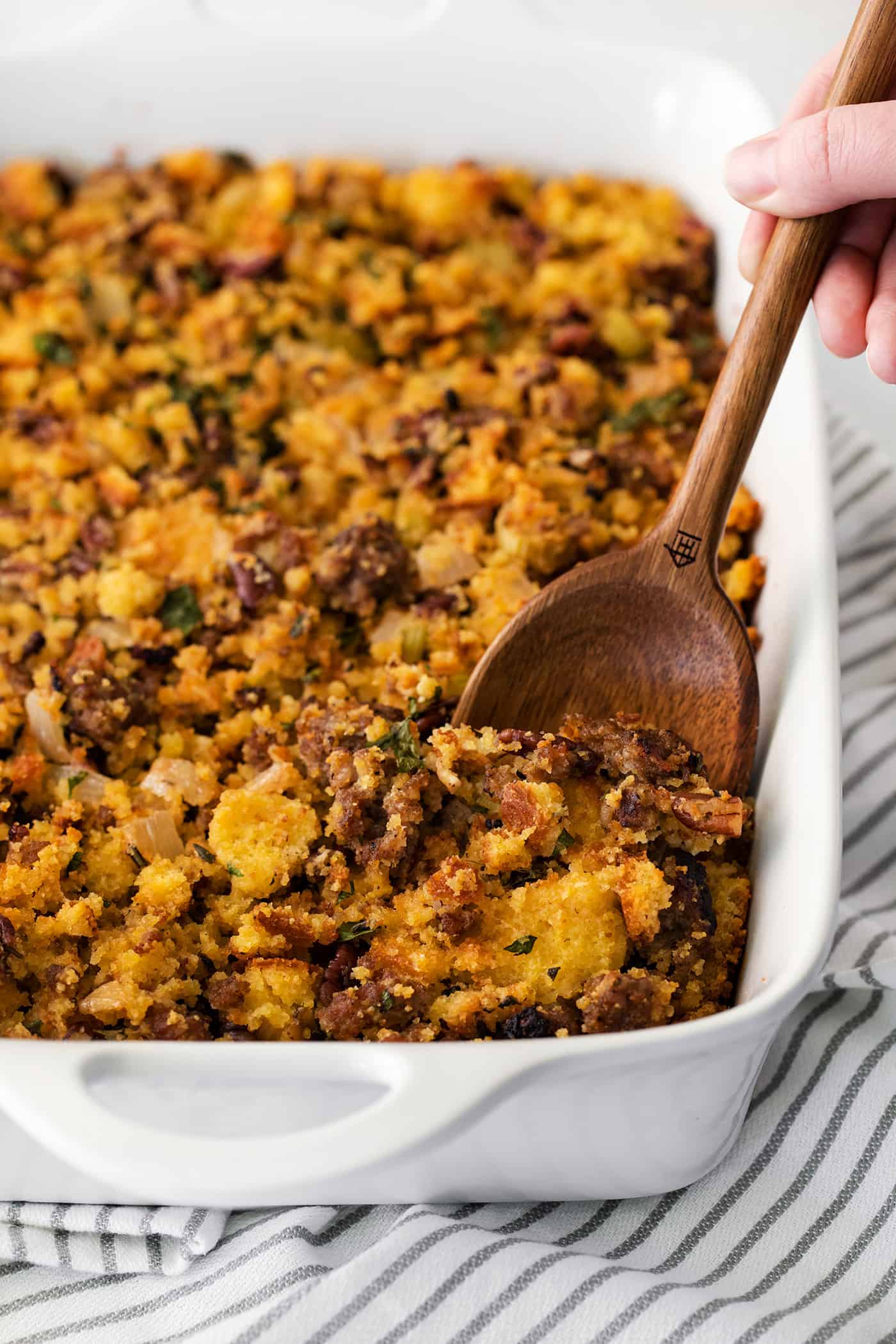 Savory Thanksgiving Dressing Recipe
I was well into my 30's by the time I ate my first bite of dressing made with cornbread. And what a game changer for this Midwesterner – I was sold! The dressing was rich and savory, with a touch of sweetness. It was so good!
So now this Cornbread Dressing with Sausage and Pecans often graces our Thanksgiving table, alongside Blake's smoked turkey. The sausage and pecans offer great flavor and texture with the cornbread, and I love the fresh herbs and touch of cider vinegar tang. It's one of my favorite Thanksgiving side dishes!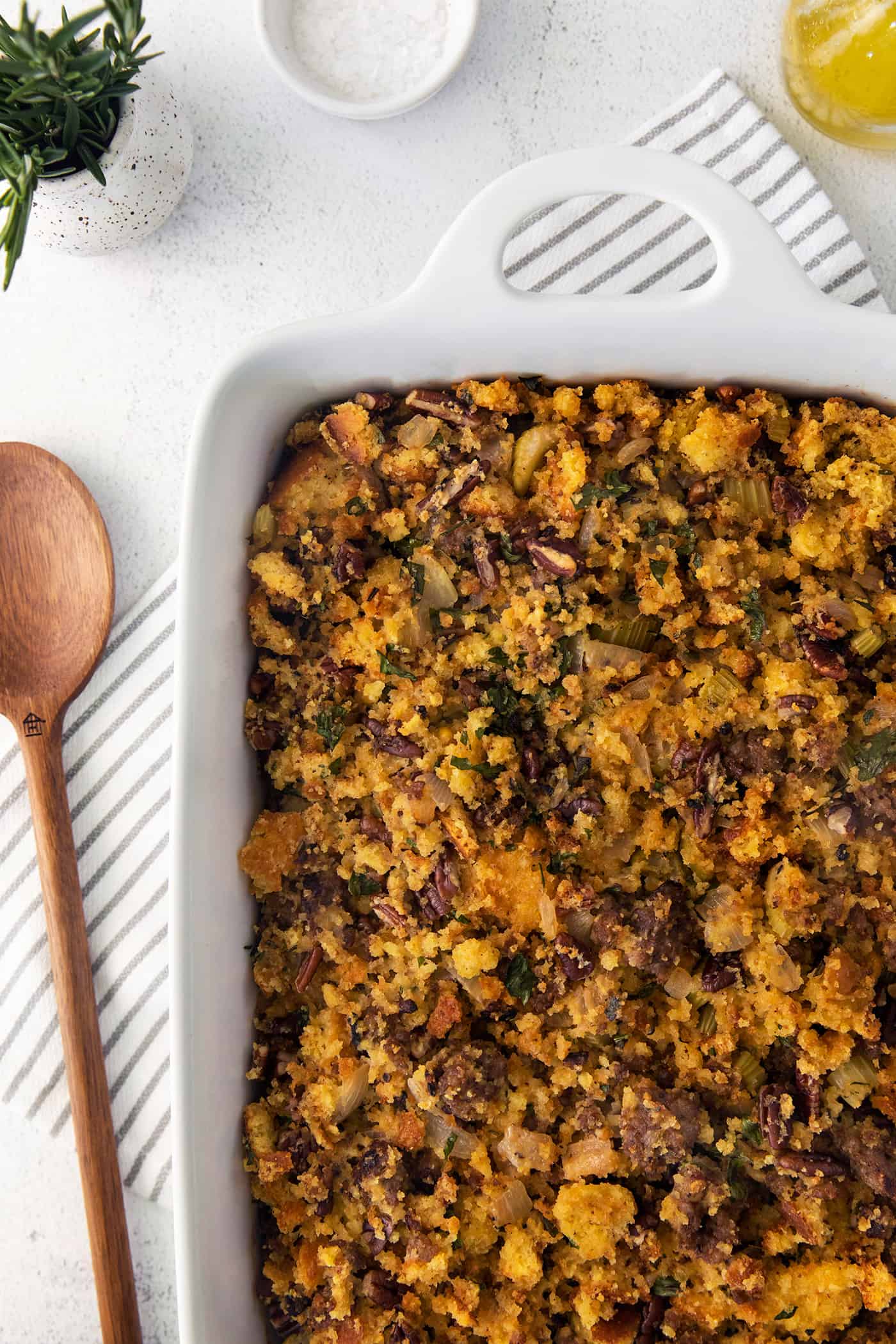 With savory turkey, mashed potatoes and gravy, and green bean casserole on the menu, I like to include a Thanksgiving dish with a touch of sweetness. I think the sweet is what draws our kids to this dressing, too. Well, the sausage doesn't hurt, either. We're big sausage fans here.
Did you grow up with dressing or stuffing? I grew up with both, actually. Mom typically used bread or croutons, and often included raisins in the mix.
What You'll Need
All you need for this recipe is day-old cornbread, sausage, pecans, and a handful of other simple ingredients.
Cornbread – You'll want to use day-old cornbread to make the stuffing, so bake the cornbread the day before. I just use a box of Jiffy corn muffin mix.
Pork sausage – Any ground pork sausage will work.
Unsalted butter
Chopped yellow onions
Sliced celery
Apple cider vinegar – Balances out the rich, savory flavors and adds a little tangy fun!
Chicken broth – I always use low-sodium broth, so I can control the amount of salt.
Chopped toasted pecans
Herbs & Seasonings – Italian parsley, sage, rosemary, thyme, salt, and pepper add the savory flavor you'd expect in a Thanksgiving dressing.
Eggs – Helps hold everything together.
How to Make Cornbread Dressing with Sausage and Pecans
This Thanksgiving dressing recipe comes together easily – no need to stuff it inside a turkey for great flavor!
Dry out the cornbread. Scatter the cornbread on two rimmed baking sheets, making sure they are in a single layer. Bake for 40 minutes to an hour, stirring often and rotating the baking sheets halfway through. Transfer to a mixing bowl.
Brown the sausage. Cook the sausage, breaking it into 1/2″ to 1″ pieces until browned. Transfer to the bowl with the cornbread, but do not combine.
Saute the veggies. Cook the onions and celery in butter until softened and beginning to brown. Add to the bowl. Add vinegar to the skillet and scrape the browned bits from the bottom. Drizzle over the cornbread.
Add the remaining ingredients. Fold in half of chicken broth, pecans, and herbs. Let cool.
Bake. Whisk the remaining chicken broth with eggs then fold into the cornbread. Transfer to the prepared dish, cover and bake until the center reads 160° F, about 40 minutes or so. Remove the foil and place until the broiler if you want a crisp top.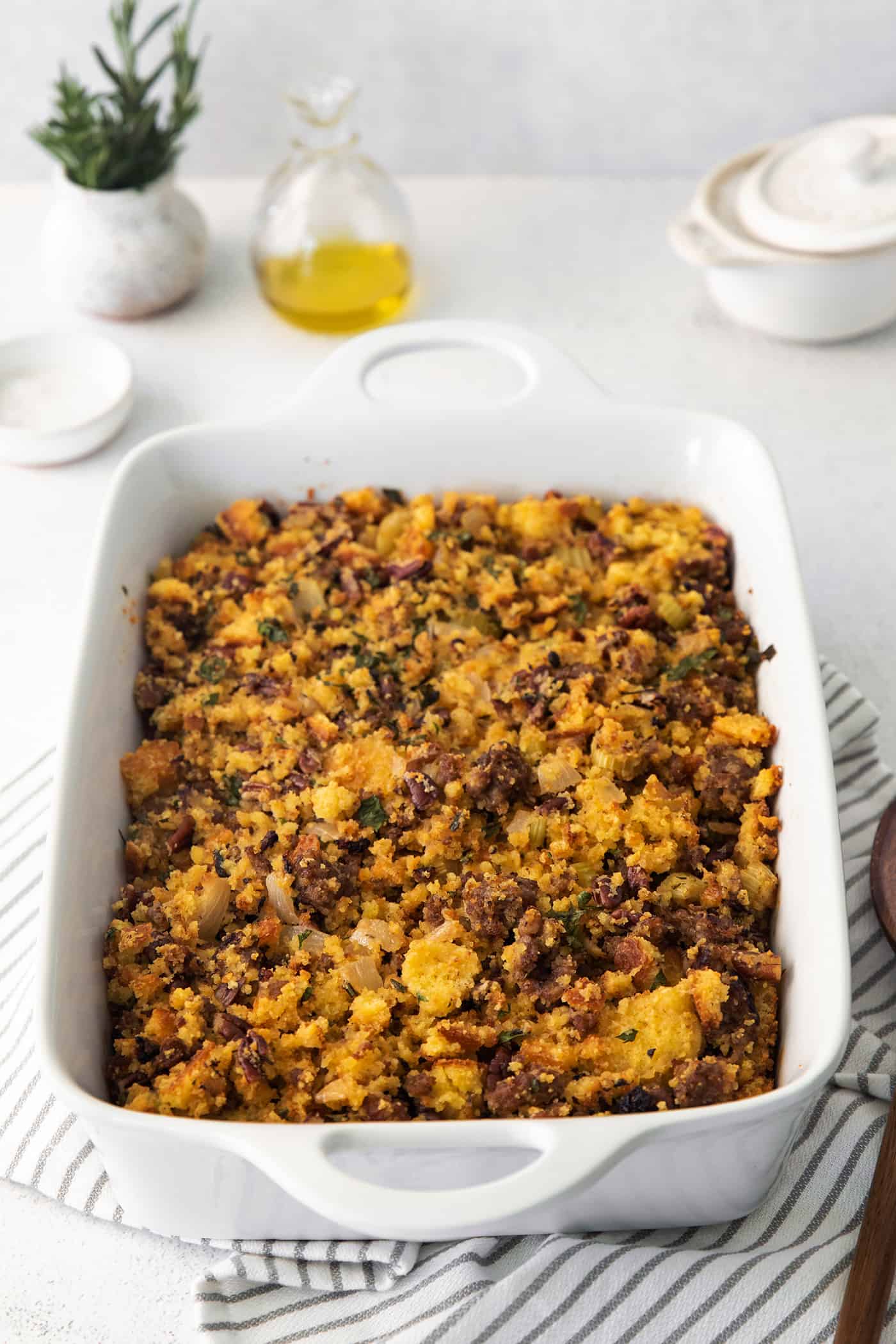 Tips for Success
For the best cornbread dressing, keep these few tips in mind:
Use day-old cornbread. When making cornbread dressing, you want to use cornbread that's had a chance to cool completely. You'll continue drying it out in this recipe but you want it to have some time to cool completely first to give the best stuffing-like texture.
Don't overmix. Wait until the ingredients are added to the bowl before folding everything together, instead of doing so after each ingredient. Overmixing can lead to the cornbread breaking down too much or becoming mushy.
Watch the topping carefully. The dressing needs just a little time under the broiler to crisp up the top. Keep a close eye on it to ensure that it doesn't burn and remove if quickly when it's browned to your liking.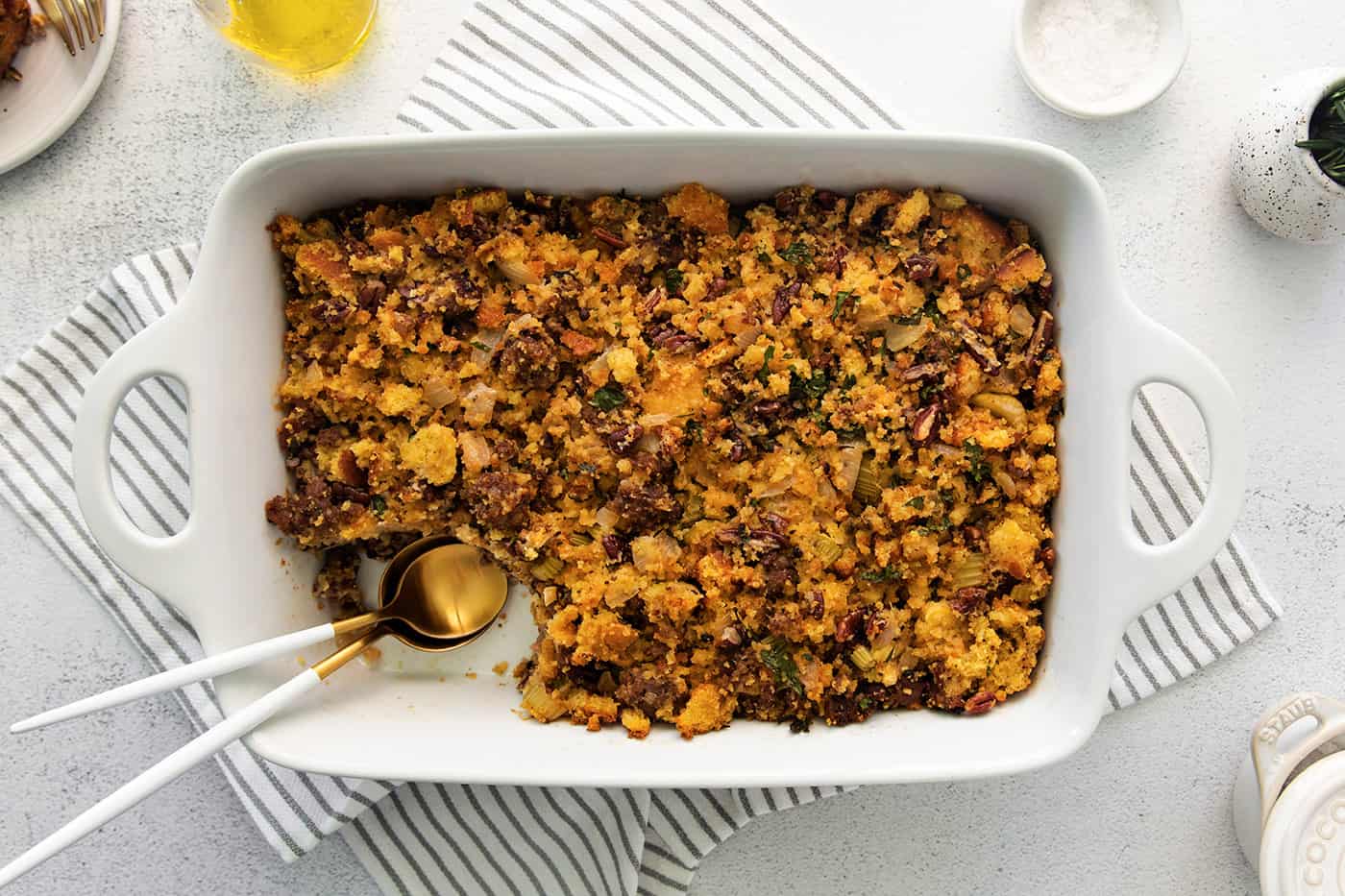 Serving Suggestions
This recipe began as a Thanksgiving side dish and it definitely fits in well with freshly roasted (or smoked) turkey, green bean casserole, mashed potatoes, and all the other good Thanksgiving fixings.
But that doesn't mean Thanksgiving is the only time you can make this savory dressing recipe. It's an easy way to make a simple dinner a little nicer, whether it's some pork loin, grilled turkey, or even pork chops.
Can I Make Thanksgiving Dressing in Advance?
Yes, this cornbread dressing can be made one day in advance. Bake as directed then uncover and let cool. Coverage and refrigerate. The next day, let the dressing sit on the counter while the oven preheats to 350° F. Bake the dressing covered for 30 minutes, then uncover and bake for an additional 10 to 15 minutes, or until the top is crisp.
If you put it directly in the oven without allowing it to come to room temperature, it may need to bake for an additional 10 to 15 minutes.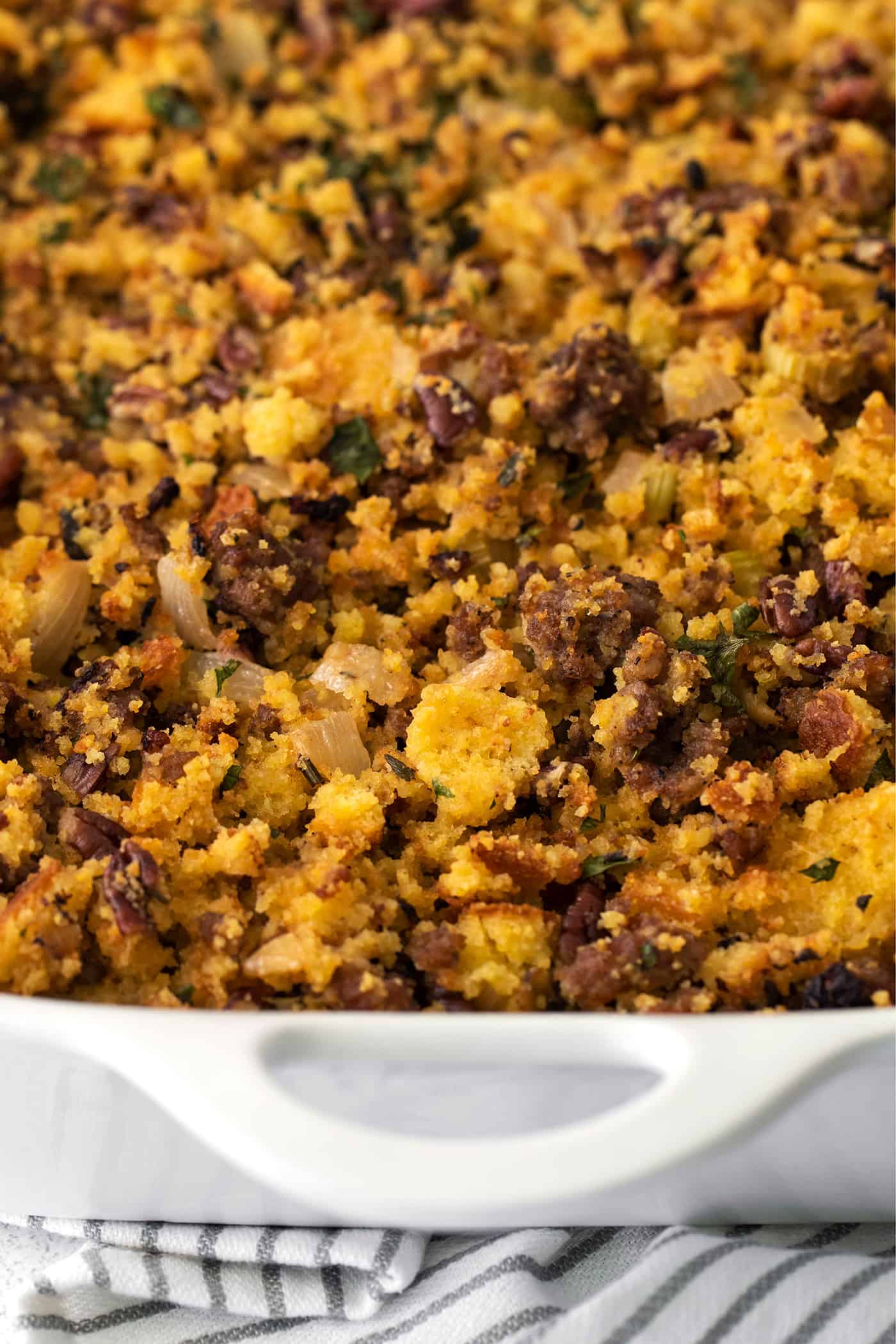 How to Store & Reheat Leftovers
How to store leftovers. Leftovers can be stored in the fridge for up to 3 days. Tightly cover the dish or transfer the dressing to an airtight container.
How to reheat leftovers. If reheating the entire casserole dish, follow the same steps as the make-ahead instructions above. If you're just reheating a single portion, you can easily reheat in the microwave until warmed through.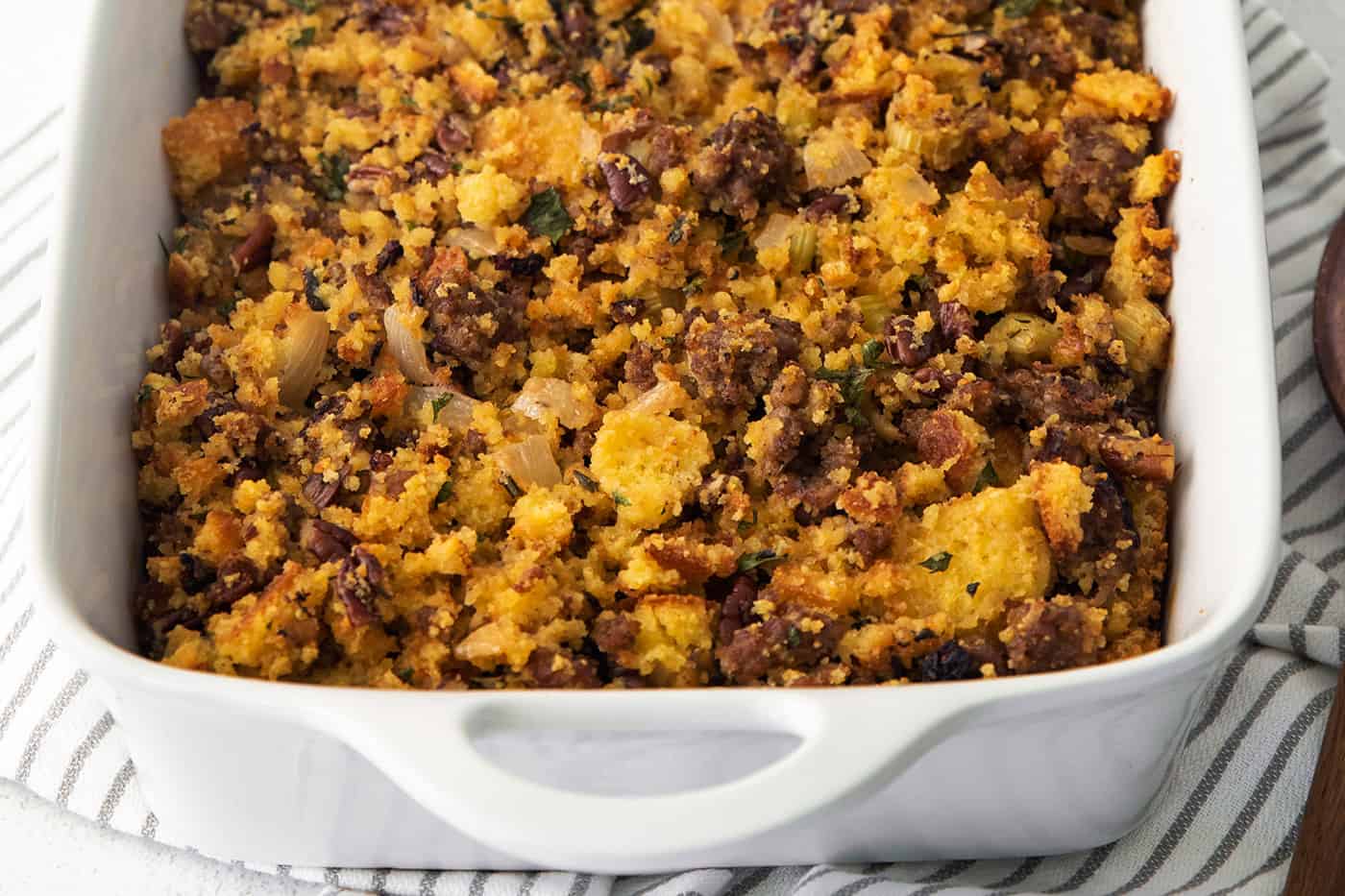 More Thanksgiving Side Dishes:
Like this recipe? Save it to Pinterest!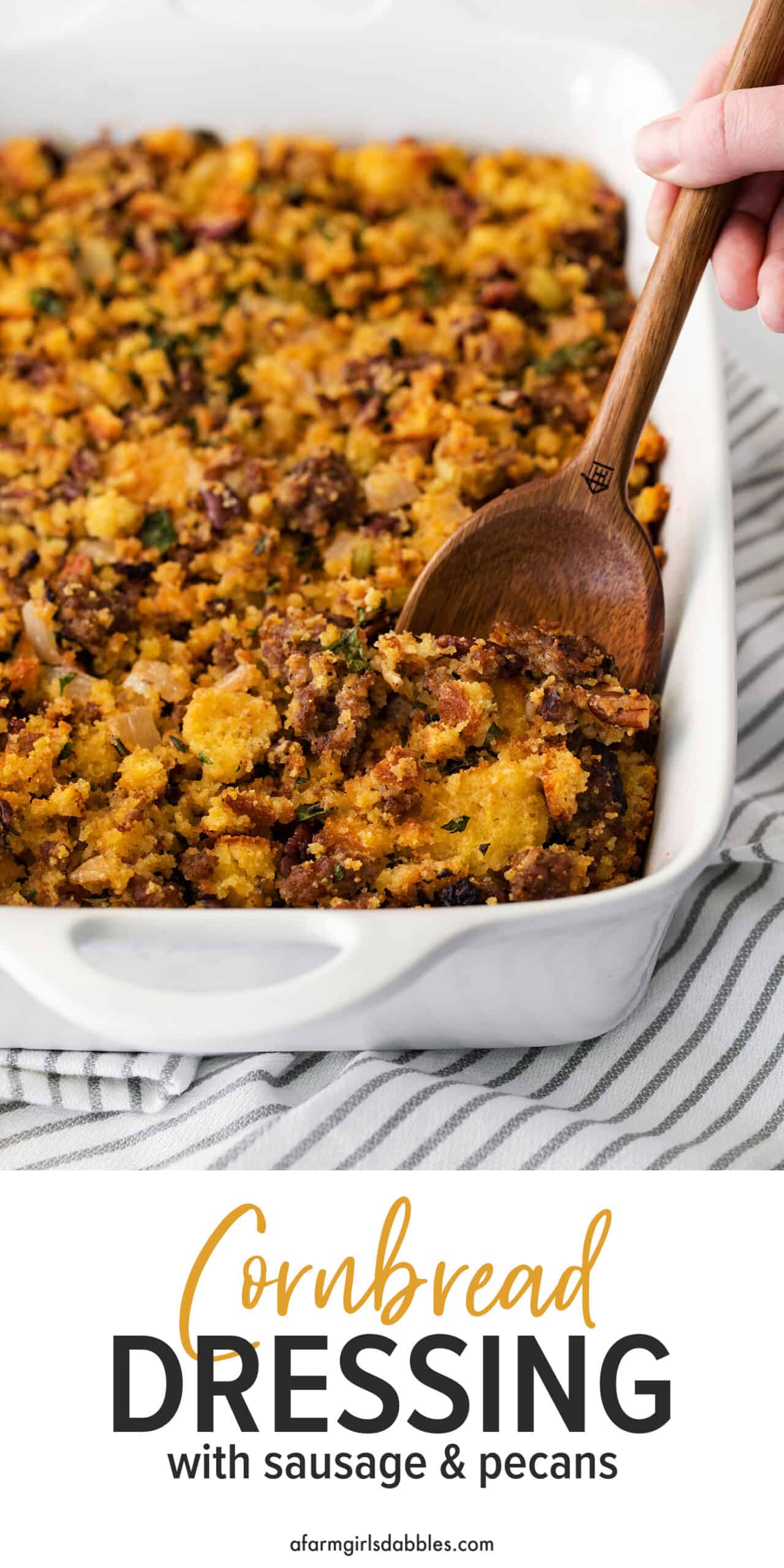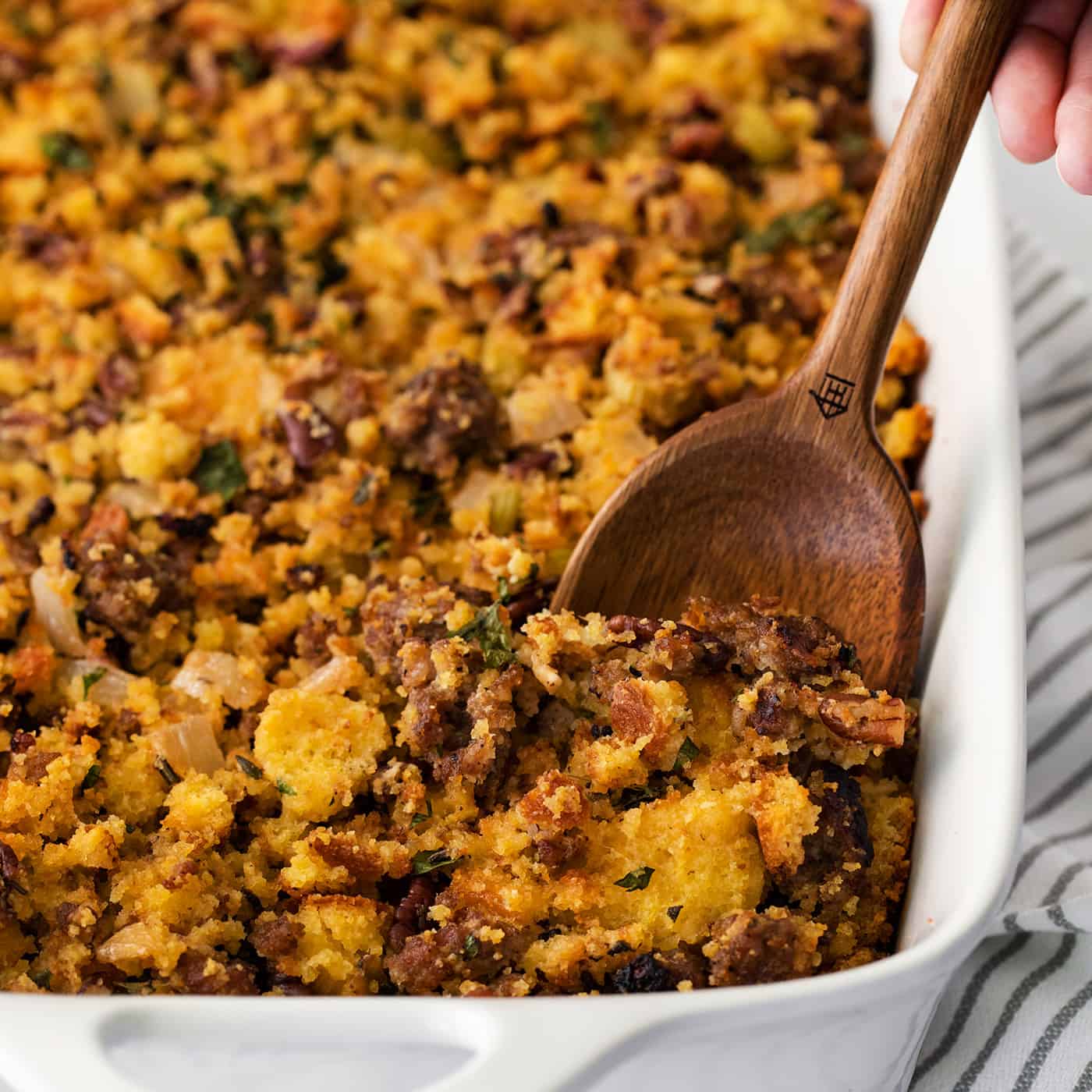 Cornbread Dressing with Sausage and Pecans
Yield: 10 servings
Prep Time: 15 minutes
Cook Time: 1 hour 40 minutes
Total Time: 1 hour 55 minutes
Rich and savory with a touch of sweetness, this Cornbread Dressing with Sausage and Pecans is the perfect addition to your Thanksgiving feast. Make with day-old cornbread to pull this together quickly before dinner!
Ingredients
1 pound day-old cornbread, torn into 1.5'' to 2'' pieces (I baked two 8.5-ounce boxes of Jiffy corn muffin mix in a 9''x13'' pan for about 20 minutes.)
1 pound bulk pork sausage
3/4 cup (1.5 sticks) unsalted butter, plus more for coating the baking dish
2.5 cups chopped yellow onions
1.5 cups sliced celery
1/4 cup apple cider vinegar
3 cups low-sodium chicken broth, divided
1.25 cups chopped toasted pecans
1/2 cup chopped Italian parsley
2 tablespoons chopped fresh sage
1 tablespoon chopped fresh rosemary
1 tablespoon chopped fresh thyme
2 teaspoons kosher salt
1 teaspoon freshly ground black pepper
2 large eggs
Instructions
Preheat oven to 250° F. Butter a 9'' x 13'' baking dish and set aside.
Scatter cornbread in a single layer on 2 rimmed baking sheets. Bake, stirring often and rotating sheets halfway through, until cornbread is dried out, about 40 minutes to 1 hour. Let cool. Transfer cornbread to a very large mixing bowl.
Meanwhile, cook sausage in a large skillet over medium-high heat, breaking it up into 1/2'' to 1'' pieces with a wooden spoon until browned, about 8-10 minutes. Transfer to bowl with cornbread, but do not stir to combine.
Return skillet to heat and add the butter. Add onions and celery and cook, stirring often, until softened and just beginning to brown, about 10 minutes. Add to bowl with cornbread.
Return skillet to heat. Add vinegar. Cook, scraping up browned bits from bottom of pan, for 1 minute. Drizzle mixture over the bowl with cornbread.
Gently fold in 1.5 cups of the chicken broth, plus the pecans, parsley, sage, rosemary, and thyme. Add salt and pepper. Let cool.
Preheat oven to 350° F. In a small bowl, whisk remaining 1.5 cups chicken broth and eggs. Fold gently into cornbread mixture until thoroughly combined, taking care to not mash the cornbread. The mixture will look wet. Transfer to prepared dish, cover with foil, and bake until an instant-read thermometer inserted into the center of dressing registers 160° F, about 40 minutes. If you want to brown and crisp up the top, remove the foil and place dish under the broiler for a few minutes.

Dressing can be made 1 day ahead. Bake as directed and then uncover and let cool. Cover and refrigerate. To reheat, let dressing sit on the counter while oven preheats to 350° F. Then bake the dressing, covered, for 30 minutes. Uncover and bake for 10 to 15 minutes more, until top is crisped. If dressing is fully chilled when going into the oven, it may take an additional 10 to 15 minutes to get thoroughly heated.
Nutrition Information:
Yield: 10
Serving Size: 1
Amount Per Serving:
Calories: 425
Total Fat: 27g
Saturated Fat: 7g
Trans Fat: 0g
Unsaturated Fat: 19g
Cholesterol: 97mg
Sodium: 1201mg
Carbohydrates: 31g
Fiber: 3g
Sugar: 4g
Protein: 17g
Nutrition information is automatically calculated by Nutritionix. I am not a nutritionist and cannot guarantee accuracy. If your health depends on nutrition information, please calculate again with your own favorite calculator.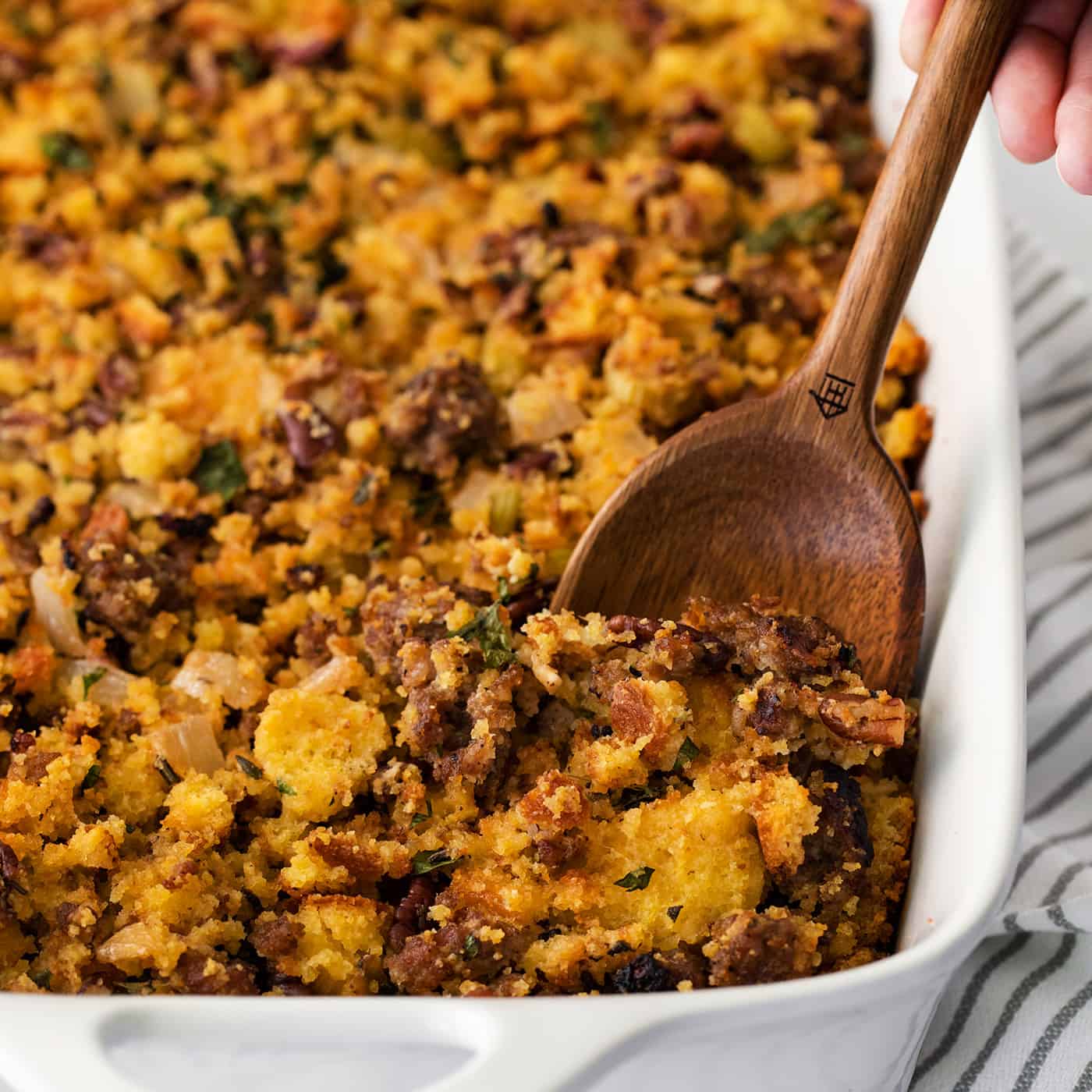 This post was first published in 2013, and then updated in 2021.
We participate in the Amazon Services LLC Associates Program, an affiliate advertising program designed to provide a means for us to earn fees by linking to Amazon.com and affiliated sites. See our
disclosure policy
for more info.