How to Bake a Potato (4 Ways!)
This Easy Baked Potato Recipe makes potatoes with salty, crispy skin and tender, fluffy insides. Learn how to make the best baked potatoes ever: in the oven, microwave, air fryer or on the grill!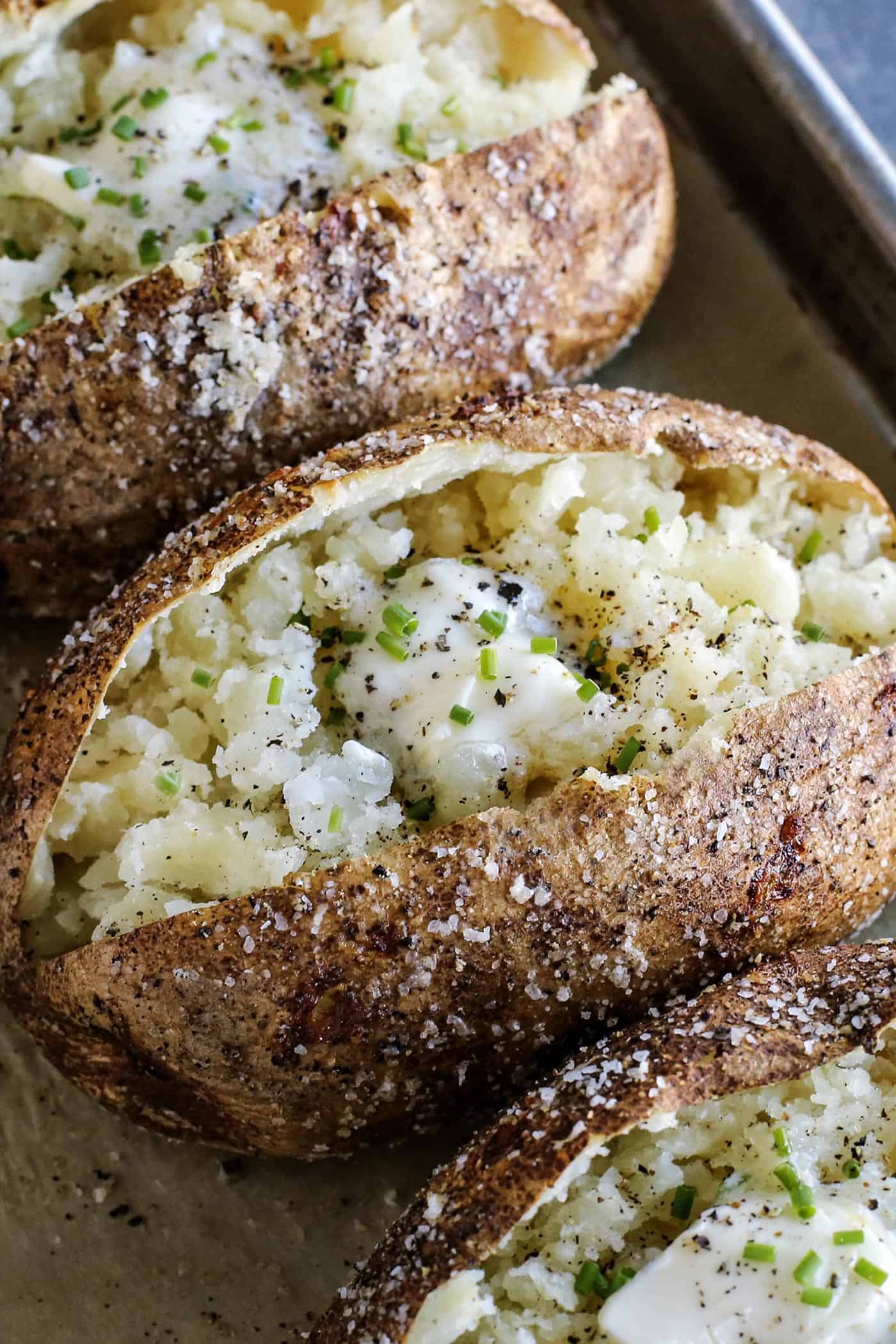 The Only Baked Potato Recipe You'll Ever Need
Do you like baked potatoes with salty, crispy skin and fluffy insides? Well me, too! And here's my Easy Baked Potato Recipe!
There's no need to make a reservation at a fancy steakhouse – it's entirely possible (and EASY) to make this kind of baked potato at home!
Just grab some potatoes and a few very common ingredients, and I'll show you my easy method for making baked potatoes.
I'll show you how to bake a potato in the oven (my preferred method), in the microwave, in an air fryer, and on the grill!
"I just ate a darn good baked potato. Followed your directions exactly (the small hint of garlic was perfect). The potato was light and fluffy, but the skin… yum yum"

Robin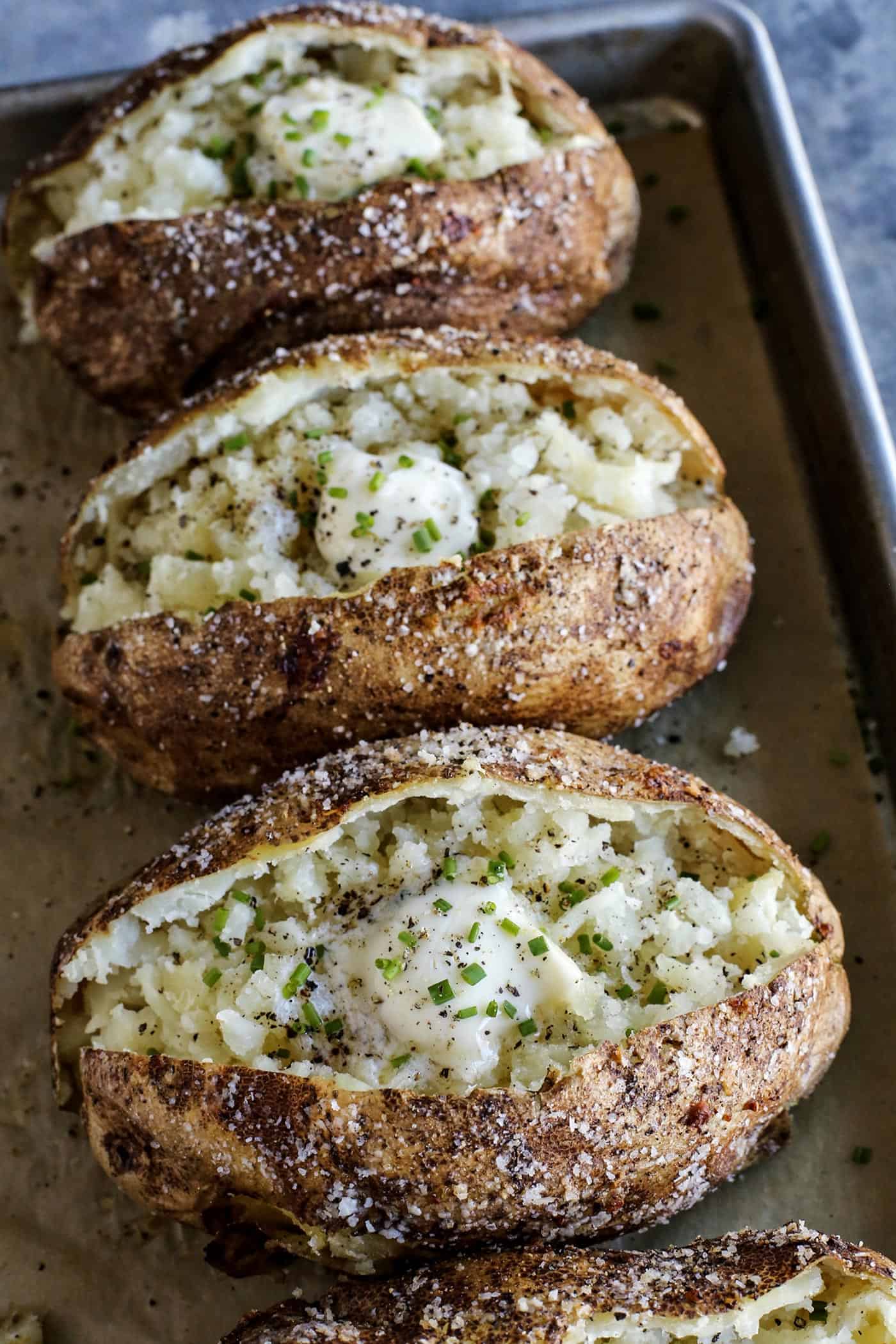 Pro Tip: Use Russet Potatoes
For the best baked potato experience, grab yourself some Russet potatoes (often referred to as Idaho potatoes). This potato variety is your best friend when baking potatoes.
The Russet potato has a reddish-brown (russet) skin that's thicker than other potatoes. This is key in getting that extra-toothsome, crispy baked skin.
The flesh is white, and very dry and starchy. This texture makes them fluffy and absorbent once baked – the perfect canvas for soaking up butter and sour cream!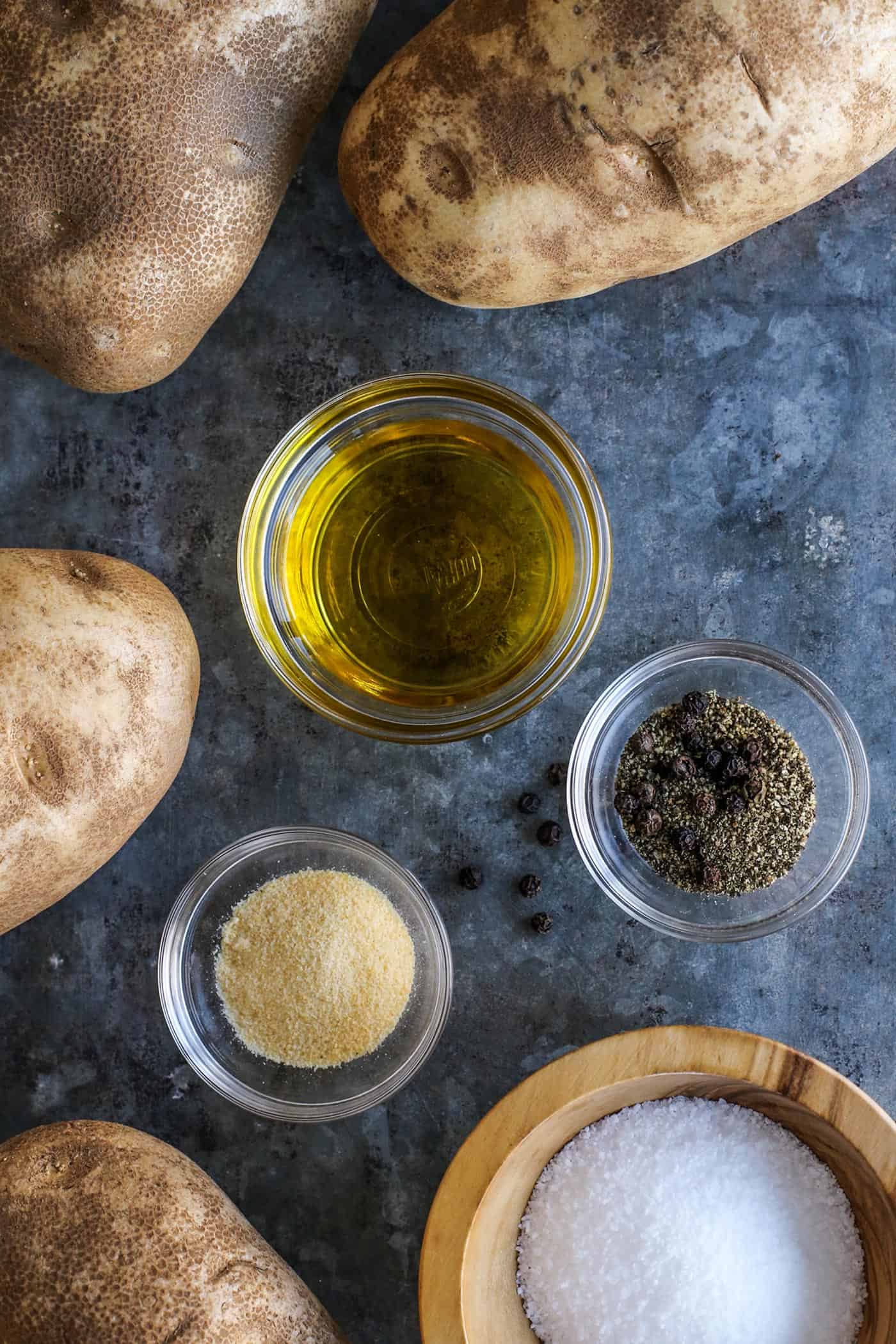 What You'll Need
Besides potatoes, this easy recipe uses just four other ingredients:
Large Russet potatoes – And when I say "large", I use potatoes that weigh about 1 pound each. If they're not eaten in one sitting, leftover potatoes are one of my favorite kinds of leftovers!
Olive oil
Coarse kosher salt
Freshly ground black pepper – I prefer to coarsely grind it, for even more texture.
Garlic powder – I include just a smidgen. It's magical!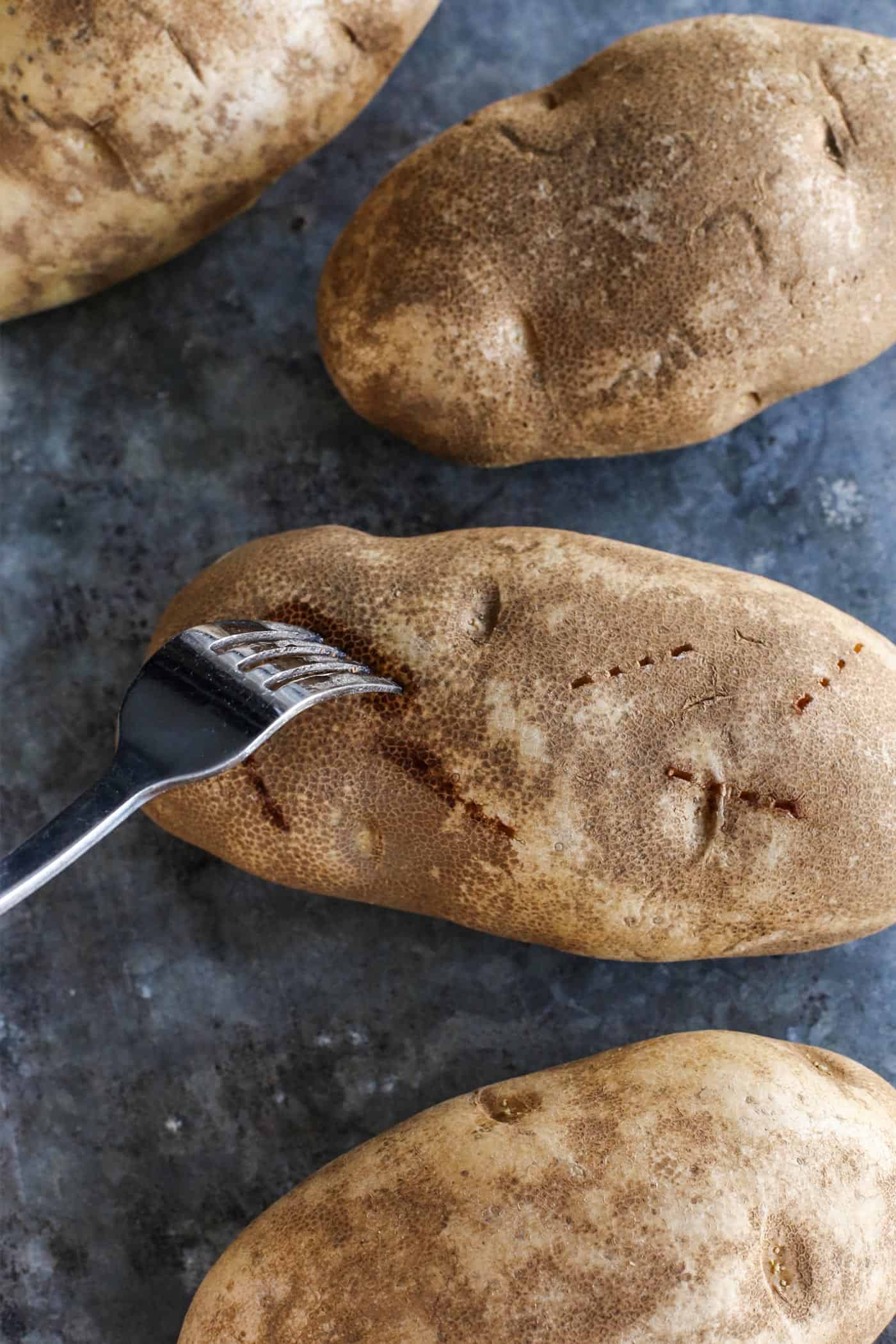 How to Bake a Potato in the Oven
This is one of the easiest recipes ever. With just a few simple ingredients, Baked Potato Heaven is at every potato lover's fingertips!
Here's how to bake potatoes in the oven:
Scrub and dry potatoes.
Poke potatoes with a fork.
Rub olive oil and coarse salt all over potatoes.
Sprinkle freshly ground black pepper and garlic powder over potatoes.
Bake for about 55 minutes at 425° Fahrenheit.
Should I Wrap Potatoes in Foil Before Baking?
I grew up with baked potatoes wrapped in foil. While I will certainly still eat a potato made this way – because, hey, I just love baked potatoes – I'd much prefer the method I'm sharing in this post, without foil. Hands down, this is my favorite baked potato recipe.
So what's the difference?
Wrapping potatoes in foil gives you potatoes with a softer, steamed skin. And foil does keep them hot for longer once they come out of the oven, which can be a convenience in certain situations.
Baking potatoes without foil gives you potatoes with delightfully crispy skin, a much more fork-and-knife experience. I adore the contrast from crispy, textured outsides to tender, fluffy insides. You can bet that I leave no crispy potato skin behind!
What is the Best Temperature?
When crispy skin is a priority, you want to use a higher oven temperature. I think 425° F is just right.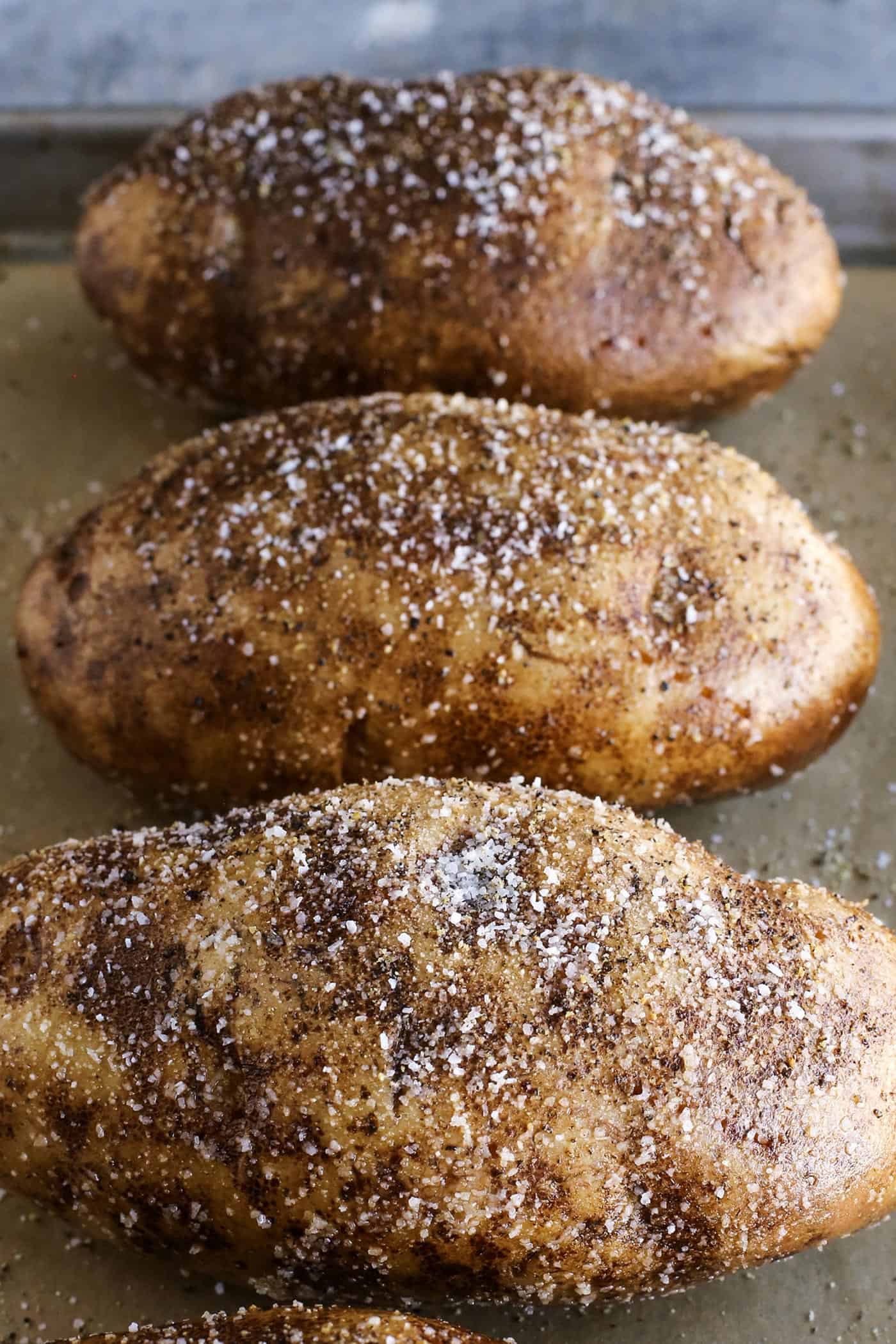 How to Bake a Potato in the Microwave
For a super quick baked potato fix, you can absolutely use the microwave!
But please know that while the insides will be fluffy and tender, the skin does not cook the same as when using the oven. If you want that crispier skin texture, definitely use the oven method.
How to microwave a potato: Prepare the potato just like you would for the oven method. Place the potato on a microwave-safe plate and cook on high for half the time listed below, per potato weight. Turn potato over and cook for remaining time.
Always test for doneness and adjust cooking time as needed. And take care when removing the plate from the microwave – it might be hot to the touch; use oven mitts!
8 ounces = 5 minutes total
12 ounces = 6 minutes total
16 ounces = 8 minutes total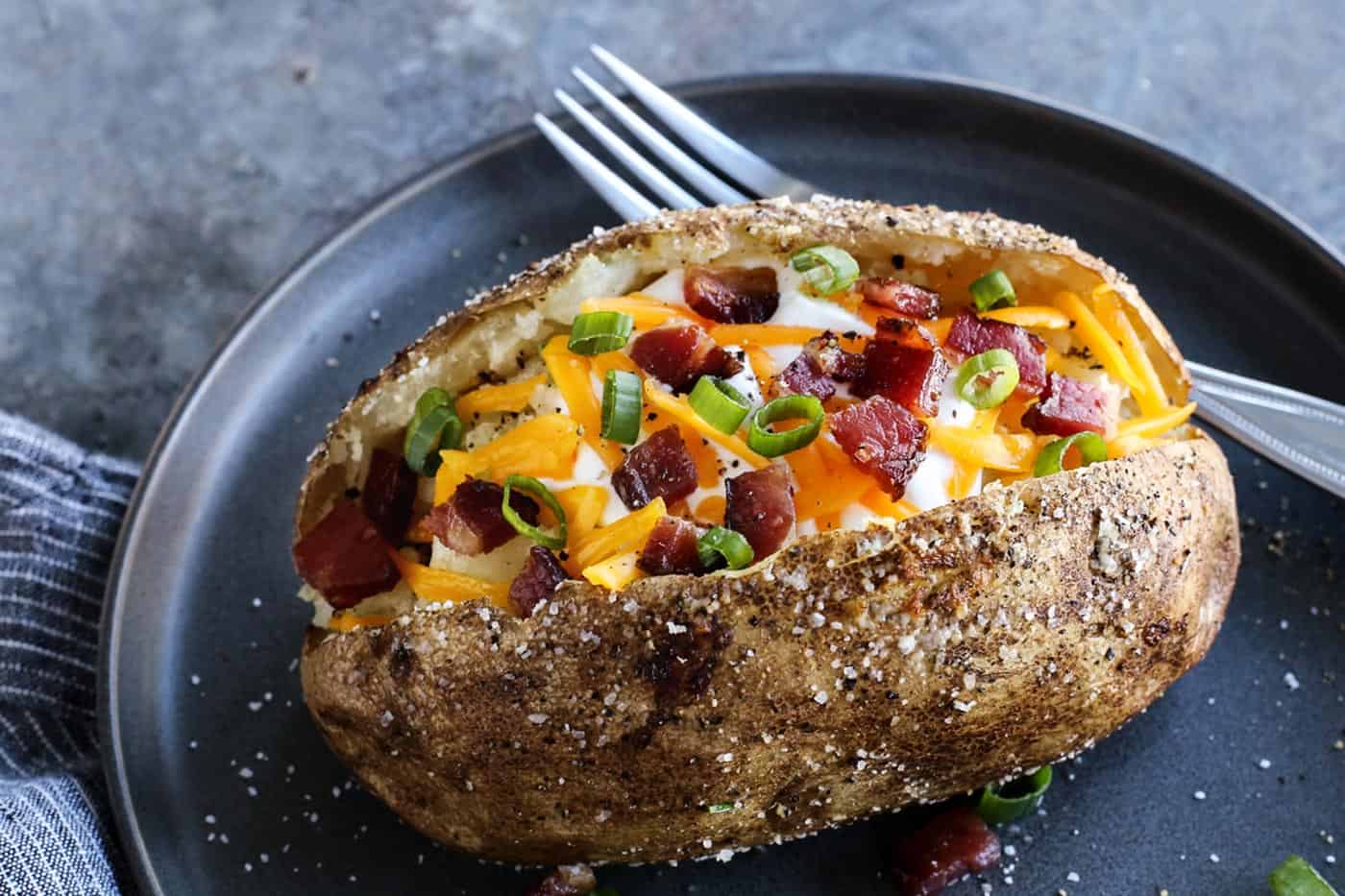 How to Bake a Potato in the Air Fryer
An air fryer baked potato has beautifully crispy skin, at least as crispy as the oven method, if not even just a bit more.
The downfall of the air fryer method, though, is if you want to bake several larger potatoes at the same time and don't have a huge air fryer.
We have a 3.7-quart air fryer, this air fryer, which I'd place in the medium-sized category. It's big enough to cook quantities for our family of four, but not a behemoth machine that takes up valuable storage and counter space. Our family loves this air fryer – it's easy to use and clean, and fits a nice amount of food for our family size.
So we've made baked potatoes in the air fryer based on that particular machine and size only.
How to bake a potato in the air fryer: Prepare the potato (or potatoes) just like you would for the oven method. Preheat air fryer to 400° F. Place the potato/potatoes in the air fryer basket and bake for 20 minutes. Pause the air fryer. With a tongs, flip the potato over. Bake for 20 to 30 minutes more, according to the time chart below.
Always be sure to test for doneness and adjust cooking time as needed.
One 16-ounce potato = 45 minutes total
Two 16-ounce potatoes = 50 minutes total
One 12-ounce potato = 40 minutes total
Two 12-ounce potatoes = 45 minutes total
Three 12-ounce potatoes = 50 minutes total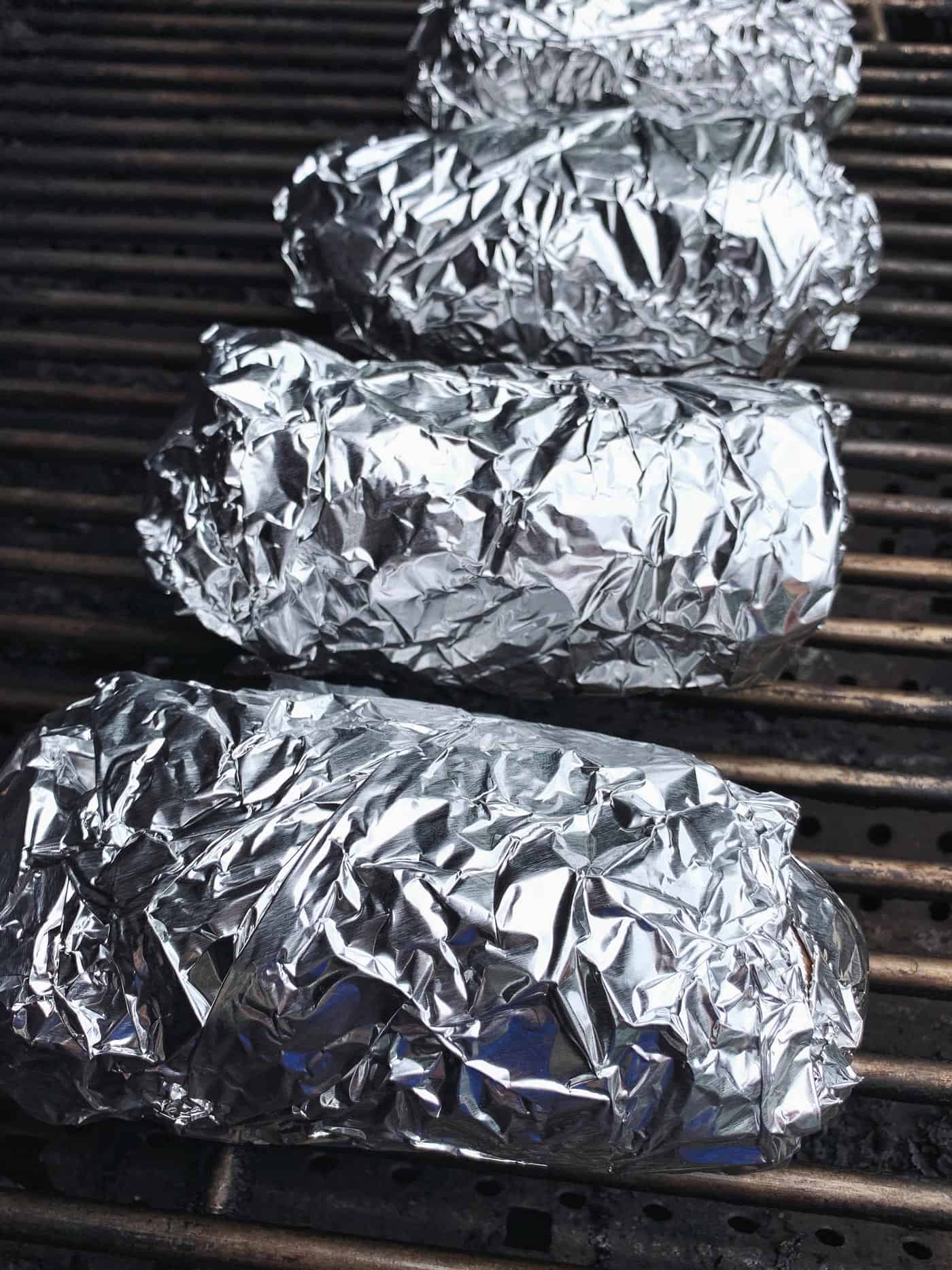 How to Bake a Potato on the Grill
For the best baked potatoes on a grill, I recommend wrapping the potatoes in a layer of heavy duty foil (my preference for foil, I don't even buy regular foil anymore!) This will help the insides of the potatoes to cook properly, without overly cooking/browning the skin.
Note that this method will give you tender potatoes with a crispy skin, however, the texture from the salt and pepper will not be as pronounced as the oven method. This is due to the foil directly touching the potato skin while cooking on the grill.
How to grill baked potatoes: Prepare the potatoes in the same way as the oven method. Then wrap them in foil and grill over indirect heat. Finish them up with a few minutes over direct heat to crisp up the skin. Here's how we do it!
Prep grill. Preheat your grill to 400 to 425° F, with one side utilizing indirect heat and the other with direct heat.
Prep potatoes. Use the same preparation method as if you were baking them in the oven:

Scrub and dry potatoes.
Poke potatoes with a fork.
Rub olive oil and coarse salt all over potatoes.
Sprinkle freshly ground black pepper and garlic powder over potatoes.

Wrap potatoes in heavy duty foil.
Grill potatoes. Place wrapped potatoes on the indirect side of the grill, close the lid, and cook for about 55 minutes (depending on potato size and shape, and overall grill temperature). Flip potatoes over after the first 30 minutes, and then rotate potatoes so the ones that were farthest from the direct heat are now closer.
Remove foil and grill. Once the potatoes are tender (if there is no resistance when poked with a fork), remove the foil from the potatoes using grilling gloves, good oven mitts, and/or tongs. Take care to not burn yourself – the potatoes will be HOT! Then place the unwrapped potatoes on the side of the grill with direct heat and cook them another 1 to 2 minutes per side, about 3 to 4 minutes total.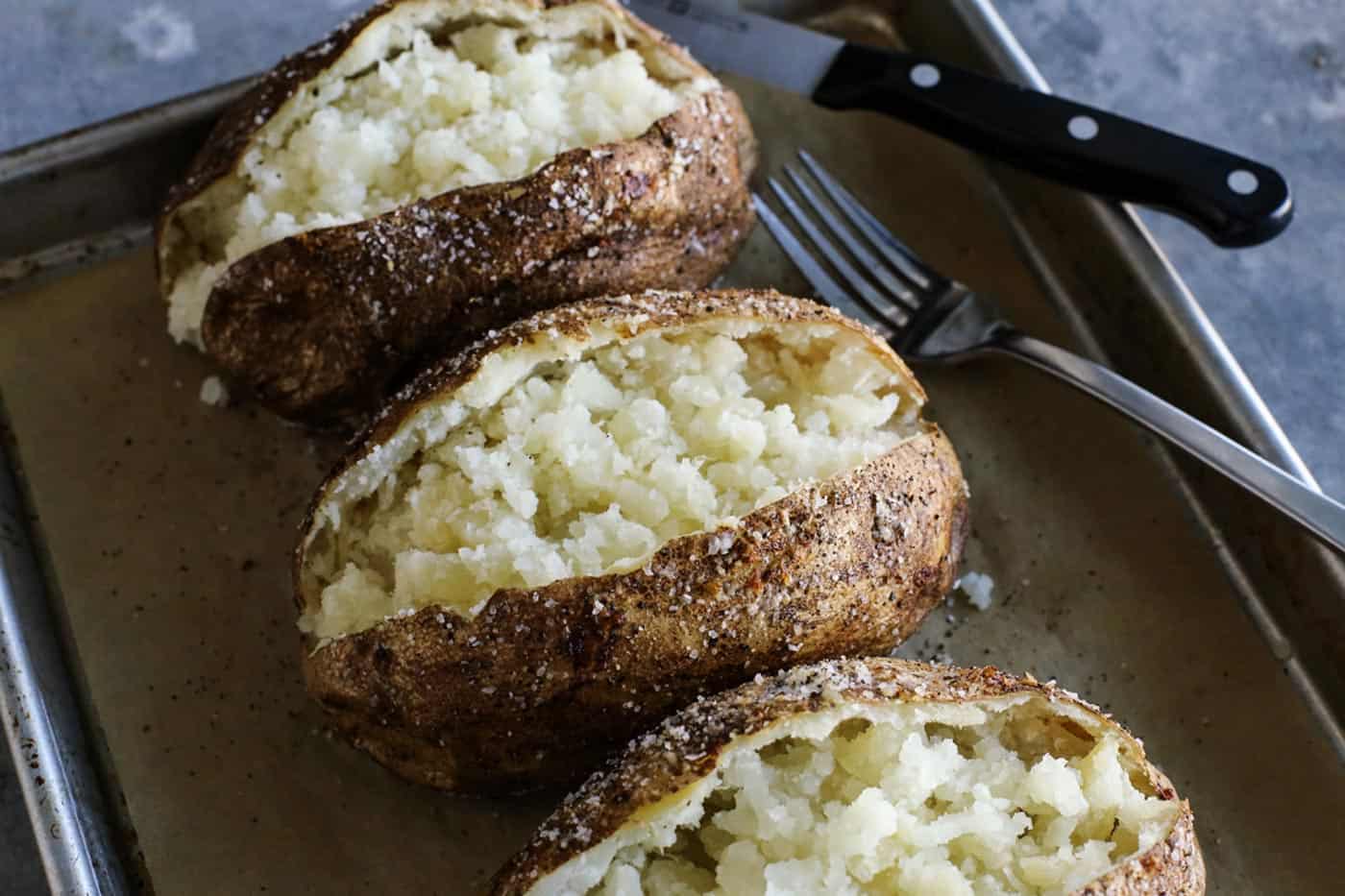 Tips for Success
When cooking multiple potatoes at once, look for ones with uniform shapes and sizes. They will cook more evenly and get done at the same time.
Be sure to scrub the potatoes very well. Because you'll be eating that crispy, flavorful skin. Right?!
Poke the potatoes with a fork. This allows the moisture inside the potatoes to escape, leaving the middles soft and fluffy without being mushy. Also, if you don't poke the potatoes, there is a risk of them exploding in the oven. And that would be messy. #nothankyou
Use a generous amount of olive oil and coarse salt. One might think that the amounts called for in the recipe are too much, but you need to remember that we're using BIG potatoes here. And the ample amounts of oil and salt are what gives the potatoes that fabulous texture and flavor that makes you want to eat the skin. Also, there is alot of unseasoned potato inside those skins that want some of that salty goodness!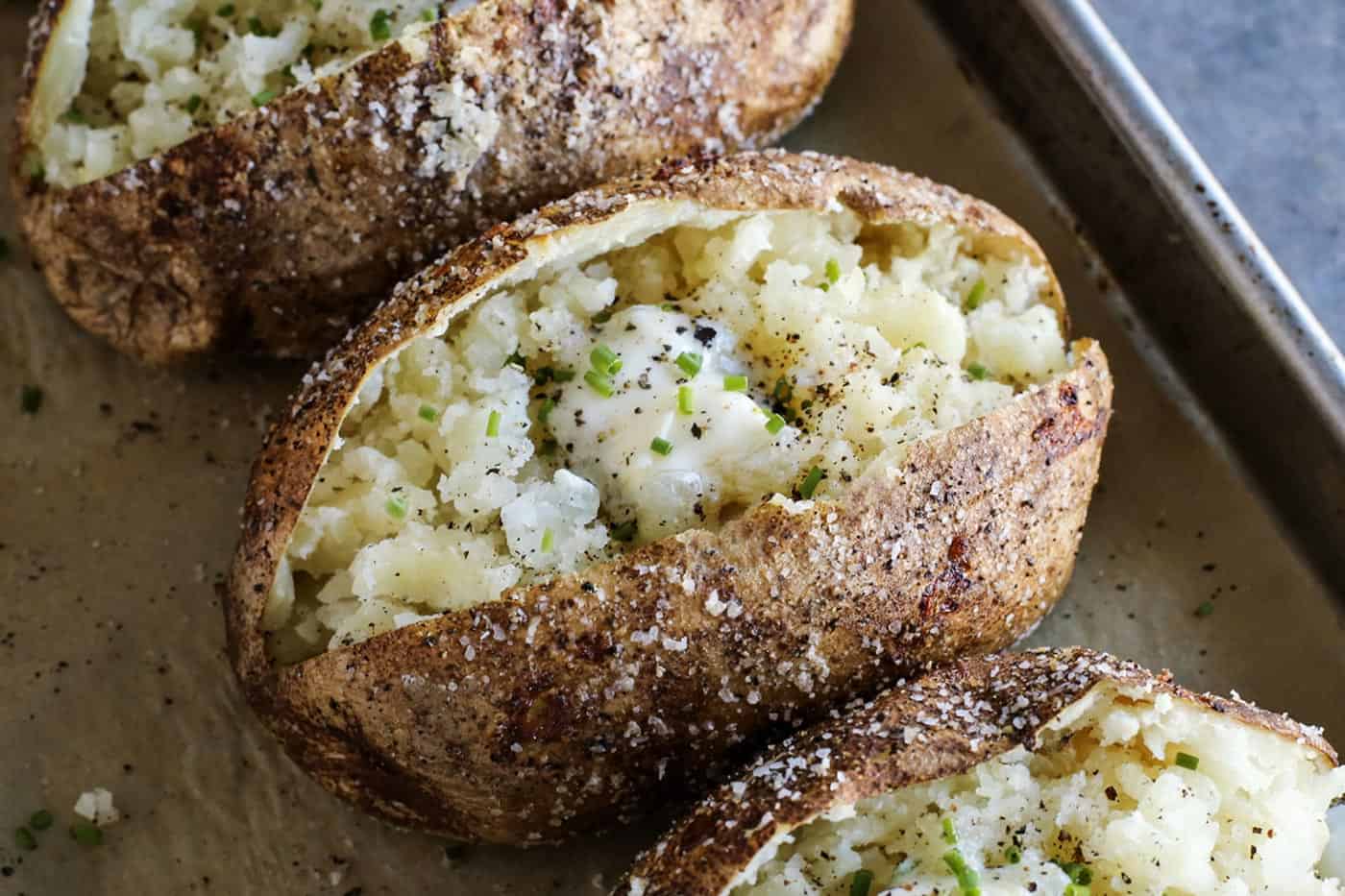 What to do With Leftovers
Ooooohhhhh, how I love knowing that there are leftover baked potatoes in our fridge! This baked potato recipe is so easy I often make a couple batches at once just to have the leftovers. True story.
Most often, I like to make breakfast eggs and potatoes. I chunk the potatoes up a bit and add them to a hot buttered fry pan. This livens up the skin and gets it all crispy and yummy again. When the potatoes are golden to my liking, I scoot them off to the side of the pan and add a couple eggs to the center. Best. Breakfast. Ever.
A quick meat and veggies hash is wonderful, too. Just cut the potatoes into chunks and fry them with chopped onions and peppers in a well oiled skillet. Add in slices of good country sausage or pieces of leftover ham, bacon, or steak, and you've got a great comfort meal.
Leftover potatoes are also great for soup. Try my Creamy Potato Soup and this amazing veggie-loaded Broccoli Cheddar Soup.
And don't forget about twice baked potatoes!
Another really wonderful thing about baked potatoes?
There are SO MANY WAYS to dress them up!
Want to Make a Loaded Baked Potato?
No baked potato recipe would be complete without fixing ideas. Baked potatoes provide the perfect backdrop for a variety of toppings. And have you ever enjoyed a baked potato bar? They are so fun!
Most often, we eat baked potatoes with just butter, sour cream, chives or green onions, salt, and pepper.
But some chopped bacon and shredded cheddar makes everyone around here extra happy. I like to grab some double-smoked, thick-cut bacon from our local butcher for the best bacon, cheddar, and potato meal!
Here are more ways to top baked potatoes:
FAQs
Cooking time by potato size
I want to preface this by saying that baking time will depend on potato weight and shape (some potatoes are long and thin; others are plump through the middle). Also, the actual temperature of individual ovens will vary.
I have included three different sizes for Russet potatoes, all baked at 425° Fahrenheit. The time stated is average baking time. You should allow 5 minutes on either side – they might be done a little earlier than that, or a bit later, depending on the different factors.
8 ounces = 35 minutes
12 ounces = 45 minutes
16 ounces = 55 minutes
How do I know when my baked potato is ready?
Poke the middle of the potato with a fork. If the fork slides in easily and there is no resistance when pulling it back out, you know it's soft inside. If there is any resistance at all, have a little patience and bake it a bit longer. A perfectly fluffy potato is worth the wait!
I personally like the fork-poking method best, but you can also do the squeeze test. With oven mitts on, gently squeeze the potato at the middle. If the center gives easily under pressure, the potato is done.
Can I bake a sweet potato with this method?
Our youngest daughter Tessa has been on a sweet potato kick lately, so we popped some in the oven, using the very same oven baking method.
And by golly, they turn out AWESOME. Serve them with this whipped Cinnamon Honey Butter and a sprinkle of salt and pepper, and I promise you'll be in love!
For a baked sweet potato, use all the same ingredients, timing, and oven temperature that you would when baking a Russet potato. ENJOY!
Like this Recipe? Save it to Pinterest!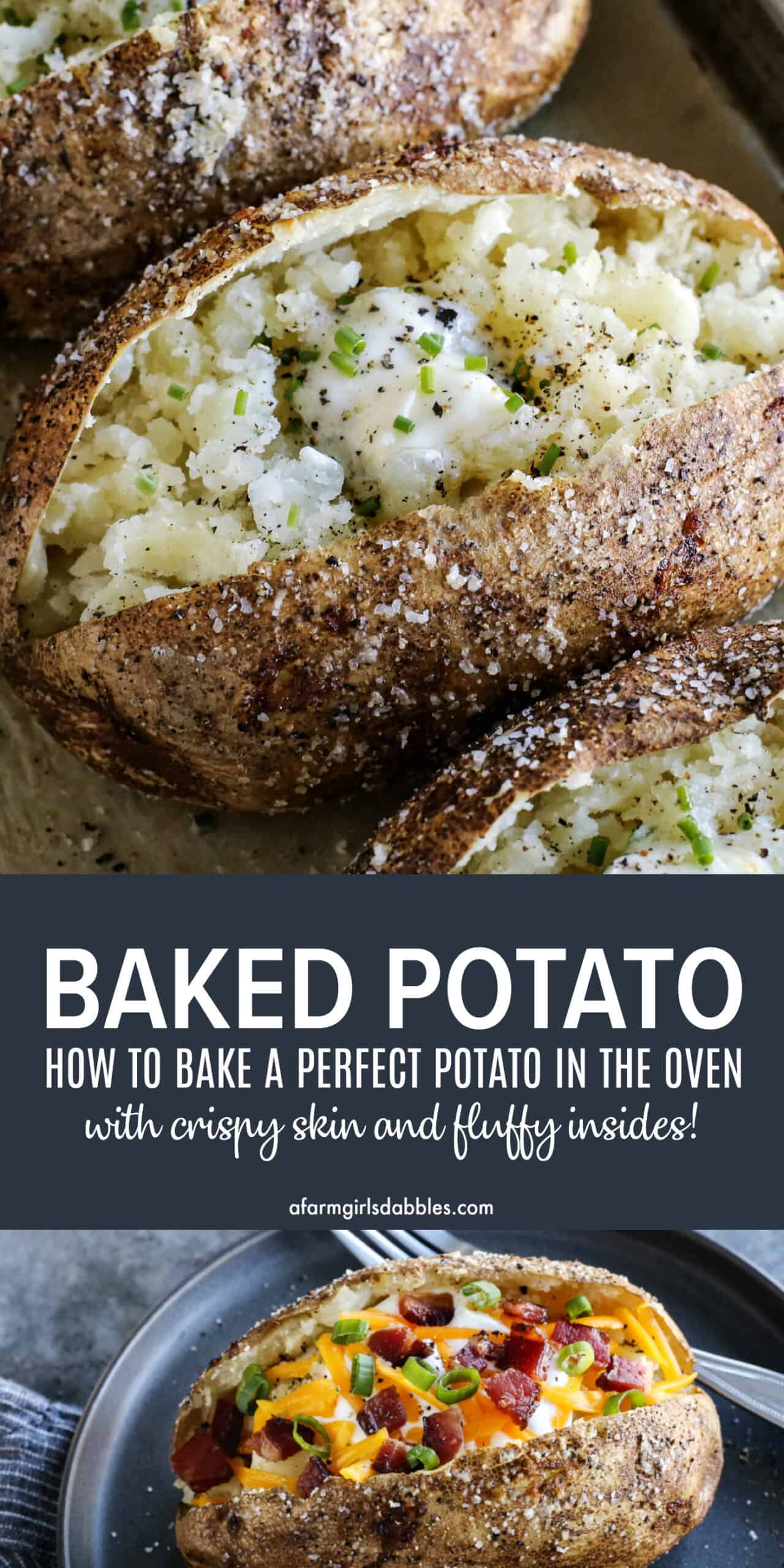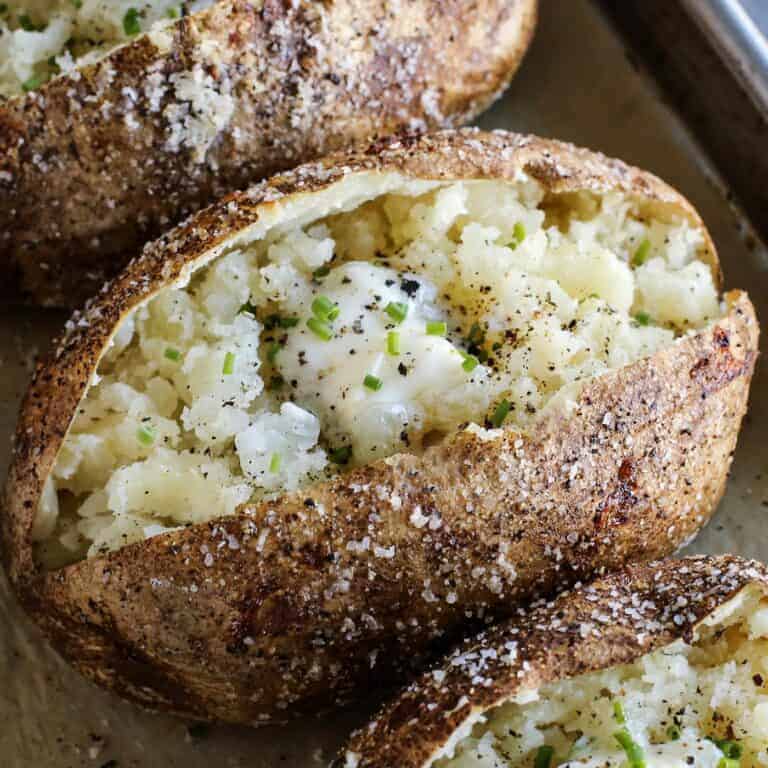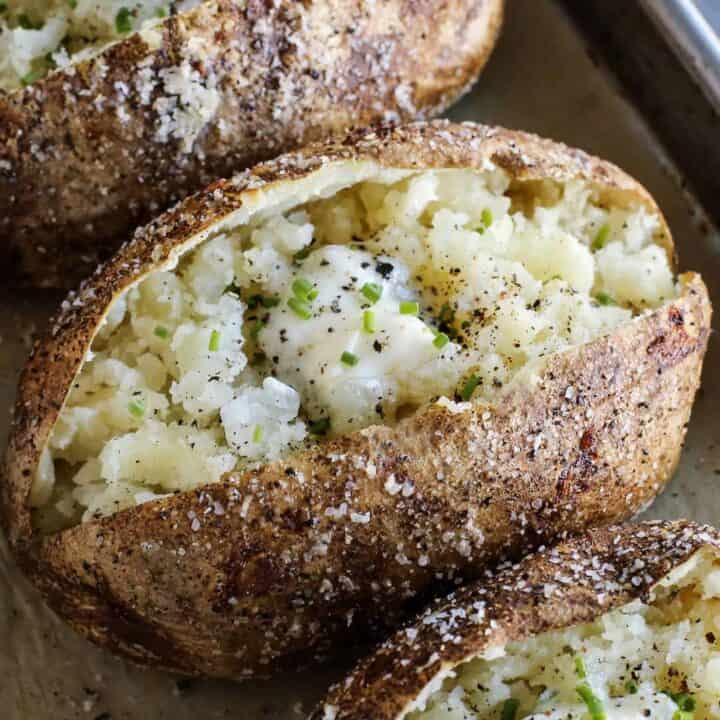 Perfect Baked Potatoes
Yield: 4
Prep Time: 5 minutes
Cook Time: 55 minutes
Total Time: 1 hour
This is the best way to make baked potatoes with salty, crispy skin and tender, fluffy insides! Learn how to make baked potatoes in the air fryer, in the oven, on the grill, and in the microwave!
Ingredients
4 large Russet potatoes, weighing 1 pound each
1½ tablespoons olive oil
1 tablespoons coarse kosher salt
several coarse grinds black pepper per potato
a tiny sprinkle of garlic powder per potato
Instructions
Preheat oven to 425° F. Line a rimmed baking sheet with parchment paper or foil for easiest clean-up (optional); set pan aside.
Scrub potatoes well and dry them.
Pierce each large potato 8 to 10 times with a fork.
Place potatoes on baking sheet and rub oil all over potatoes.
Rub salt all over potatoes. Use every last bit of the tablespoon of kosher salt for four 1-pound potatoes.
Sprinkle the smallest bit of garlic powder over the skin of each potato. Do not overwhelm the potato with garlic flavor - aim for the slightest hint of garlic.
Place baking sheet of potatoes in center of oven and bake for about 55 minutes. Potatoes should be tender when pierced with a fork - and the fork should slide back out easily, with no resistance. If there is any resistance at all, bake a bit longer.
Remove potatoes from the oven. Cut a slit across the top of each potato with a sharp knife. Gently squeeze in each end of the potato towards the middle to pop open. Loosen up the fluffy white interior from the skin with a fork.
Serve hot - with butter, sour cream, chives, and any of your favorite toppings!
Notes
from a farmgirl's dabbles
Nutrition Information:
Yield: 4
Serving Size: 1
Amount Per Serving:
Calories: 419
Total Fat: 6g
Saturated Fat: 1g
Trans Fat: 0g
Unsaturated Fat: 4g
Cholesterol: 0mg
Sodium: 995mg
Carbohydrates: 83g
Fiber: 9g
Sugar: 4g
Protein: 10g
Nutrition information is automatically calculated by Nutritionix. I am not a nutritionist and cannot guarantee accuracy. If your health depends on nutrition information, please calculate again with your own favorite calculator.