Hawaiian Poke Bowl with Spicy Aioli
This Hawaiian Poke Bowl recipe is like a deconstructed sushi roll in a bowl. Made with rice, fish, and a variety of delicious toppings and sauces!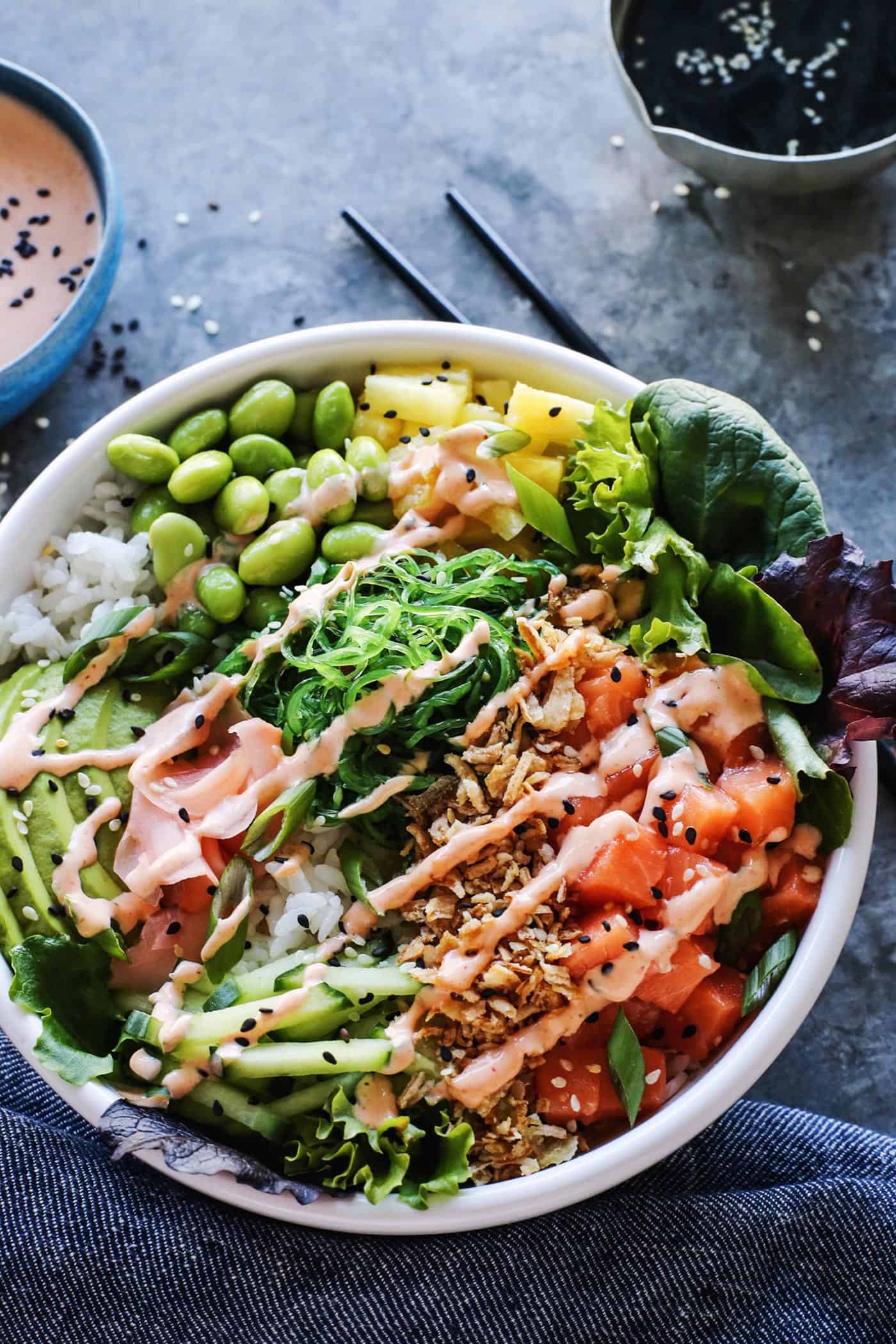 We Are Obsessed with Poke Bowls
I've become obsessed with sushi and poke bowls over the past number of years.
When I'm looking for a quick, tasty Friday treat for lunch, I head to my favorite neighborhood sushi takeout spot and grab a spicy crunchy roll and bottle of kombucha.
And when I have a little more time and some company to enjoy a meal with, I like to stop at our local Aloha Poke Co. restaurant. I'd say my whole family is currently obsessed, especially our soon-to-be eighteen year-old.
I created this easy recipe for a Hawaiian Poke Bowl with Spicy Aioli in honor of Hatti's birthday. Which is crazy, because she never would have touched a dish like this a couple years ago. And now she'd eat this every single week. Cheers to Hatti's 18th birthday! Cheers to this poke bowl recipe!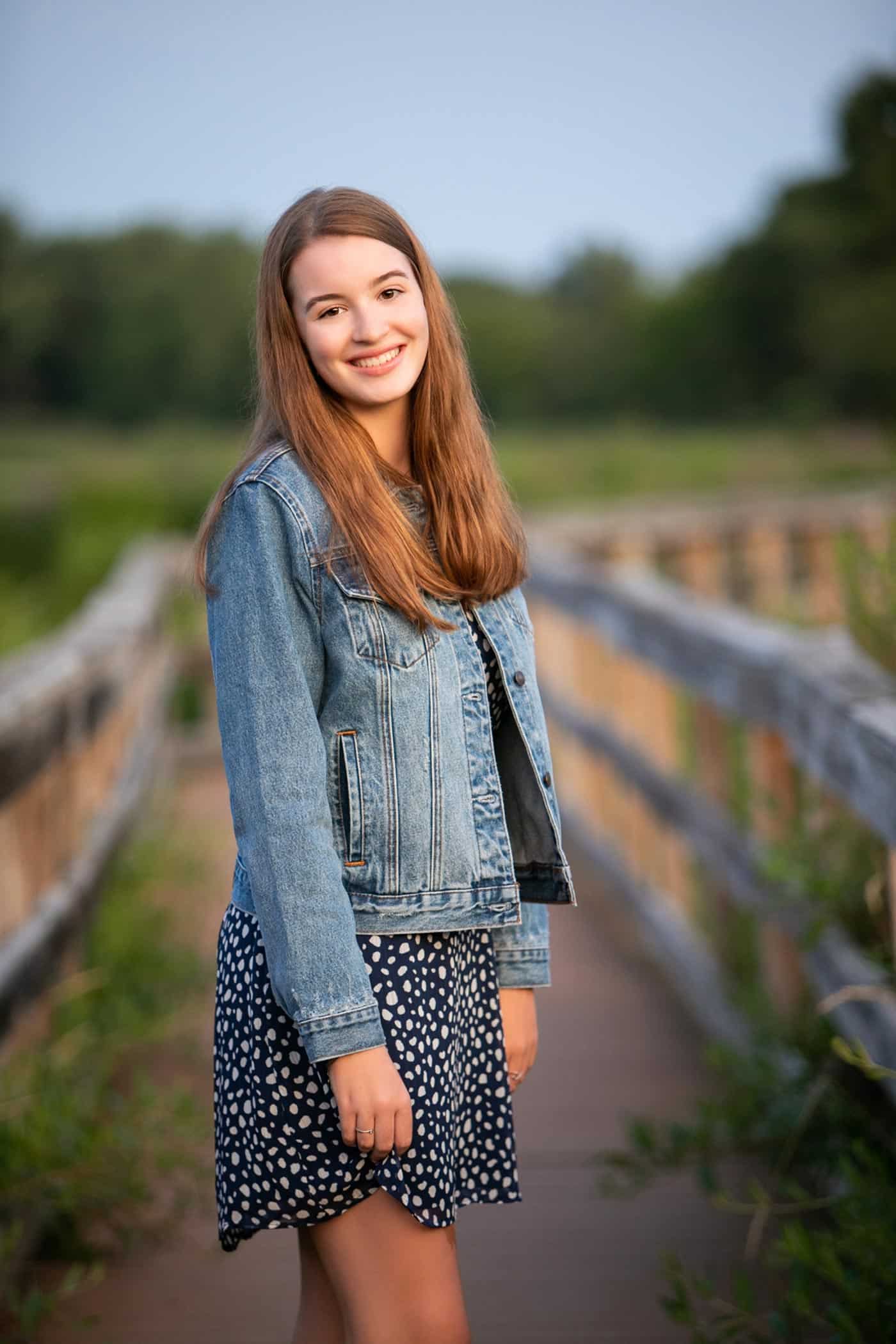 (photo credit: Morgan M Photography)
We're nearing the end of Hatti's senior year in high school. And some of my own personal best memories from this past year with her are from enjoying weekday lunches together. She has been taking classes both at the high school and a local community college, which has made it easy for her to be home for lunch each day.
On more than one occasion, she has texted me from a morning class, "Mom, how about some sushi for lunch? I'll pick some up."
It didn't take long for her love of sushi to transition into poke bowl love. It's only natural, really, with so many of the same ingredients and flavors.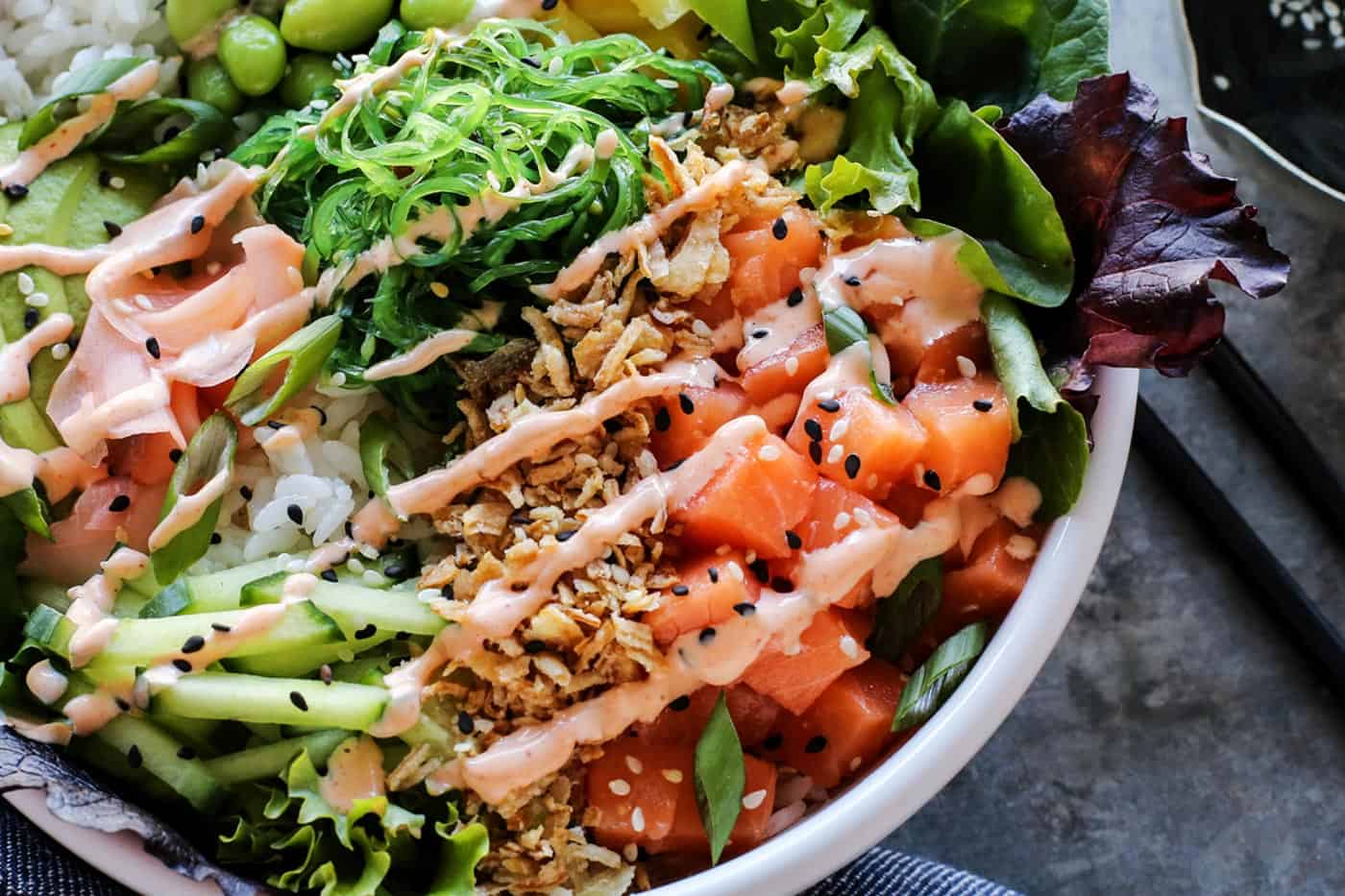 What is a Poke Bowl?
Poke generally refers to cubes of raw fish that are marinated with soy sauce and sesame oil and then mixed with onion. The bowl itself combines traditional poke with rice, a variety of vegetables, and umami-flavored sauces. There are endless ways to build a poke bowl suited to your own likes.
Poke is pronounced poh-KAY. It rhymes with okay. It is a traditional Hawaiian dish served as both an appetizer and main course.
Thanks to popular build-your-own poke bowl restaurants such as Aloha Poke Co., the traditional Hawaiian poke dish has made its way from the islands to the mainland. And I am so happy for that!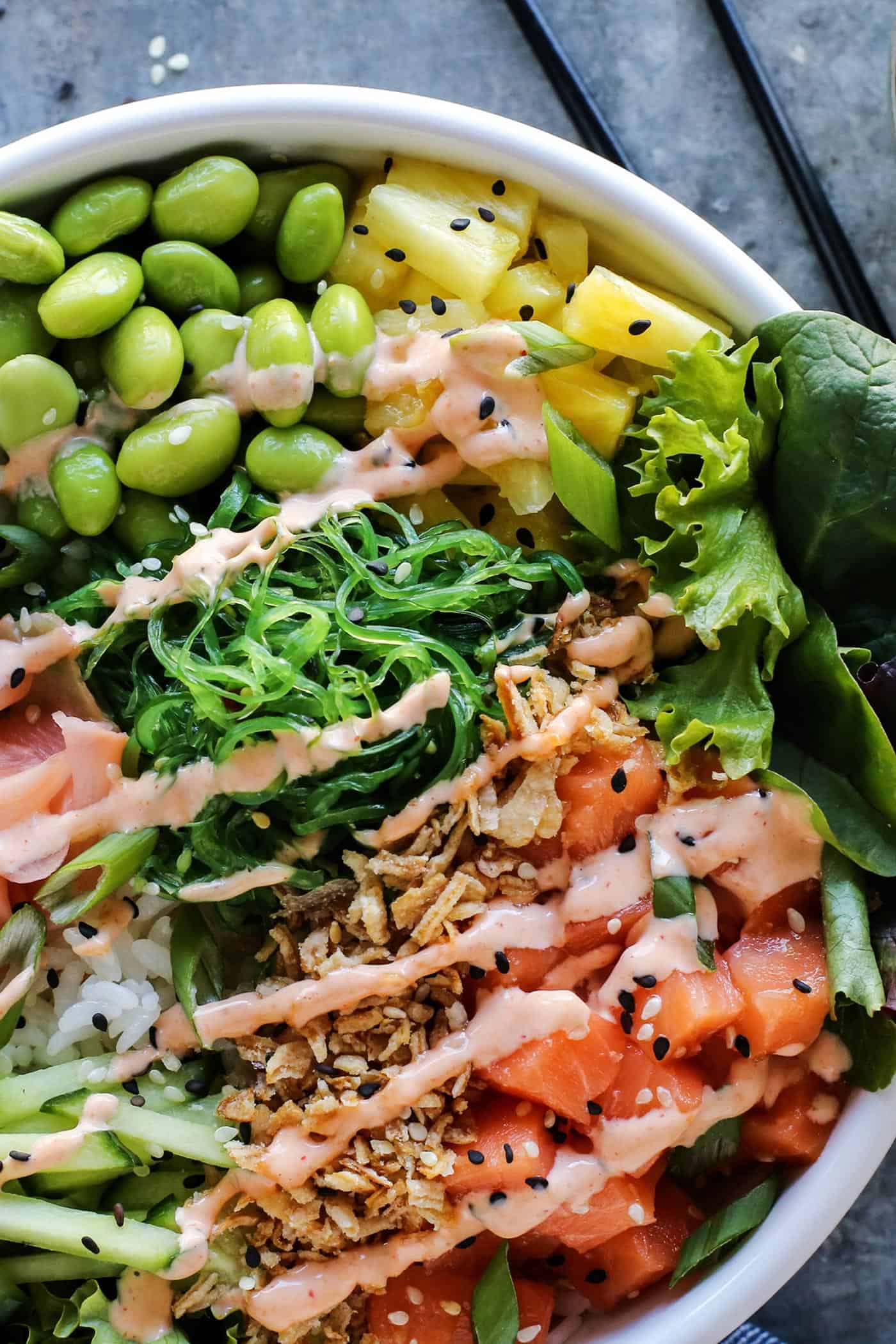 What is Usually in a Poke Bowl?
I love all the contrasting textures, colors, and flavors of a poke bowl! Here is how we make ours:
Fresh mixed greens
Sushi-grade salmon (also called sashimi-grade)
Cucumber
Seaweed salad – I have fallen hard for this since first enjoying it at a sushi restaurant last year. I love that it's an option at Aloha Poke Co., and found some for my own recipe at a local Asian market's deli. If you don't know what it looks like, it's in the center of my poke bowl.
Pineapple
Pickled ginger – I am only slightly addicted to this stuff. Hatti always knows to ask for extra ginger when she picks up sushi for me!
Avocado
Black and/or white sesame seeds
Green onions
Sesame vinaigrette
Spicy aioli
For some non-traditional poke bowls – without raw fish – check out my Sweet Potato Bowl recipe and Teriyaki Chicken Poke Bowls!
How to Buy Sushi Grade Fish
Raw fish is the star ingredient of poke bowls (although poke bowls don't have to include fish!). While yellowfin (ahi) tuna is the most common, you'll also find salmon and snapper and other kinds of fish and seafood. Personally, I like salmon the best.
"Sushi-grade" means that the fish was inspected and graded as a very high quality fish, suitable to be eaten raw.
Tips for Success:
Find a reputable fishmonger or market: Living in Minnesota, I count on a local market that carries a number of varieties of sushi-grade fish in their freezer. I simply let it thaw in the fridge overnight. There's also a trusted fish market here in the Twin Cities that flies in fish six days a week. And most larger Asian markets will carry sushi-grade fish.
Use your senses: Look for fish that is vibrant in color. It must also be firm and smell fresh like the ocean. Anything that doesn't look fresh, or is soft, flaky, or funky-smelling should not be used.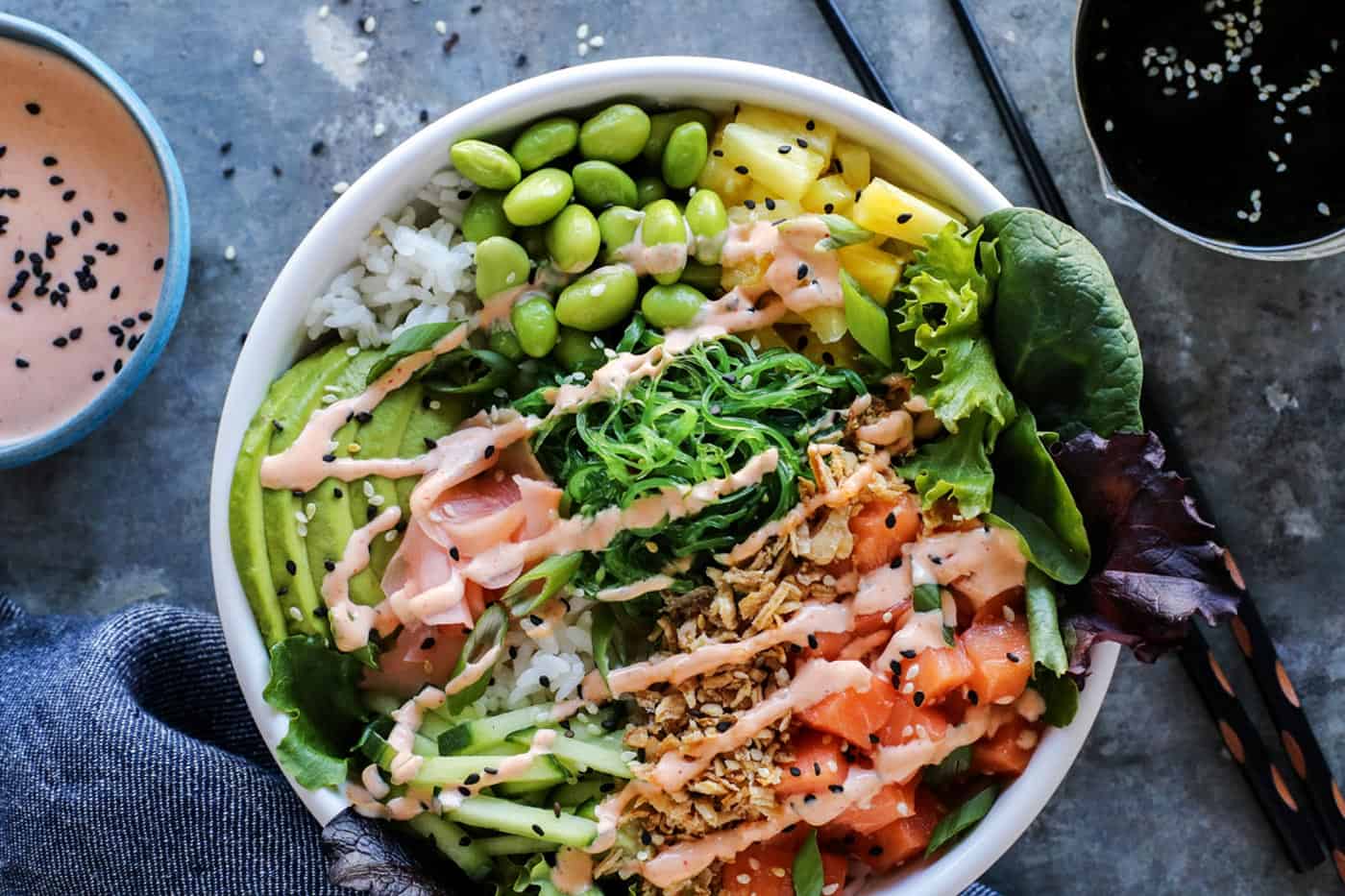 How to Make a Poke Bowl
While it might look intimidating, making poke bowls is really very easy. I like to think of it as an edible art project. :)
Simply start layering ingredients into the bowl, starting with fresh greens and rice. Follow with strips of cucumber, fresh seaweed salad, shelled edamame, fresh pineapple bits, plenty of pickled ginger, and a few slices of avocado.
While poke most often consists of marinated raw fish, I prefer mine "naked", without the marinade. I like the pure flavor of the ocean and rely on the sesame vinaigrette and spicy aioli to provide the flavor boost. I love how pretty the cubed salmon looks in these fresh bowls. Layer it in next to the other ingredients.
Then add some fried onion, an especially wonderful flavor and texture contrast. And sprinkle on some sesame seeds and sliced green onion.
For a crazy delicious finale, drizzle a sesame vinaigrette over it all and then zig-zag a creamy, spicy aioli over the top.
Gah! So much fun!
Is the Rice Served Cold or Hot?
Poke bowls are constructed of warm rice with super cold tuna and other ingredients. The contrast in temperature adds even more interest to the dish.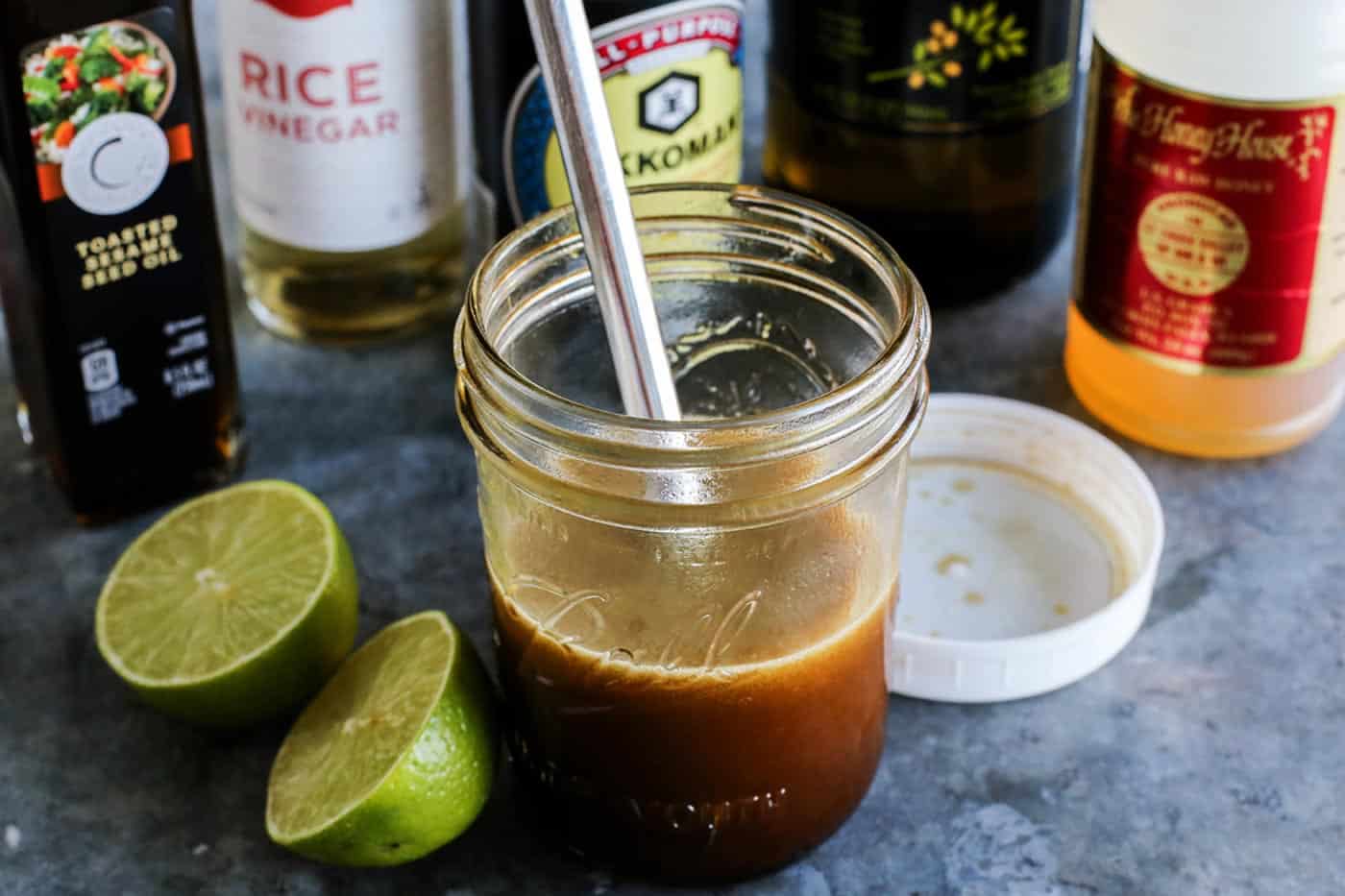 My Favorite Toppings
Although you can definitely use pre-made vinaigrette or aioli, these homemade versions are so simple to make and will take your poke bowl to the next level.
Sesame Vinaigrette
I love when poke bowls include a salty dressing to highlight the fatty fish. My favorite dressings include toasted sesame oil. Here's how I make my sesame vinaigrette – it's super easy! Drizzle this all over your poke bowl for incredible flavor.
Equipment & Ingredients
I most often make my salad dressings in a pint jar or half-pint jar with a tight-fitting lid. (Read my tip below about lids.) So grab a jar or another container with a tight-fitting lid and add the following ingredients:
soy sauce
rice vinegar
olive oil
toasted sesame oil
honey
freshly squeezed lime juice
Making the Vinaigrette
Tightly fasten the lid and then shake, shake, shake until fully combined. Store your finished vinaigrette in the refrigerator until your poke bowls are ready to eat, and give another good shake right before using.
If the vinaigrette sits in the fridge for an extended period of time, the oil will naturally harden. In that case, be sure to let your vinaigrette sit out on the counter for 20 to 30 minutes prior to using it with your poke bowls, and remember to shake it up good.
And if you have any leftover vinaigrette, drizzle it over fresh greens and/or veggies for a tasty Asian salad!
Tip for you! I have moved away from the 2-piece metal rings and lids, and prefer the plastic 1-piece lid. Here are links to the regular mouth lids and wide mouth lids. I do not recommend some of the pretty colored off-brand lids. I've ordered some and find that they don't work as smoothly as the ones that come from major jar manufacturers such as Ball.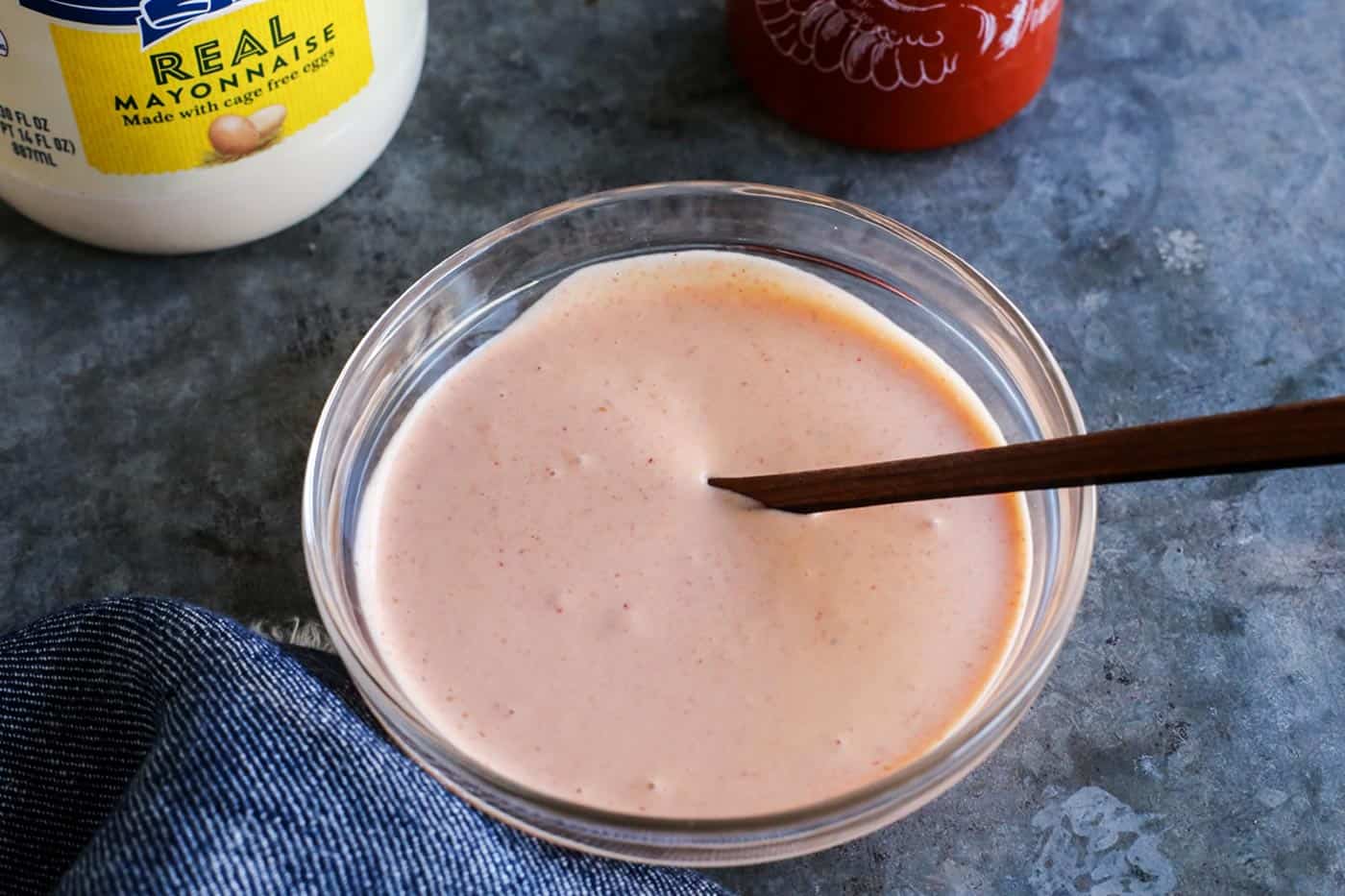 Homemade Spicy Aioli Sauce
This is an incredibly flavorful condiment that I add to every single poke bowl! You might laugh to know how simple it is to make a creamy, spicy aioli sauce. Here's my simple recipe:
I'm a huge fan of mayonnaise, so I grab my favorite mayo and a bottle of Sriracha, and whisk up a simple sauce. That's it.
If I'm craving extra spice, I just add more Sriracha to my spicy mayo. Make yours as mild or as spicy as you like!
Tip for you! Make a double batch of spicy aioli sauce and store it in a jar or squeeze bottle in the refrigerator. Use it for topping burgers, grilled cheese sandwiches, and tuna melts. It also makes a great dip for fresh or roasted veggies – and French fries, tator tots, and onion rings!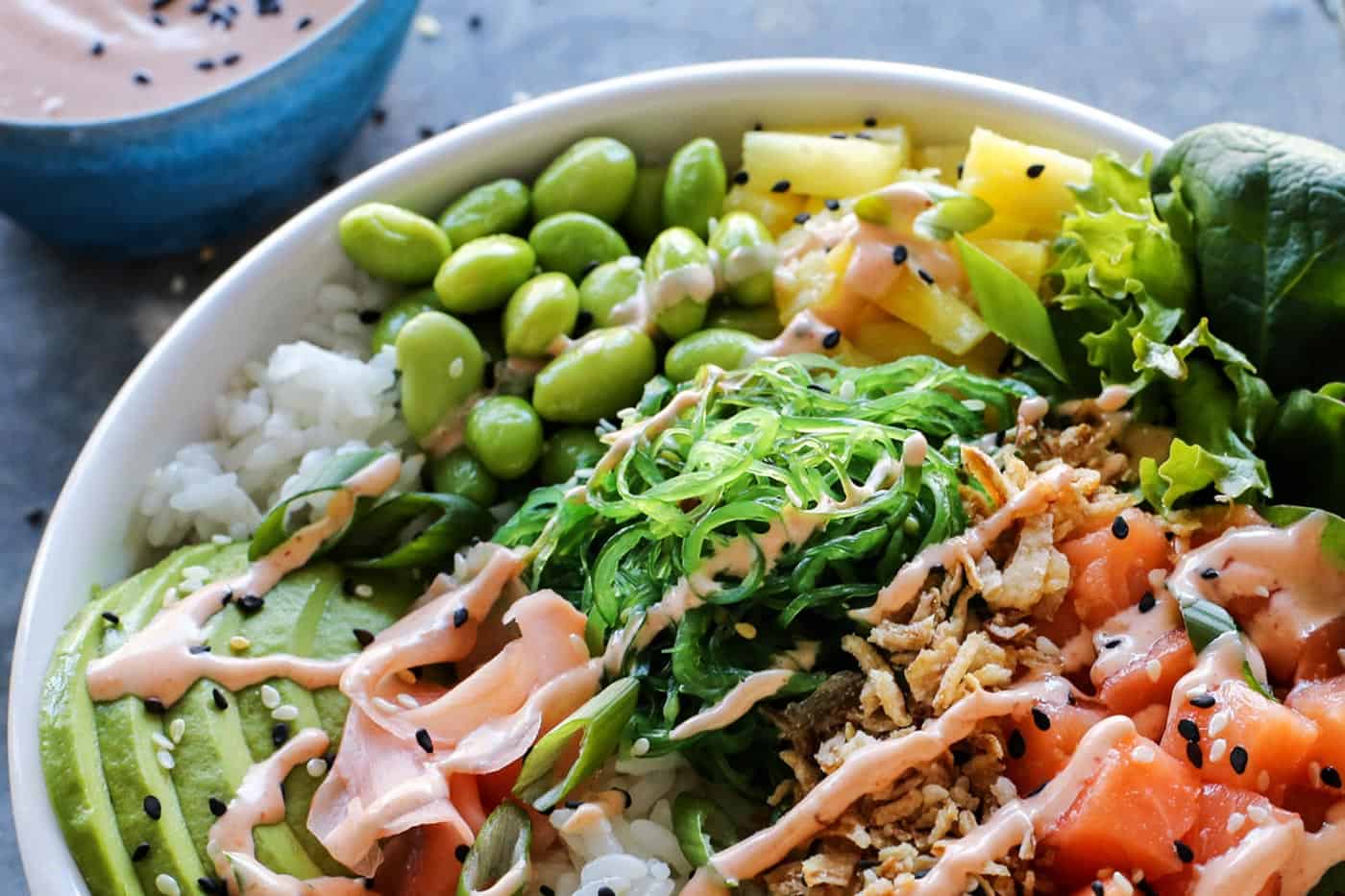 Variation Ideas
There are so many ways to add variety to poke bowls. The topping options are endless!
For the base: Choose white rice (I like a medium-grain sushi rice), brown rice, or a full base of fresh greens.
For the main protein (the poke): Try ahi tuna, albacore tuna, salmon, scallops, octopus, shrimp, or crab. If you aren't a fan of raw fish, try it seared or cooked.
No fish? If you wish to step completely outside the fish and seafood realm, use tofu or chicken.
For the vegetables: There's creamy avocado, edamame, garlic, sweet onion, shredded carrots, cucumber, tender greens, Napa cabbage, kale, jalapeno, green onion, and the crisp bite of radishes. Also think about fresh herbs – cilantro is perfect for this dish!
For the fruit: My bowl includes pineapple, just like Aloha Poke Co. offers – but mango and mandarin orange wedges are also beautiful additions that offer some natural sweetness.
Additional bowl toppings: Don't let the fun stop without at least a couple more of these toppings! Try pickled ginger, wasabi (spicy horseradish paste), tobiko or masago (fish roe), togarashi (Japanese red chili spice mixture), furikake (Japanese seasoning mixture), dried seaweed, seaweed salad (hydrated seaweed with sesame oil, vinegar, etc.), fried wonton strips, chopped macadamia nuts, and sesame seeds.
Want to keep it low-carb? Ditch the rice and use cauliflower rice or zucchini noodles instead. Or simply use all salad greens.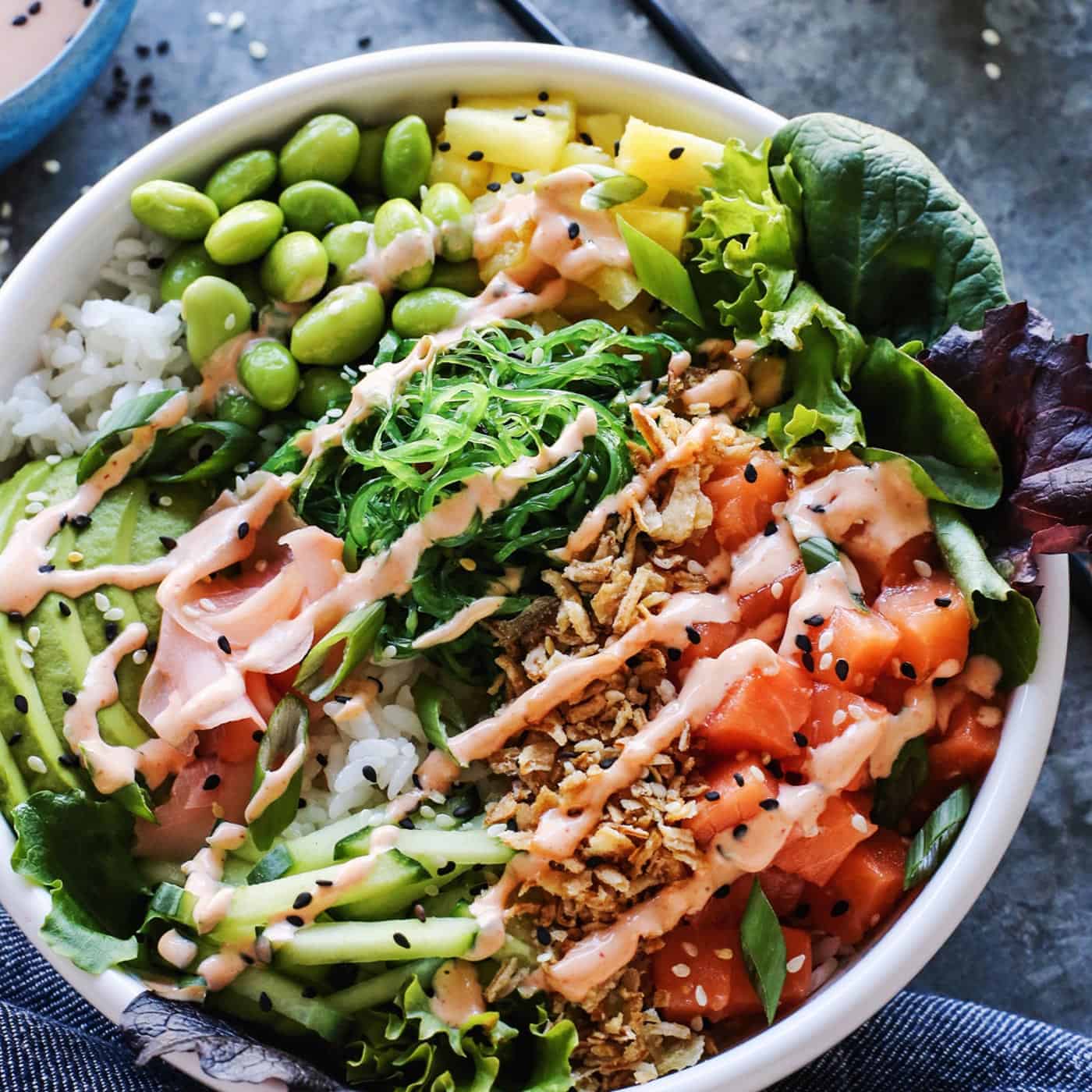 How Long Does a Poke Bowl Stay Fresh?
It's best to eat raw fresh poke the day it's made. But I can't always finish mine the same day. So I make sure to get my leftover bowl quickly into the refrigerator, and then I'm able to enjoy it the following day. I don't like to keep poke bowls beyond one day.
Like this recipe? Save it to Pinterest!
More Recipes to Try: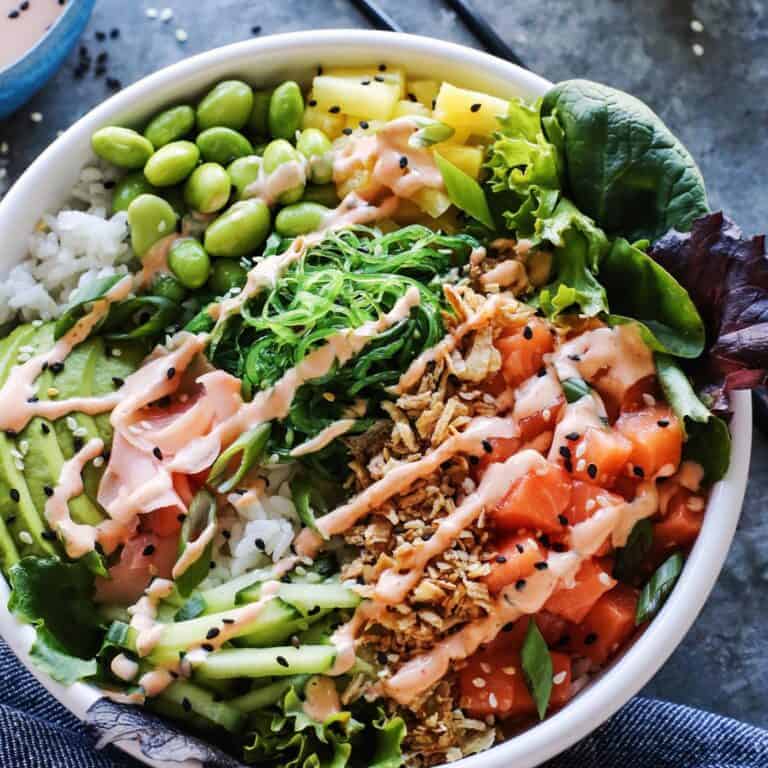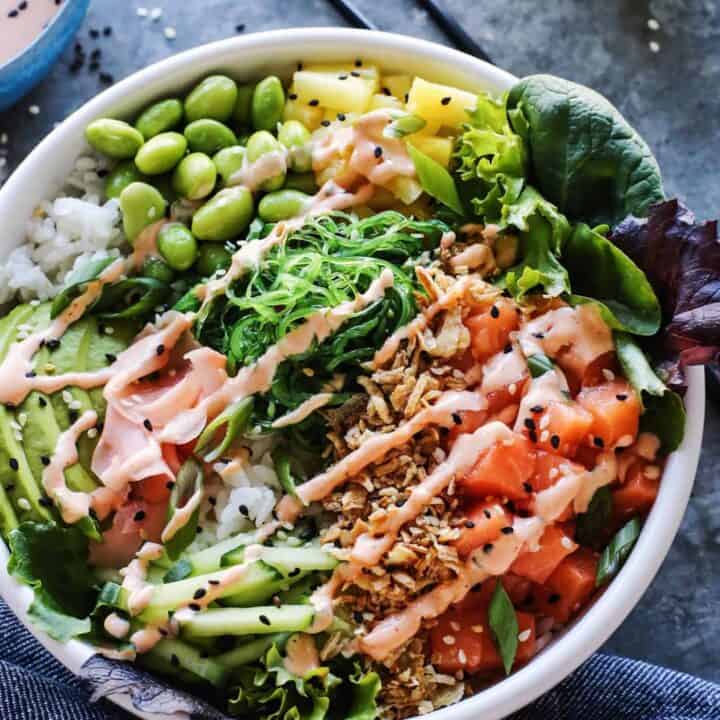 Easy Hawaiian Poke Bowl with Spicy Aioli
Yield: 4 servings
Prep Time: 15 minutes
Cook Time: 20 minutes
Total Time: 35 minutes
This Hawaiian Poke Bowl recipe is like a deconstructed sushi roll in a bowl, with rice, fish, and a variety of delicious toppings and sauces!
Ingredients
for the spicy aioli:
for the sesame vinaigrette:
for the bowls:
Instructions
First cook the rice in a rice cooker. Keep warm while you prepare the sesame vinaigrette, spicy aioli, and remaining bowl ingredients.
for the sesame vinaigrette: Place soy sauce, rice vinegar, olive oil, sesame oil, honey, and lime juice in a container with a tight fitting lid. I like to use a mason jar with these lids. With lid on, shake vigorously to combine. Place in refrigerator until ready to serve. Shake vigorously before using.
for the spicy aioli: Whisk together mayonnaise and Sriracha. Refrigerate in a covered container until ready to serve.
To assemble the bowls: Divide fresh greens amongst four large individual bowls. Then divide and layer in the warm rice, followed by cucumber, seaweed salad, edamame, pineapple, pickled ginger, avocado, salmon, fried onion, sesame seeds, and green onion. Top with sesame vinaigrette and spicy aioli. Of course, all of these items are optional and you can choose whatever you like!
Notes
from a farmgirl's dabbles
Recommended Products
As an Amazon Associate and member of other affiliate programs, I earn from qualifying purchases.
Nutrition Information:
Yield: 4
Serving Size: 1
Amount Per Serving:
Calories: 865
Total Fat: 50g
Saturated Fat: 8g
Trans Fat: 0g
Unsaturated Fat: 39g
Cholesterol: 58mg
Sodium: 1525mg
Carbohydrates: 76g
Fiber: 9g
Sugar: 20g
Protein: 31g
Nutrition information is automatically calculated by Nutritionix. I am not a nutritionist and cannot guarantee accuracy. If your health depends on nutrition information, please calculate again with your own favorite calculator.