Juicy Lucy Burger Lettuce Wraps
This post may contain Amazon or other affiliate links. As an Amazon Associate I earn from qualifying purchases.
Juicy Lucy (also spelled Jucy Lucy) is a legendary cheese-stuffed burger from Minnesota. My burger features a core of molten cheddar – and is served with crisp lettuce, pickled red onions, a fresh tomato slice, and creamy burger sauce. You're gonna love it!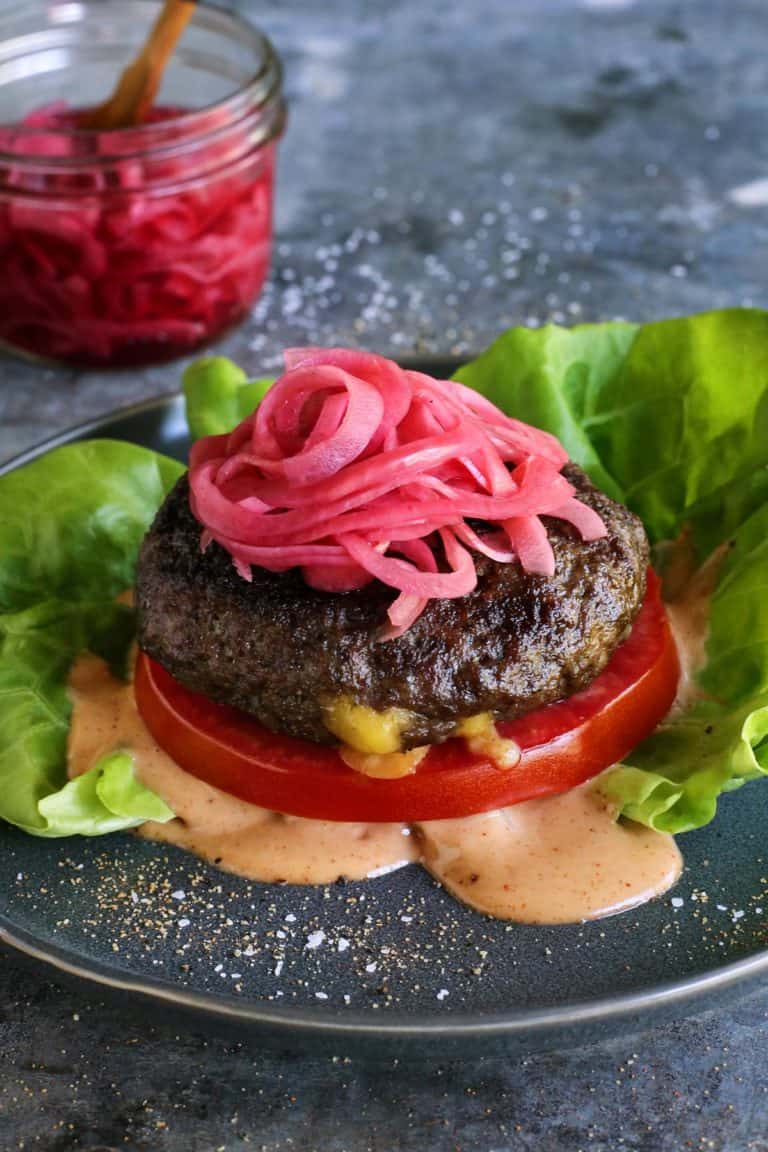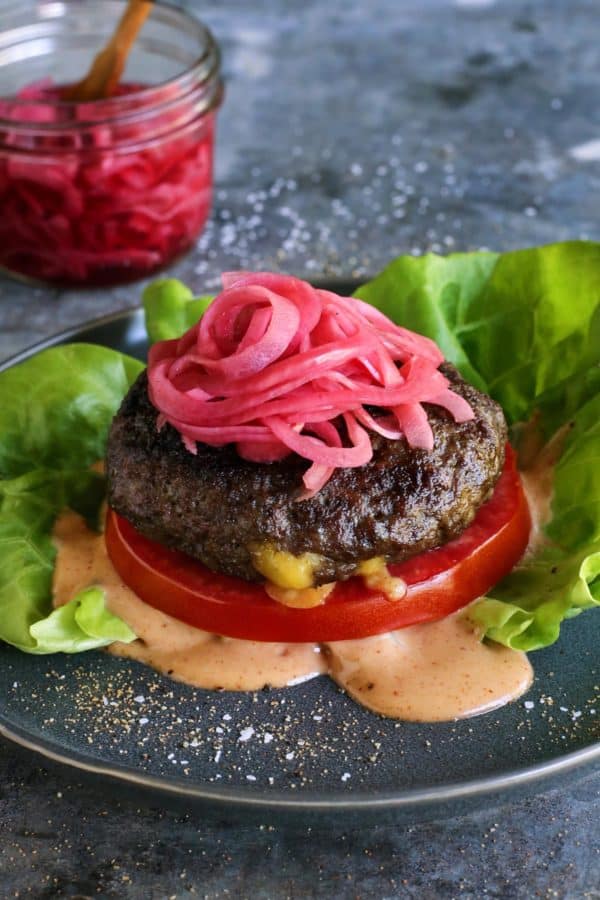 The famous Minnesota Juicy Lucy
This week has been total cheeseburger heaven!
To celebrate Tillamook's arrival to the Twin Cities, I attended Melty Fest and ate my way through five different versions of a Juicy Lucy. Whoah. So good!
And here I have my own very special cheeseburger to share with you. It's my riff on the famous Minnesota Juicy Lucy, with a luxuriously melty center of cheddar. With fresh lettuce, a big fat slice of sweet August tomato, pickled onions, and a creamy burger sauce, it's right up my alley.
Whether you live in Minnesota, or not, I hope you'll join me in experiencing these crazy delicious Juicy Lucy Burger Lettuce Wraps!
* This is a sponsored post, created in partnership with Tillamook.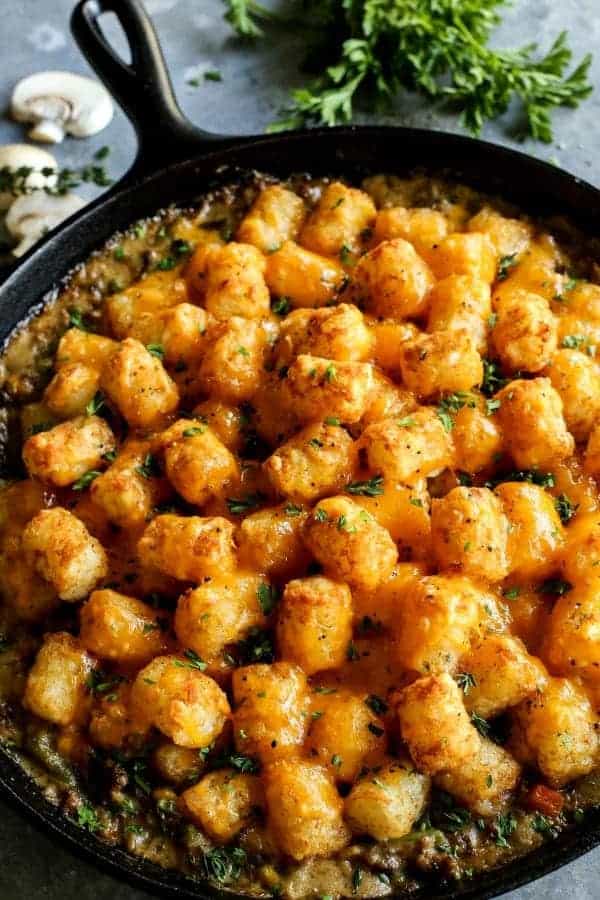 Minnesota food and drink
When you think about Minnesota, what foods and drinks come to mind?
For me, Minnesota means tater tot hotdish (I sprinkle mine with shredded sharp cheddar!), fresh-caught walleye, creamy chicken wild rice soup, Swedish meatballs, lefse, lutefisk, SPAM, Honeycrisp apples (as well as many other famous apple varieties bred at the University of Minnesota), pans of bars, Pearson's Nut Goodies, and all the delicious fun found at the Minnesota State Fair.
I could also throw in a staggering number of excellent newer-to-the-scene craft beers, as well as longtime beer icons such as Grain Belt. Minnesota makes some beautiful wines and ciders. And have you ever had 1919 Rootbeer?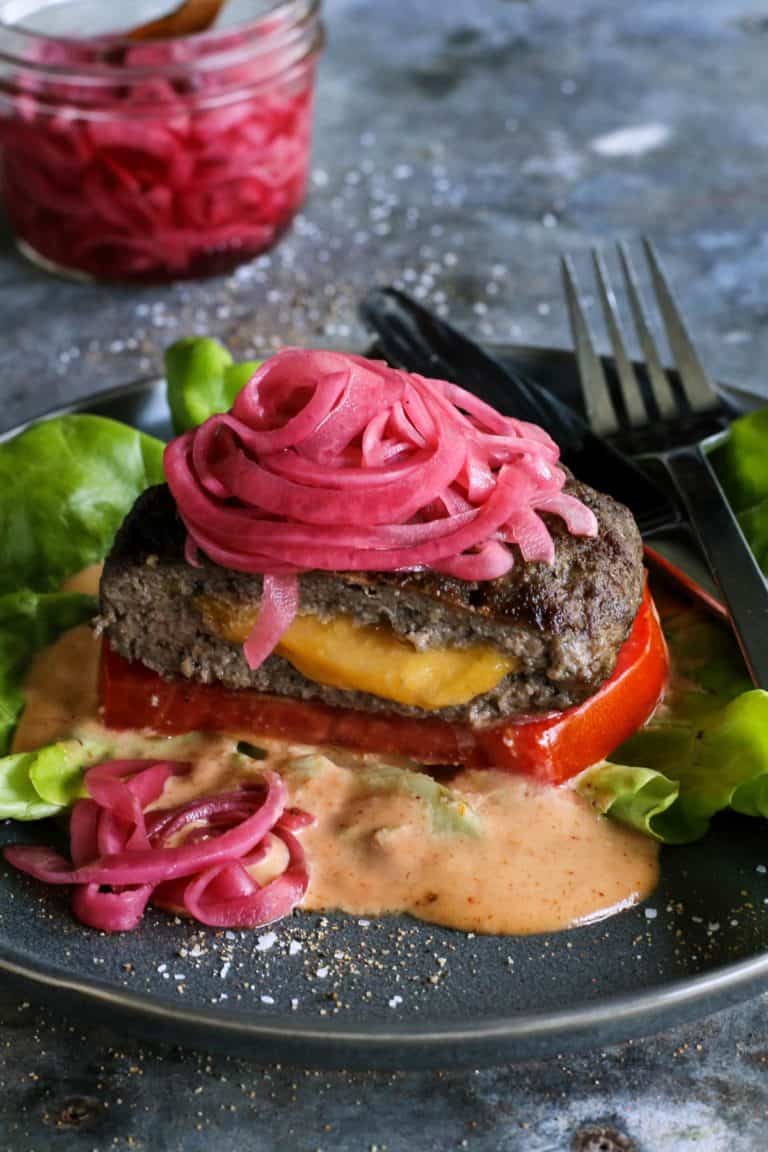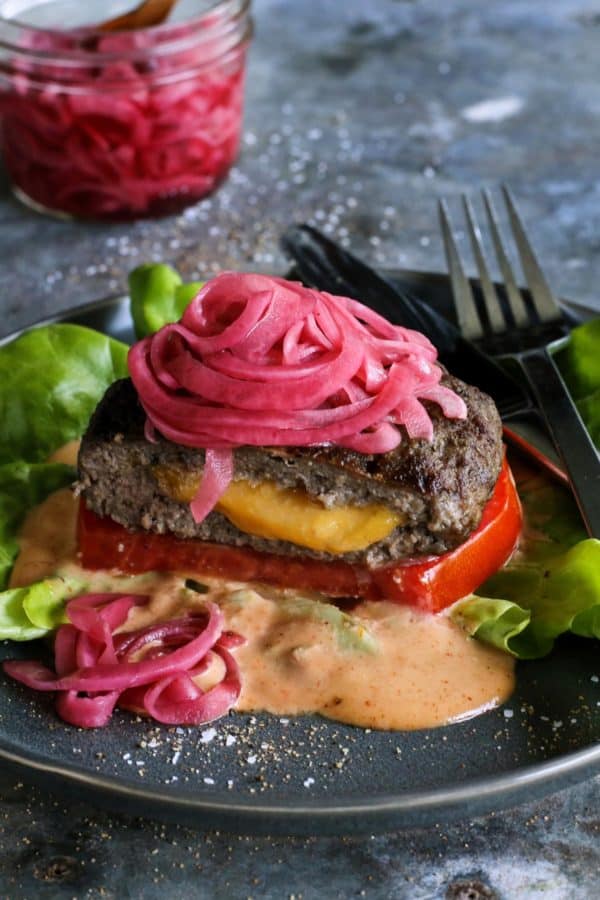 Juicy Lucy
I'd surely get in trouble from the Minnesota food police if I didn't also mention the Juicy Lucy. Or Jucy Lucy, as you'll sometimes see it spelled. This cheese-stuffed burger goes by both names here in this state.
What is a Juicy Lucy, you ask?
The answer is quite simple: Instead of topping a burger with cheese, the cheese is stuffed inside the patty. This results in a beautiful melty center of cheese that oozes out with the first bite.
Where is the Juicy Lucy from?
Well, Minnesota for sure. But there's been a longtime rivalry about exactly where in Minnesota. Some say Matt's Bar. Others say the 5-8 Club. When Time magazine named the cheeseburger one of The 17 Most Influential Burgers of All Time, this only added more fun and exposure to the friendly fire.
Beyond those two locations, there are many places to find a great version of the Juicy Lucy here in the state. Our family has (immensely) enjoyed the ones served at The Nook. And I've had the pleasure of trying the Jucy Blucy (with a blue cheese center) at The Blue Door Pub. Matt's Bar and the 5-8 Club will remain on our Minnesota Burger Bucket List, rest assured.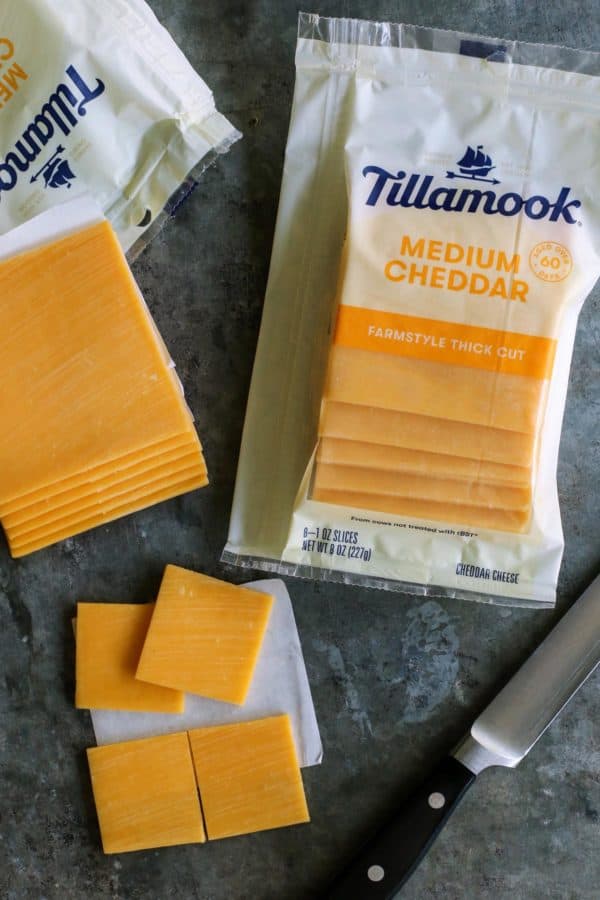 How to make a Juicy Lucy burger
Be sure to use some great cheese.
I use thick-cut slices of medium cheddar from Tillamook to stuff these burgers. Those thick slices, I love them!
Same goes for Tillamook's farmstyle thick-cut shredded cheeses. The thicker shreds are completely wonderful for melting over nachos and pizza.
I also need to share… Our youngest daughter opened up a package of Tillamook's sliced Swiss and said, "This is so good, Mom. I've never really liked Swiss cheese, but I could eat this whole package." I had to agree. There is definitely something special about Tillamook cheese (and don't even get me started on their ice cream!!).
I buy Tillamook at our local Target. To find a store near you, use their Where To Buy tool.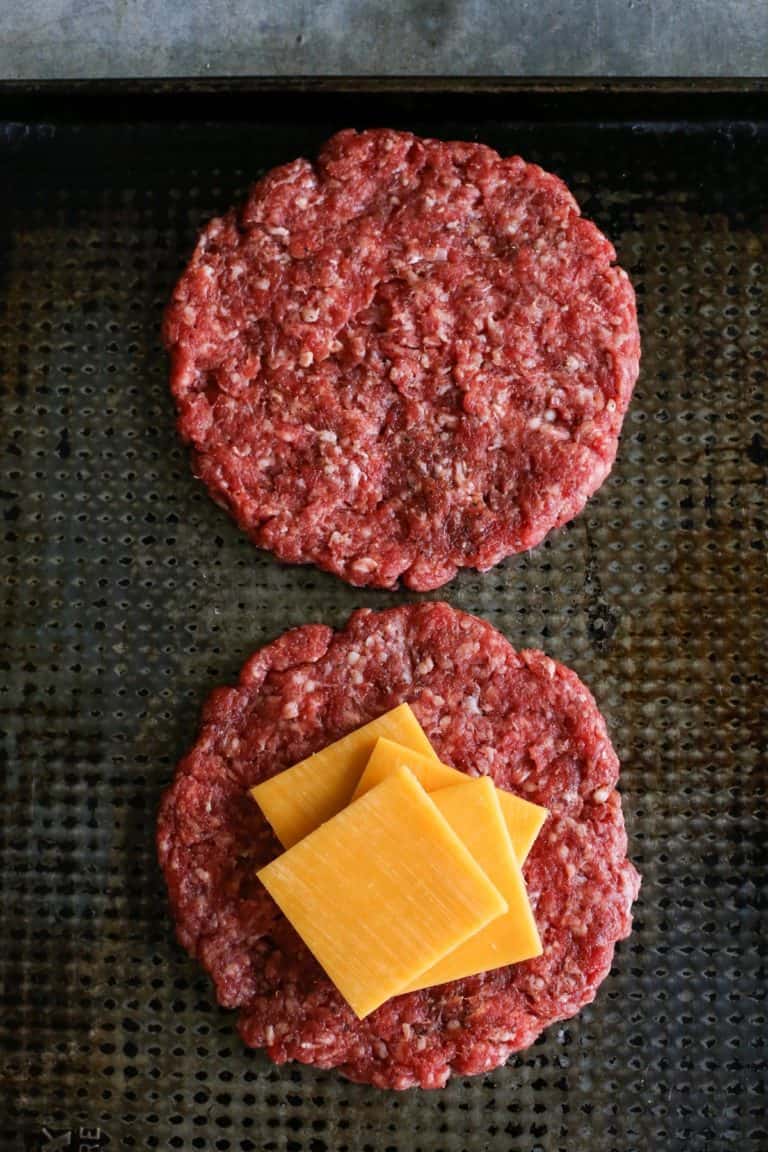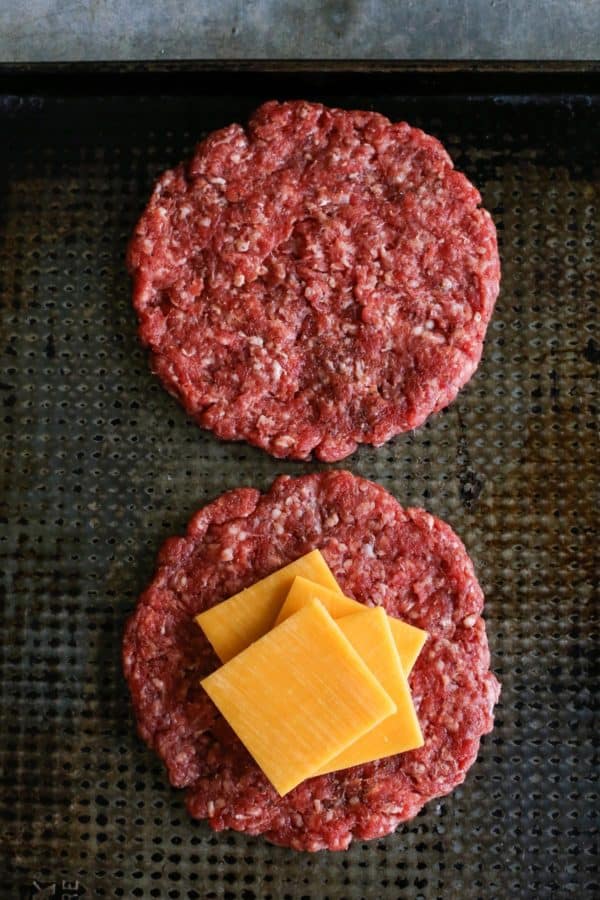 Use good quality beef. And please, skip the ultra lean stuff.
To enjoy a truly juicy burger, you just have to have a certain amount of fat mixed in. I use ground chuck with an 80/20 fat ratio.
Then add simple seasonings of salt, pepper, and Lawry's seasoned salt. I grew up on Mom's burgers with Lawry's, and just can't stray from tradition.
Cut a slice of cheddar into quarters and place them on a thin burger patty.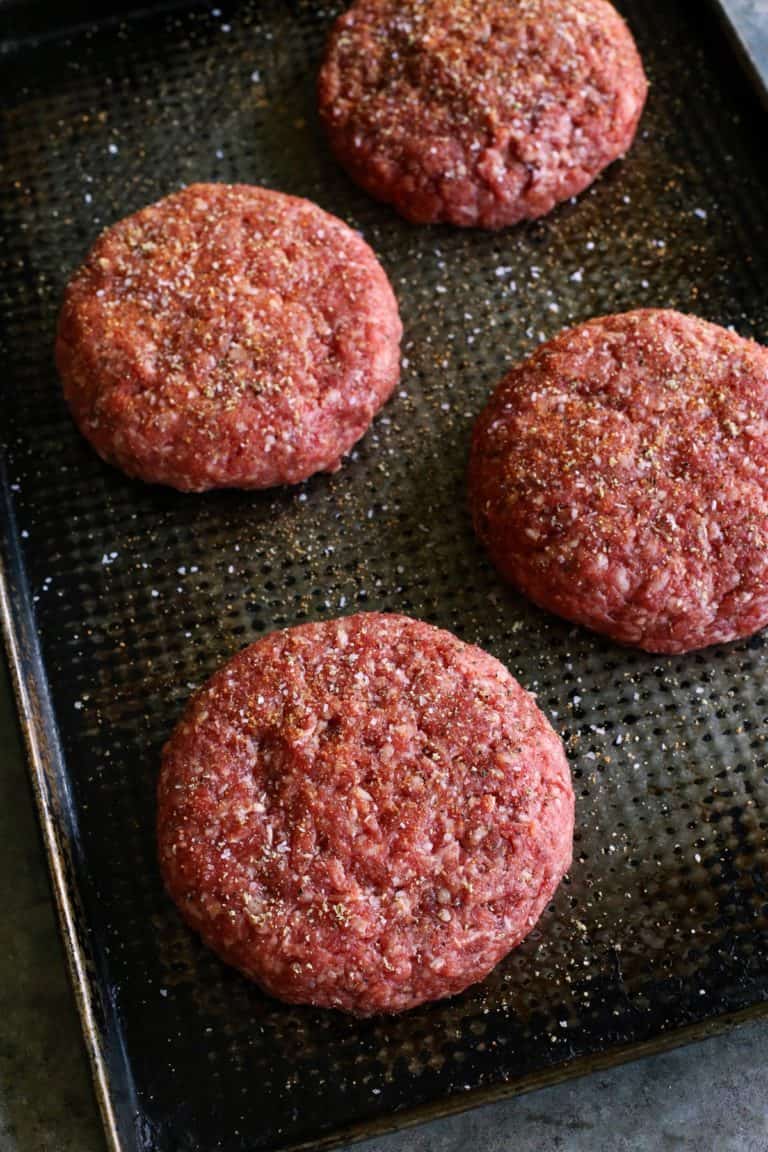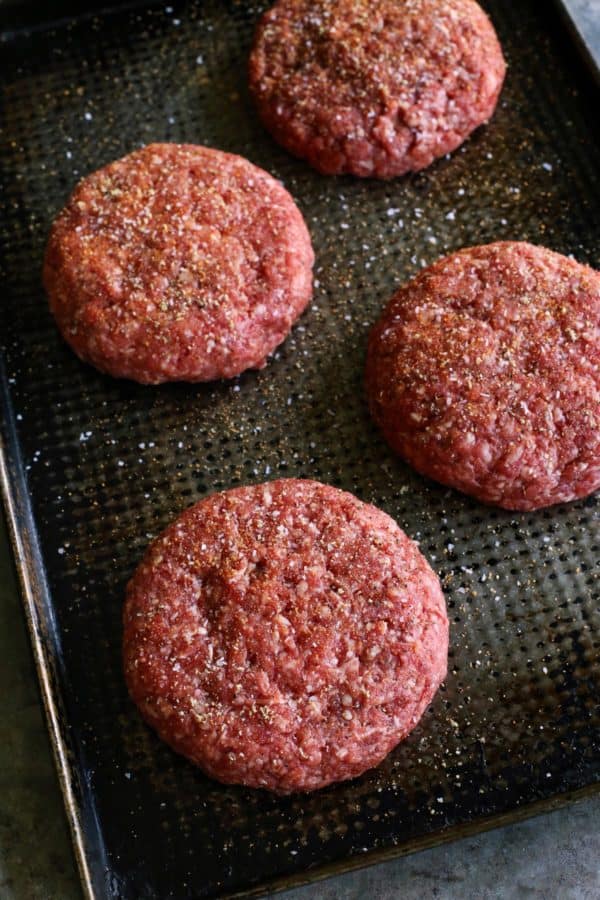 Top the patty/cheese with another burger patty, and then pinch the edges tightly to make a seal. They look just like a regular ol' burger from the outside.
However, we know the wonderful secret hiding inside!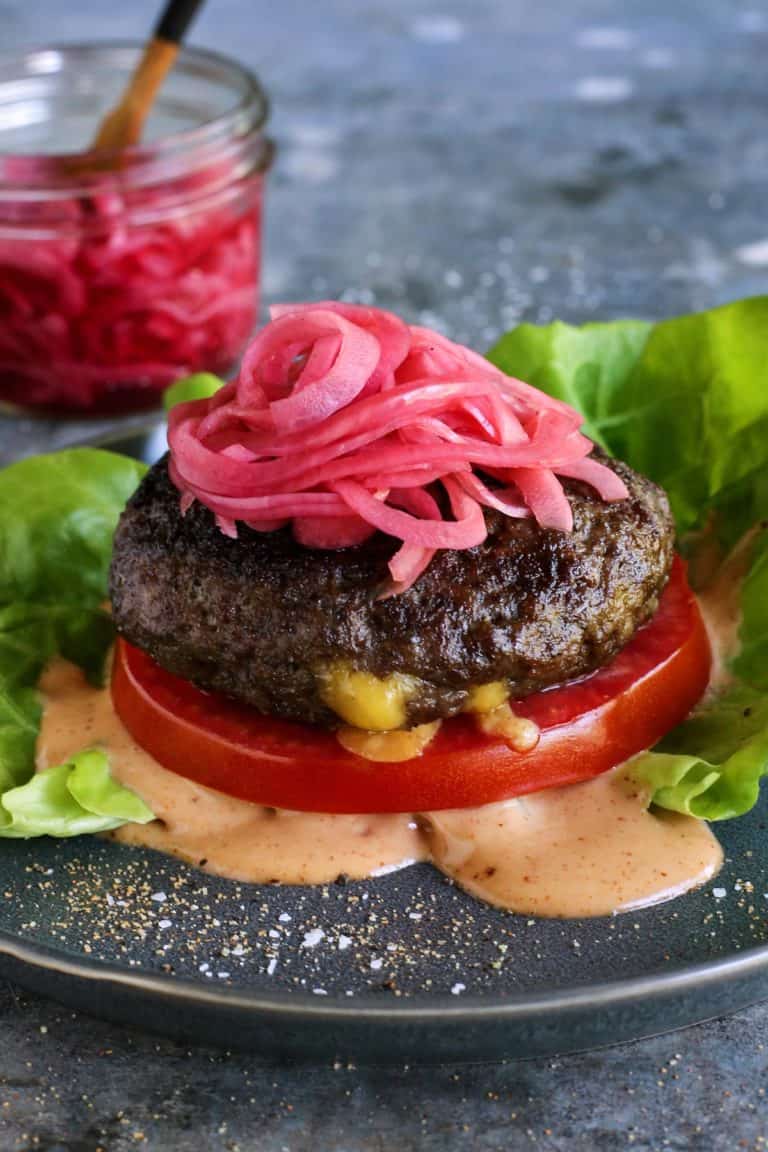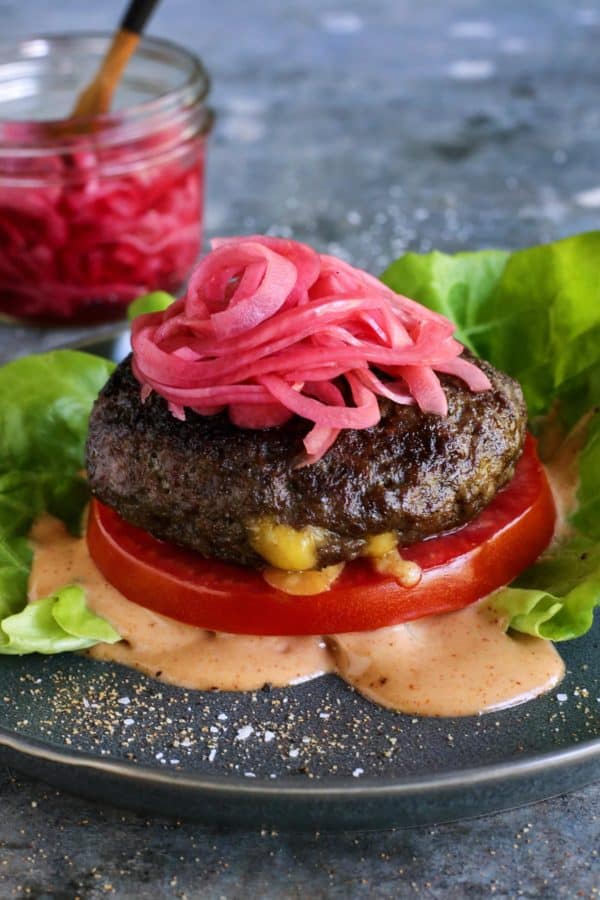 Choose your cooking method.
Our family grills nearly every single day from early spring through late fall here in Minnesota, so that's how we make these burgers. But pan frying also works just as well.
When the burgers are done to your liking, with a melty core of cheese, remove them from the heat and let them rest for a few minutes.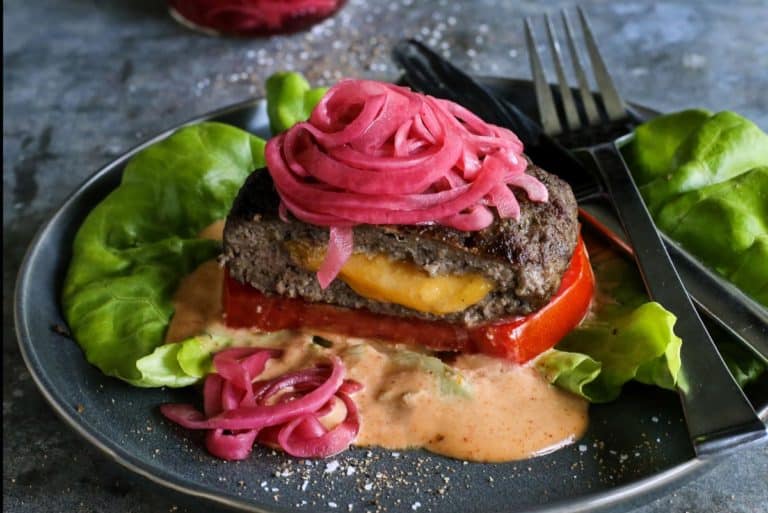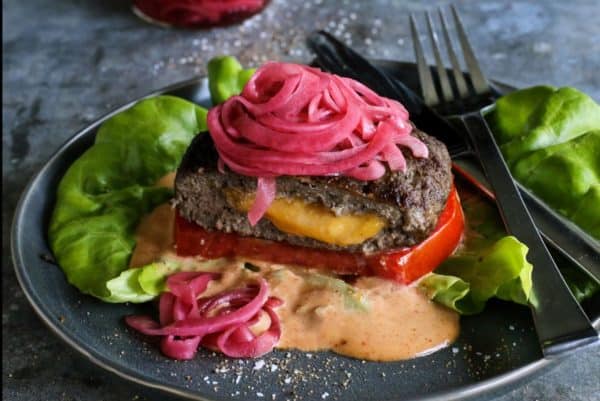 Serve with your favorite toppings and condiments.
I eat the majority of my burgers on a bed of lettuce, sans bun. But I'm always sure to have some soft buns on hand for the traditional hand-held burger. I like to lightly butter and then grill the buns to add even more texture and flavor.
Then it's time to get all the cheeseburger goodies in order. Pickled red onions are a staple in our fridge; they're a must for me with burgers. A big fat slice of tomato, especially this time of year when they're outrageously sweet and juicy, is always welcome. And a creamy burger sauce adds some tasty, messy fun.
Of course, all of this can – and should – be tailored to your liking. Eat your Juicy Lucy with ketchup, mustard, mayo, pickles, fried onions, etc.
And most importantly. Don't dive in too fast!
A good Minnesota server will always warn you about the explosively hot center of cheese when they hand you a Juicy Lucy. Be careful. That first bite is always an extra hot one!
Like this cheese stuffed burger? Save it to Pinterest!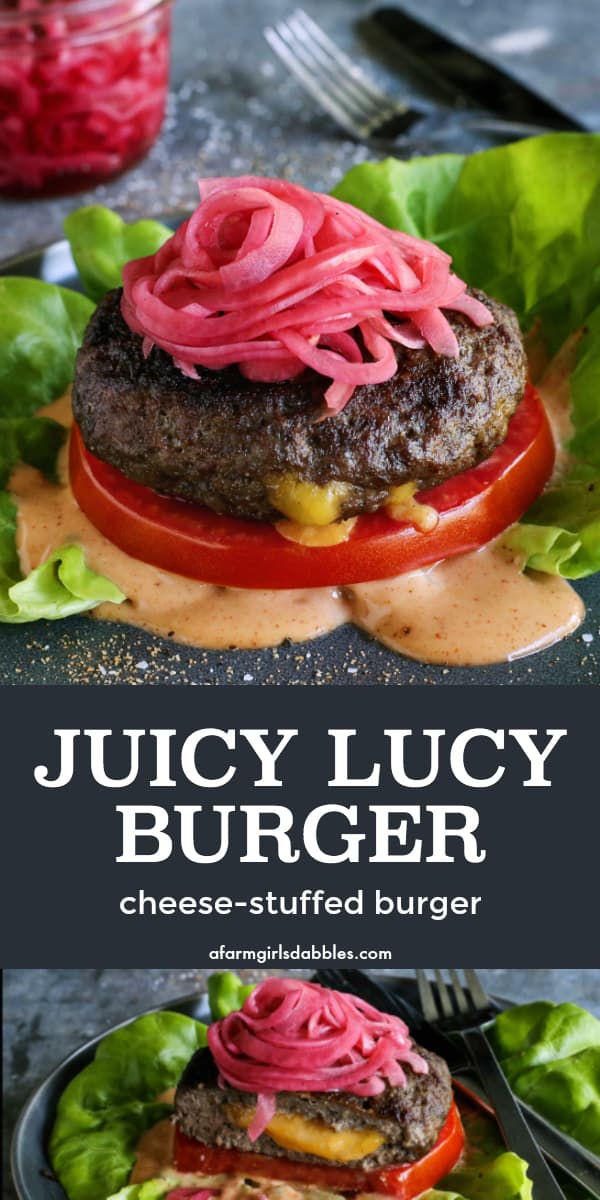 Melty Fest with Tillamook – a celebration of the Minnesota Juicy Lucy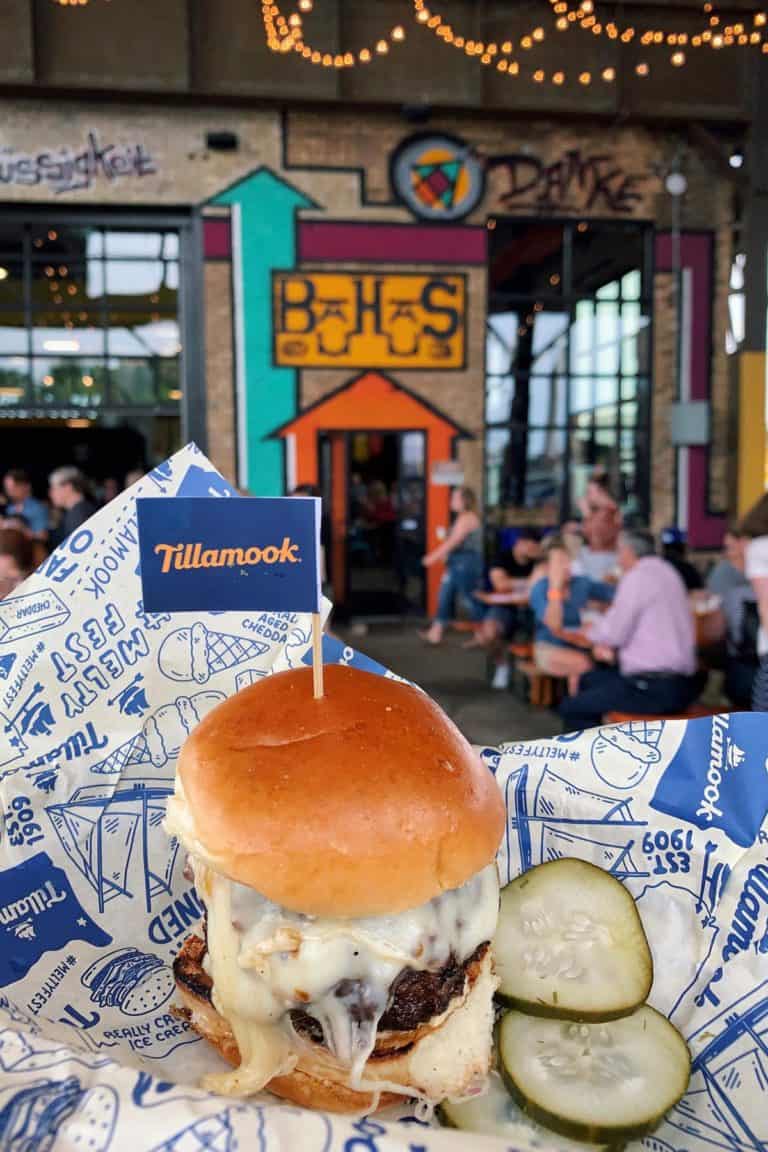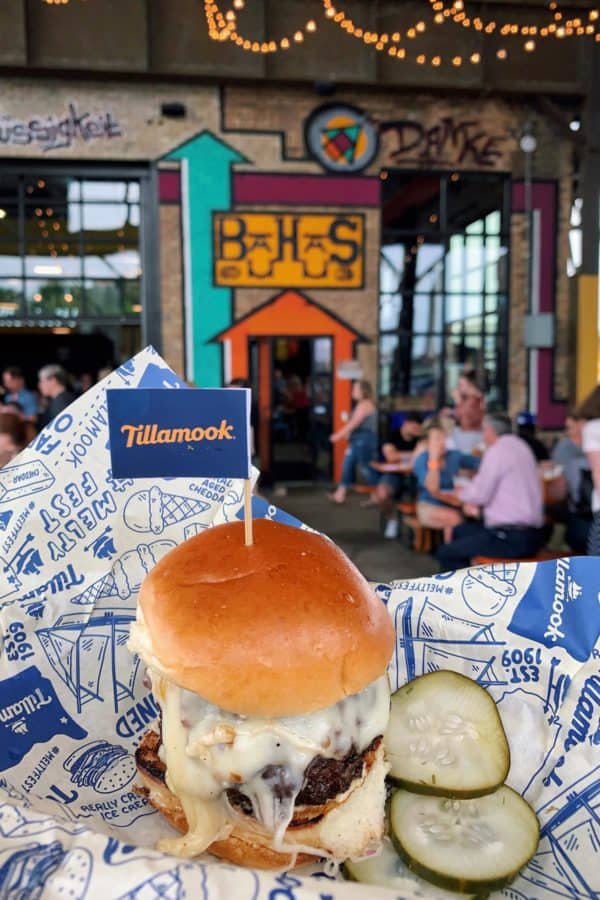 Tillamook and Bauhaus Brew Labs hosted a Melty Fest event here in the Twin Cities earlier this week. And it was a blast – with crazy good Juicy Lucys and great craft beer.
I hadn't been to Bauhaus before, had only seen pictures that made me add it to my "craft brewery must-visit" list. This once-booming iron foundry has a great history, and it makes me happy to see this abandoned space rescued and filled with new life. Bauhaus and its large covered patio, plus a perfectly perfect Minnesota evening, provided for an awesome Melty Fest setting.
Five local chefs cooked up their version of a Juicy Lucy for Melty Fest. Pictured above is a slider from Burger Dive (Nick O'Leary and Josh Thoma), with a soft-boiled egg in the middle plus pepper jack melted seductively over the top.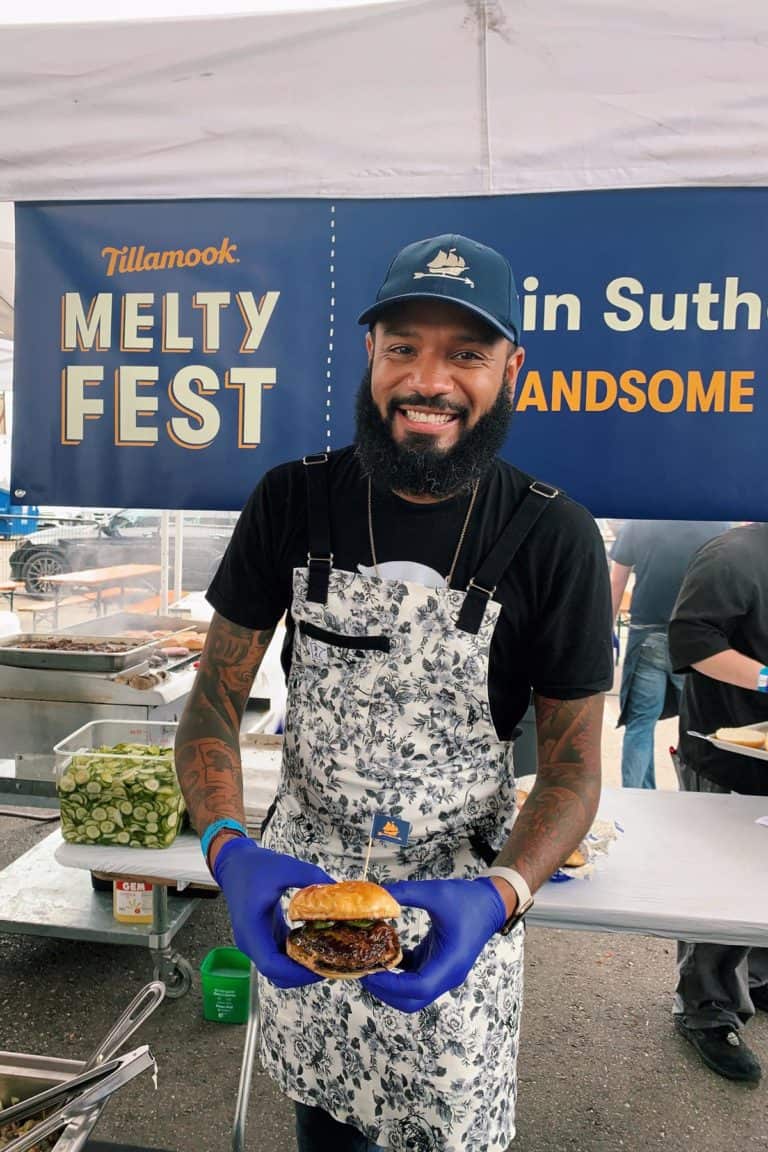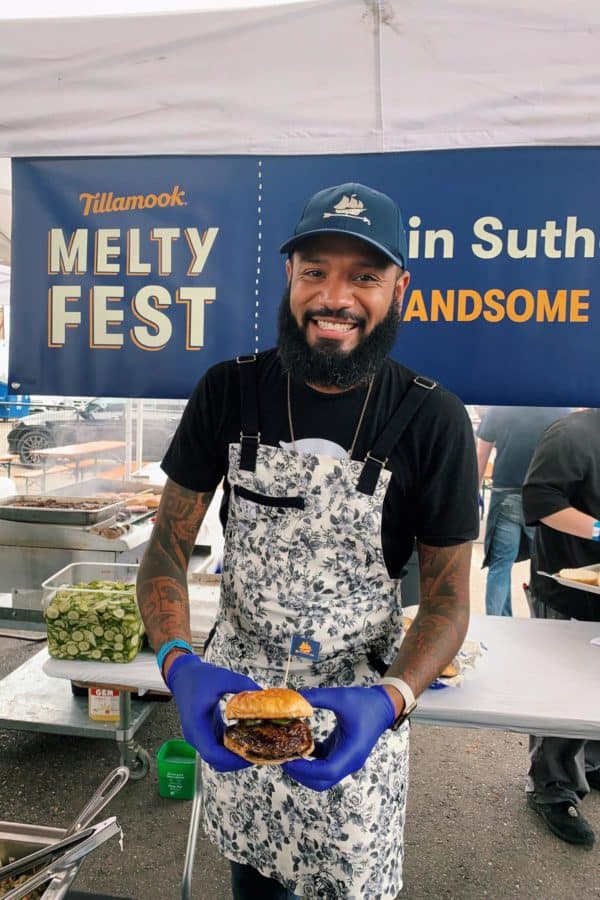 Justin Sutherland from Handsome Hog was serving up his Pimento Cheese Juicy Lucy. If you aren't from Minnesota, maybe you know this chef from watching him on Iron Chef or Top Chef? Here's a fun interview to learn more about him.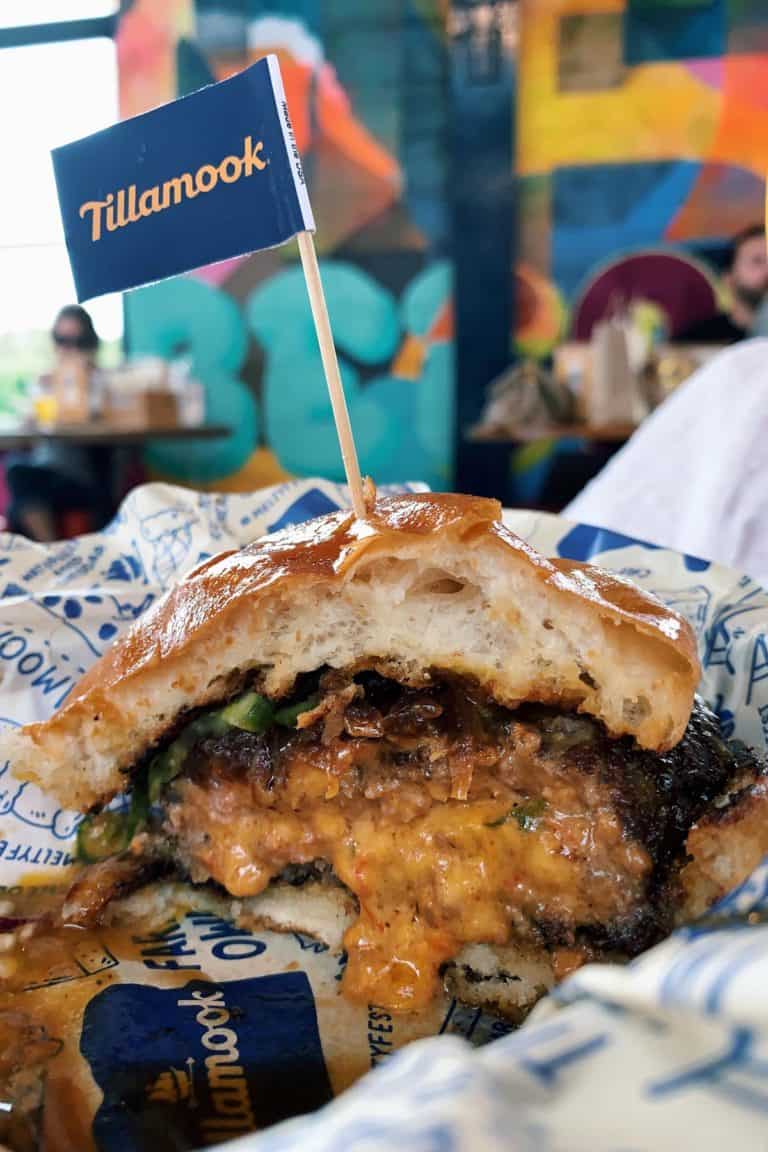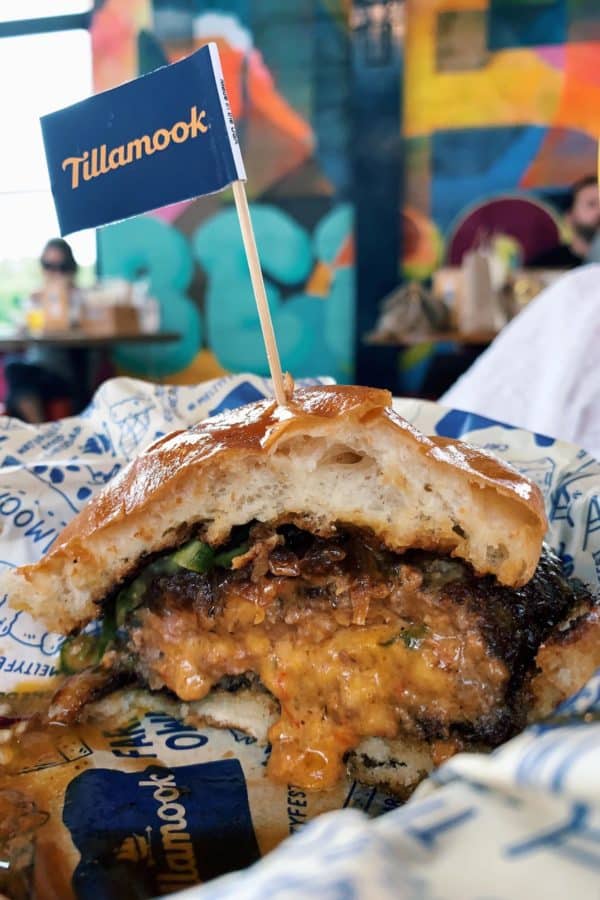 Justin's pimento cheese-stuffed burger rocked. I ate the whole dang thing, and would have gladly welcomed another couple bites!
Would you like a Pimento Cheese Juicy Lucy from Chef Sutherland? Well you're in luck! Through August 18th, this burger is a special menu item at Handsome Hog. Go. Get. It!!!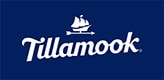 Tillamook is a farmer-owned cooperative in Oregon. They've been making naturally aged cheddars with no artificial ingredients for over 100 years. Minnesota is so happy to have them here!
For more information about Tillamook, visit their web site. You can also find them on these social media channels: Facebook, Twitter, Pinterest, and Instagram.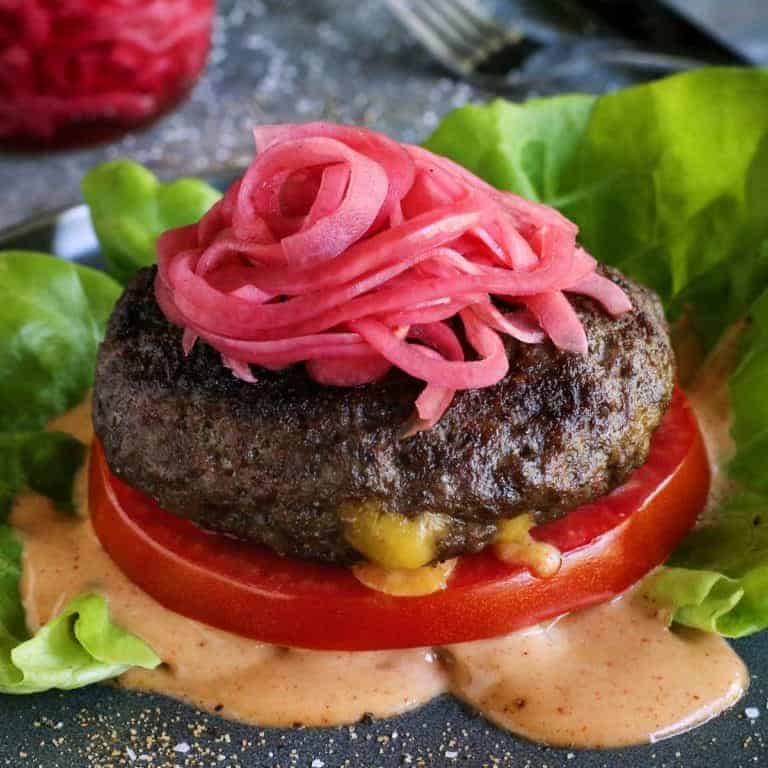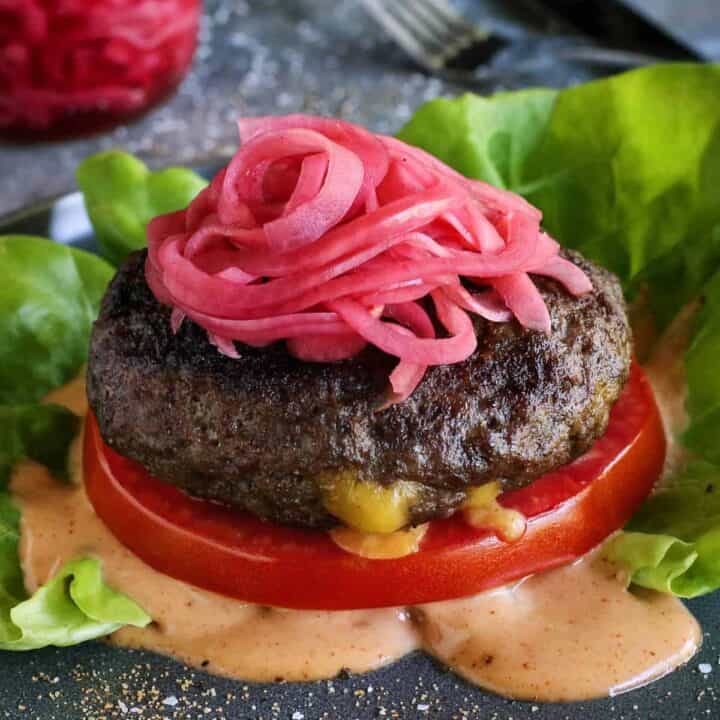 Juicy Lucy Burger Lettuce Wraps
Yield: 4 servings
Prep Time: 25 minutes
Cook Time: 10 minutes
Total Time: 35 minutes
Juicy Lucy is a legendary cheese-stuffed burger from Minnesota. My recipe features a burger with a core of molten cheddar, and it's served with crisp lettuce, pickled red onions, fresh tomato, and a creamy burger sauce.
Ingredients
1-½ lbs. good quality 80/20 ground chuck, chilled
2 tsp. Lawry's seasoning salt, divided - plus a bit more for sprinkling over prepared patties
1 tsp. ground black pepper - plus a bit more for sprinkling over prepared patties
½ tsp. kosher salt, plus a bit more for sprinkling over prepared patties
4 slices large ripe tomato
4 to 8 large lettuce leaves
your favorite creamy burger sauce
Instructions
Add ground beef to a large bowl and sprinkle with 1-½ teaspoons of the Lawry's salt and the black pepper. Mix by hand until just incorporated. Divide beef evenly into four sections.
Form each section into two thin burger patties, to equal eight burger patties total. They should be about 5" in diameter each. Cut each cheddar slice into four pieces, and then place four of the smaller pieces (1 whole cheddar slice) in the center of each of four burger patties, fanning the pieces out a bit. Place another burger patty over each patty with cheese. Pinch edges of patties tightly to seal each burger, then cup each burger with your hands to round out the edges. Press on the top center to flatten slightly into a single thickened burger patty. Each burger should be about 4" in diameter. Sprinkle both sides of each burger lightly with additional Lawry's, black pepper, and kosher salt.
Heat grill to high heat. Once hot, clean the grates really well. Then generously oil the grill grates using a long tongs and a folded paper towel soaked with vegetable oil. Decrease heat to medium. Place burgers on grill grates and let cook for 5 to 6 minutes on the first side. I try to keep the burgers just on the edge of the grill's hot spots, to cook a bit indirectly. Then carefully flip the burgers over and grill for about 5 minutes longer for medium-well burgers. Do not press on burgers because you'll lose juices and have flare-ups, as well as cause the cheese to burst out from the centers. Adjust cook time for desired doneness. The goal is melty cheese inside, with burgers cooked to your liking.
Remove burgers from grill and let rest for a couple minutes. This is an important step, as the cheese inside is incredibly hot and tends to explode out with your first bite. Be careful!
Serve on top of one to two large lettuce leaves. Use a sturdier lettuce to eat like a wrap. A more tender lettuce, or one with smaller leaves, can be used to eat the burger like a salad, with a fork and knife. Add a tomato slice, pickled onions, and your favorite burger sauce. Of course there's a ton of other options; use what you like. Ketchup, mustard, mayo, pickles. You get the idea...
Notes
from a farmgirl's dabbles
Recommended Products
As an Amazon Associate and member of other affiliate programs, I earn from qualifying purchases.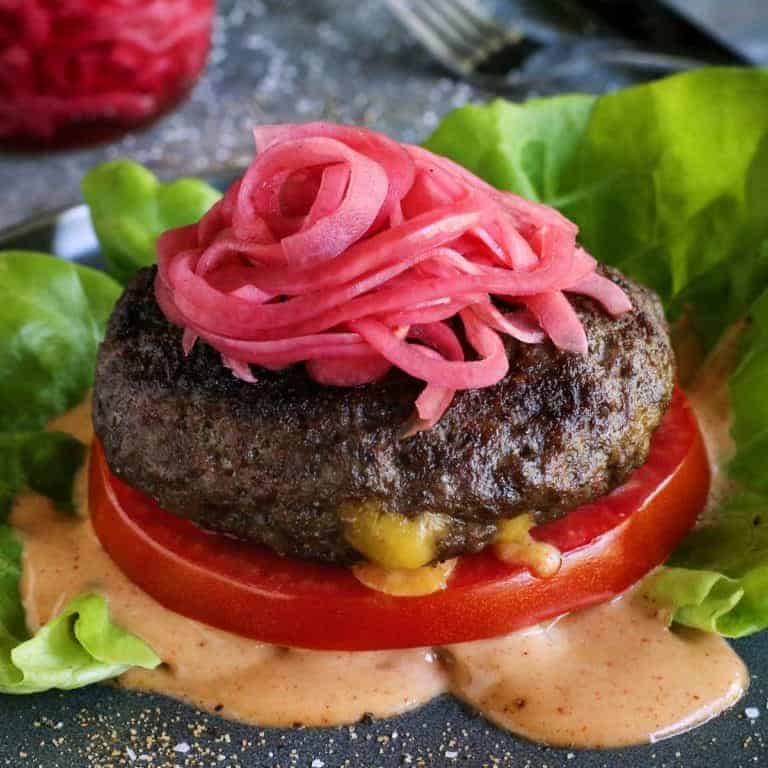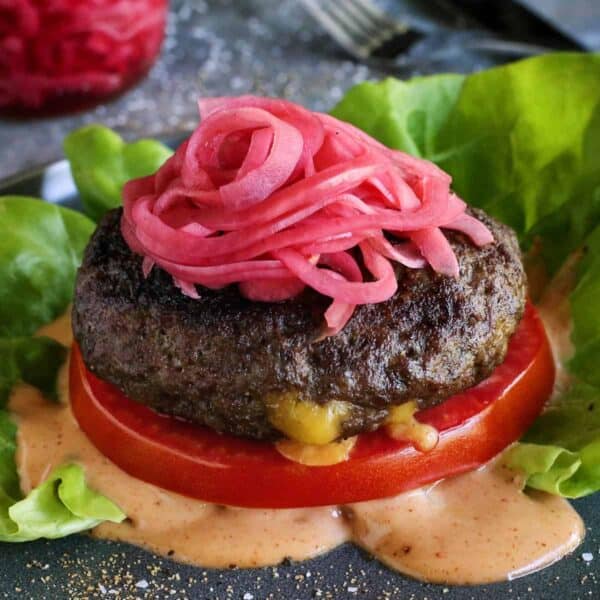 Thank you to Tillamook for sponsoring this post!
We participate in the Amazon Services LLC Associates Program, an affiliate advertising program designed to provide a means for us to earn fees by linking to Amazon.com and affiliated sites. See our
disclosure policy
for more info.