Margarita Grilled Shrimp Skewers
Margarita Grilled Shrimp Skewers are loaded with flavor and charred to perfection. A quick and easy grilled shrimp recipe that promises flavorful, succulent shrimp!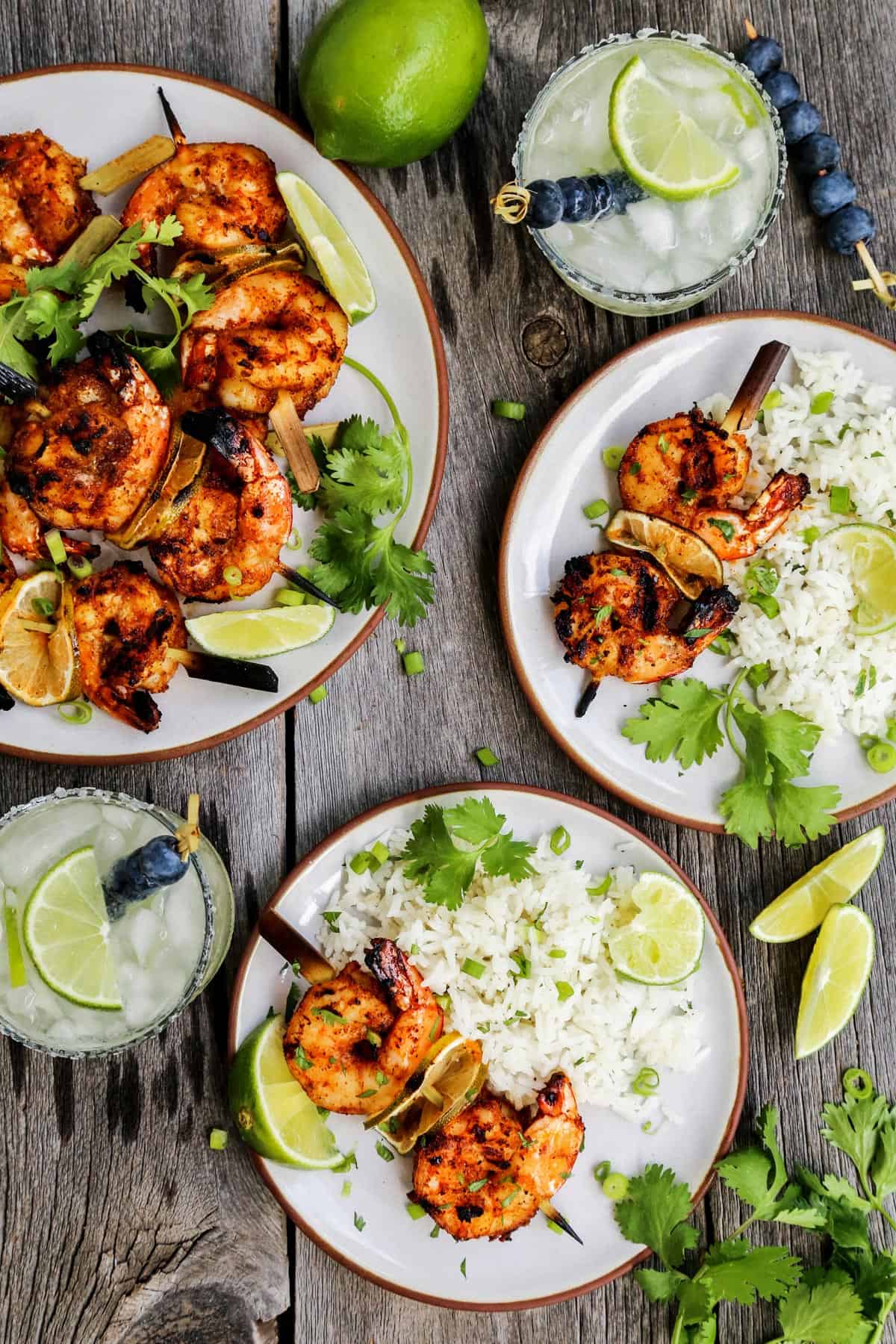 The Best Grilled Shrimp Recipe
This Margarita Grilled Shrimp recipe is one of my favorite recipes EVER. And from all the feedback I've gotten over the years, I know it's top reader favorite as well. If you love shrimp, you just have to try this!
These shrimp are tender and succulent, with a gorgeous lightly crisped exterior. And they are loaded with flavor – it's amazing what your spice drawer can do for shrimp!
I like to serve these as both an appetizer and a meal, with or without skewers. Guests are always amazed at how delicious this recipe is. And it's so quick and easy and fabulously delicious that Blake and I often grill up a batch just for ourselves…I'm serious when I say I crave this shrimp!
So shake up a margarita and throw some shrimp on the barbie. You're gonna LOVE this grilled shrimp recipe!
FEATURED COMMENT:

"These were the best shrimp I've ever made (and I live in South Louisiana, so that's a lot). Quick and easy, too."

-Lynette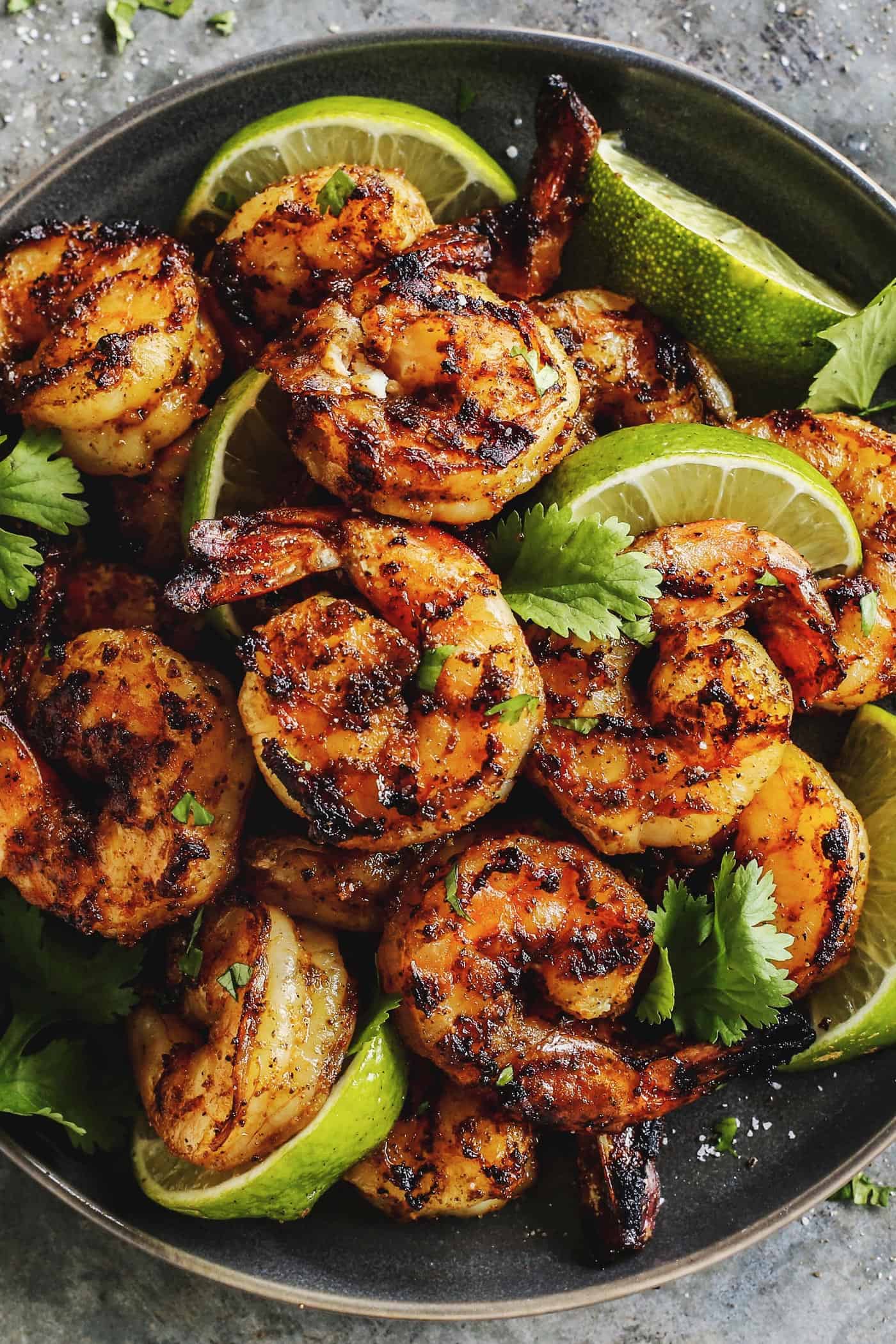 Is this a Main Course or an Appetizer?
One of the best things about this recipe is how easy it is to customize.
Do you fancy a shrimp dinner? Use larger skewers.
Want to make a simple shrimp appetizer? Use small skewers.
We make this recipe with smaller appetizer-sized skewers, larger meal-sized skewers, and without any skewers at all – every method is a winner!
We like these short skewers for creating appetizers, and these long skewers for meal-sized portions.
A few more grilled seafood recipes we love: Blake makes an awesome Sweet and Smoky Grilled Salmon. This Grilled Chipotle-Orange Salmon has also been a favorite around here, and it's so pretty! Also check out these Grilled Lobster Tails with Sriracha Butter and my 5-Pepper Bloody Mary with Grilled Jalapeño Shrimp!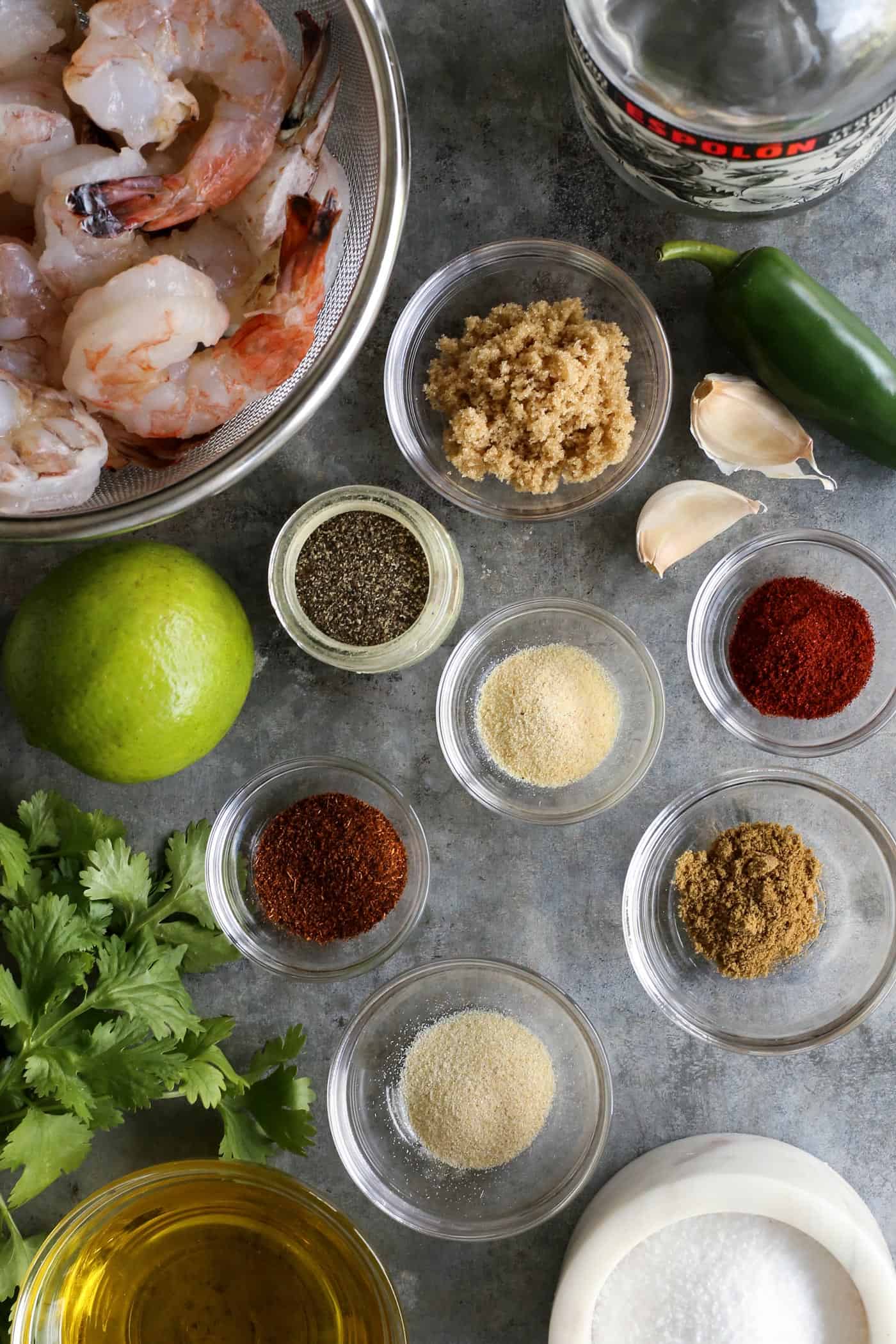 Recipe Ingredients
The marinade for this grilled shrimp recipe comes together easily, thanks to your spice drawer. I bet you have all of these items on hand already – the only thing I usually need to pick up is a fresh jalapeno!
For the shrimp marinade:
Olive oil
Fresh garlic
Fresh jalapeno
Brown sugar
Chili powder
Garlic powder
Onion powder
Cumin
Kosher salt
Black pepper
For the shrimp skewers:
Extra Jumbo shrimp: I use raw, peeled Extra Jumbo-sized shrimp for this recipe. I recommend shrimp labeled "16 to 20 per pound", which simply means there are 16 to 20 shrimp in a pound.
Fresh lime & cilantro: These are optional, but they offer additional flavor at grilling and serving time. I definitely like LOTS of lime!!
Tequila: Optional. :)
How Do You Choose Shrimp?
My best advice? Purchase shrimp that looks and smells fresh.
Living in Minnesota, we obviously don't have access to just-caught seafood. We most often buy shrimp from our local Kowalski's seafood counter or frozen seafood area, or in the Costco freezer case.
If you purchase shrimp from a seafood counter or fish market, plan to use it within a day or two.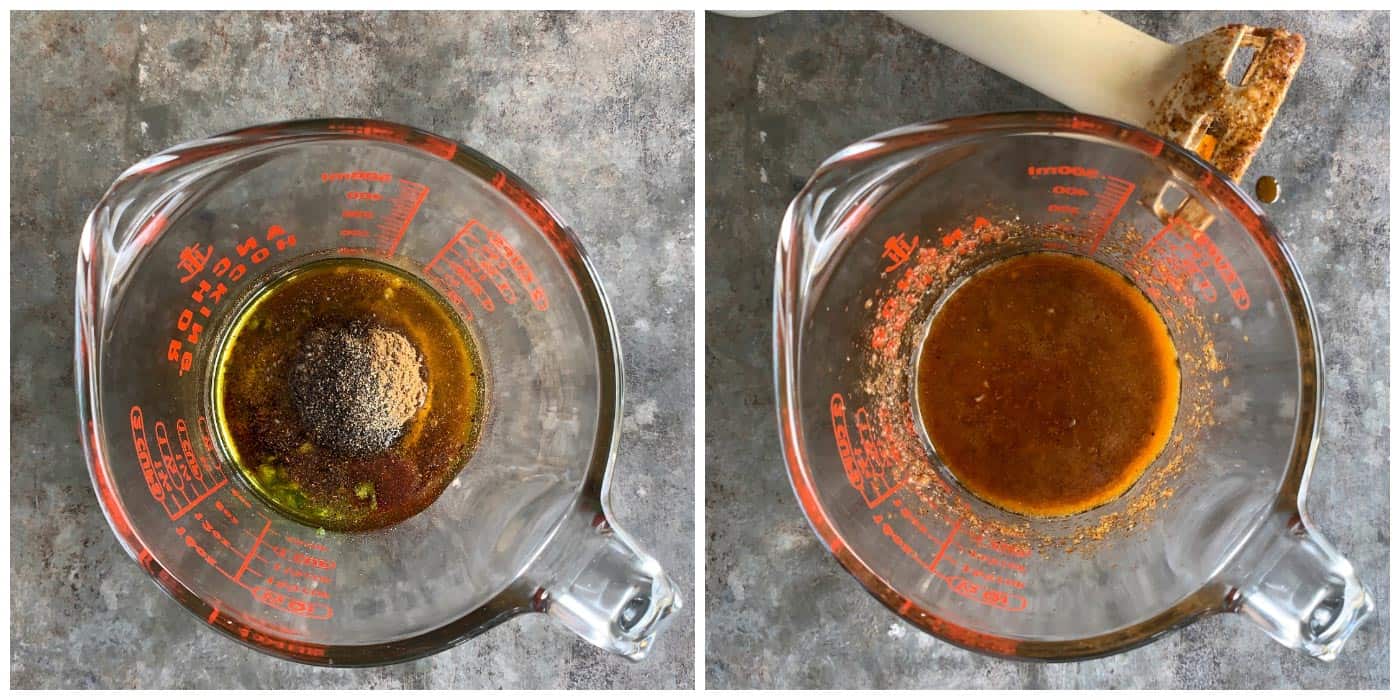 How to Grill Shrimp
1. Make the Marinade & Marinate the Shrimp
Place all of the shrimp marinade ingredients in a small bowl with tall sides.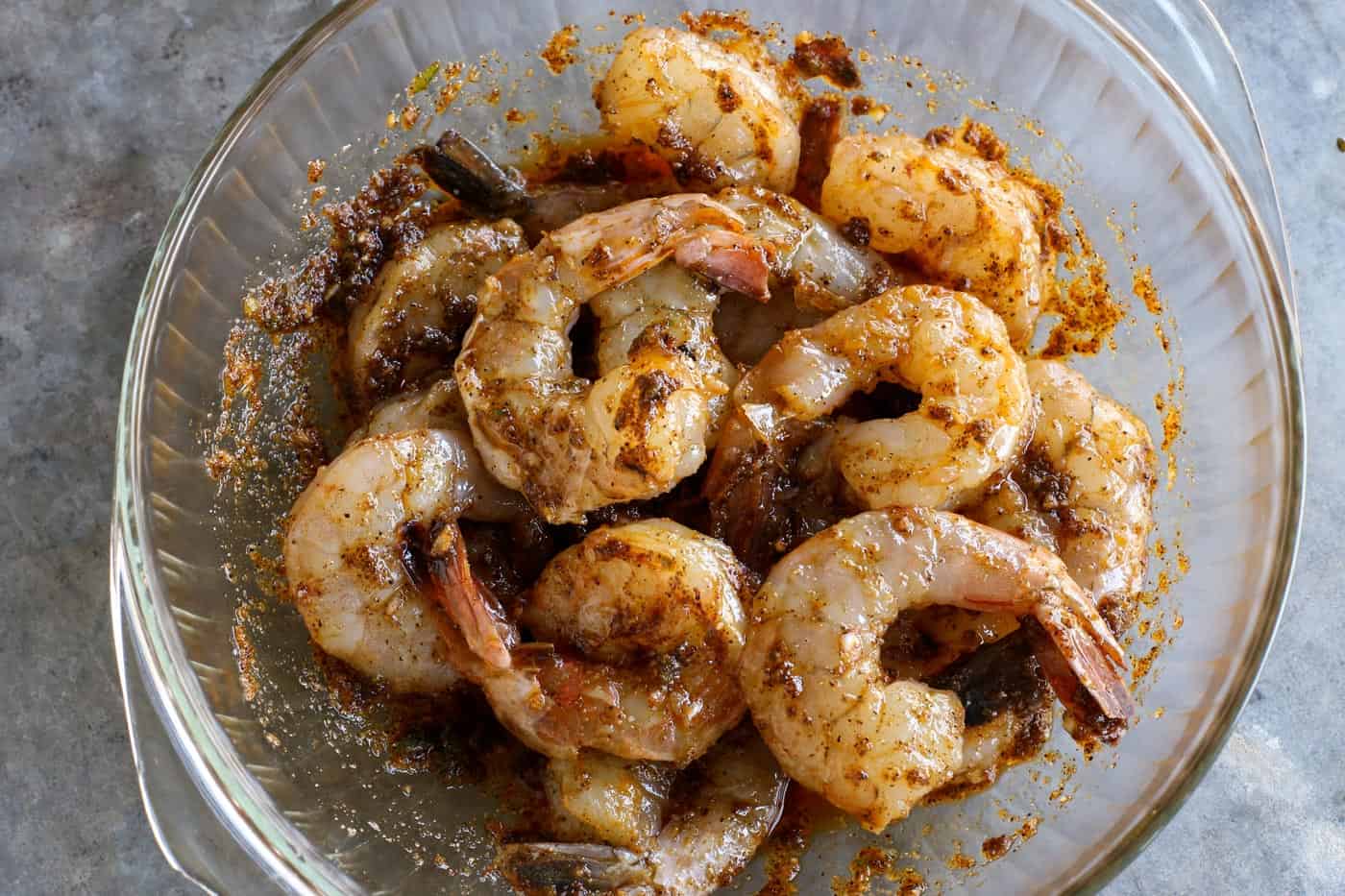 Pour marinade over the shrimp and gently fold to coat evenly. Then cover and refrigerate for 2 to 3 hours to infuse the shrimp with all that Mexican-flavored goodness.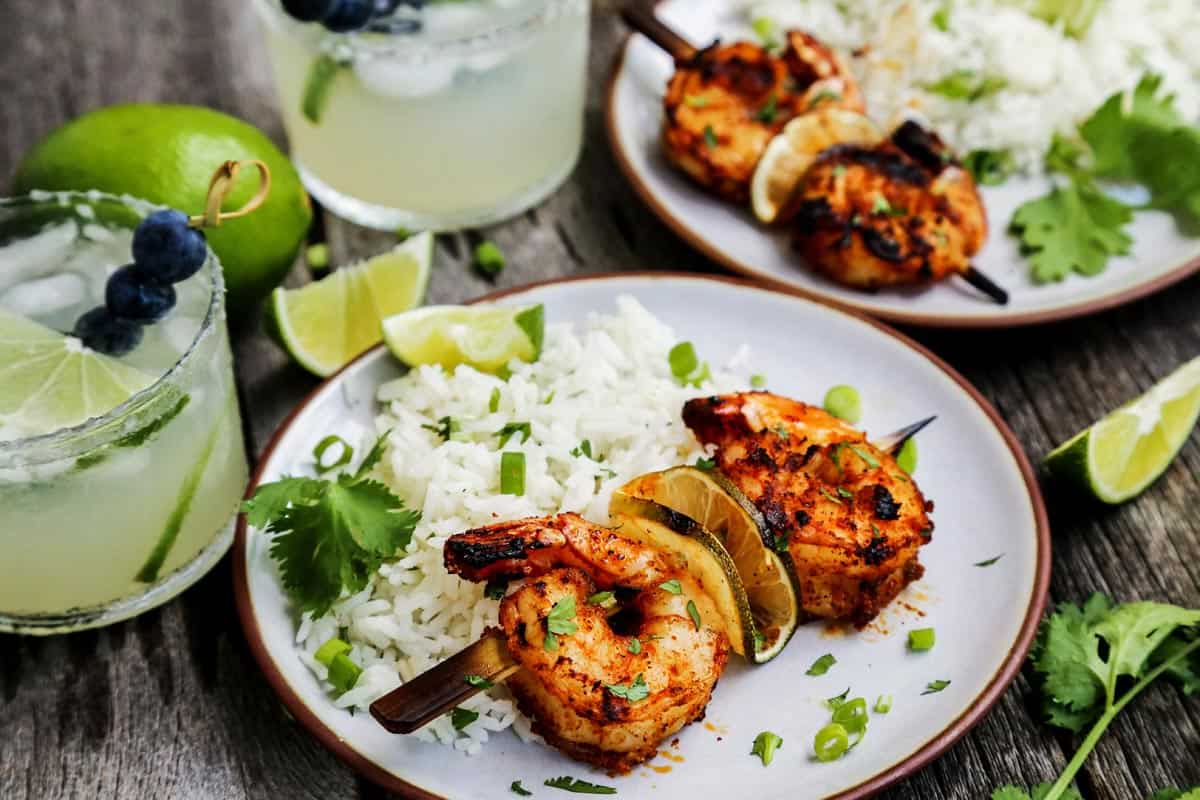 2. Grill the Shrimp
Shrimp can be grilled with or without skewers. We do it both ways.
If using skewers, I recommend flat-shaped ones like the ones in my photo above. This will help the shrimp stay put, so they won't twist and turn on the skewers. Soak the wood skewers in water for at least a couple hours prior to grilling, so they won't burn up as quickly on the grill.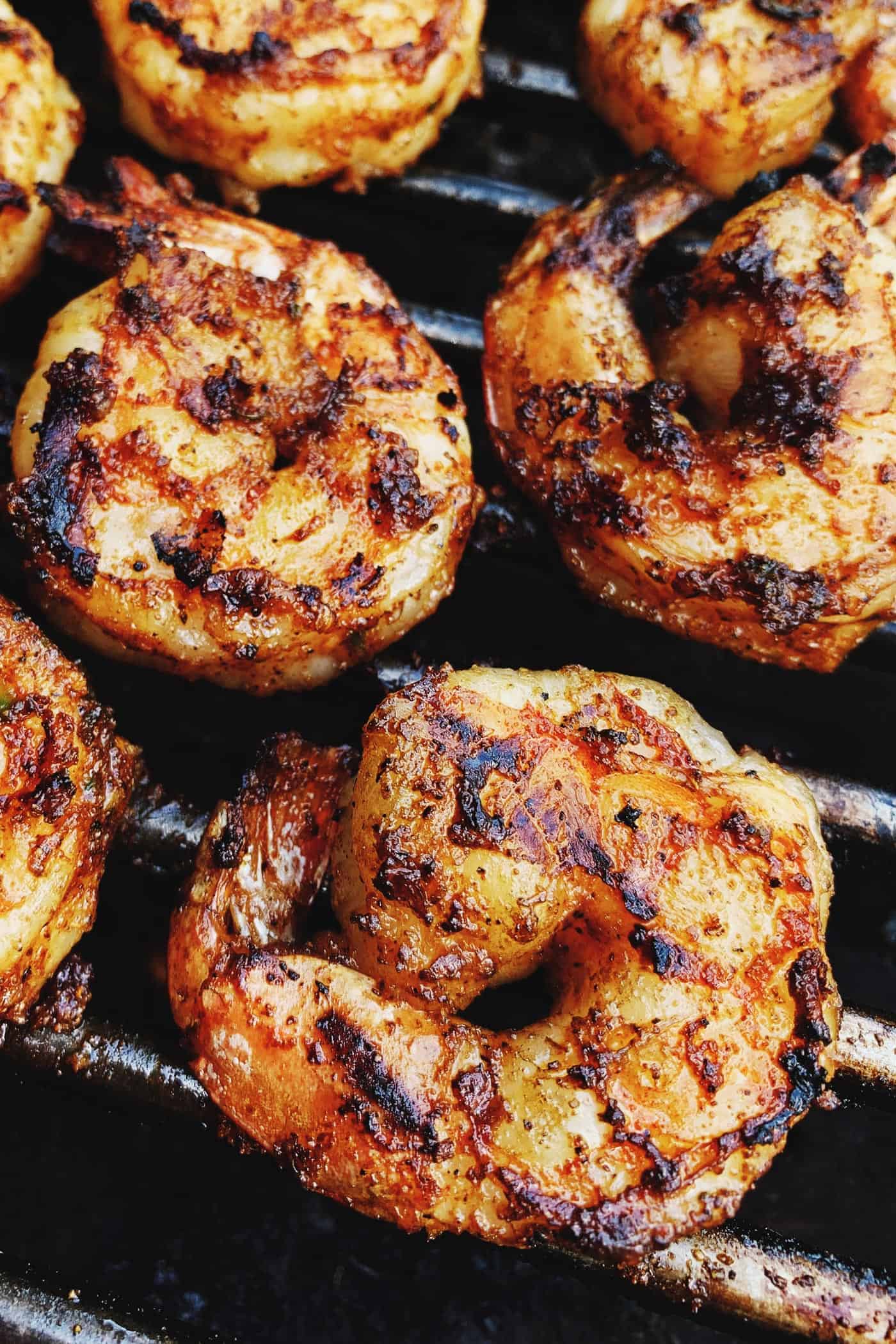 If not using skewers, I highly stress the importance of using Extra Jumbo shrimp, or at least Jumbo. Smaller shrimp are much more likely to fall between the grill grates when not threaded onto skewers. To grill the shrimp without skewers, simply place each individual shrimp onto the hot grill grates. Using a tongs, flip each piece of shrimp over, one by one.
How Long to Cook Shrimp on the Grill
Shrimp does not take long to grill, especially over medium-high heat. Once the shrimp are nicely charred and no longer opaque, they're done.
Heat grill to medium-high.
Clean grill grates well. Then oil the grates.
Grill shrimp for 3 to 4 minutes per side. Do not overcook! Remember that this timing is for Extra Jumbo sized shrimp – if you're using smaller shrimp, do not cook them this long!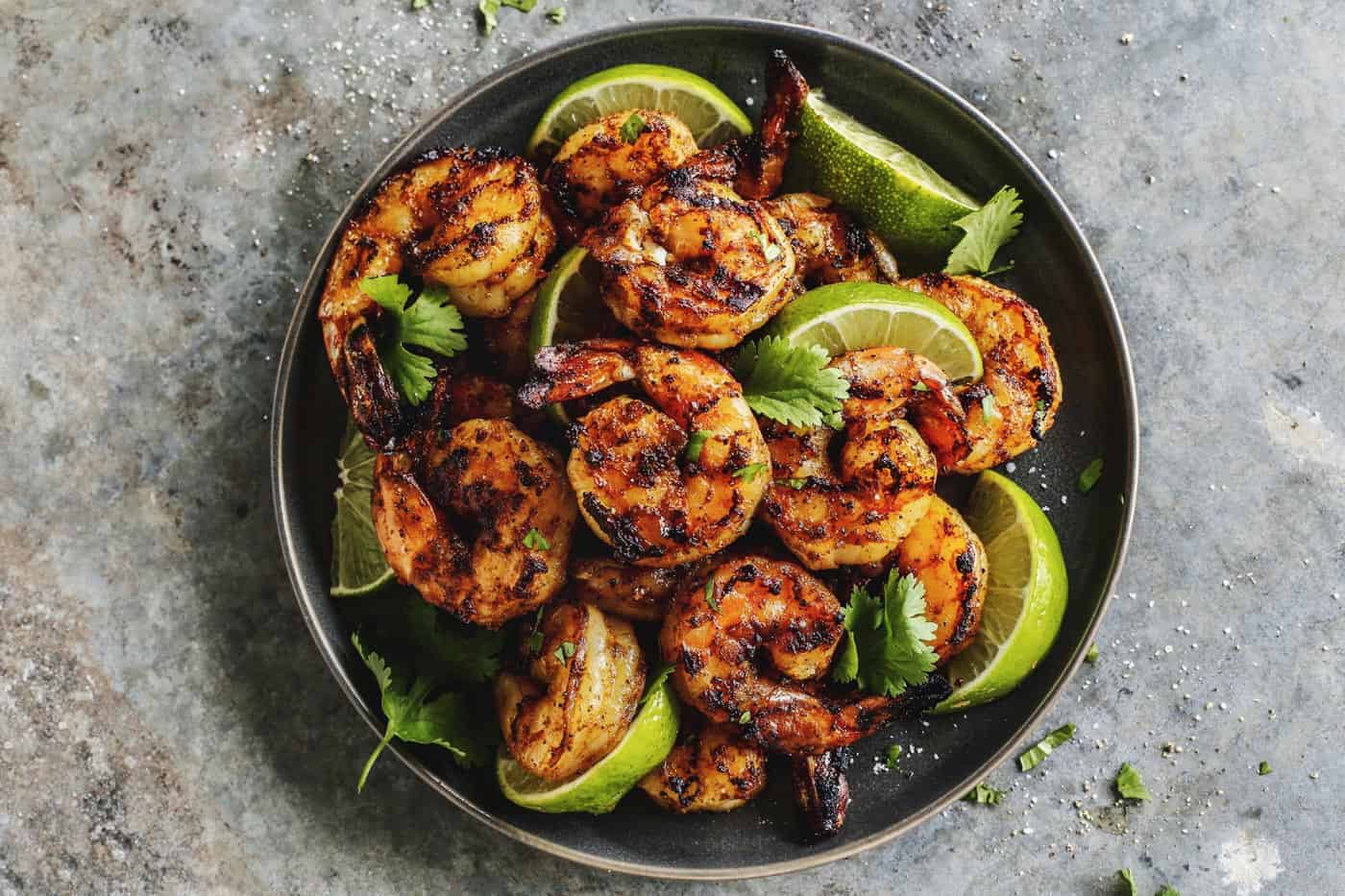 This will give you shrimp that are perfectly tender and juicy!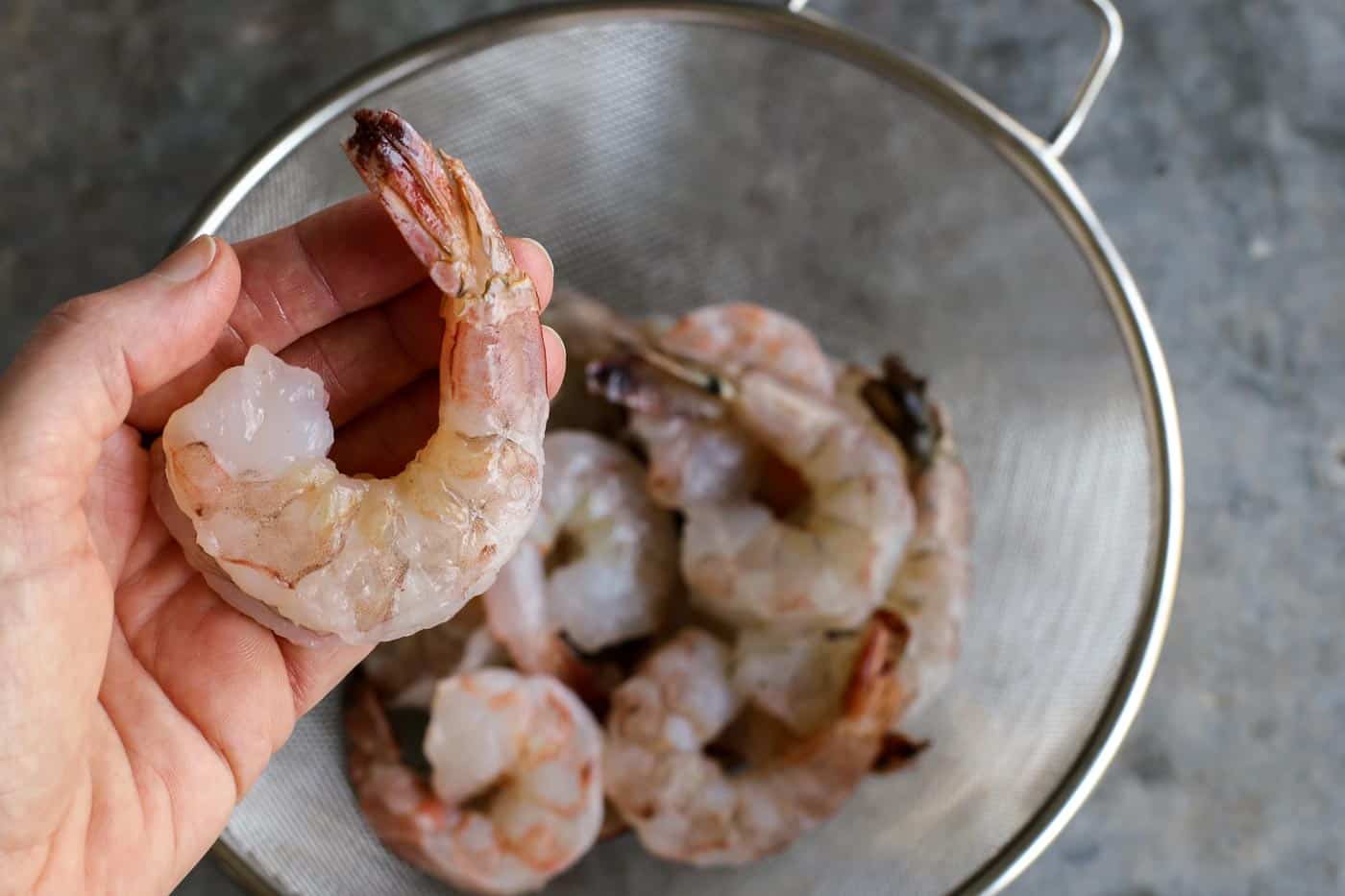 My Two Most Important Tips
Here are my top tips for successful grilled shrimp, margarita-style!
1. Use Extra Jumbo Shrimp
Its large size allows for enough cook time on the grill to give the shrimp some char, without over-cooking the shrimp. Because shrimp cooks up quick! And that char adds a ton of flavor and texture!
The larger shrimp cost more per pound, but this is a recipe that's not worth skimping on. Extra Jumbo (16 to 20 per pound) will give you luscious, tender shrimp with gorgeous char.
Another important benefit is that the larger size helps to ensure that the shrimp won't fall between the grill grates when grilling without skewers.
The photo above gives you a better perspective of what I mean by Extra Jumbo. They're HUGE!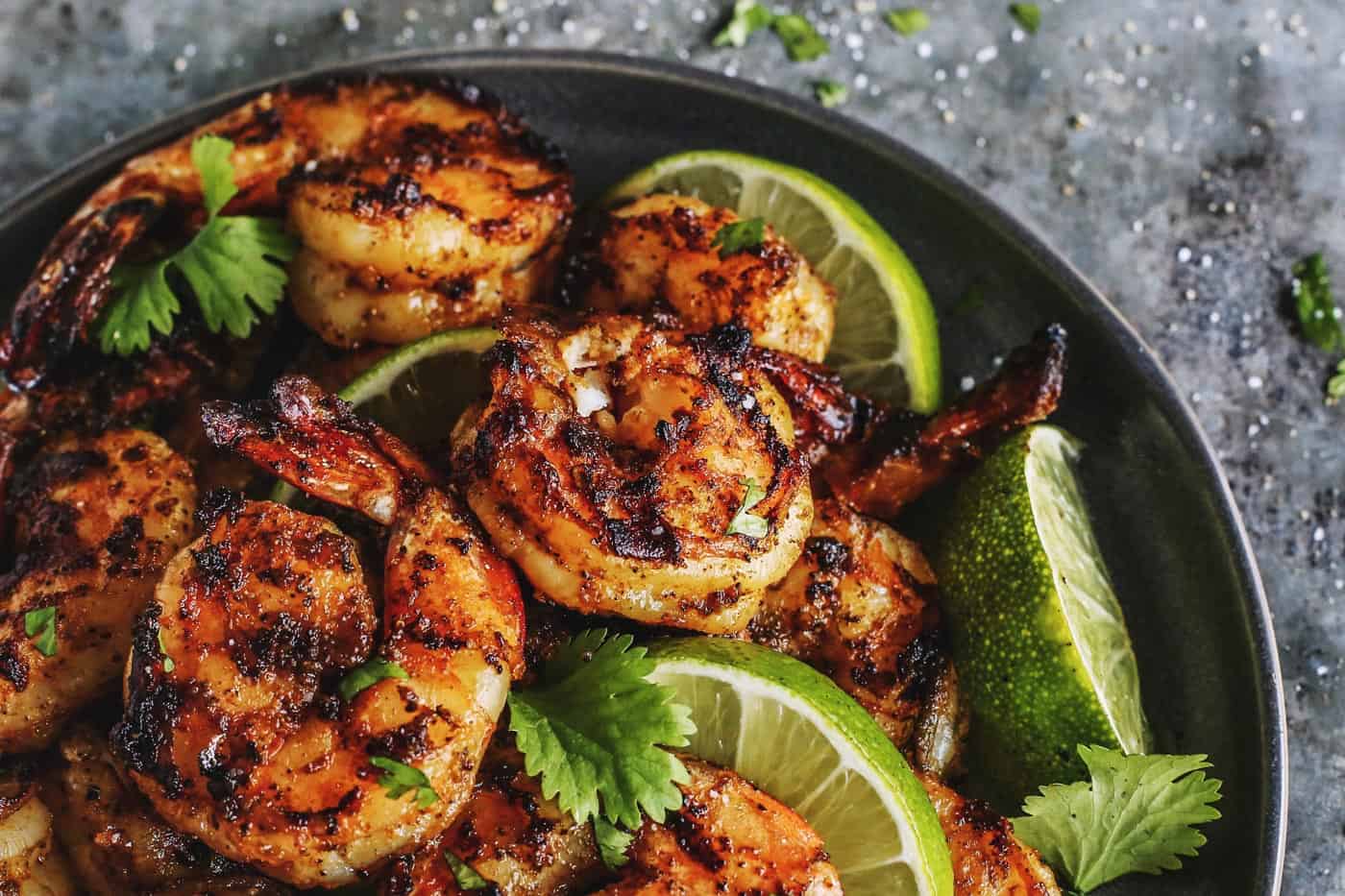 2. Marinate Your Shrimp Before Grilling
While I'll never turn down simple salt-and-pepper seasoned shrimp with a squeeze of fresh lemon…I insist that this margarita marinade is AWESOME and absolutely worth every bit of prep.
These grilled margarita shrimp skewers (or kebabs if you prefer!) are marinated in a simple-to-make sauce with flavors you'd find in most any Mexican dish.
I include a splash of tequila for this grilled shrimp marinade's margarita effect, but you can certainly leave it out if you prefer. This dish is great either way.
Just know that the alcohol in the tequila will cause a bit of an initial flare-up on the grill…which isn't a bad thing. It helps to achieve that fabulous char!
I love how the grill's heat quickly cooks off the saucy-ness of the marinade, leaving drier bits of spices that cling to the shrimp. The little bits char so beautifully from the little bit of brown sugar in the marinade. This adds so much wonderful texture and flavor!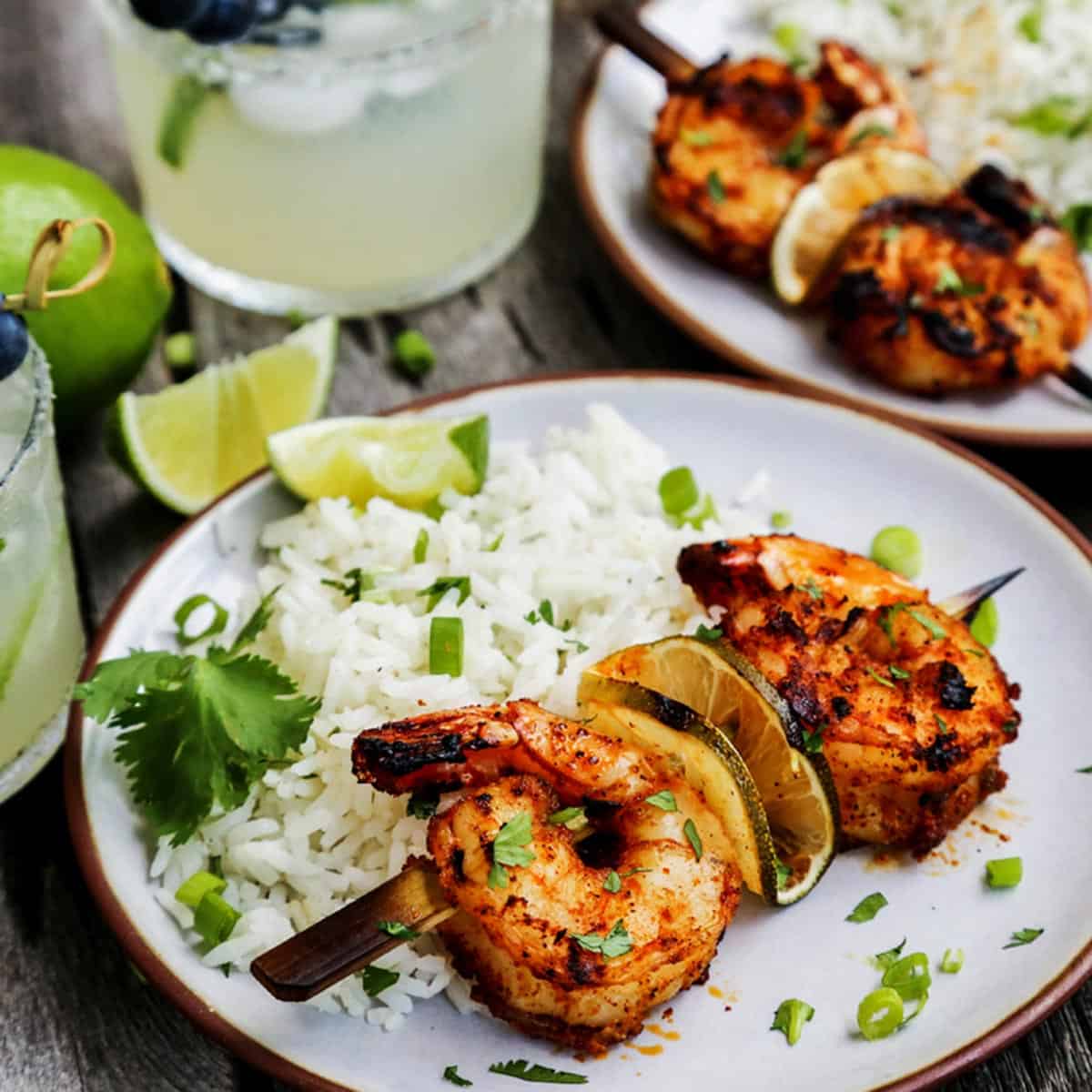 More Tips & Tricks
Use flat skewers if making shrimp skewers. This will keep the shrimp from twisting on the skewers. This makes them much easier to grill.
Soak skewers in water if using wood skewers. Soak for at least a couple hours prior to grilling. This won't prevent them from burning on the grill, but it will help considerably!
Do not overcook the shrimp. It would be a shame to waste your money and time to only end up with dry, tough shrimp. The goal here is to have gorgeously charred shrimp on the outside that is tender and juicy on the inside. I repeat: Do NOT overcook!
Serve shrimp with fresh lime wedges. Limes provide fresh color, a bright acidic finish, and an element of lime-squeezing fun. They just plain elevate the whole margarita shrimp experience. Trust me. You'll love it!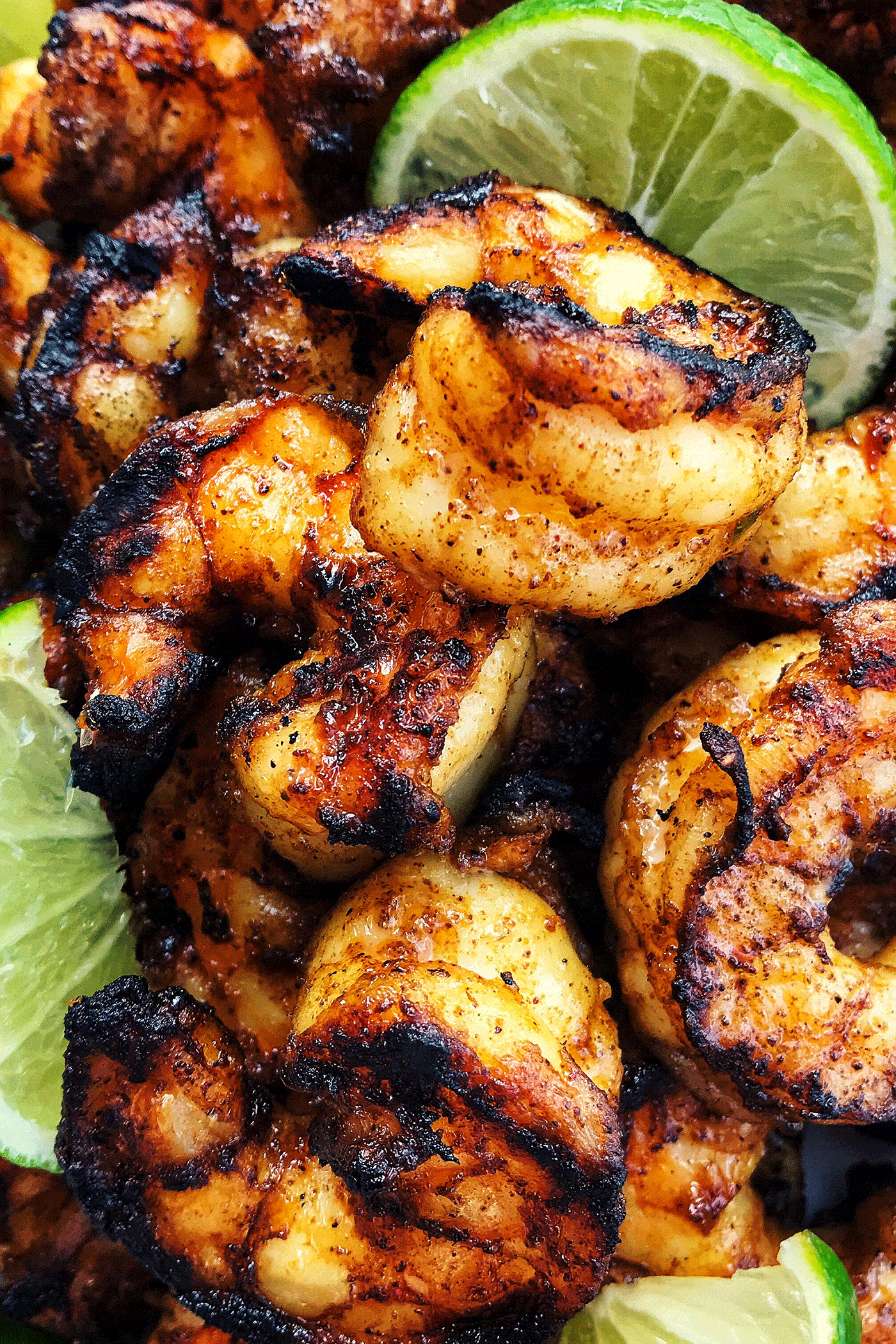 Our Best Grilled Shrimp Experience
Blake and I created this gorgeous pile of margarita grilled shrimp when we were visiting my sister's family in Florida a couple of years ago.
Extra Jumbo shrimp had just arrived from Key West, and when we saw them at Walt's Fish Market's seafood counter we knew we had to have them! My parents treated our whole family to fresh seafood that evening – and these shrimp were SO AWESOME GOOD!!
If you get the opportunity, definitely try this recipe with just-caught shrimp – it's amazing!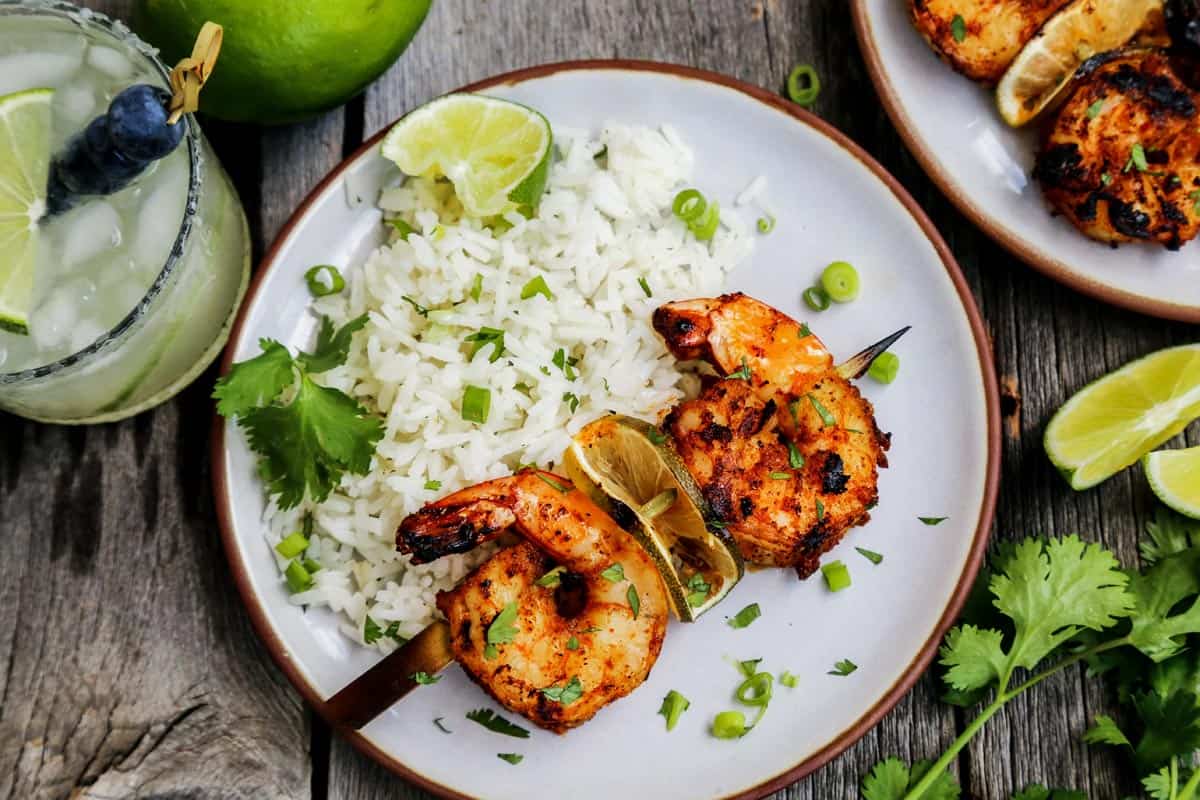 Serving Suggestions
You can serve this shrimp many ways, as both an appetizer and a main course. Or toss them on salads, enjoy them with grits, or tuck them into a sandwich or wrap!
The photo above shows 2-piece jumbo shrimp skewers. This makes for super fun appetizers or small plate meals.
I often make a simple small meal with white rice (shown above). I cook some rice in a rice cooker, then fold in the zest and juice of one lime when it's finished. Then, when serving, I sprinkle coarse salt, sliced fresh green onions, and chopped cilantro over the top.
Here are a few more Mexican-inspired sides: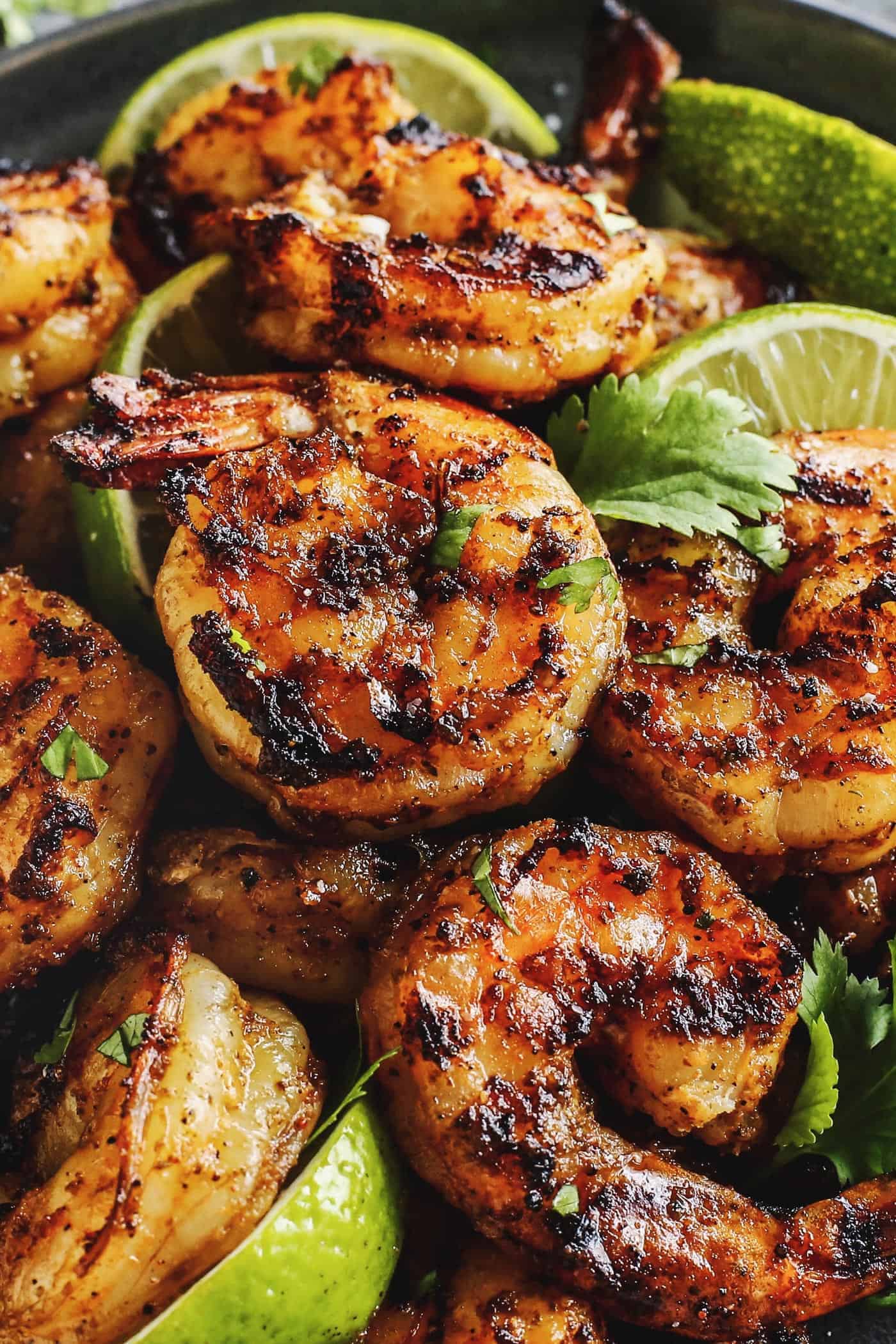 What to Drink with Grilled Shrimp
This meal just begs for a cold, refreshing margarita. With the shrimp and its Mexican flavors, and a margarita to wash it down, I am instantly reminiscing about wonderful times spent on the beaches in Mexico.
I'm a huge fan of margaritas. Thus I have a few recipes to share with you!
Nothing beats a Classic Margarita. But here are a few more fun variations:
Enjoy!
Like this shrimp recipe? Save it to Pinterest!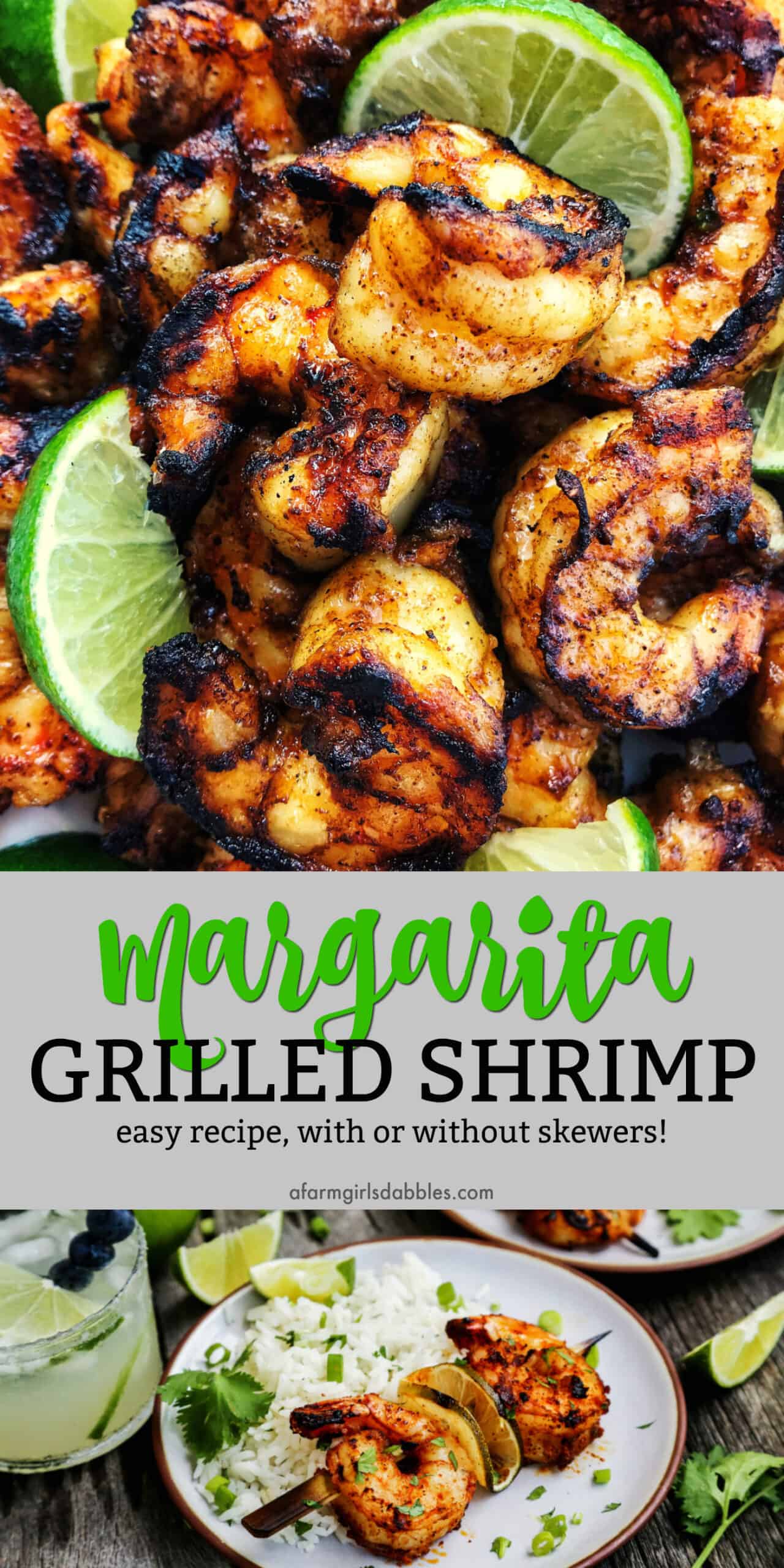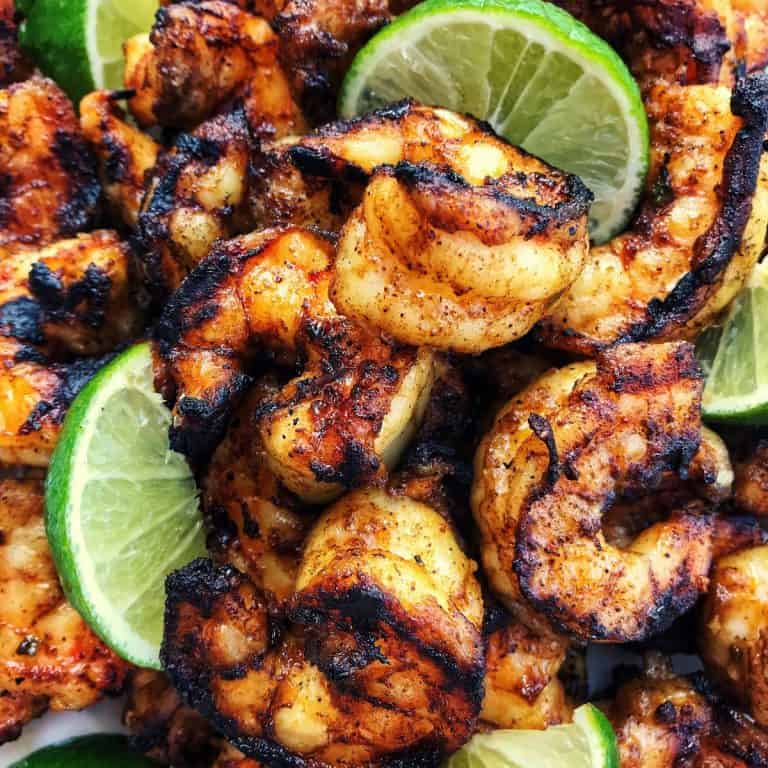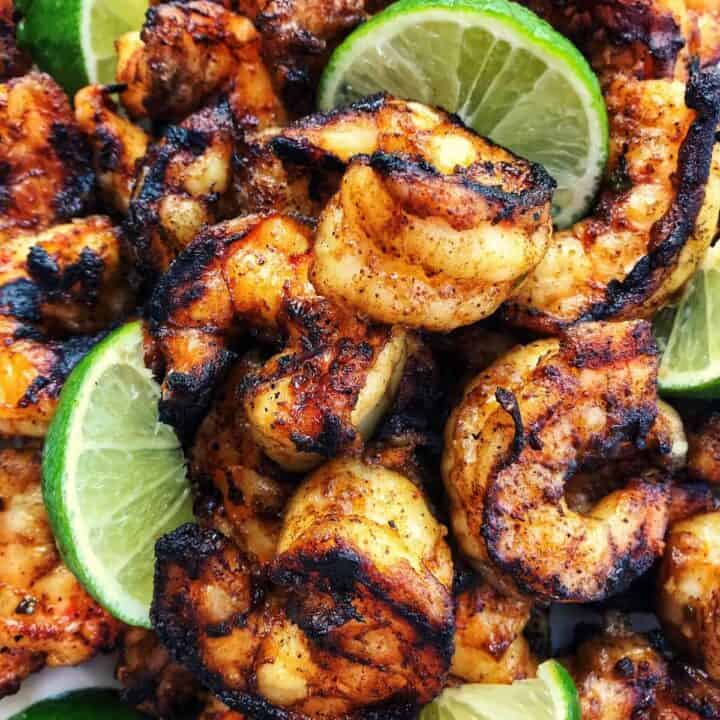 Margarita Grilled Shrimp Recipe
Yield: 4 servings
Prep Time: 30 minutes
Cook Time: 6 minutes
Additional Time: 2 hours
Total Time: 2 hours 36 minutes
Jumbo shrimp are marinated in the flavors found in many Mexican dishes. A splash of tequila is included for the margarita effect, but you can certainly leave it out if you prefer - this dish is awesome either way!
Ingredients
1 lb. raw extra jumbo shrimp (16-20 per pound), peeled and deveined
1/3 c. olive oil
2 large garlic cloves, roughly chopped
1 tsp. minced jalapeno
2 teaspoons brown sugar
1 tsp. smoked paprika
1 tsp. chili powder
1 tsp. garlic powder
1 tsp. onion powder
1 tsp. cumin
1 tsp. kosher salt
1/2 tsp. black pepper
2 tsp. tequila, optional
thin slices of fresh lime, if placing shrimp on skewers
chopped cilantro
wedges of fresh lime, for squeezing over top of grilled shrimp
Instructions
Shrimp can be grilled with or without skewers. If using wood skewers, start soaking them in water.
Place shrimp in a wide shallow bowl and set aside.
In a small bowl with high sides, combine all ingredients from olive oil through black pepper. Use an immersion blender to completely process until there are no sizable pieces. Or use a food processor or blender. Pour marinade over shrimp and gently stir to coat evenly. Cover and refrigerate for 2 to 3 hours, folding gently about halfway through.
Drizzle tequila over the shrimp, if desired, and gently fold to combine. If using skewers, thread shrimp onto skewers, with a folded slice of lime in between shrimp (see skewer photos in post).
Heat grill to medium-high. Make sure grates are clean, and then oil them well. Set shrimp on grates and grill for 3 to 4 minutes per side, or just until shrimp are no longer opaque and have some nice char. Smaller shrimp will take less time. Place shrimp on a platter and sprinkle with cilantro. Serve with fresh lime wedges to squeeze over the top.
Notes
Variations:
If making skewers, create smaller appetizer-sized ones using short skewers (I highly recommend using flat-shaped skewers, as the shrimp won't twist and turn on the skewers!). I make these with 2 shrimp per skewer.
Or create meal-sized portions with long skewers that hold more shrimp.
Or simply grill the shrimp without the skewers. For this method, I highly stress the importance of using large jumbo-sized shrimp, so they don't fall through the grill grates as easily.
from a farmgirl's dabbles
Recommended Products
As an Amazon Associate and member of other affiliate programs, I earn from qualifying purchases.
Nutrition Information:
Yield: 4
Serving Size: 1
Amount Per Serving:
Calories: 220
Total Fat: 13g
Saturated Fat: 2g
Trans Fat: 0g
Unsaturated Fat: 11g
Cholesterol: 160mg
Sodium: 1120mg
Carbohydrates: 7g
Fiber: 1g
Sugar: 2g
Protein: 18g
The Grill We Use
This post is sponsored by Ferguson Bath, Kitchen & Lighting Gallery.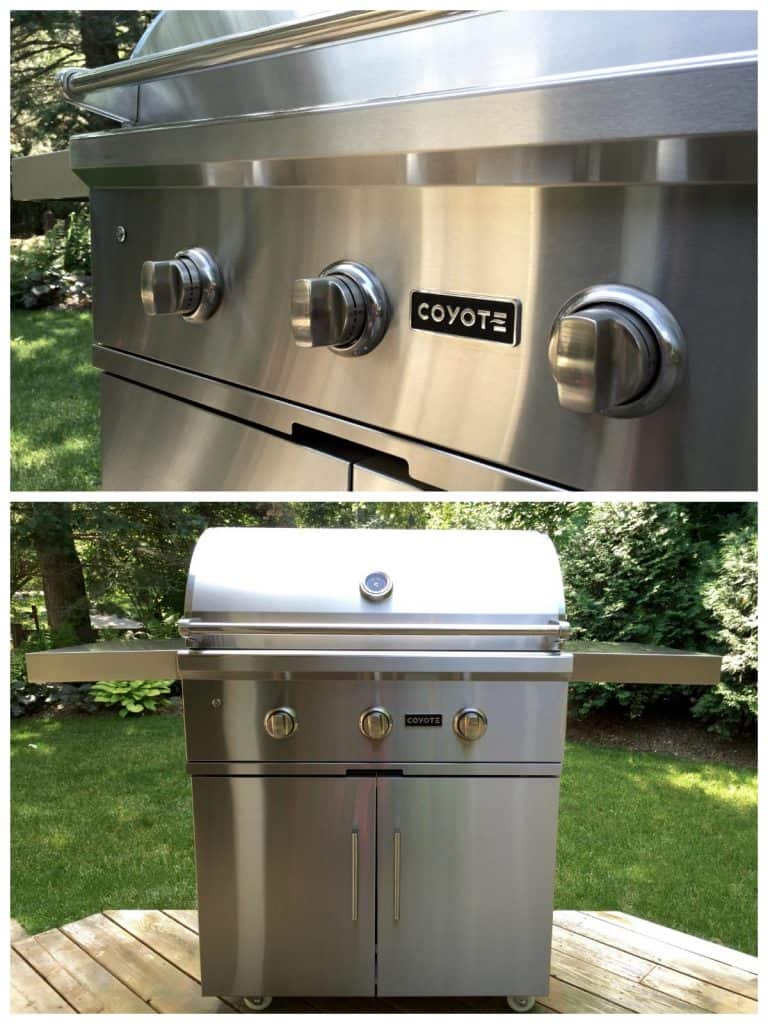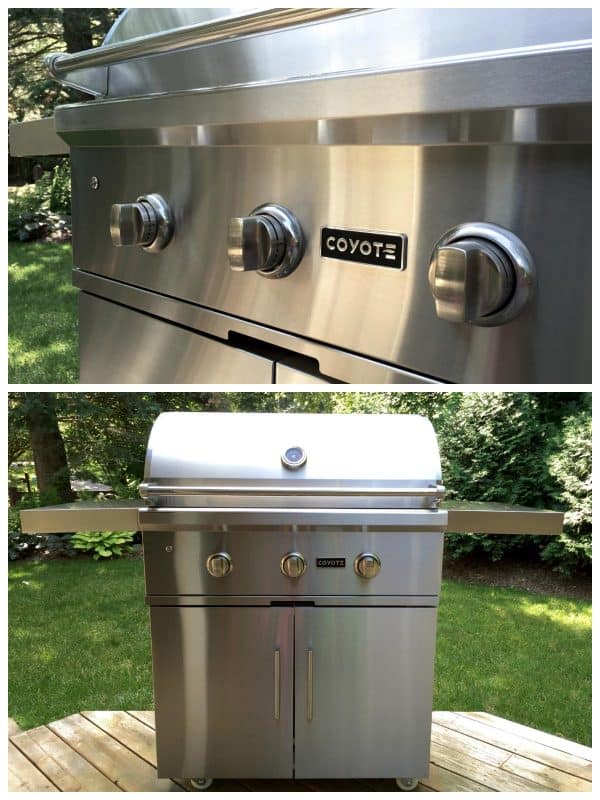 Ferguson Bath, Kitchen & Lighting Gallery asked if we'd like to review one of their Coyote Outdoor Living grills a few years ago.
Our grill was tired and worn out…and the Coyote grills looked awesome, so we didn't hesitate. Especially since Ferguson is a company we've visited and purchased from in the past for home remodeling projects.
The grill pictured here in our back yard is a Coyote C-Series 34-Inch 3-Burner. It features durable premium stainless steel construction, 616 square inches of cooking area, and 60,000 BTUs of cooking power.
We love it!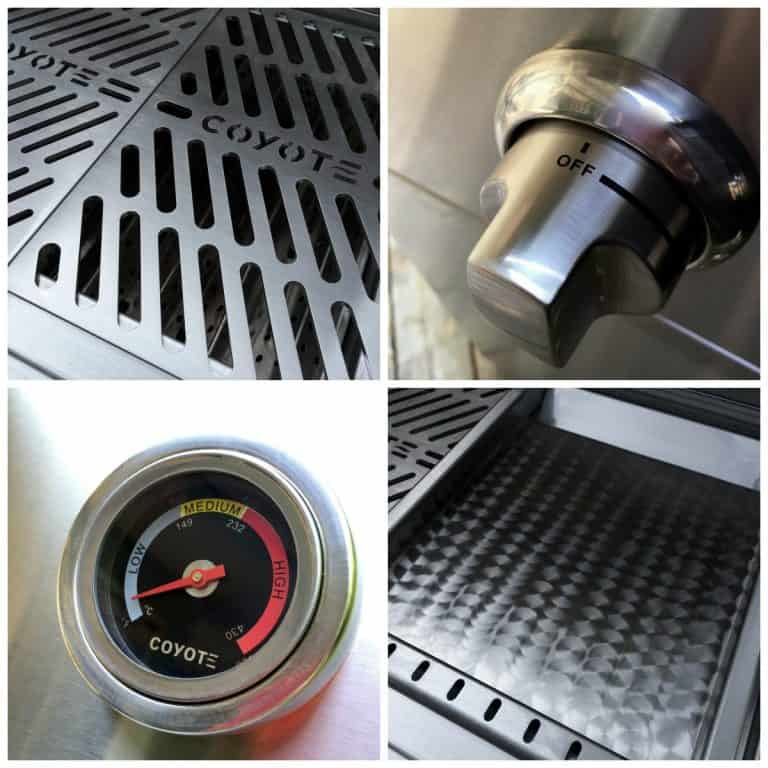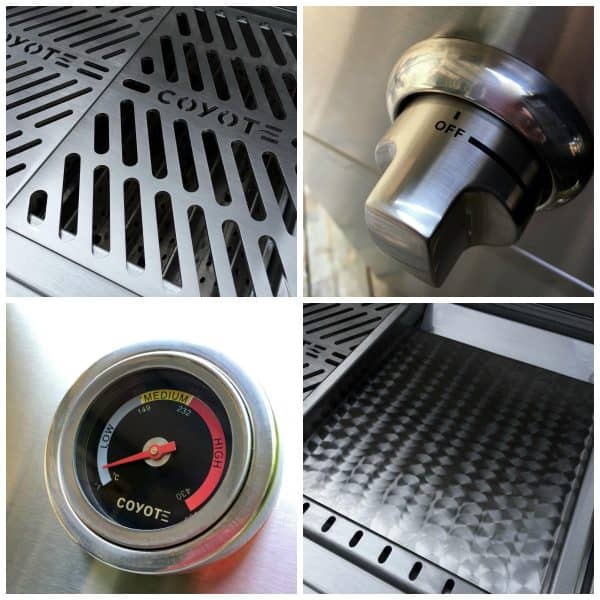 Everything about our Coyote grill is quality through and through.
The grill canopy is double-walled. I especially like the push-and-turn ignition knobs, used in the exact same way we ignite the gas stove in our kitchen, with no additional ignition button needed. There's even an interior light for cooking into the night.
Grilling Accessories
Coyote also sent us some great accessories to try.
Their heavy-duty Signature Cooking Grates (upper left photo) are made from diamond laser-cut solid stainless steel and weigh almost 10 pounds per grate. They're hefty! Coyote offers three different styles, each one specifically designed for everything from sturdy cuts of meat to delicate vegetables and fish.
And then there's the beautiful heavy-duty Drop-In Griddle (lower right photo) that includes a removable grease trap for easy cleaning. This works great for bacon and eggs in the backyard on a lazy summer weekend!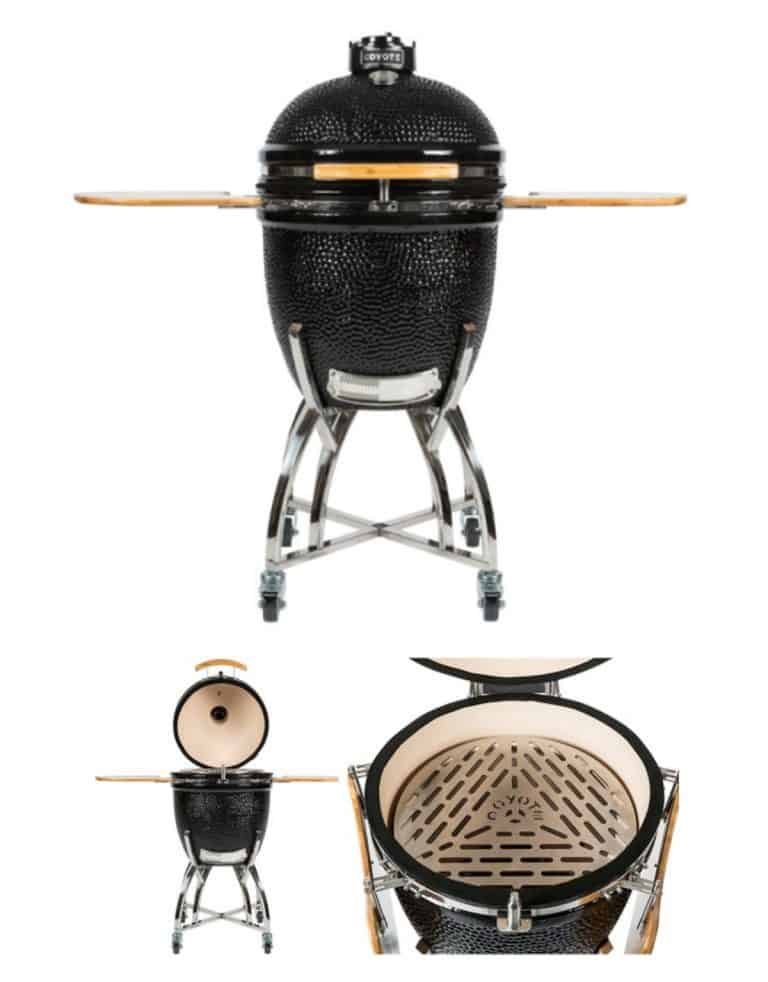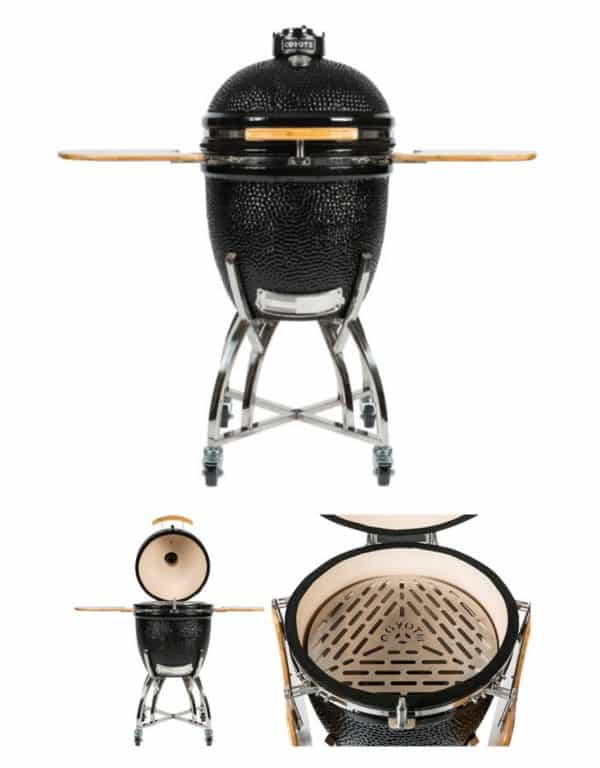 Coyote Asado Smoker photos credit: Coyote Outdoor Living
Be sure to check out all the Coyote grill offerings at your nearest Ferguson Showroom, including this Coyote Asado Smoker.
The Coyote Asado Smoker features:
Coyote Signature Smoking Grate
Adjustable venting to maintain precise cooking temperatures
Smoke, sear, and grill options
Heat-resistant ceramic construction
254 square inches of cooking area
Lifetime Warranty on ceramics
Find Ferguson Showroom on their website, Facebook, Twitter, Pinterest, Instagram, and Houzz.
Find Coyote Outdoor Living on their website, Facebook, Twitter, and Pinterest.
This post was originally published in 2016, and then updated with some new photos and information in 2020.

This post is sponsored by Ferguson Bath, Kitchen & Lighting Gallery. They sent us a Coyote grill for our review and to share about their Summer Grilling Promotion. All opinions are 100% my own. Thank you for supporting the brands that help make this site possible.