Grilled Margarita Shrimp Kebabs
These Grilled Margarita Shrimp Kebabs promise to be the star of your summertime grilling!
This post features two of my very favorite things in my summer backyard world. Flavorful grilled jumbo shrimp. And a cold, tart margarita, enjoyed from a glass with a couple extra lime wedges and a thick rim of course salt. Blake and I have gotten the grilled shrimp meal down to perfection, a project we started experimenting with a few years ago. And can I just say…I can never get enough!
If you like shrimp, you're gonna love this recipe for Grilled Margarita Shrimp Kebabs!
This post is sponsored by Ferguson Bath, Kitchen & Lighting Gallery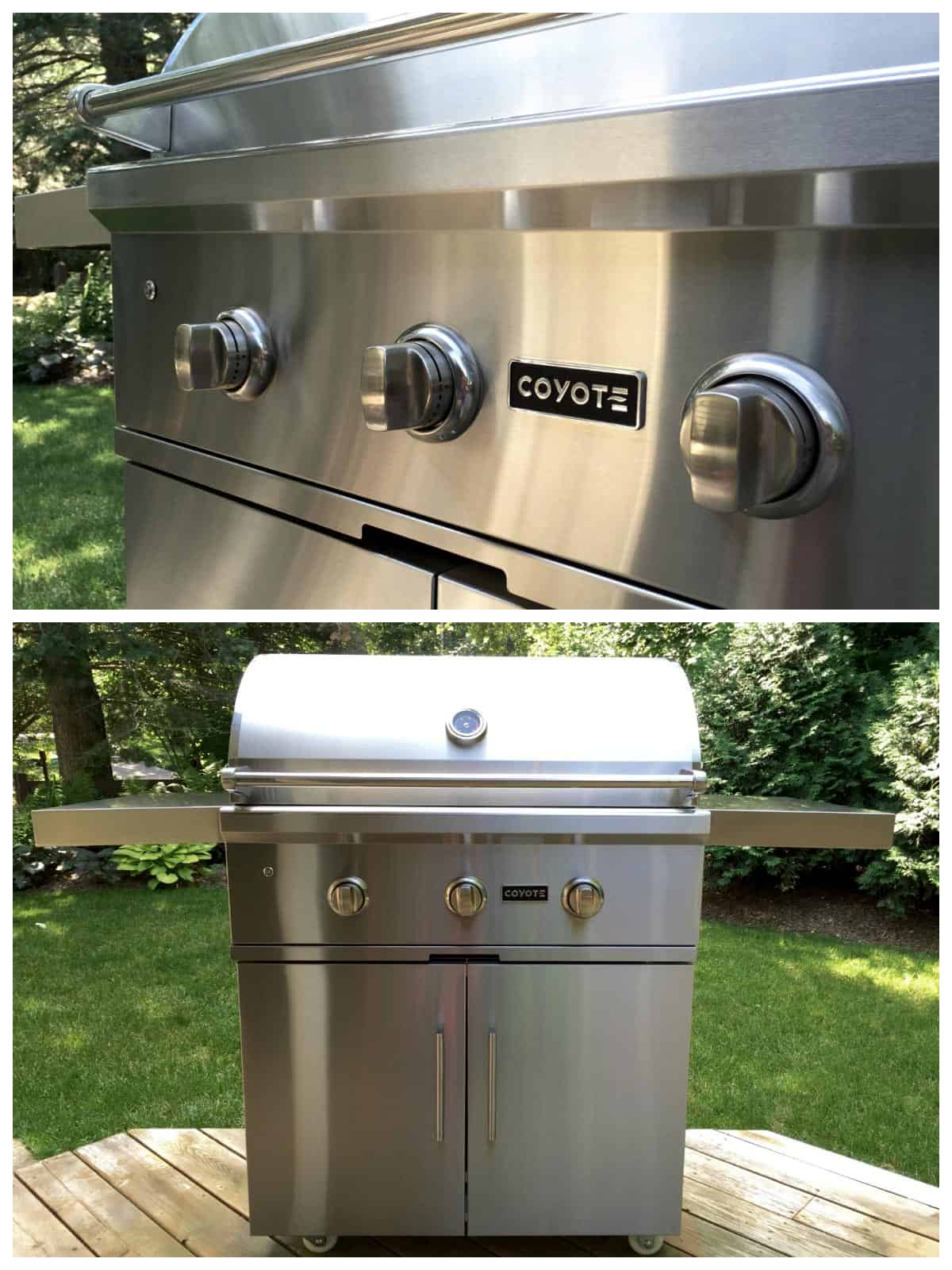 Before we get to the recipe, let's talk about grills. This Coyote grill has taken the place of the grill we bought when we first moved into our home. When we bought that grill twelve years ago, we had upped our game with a significantly better quality grill than we owned previously, and we've always been glad we made that decision.
So when Ferguson Bath, Kitchen & Lighting Gallery, a company we've visited and purchased from in the past for home remodeling projects, asked if we'd like to review one of the Coyote Outdoor Living grills that are featured in the Ferguson showrooms, we were all in. Our twelve year-old grill was tired and worn out…and the Coyote grills looked awesome!
The grill pictured here in our back yard is a Coyote C-Series 34-Inch 3-Burner. It features durable premium (gorgeous!) stainless steel construction, 616 square inches of cooking area, and 60,000 BTUs of cooking power.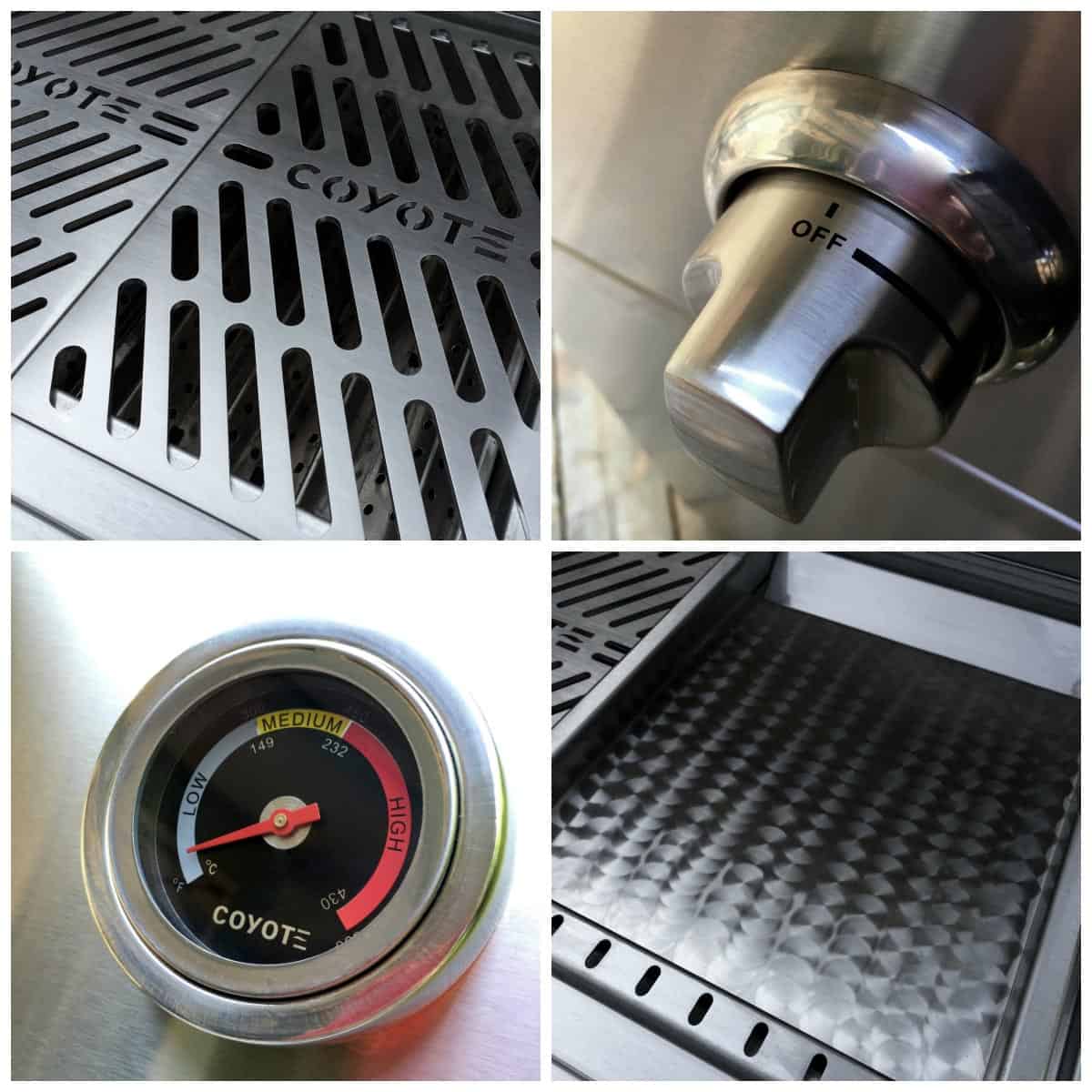 Everything about this Coyote grill is quality through and through. The grill canopy is double-walled. And I especially like the push-and-turn ignition knobs, used in the exact same way we ignite the gas stove in our kitchen, with no additional ignition button needed. There's even an interior light for cooking into the night.
Coyote also sent some accessories that we're excited to try out. Their Signature Cooking Grates (upper left photo) come in a 3-pack and are made from diamond laser cut solid stainless steel. They are heavy-duty (weighing almost 10 pounds per grate!), for great sear lines on food. The grate with the large, wide slats is ideal for beef and pork while the one with thin slats works well with chicken. The one with small, curved slats is perfect for delicate foods such as vegetables or fish.
And then there's the Drop-In Griddle (lower right photo), another heavy-duty piece. This 14″ griddle is used by simply replacing one of the grill grates. It includes a removable grease trap for easy cleaning. I predict that weekend breakfasts of grilled bacon and eggs will be happening in our back yard very, very soon!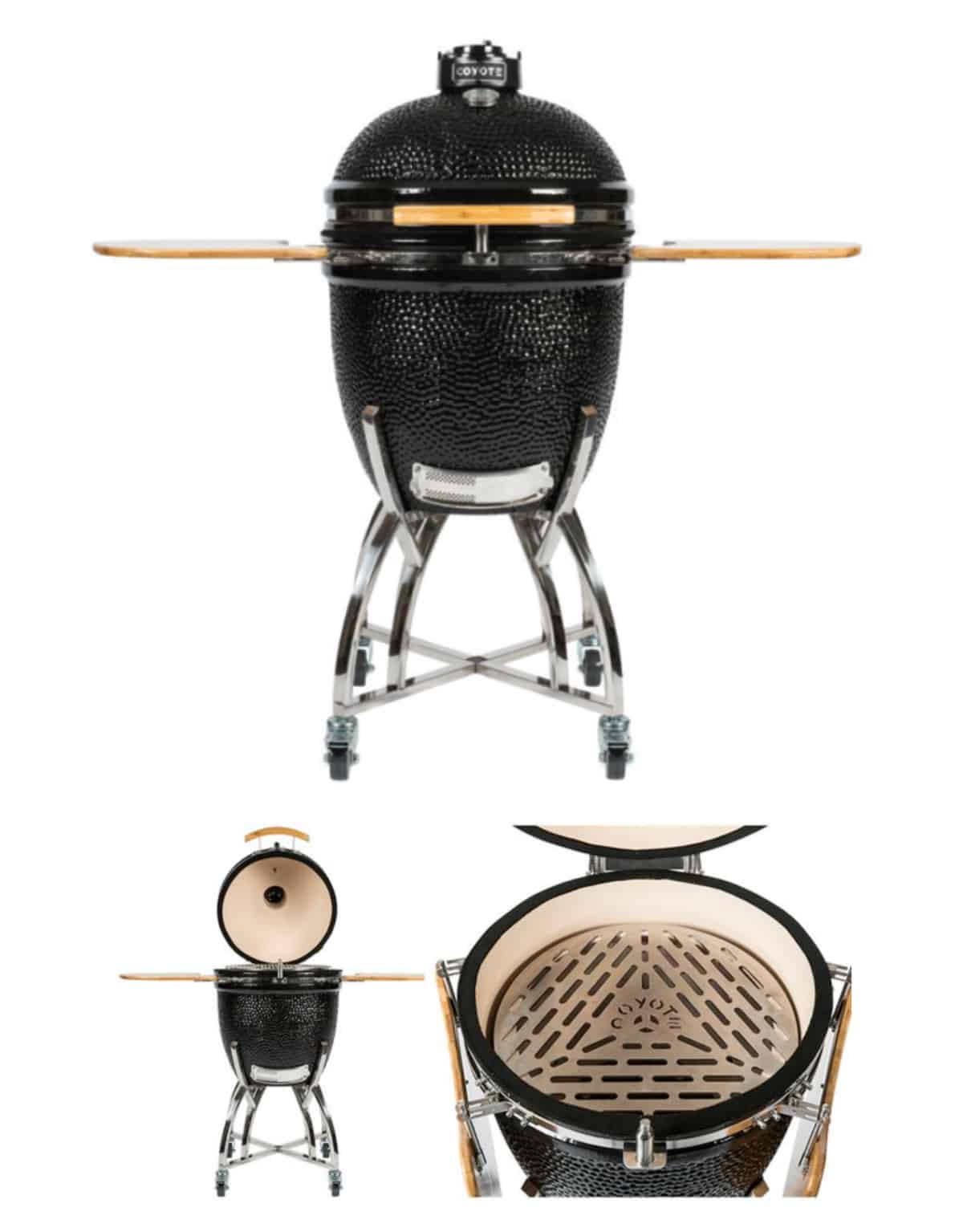 Coyote Asado Smoker photos credit: Coyote Outdoor Living
Be sure to check out all the Coyote grill offerings at your nearest Ferguson Showroom, including this Coyote Asado Smoker. Customers who purchase this Model C1CHCS through Labor Day (September 5, 2016) at a Ferguson Showroom will receive a free cart with side shelves, just like you see here.
The Coyote Asado Smoker features:
Coyote Signature Smoking Grate
Adjustable venting to maintain precise cooking temperatures
Smoke, sear, and grill options
Heat-resistant ceramic construction
254 square inches of cooking area
Lifetime Warranty on ceramics
Find Ferguson Showroom on their website, Facebook, Twitter, Pinterest, Instagram, and Houzz.
Find Coyote Outdoor Living on their website, Facebook, Twitter, and Pinterest.
Now, back to the shrimp…
These grilled margarita shrimp kebabs are marinated in a sauce that includes the spices and flavors that you would find in most any Mexican dish. I included a splash of tequila for the margarita effect, but you can certainly leave it out if you prefer. This dish is great either way. Just beware that the alcohol in the tequila will cause a bit of an initial flare-up on the grill.
I love how the saucy-ness of the marinade quickly cooks off, leaving drier bits of spices that cling to the shrimp. The little bits char so beautifully from the small amount of brown sugar that's included in the marinade.
These 2-piece jumbo shrimp kebabs make for super fun appetizers or small plate meals. If you would rather serve larger kebabs for a main entreé, simply use longer skewers with more shrimp per kebab. Just don't forget to mix up some margaritas. Here's how I make them >>> margarita recipe for one and for a crowd. Enjoy!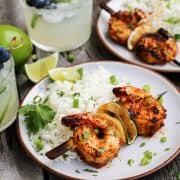 Grilled Margarita Shrimp Kebabs
Yield: about 10 kebabs with 2 jumbo shrimp each
Ingredients:
1 lb. raw jumbo shrimp (16 to 20 per pound), peeled and deveined
1/3 c. olive oil
2 large garlic cloves, chopped
1 tsp. minced jalapeno
1 T. brown sugar
1 tsp. smoked paprika
1 tsp. chili powder
1 tsp. garlic powder
1 tsp. onion powder
1 tsp. cumin
1 tsp. kosher salt
1/2 tsp. black pepper
2 tsp. tequila
thin slices of fresh lime
chopped cilantro
wedges of fresh lime
Directions:
Place shrimp in a wide shallow bowl and set aside. If using wooden skewers, start soaking them in water.
In a small bowl with high sides, combine all ingredients from olive oil through black pepper. Use an immersion blender to completely process until there are no sizable pieces. Or use a food processor or blender. Pour marinade over shrimp and gently stir to coat evenly. Cover and refrigerate for 2 to 3 hours.
When ready to place shrimp on skewers, drizzle tequila over the shrimp and gently fold to combine. Then place two shrimp on each small skewer, with a folded slice of lime in between each shrimp.
Heat grill to medium-high. Make sure grates are clean, and then oil them well. Set shrimp kebabs on grates and grill for 3 to 4 minutes per side, or just until shrimp are no longer opaque and have some nice char. Place kebabs on a platter and sprinkle with cilantro. Serve with fresh lime wedges to squeeze over the top.
from a farmgirl's dabbles
©
Here are a few more of our favorite grilling recipes that you might enjoy:
This post is sponsored by Ferguson Bath, Kitchen & Lighting Gallery. We received a Coyote grill for the purpose of our review and sharing of their Summer Grilling Promotion. All opinions are 100% my own. Thank you for supporting the brands that help make this site possible.