Grilled Shrimp Ceviche
This Grilled Shrimp Ceviche is loaded with luscious bites of sweet shrimp in a smoky grilled char, plus salsa fresca. It makes a healthy light meal or appetizer, perfect for hot summer days!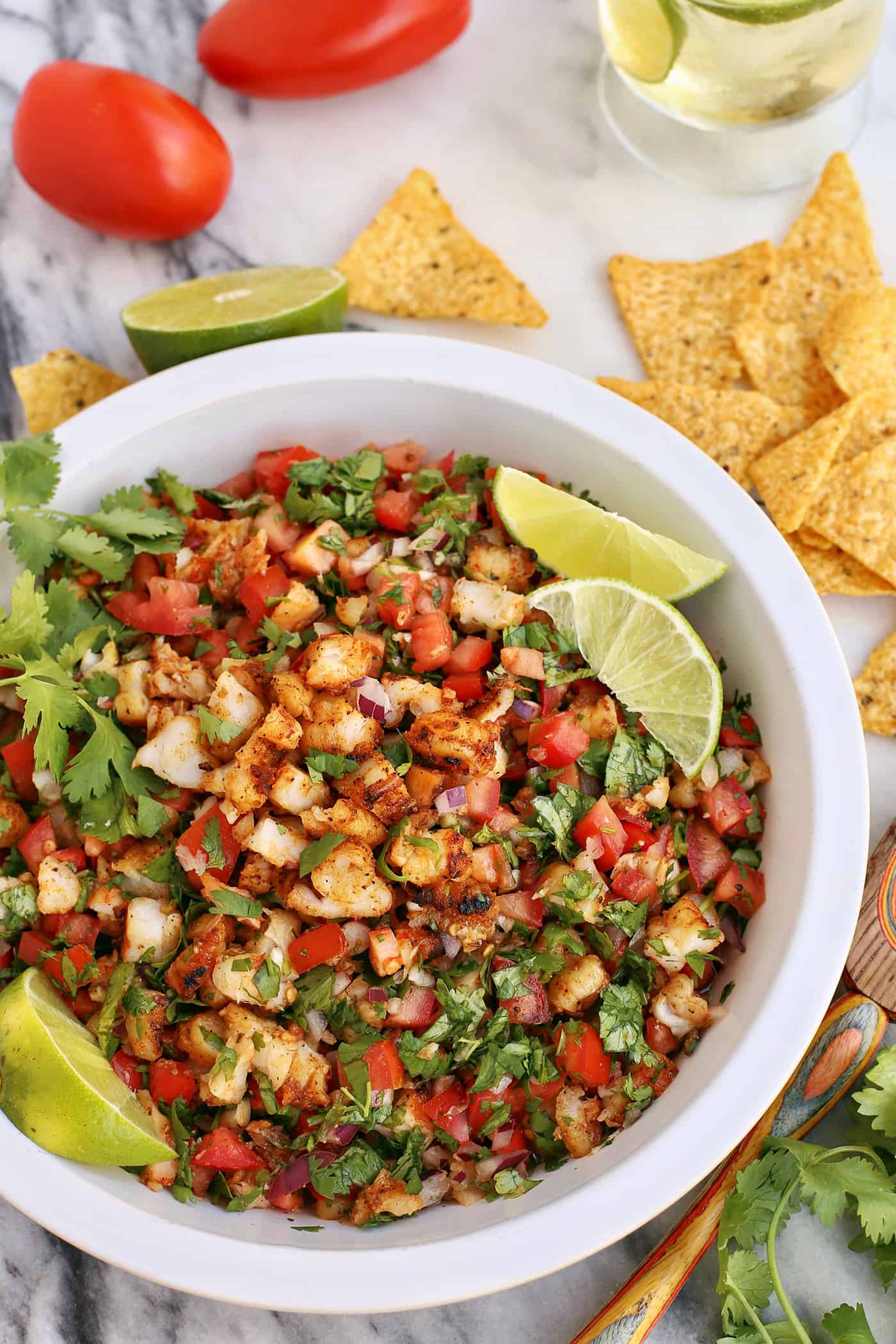 A Healthy & Fresh Shrimp Ceviche
This Grilled Shrimp Ceviche is one of my favorite summer dishes! I serve it as both an appetizer and as a lighter main course.
This ceviche recipe comes from experimenting with a couple of our favorite grilling recipes: the outrageously fabulous Margarita Grilled Shrimp and this Grilled Caribbean Jerk Shrimp. In this ceviche you'll find the perfect mix of fresh and spicy, with a beautiful grilled char.
Grab some chips and a cold margarita, and dig in!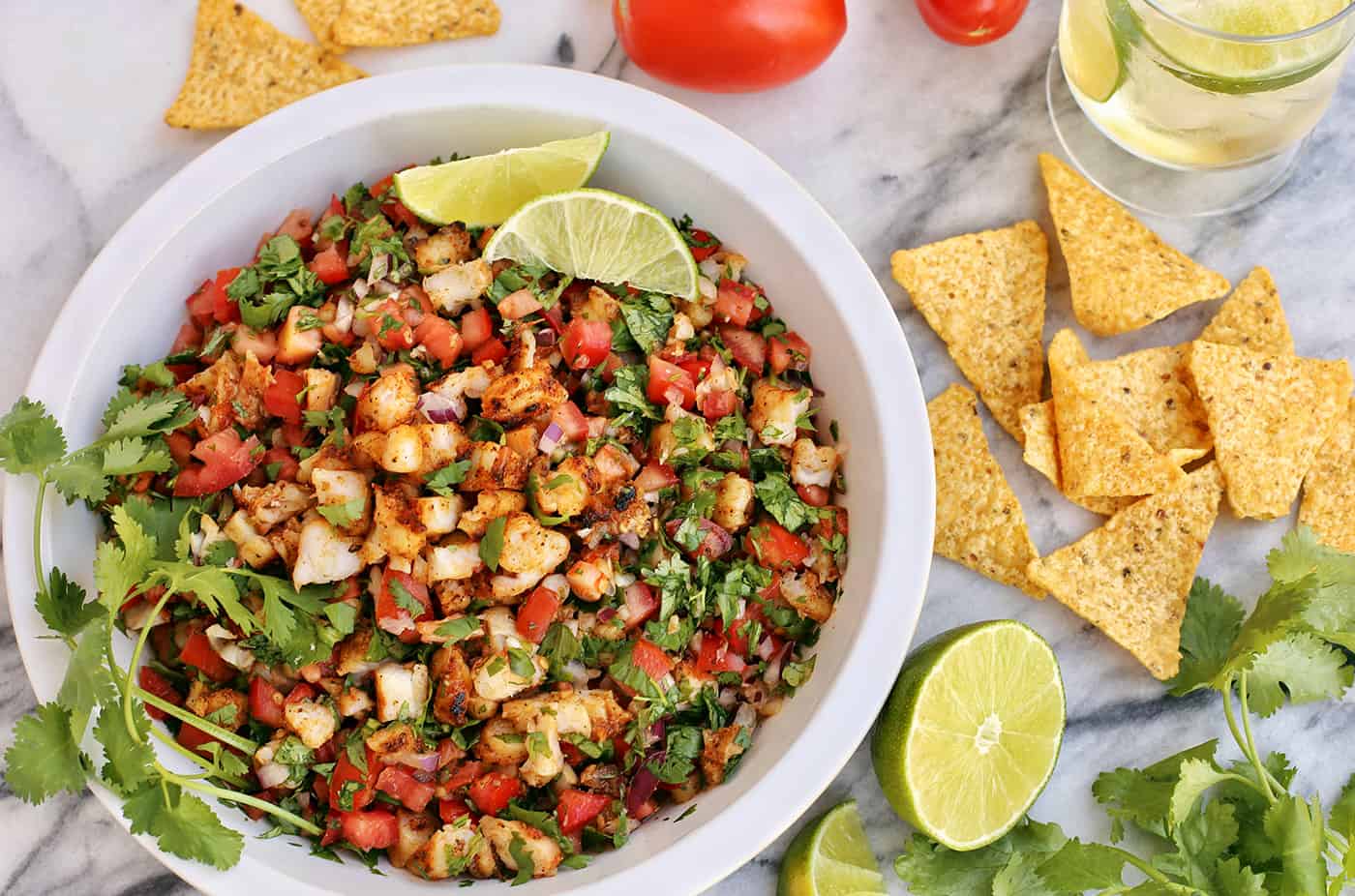 Unlike traditional ceviche, the raw shrimp in this recipe are not "cooked" by citrus juice. Instead, I grilled the shrimp after they were marinated in a habanero spice mixture, then chopped them up and folded those awesome little nuggets into a mixture of lime juice and fresh salsa ingredients.
So technically, this is not a true ceviche, since the shrimp were first cooked by the grill's heat. But this dish always reminds me of some of the more memorable ceviches I've had over the years, and so I'm just rolling with that! (If you're looking for traditional ceviche, try this classic shrimp ceviche recipe!)
The second half of the recipe, with lime juice, cilantro, jalapenos, and onions stays true to a traditional ceviche, all incorporated fresh. When the grilled habanero shrimp and fresh ingredients combine, the end result is absolutely addictive!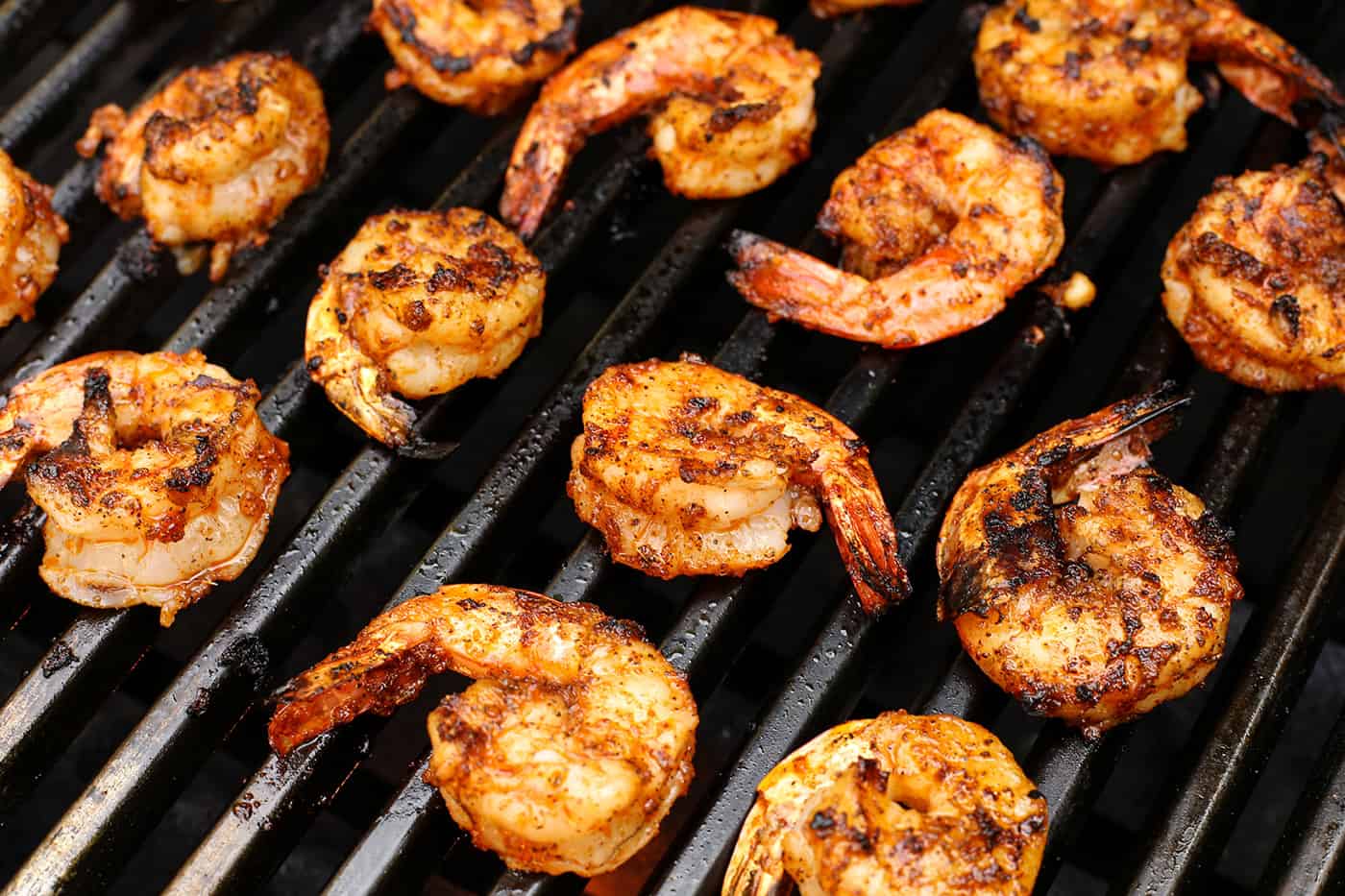 I'll warn you right now: You absolutely will not be able to hold back from popping a few of these spicy shrimp into your mouth, straight from the grill. For this reason, you should definitely pick up a few more shrimp than the recipe calls for!
Though this was intended as an appetizer, I often find myself digging into an entire bowl as a meal. It totally works for me!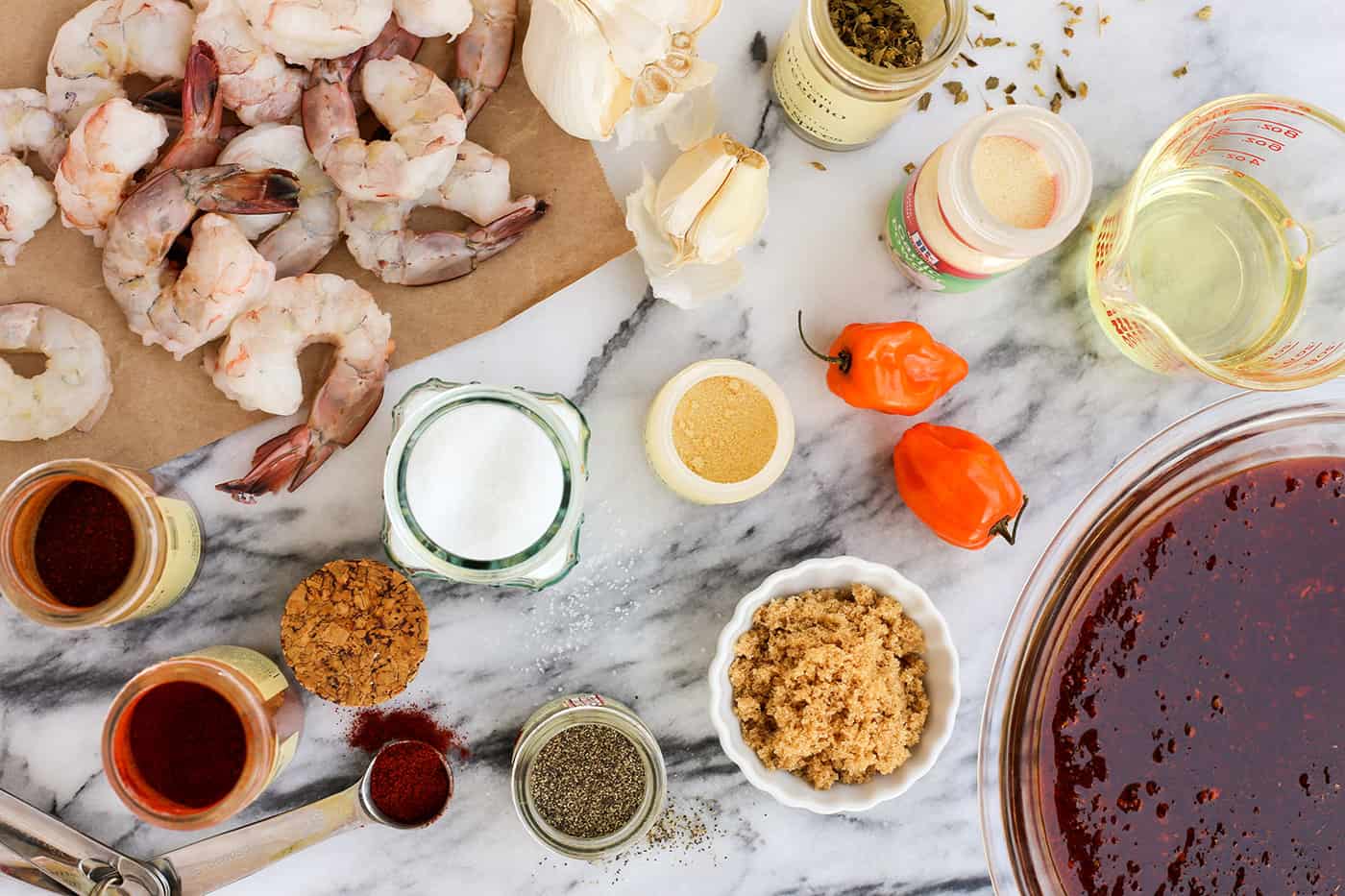 What You'll Need
I've separated the ingredients list into what you need to marinate the shrimp and what you need to assemble the ceviche. A couple of ingredients appear on both lists.
For the Marinated and Grilled Shrimp:
Vegetable Oil – You can also use a mild olive oil.
Habanero Pepper – Adds a nice little kick of heat to the dish.
Garlic – A few cloves is perfect.
Brown Sugar – Adds a bit of sweetness + helps the shrimp take on a beautiful char from the grill.
Smoked Paprika – Provides the smoky essence to the marinade.
Chili Powder – Adds another layer of spicy flavor.
Onion Powder – An easy way to add more depth of flavor.
Mexican Oregano – Features citrus and lemon undertones – I love to use this dried herb in Mexican dishes!
Salt & Pepper – To taste.
Jumbo Shrimp – Shrimp should be deveined and peeled before marinating and grilling.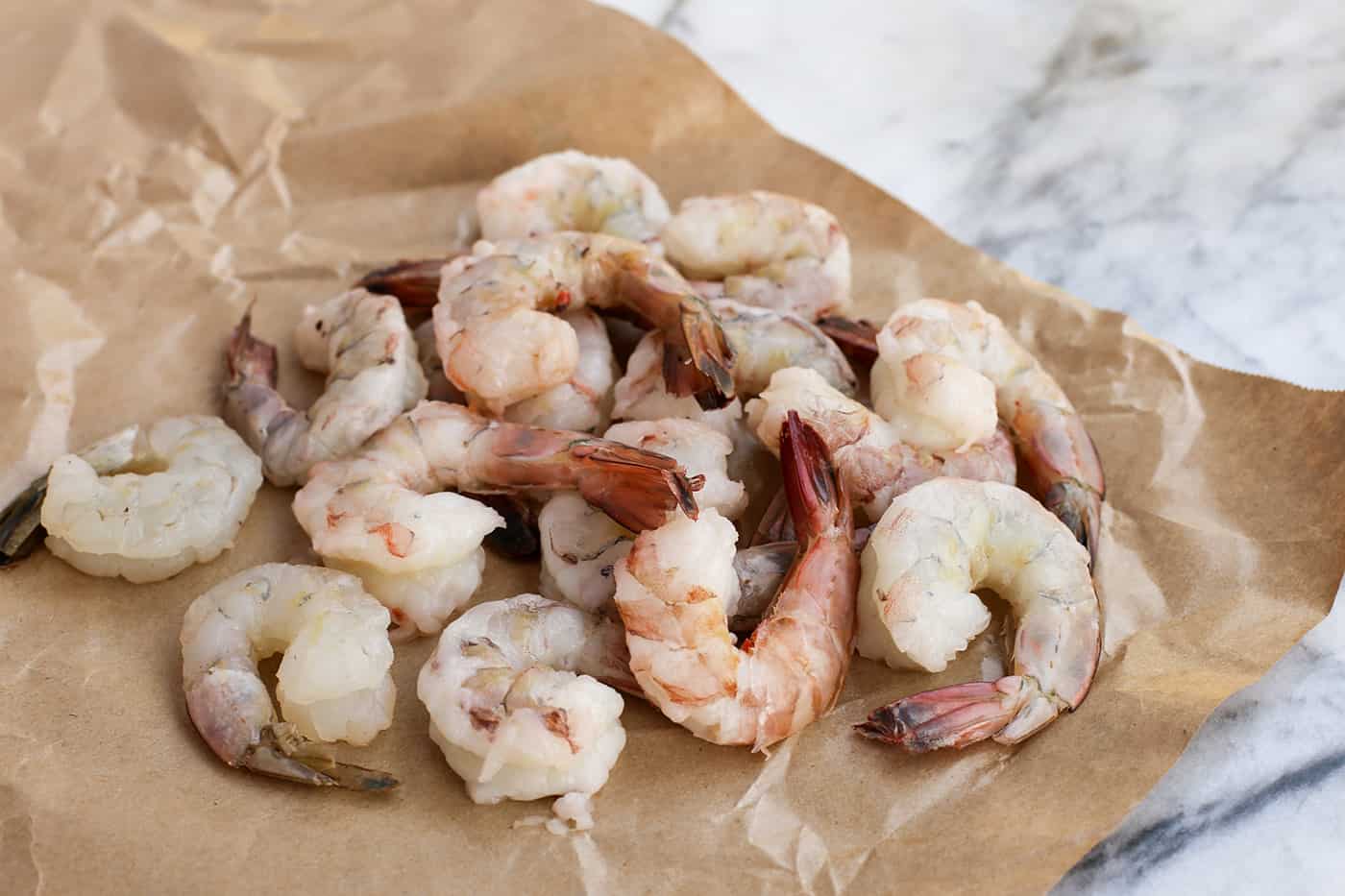 For the Remainder of the Ceviche:
Roma Tomatoes – I prefer Roma because they are meaty and less watery than other tomatoes.
Cilantro – As found in traditional ceviche.
Red Onion – I like to dice it fairly small, but do as you like.
Jalapeno – Add more if you like ceviche with extra heat!
Garlic – I always add fresh garlic to my fresh salsas, so this is just a natural ingredient to use for this salsa-like ceviche.
Lime Juice – Fresh lime juice is essential!
Salt & Pepper – To taste.
Lime Wedges – Add a few lime wedges for garnish, for those who like that extra fresh pucker. (Me!)
Tortilla Chips – Serve with tortilla chips, like a salsa.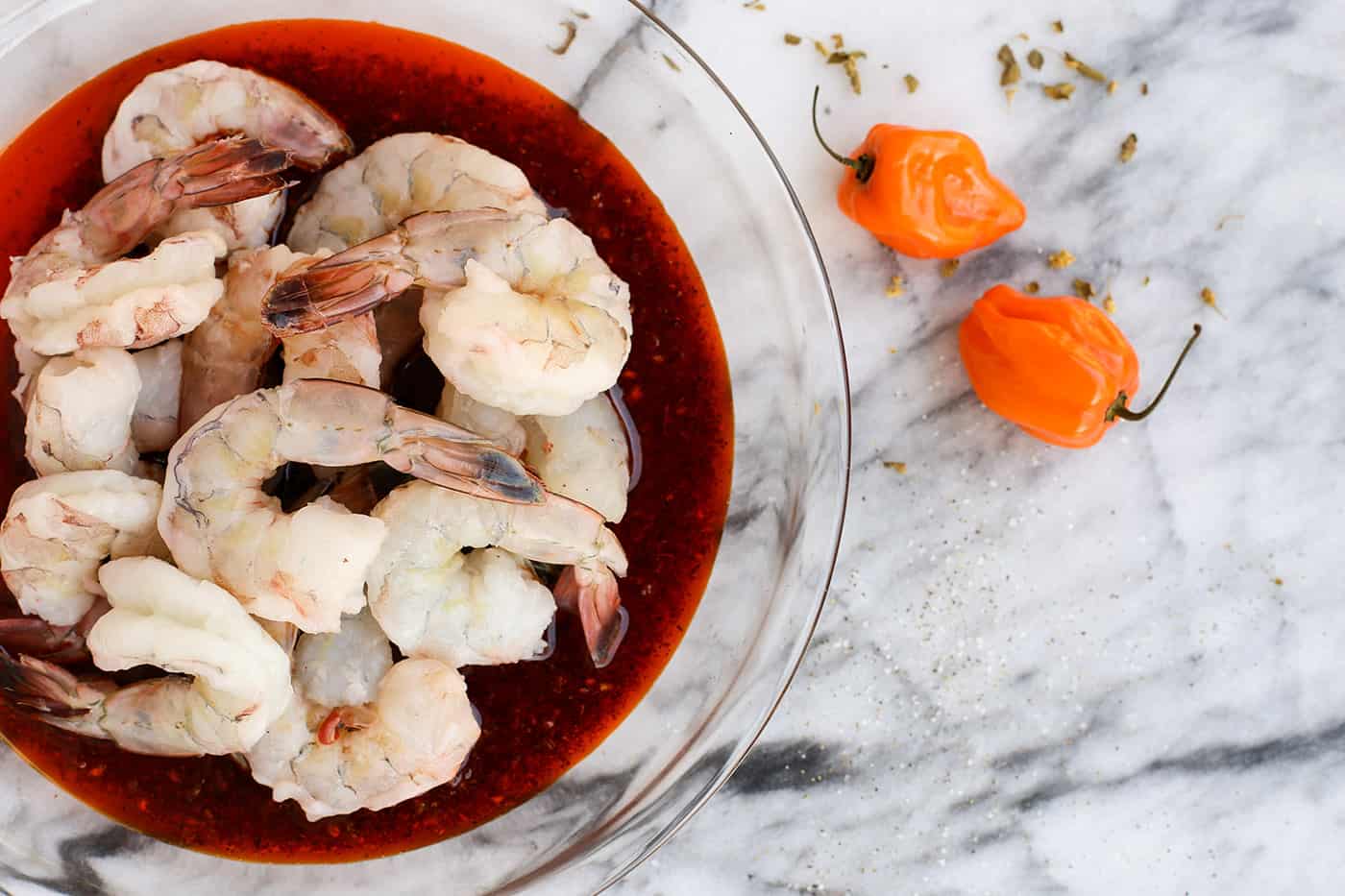 How to Make Grilled Shrimp Ceviche
There are two parts to making this grilled shrimp ceviche. First, marinating and preparing the shrimp. Then, prepping all other ingredients and combining with the shrimp before serving.
For the marinated and grilled shrimp:
Prepare the marinade. Combine all of the ingredients except for the shrimp in a blender. Blend until there are no sizeable pieces. Pour over the shrimp and stir to coat. Refrigerate for 1 to 2 hours.
Grill the shrimp. Preheat the grill to medium-high heat. Clean and oil grates. Grill shrimp for 3 minutes each side, or until no longer opaque and slightly charred.
To create the ceviche:
Combine all ingredients. Add together all ingredients except for the shrimp. Cut the shrimp into 1/2″ pieces and mix into the other ingredients. Add salt and pepper to taste.
Serve. Serve with lime wedges and your favorite tortilla chips.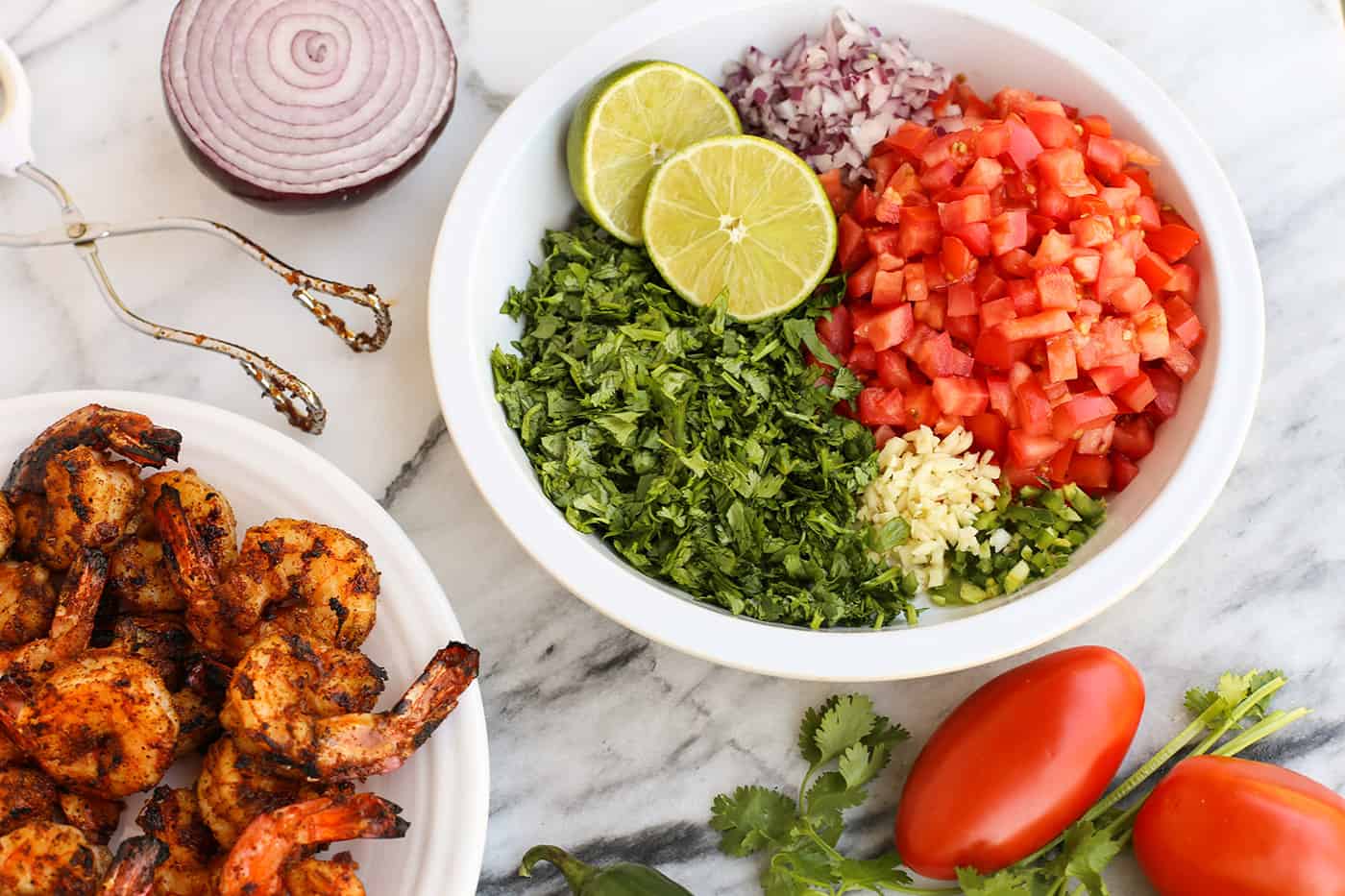 Tips for Success
A few easy tips to ensure you end up with perfect grilled shrimp ceviche!
Use jumbo shrimp. While shrimp size isn't essential to the finished dish, as they are chopped up anyway…the shrimp are much easier to grill when they are larger. Also, I LOVE biting into good-sized nuggets of shrimp!
Adjust grill time. If your shrimp aren't jumbo, reduce grilling time.
Don't hold back on the spices. When you go to toss the shrimp, you may think there are too many dry spices and be tempted to reduce them. But don't!
Use a non-reactive bowl. Avoid metal bowls when making ceviche, as they can give off a metallic taste when used with fresh tomatoes.
Allow time to rest. Wait 30 minutes after combining all the ingredients before enjoying, if possible.
Use fresh ingredients. Use fresh shrimp if at all possible, and fresh lime juice is a must.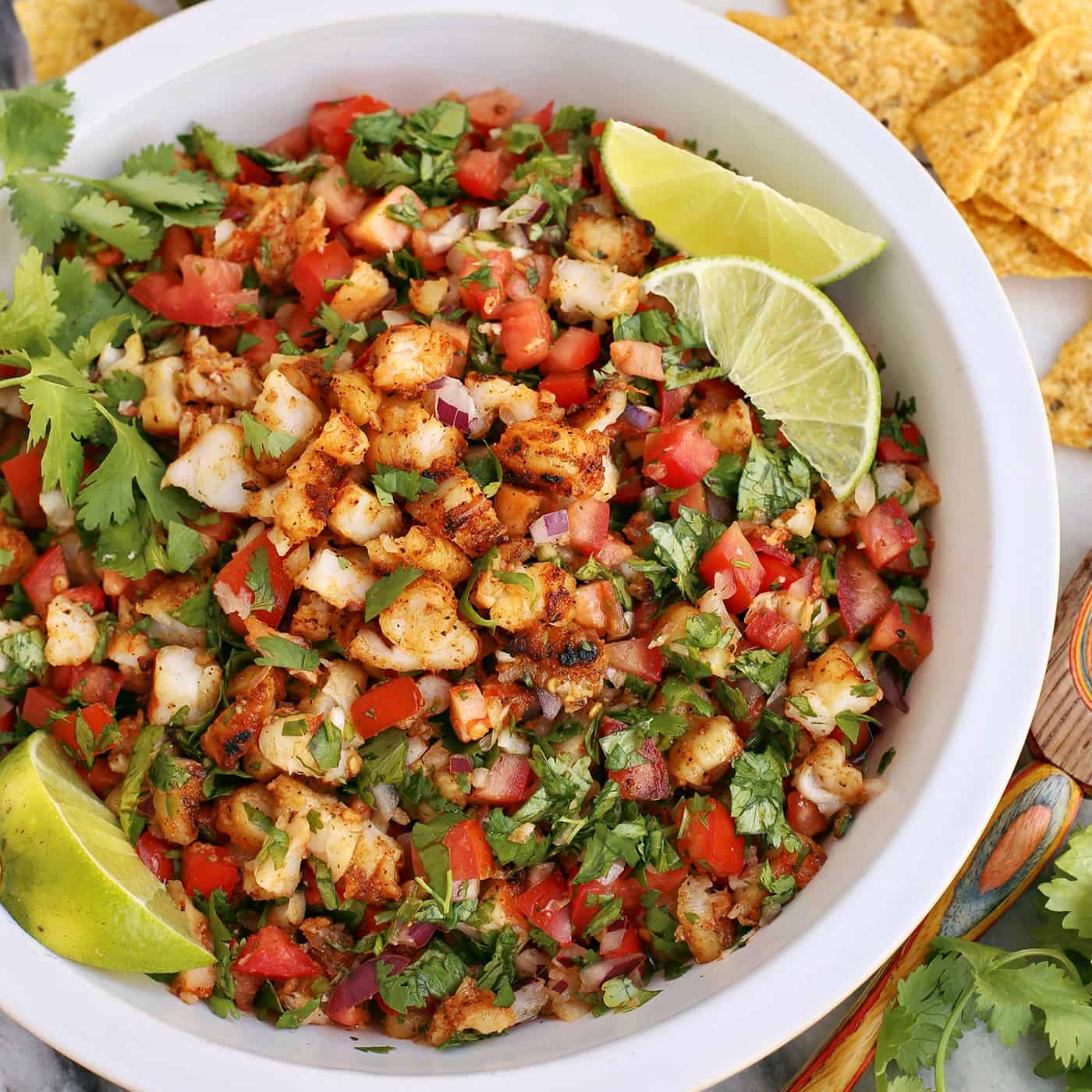 Serving Suggestions
Grilled shrimp ceviche can serve as an appetizer or full meal on its own.
A fun way to serve it as an appetizer is in a chilled glass, with a lime wedge and a few tortilla chips – similar to this Mexican shrimp cocktail. You can also serve it in a large bowl with tortilla chips on the side, as you might serve a salsa at a party.
When serving it as a full meal, it's fun to add some fresh avocado on top and serve in a bowl with tortilla chips on the outside. You can also toss it on a bed of greens to make a grilled shrimp salad.
How to Store Leftovers
While it's best fresh or at least the same day as it's prepared, you can store grilled shrimp ceviche for up to 3 days in the fridge. Store tortilla chips separately. Squeeze a lime wedge over the top before serving to reactivate the flavors in the dish.
More Easy Shrimp Recipes
Ready to try some more easy shrimp recipes that are perfect for summer? Check out these ones!
This post was originally published in 2016, and then updated in 2021. You can also find my recipe over at The Pioneer Woman!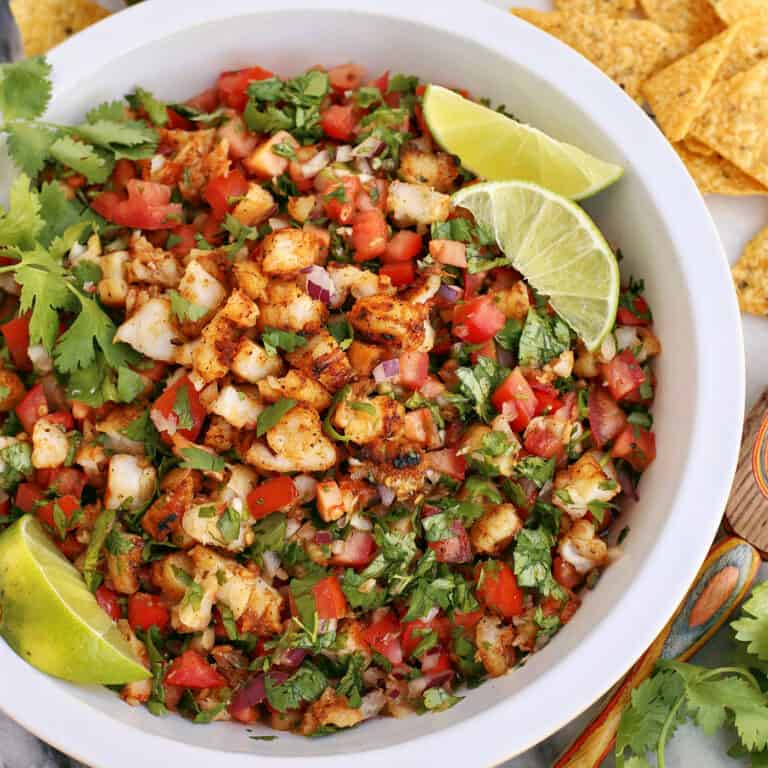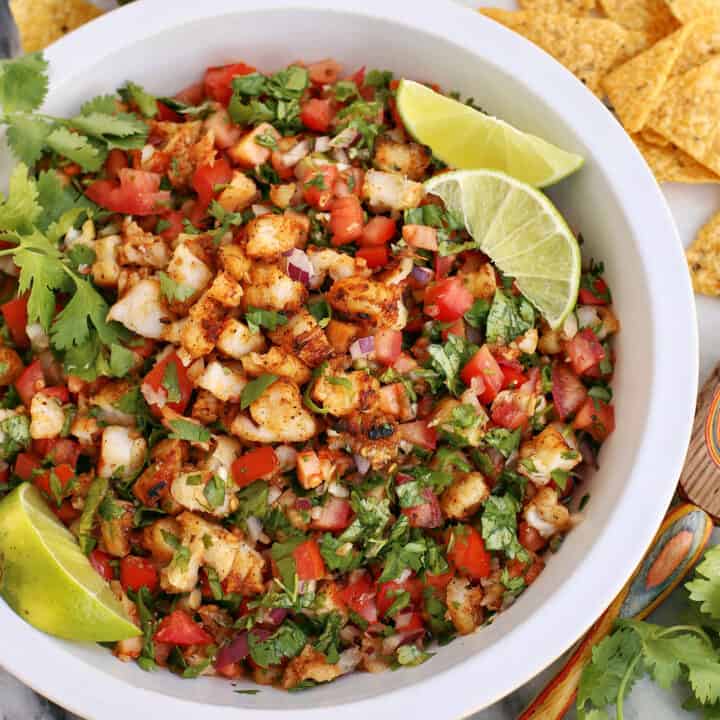 Grilled Shrimp Ceviche
Yield: 6
Prep Time: 15 minutes
Marinate Time: 1 hour
Cook Time: 6 minutes
Total Time: 1 hour 21 minutes
Grilled shrimp ceviche is made with smoky grilled shrimp, fresh vegetables, and tangy lime juice! It's the perfect appetizer for a hot summer day.
Ingredients
for the marinated & grilled shrimp:
1/3 cup vegetable oil
1/2 of a large habanero pepper, seeded and minced
3 large cloves garlic, minced
1 tablespoon brown sugar
2 teaspoons smoked paprika
1 teaspoon chili powder
1 teaspoon onion powder
1 teaspoon Mexican oregano
1 teaspoon kosher salt
1/2 teaspoon freshly ground black pepper
1 pound raw jumbo shrimp, 16-20 per pound, peeled and deveined
for the rest of the ceviche:
4 Roma tomatoes, diced
1 cup chopped cilantro
1/3 cup diced red onion
2 teaspoons minced jalapeno, or more if desired
1 large clove garlic, minced
1 large lime, juiced
kosher salt And freshly ground black pepper, to taste
lime wedges, to squeeze over the top of individual portions
Instructions
For the marinated & grilled shrimp: In a small bowl with high sides, combine oil, habanero, garlic, brown sugar, smoked paprika, chili powder, garlic powder, onion powder, Mexican oregano, salt, and black pepper. Use an immersion blender to completely process until there are no sizeable pieces. Or use a food processor or blender.
Place shrimp in a low, wide bowl and pour marinade over. Gently fold to coat evenly. Cover and refrigerate for 1 to 2 hours.
Heat an outdoor grill to medium-high heat (about 475° F), or heat a stove top grill pan to medium-high heat. Clean and oil grill grates well. Set shrimp on hot grates. Grill for about 3 minutes per side, or until shrimp are no longer translucent and have a bit of char. If using smaller shrimp than a jumbo size, you will need to decrease the grilling time. Transfer to a plate to cool.
For the rest of the ceviche: In a medium bowl, fold together tomatoes, cilantro, red onion, jalapeño, garlic, and lime juice. Chop the grilled shrimp into 1/2" or slightly smaller pieces and add to the bowl. Fold again. Taste and add more kosher salt and freshly ground black pepper if needed. Serve with extra lime wedges for squeezing over the top, plus your favorite tortilla chips for scooping. A cold margarita is also recommended!
Notes
from a farmgirl's dabbles
To store. While it's best fresh or at least the same day as it's prepared, you can store grilled shrimp ceviche for up to 3 days in the fridge. Store tortilla chips separately. Squeeze a lime wedge over the top before serving to reactivate the flavors in the dish.
Nutrition Information:
Yield: 6
Serving Size: 1
Amount Per Serving:
Calories: 233
Total Fat: 14g
Saturated Fat: 1g
Trans Fat: 0g
Unsaturated Fat: 12g
Cholesterol: 160mg
Sodium: 1173mg
Carbohydrates: 10g
Fiber: 2g
Sugar: 4g
Protein: 18g
Nutrition information is automatically calculated by Nutritionix. I am not a nutritionist and cannot guarantee accuracy. If your health depends on nutrition information, please calculate again with your own favorite calculator.