Shrimp Ceviche
This flavorful Shrimp Ceviche recipe features tender shrimp marinated in lime juice, along with fresh bell pepper, cucumber, jalapeno, onion, and cilantro. It comes together in just 30 minutes for a light and refreshing appetizer or meal!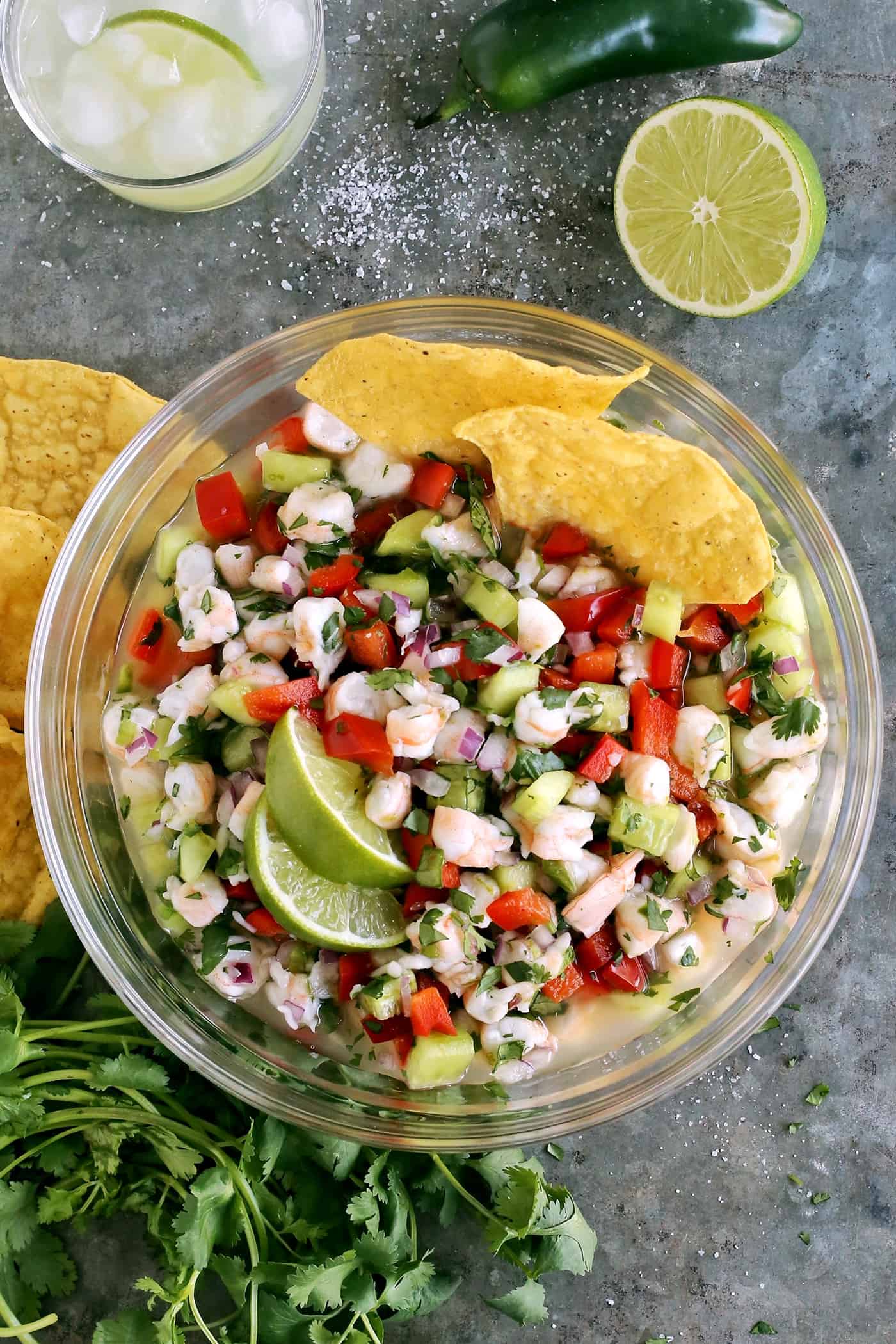 The Best Shrimp Ceviche
You know those hot summer days where the absolute last thing you want to do is heat up the kitchen by cooking? And grilling outside doesn't sound that appealing either?
Try making this easy Shrimp Ceviche instead! It's light, refreshing, and so super flavorful – plus the shrimp is "cooked" by the acidity of the lime juice, resulting in literally no actual cooking!
There's a reason why ceviche is such a popular dish in tropical countries and beach towns. I first fell in love with it while visiting Mexico many years ago, and it's still one of my top favorite easy shrimp recipes to make at home. It's the perfect dish for hot summer days!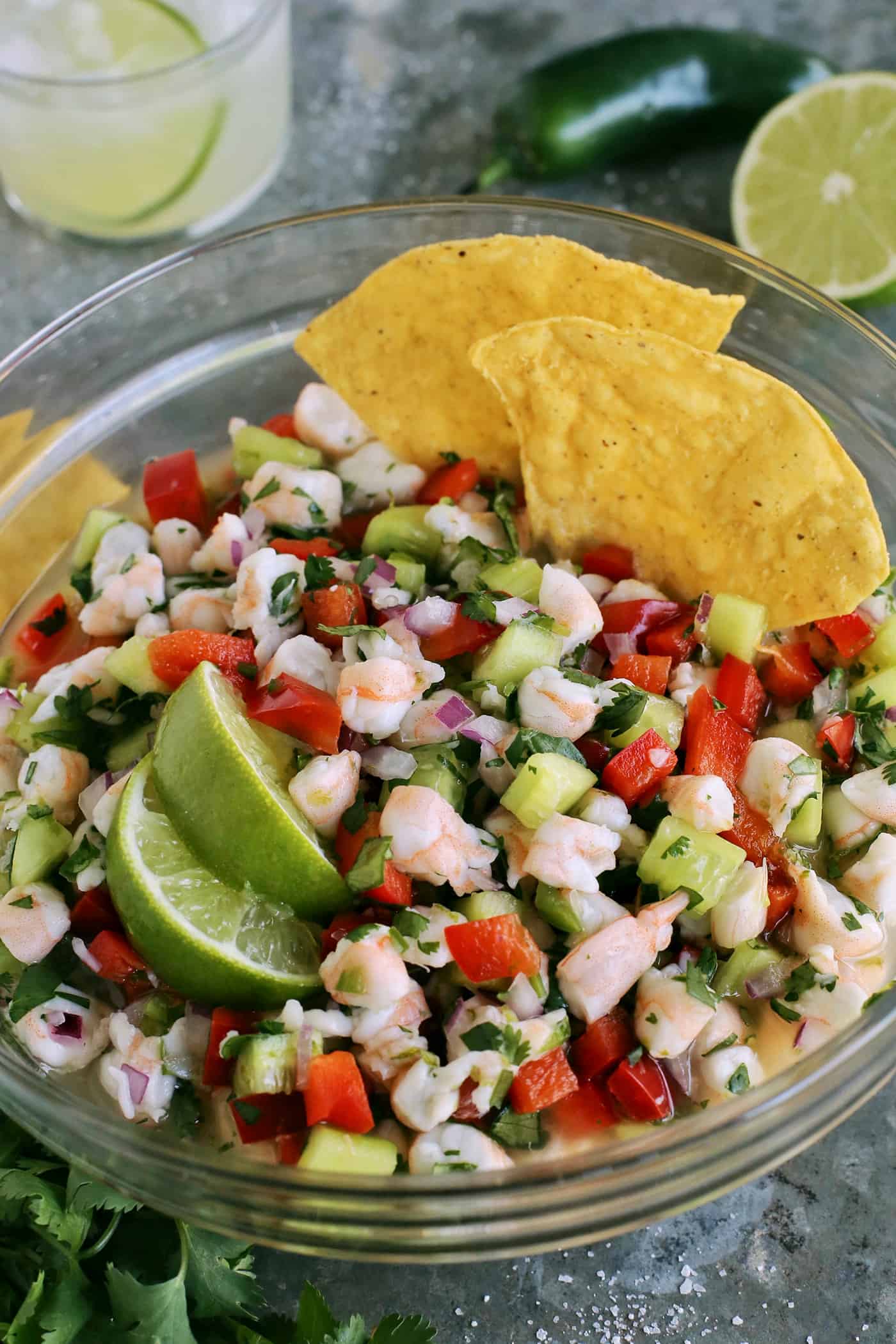 What is Ceviche?
Ceviche is a dish popular throughout Latin America, especially on the coasts of Mexico and other countries in the Caribbean. It's made with raw seafood, like shrimp, white fish, or octopus, that's quickly marinated in lime juice. The acidity in the lime juice "cooks" the seafood and makes it perfectly safe to eat – not to mention absolutely delicious!
Ceviche also includes other ingredients for added flavor, like onion, pepper (bell pepper and/or jalapeno), and even avocado or mango.
It's light and refreshing. And while it can be pricey on restaurant menus, it's super easy to make at home – which means I can eat it more often, YAY!!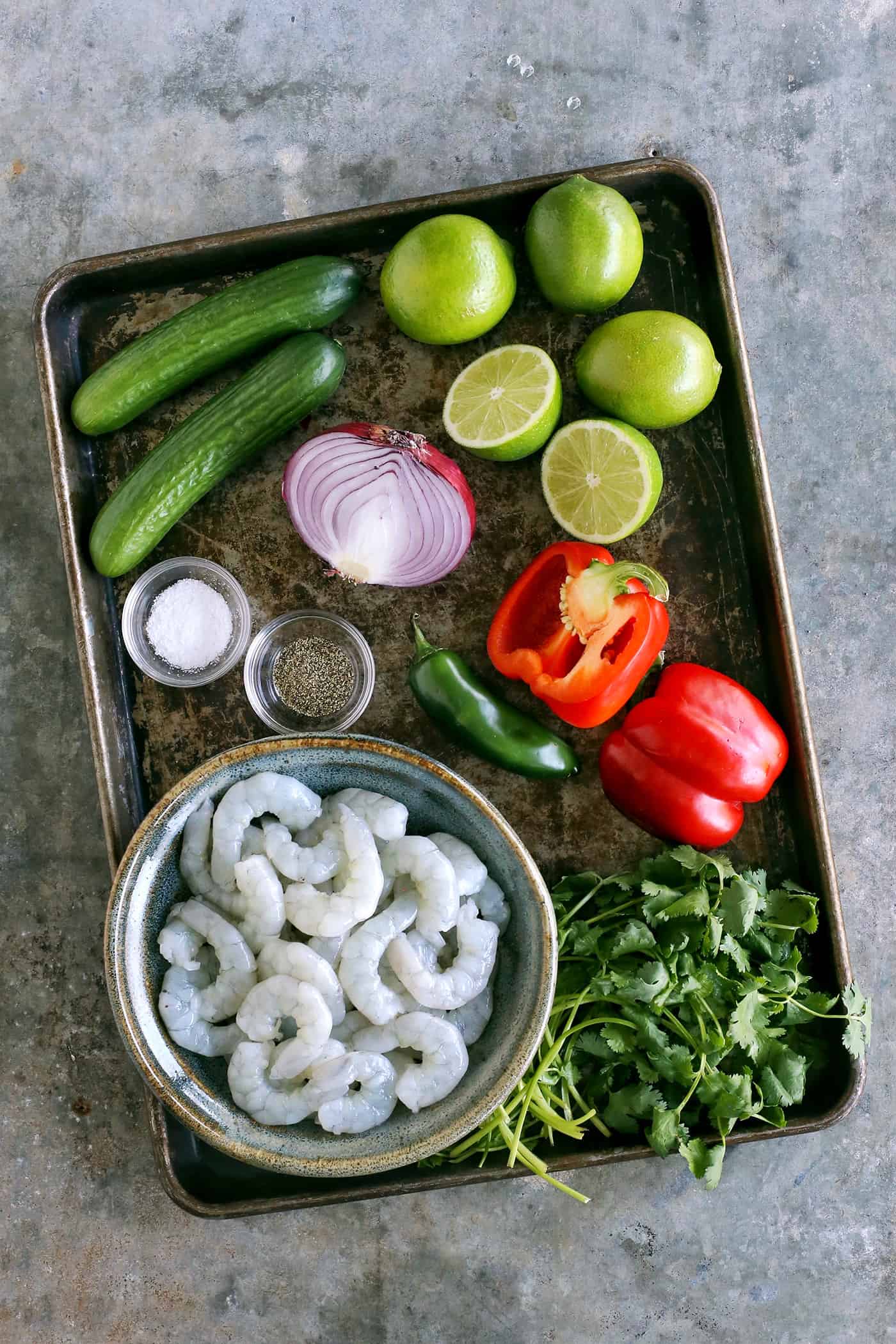 What You'll Need
This easy ceviche recipe is made with shrimp, lime juice, fresh vegetables, and cilantro. Feel free to alter things, but this is my top favorite way to make it!
Shrimp – Use raw shrimp that is peeled and deveined with the tails removed. I recommend using medium to large sized shrimp, for noticeable bites of succulent shrimp. I like to use 31/40 count shrimp.
Lime – I use lots of fresh lime juice for this recipe, plus the zest of a whole lime. Freshly squeezed juice is essential – please do not make this with bottled lime juice, it just won't give the same fresh, bright flavor.
Vegetables – Add cucumber, red bell pepper, red onion, and jalapeno for a variety of flavors and textures.
Cilantro leaves – A common ingredient in ceviche and Mexican dishes.
Salt & pepper
Can You Eat Raw Shrimp in Ceviche?
Yes, it is completely safe to use raw shrimp in ceviche. The acidity in the lime cooks the shrimp, so you're not actually eating raw shrimp at all. You can even watch the shrimp turn from raw & translucent to perfectly cooked & opaque in the bowl!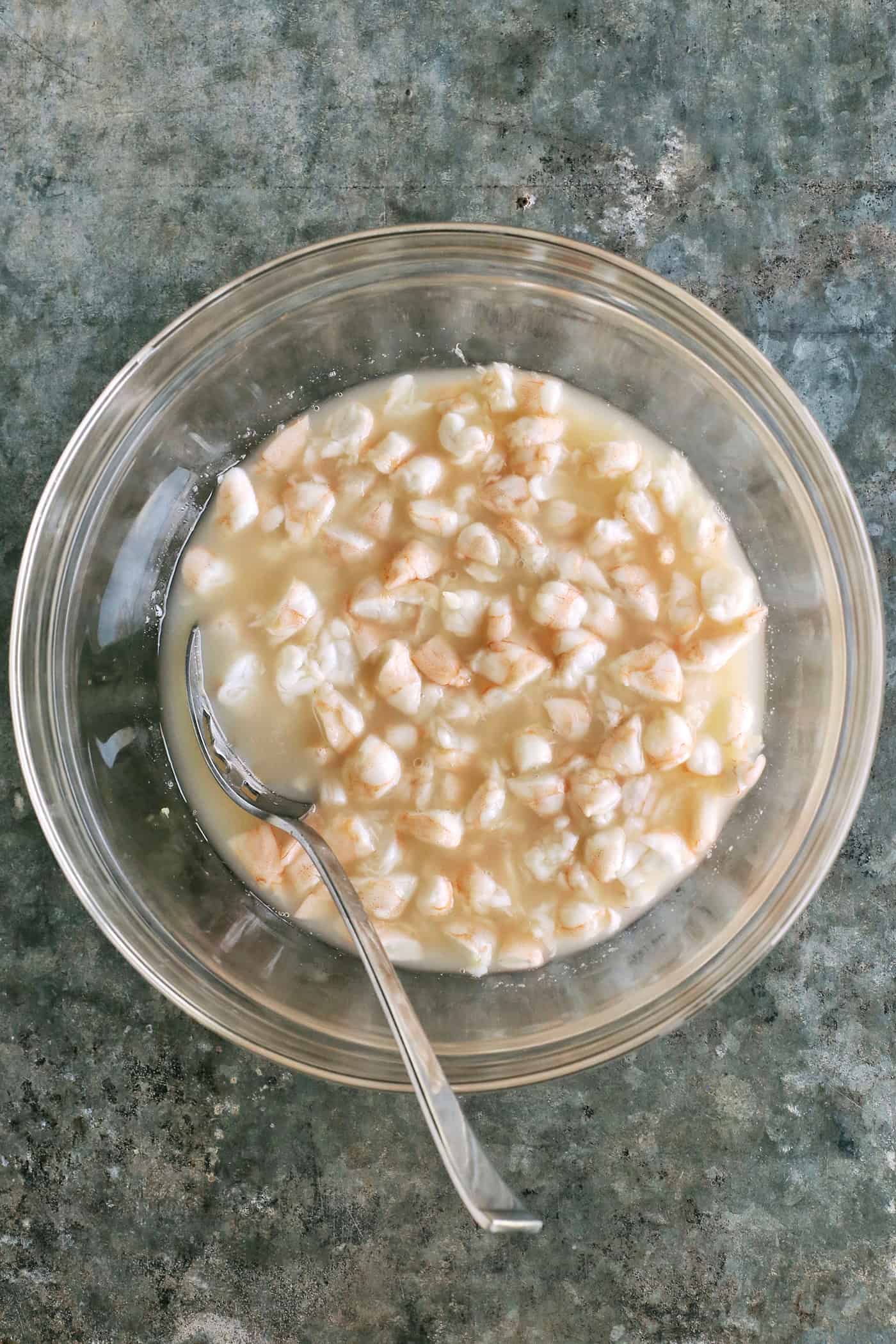 How to Make Shrimp Ceviche
Homemade ceviche is quick and easy to make, ready in just 30 minutes!
"Cook" the shrimp. Combine the chopped shrimp and half of the lime juice in a bowl. Then let sit for 15 to 30 minutes, to allow the acidity of the lime to "cook" the shrimp.
Add remaining ingredients. Mix the remaining ingredients together and once the shrimp turns white/pink, combine everything together.
Serve. Enjoy your shrimp ceviche with tortilla chips or saltine crackers, plus some extra lime wedges. Because there can never be too much lime, in my opinion!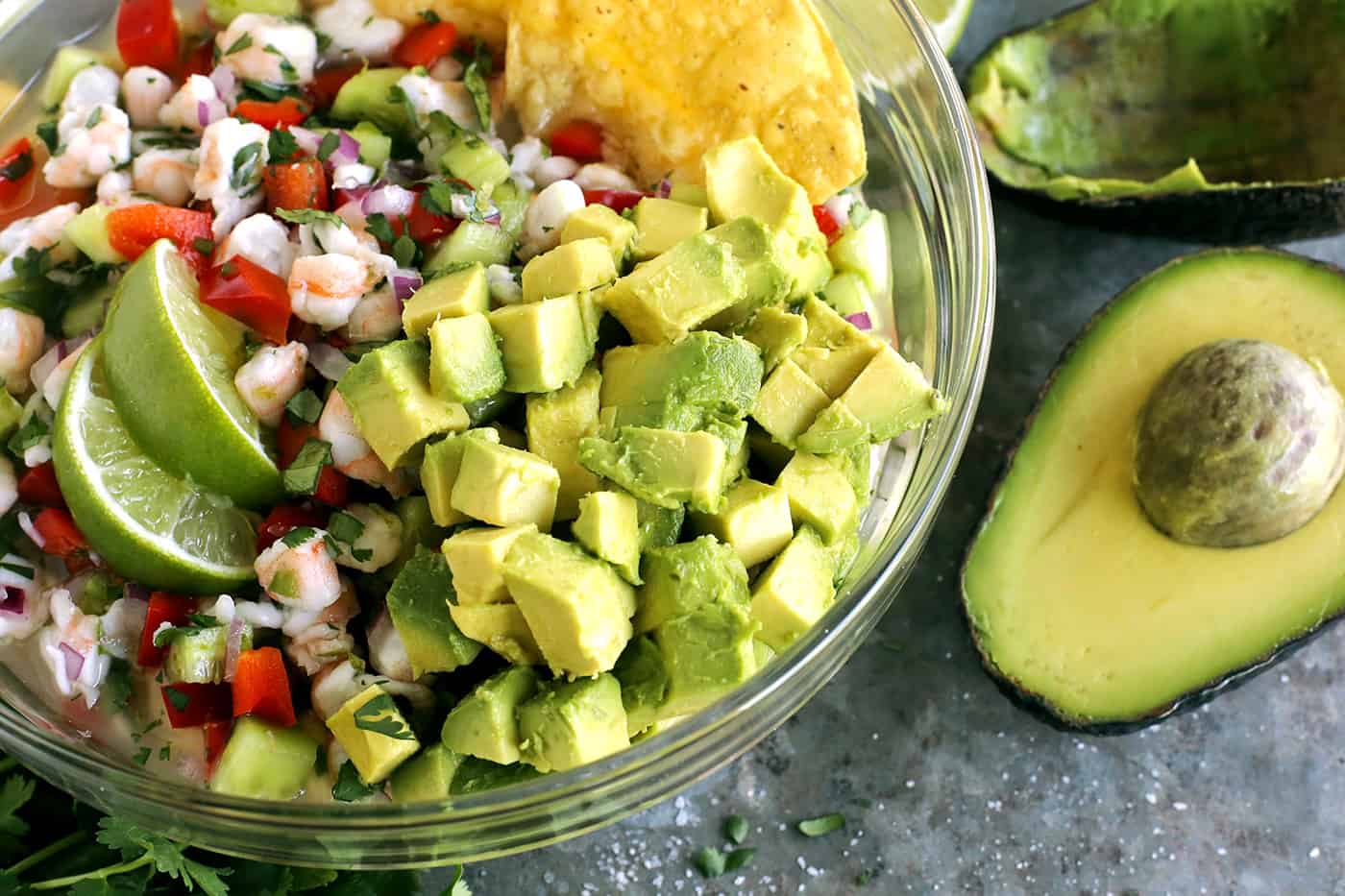 Tips & Variations
Here are a few tips for making the best homemade ceviche, as well as a few ways to switch it up.
Make sure the shrimp is diced into small pieces. For the shrimp to cook fully in 15 to 30 minutes, it needs to be cut into relatively small, equal-sized pieces.
Add some avocado. If you love avocado, stir some into the ceviche right before serving!
Add a tropical twist. For a little extra tropical flavor, try adding in some fresh, ripe mango or pineapple to your ceviche.
Can I use cooked shrimp? If you don't have access to fresh, raw shrimp or are uncomfortable with the "cooking" process, you can make your shrimp ceviche with thawed, cooked shrimp as well.
Enjoy fresh. Ceviche is best when enjoyed soon after making it. If the shrimp sits in the lime juice too long, it can become "over-cooked" and tough.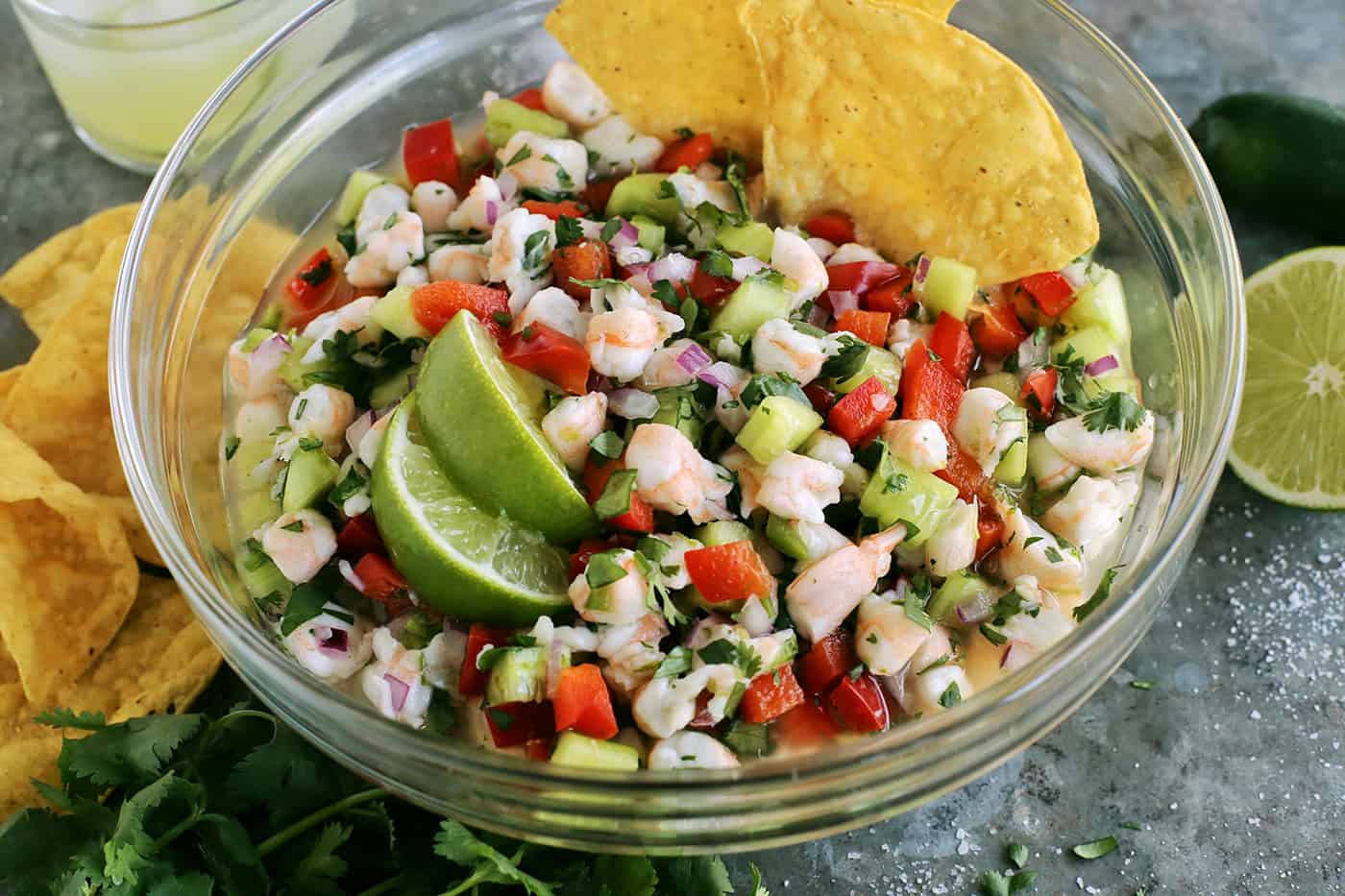 Serving Suggestions
Ceviche can be served as an appetizer or as a light lunch or dinner. It's typically served with either tortilla chips or saltine crackers. Plantain chips or yucca chips are great too, traditionally found throughout Latin America.
When serving this as an appetizer during the heat of summer, I like to make grilled chipotle-orange salmon or grilled pork & pineapple tacos or grilled honey chipotle chicken kebabs for the main entree. A grilled steak is also easy and so delicious, making the perfect surf & turf meal!
Last but certainly not least, I recommend filling out your Mexican inspired meal with a cold, refreshing margarita. You expected nothing less from me, right?! I have many to choose from – pick a favorite, from a classic margarita to a bubbly Prosecco margarita to a summery pink lemonade margarita and more! My ranch water cocktail recipe is a favorite skinny cocktail. And if you like fresh mint, be sure to check out my tequila mojito!
How Long Does This Last?
Ceviche should always be eaten within 2 days. However, the sooner you eat it, the better it will be. The best ceviche is enjoyed within an hour or two of preparing it – for the very freshest flavor.
The lime will continue to cook the shrimp as it sits, causing the shrimp to become chewier and less tender. Avocado, if you add it, may also start to brown or turn a bit mushy. So for the very best results, just prepare the ceviche right before eating it.
More Shrimp Recipes:
Like this recipe? Save it to Pinterest!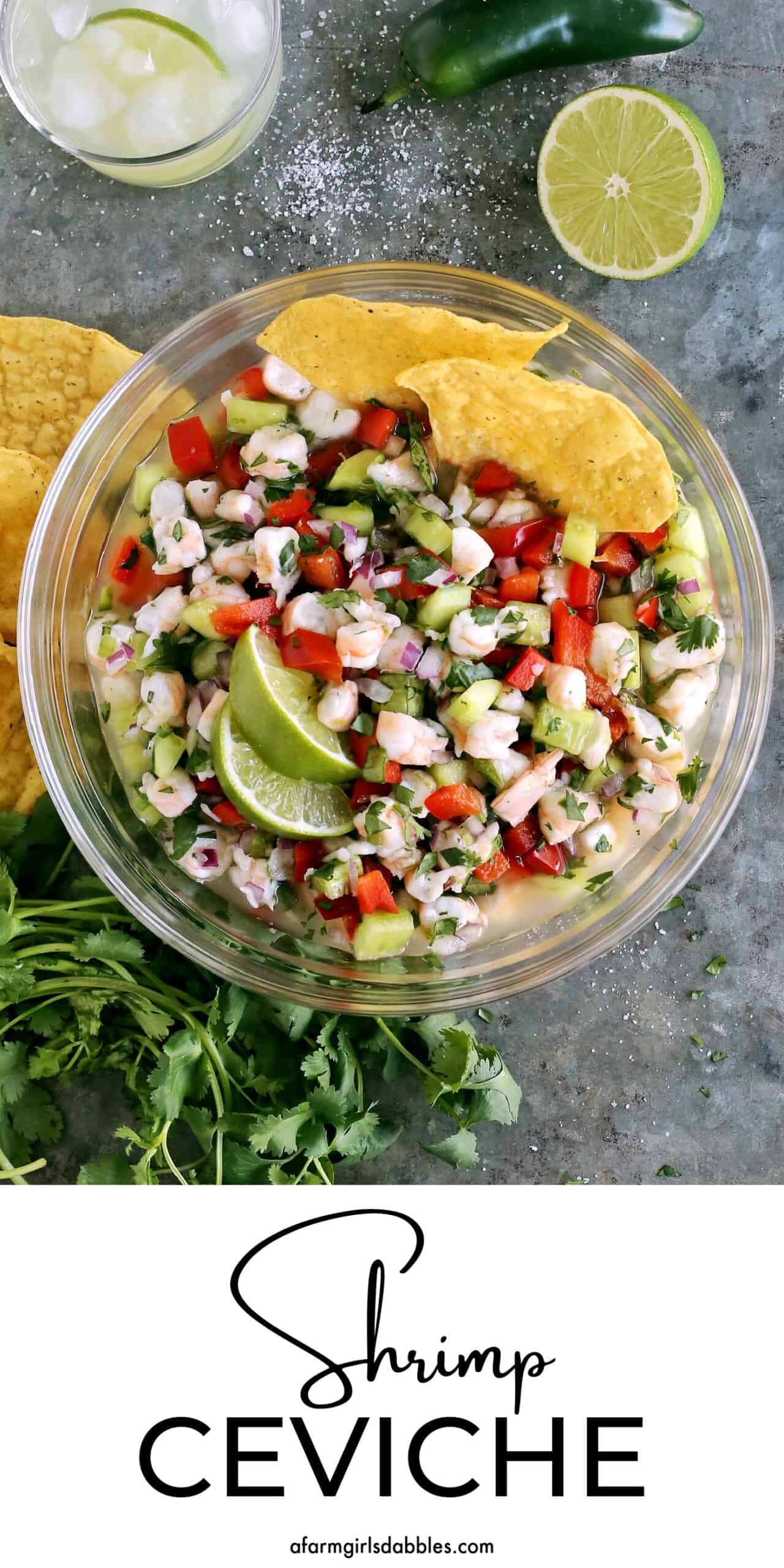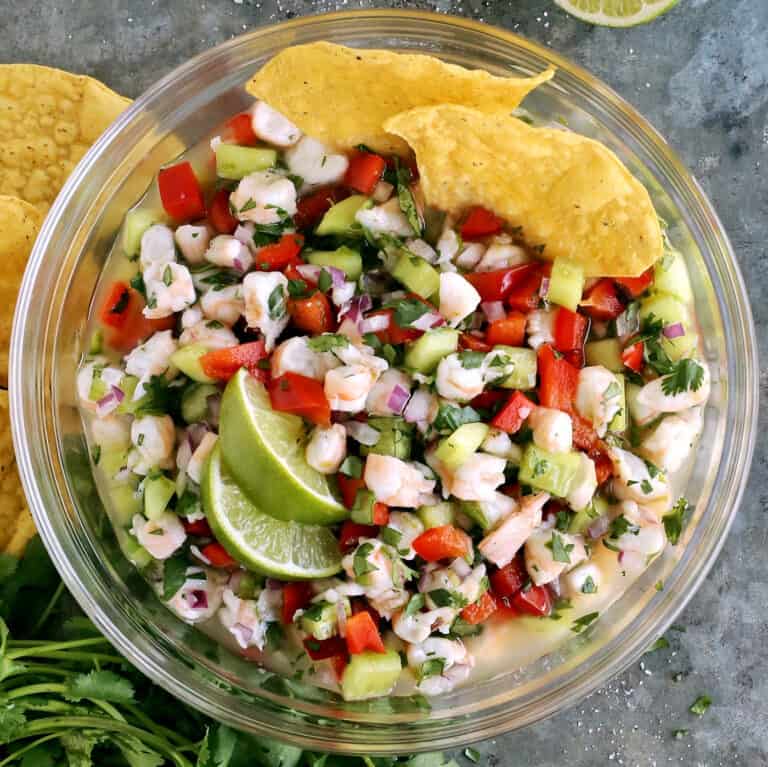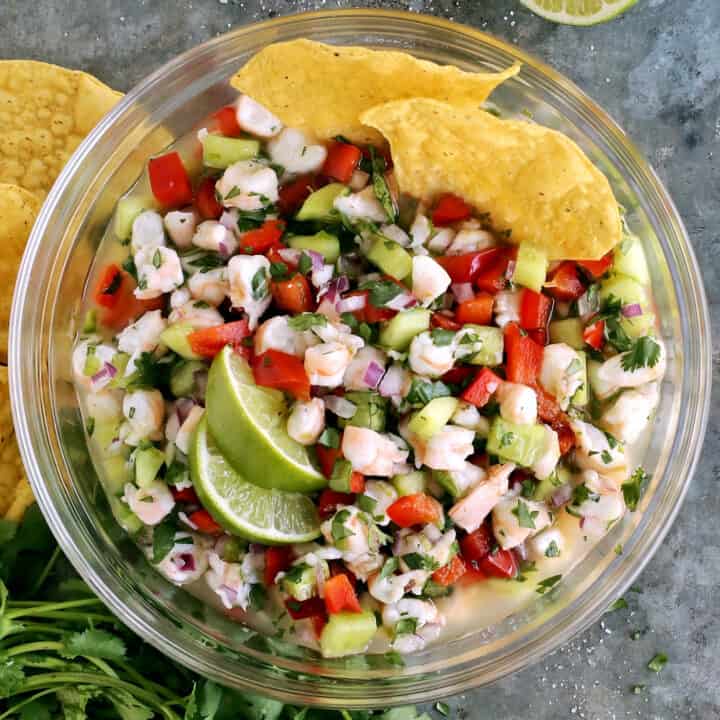 Shrimp Ceviche
Yield: 6 servings
Prep Time: 30 minutes
Total Time: 30 minutes
This flavorful Shrimp Ceviche recipe features tender shrimp marinated in lime juice, along with fresh bell pepper, cucumber, jalapeno, onion, and cilantro. It comes together in just 30 minutes for a light and refreshing appetizer or meal!
Ingredients
1 pound medium to large raw shrimp, peeled, deveined, tails removed, and chopped into ¼" pieces (I use 31/40 count shrimp)
1 cup freshly squeezed lime juice
zest from 1 large lime
1 cup peeled and diced Persian or English cucumber
1 cup seeded and diced red bell pepper
½ cup chopped fresh cilantro leaves
½ cup diced red onion
1 large jalapeno, minced (add as little or as much as you like)
½ teaspoon kosher salt
¼ teaspoon black pepper
Instructions
Place chopped shrimp in a large bowl. Add half of the lime juice and fold to combine. Let stand for 15-30 minutes, letting the lime's natural acidity "cook" the shrimp. When all the shrimp turns from opaque to white/pink, it's ready. ½
Meanwhile, in a separate large bowl, mix together the remaining ingredients. Add this mixture to the shrimp and mix well to incorporate.
Serve with your favorite tortilla chips or saltine crackers, plus extra lime wedges. If you like avocado, dice some up and fold it into the ceviche right before serving - it's a great addition!
Nutrition Information:
Yield: 6
Serving Size: 1
Amount Per Serving:
Calories: 32
Total Fat: 0g
Saturated Fat: 0g
Trans Fat: 0g
Unsaturated Fat: 0g
Cholesterol: 0mg
Sodium: 110mg
Carbohydrates: 9g
Fiber: 1g
Sugar: 3g
Protein: 1g
Nutrition information is automatically calculated by Nutritionix. I am not a nutritionist and cannot guarantee accuracy. If your health depends on nutrition information, please calculate again with your own favorite calculator.