Sugar Grilled Steaks
Sprinkled generously with sugar, the grill's fire caramelizes these Sugar Grilled Steaks, leaving a sweet and tasty char. So good!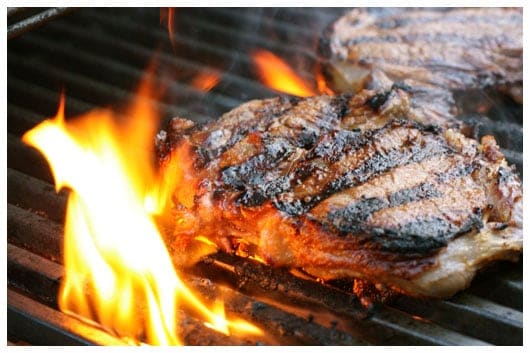 The snow just keeps on falling around here, making for one of the snowiest seasons on record. But that hasn't been reason enough to quit grilling outdoors. No siree!
Armed with a shovel and the image of a hot grilled steak in his mind, Blake can conquer any snow topped deck.
And just take a look at these Sugar Grilled Steaks! They are serious drool-worthy material. Sprinkled generously with sugar, the grill's fire caramelizes the steaks, leaving a sweet and tasty char. They are SO GOOD!
I completely have my husband to thank for finding and trying this recipe. Blake discovered it last fall while flipping through a new book I had just received, "The Reluctant Entertainer". The book's author, Sandy Coughlin, is also the woman behind the blog of the same name, and I'm happy to call her my friend.
I love reading the comments people leave on Sandy's blog. These people are from real life. Like you and me.
Sandy provides inspiration for simple and gracious hospitality, encouraging people to be more courageous, joyful, and authentic in their relationships. She teaches others how to give themselves permission to be unperfect. Because that's just what we are, folks!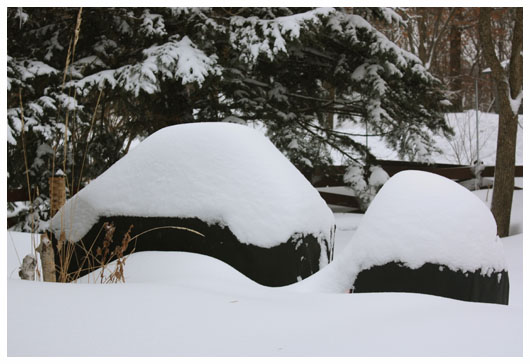 Somewhat unrecognizable after this past weekend's snowfall, those black lumps covered in snow are our grills. It really has been quite the winter. Which makes a grilled steak, with a hint of summer, all the more fantastic.
Do you grill during the winter months?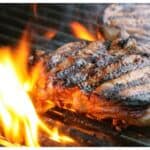 Sandy's Sugar Grilled Steaks
Cook Time:6 minutes
Calories per serving: 780
Ingredients:
beef steaks, trimmed of excess fat (We use strips or ribeyes, at 3/4″ to 1″ thick.)
olive oil
sugar
Lawry's seasoned salt
Directions:
Tenderize steaks with a mallet. Rub both sides of meat with olive oil, then coat both sides generously with sugar and Lawry's. This is a vague recipe, open for your own experimentation with amounts. But after increasing the sugar and Lawry's each time we've made this, we've liked this recipe more and more.
We prefer our steaks medium-rare. Blake grills the steaks on a super hot grill, searing only about 2 to 3 minutes on each side. Remember that when you take your steaks off of the grill, the meat will continue to cook.
From "The Reluctant Entertainer"by Sandy Coughlin (This recipe is titled "Cousin Jim's St. Louis-Style Steaks" in the book – we just refer to it as "Sandy's Sugar Grilled Steaks" in our house!)
©
We participate in the Amazon Services LLC Associates Program, an affiliate advertising program designed to provide a means for us to earn fees by linking to Amazon.com and affiliated sites. See our disclosure policy for more info.