Sugar Grilled Beef and Asparagus Kebabs
Sugar Grilled Beef and Asparagus Kebabs are extra delicious with sweet and salty steak bites and fresh spring asparagus. This is always a hit at our backyard gatherings!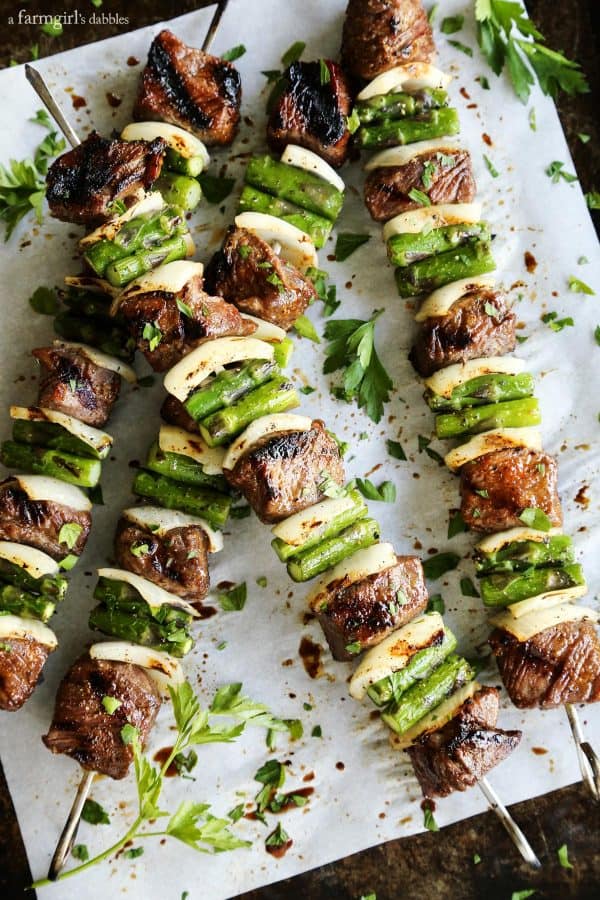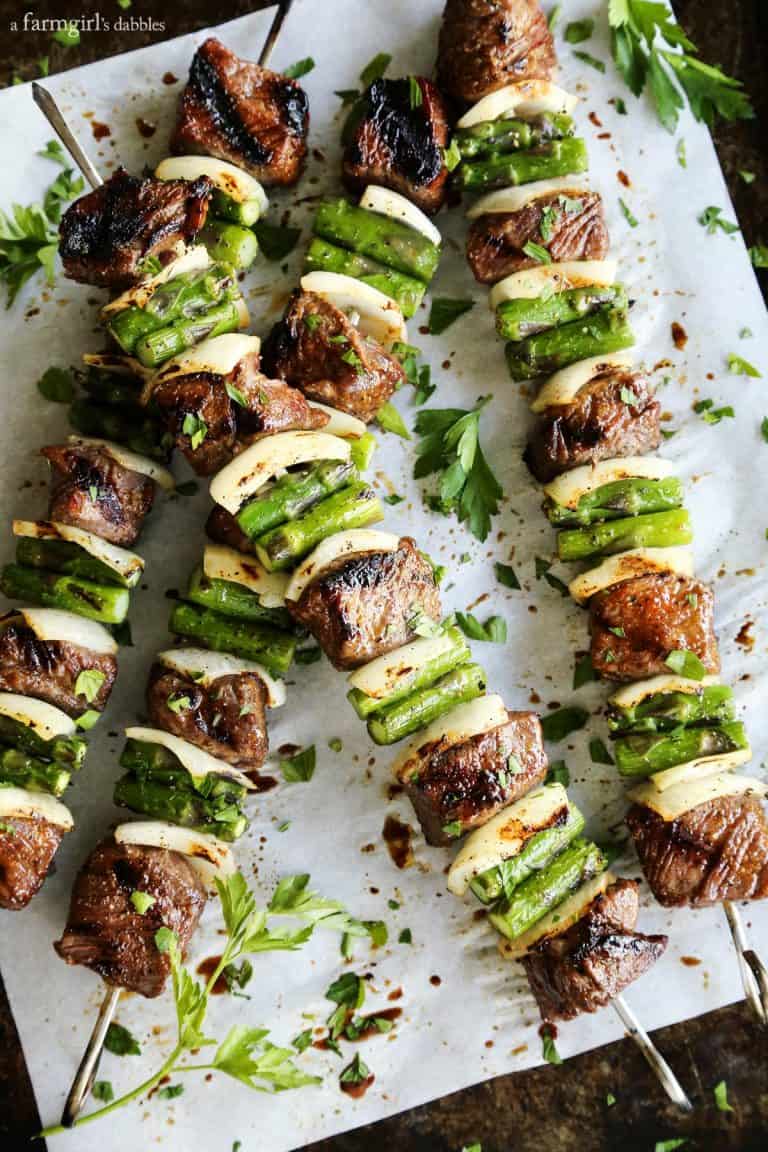 Grilling season has ramped up around here, where you'll find us grilling almost daily. I love what that big open flame under searing hot grates does for the flavor and aroma of a meal. There is no better way to eat all summer long!
These Sugar Grilled Beef and Asparagus Kebabs are extra delicious with sweet and salty steak bites and fresh spring asparagus. You'll want to include these kebabs on your menu every weekend, all summer long. So good!!
Here's another grilling recipe that incorporates the goodness of fresh seasonal produce: Farmers Market Grilled Flatbread Pizza. We LOVE it!!
* This is a sponsored post, created in partnership with Michigan Asparagus.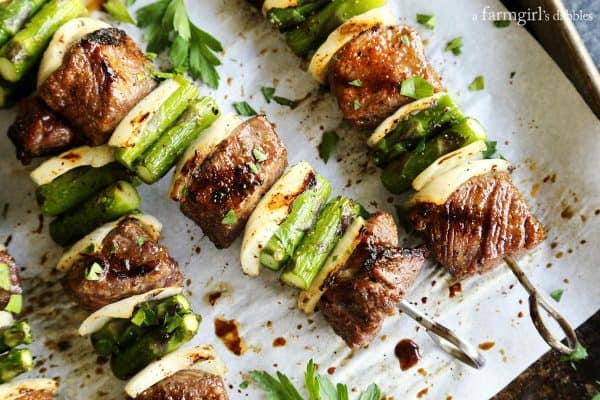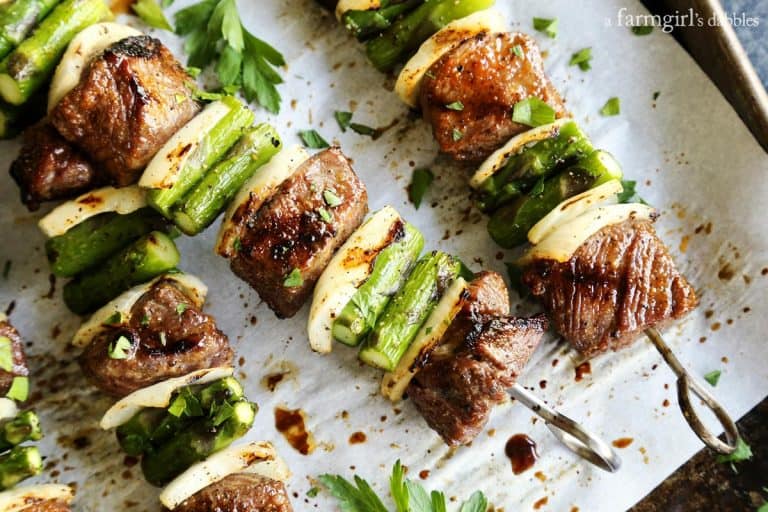 The asparagus you see on these sugar grilled beef and asparagus kebabs came straight from the fields of Oceana County, Michigan, along the shores of Lake Michigan.
People consider this region of Michigan to be the asparagus capital of the world. It offers great weather conditions and a sandy loam soil mix that allows asparagus to flourish.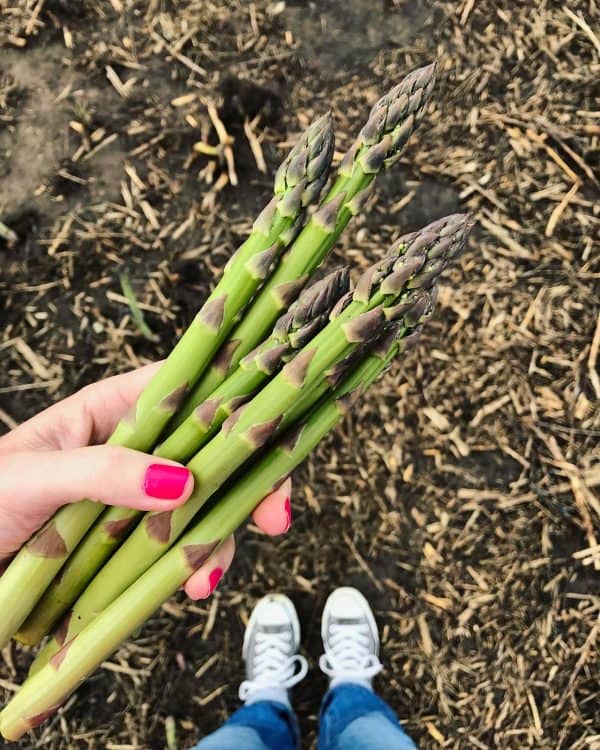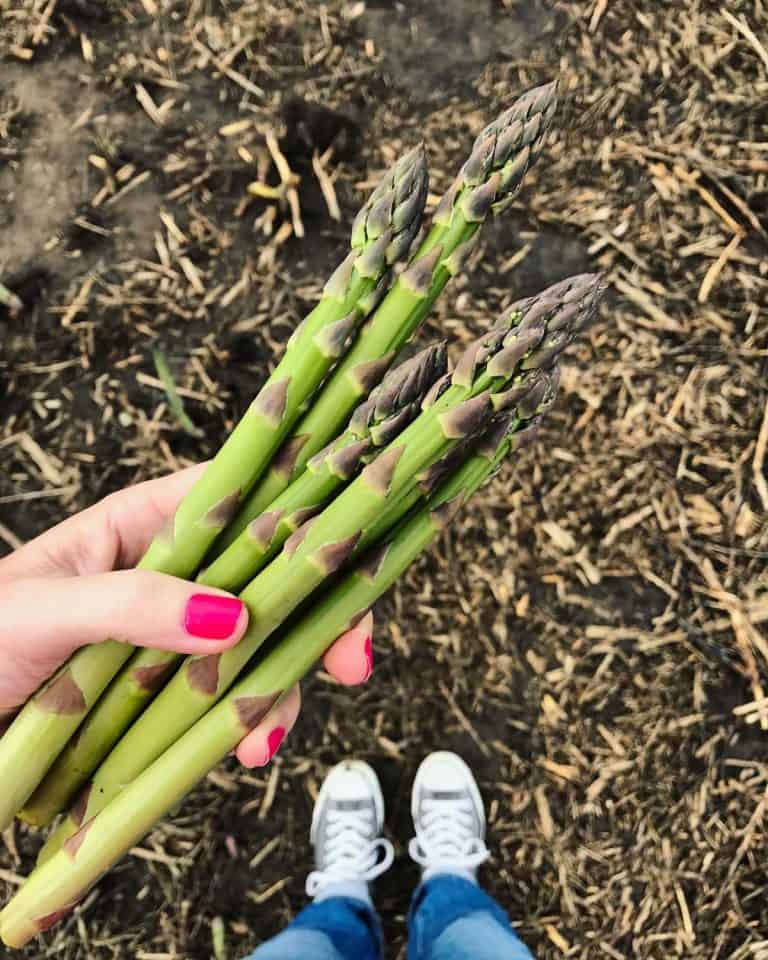 I recently traveled to this area to visit with Michigan Asparagus and take in their spring asparagus harvest. It was so very interesting!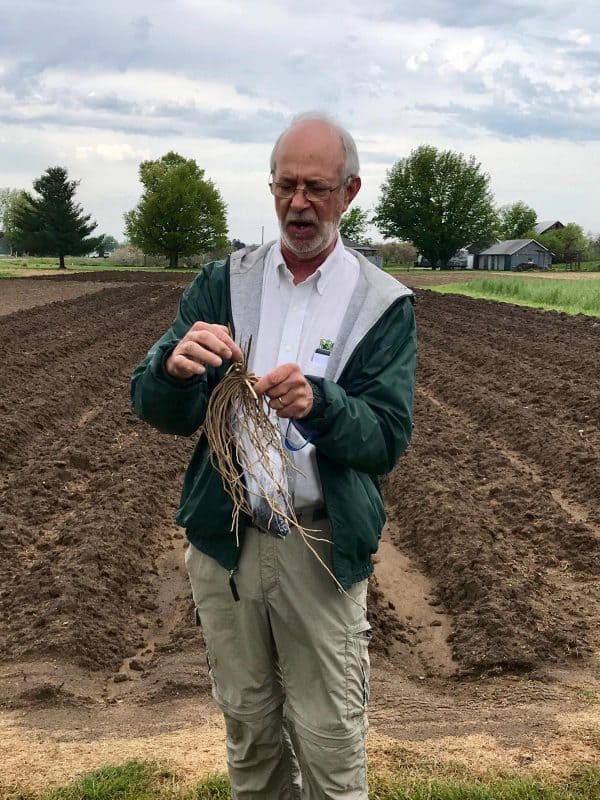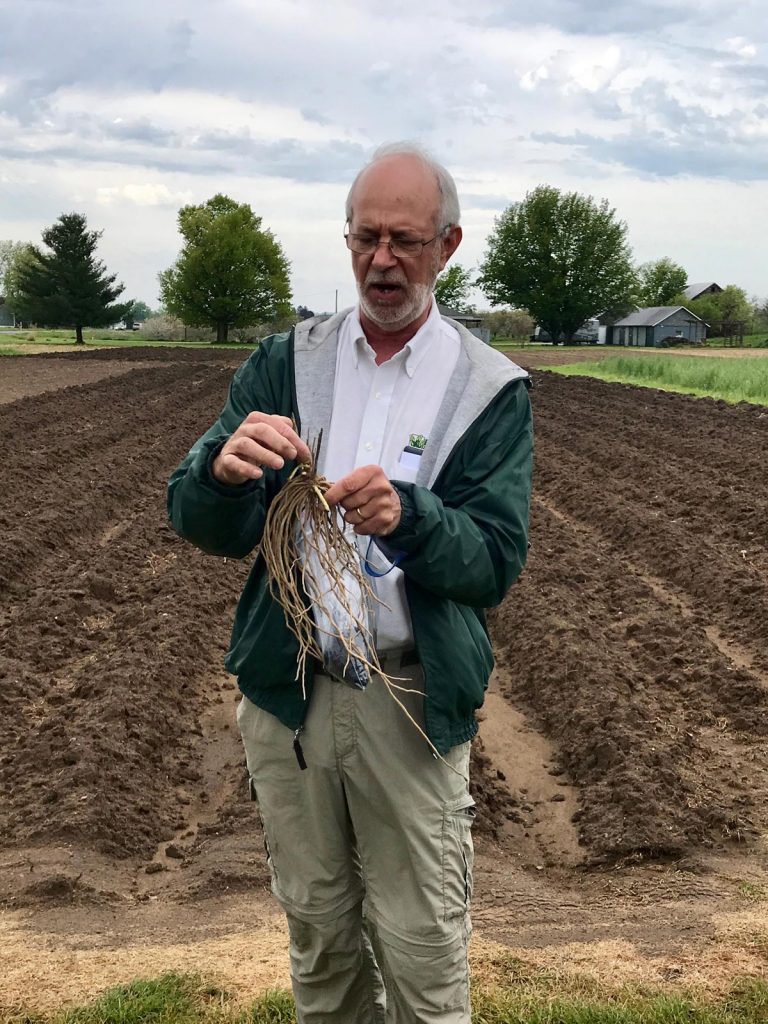 Meet John, the Executive Director of Michigan Asparagus, and all-around asparagus authority. If you have a question about this beautiful vegetable, this is your guy. He fully lives and breathes asparagus.
In this photo John is standing beside trenches of soil waiting to be planted with asparagus crowns. I takes about four years for an asparagus field to mature. The field will continue to produce asparagus for up to fifteen years before needing to be replanted. John said that mature roots can sometimes reach lengths of 25 feet!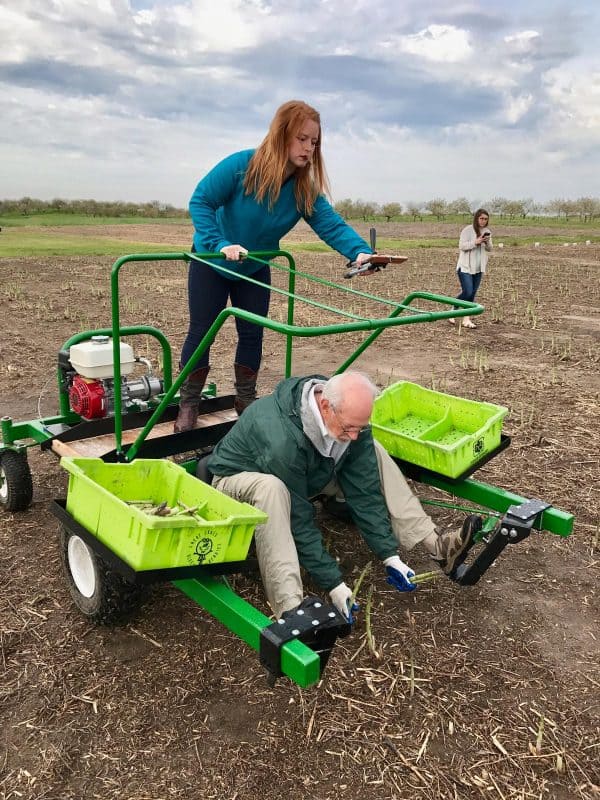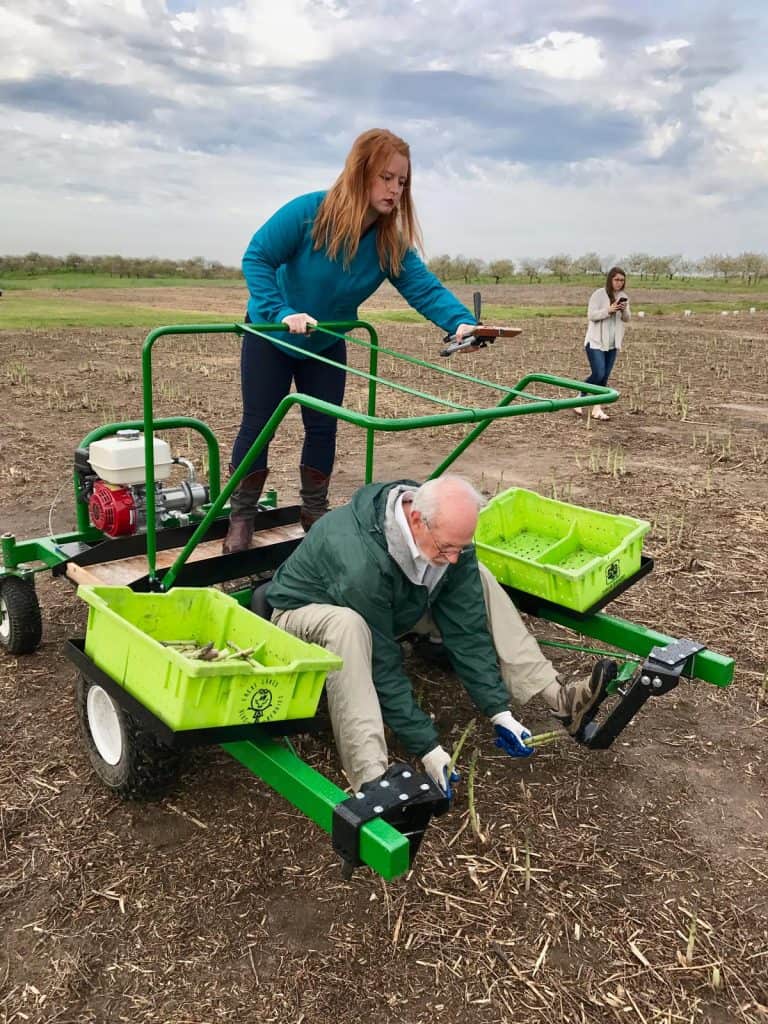 John showed us how to pick asparagus with a single-person machine.
All Michigan asparagus is hand-snapped. That means they harvest all asparagus by hand, breaking it off at the ground rather than cutting it. This creates a natural break in the stem, giving consumers more usable asparagus and less fibrous ends.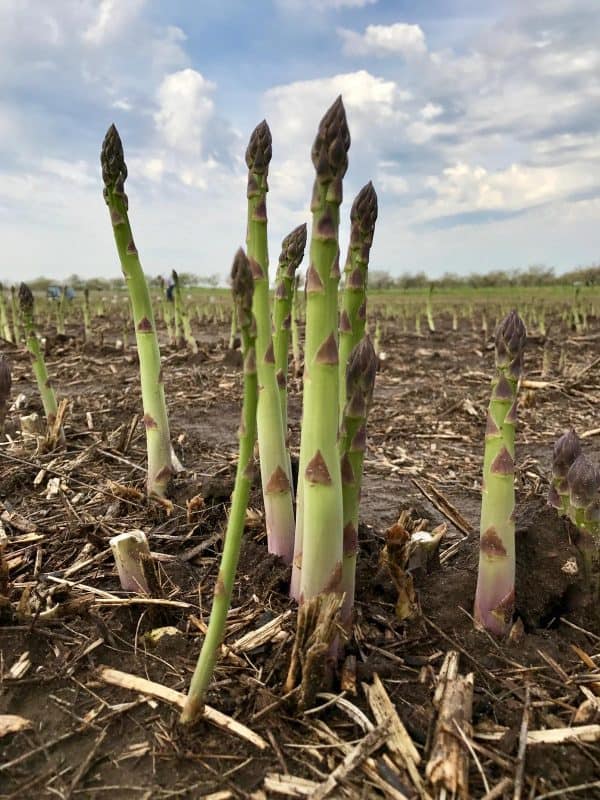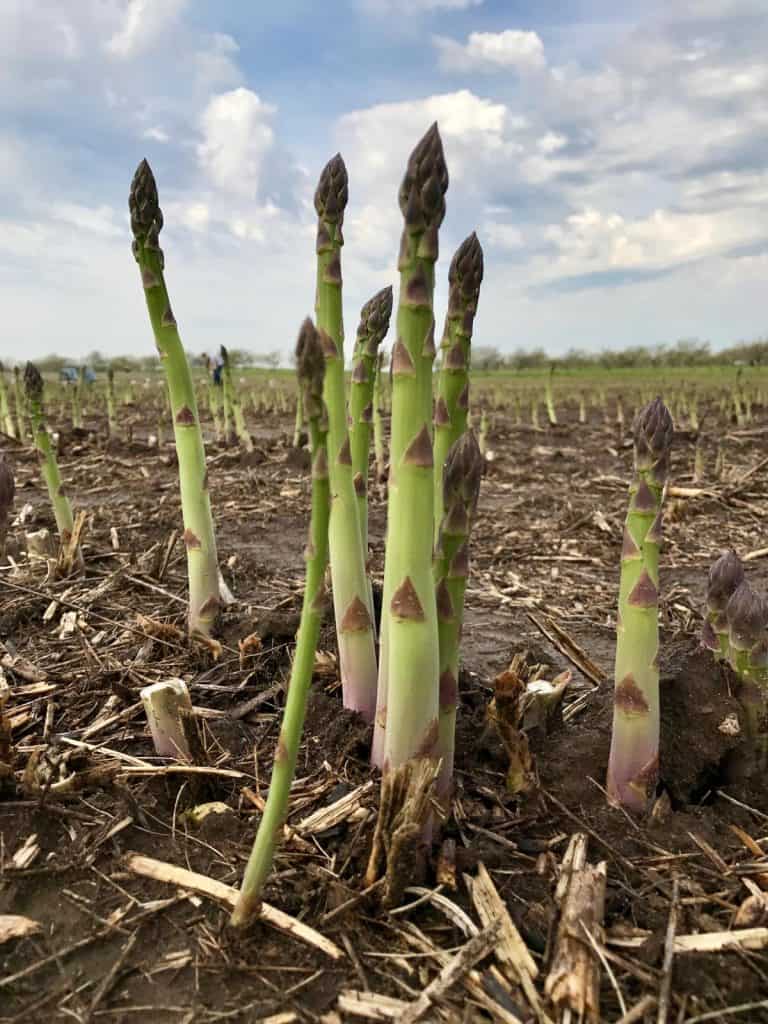 The Michigan asparagus harvest runs from early/mid May to late June. New asparagus spears emerge every day, and under ideal conditions may grown 1/2″ per hour. Asparagus grows so fast that fields are sometimes harvested twice a day. Isn't that crazy?!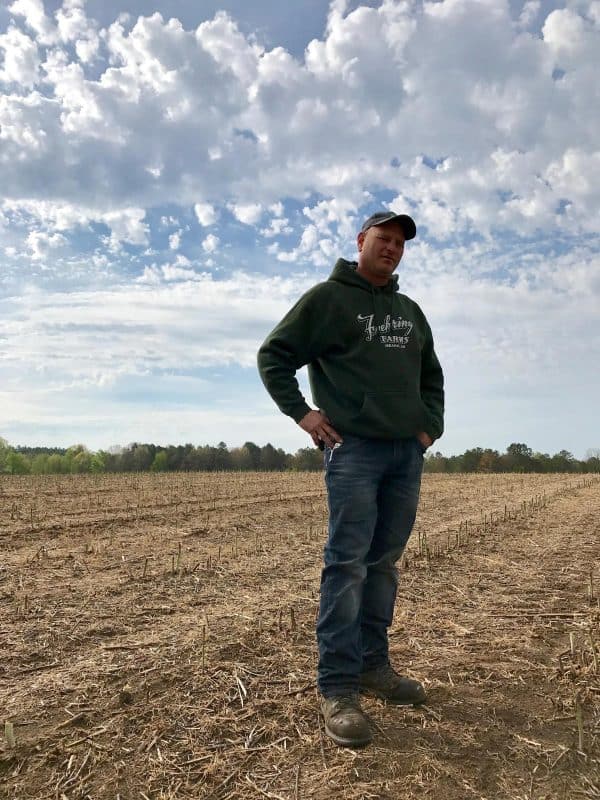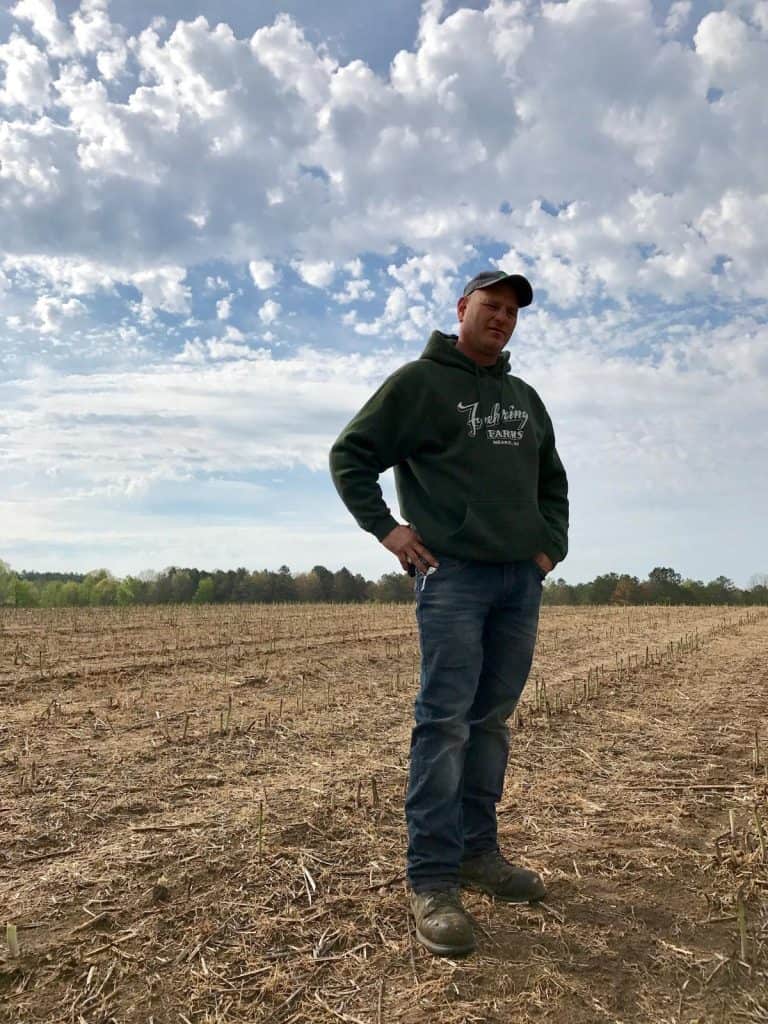 About 120 farm families grow the fresh asparagus that Michigan is famous for.
We met with Dwight and Melissa Fuehring of Fuehring Farms, 4th generation asparagus farmers. When their spring asparagus harvest is wrapped up, they move on to their tart cherry orchards during the summer, and then to their Christmas trees and greenery in the winter.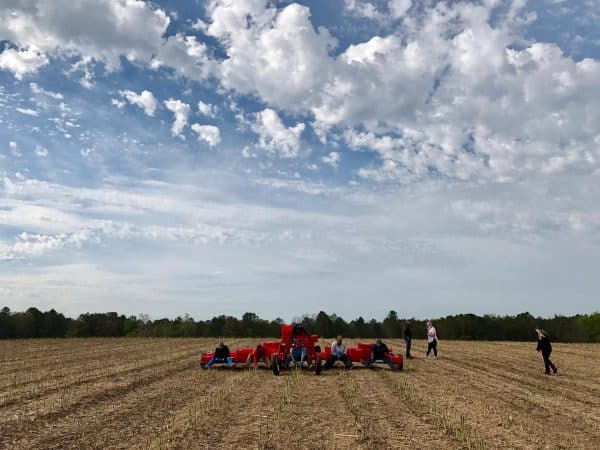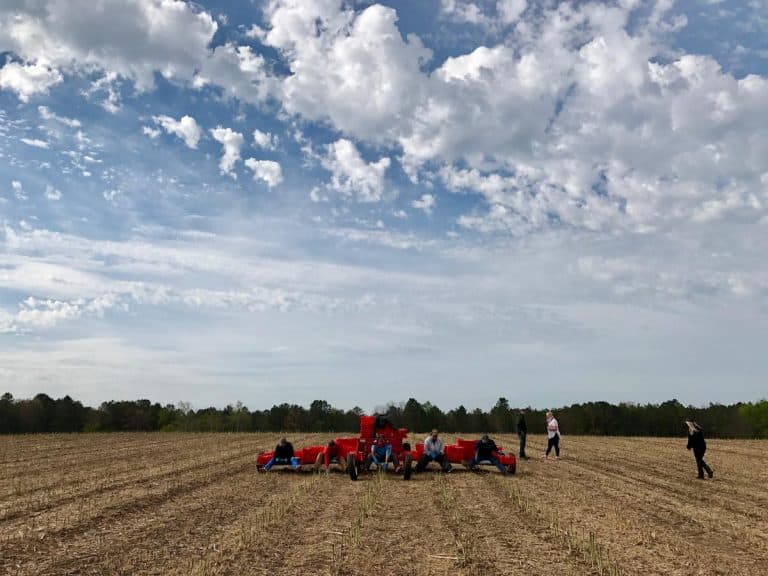 This machine allows much more work to get done, with five people harvesting at the same time.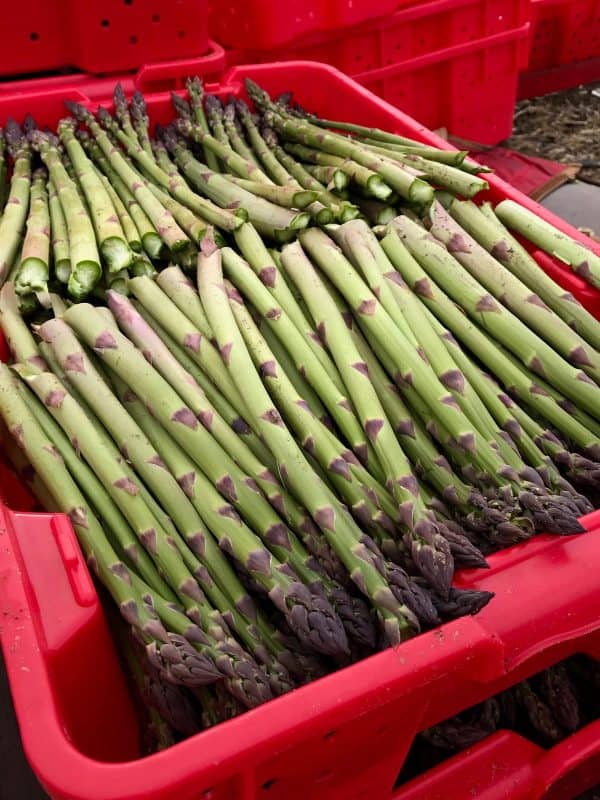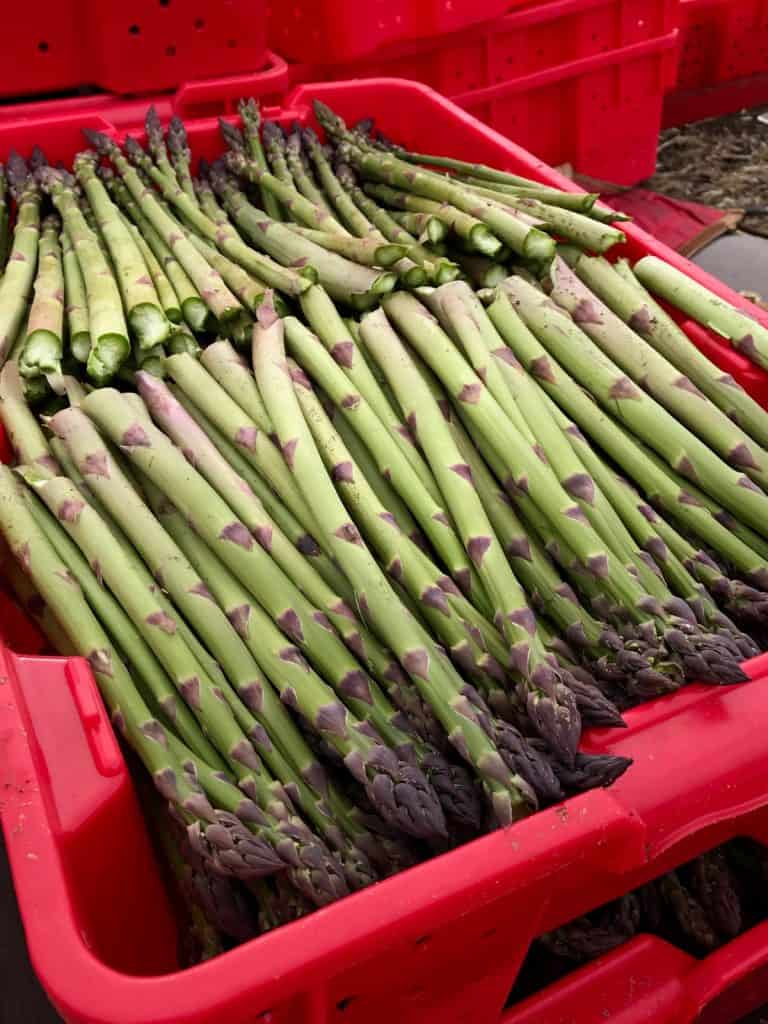 Just look at all those perfectly snapped spears of fresh asparagus!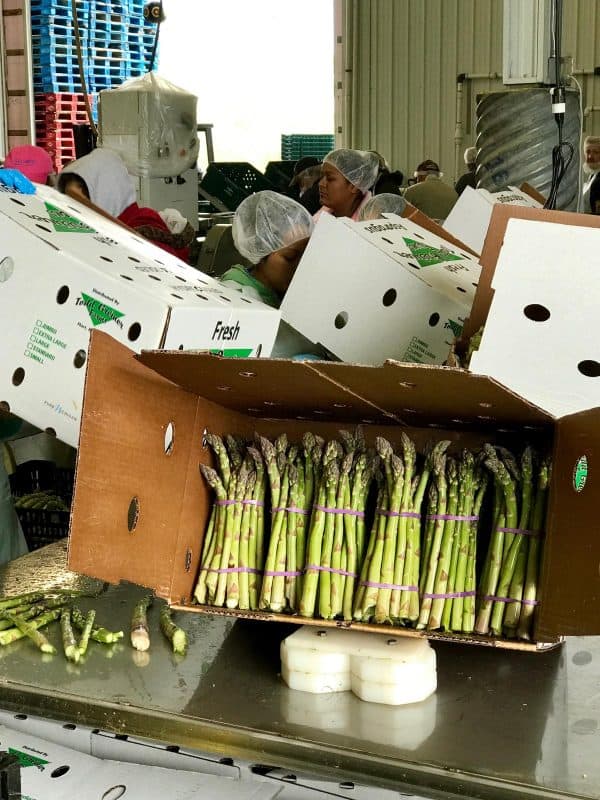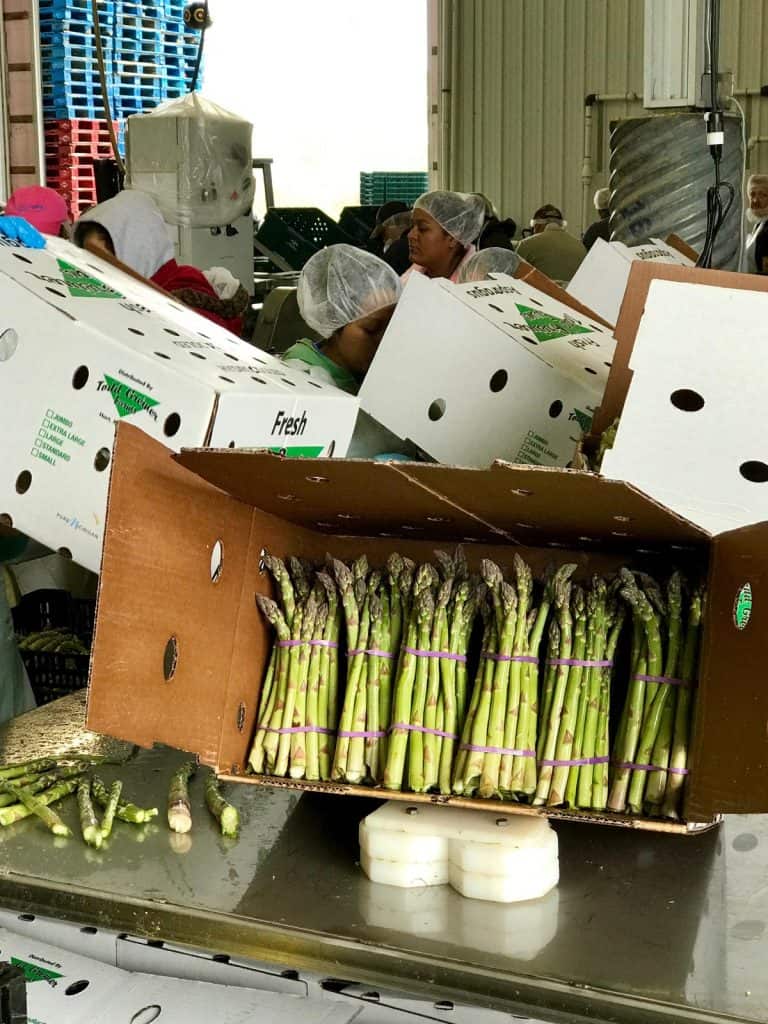 I also was able to see how fresh asparagus is packed and shipped at Todd Greiner Farms, with Todd and Sarah Greiner.
The Greiners also keep extra busy outside of asparagus season, farming asparagus, zucchini, sweet corn, field corn, sweet and tart cherries, hard squash, peaches, apples, plums, ornamental gourds, pumpkins, and Christmas evergreens.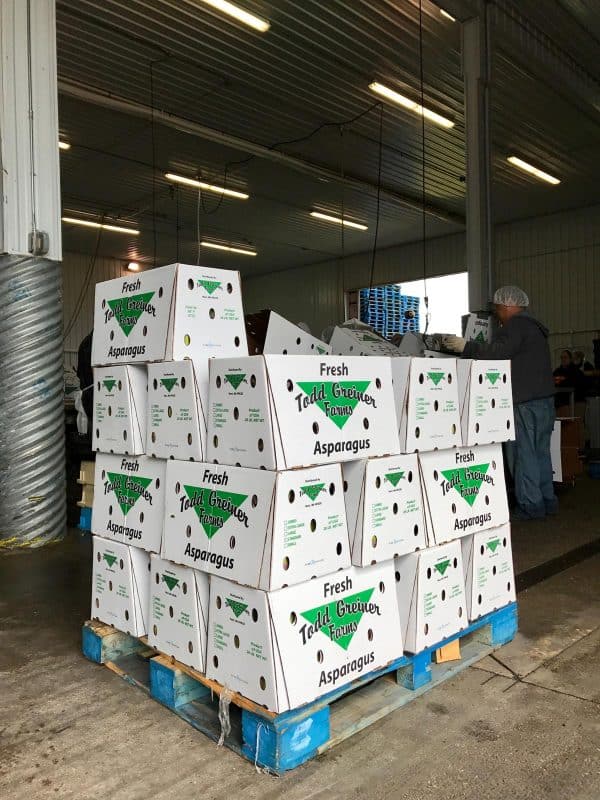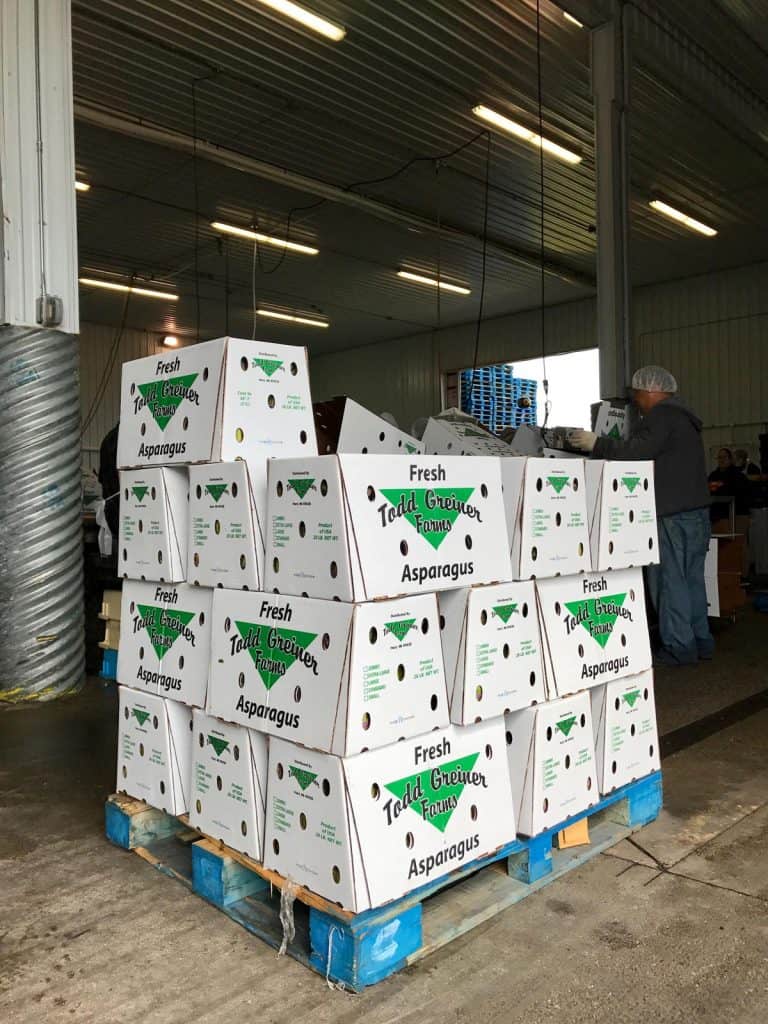 It's always a learning experience to get out in the field and see how fresh food gets from the farm to our tables.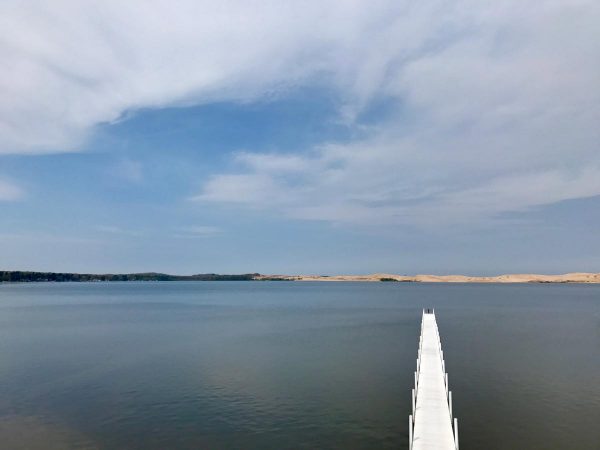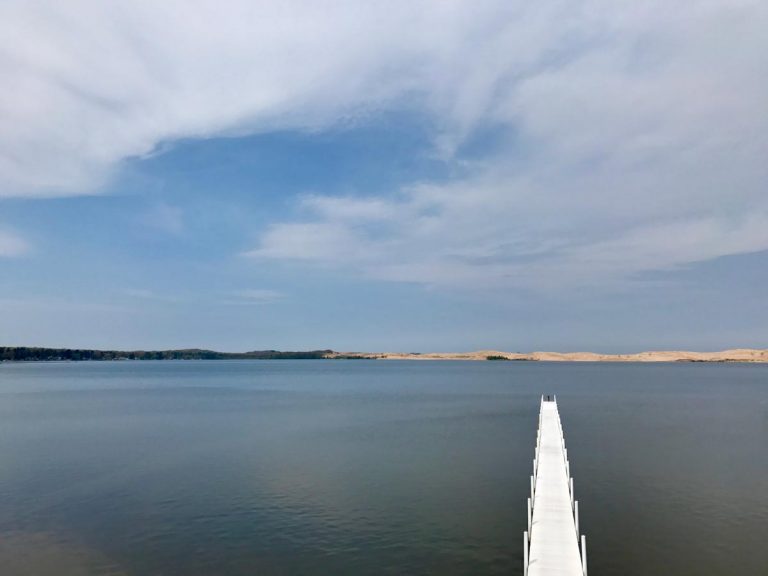 The finale to my short time in Michigan was an afternoon at Silver Lake, a body of water separated from Lake Michigan by the sand dunes you see in the distance. We were at the home of Gina Ferwerda of Nom News. This photo was taken from her deck – not a bad view to wake up to and go to bed with each day!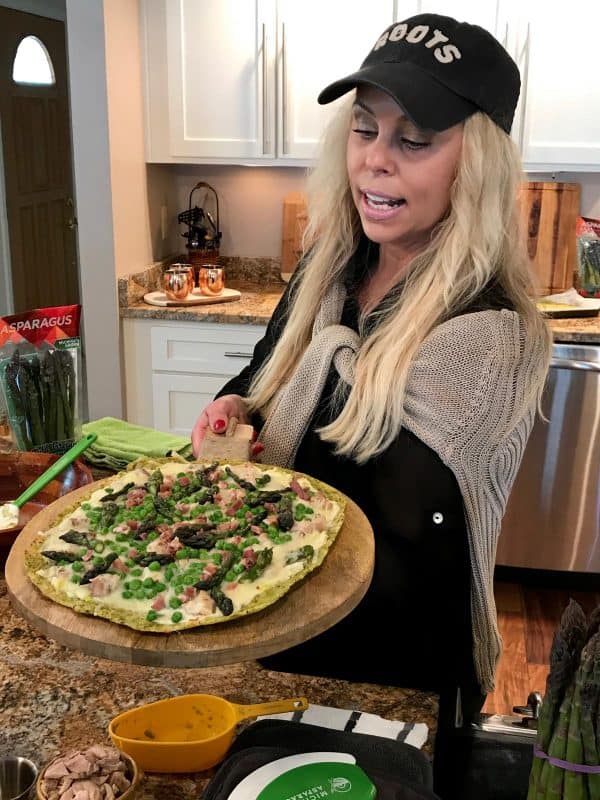 Gina was the perfect hostess for the day, as she comes from a family of asparagus farmers and is so very proud of her area's contribution to fresh asparagus on our tables. At her home, Gina showed us how to make a fresh asparagus pizza crust and a scrumptious asparagus guacamole.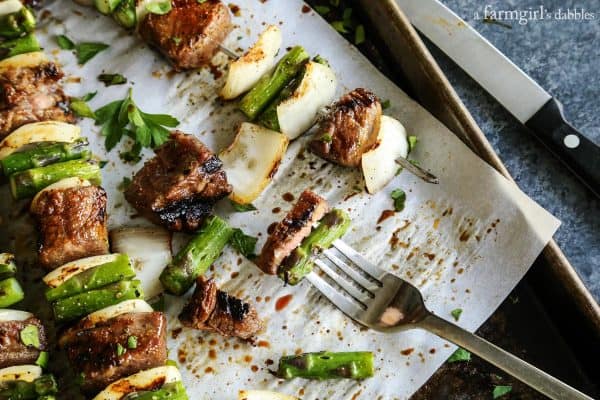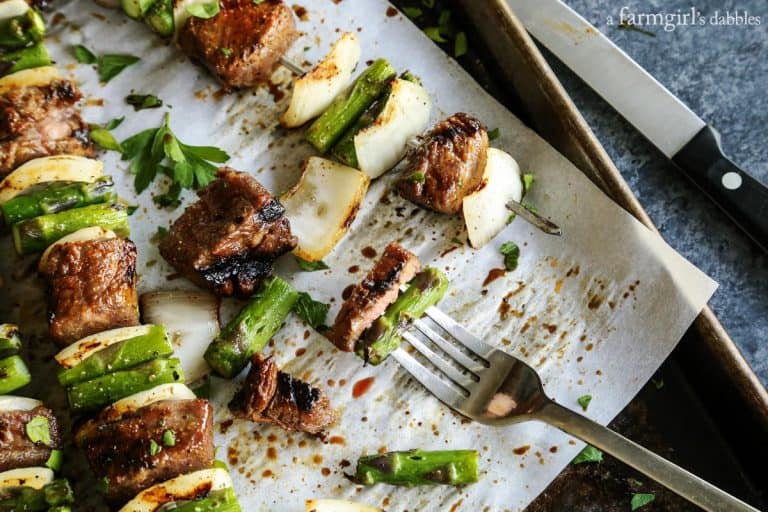 Beef and asparagus recipes
Both Gina and I agreed that the #1 way we like to eat asparagus is with beef. And I know you'll agree that these sugar grilled beef and asparagus kebabs are a beautiful way to enjoy this combination.
My family loves this easy flavor twist on grilled steak, a flavor combo shared by my friend Sandy. Overall, the seasoning is sweet, but there's also a great saltiness from Lawry's. I grew up on that seasoned salt. You just can't go wrong in using it to flavor grilled steak and skillet fried potatoes!
What to serve with beef and asparagus kebabs?
*Here are a few recipes I'd like to try: Cauliflower Risotto from All Day I Dream About Food or Beer Bread from Today's Creative Life. These Foil Pack Grilled Red Potatoes from Fit Foodie Finds would also be great!
Like this kebabs recipe? Pin it!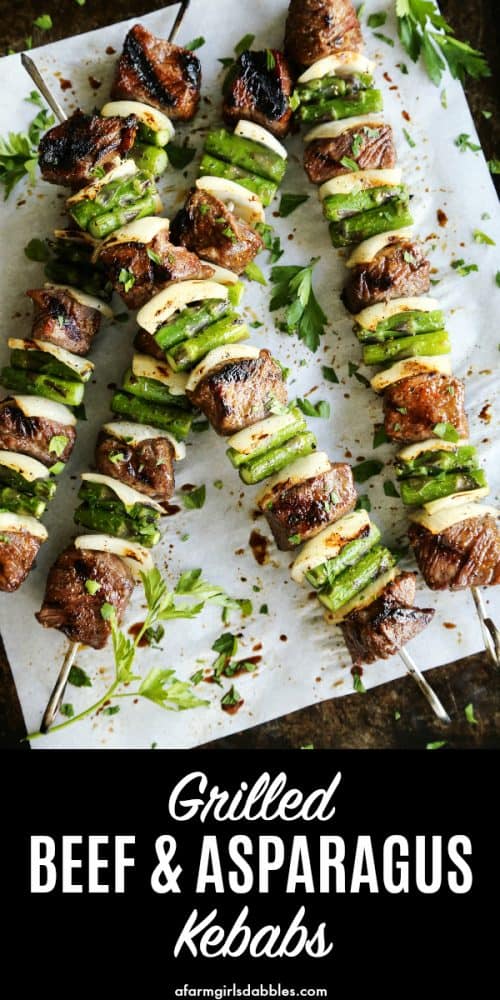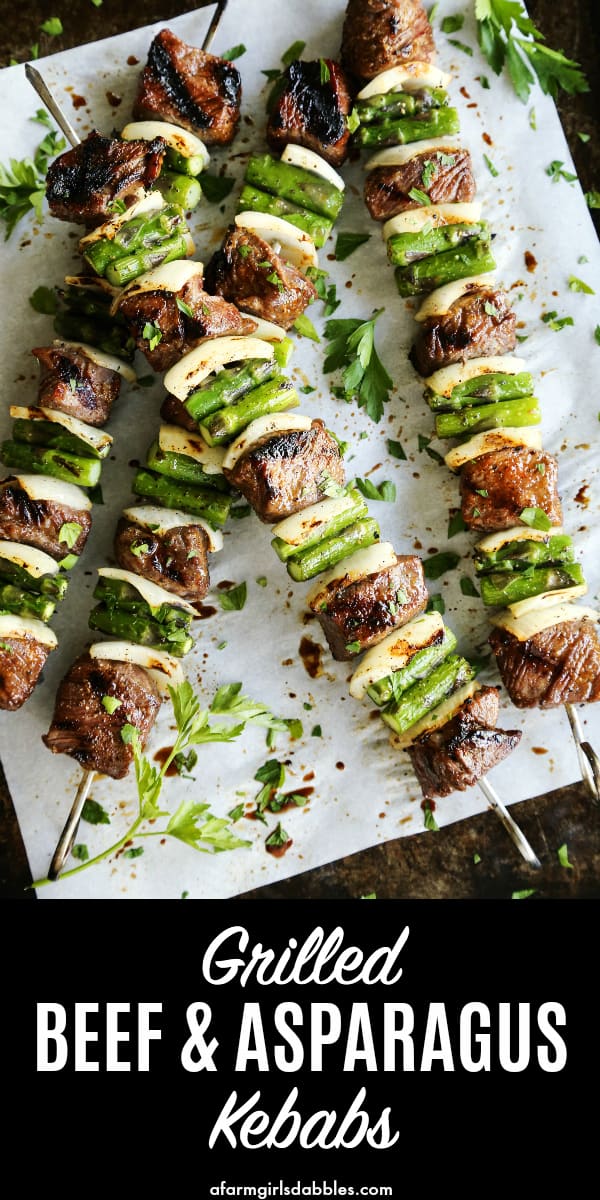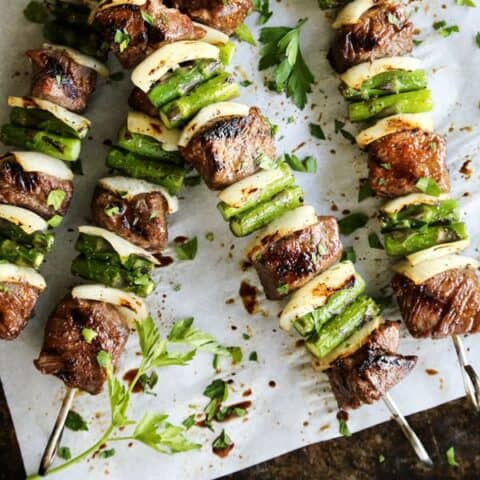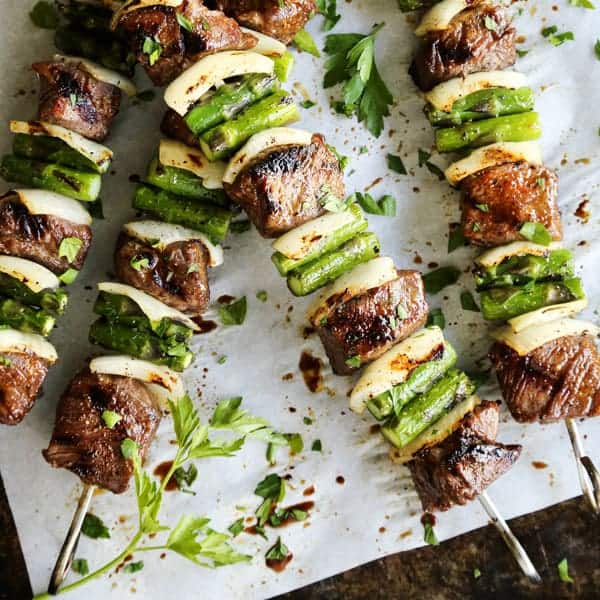 Sugar Grilled Beef and Asparagus Kebabs
Yield: 6 servings
Prep Time: 35 minutes
Cook Time: 5 minutes
Total Time: 40 minutes
These kebabs are extra delicious with sweet and salty steak bites and fresh spring asparagus. This recipe is always a hit at our backyard gatherings!
Ingredients
1 lb. fresh Michigan Asparagus spears, medium to large in diameter, cut into 1-1/4" lengths
1 large sweet yellow onion, cut into 1-1/4" pieces
2 T. olive oil, divided
1-1/2 lbs. beef, cut into 1-1/4" pieces (I like to use ribeye, New York strip, top sirloin, or chuck eye steak.)
4 T. sugar
1/2 tsp. kosher salt
1/2 tsp. black pepper
chopped fresh Italian parsley for garnish, if desired
Instructions
If using wooden skewers, be sure to soak them in water for at least a couple hours prior to assembling kebabs. I prefer to soak them overnight, if possible. These are my favorite wood skewers - they're somewhat heavy-duty and are flat, which means the food won't spin around on them!
First, blanche the asparagus. Prepare an ice bath in a medium size bowl by filling partway with ice and then adding cold water; set aside. Fill a large skillet half-way with water and bring to a boil on the stovetop. Add asparagus spears and turn heat down a bit so the water is at a low boil. Boil for 2 minutes, until asparagus is softened yet still firm. Remove asparagus immediately to the ice bath, to stop cooking the asparagus. Once asparagus is thoroughly chilled, remove to a colander.
Cut asparagus spears into 1-1/4" lengths. Add asparagus and onion pieces to a medium size bowl. Drizzle with one tablespoon of the olive oil. Sprinkle with kosher salt and black pepper, to taste.
Place beef in a medium to large bowl. Drizzle with remaining tablespoon of the olive oil. Fold to coat. In a small bowl, stir together sugar, Lawry's, kosher salt, and black pepper. Sprinkle half of the sugar mixture over the beef. Stir beef to coat. Sprinkle remaining sugar mixture over the beef and stir again to coat.
Add beef, onion, and asparagus to skewers, alternating pieces. Place skewers on a large rimmed jelly roll pan for easy transport to the grill. Kebabs can be assembled a few hours prior to grilling - just cover and refrigerate - and remove from refrigerator 30 minutes prior to grilling.
Heat grill to high heat, about 500° F. Make sure grates are scrubbed clean and then oiled. (To oil the grates, add some vegetable oil to a small bowl. Then fold a heavy paper towel a few times to make a smaller square. With a tongs, grasp the folded paper towel and dip it into the oil until the paper towel is drenched. Then run the paper towel over the grates, repeating until all grill grates are thoroughly oiled.) Place kebabs on hot grill grates and let cook for about 1-1/2 minutes on one side. Using a tongs or a good set of grilling gloves, flip kebabs over and cook for another 1-1/2 minutes or so. This will give you medium-rare cooked steak. If your grill heat is higher or lower, or if your beef pieces are smaller or larger, the doneness of your steak will vary. Remove kebabs to serving platter and serve hot. Sprinkle fresh chopped parsley over the top if desired.
Notes
from a farmgirl's dabbles
Recommended Products
As an Amazon Associate and member of other affiliate programs, I earn from qualifying purchases.
Nutrition Information:
Yield: 6
Serving Size: 1
Amount Per Serving:
Calories: 575
Total Fat: 36g
Saturated Fat: 13g
Trans Fat: 0g
Unsaturated Fat: 19g
Cholesterol: 148mg
Sodium: 1831mg
Carbohydrates: 14g
Fiber: 2g
Sugar: 10g
Protein: 48g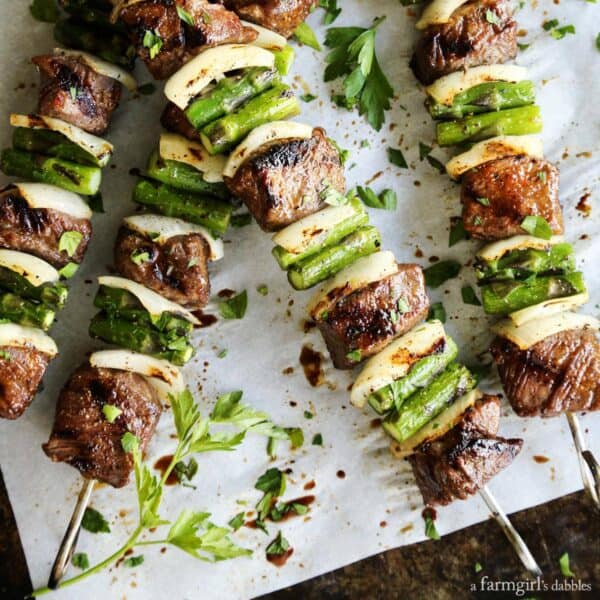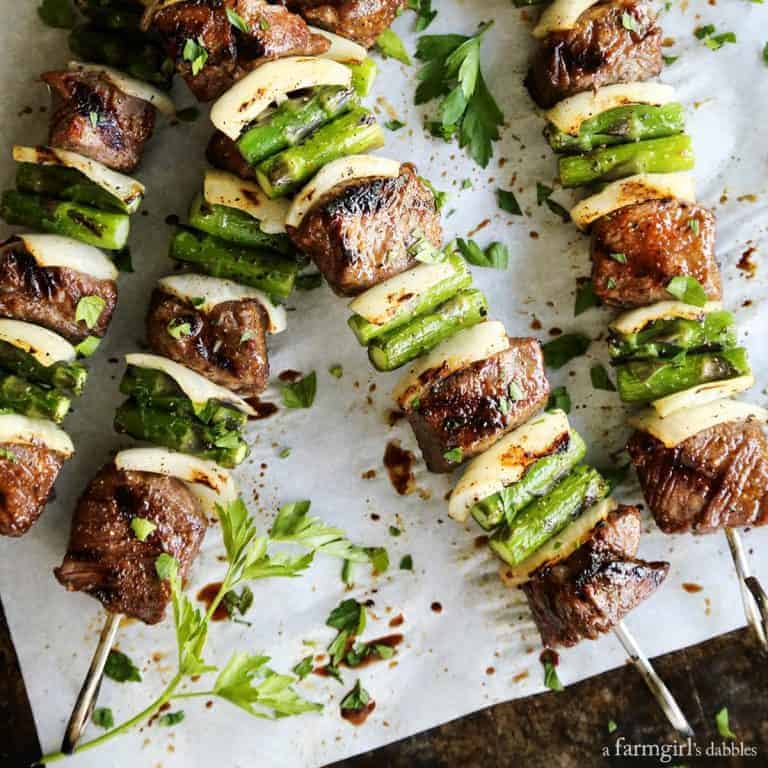 .

For more information about Michigan Asparagus, visit their web site. Also find them on these social media channels: Facebook, Twitter, and Pinterest.
Michigan Asparagus has sponsored this post. I was honored to get out in the fields of beautiful Michigan, to take in their spring asparagus harvest and share my experience with you. All opinions are 100% my own. Thank you for supporting the brands that help make this site possible!