Old-Fashioned Strawberry Rhubarb Crisp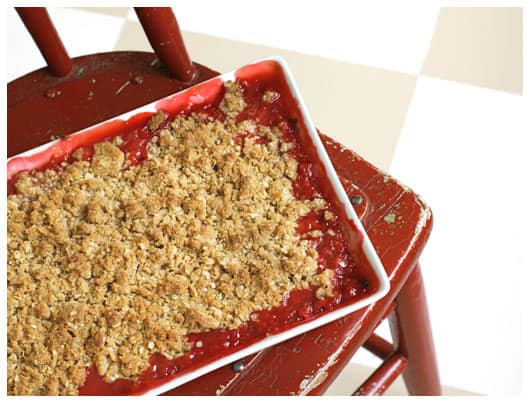 As I was slicing rhubarb over the weekend, making this Old-Fashioned Strawberry Rhubarb Crisp with our girls, I was taken back to baking rhubarb with my mom. Especially after Tessa asked what rhubarb was and what it tasted like. I explained that some people say it's a vegetable and some say it's a fruit (I looked it up and found that in the U.S. it is considered a fruit, for regulations and duties.), and that it is crisp, kinda like celery, and tastes very tart.
Her four year old mind wondered out loud if she might like it.
So I got out a little bowl and poured some sugar into it. Then I sliced some small pieces of bright red rhubarb and proceeded to give them a little dip into the sugar and pop them into my mouth. Tessa followed suit. And so did Hatti. Over and over again, we did this. All the while, memories of Mom dipping her rhubarb while we baked were bouncing around in my head.
I've been making this strawberry rhubarb crisp for a number of years. The recipe is an easy favorite, and the perfect way to enjoy a spring day. It's beautiful – just look at that ruby loveliness! And it's sweet with strawberries and loaded with an extra thick topping of crunchy texture – a great way to convince someone to try rhubarb if they haven't before (kids even gobble this up!). I recommend serving it a bit warm, with a scoop of vanilla ice cream. You'll have a rhubarb fan for life!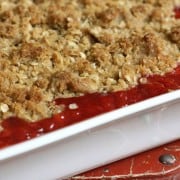 Old-Fashioned Strawberry Rhubarb Crisp
Yield: 8 large servings or 10-12 smaller ones
Ingredients:
for the strawberry rhubarb filling:
2 lbs. rhubarb stalks, sliced 1/2″ thick (about 8 cups)
1-1/4 c. sugar, divided
1 lb. strawberries, hulled and quartered
3 T. cornstarch
2 tsp. fresh lemon juice
1 tsp. pure vanilla extract
for the topping:
4 oz. unsalted butter, softened (not melted!)
1-1/2 c. brown sugar
1-1/2 c. all-purpose flour
1-1/4 c. quick-cooking rolled oats
3 T. canola oil
1-1/2 tsp. cinnamon
3/4 tsp. salt
Directions:
Preheat oven to 375°.
First, prepare the filling. In a medium bowl, toss the rhubarb with 3/4 cup of the sugar and let stand for 15 minutes, stirring occasionally. In another medium bowl, toss the strawberries with the remaining 1/2 cup sugar and let stand for 10 minutes, stirring occasionally. Using a slotted spoon, transfer the rhubarb to the strawberries and discard any rhubarb juice. Add the cornstarch, lemon juice, and vanilla to the fruit and stir well. Transfer the mixture to a 9″ x 13″ baking dish or pan.
Next, prepare the topping. Combine all the topping ingredients in a medium bowl. Using a pastry blender or your fingers, mix the ingredients together until large crumbs form. You want to have some larger pieces, and sometimes it just works best to squeeze and crumble the mixture with your hands.
Sprinkle the topping evenly over the filling and bake for 25 minutes. Reduce the oven temperature to 325° and continue baking for another 30 minutes, or until the fruit filling is bubbling and the topping is nicely browned. Let the crisp rest for about 20 minutes before serving. This is awesome served warm with a scoop of vanilla ice cream!
adapted from Food & Wine magazine
© a farmgirl's dabbles
And if you're looking for more rhubarb recipes, here's a few. Happy Spring!
* Grandma Renelt's Rhubarb Custard Pie
* Loree's Rhubarb Nut Coffee Cake
I'm linking up with the following:
Cheryl at TidyMom for "I'm Lovin' It" (Refrigerator coil brush)
Allison at Alli 'n Son for "Sweet Tooth Friday" (Lemon Chocolate Cupcakes)
Robyn at Add a Pinch for "Mingle Monday" (Happy Memorial Day)
Rachel at A Southern Fairytale for "Mouthwatering Monday" (Summer Breeze)
We participate in the Amazon Services LLC Associates Program, an affiliate advertising program designed to provide a means for us to earn fees by linking to Amazon.com and affiliated sites. See our disclosure policy for more info.