Old-Fashioned Strawberry Rhubarb Crisp
Old-Fashioned Strawberry Rhubarb Crisp is sweet and tart with fresh strawberries and rhubarb. An extra-thick buttery oats topping provides the perfect contrast – and it stays crisp for days!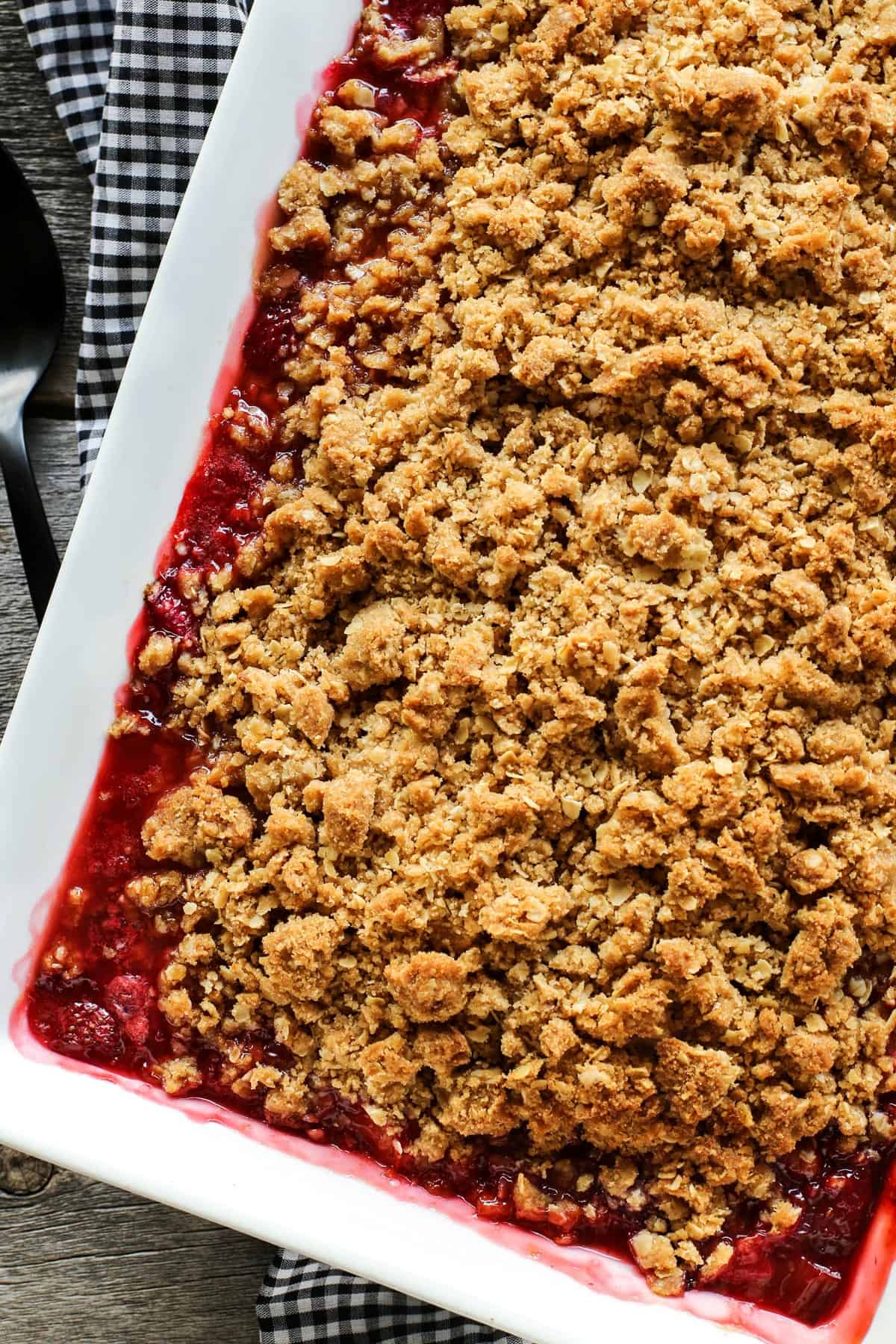 Old-Fashioned Strawberry Rhubarb Crisp
The girls and I made this Old-Fashioned Strawberry Rhubarb Crisp over the past weekend. As I was slicing the rhubarb, listening to that satisfying slicing sound, Tessa asked what it was and what it tasted like. At four years old, she couldn't remember eating it before.
I explained that some people say it's a vegetable and some say it's a fruit. After looking it up, I found that it is considered a fruit in the US, for the purpose of regulations and duties. I went on to tell Tessa that rhubarb is crisp, kinda like celery, and tastes very tart. (To read more about rhubarb, go to my Rhubarb 101.)
Tessa's young mind wondered out loud if she might like it.
So I got out a little bowl and poured a bit of sugar into it. Then I sliced some small pieces of bright red rhubarb and proceeded to give them a little dip into the sugar and pop them into my mouth. Tessa and Hatti followed suit. Over and over again, we did this. All the while, memories of Mom dipping rhubarb bites into sugar danced around in my head. So many years have gone by since she first taught me about this treat, yet it felt like just yesterday.
Kitchen memories are some of the very best memories, don't you agree?
"Making this again for the 3rd time…. always always requested….great recipe as is!!!!"

Judy
Here are a few more of our favorite rhubarb recipes: If you like cheesecake, give this Rhubarb Cheesecake Pie a try. Also, this stunning Raspberry Rhubarb Skillet Coffee Cake, my almost-famous Strawberry Rhubarb Crumb Bars, and this pretty Strawberry Rhubarb Cobbler. And for a fun cocktail, you MUST try my Rhubarb Margarita!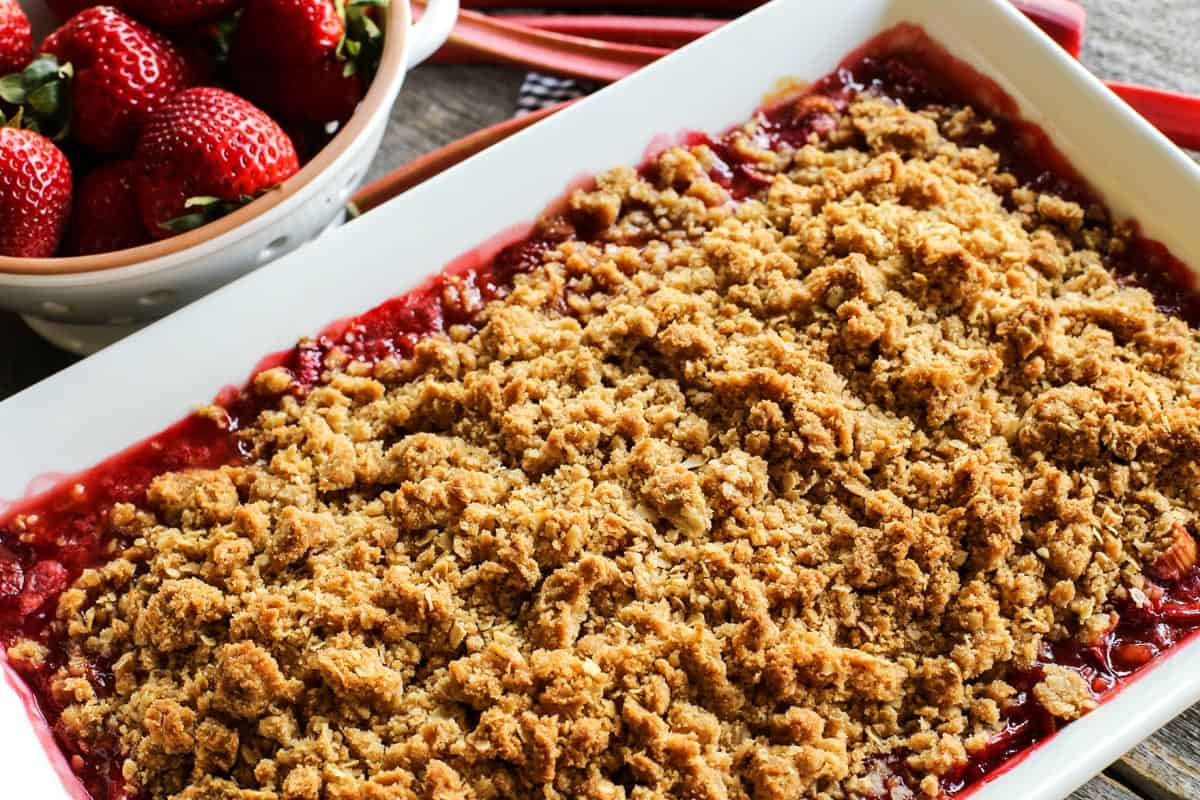 Easy Rhubarb Recipe for Spring
I've been making this strawberry rhubarb crisp recipe for years. It's an easy favorite that's sweet with strawberries and a little bit tart with rhubarb. And it's loaded with an extra-thick buttery oats topping that's fabulously crispy!
If you'd prefer a strawberry rhubarb dessert without oats, be sure to check out my Strawberry Rhubarb Crumble. The topping is buttery and crisp and ohhhhh so wonderful!
This dessert (Or breakfast dish? I won't judge!) is great any time of year, but especially wonderful with the freshest rhubarb and strawberries of spring.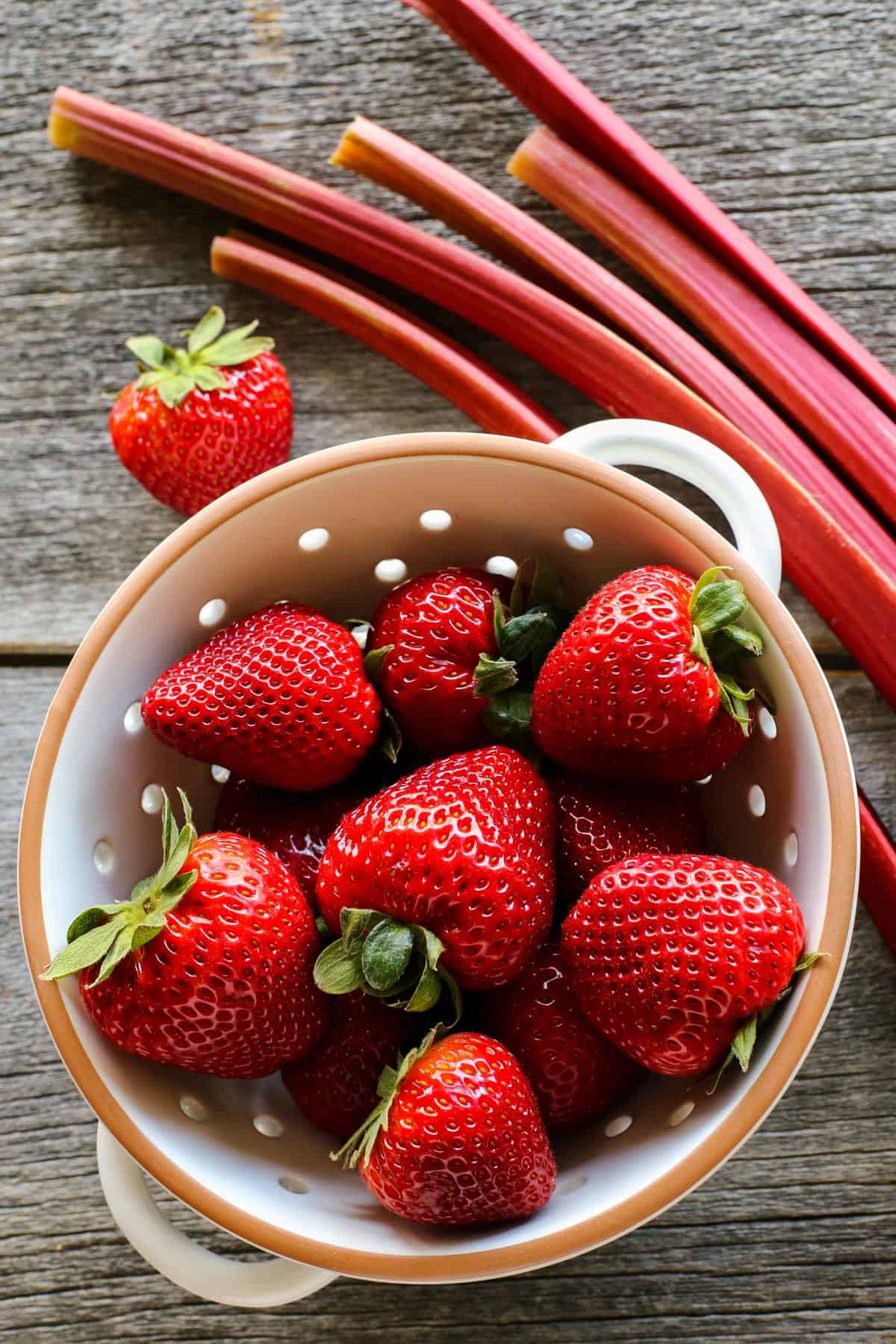 How to make strawberry rhubarb crisp
A rhubarb crisp with strawberries is extremely easy to make.
First, stir sugar into chopped rhubarb and sliced strawberries. Add a little cornstarch to thicken the juices a bit, plus fresh lemon juice and a touch of vanilla (the vanilla is such a nice touch!).
Then settle the fruit mixture into a 9″ x 13″ pan and cover it with a thick blanket of crumble topping. Bake until the fruits are all sweet and jammy, and the topping is awesomely crispy.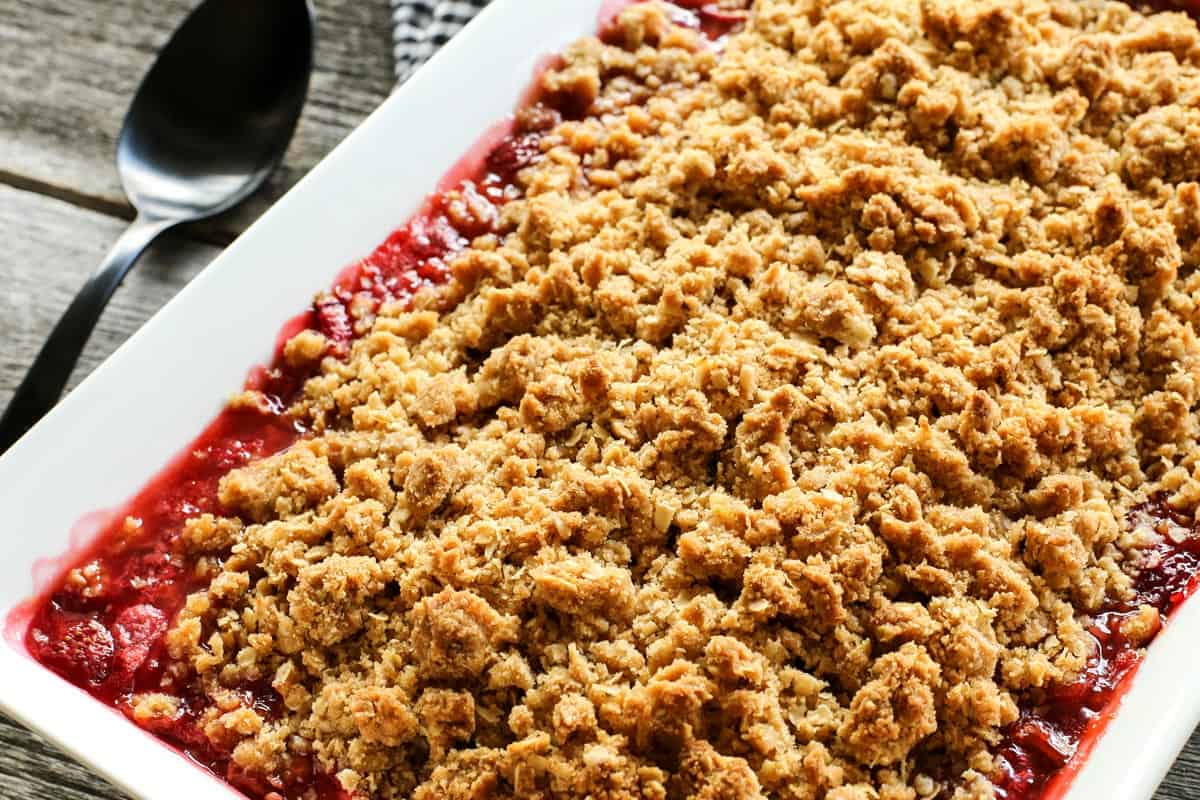 How to store strawberry rhubarb crisp
The strawberry rhubarb crisp emerges from the oven simply beautiful.
I like to leave a bare edge around the perimeter, free of the crumble topping. That deep ruby mixture peeking out at the pan's edge adds extra life when presenting this spring treat.
And to store this crisp, I simply leave it out on the counter, uncovered, for up to a couple days (if it lasts that long!). The topping stays nice and crisp that way.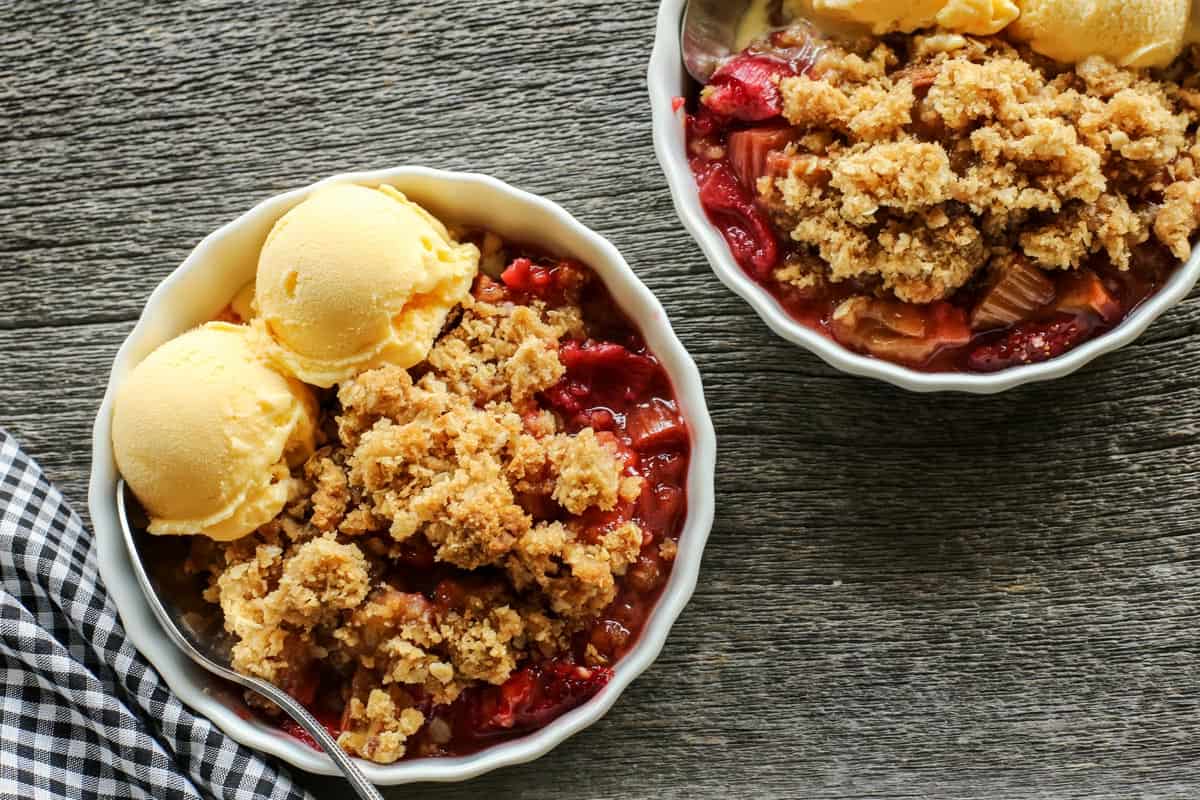 How to Serve Strawberry Rhubarb Crisp
I've seen so many people scrunch up their noses at the mention of rhubarb. Have you, too? Then bake up this strawberry rhubarb crisp recipe. I've found that it's a great way to convince people they are absolutely wrong about rhubarb. Everybody seems to love this dish; it's one of my family's favorite rhubarb recipes.
I recommend serving this dessert still a bit warm from the oven, with a scoop of vanilla ice cream. I promise, you'll have rhubarb fans for life!
Like this rhubarb dessert? Save it to Pinterest!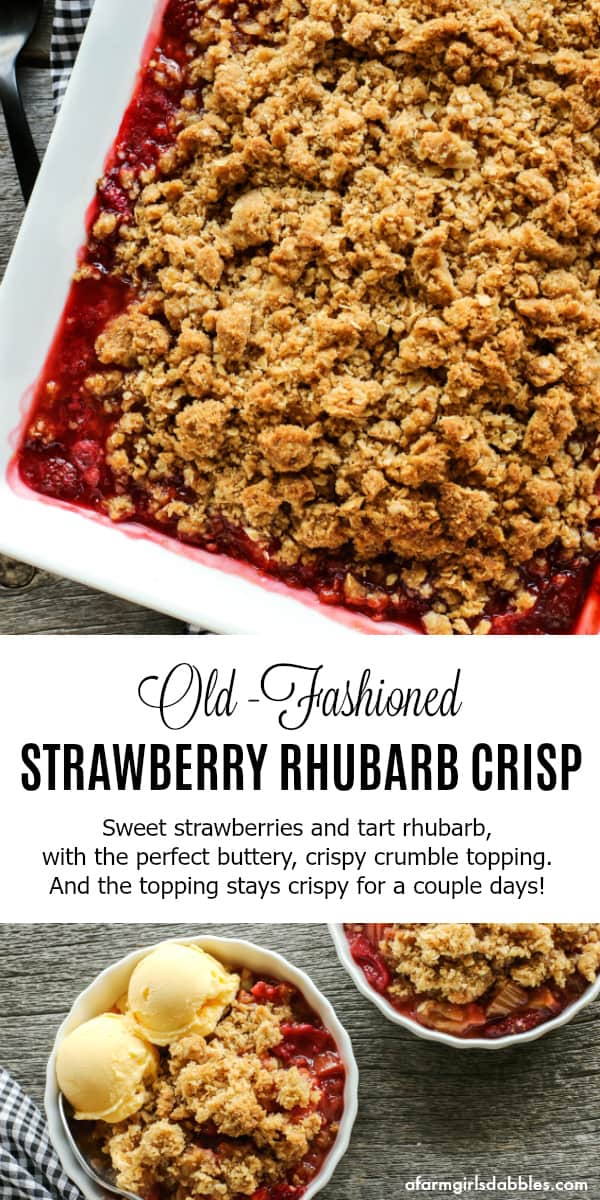 Want More Rhubarb Desserts?
Here are a few recipes I'd like to try: Easy Rhubarb Breakfast Cake from The View from Great Island, Rustic Strawberry Rhubarb Tart from Savory Sweet Life, Rhubarb Bars from Garnish with Lemon.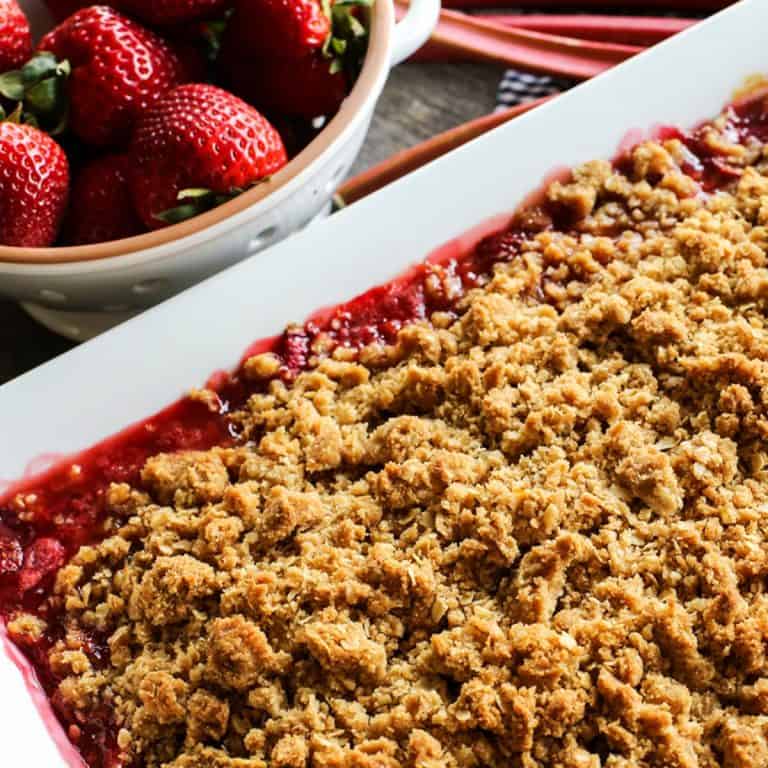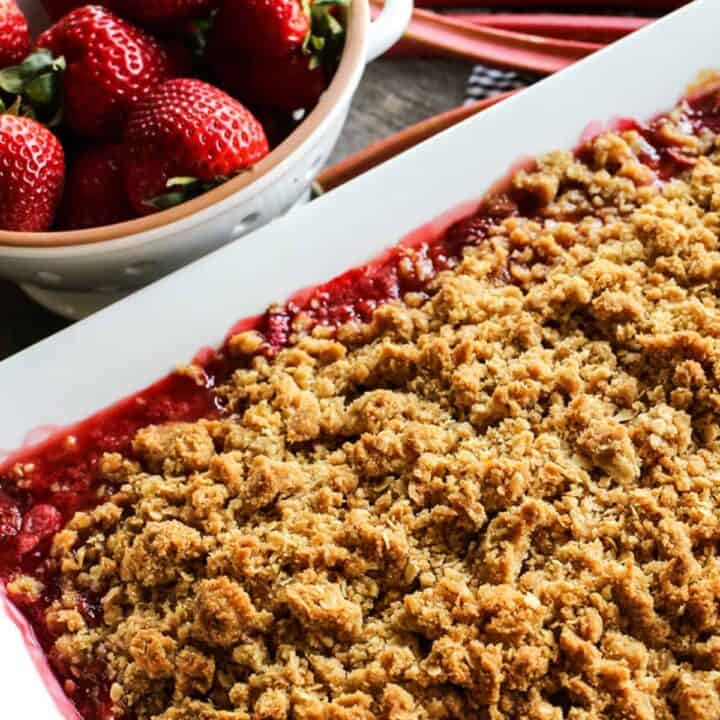 Old-Fashioned Strawberry Rhubarb Crisp
Yield: 16
Prep Time: 35 minutes
Cook Time: 55 minutes
Total Time: 1 hour 30 minutes
This baked treat is sweet and tart with fresh strawberries and rhubarb. An extra-thick buttery oats topping provides the perfect delicious contrast!
Ingredients
for the strawberry rhubarb filling:
2 lbs. rhubarb stalks, sliced 1/2″ thick (about 8 cups)
1.25 c. sugar, divided
1 lb. fresh strawberries, hulled and quartered
3 T. cornstarch
2 tsp. fresh lemon juice
1 tsp. pure vanilla extract
for the topping:
1/2 c. unsalted butter, softened (not melted!)
1.5 c. packed brown sugar
1.5 c. all-purpose flour
1.25 c. quick-cooking rolled oats
3 T. canola oil
1.5 tsp. cinnamon
3/4 tsp. kosher salt
Recommended Products
As an Amazon Associate and member of other affiliate programs, I earn from qualifying purchases.
Nutrition Information:
Yield: 16
Serving Size: 1
Amount Per Serving:
Calories: 269
Total Fat: 9g
Saturated Fat: 4g
Trans Fat: 0g
Unsaturated Fat: 4g
Cholesterol: 15mg
Sodium: 118mg
Carbohydrates: 47g
Fiber: 2g
Sugar: 34g
Protein: 2g
Nutrition information is automatically calculated by Nutritionix. I am not a nutritionist and cannot guarantee accuracy. If your health depends on nutrition information, please calculate again with your own favorite calculator.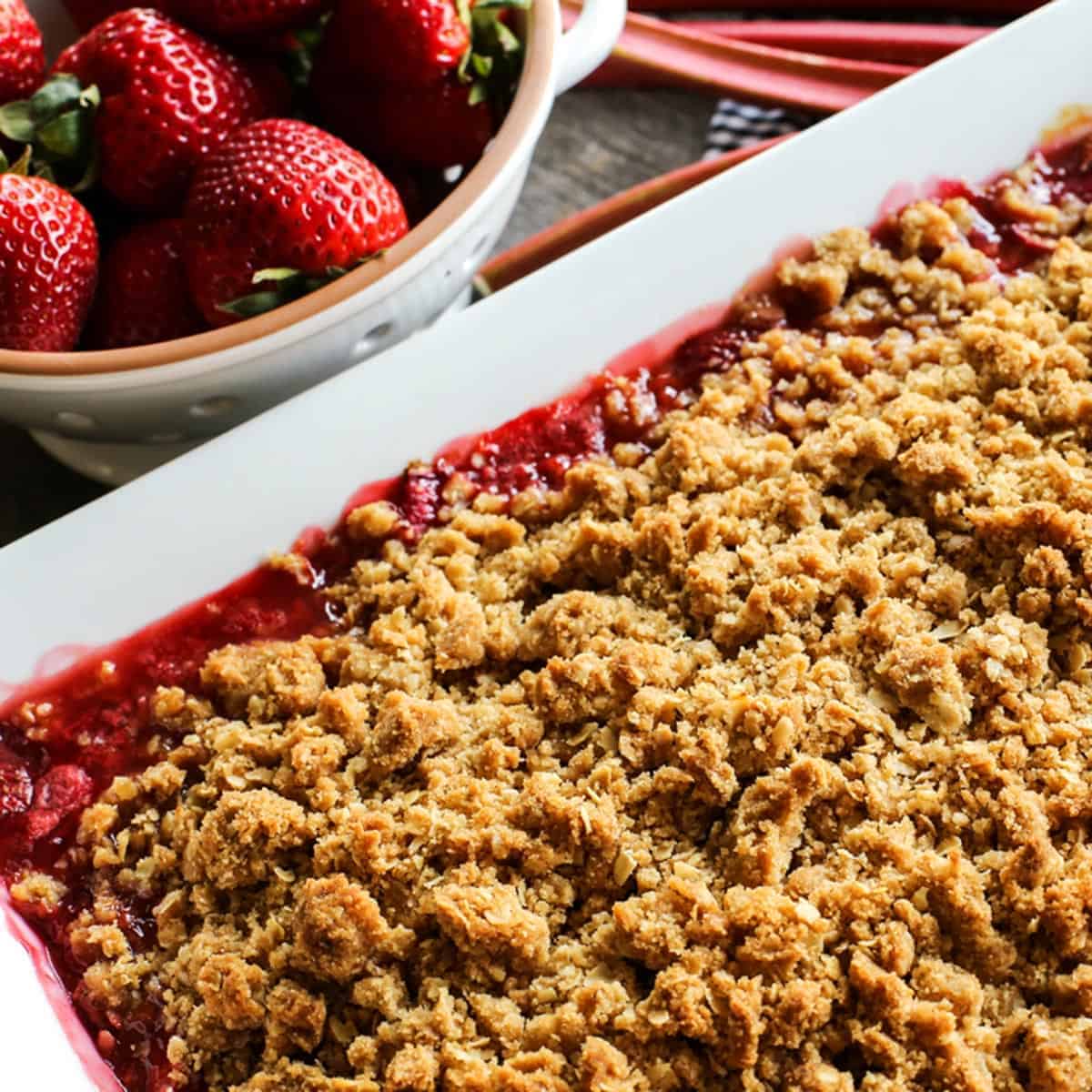 Originally published in 2010, this recipe has been a popular reader favorite. I updated some of the photos and text in 2018.