Phyllis' Cowboy Salsa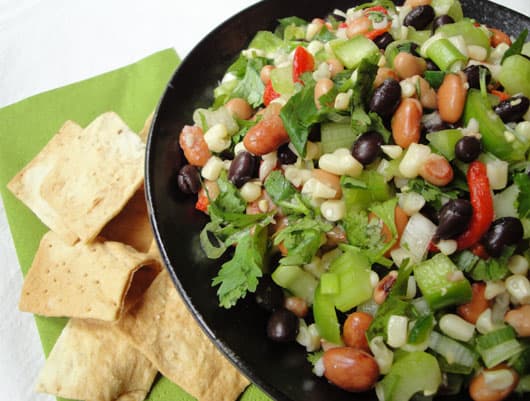 I brought tomato plants home from my all-time-favorite-tomato-buying-place, Black's Nursery in Lakeland, over a week ago.  They've been sitting on my porch ever since.  Cold and sad, they are yearning to stretch out their roots in the garden.  If only it would warm up around here, maybe I could help them settle into their new home!
Though flavorful fresh tomatoes are months away, my longing for fresh salsa is always close at hand.  This is a recipe that doesn't use tomatoes at all.  It's very green, with fresh celery, green pepper, green onions, and cilantro.  And very hearty, compliments of a variety of beans.
My mom introduced this salsa to me a few years ago, a recipe passed down from her girlfriend, Phyllis.  I loved it and, of course, needed it for my recipe file.  Every time I make this, I get asked for the recipe, too.  So, go ahead…pass it on!  When life isn't throwing tomatoes at you, make Cowboy Salsa!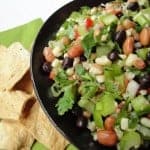 Phyllis' Cowboy Salsa
Ingredients:
for the salsa
1 can pinto beans (sometimes I substitute black beans – I like the color they add)
1 can black-eyed peas
1 can shoepeg corn
1 small jar chopped pimentos
1 green pepper, chopped
1 c. chopped celery
2 bunches green onion, chopped
1 T. minced jalapeno, more or less to taste  (you can also used canned jalapenos)
1 c. chopped cilantro
for the dressing
1/2 c. vegetable oil
1/2 c. rice vinegar
1/2 c. sugar
1 tsp. salt
1/2 tsp. black pepper
1 tsp. fresh lemon juice
Directions:
Drain the beans, corn, and pimentos.  Rinse.  Mix together with the green pepper, celery, green onion, jalapeno, and cilantro.
Combine all the dressing ingredients in a medium pan and bring to a boil.  Remove from burner and cool completely.  Pour over salsa ingredients.  Cover and refrigerate for at least one hour, or overnight.  Drain off juice.  Keeps well in the refrigerator for a few days.
From the recipe box of our friend Phyllis
© a farmgirl's dabbles
We participate in the Amazon Services LLC Associates Program, an affiliate advertising program designed to provide a means for us to earn fees by linking to Amazon.com and affiliated sites. See our disclosure policy for more info.