Cowboy Salsa
Cowboy Salsa is simple, fresh, colorful, and packed with flavor. Also called Cowboy Caviar or Texas Caviar, it's made with beans, vegetables, and a tangy dressing!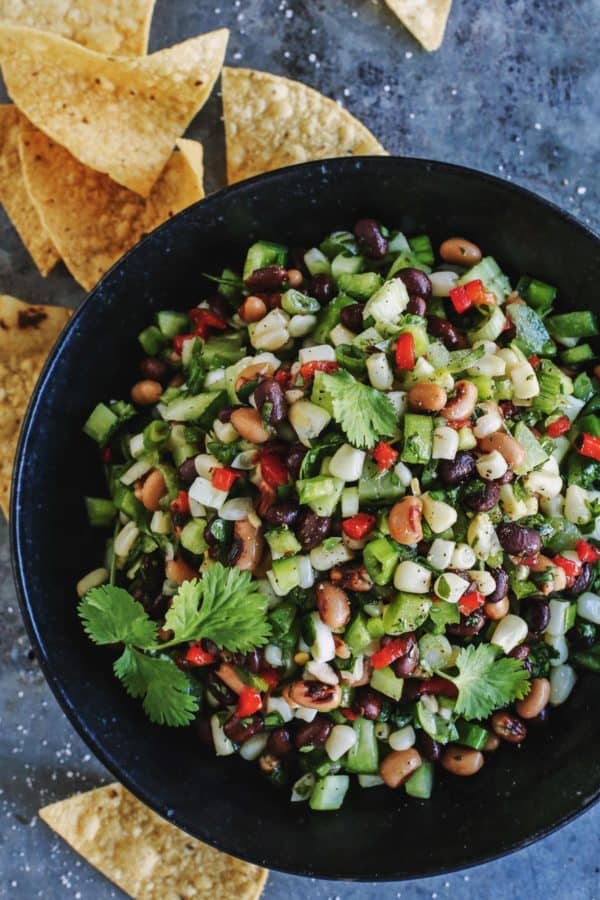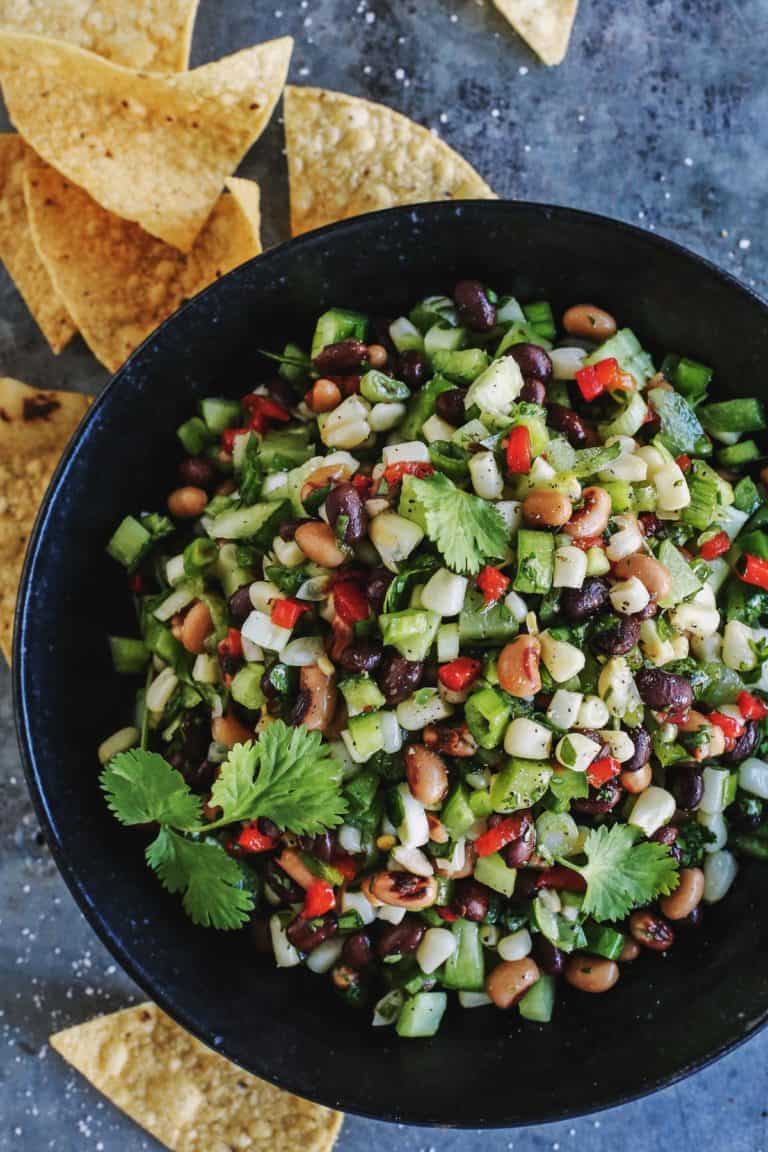 Let's face it, the winter months in Minnesota are not the best time to make fresh tomato salsa. And January to August is a long time to wait for those sweet summer tomatoes to ripen.
Lucky for us, this Cowboy Salsa doesn't use tomatoes at all. Mom introduced this recipe to me many years ago, passed down from her girlfriend Phyllis.
Sometimes called Cowboy Caviar, Texas Caviar, Mexican Caviar, or Redneck Caviar (holy moly!), this salsa is fresh and green, with crisp celery, green pepper, green onions, and herby cilantro. It's light yet hearty, compliments of a couple different kinds of beans. And the dressing is tangy, sweet deliciousness.
People ask for the recipe every time I make it!
Here are a few more great salsa recipes that don't rely on fresh tomatoes: Black Bean Salsa with Olives (I love those olives!), Smoky Salsa (similar to some of my favorite restaurant salsas), and Watermelon Jicama Salsa (so. much. fun!!).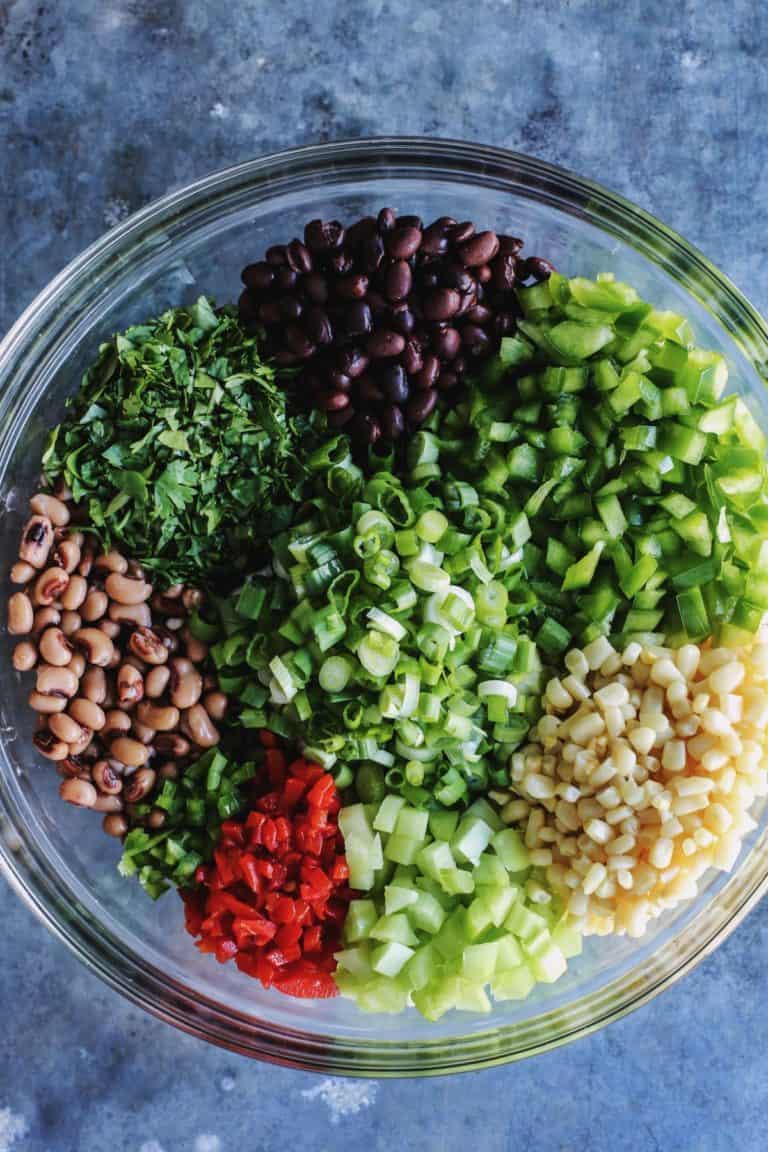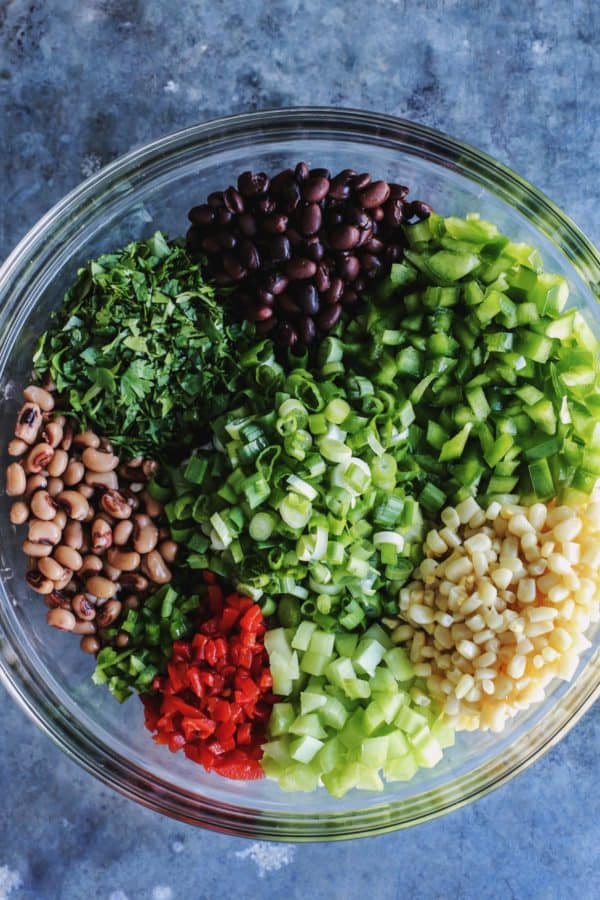 How do you make cowboy caviar?
You will probably never find a single cowboy caviar recipe that's exactly the same as the next. There are many different versions.
Basically, though, it's a dish that lies somewhere between a dip and a salad. (Grab some chips, or grab a spoon!) Made with a variety of fresh vegetables, black-eyed peas, black beans, and a light and tangy vinaigrette, I find it irresistible.
There's nothing complicated about this recipe. You'll just need to open a few cans and chop some fresh ingredients. This version from Phyllis includes:
black beans
black-eyed peas
pimentos
green pepper
celery
green onion
jalapeno
cilantro
What is shoepeg corn, you ask? The term dates back to before the American Civil War, when the corn was named for its peg-like shape. It's rather long and thin. The kernels are smaller and sweeter than yellow corn. If you can't find it at your grocery store (Our store carries just one variety), substitute either white or yellow corn in your recipes. And if it's sweet corn season, just use raw sweet corn kernels, cut right from the cob – THE BEST!!
One of the "secrets" to a great cowboy salsa is making sure that all the ingredients are similar in size. So when you're dicing the green pepper and celery, just eye-up the black beans and black-eyed peas. Aim for roughly the same size for all. Except the jalapeno…I prefer to mince that nice and small, for better heat distribution throughout.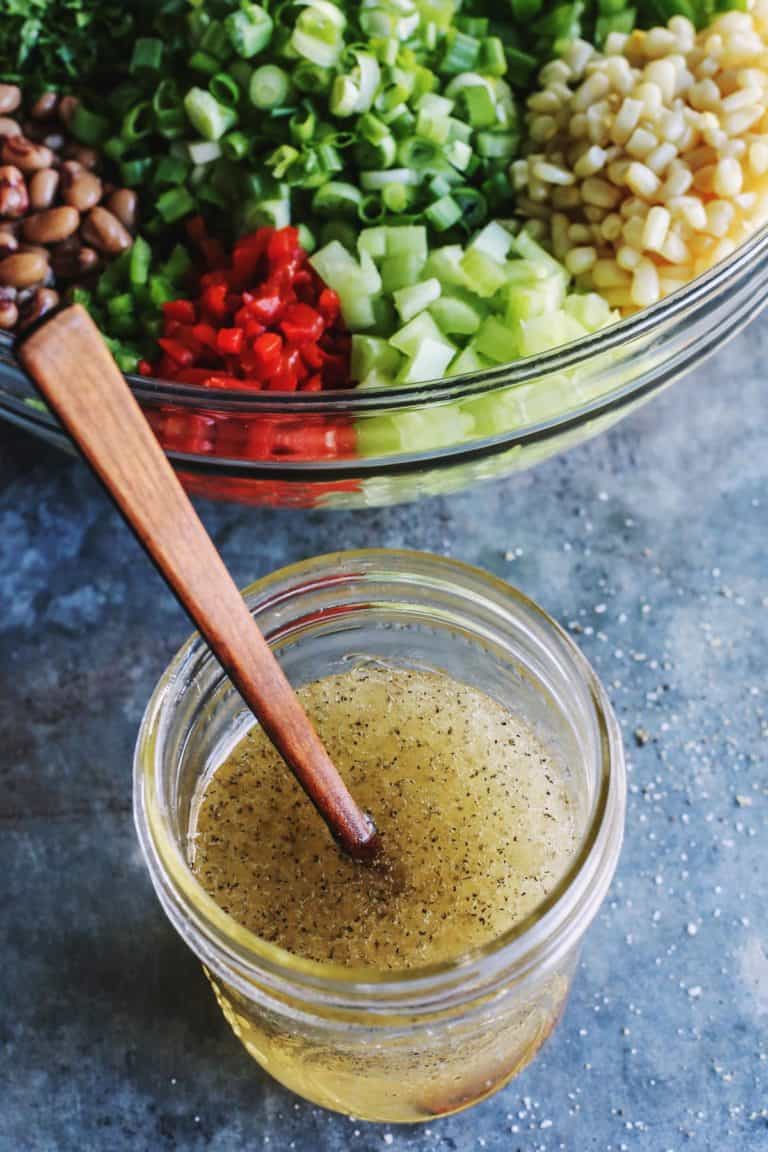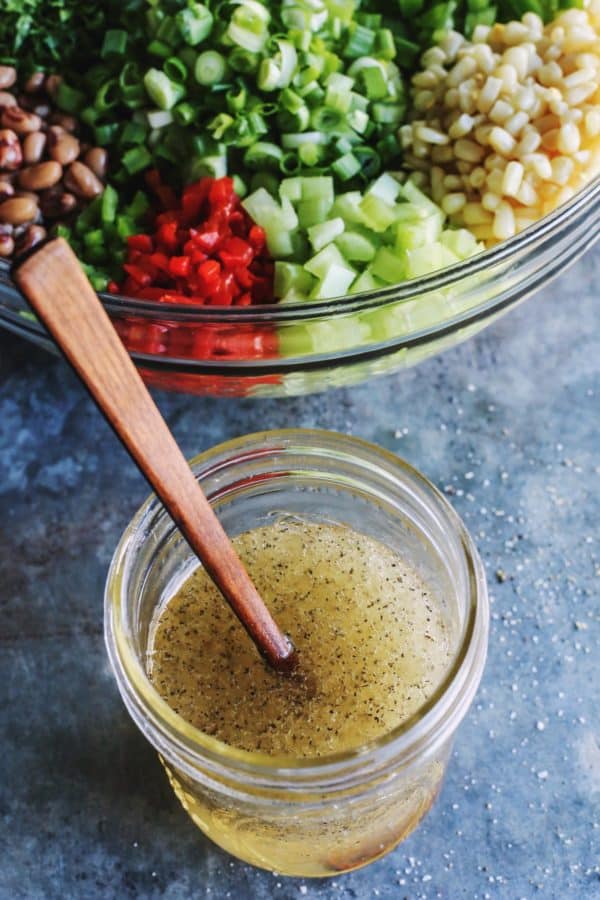 Cowboy salsa dressing
Once all the salsa ingredients are prepared, make the dressing.
This dressing is sweet, light, and simple, but it does also pack a punch. I love the acidity from the rice vinegar and fresh lemon juice.
Simply add all the dressing ingredients to a mason jar, cover the jar tightly, and shake vigorously to combine.
I like to use wide-mouth pint jars for making this dressing. And I just recently bought more of these jar caps; I like them better than the two-piece metal lids and rings used for canning. I use these jars and caps all the time!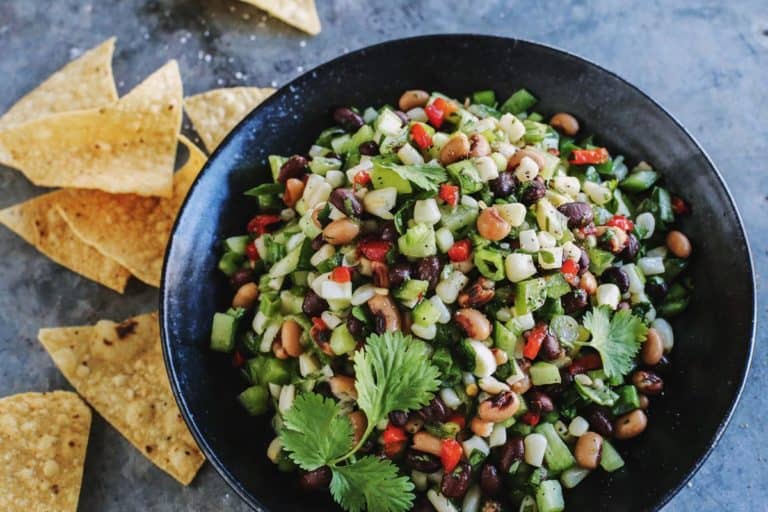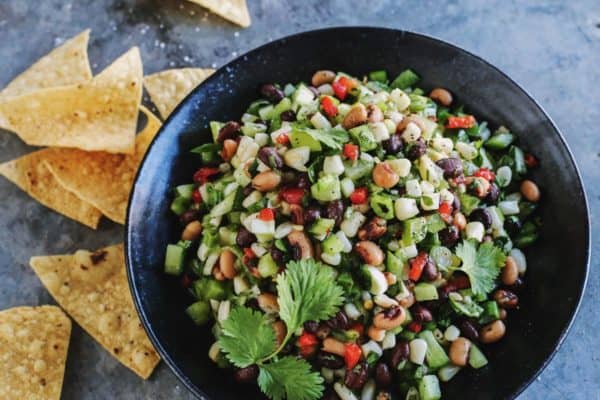 While this is a great fresh dip to make during the winter, I really do make it all year 'round. I like that it's filling but not heavy, and that it can be served at room temperature. There's no need to worry about questionable mayo in the heat.
Another plus is that this recipe actually should be made ahead of time, to let all the flavors mingle and soak into the beans. I find so many ways to eat this – with tortilla or Fritos corn chips, with tacos, alongside a couple fried eggs, as a relish, and as a side salad!
Like this recipe? Save it to Pinterest!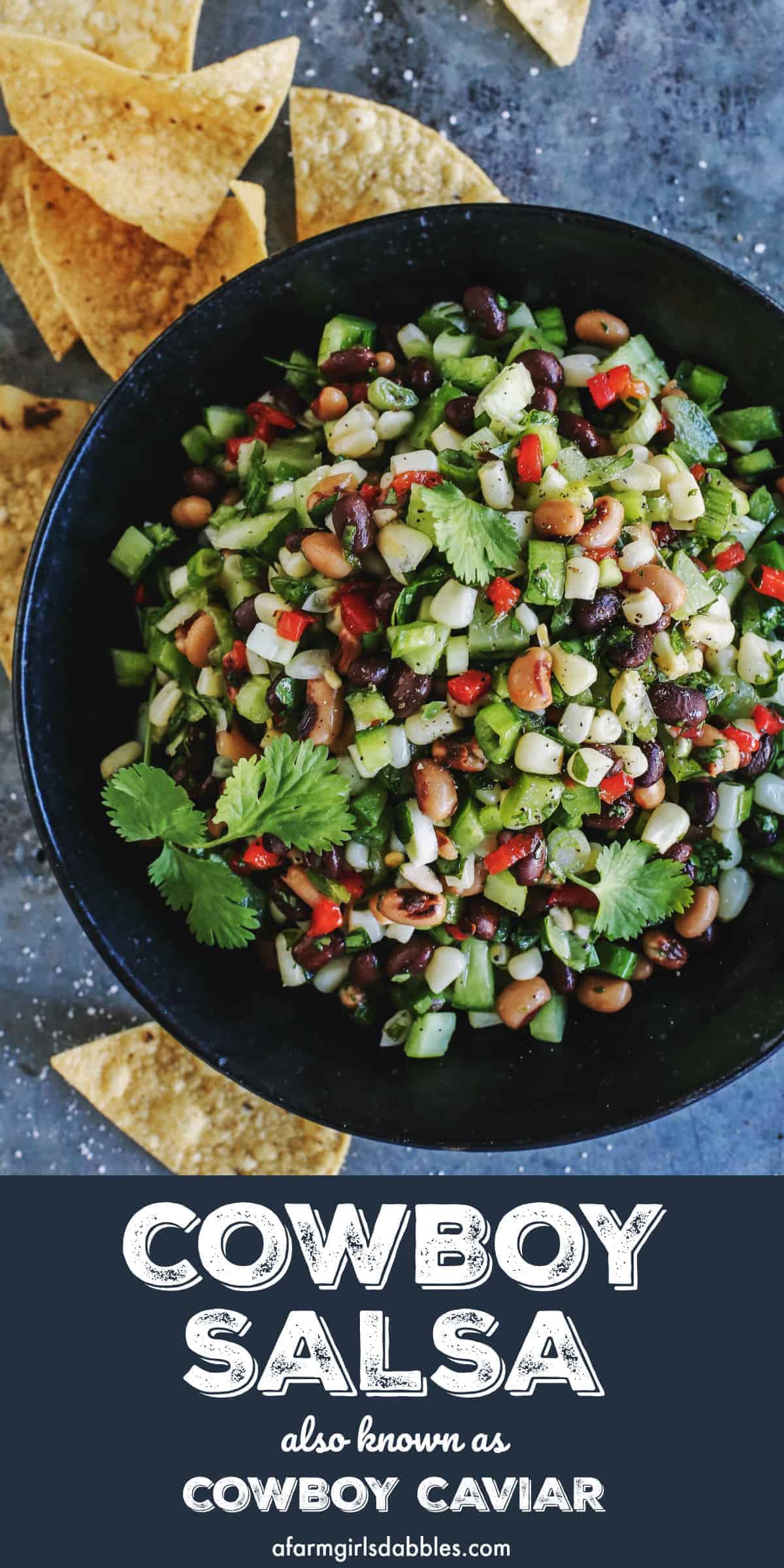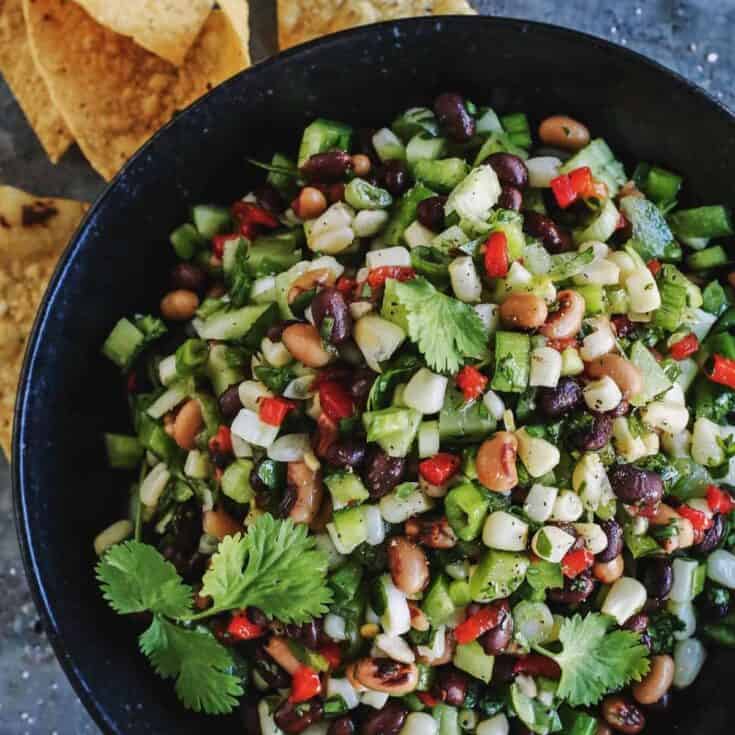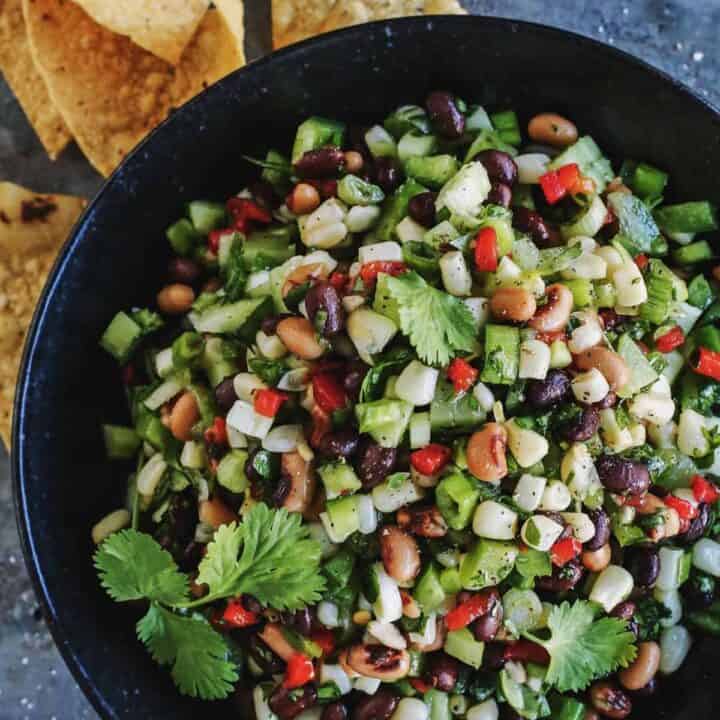 Cowboy Salsa
Yield: 12 servings
Prep Time: 20 minutes
Total Time: 20 minutes
This salsa is simple, fresh, colorful, and packed with flavor. Eat it as a dip, salad, or relish!
Ingredients
for the salsa
1 can (15 to 16 oz.) black beans or pinto beans
1 can (15 to 16 oz.) black-eyed peas
1 can (11 oz.) shoepeg corn, or substitute 1 c. fresh sweet corn kernels
1 jar (4 oz.) chopped pimentos
1 large green pepper, diced
1 c. diced celery
1-1/2 c. thinly sliced green onion
1 T. minced jalapeno, more or less to taste
1 c. chopped cilantro
for the dressing
1/2 c. vegetable oil
1/2 c. rice vinegar
1/2 c. sugar
1 tsp. kosher salt
1/2 tsp. black pepper
1 tsp. fresh lemon juice
Instructions
Note: Aim for all ingredients to be roughly the same size. When dicing the green pepper and celery, just eye-up the beans and cut the vegetables about the same size. However, mince the jalapeno nice and small, for better heat distribution.
Rinse and drain the beans, corn, and pimentos, and place them in a large bowl. Add green pepper, celery, green onion, jalapeno, and cilantro. Fold to combine.
Combine all the dressing ingredients in a jar or bowl with a tight fitting lid - I like to use a wide-mouth pint jar with this cap. And then shake vigorously for 30 seconds.
Pour dressing over salsa ingredients and fold a few times to combine. Cover and refrigerate for at least one hour. This can also be made a day in advance. Before serving, drain off some or all of the excess juice/dressing, if desired. Serve with your favorite tortilla chips or Fritos corn chips. It also works as a relish or side salad. This keeps well in the refrigerator for a few days.
Notes
adapted from Mom's recipe box, originally from friend Phyllis Knudsen
Nutrition Information:
Yield: 12
Serving Size: 1
Amount Per Serving:
Calories: 185
Total Fat: 9g
Saturated Fat: 1g
Trans Fat: 0g
Unsaturated Fat: 8g
Cholesterol: 0mg
Sodium: 282mg
Carbohydrates: 23g
Fiber: 4g
Sugar: 12g
Protein: 4g
Nutrition information is automatically calculated by Nutritionix. I am not a nutritionist and cannot guarantee accuracy. If your health depends on nutrition information, please calculate again with your own favorite calculator.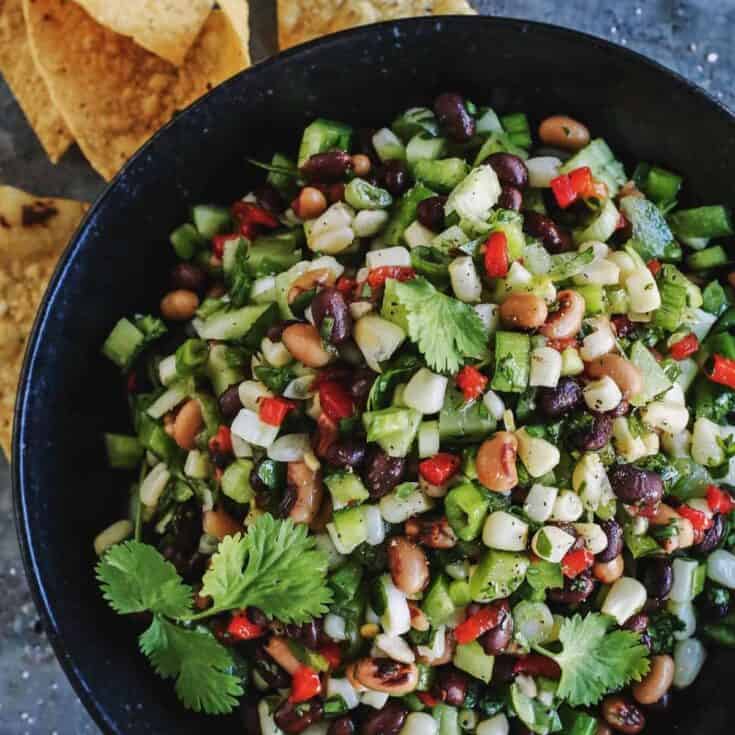 This post was previously published in 2010. Photographs and some of the text were updated in 2020.