Pineapple Salsa
This fresh Pineapple Salsa recipe makes for a fun party appetizer or a tasty condiment for tacos, salads, and grilled meats and fish.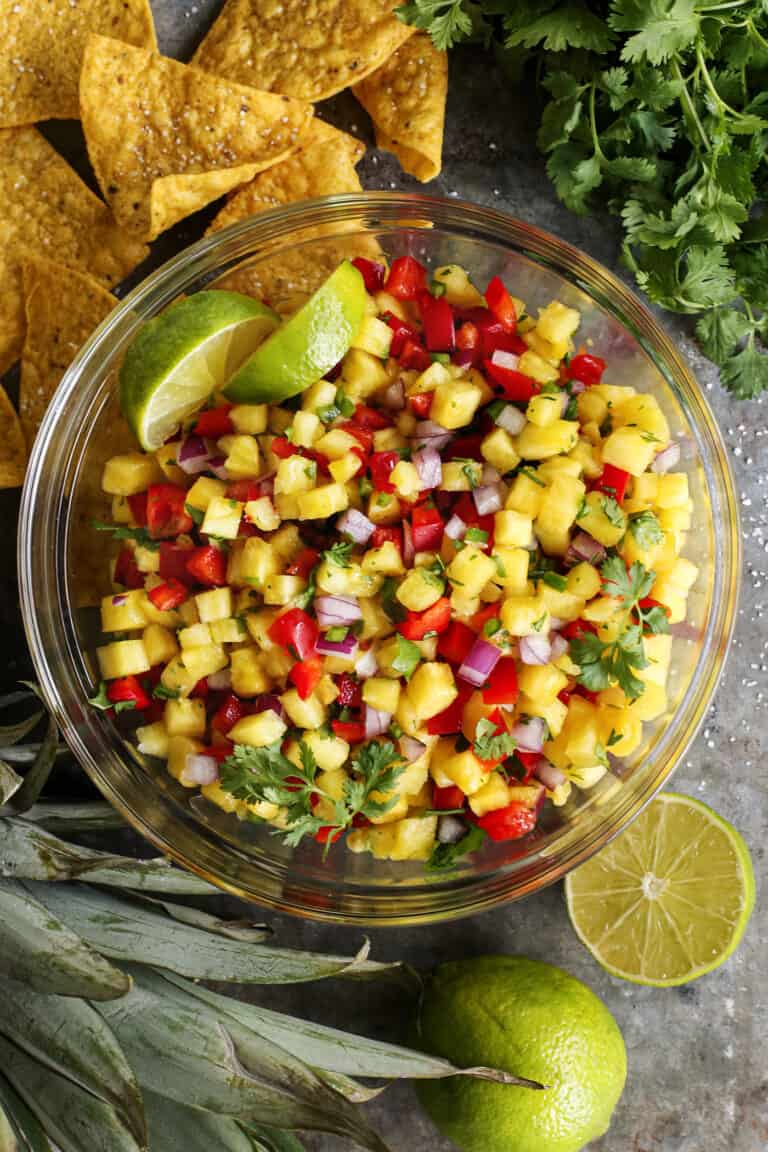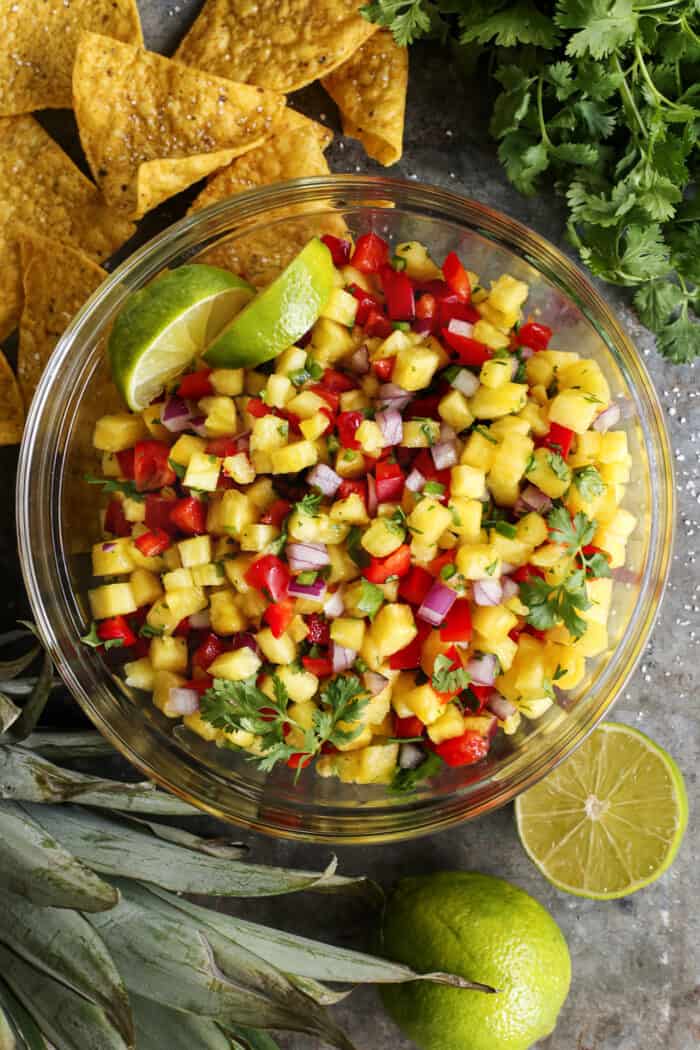 This Fresh Pineapple Salsa Recipe Makes My Family Happy
Way back when, shortly after Blake and I were first married (20+ years ago), I worked as a volunteer assistant at Kitchen Window in Uptown (Minneapolis).
I helped the chefs prep ingredients and dishes, and assisted guests who were attending their cooking classes. I was often starstruck, getting to meet some famous-in-Minnesota restaurant chefs. The experiences were not only inspiring, they were also so much fun + delicious!
My first real memory of pineapple salsa comes from one of those cooking classes. Gabe Stockinger, then chef at Pazzaluna, was in charge that night. He taught the class how to make jerk-seasoned red snapper with pineapple salsa. It was stunning.
Ever since that class, I've been a fan of Pineapple Salsa. And it didn't take long for Blake and our girls to follow suit. Fresh and colorful and packed with flavor, it's no wonder why this homemade salsa makes my family happy!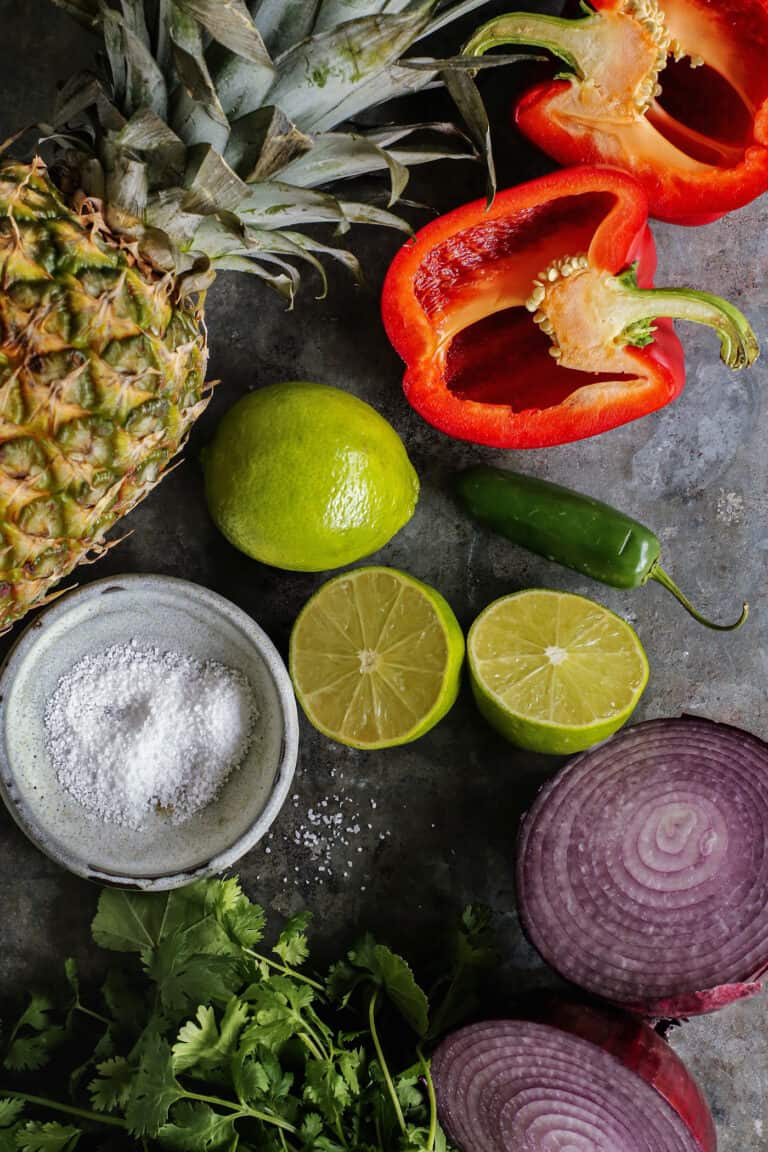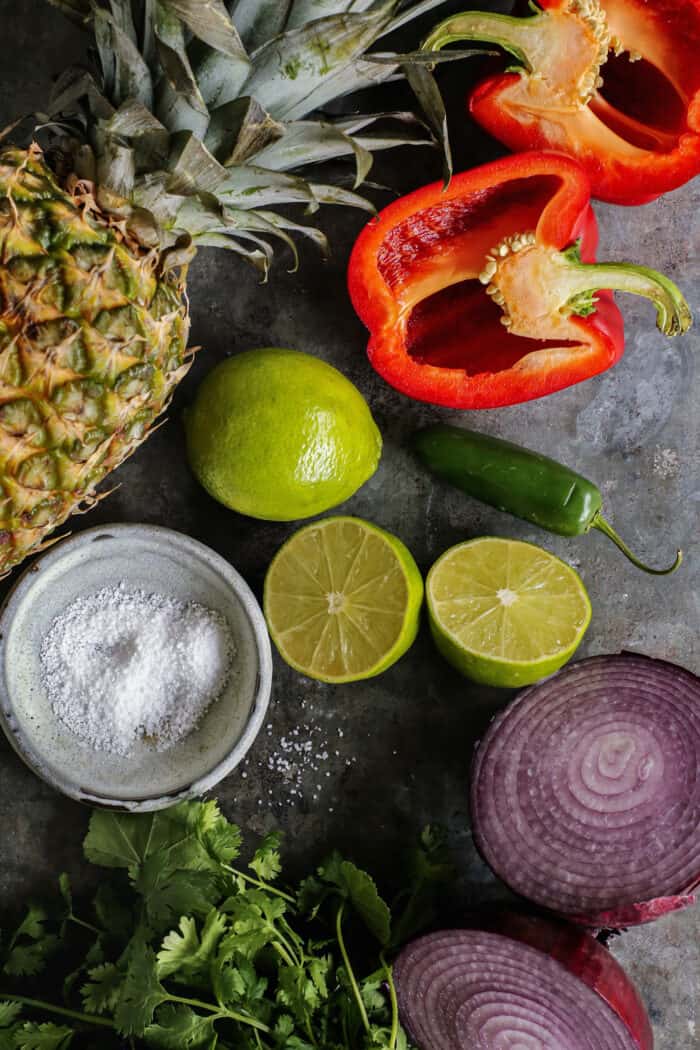 Pineapple Salsa Ingredients
For this recipe, you'll need only 6 ingredients from the fresh produce section, plus a sprinkle of salt!
pineapple
red bell pepper
red onion
cilantro
jalapeno
lime juice
kosher salt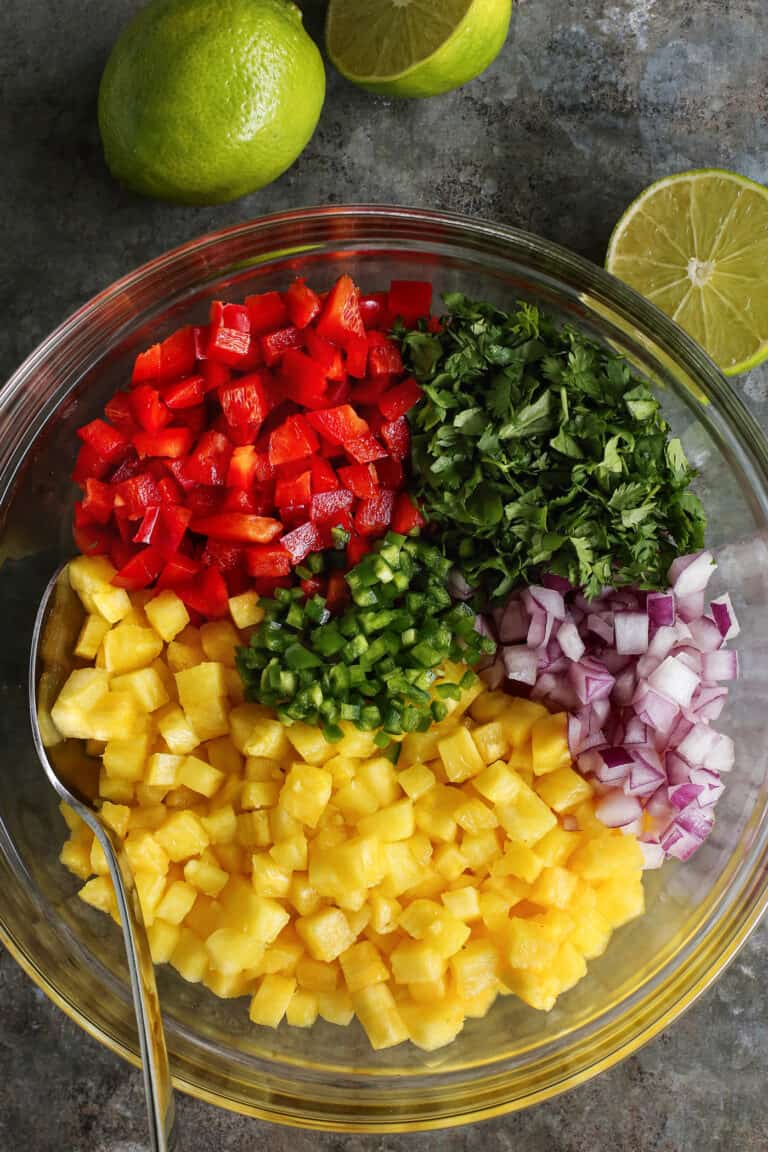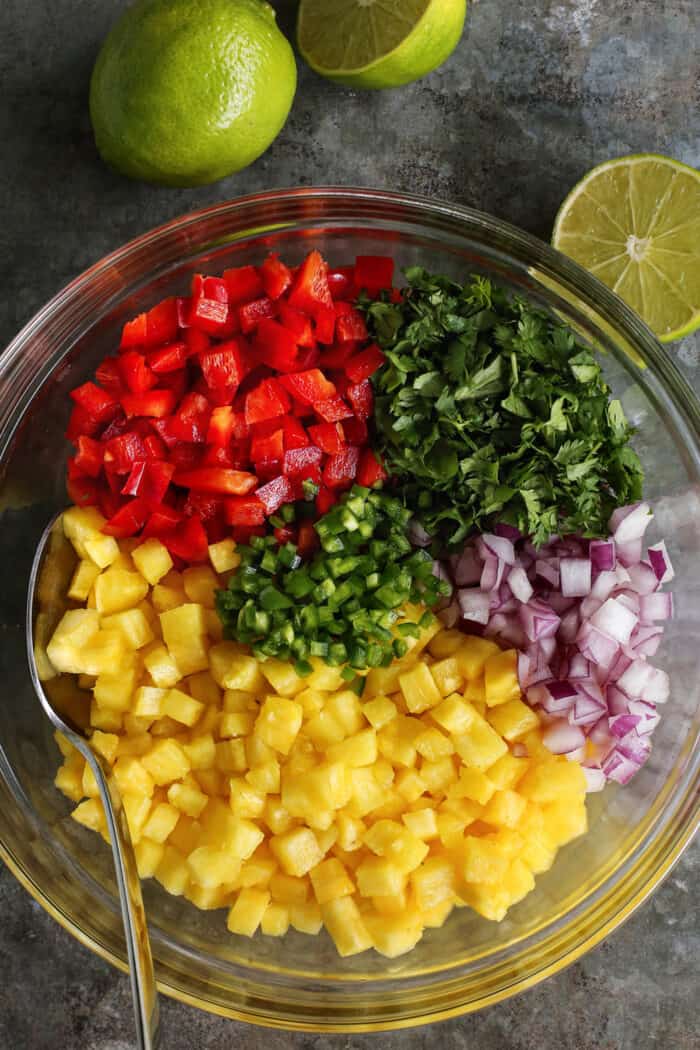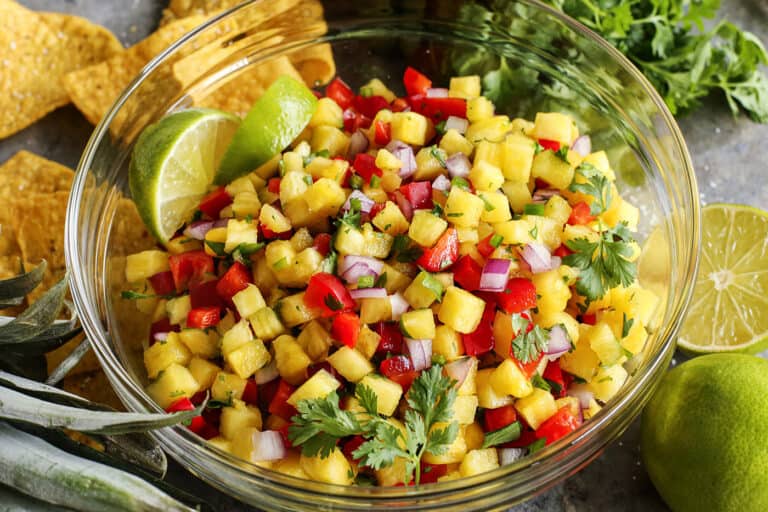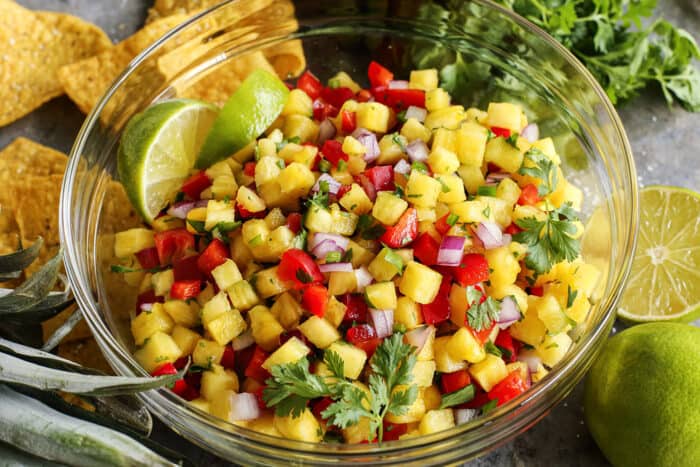 How to Make Pineapple Salsa
To make this salsa, all you need to do is fold all the ingredients together in a large bowl. That's it, nothing more!
A Few Tips and Variations For the Best Pineapple Salsa:
Use only fresh ingredients. You will not get the same fresh flavored salsa by using canned or frozen ingredients.
Aim for small, uniform pieces. Dice the pineapple, red pepper, and red onion small, and all the same size. I think 3/8″ in size is perfect. This gives the salsa a uniform appearance, allows the flavors to meld better, and makes the salsa easier to scoop and eat. This way, you get a little bit of everything in each bite!
Mince the jalapeno. I like to mince the jalapeno pepper extra-small, so it can get more evenly distributed throughout the salsa. I don't like random larger (hot!) bites of jalapeno in my salsa!
In a hurry? Most grocery stores offer cored fresh pineapple without the skin in their produce department. It costs more this way, but it's much quicker!
Adjust to your own taste. This recipe is a flexible one. If you like heat, add more jalapeno. You might also like to add a few shakes of chili powder! I'm a huge fan of lime, so you'll often find me squeezing in a little (or alot!) of extra lime juice – sometimes I also add fresh lime zest, too. And if you don't like cilantro, try fresh parsley. Mint is also very fun!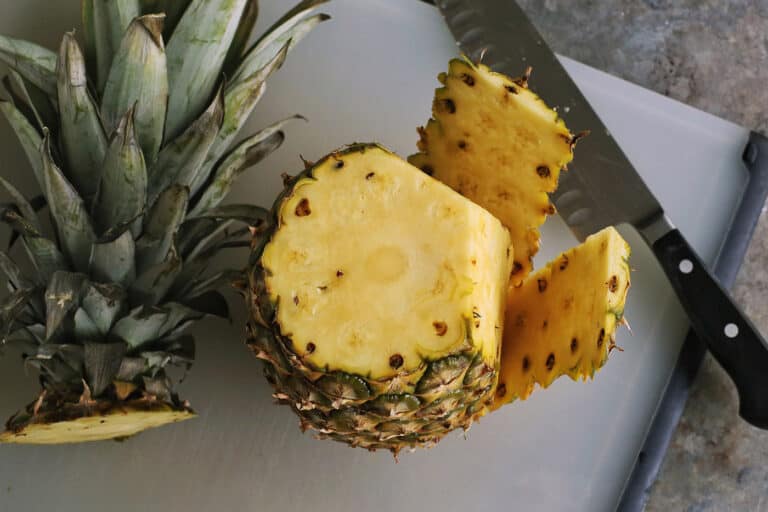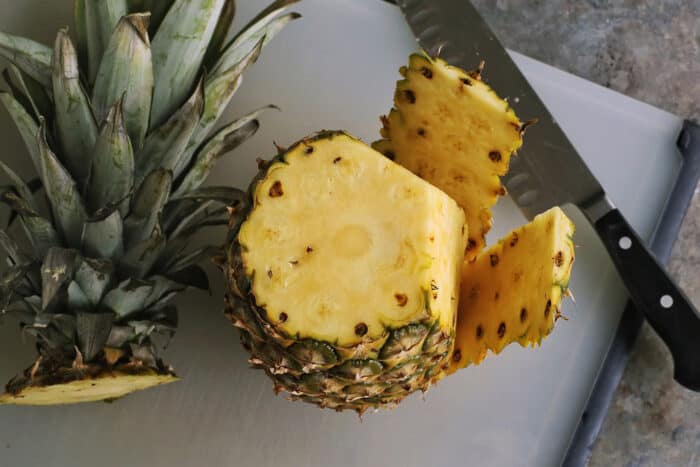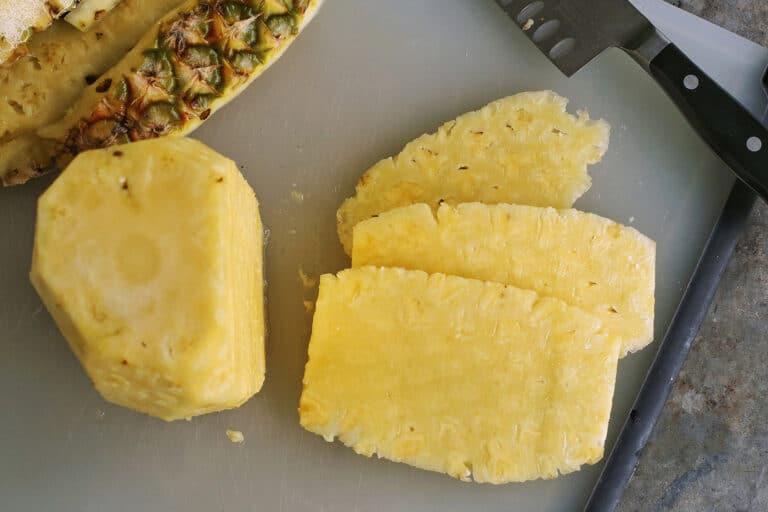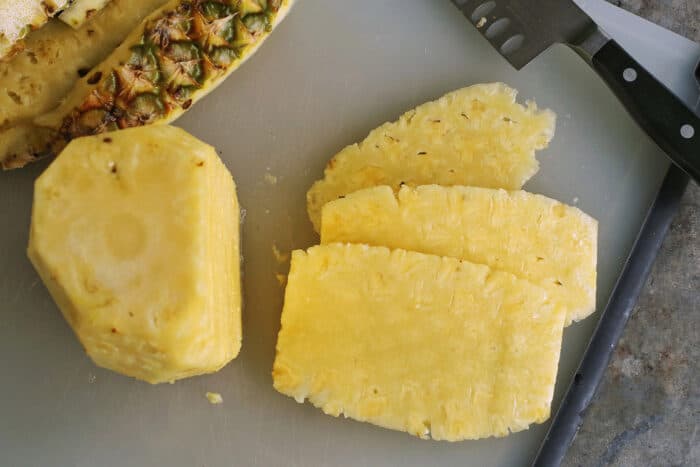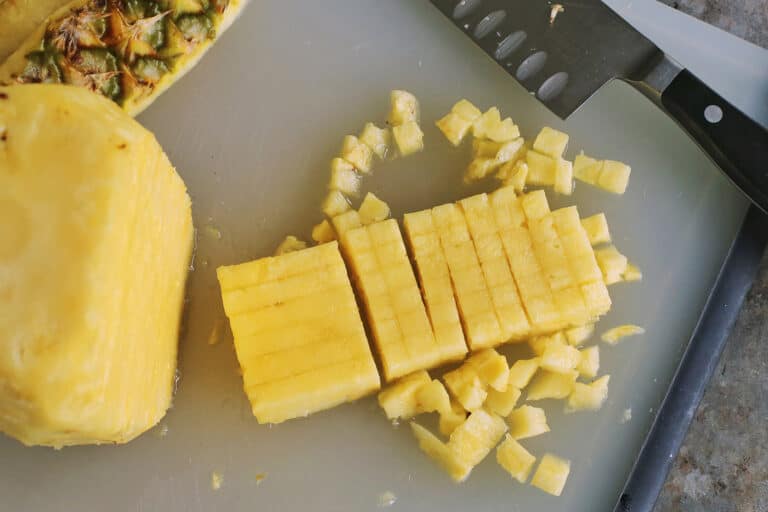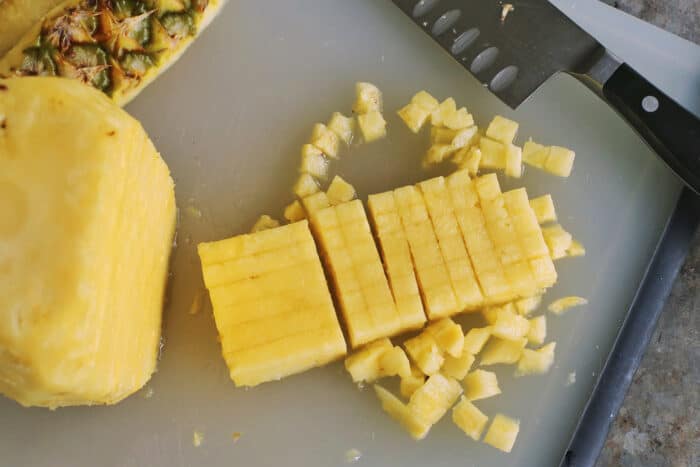 How to Pick a Pineapple
How to tell when a pineapple is ripe? Let your senses lead the way!
Look: Pineapples will change from darker green/gray tones to brighter green/yellow as they ripen – and once picked, pineapples really don't get any riper. So look for ones that have more yellow coloring.
Feel: A rock-hard pineapple is an unripe pineapple. And a soft pineapple is an overripe pineapple. Give the pineapple a bit of a squeeze – you want one that feels firm yet just slightly soft.
Smell: Sniff the pineapple at the base. If you can't smell anything, it's not fully ripened. A perfectly ripe pineapple should have a sweet, tropical smell. Like all fresh produce, stay away from anything that smells funky. If a pineapple smells vinegary or fermented, it's past its prime.
How to Cut a Pineapple
So. You brought a pineapple home. Now what?
Well, it's time to cut that baby up and enjoy it in some fresh salsa!
In my experience, this is the best way to cut a pineapple. My instructions and photos show the pineapple diced into small cubes, but the size can be easily altered to fit other recipes.
First, be sure to have a large, sharp knife and sturdy cutting board.
Lay the pineapple on its side and cut off the top and bottom.
Stand the pineapple up on its bottom side and trim off the skin, from top to bottom. Rotate and trim the fruit until all skin is removed.
Remove the brown spots (eyes) left in the pineapple flesh using the tip of a sharp paring knife.
Cut 3/8″-thick slices, from top to bottom, working your way from the outer perimeter to the tough center core. When you run into the core, rotate the pineapple and repeat until you are left with only the core (and discard the core).
Lay 2 to 3 pineapple slices on top of each other at a time, and dice the slices into 3/8″-sized pieces.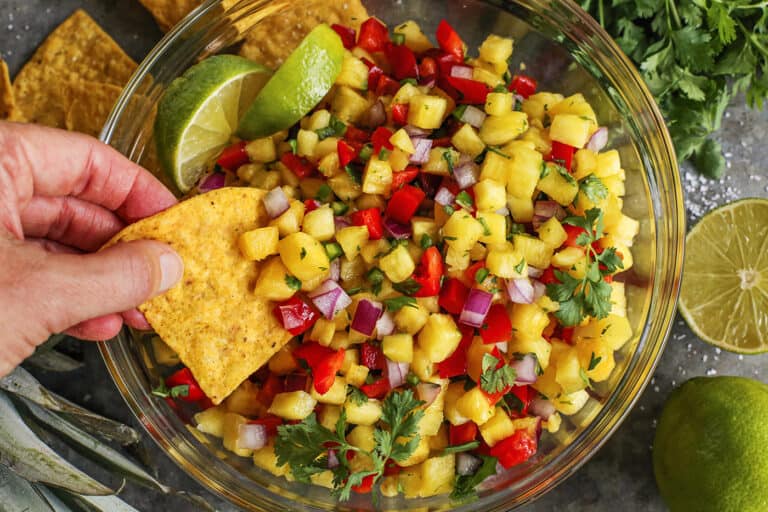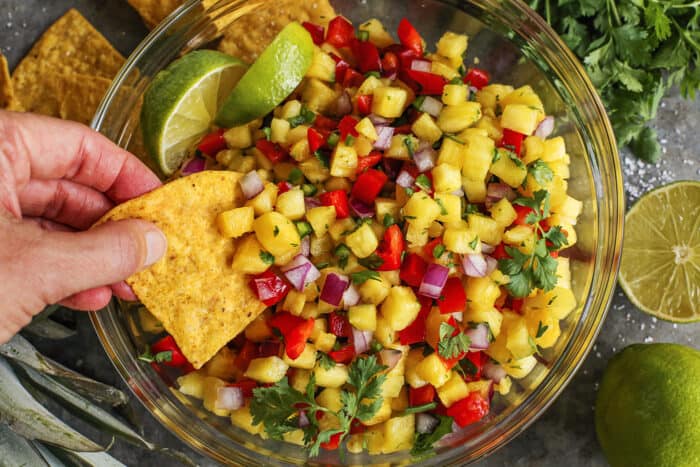 What To Serve With Pineapple Salsa
This salsa is fresh and simple, and so very pretty. It's also easy to make and goes with almost everything. We especially like to just grab some tortilla chips and dig in!
Pineapple salsa is especially awesome with pork, and would be great with these dishes:
It's also quite wonderful with fish and seafood dishes:
Be sure to think about serving fresh pineapple salsa any time you're serving grilled salmon, chicken, or turkey!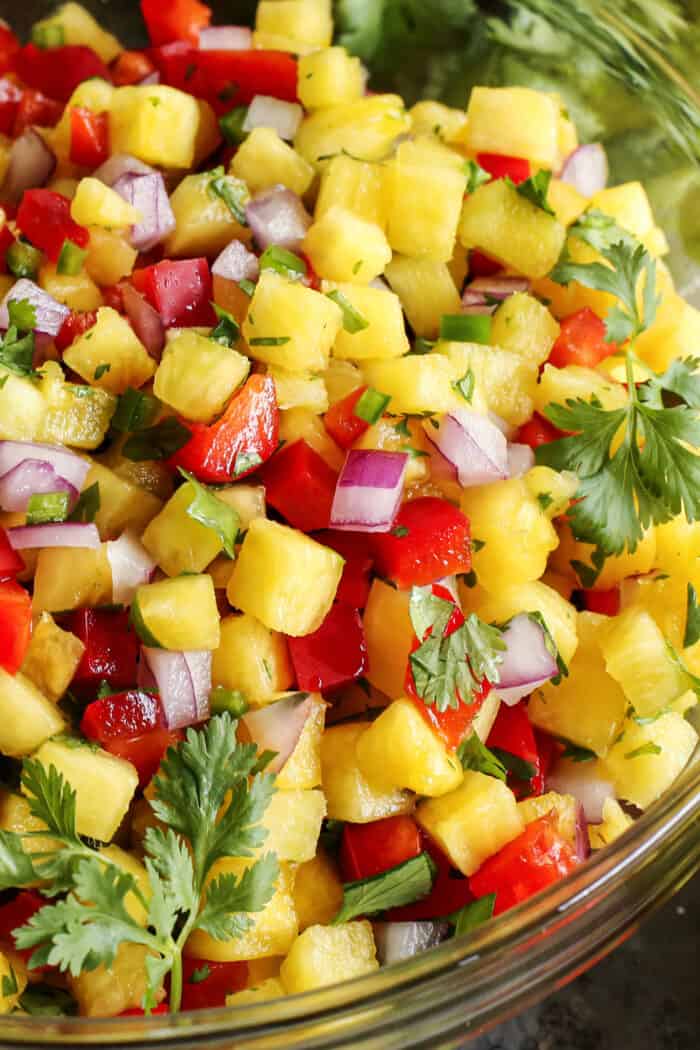 How To Store
This salsa is best when eaten during the first two to three days.
Any leftovers can be stored in the refrigerator, in a container with a lid. Fold a few times before serving.
Like this fresh salsa recipe? Save it to Pinterest!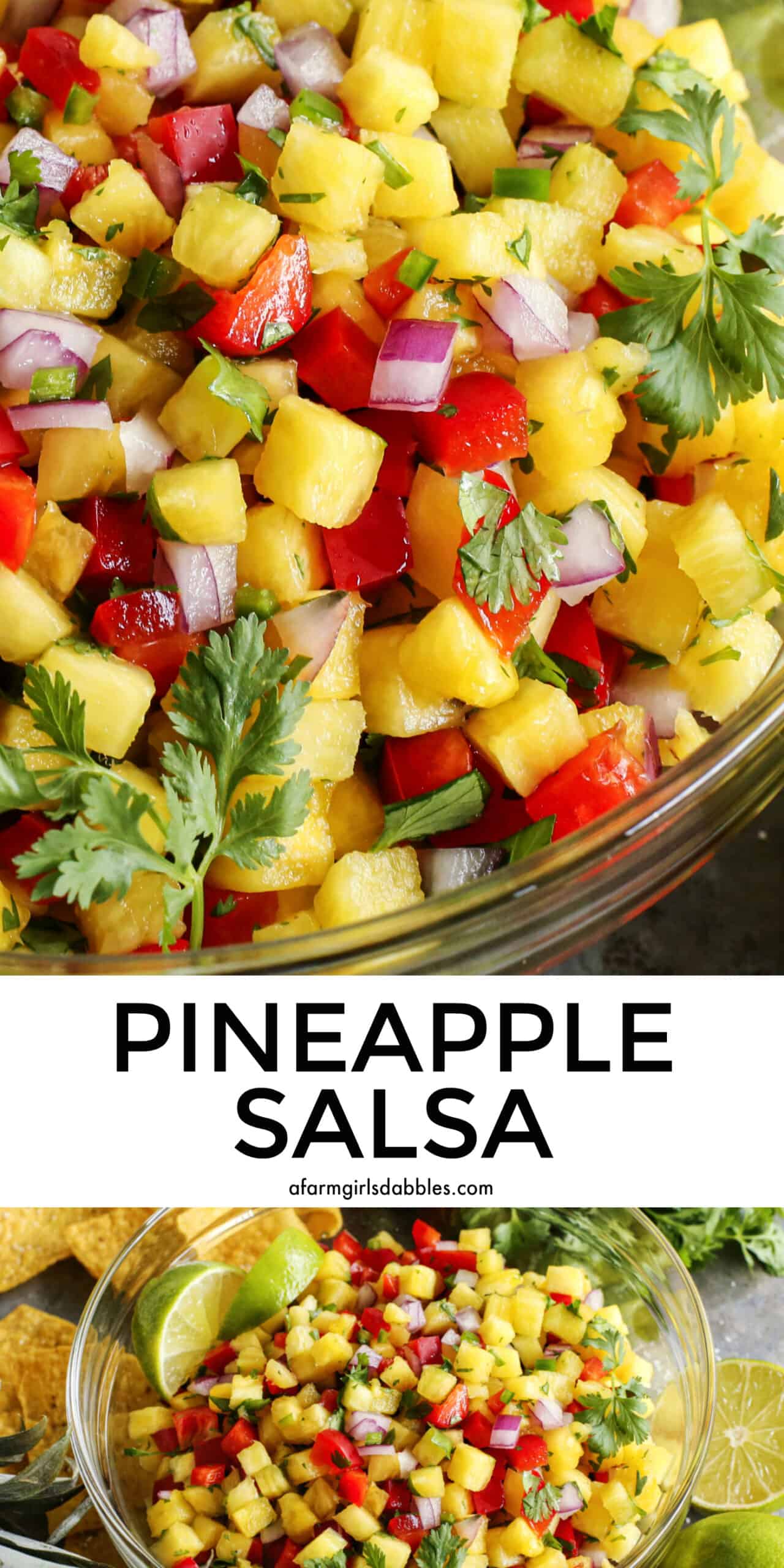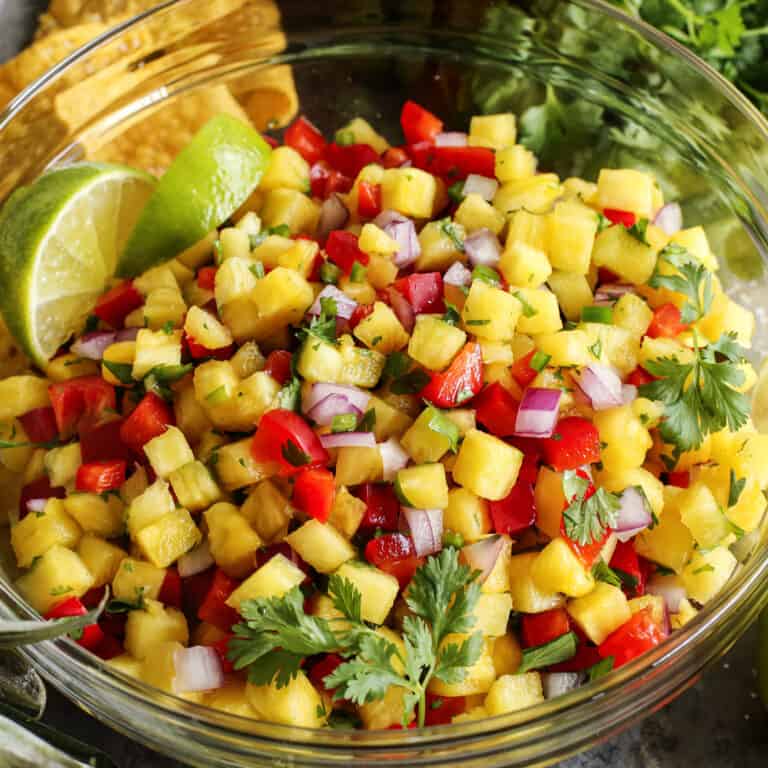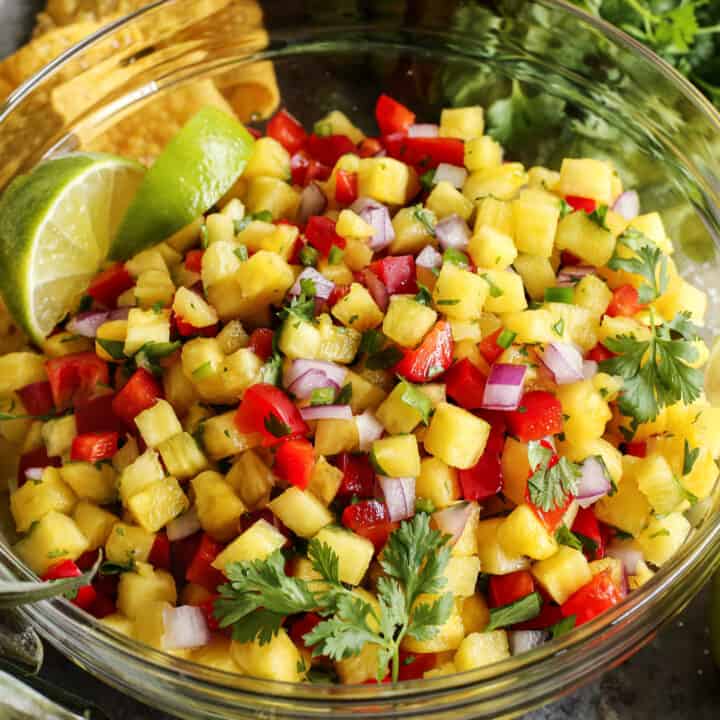 Pineapple Salsa
Yield: 12 servings
Prep Time: 20 minutes
Total Time: 20 minutes
This fresh, colorful salsa recipe makes for a fun party appetizer or a tasty condiment for tacos, salads, and grilled meats and fish!
Ingredients
4 c. diced fresh pineapple (about 1 medium/large pineapple)
1.5 c. diced red bell pepper (about 1 large pepper)
1/2 c. diced red onion (about 1/2 small onion)
1/2 c. chopped fresh cilantro
2 T. minced jalapeno (about 1 small jalapeno)
1/4 c. freshly squeezed lime juice (from 1 to 2 limes)
1/4 tsp. kosher salt
Instructions
In a large bowl, fold together pineapple, red pepper, red onion, cilantro, and jalapeno.
Drizzle lime juice over the top and sprinkle with salt. Fold again to incorporate. Let rest for 20 minutes before serving.
Notes
Store in a covered container in the refrigerator for up to 3 days.
from a farmgirl's dabbles
Nutrition Information:
Yield: 12
Serving Size: 1
Amount Per Serving:
Calories: 39
Total Fat: 0g
Saturated Fat: 0g
Trans Fat: 0g
Unsaturated Fat: 0g
Cholesterol: 0mg
Sodium: 50mg
Carbohydrates: 10g
Fiber: 1g
Sugar: 7g
Protein: 1g
Nutrition information is automatically calculated by Nutritionix. I am not a nutritionist and cannot guarantee accuracy. If your health depends on nutrition information, please calculate again with your own favorite calculator.