Watermelon Salsa
Enjoy this juicy, colorful Watermelon Salsa with nachos or your favorite tacos, or as a topping for grilled meats and fish. This fresh fruit salsa is a family favorite!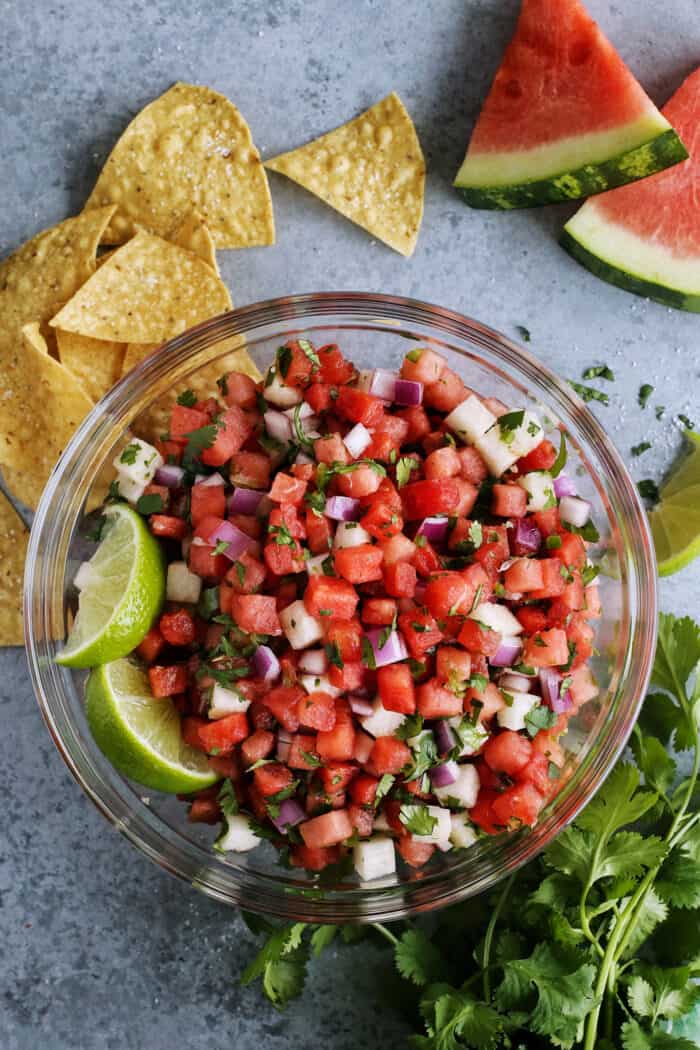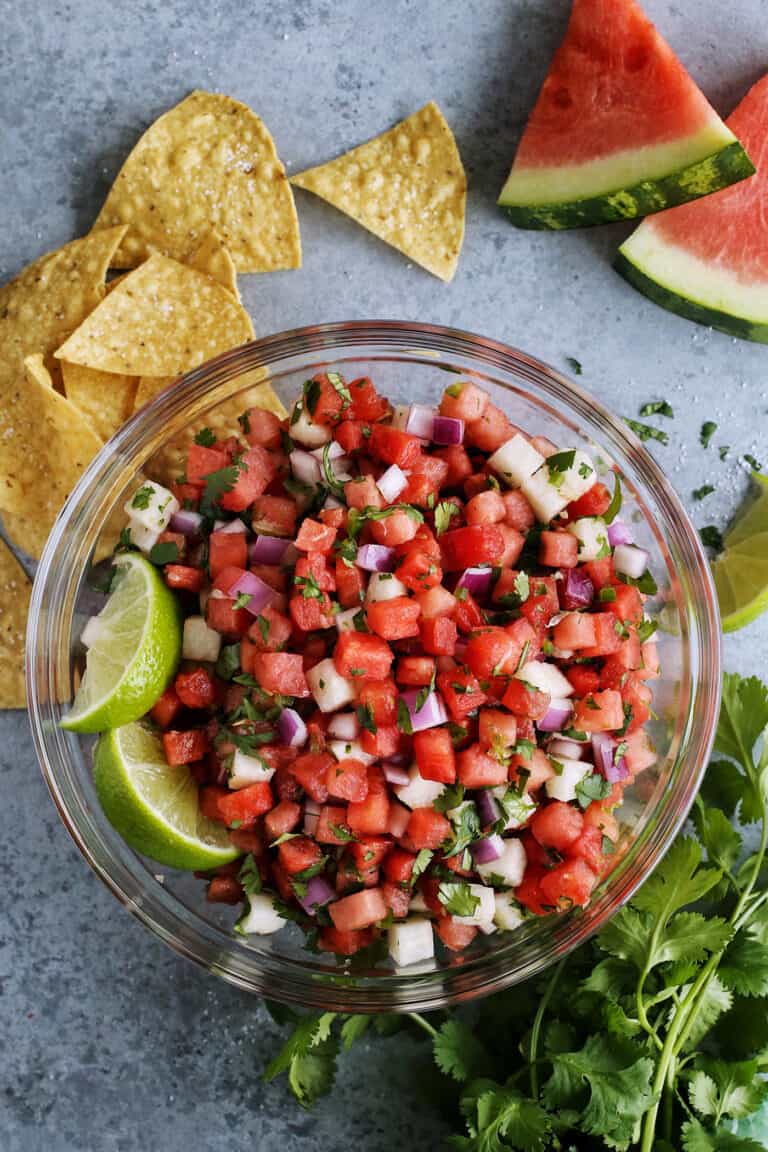 Watermelon Salsa Reminds Me of Vacation
It was about this time of the year, five years ago in the middle of winter, that I became hooked on Watermelon Salsa.
Our family was on a cruise in the Caribbean. And once I discovered the ship's wonderful watermelon salsa, I never let a day go by without eating some.
It turned out that I didn't even need nachos or tacos to enjoy it. When we ate at the ship's regular buffet, I'd simply run by the taco bar and spoon some of the watermelon salsa onto to my plate – and eat it like a fruit salad. Yes, it was that good!
Well it didn't take long for our girls to follow suit. Pretty soon, all three of us were making daily treks to the taco bar for this juicy, fresh salsa.
I knew that when we got back home to Minnesota, a watermelon salsa recipe was going to be a necessary means to finishing out our winter. And now we make it all year 'round. It's juicy and delicious, such a beautiful way for us to enjoy some vacation memories!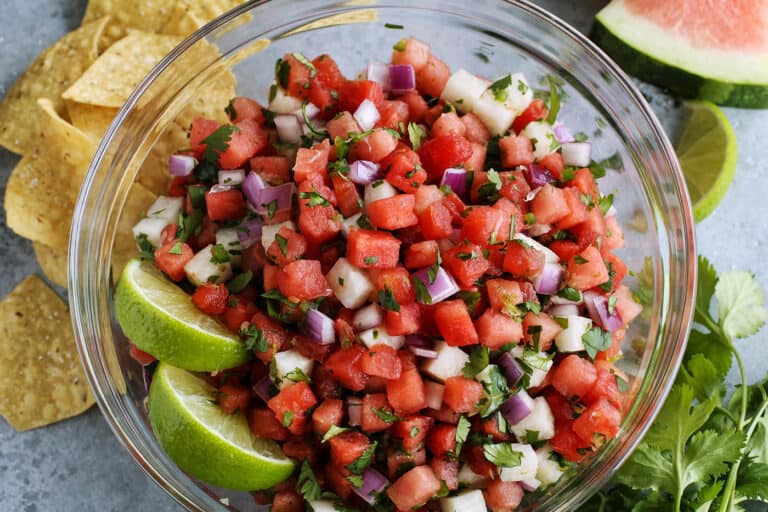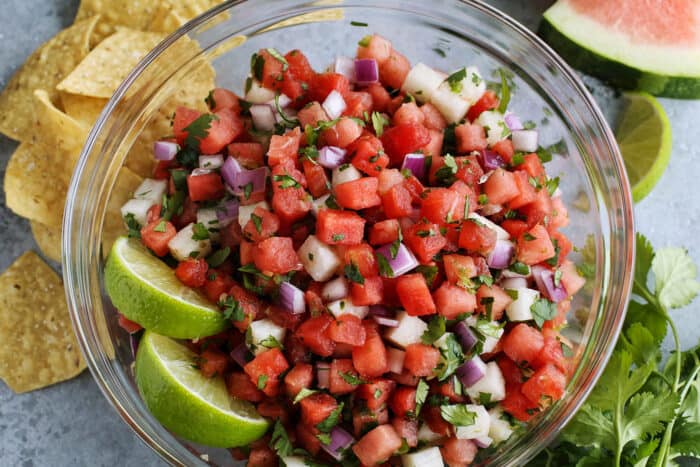 * This post is sponsored by Carnival Cruise Line.
I first enjoyed watermelon salsa at The Blue Iguana, aboard the Carnival Breeze. To read more about all the fun we had with food on that Southern Caribbean cruise, check out this post.
And to learn more about our stop in Curaçao, scroll down past the recipe!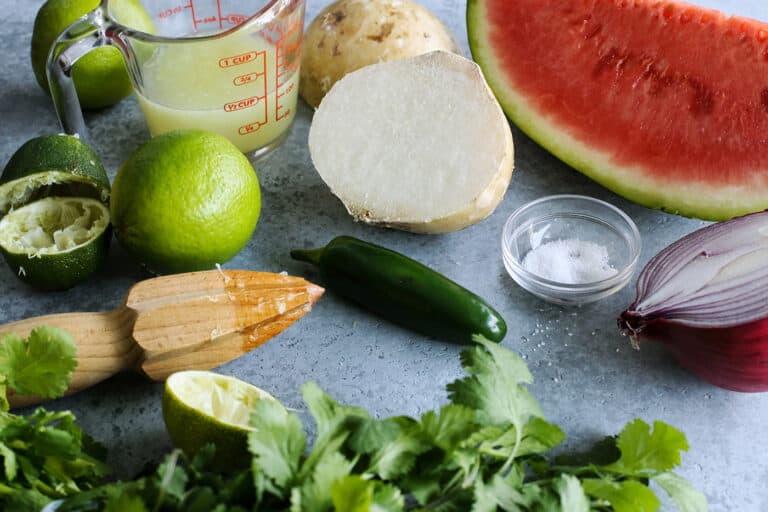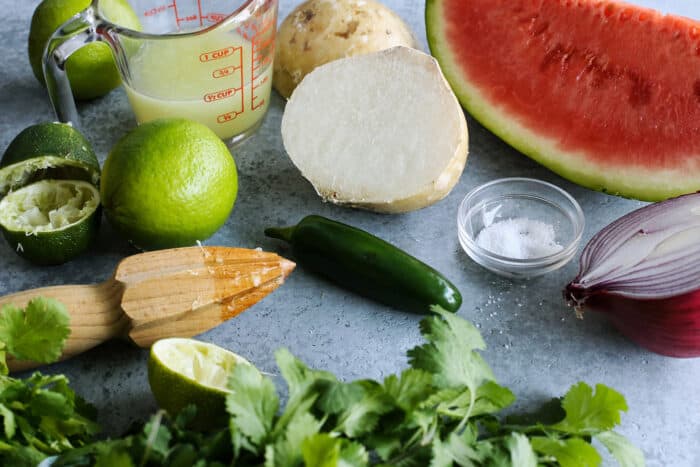 Ingredients
I've always been a fan of mixing together sweet and savory flavors, and cannot resist making a fresh fruit salsa for taco meals and grilled meats and fish. If that sounds like you, be sure to also check out my pineapple salsa and cherry tomato and ground cherry salsa.
Here are the ingredients you'll need for fresh watermelon salsa:
watermelon – a seedless variety works best for dicing
jicama – for some fresh crunch!
red onion
jalapeno – play around with the heat level, adding as little or as much as you like
cilantro
lime juice – only freshly squeezed, please!
lime zest – to kick up that tart lime flavor, yum!
kosher salt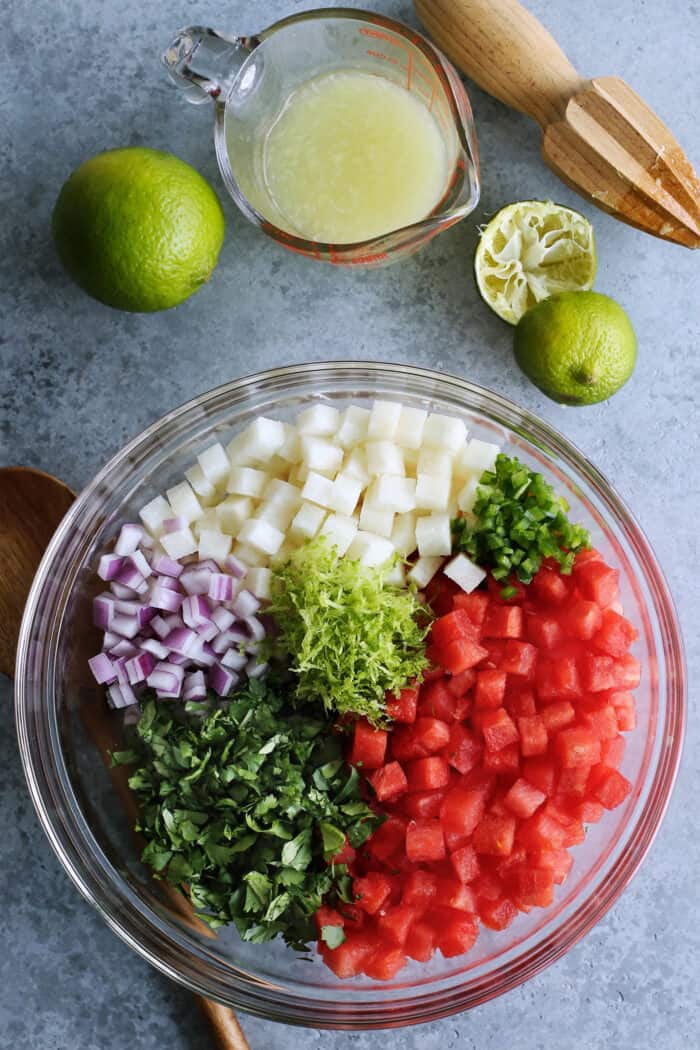 How to Make this Fresh Salsa Recipe
This salsa is loaded with fresh goodness. So grab a sharp knife and cutting board, and get choppin'!
Dice the watermelon, jicama, and red onion. Aim for small-ish and same-sized pieces for easiest nacho scooping.
Mince the jalapeno. I like to keep the hot pepper pieces small.
Chop the cilantro.
Juice and zest the lime.
Fold all the ingredients together in a large bowl, sprinkle with salt, and fold again.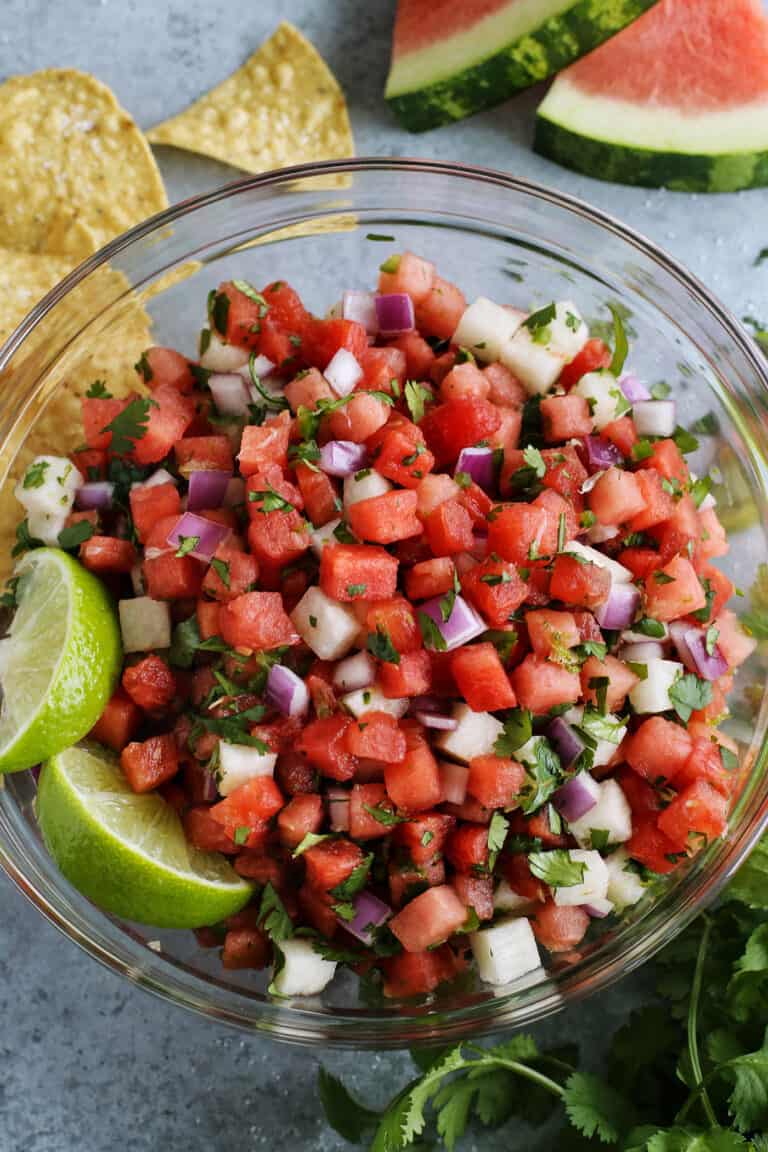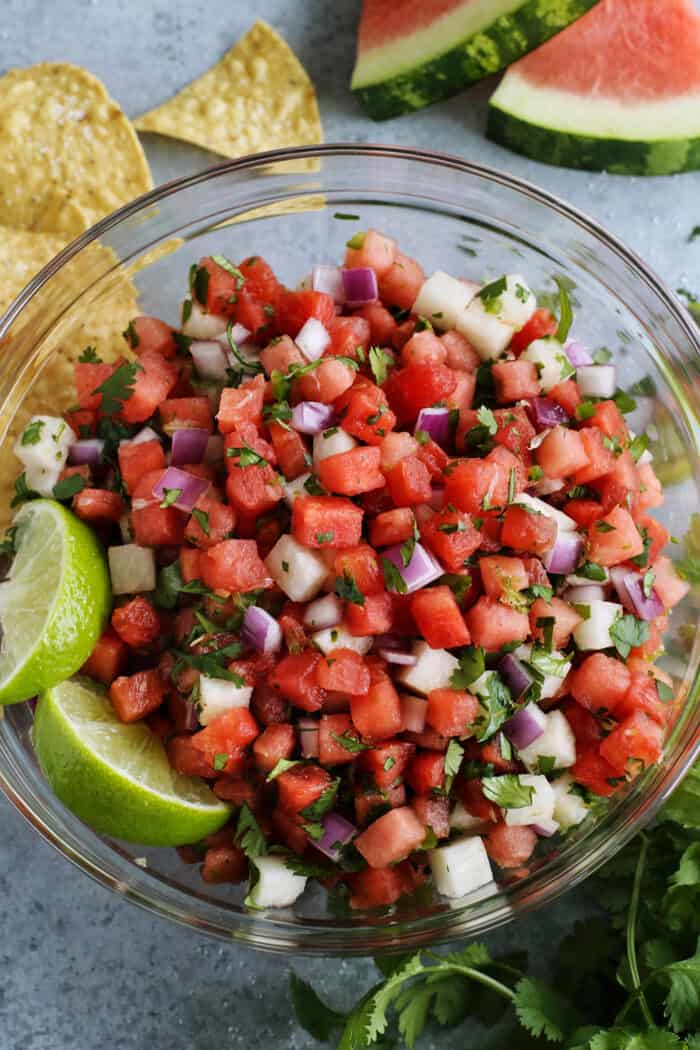 This salsa is sweet and juicy, and the jicama adds fun, crunchity bites. I have a thing for fresh limes – they're on our grocery list every single week. So of course, I love what the fresh lime juice and zest bring to the table (literally!) in this recipe.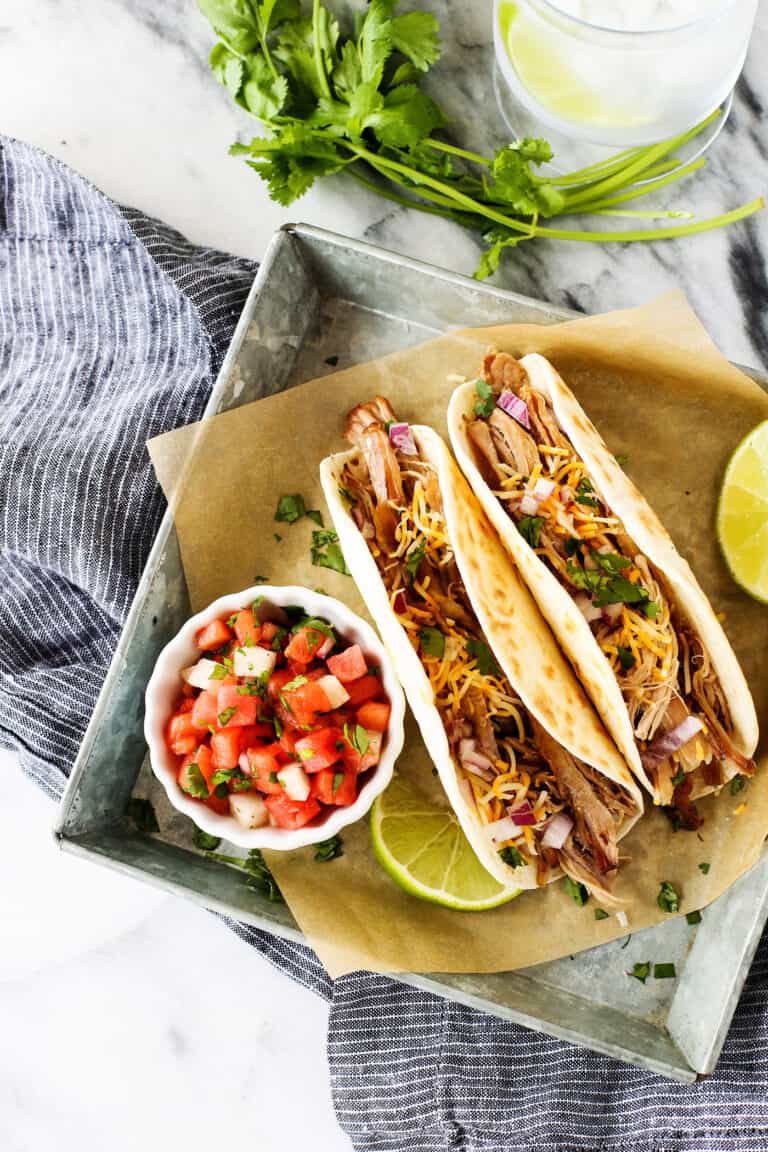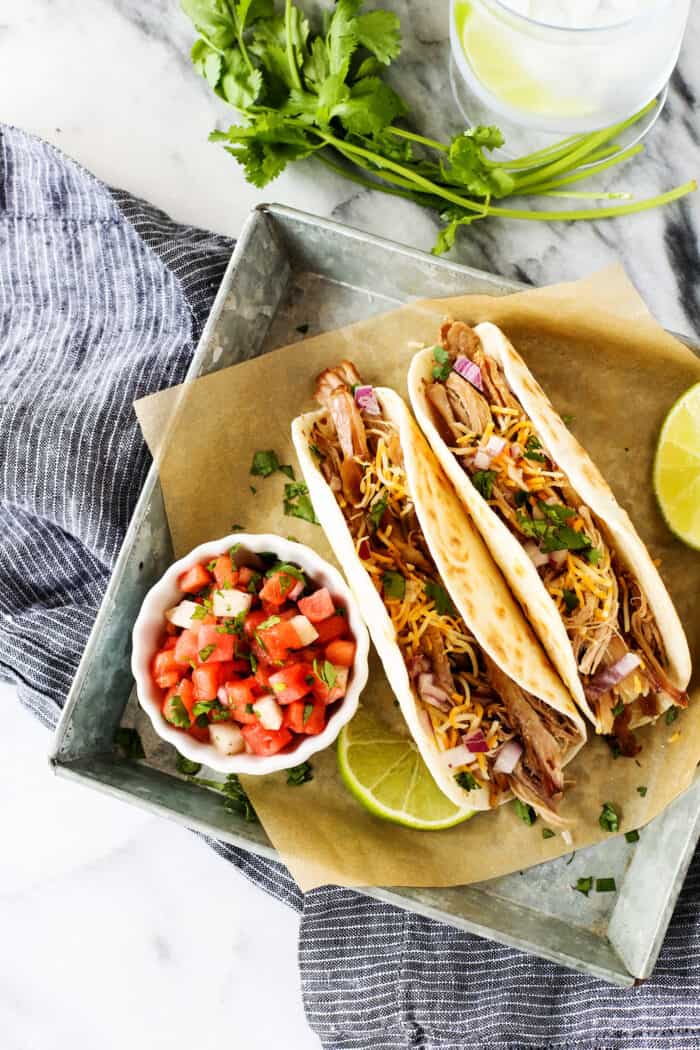 What to Serve with this Fresh Salsa
Remembering how we first enjoyed watermelon salsa at a taco bar on a ship sailing across the Caribbean, my mind always goes immediately to tacos. My favorite is Carnitas – that tender, flavorful shredded pork gets me every time! Especially with a perfectly tart margarita!
We've also put away many a tortilla chip with a bowl of this salsa!
I also must share that this salsa is fabulous over most any kind of meat or fish that comes off the grill. Think chicken, turkey, pork, and salmon. It's also great with beef. We like to grill a steak, slice it up nice and thin, and serve it in tortillas with the watermelon salsa and guac. This salsa would also be great with Margarita Grilled Shrimp or this awesome Beer Can Chicken.
Or you could just eat it this salsa as a salad, like I often do!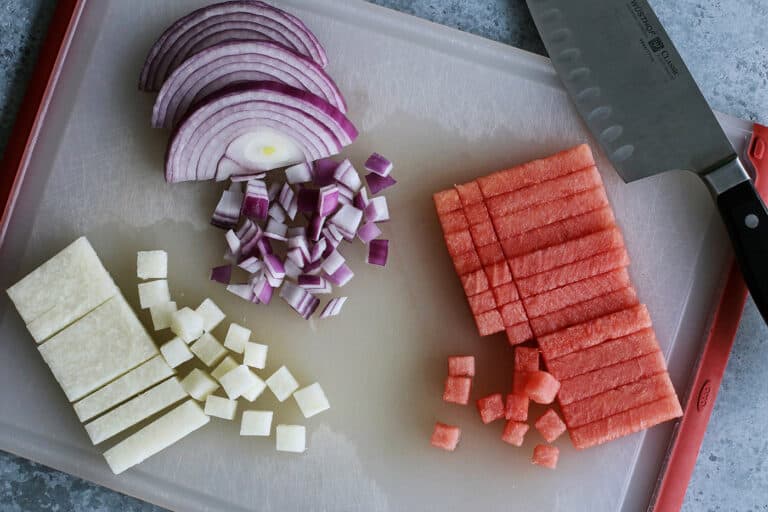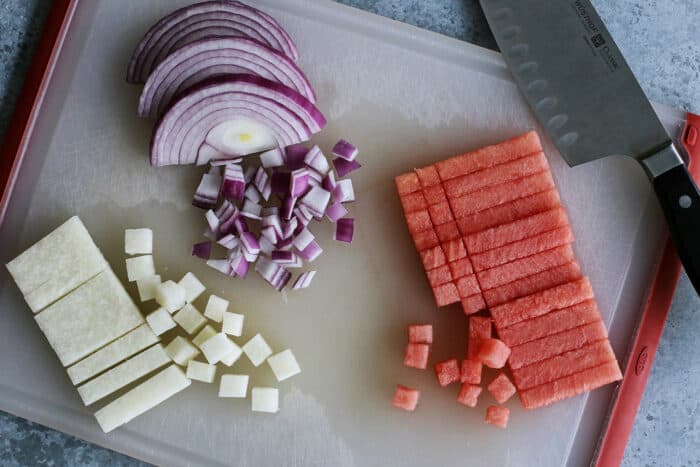 Tips for the Best Watermelon Salsa
I've made this salsa many, many times. Here are my best tips!
Use the freshest ingredients: When a recipe is comprised of all fresh ingredients, it is especially importance to use the best, freshest produce you can find. Just ask our girls – I am the queen of rummaging through the produce!
Dice small: For the best appearance and chip-dipping experience, I recommend dicing all of the watermelon, jicama, and red onion rather small – about 3/8″ to 1/2″ in size.
Mince the jalapeno: I like a little heat in fruit salsas – and I like it evenly distributed, without big chunks of hot pepper. So that's why I always mince the jalapeno nice and small.
Use only fresh limes: This is not a recipe to take the easy route with a lime juice concentrate. Use only freshly squeezed lime juice and you'll be rewarded with nothing but pure lime tartness.
Let the flavors mingle: I can never resist eating some of this watermelon salsa as soon as it's finished. But if you let the salsa chill in the fridge for an hour or two before serving, it's even better!
Make this salsa your own: Everyone has different likes and dislikes. So I encourage you to play around and tweak this salsa recipe to fit your taste buds. For example, if you really like heat, then use more jalapeno. I also offer more variations, just scroll down!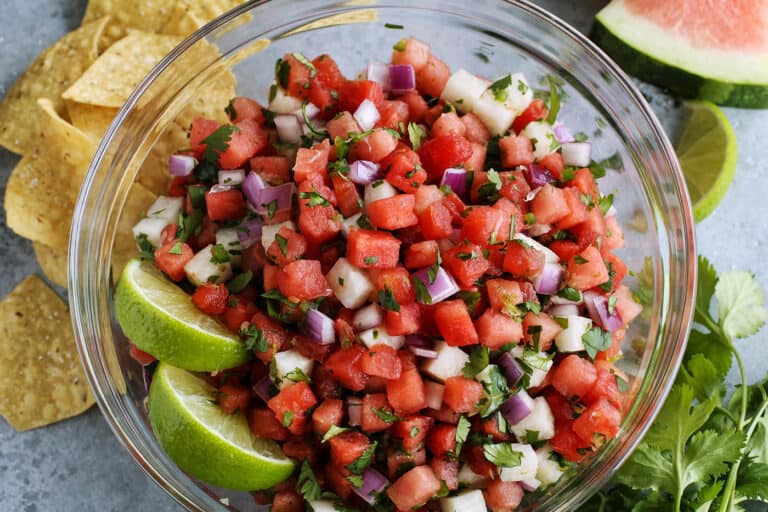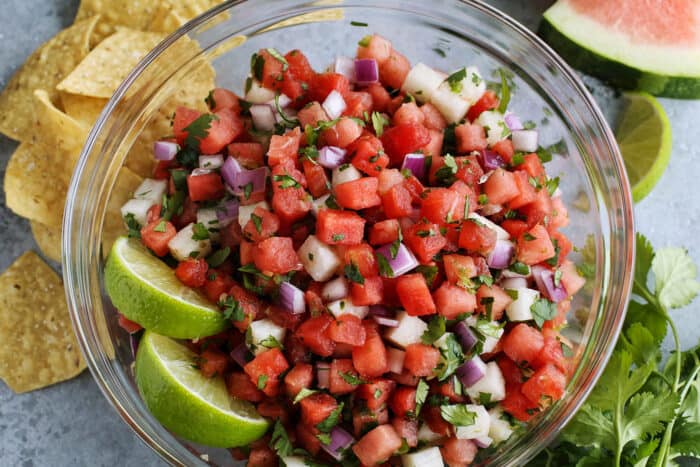 Can I Make Fresh Salsa in Advance?
Oftentimes, fresh salsa is BEST when it's made in advance. That's music to my ears when it comes to entertaining or simply managing our family's mealtime schedule!
For me, I prefer to make this salsa 1 to 2 hours prior to serving, and up to 6 hours in advance. I simply cover it and stick it in the fridge.
When the salsa is made further in advance than that, more juices accumulate as the watermelon breaks down in the acidic lime juice. But don't get me wrong, it's still good to eat after a day or two. I just prefer to make it only a couple hours in advance when serving it to guests.
Recipe Variations
Fresh salsa recipes are so easy and fun to play around with. You can totally make a salsa to fit your own favorite flavors.
Maybe you're not a fan of jicama? Then try some fresh cucumber.
Don't like cilantro? How about fresh mint or basil?
You could add some sweet bell pepper. Bites of diced yellow, green, or orange would add extra color, crunch, and flavor.
Want more fruit? How about diced fresh pineapple or mango?
I'd love to hear your own variations – do come back and let me know!
Like this recipe? Save it to Pinterest!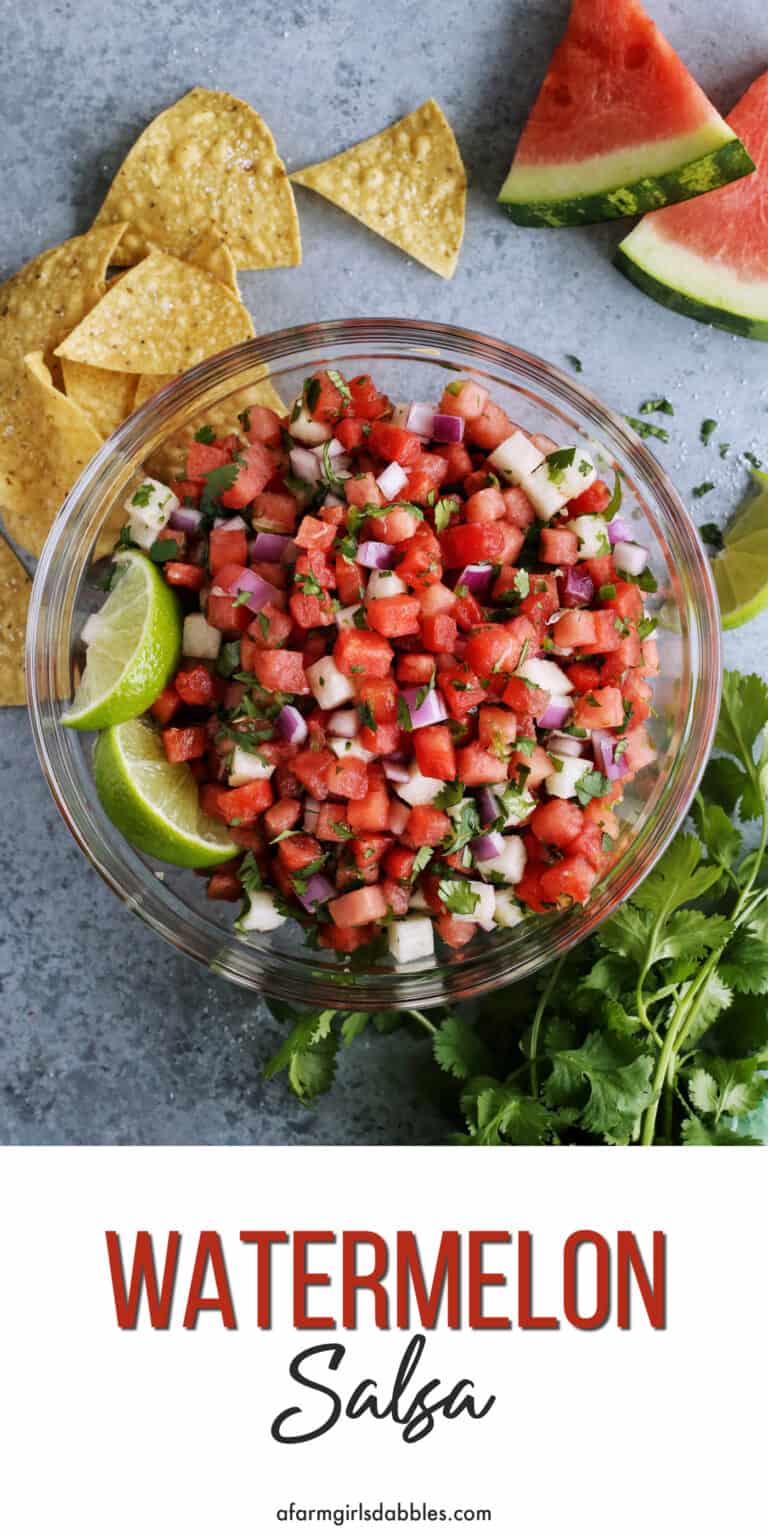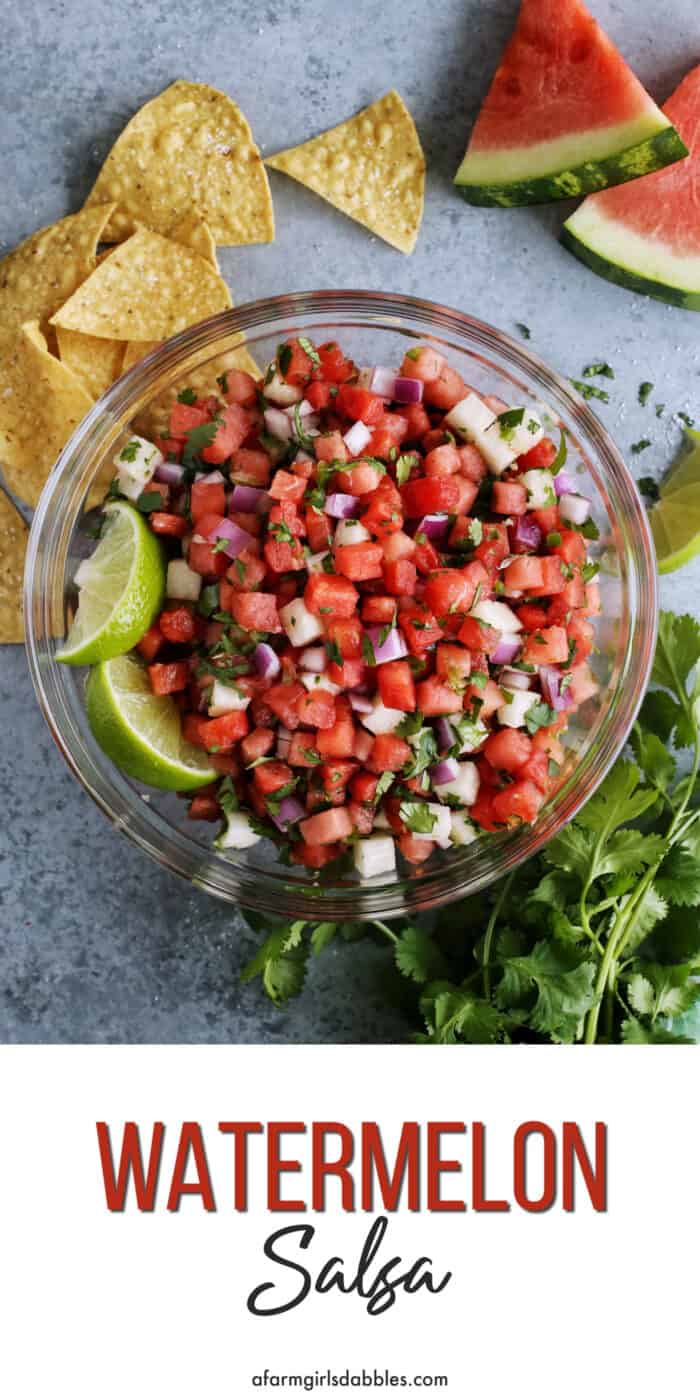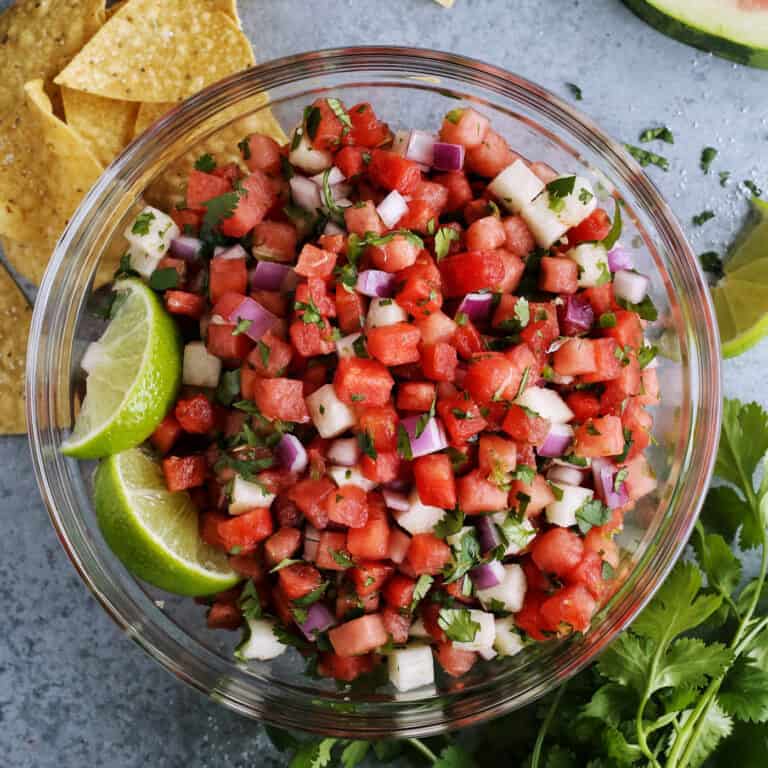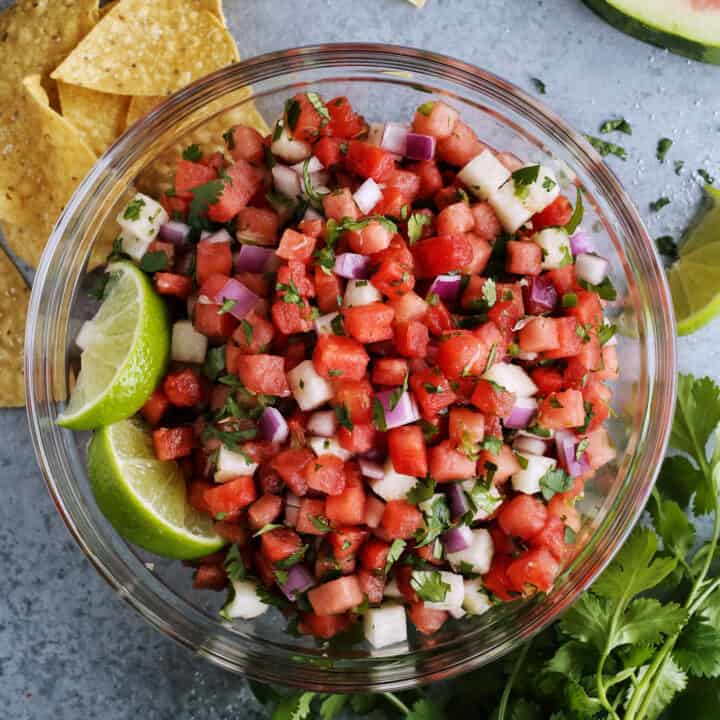 Watermelon Jicama Salsa
Yield: 12 servings
Prep Time: 25 minutes
Total Time: 25 minutes
Enjoy this juicy, colorful Watermelon Salsa with nachos or your favorite tacos, or as a topping for grilled meats and fish.
Ingredients
4 c. diced seedless watermelon (try to get the pieces fairly small, about 3/8" to 1/2" in size)
1.5 c. diced jicama, cut the same size as the watermelon
1/3 c. diced red onion, cut the same size as the watermelon
2 tsp. seeded and minced jalapeno pepper (or more, to taste)
1/2 c. chopped fresh cilantro
1/2 c. freshly squeezed lime juice
zest of 1 lime
1/2 tsp. kosher salt
Instructions
In a large bowl, fold together watermelon, jicama, jalapeño, cilantro, red onion, lime juice and zest. Adapt the ingredients to your liking, adding more jalapeño and onion if you like a bit more of a kick.
Sprinkle salt evenly over the top and fold again to combine. Serve chilled or at room temperature with tortilla chips, tacos, or any of your favorite Mexican dishes. Also great with grilled chicken and fish!
Notes
This recipe can easily be prepared earlier in the day - and I actually think it's better after it has chilled in the refrigerator for a few hours, to let all the flavors mingle.
Recipe inspired by our Southern Caribbean cruise on The Breeze with Carnival Cruiseline.
Nutrition Information:
Yield: 12
Serving Size: 1
Amount Per Serving:
Calories: 43
Total Fat: 0g
Saturated Fat: 0g
Trans Fat: 0g
Unsaturated Fat: 0g
Cholesterol: 0mg
Sodium: 99mg
Carbohydrates: 11g
Fiber: 1g
Sugar: 7g
Protein: 1g
Nutrition information is automatically calculated by Nutritionix. I am not a nutritionist and cannot guarantee accuracy. If your health depends on nutrition information, please calculate again with your own favorite calculator.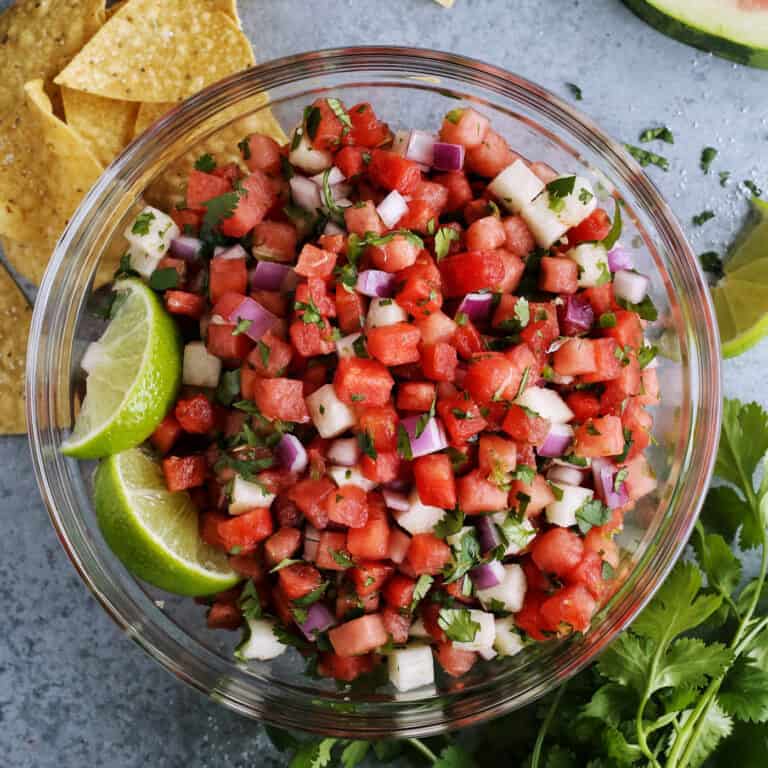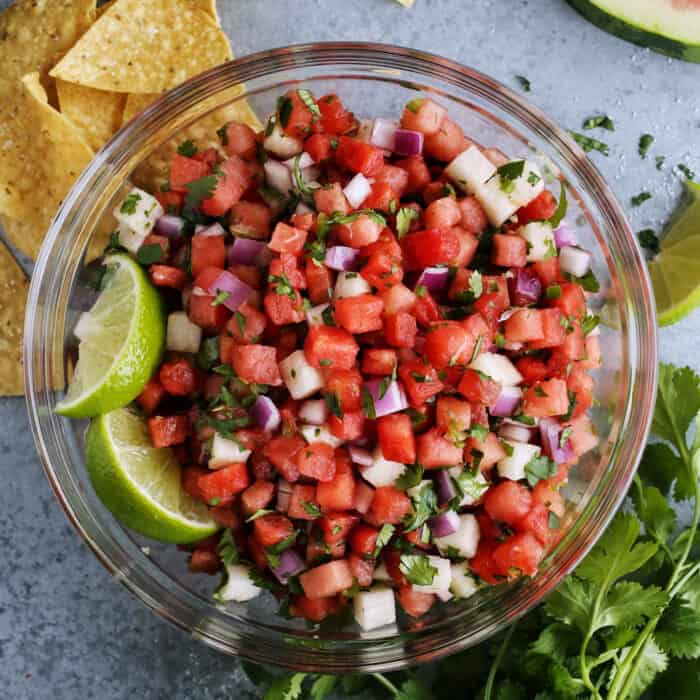 .
---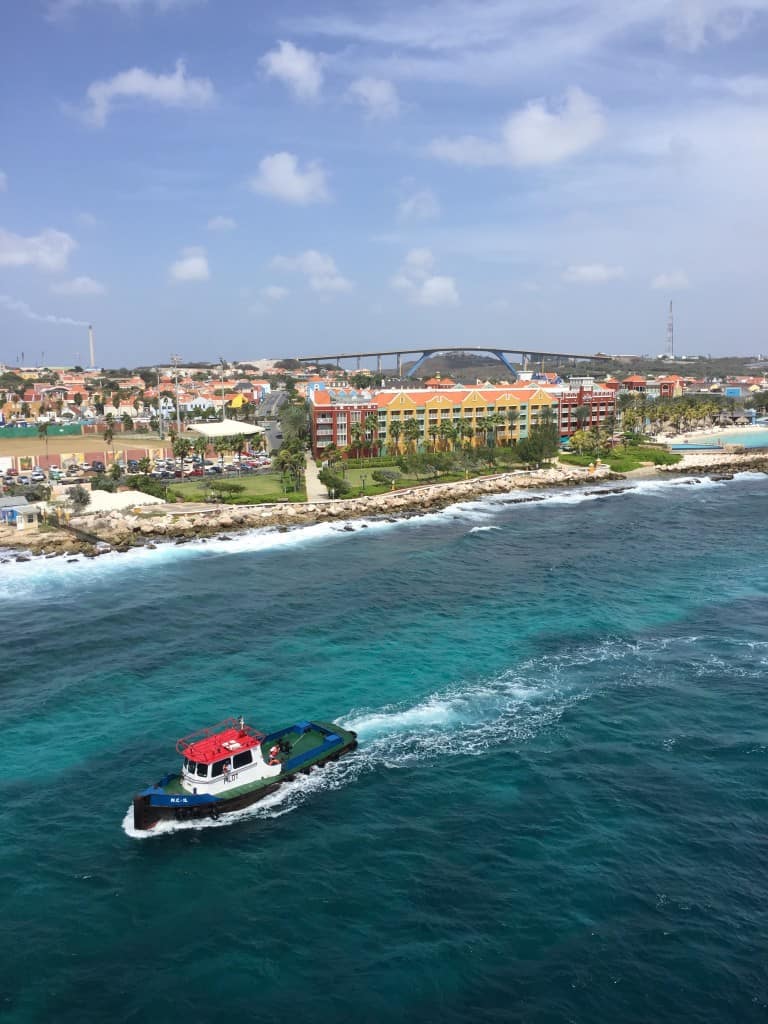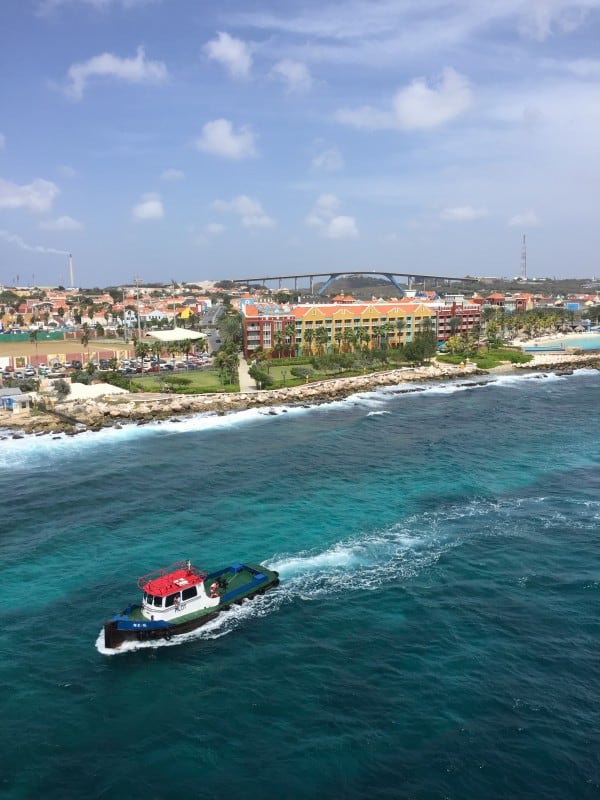 One of the ports we stopped at on our Southern Caribbean cruise on the Carnival Breeze was Willemstad, the capital of Curaçao. Located just 35 miles north of the coast of Venezuela, this small island locale was the farthest south any members of my family has ever ventured. We arrived under big blue skies, soaking up the super warm sun on our skin.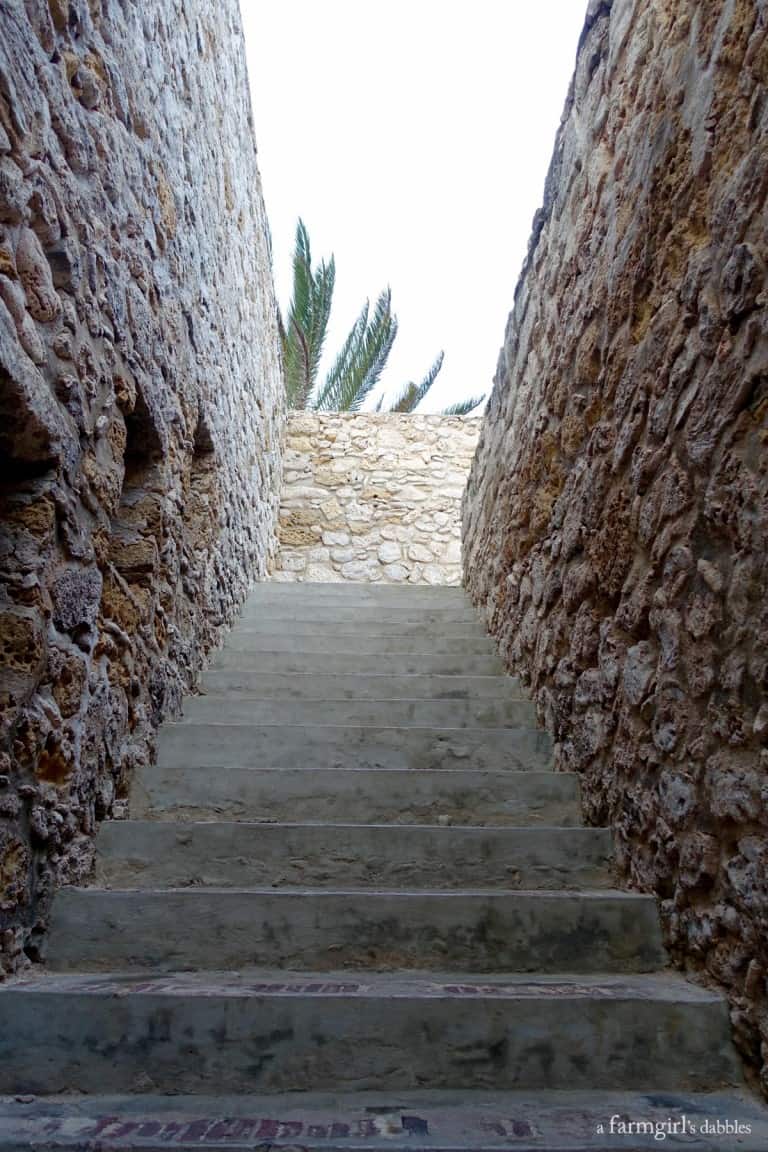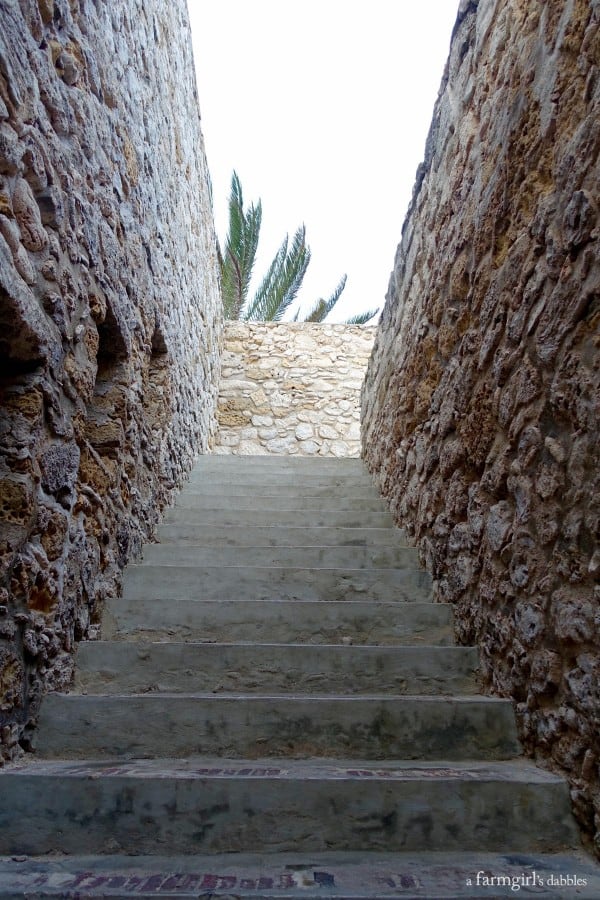 Curaçao is part of the Kingdom of the Netherlands, and has changed hands many times over the years. Because of this history, the island's population comes from a number of ethnic backgrounds. There is an Afro-Caribbean majority of African descent due to its slave trade history, and also sizeable minorities of Dutch, Latin American, French, South Asian, East Asian, Portuguese and Levantine people.
When the Dutch arrived in 1634, they built forts at key points around the island to protect themselves from foreign powers, privateers, and pirates. Many of the forts have been preserved, and we were able to explore the Rif Fort as we entered Willemstad. This old fort now houses restaurants and shops, and is a quaint space to grab something to eat or drink.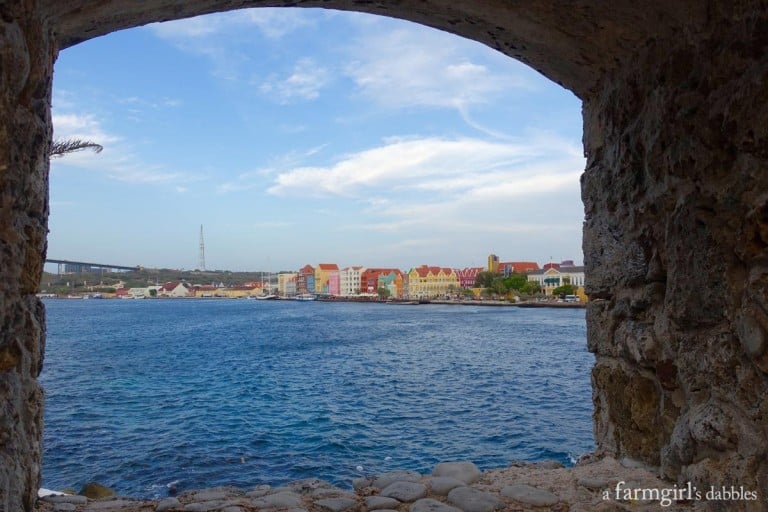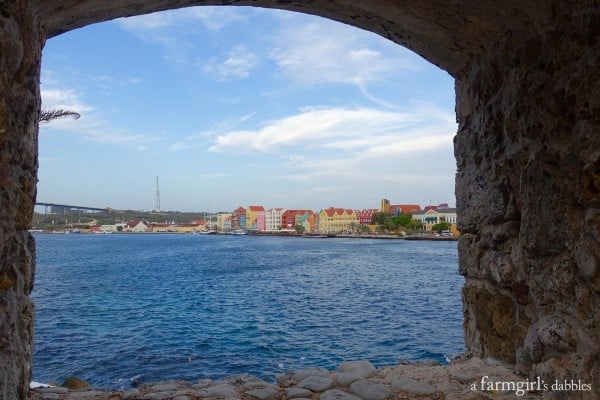 From the upper level of the fort, we caught our first glimpse of that famous row of brightly colored buildings across Santa Ana Bay.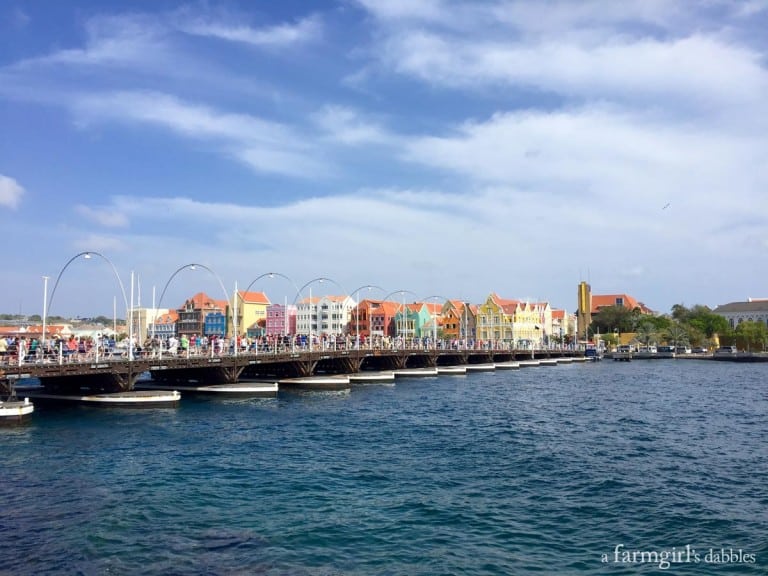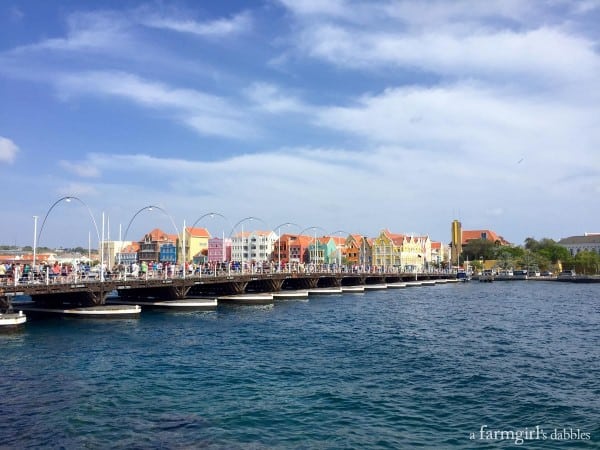 Walking along the bay, we reached the 19th-century Queen Emma Bridge, a 551′ long pontoon bridge that connects pedestrians between the Punda and Otrobanda districts. The bridge swings open to allow ships to pass to and from the port.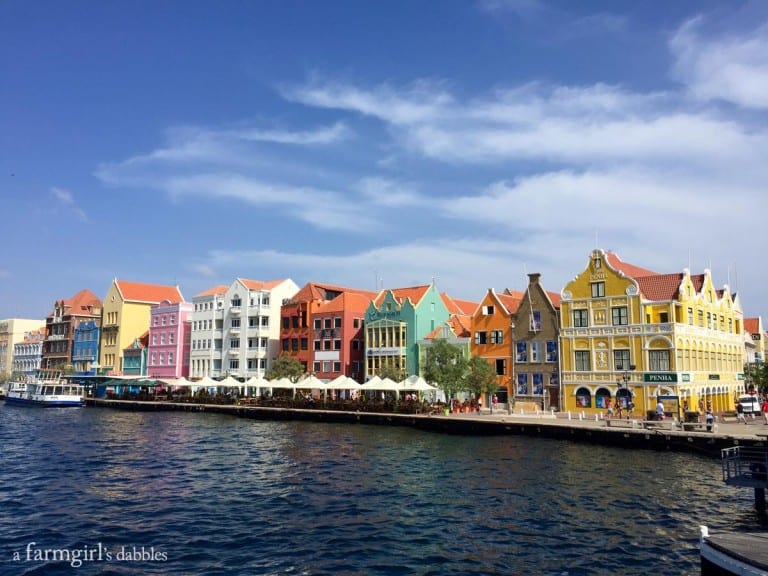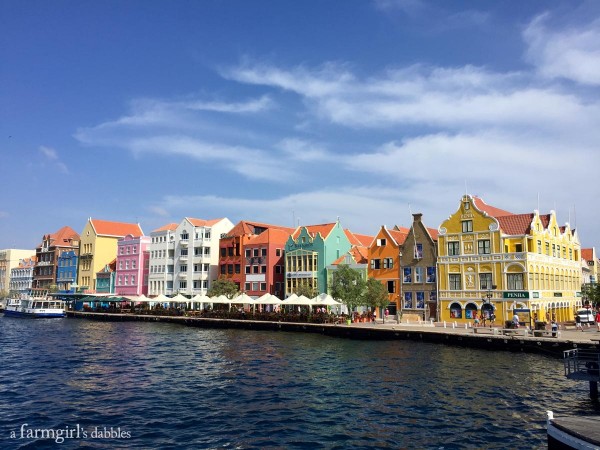 .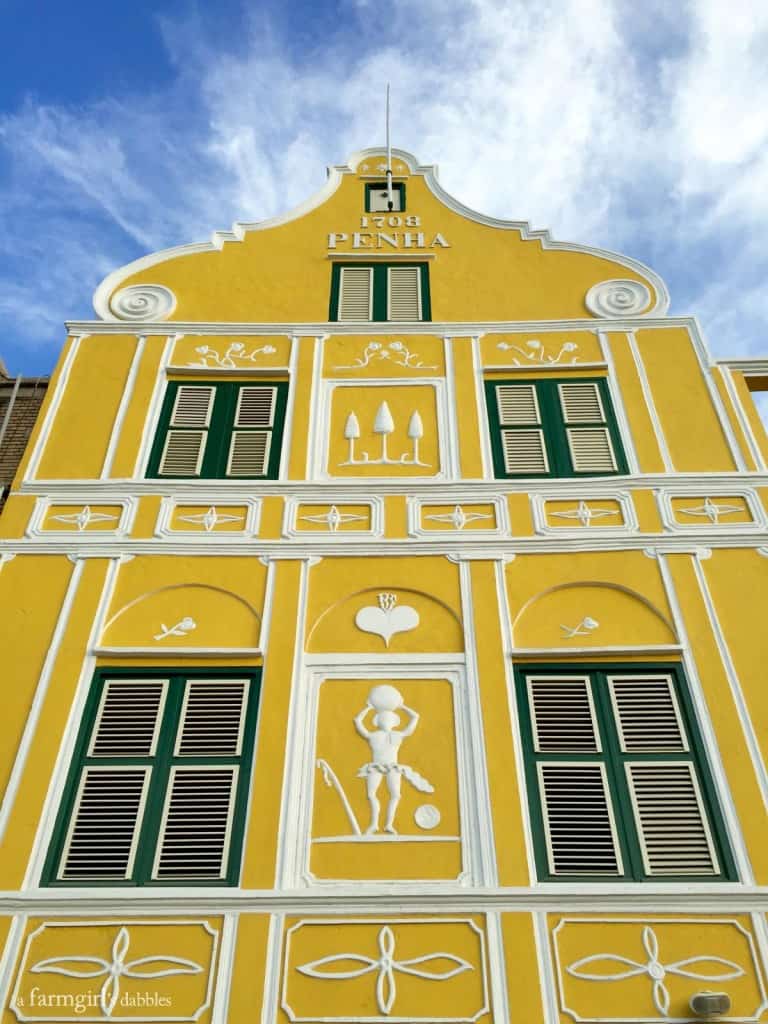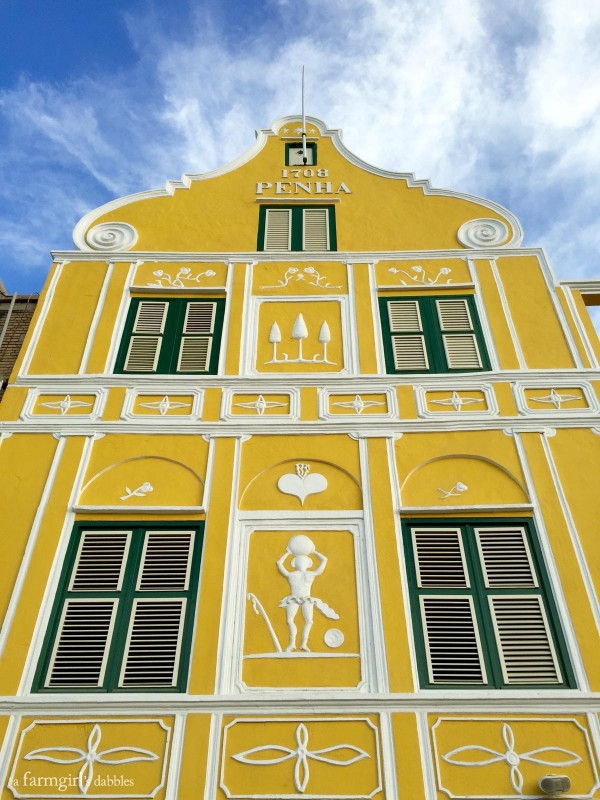 We made our way across the bridge to stand face to face with these beautiful Dutch and Spanish colonial buildings, all decked out in bright Caribbean hues. The Penha building was built in 1708, originally the private residence of the widow of a former Dutch governor. It now contains the Penha flagship store, selling top fragrances, cosmetics and apparel. More Penha stores can be found on several other islands in the Caribbean.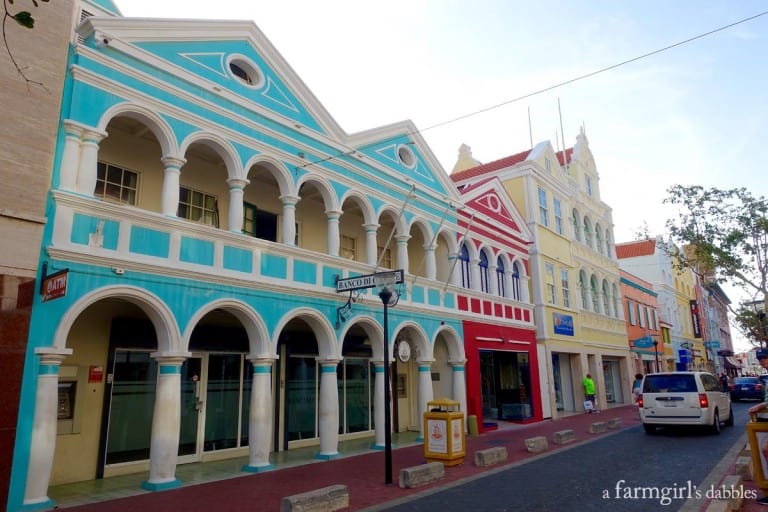 Due to its wide range of historic buildings, Willemstad and its nearby surroundings have been designated as a UNESCO World Heritage Site.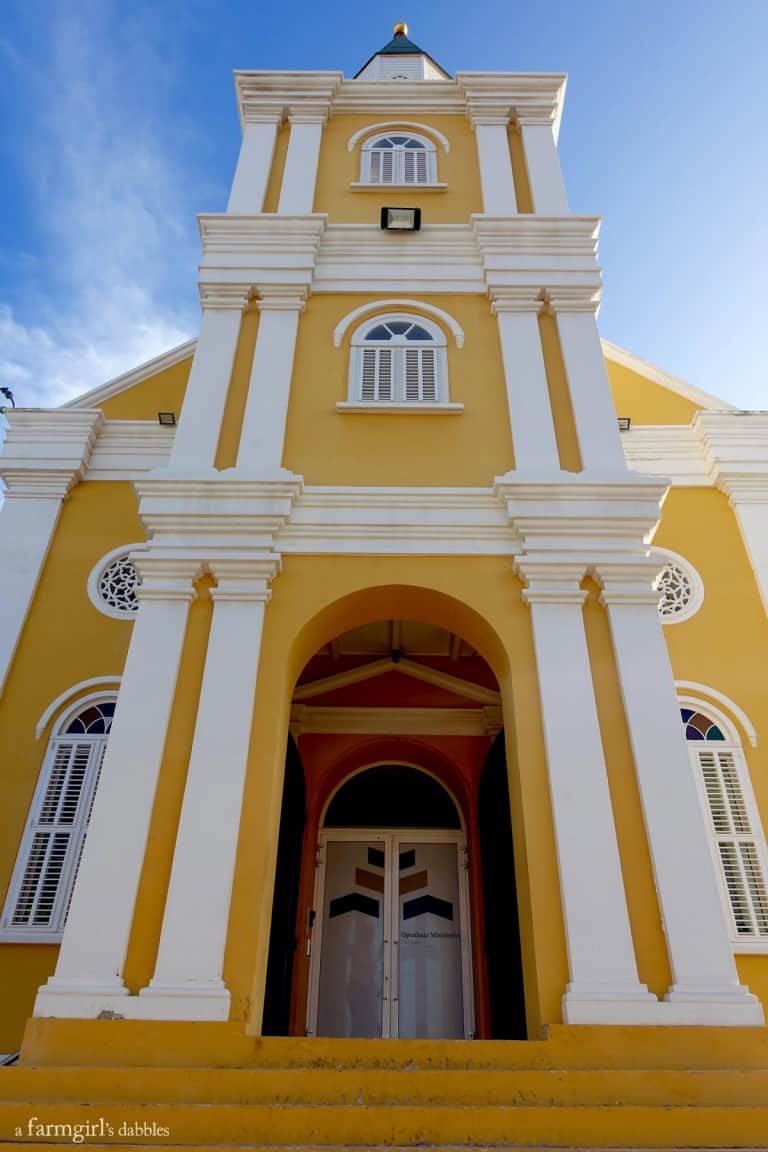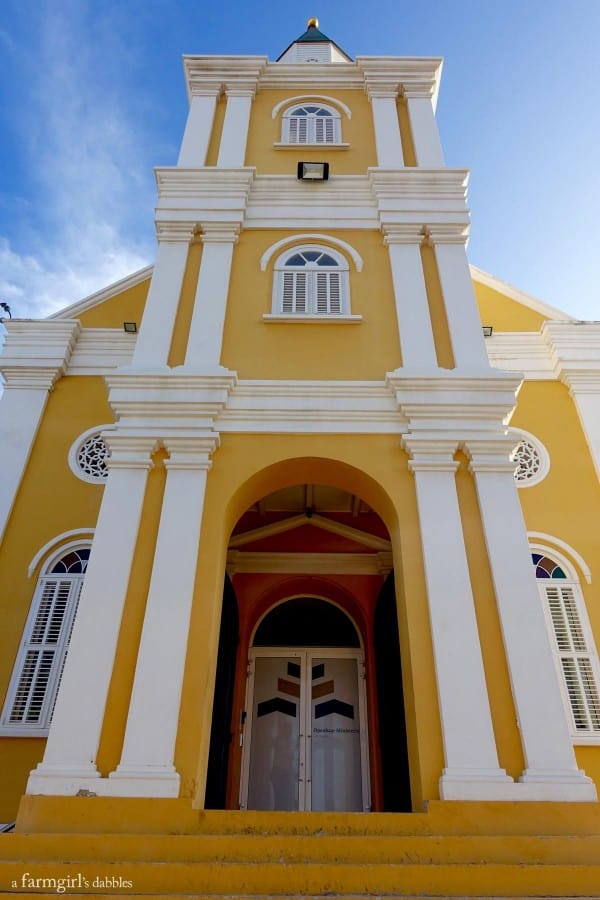 We arrived at the Mikvé Israel-Emanuel Synagogue just as it was locking up for the day. This is the oldest synagogue in continuous use in the Western Hemisphere, established by Jewish families from Amsterdam who were fleeing religious persecution in their home land.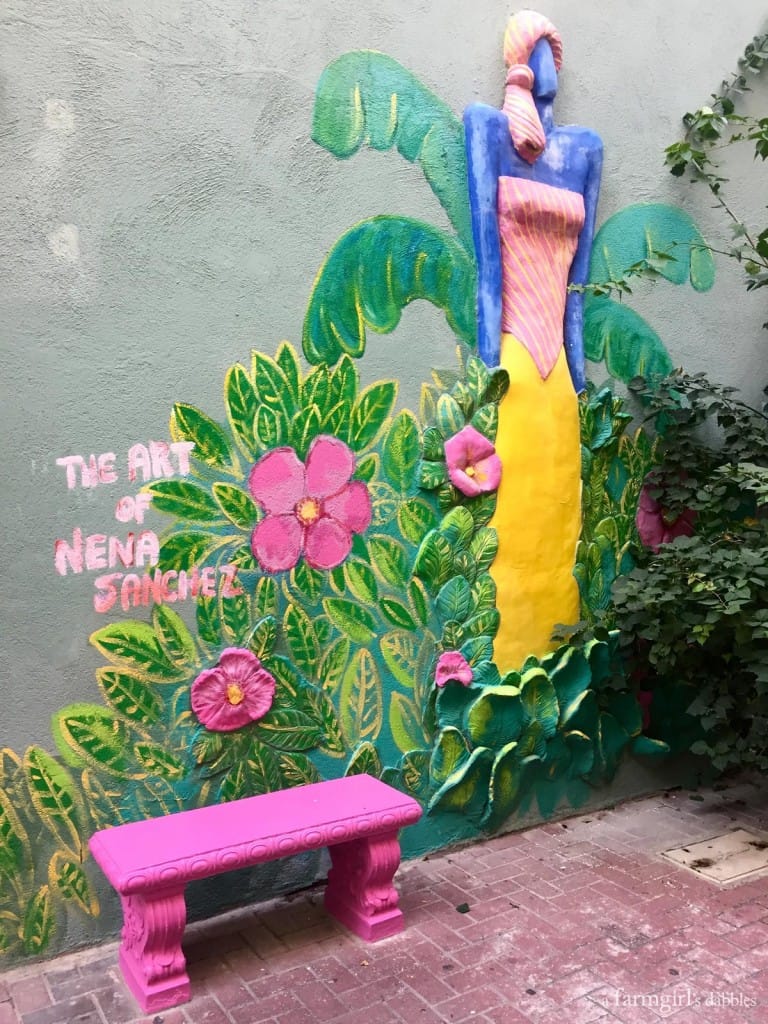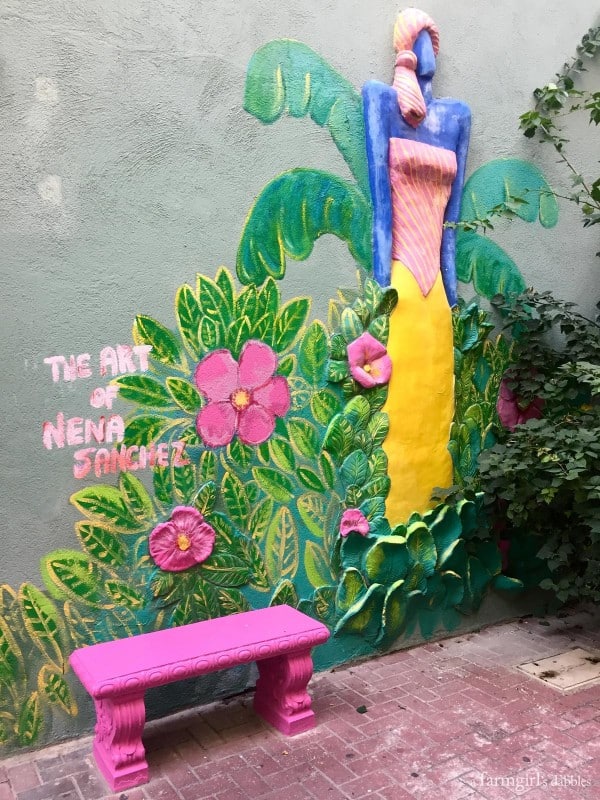 As we walked through the town, several murals caught our attention. They were all painted vibrantly, and most of them incorporated some form of three-dimensional artwork.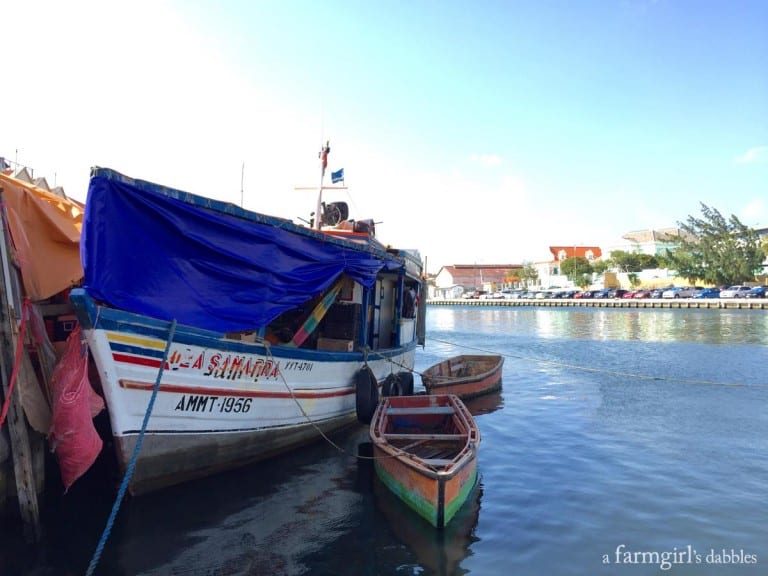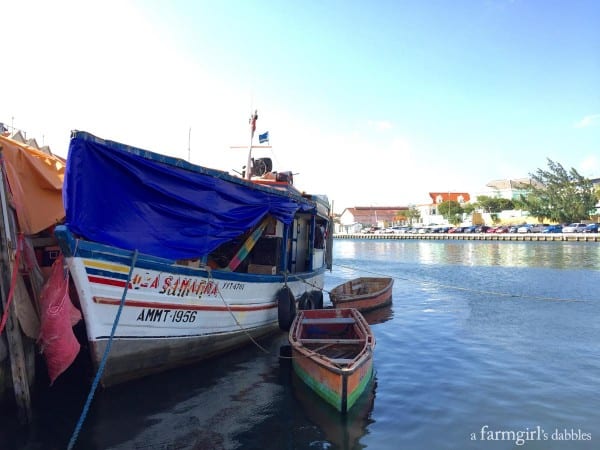 We sought out the Floating Market, where local boats tie up alongside those from Venezuela and other West Indian Islands.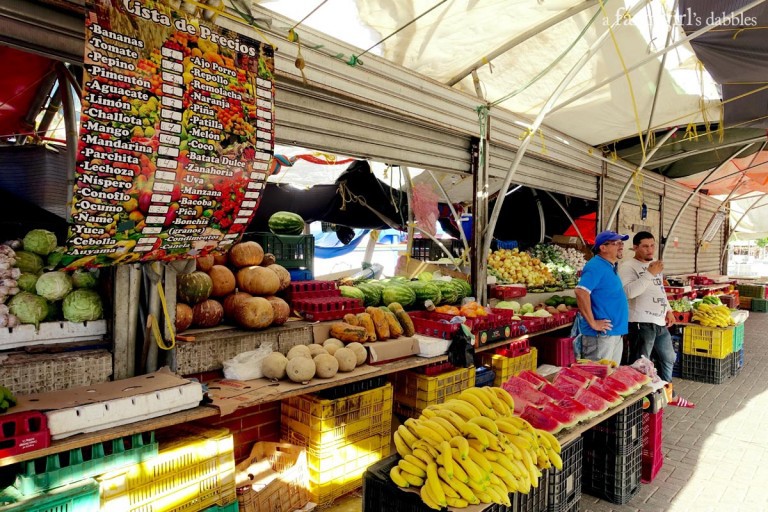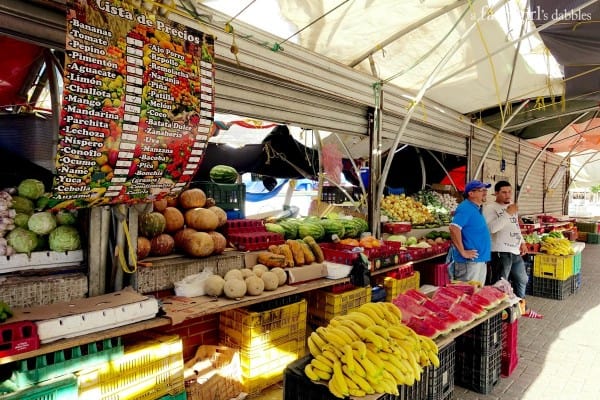 Their captains sell everything from fresh produce to fish to handicrafts.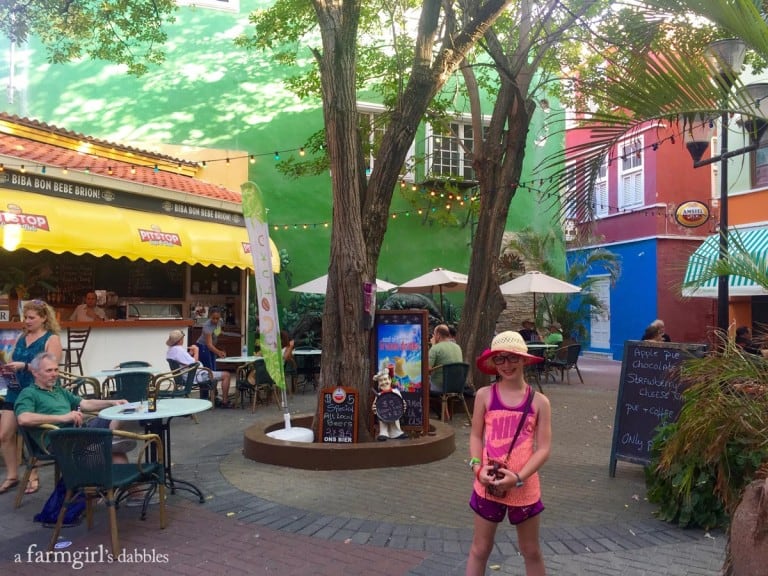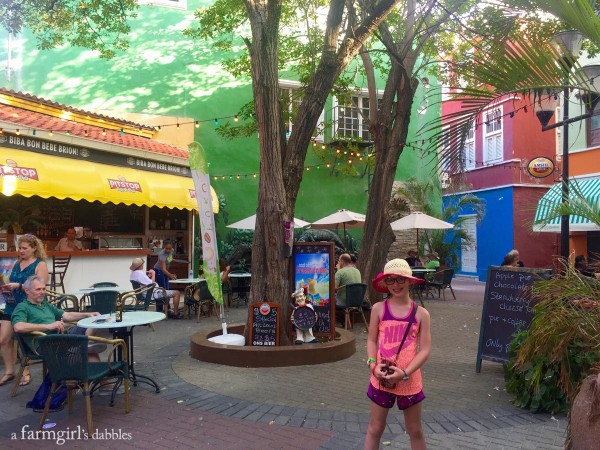 This was one of our favorite little spots, at a crooked junction of narrow streets just off the beaten path.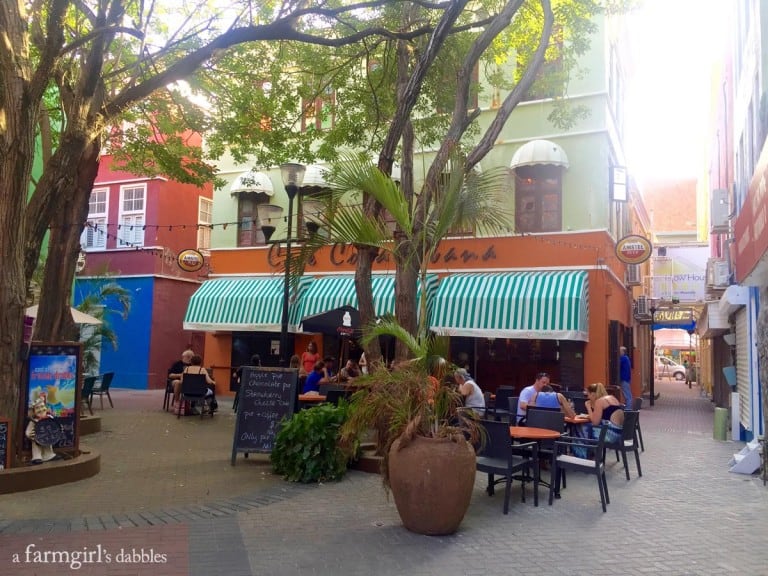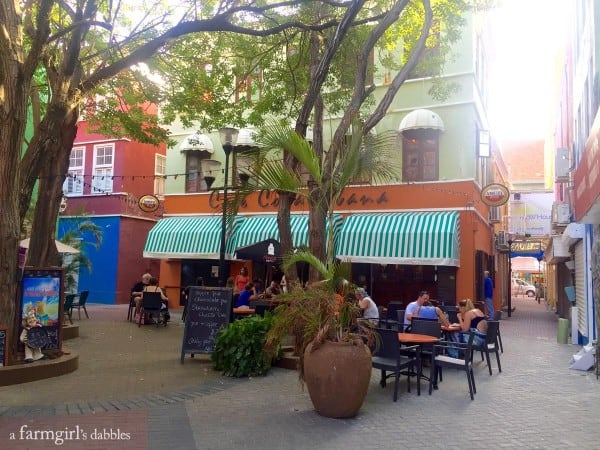 We grabbed a table in the outdoor courtyard, at the Cafe Copa Cabana. It felt good to get off our feet and out of the sun, to cool off under the shade of tall old trees.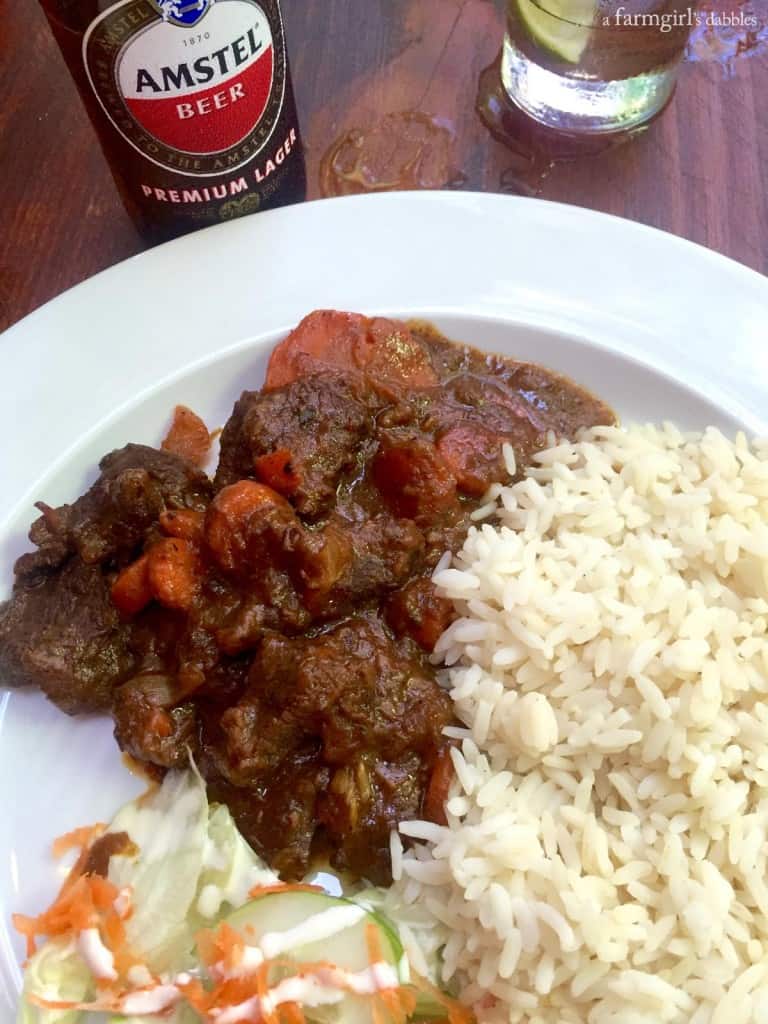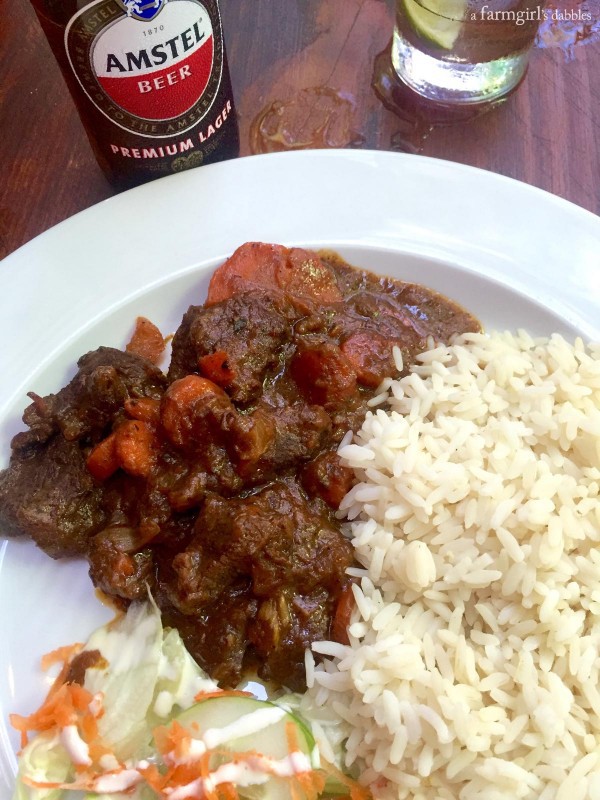 Their menu offered a nice variety, including offerings of local island cuisine. I ordered the carne stoba, a popular beef stew in Curaçao. The beef was fork-tender in a warmly spiced and thickened broth. I'd order it again in a heart beat. Service was a bit slow (relaxed island pace?), but the tables were full and our waitress was completely lovely.
Also note the cold bottle of Amstel beer. Amstel has a factory near Willemstad, but it is no longer active. They were the only brewery in the world to make beer from desalinated sea water. A fun thing I learned, had to share. :)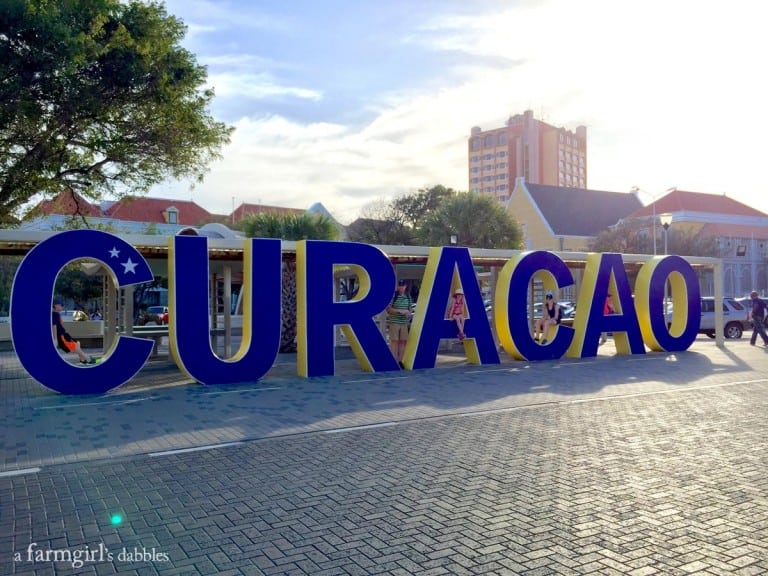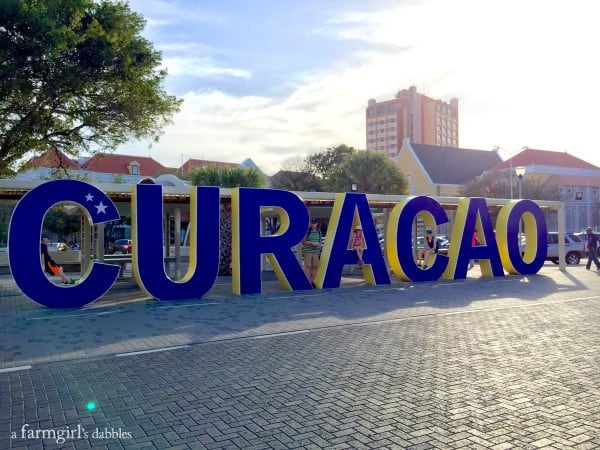 Touristy photo opp, yes. But why not?!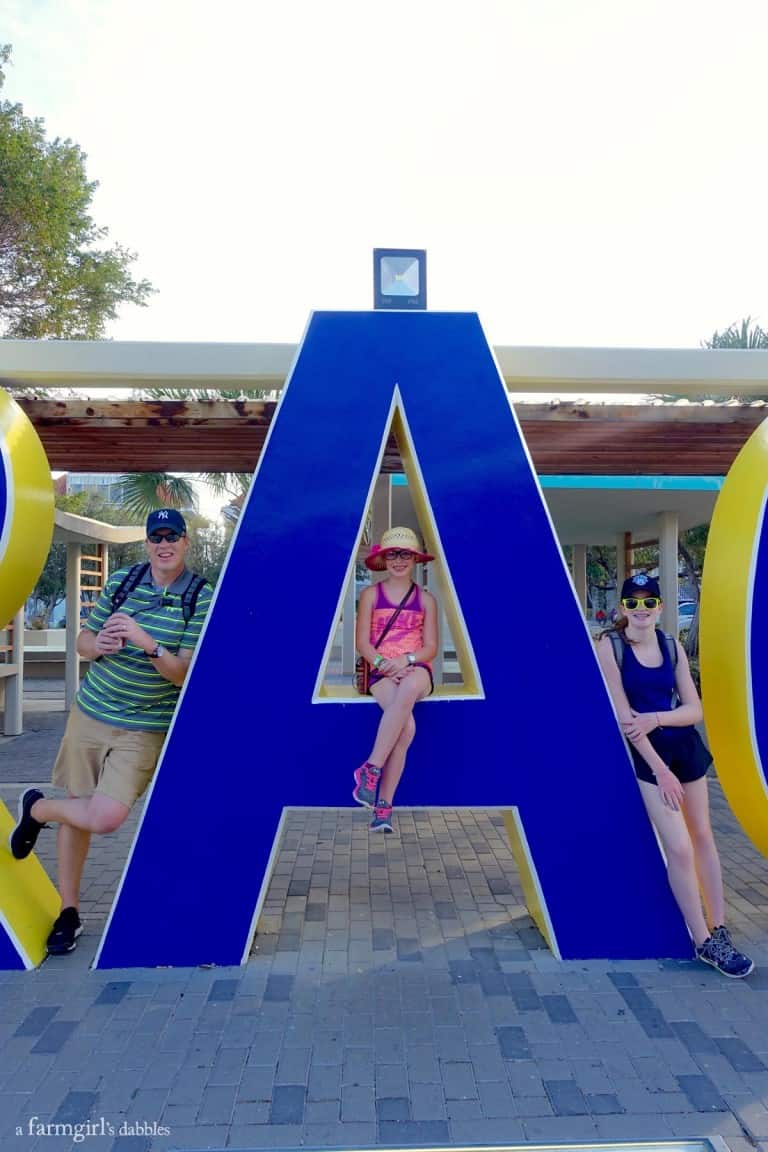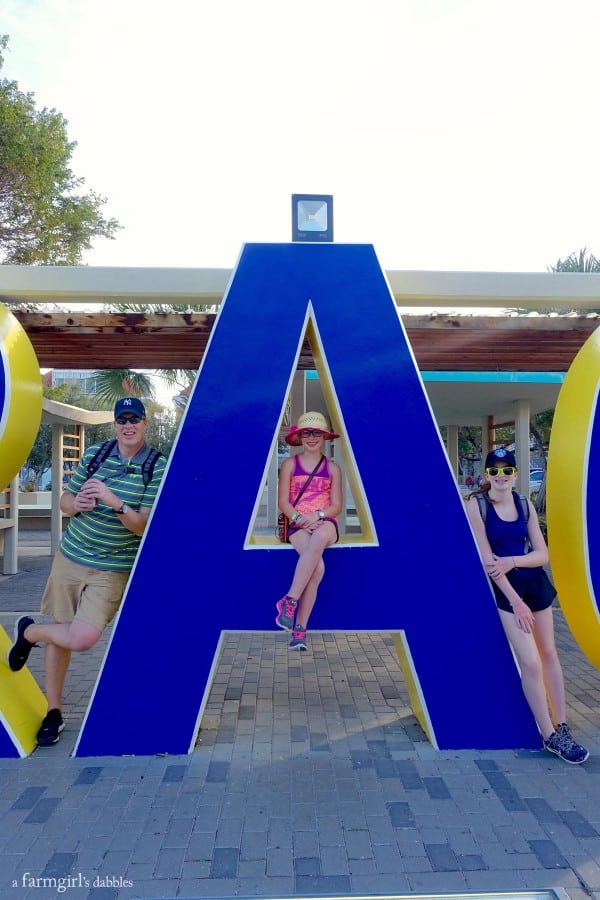 By the time this photo was taken, the sun was well into its descent and the temperature was cooling a bit. We headed back to the Rif Fort for a little souvenir shopping and snacking before getting back onto the ship.
When I saw a man at a tiny kiosk making homemade stroopwafels (a thin waffle and caramel sweet treat that originated in the Netherlands), I had to purchase one. The caramel smell was intoxicating, fragrant with brown sugar, butter, and cinnamon. It was hot and gooey and utterly delicious. Then we shared a couple ice cream cones. And just to say I tried it where it was made, I ordered a cocktail made with the famous electric blue Curaçao liqueur. Genuine Curaçao Liqueur is made from the peels of the "Laraha" (the bitter orange native of Curaçao), at a small distillery that is more than 120 years old.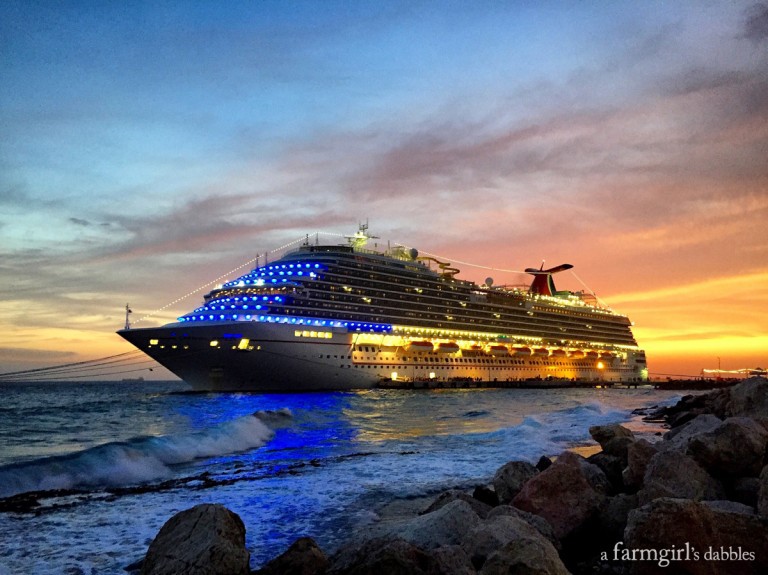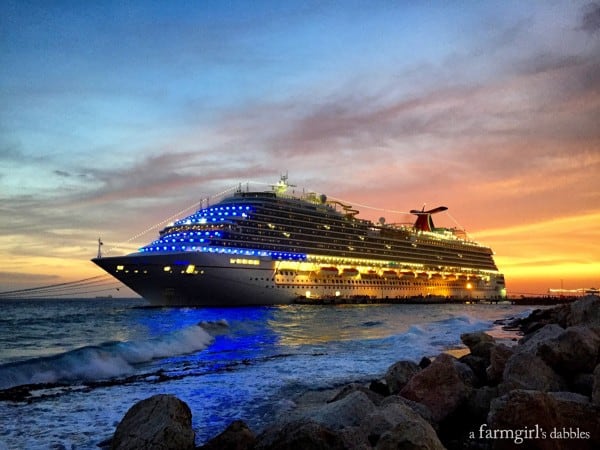 Then we left the fort, just in time to take in the scene of the Carnival Breeze with the most amazing backdrop. We sat along the shoreline, mesmerized by the colorful sunset, relaxed and tired and so very grateful for all the new experiences our family was having together on this amazing trip.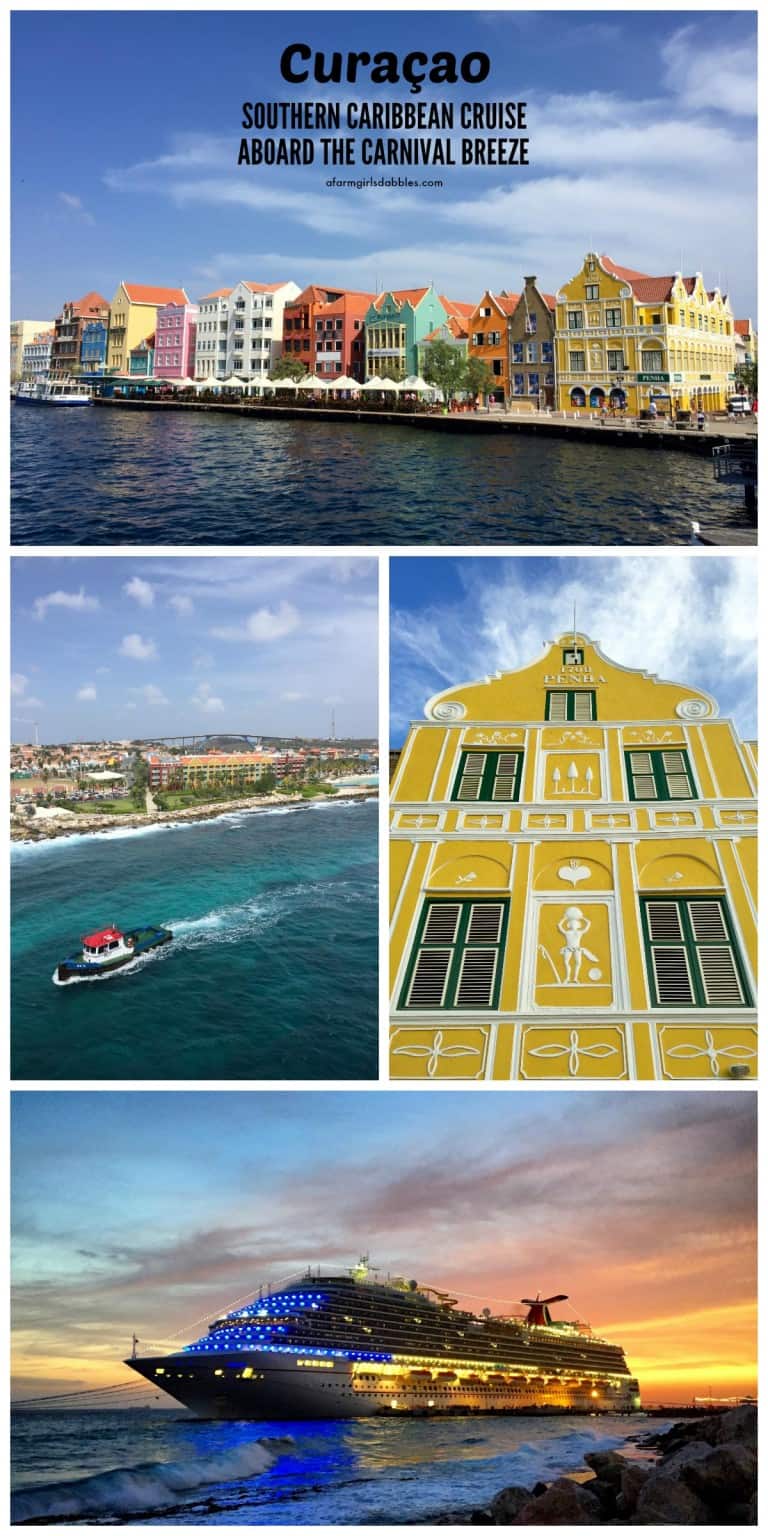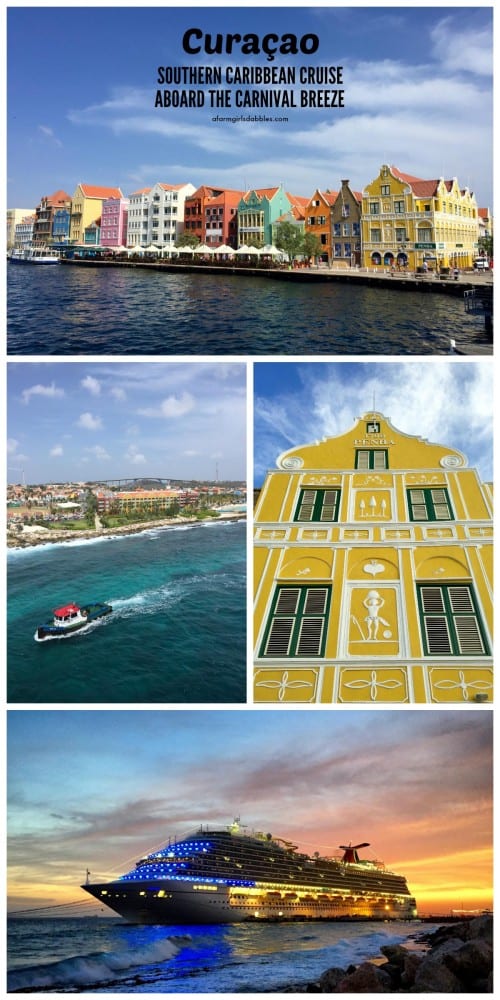 For more travel from a farmgirl's dabbles, be sure to follow along on Pinterest!
Follow a farmgirl's dabbles TRAVEL on Pinterest.


Disclosure: Our family was honored to be guests aboard the Carnival Breeze with Carnival Cruise Line. All opinions are 100% my own.