Cherry Tomato and Ground Cherry Salsa
Enjoy this fresh, sweet Cherry Tomato and Ground Cherry Salsa over grilled fish or chicken, or scoop it up with salty tortilla chips.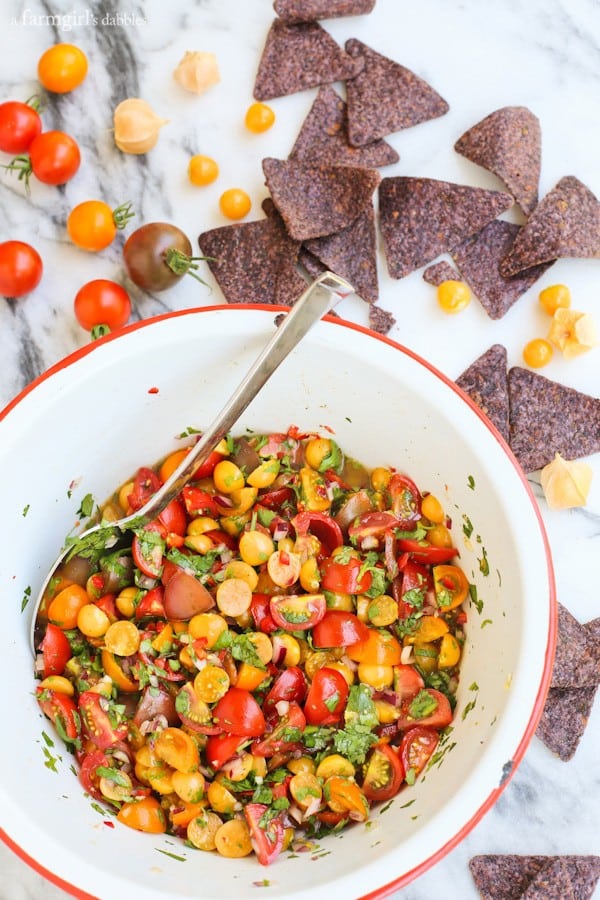 Even though I'm feeling the end-of-summer and back-to-school blues, there is much to be happy about this time of year. Especially when it comes to our garden's produce and what can be found in abundance at the local farmers markets. Our dinner tables and backyard gatherings are alive with the colors and flavors of harvest, our bodies relishing every last sweet, sweet bite. Tomatoes, sweet corn, zucchini, cucumbers, peppers; the list goes on and on.
Our new strawberry patch is currently experiencing a coming-alive, filling our little containers to the brim with bright, ruby berries almost every day. Those strawberries feel like a precious gift right now, mid-August, a promise of all the goodness that will continue to return to us year after year, if we only give our garden a little tending to.
Another garden marker that's giving us quite the delight right now is our ground cherry plant. It's a new item to our garden plant roster, and has turned out to be a fun one. We've been making batches of this Cherry Tomato and Ground Cherry Salsa, each new bowl disappearing faster than the last.
[rss-cut]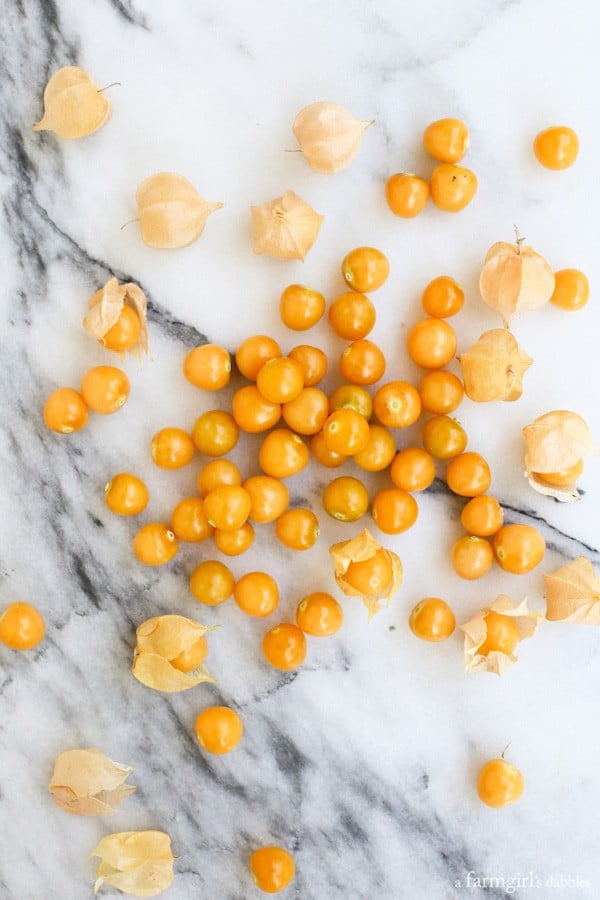 I was first introduced to ground cherries a couple years ago at a local restaurant. These sweet little beauties were used in a chutney on a cheese plate and then again in a sauce for dessert. I had never heard of them before, and was definitely impressed with my first experiences eating them.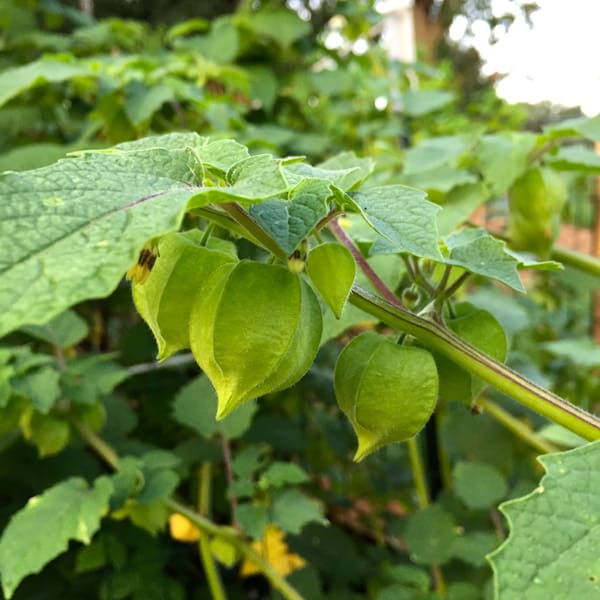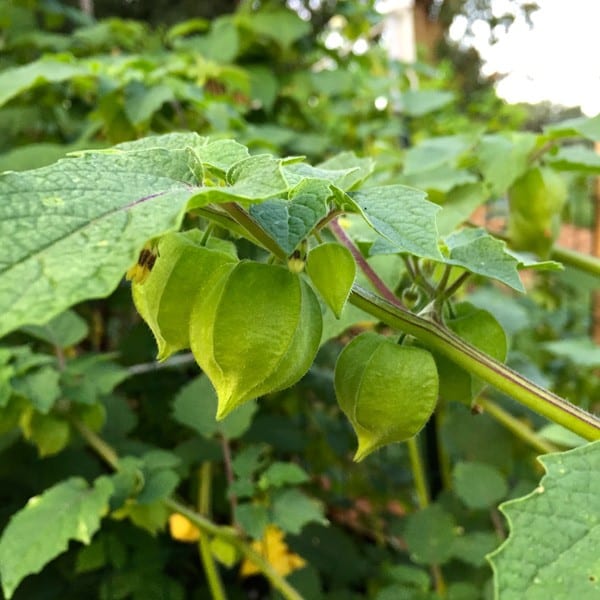 I have kept an eye out for ground cherries on restaurant menus ever since. But, sadly, haven't had any further encounters. They're not extremely easy to find at farmers markets, either. So when I saw a small ground cherry plant at our local nursery, I promptly snatched it up and Tessa helped me find a place for it in our garden.
Ground cherries are sometimes called husk cherries or husk tomatoes. And from what I've found, are similar to a cape gooseberry. They are a small orangish-yellow fruit wrapped in a thin, crinkly paper husk, reminding me of a tomatillo. Ground cherries have a very unique flavor that is hard to put into words. Sweet, mellow, slightly tart, earthy, tomato, pineapple, vanilla…all these words float through my head as I ponder this fun little fruit.
How to tell when they're ripe? When their husks have turned to a golden parchment color and they have actually fallen to the ground. Ground cherries, quite the appropriate name.
Our girls are on the fence whether they really like ground cherries or not. But when I made a salsa with ground cherries and cherry tomatoes from our garden, they loved it, and even commented how well the ground cherries worked with the salsa.
One morning, before I left for work, I left them with a bowl of goodness I had just picked from the garden (see picture above). I asked them to make a bowl of salsa, however they wanted, and said that we'd enjoy it with our tacos that evening. They did such a great job. The salsa was excellent, but what was even better was to see the pride on their faces, all because they made something fresh and delicious without a recipe or instructions from Mom or Dad.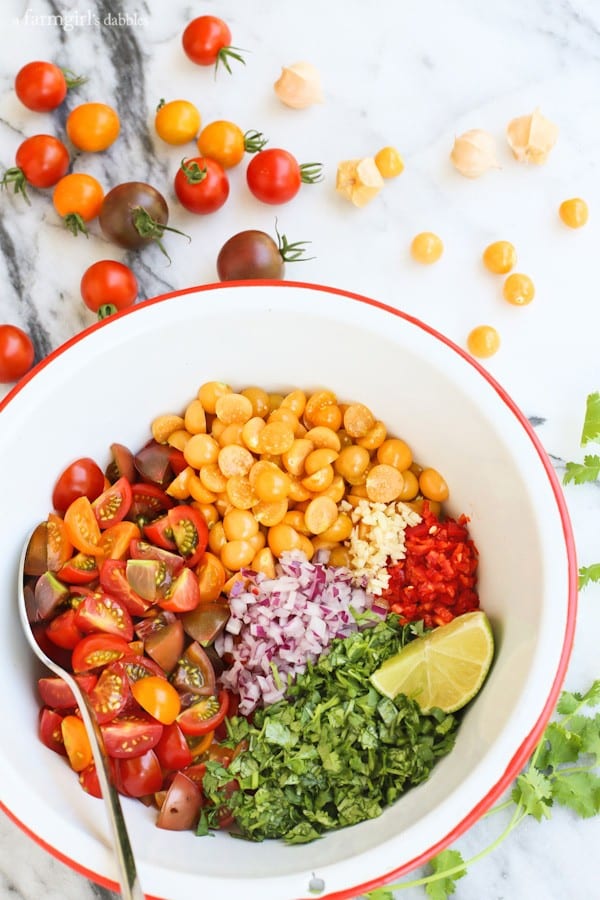 This cherry tomato and ground cherry salsa utilizes all kinds of freshness. With a little slicing, chopping, and mincing, it comes together in no time at all.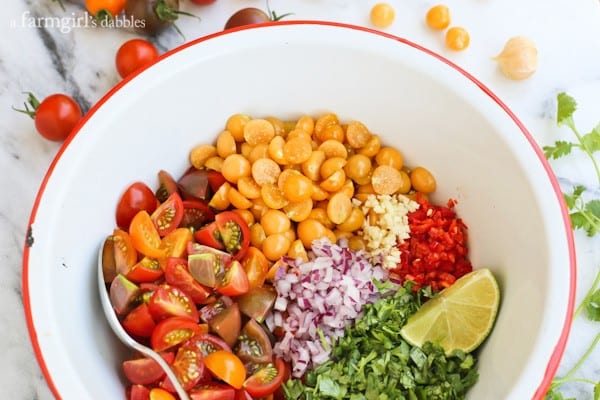 The salsa adds beautiful flavor and color when spooned over grilled fish or chicken.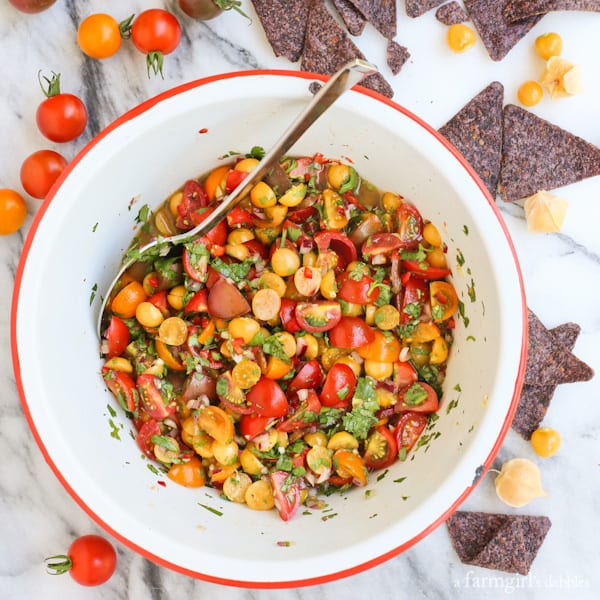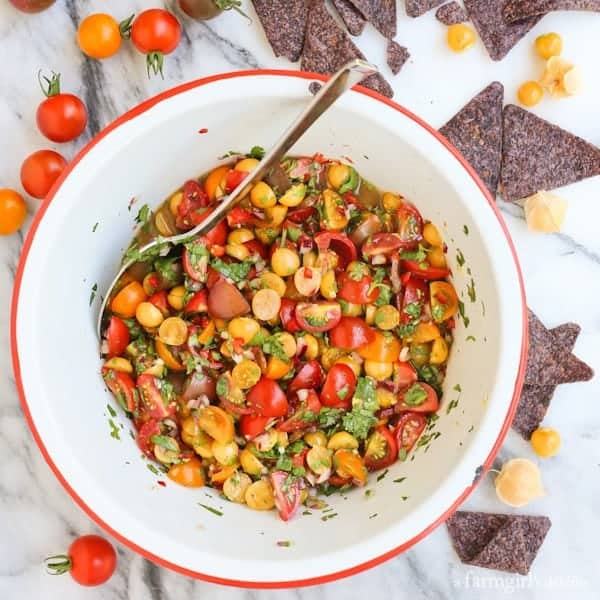 But most wonderful of all is when this sweet, fresh salsa is scooped up by a salty tortilla chip and delivered directly to my mouth. One crispity-crunchity chip after another…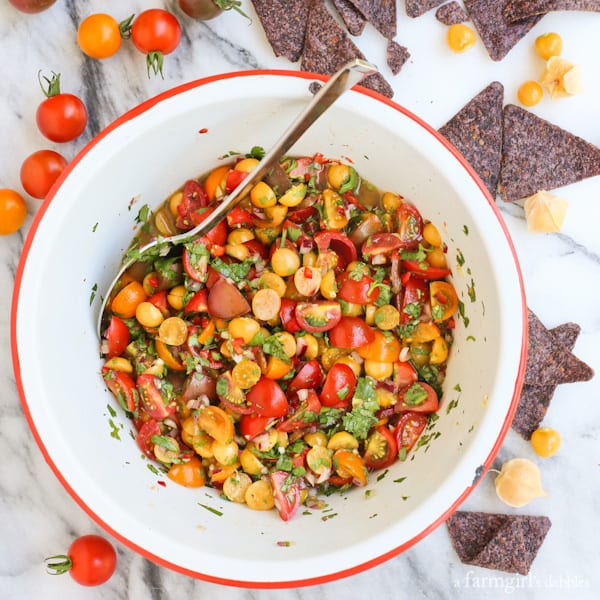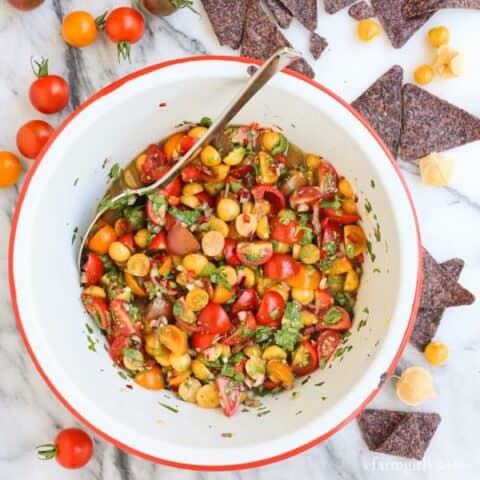 Cherry Tomato and Ground Cherry Salsa
Yield: 3 to 4 cups of salsa
Prep Time: 20 minutes
Total Time: 20 minutes
Enjoy this fresh, sweet Cherry Tomato and Ground Cherry Salsa over grilled fish or chicken, or scoop it up with salty tortilla chips.
Ingredients
2 c. quartered cherry tomatoes
1 c. halved ground cherries
1/3 c. finely chopped red onion
1 garlic clove, minced
2 T. minced red chili
1/2 c. finely chopped fresh cilantro
3 T. fresh lime juice
1 T. extra virgin olive oil
1/4 tsp. cumin
1/8 tsp. kosher salt
1/8 tsp. freshly ground black pepper
Instructions
In a medium bowl, fold together cherry tomatoes, ground cherries, onion, garlic, chili, and cilantro.
Drizzle the lime juice and olive oil over the top, folding a couple times to incorporate. Then sprinkle with cumin, salt, and pepper. Fold again to bring it all together.
Enjoy immediately or refrigerate for an hour or two before serving.
Serve with tortilla chips, or over grilled fish or chicken.
Notes
from a farmgirl's dabbles
Nutrition Information:
Yield: 16
Serving Size: 1
Amount Per Serving:
Calories: 21
Total Fat: 1g
Saturated Fat: 0g
Trans Fat: 0g
Unsaturated Fat: 1g
Cholesterol: 0mg
Sodium: 27mg
Carbohydrates: 3g
Fiber: 0g
Sugar: 1g
Protein: 1g
Nutrition information is automatically calculated by Nutritionix. I am not a nutritionist and cannot guarantee accuracy. If your health depends on nutrition information, please calculate again with your own favorite calculator.