Peach Streusel Coffee Cake in a Skillet
Serve up pieces of summer sweetness with this Peach Streusel Coffee Cake in a Skillet!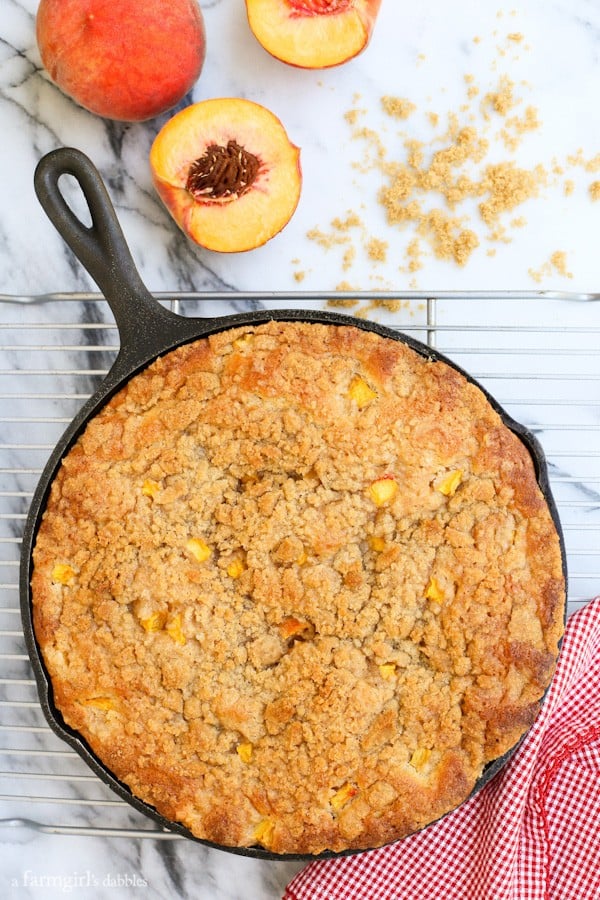 Summer may be almost over, but there's still plenty of fresh sweetness to be enjoyed. Especially when it comes to peaches, perfectly ripened and loaded with chin-dripping juice. While my favorite way to enjoy this fruit will always be straight-up, fresh and naturally amazing, I also can't resist cooking and baking with peaches. They lend themselves beautifully to so many dishes. And this year has been all about this Peach Streusel Coffee Cake in a Skillet, a winner for an end-of-summer breakfast or brunch.
[rss-cut]
Follow along with me on Instagram!
Our church's youth group sells peaches each year as a fund raiser. They come from Palisade, Colorado and are always great, and often spectacular. This year's box was of the spectacular kind. Half the box consisted of peaches the size of softballs, while the other half were still nice and large, but more normally so. We're about two-thirds of the way through the box right now and every single one has been sweet and juicy.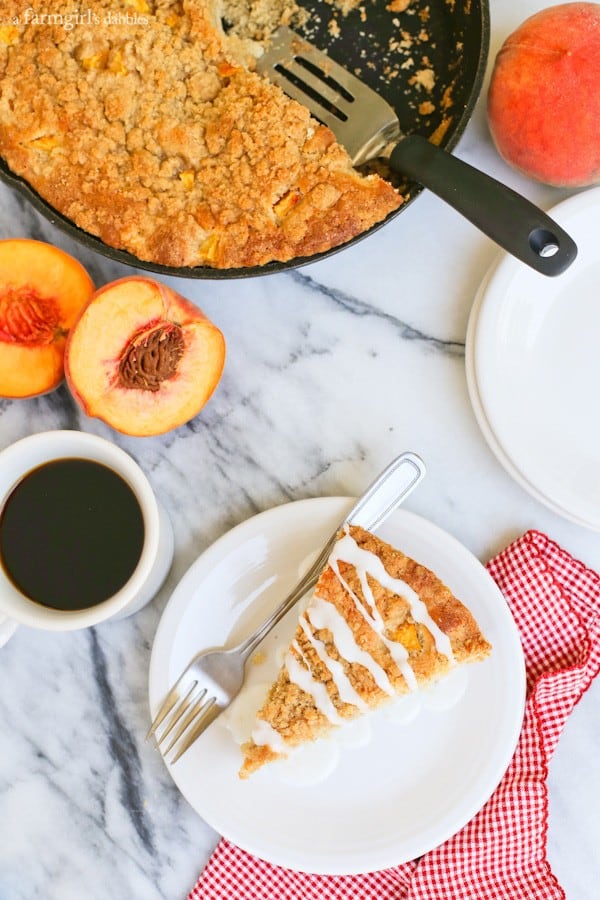 I especially like a coffee cake served from a skillet. Its presentation is fun and pretty, and evokes an immediate feeling of home baked goodness.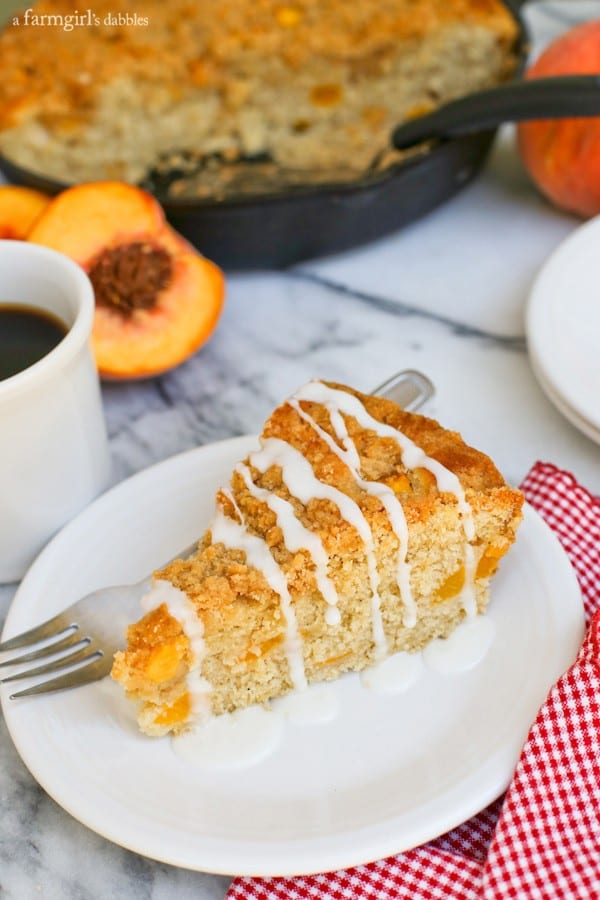 This peach coffee cake has a very tender crumb, loaded with moistness. It's warmly spiced with cinnamon, plus just a bit of nutmeg and cardamom. And peaches studded throughout are like golden, treasured jewels.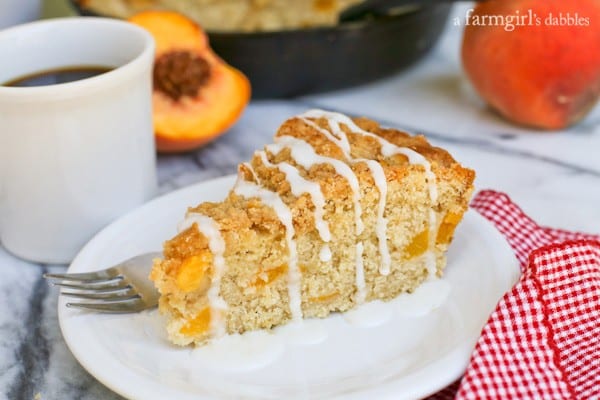 But the streusel topping, in all its crispity glory, is what I live for with each fork-full of this peach coffee cake. It's luscious with butter and sweet from brown sugar. When baked in the oven, the simple streusel mixture transforms into the perfect crunchy contrast to the tender cake below.
I've included a super easy glaze to drizzle over each individual piece of peach streusel coffee cake, but this final step is entirely optional. Because sometimes you feel like a glaze. And sometimes you don't.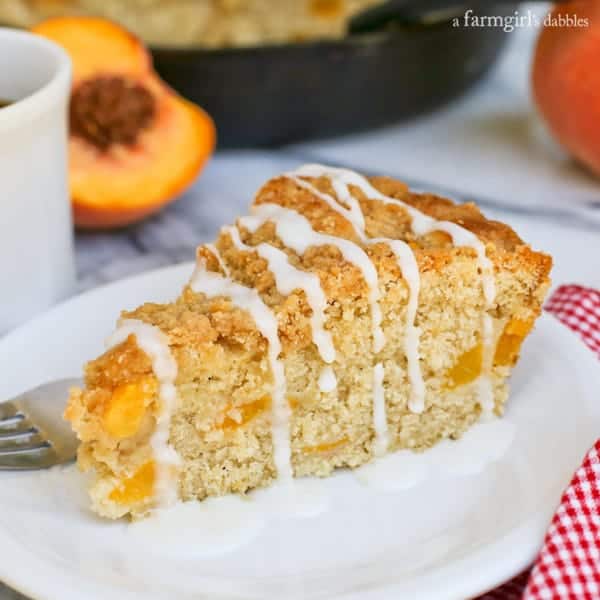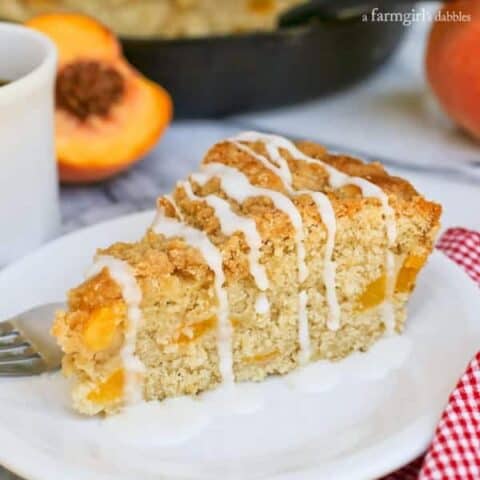 Peach Streusel Coffee Cake in a Skillet
Yield: 10 to 12 servings
Prep Time: 20 minutes
Cook Time: 55 minutes
Total Time: 1 hour 15 minutes
Serve up pieces of summer sweetness with this Peach Streusel Coffee Cake in a Skillet!
Ingredients
for the coffee cake:
3 c. white whole wheat flour (my preference) or all-purpose flour
(my preference)
3 tsp. baking powder
2 tsp. cinnamon
1/4 tsp. nutmeg
1/4 tsp. cardamom
1/2 tsp. kosher salt
3/4 c. plus 1 tsp. unsalted butter, softened (not melted), divided
(not melted)
1 c. sugar
2 large eggs
1/2 c. milk
1/4 c. sour cream
1 T. pure vanilla extract
1/2 tsp. almond extract
3 c. peeled and diced fresh peaches, cut into 1/2" cubes
for the crumb topping:
3/4 c. all-purpose flour
1/3 c. packed brown sugar
1/4 c. sugar
1/2 tsp. cinnamon
pinch of salt
6 T. cold butter, cut into 1/2" pieces
for the glaze:
1 c. powdered sugar
4 tsp. milk
Instructions
Preheat oven to 375° F.
Grease a 10" cast iron skillet with tall sides (a smaller pan will not work!) with the 1 teaspoon of butter. Set pan aside.
for the coffee cake:
In a medium bowl, whisk together flour, baking powder, cinnamon, nutmeg, cardamom, and salt. In the bowl of an electric stand mixer, cream together the remaining 3/4 cup of butter with the sugar until light and fluffy, about 3 to 4 minutes.
Add the eggs and milk and beat until smooth, and then mix in the vanilla and almond extracts. Don't worry if the batter is a bit curdled looking. Add the dry ingredients and mix until just combined. Gently fold in the diced peaches and spread batter into prepared skillet.
for the crumb topping:
In a medium bowl, mix together the flour, brown sugar, sugar, cinnamon, and salt. Cut in the butter with a rigid pastry cutter or a fork until you have pea-sized pieces. Sprinkle over the top of the coffee cake batter.
If you desire to see some peaches poking through the crumb topping, as shown in my photos, slightly press a few additional pieces of diced peaches into the crumb topping.
Place skillet in oven and bake for about 55 minutes, or until coffee cake is puffed up and set in the center, and nicely golden brown. Remove to a wire rack to cool. When this cake is still warm, it has a very tender crumb. If you can resist, let cool for at least 2 hours before serving for best slicing.
for the glaze:
This step is completely optional. In a small bowl, stir together the powdered sugar and milk until smooth.
Drizzle over individual pieces of coffee cake. If you like to use alot of glaze, you will probably want to double this.
Notes
from a farmgirl's dabbles
Nutrition Information:
Yield: 12
Serving Size: 1
Amount Per Serving:
Calories: 463
Total Fat: 9g
Saturated Fat: 5g
Trans Fat: 0g
Unsaturated Fat: 3g
Cholesterol: 51mg
Sodium: 298mg
Carbohydrates: 87g
Fiber: 7g
Sugar: 39g
Protein: 11g
Nutrition information is automatically calculated by Nutritionix. I am not a nutritionist and cannot guarantee accuracy. If your health depends on nutrition information, please calculate again with your own favorite calculator.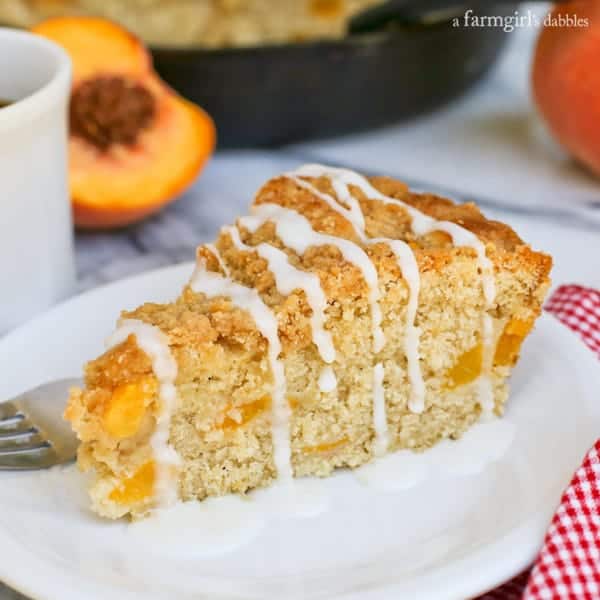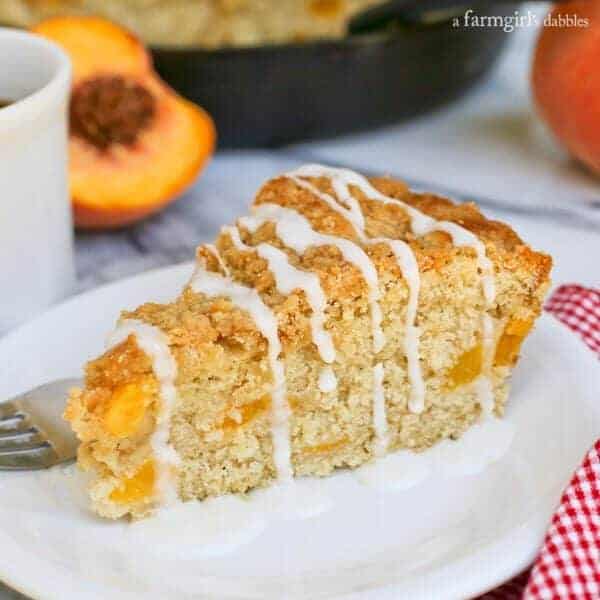 Here are a few more peach recipes you may like: