Make-Ahead Huevos Rancheros Wraps
Easy and delicious Make-Ahead Huevos Rancheros Wraps at home? You betcha!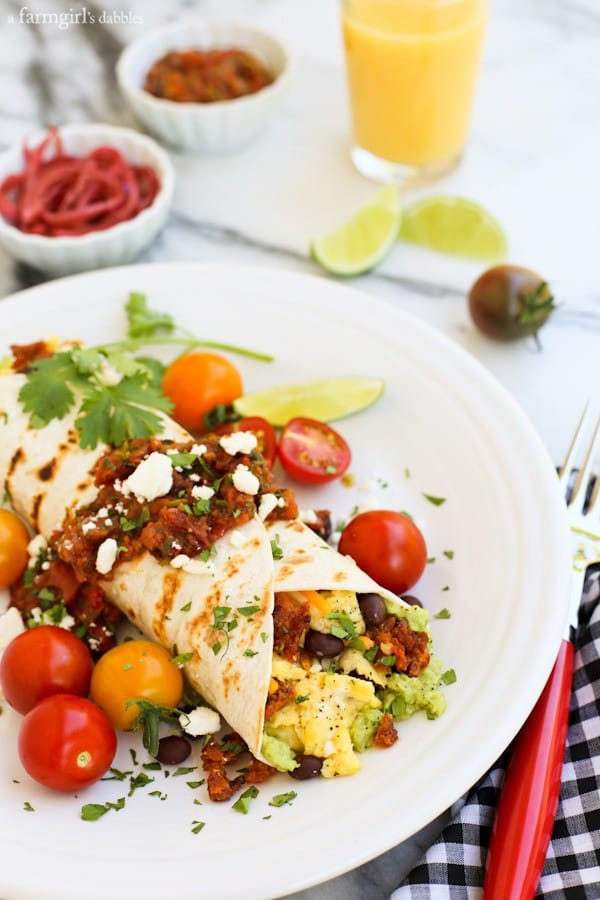 I am not one of those parents, as summer is waning, who can't wait for their kids to go back to school. No, I'd much rather keep our girls around home with me. I love their happy, witty company. And their more relaxed summer schedule during these golden months in Minnesota is pure gift to this over-scheduled momma's soul.
But I can't make our kids stop growing and I can't stop the school bell from ringing. In a few short weeks, we'll be back into the routine, packing lunches, catching buses, and putting pencils to evening homework. And I have a tasty breakfast recipe to get all of us off on the right foot this school year. Who wouldn't love to start their day with one of these Make-Ahead Huevos Rancheros Wraps?!
[rss-cut]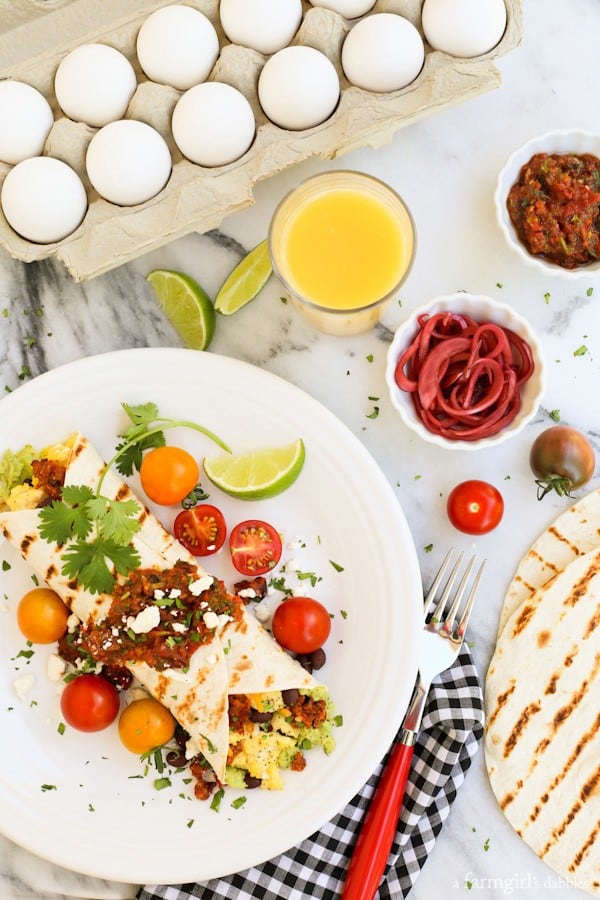 The school day requires energy and the ability to focus. And besides a good night of sleep, I believe that a healthy, nutritious breakfast is the way to send our kiddos off to school, prepared for the day ahead. Eggs are a great way to provide all-natural, high-quality protein, and give our kids the building blocks needed to grow and the energy necessary for school, sports, and other activities. I'm proud to be teaming up with the American Egg Board again this year to share with you all the goodness of eggs.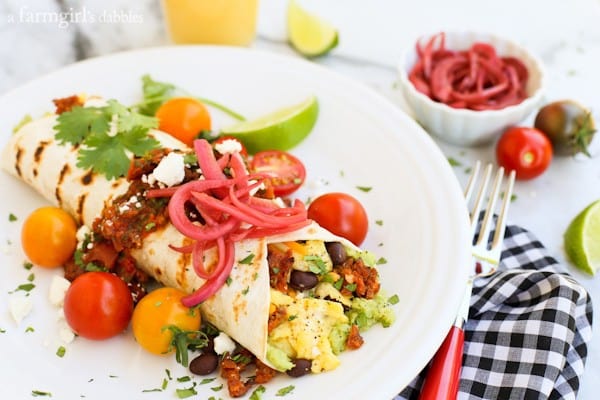 I once had a co-worker who used to make a big batch of cheesy scrambled eggs over the weekend, then pack a small container of it in her lunchbox, plus a tortilla and salsa, and bring it into work for lunch. She managed to squeeze three or four lunches out of the deal, mixing it up some days by throwing in black beans or fresh peppers and tomatoes. I had never thought about making eggs ahead of time before, and thought she was rather genius.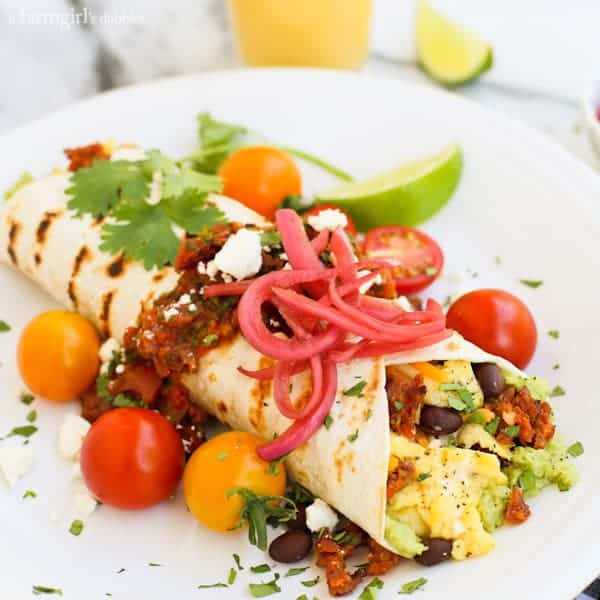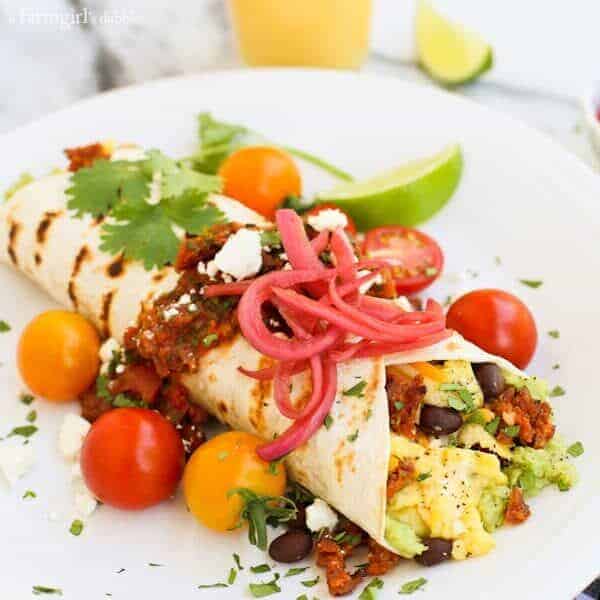 Without a doubt, one of my favorite eat-out breakfasts is huevos rancheros. Half the fun of ordering this dish is just seeing how each restaurant puts its own spin on it. It never, ever looks the same or tastes the same from place to place.
I took a very easy approach with these make-ahead huevos rancheros wraps, allowing for the prep to be done over the weekend, and the breakfasts to be enjoyed over the next few days. By preparing the eggs and chorizo (if your kids don't like chorizo, just substitute for their favorite sausage) ahead of time, all it takes to bring this meal together is to simply roll it up in a tortilla and warm the wrap in the microwave. The basic wrap also features a bit of shredded cheese tucked inside, plus a smoky salsa over the top.
In the recipe below, I've included a small list of optional suggestions to bring even more color and flavor into this dish, if you feel like going the extra mile. I'm big on the options, so that's the way you'll see it done at our house. And don't be surprised if you see a mountain of pickled red onions on my plate. That pickled acidity goes so awesome with this dish!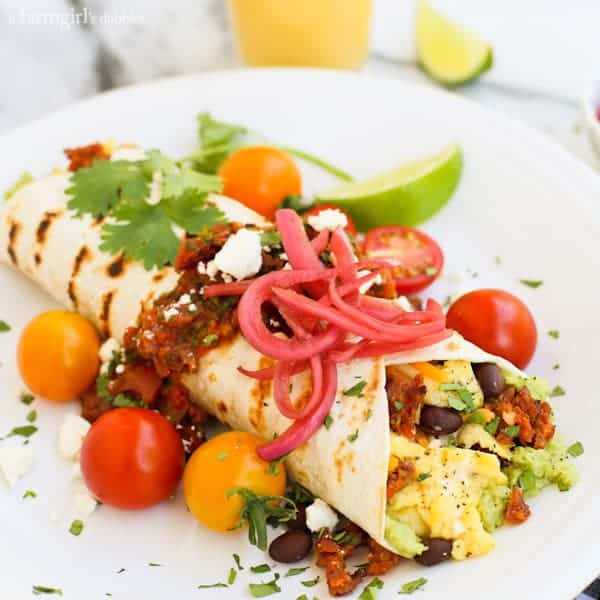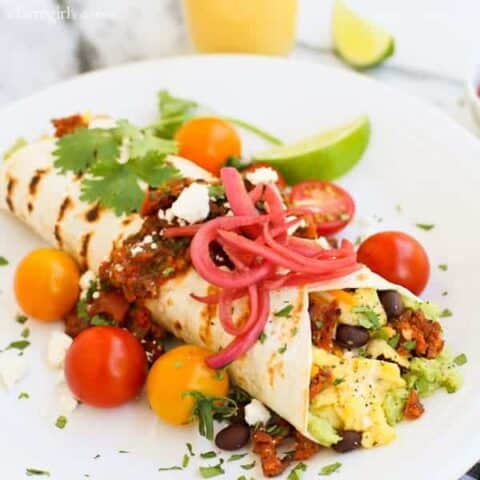 Make-Ahead Huevos Rancheros Wraps
Yield: 4 servings
Prep Time: 15 minutes
Cook Time: 20 minutes
Total Time: 35 minutes
Easy and delicious Make-Ahead Huevos Rancheros Wraps at home? You betcha!
Ingredients
8 oz. chorizo, or your favorite sausage
8 large eggs
1/3 c. milk
1 T. butter
kosher salt, to taste
freshly ground black pepper, to taste
4 flour or corn tortillas, about 8" in diameter
1 c. shredded Mexican cheese blend
1 c. homemade smoky salsa or your own favorite salsa
optional ingredients and toppings:
black beans, rinsed and drained
fresh avocado slices or guacamole
queso fresco or feta crumbles
chopped fresh cilantro
sour cream
fresh lime wedges, for squeezing over the top
Instructions
In a large non-stick skillet over medium to medium-high heat, cook the chorizo until done, breaking it into smaller pieces with the spatula. Remove chorizo to a paper towel lined plate. Drain excess grease from skillet and carefully wipe out the interior with a paper towel. Reduce heat on stove top to medium. Return skillet to heat.
In a medium bowl, whisk together eggs and milk until thoroughly incorporated. Add butter to skillet. Once butter is melted, pour in the egg and milk mixture. With a spatula, gently stir and scrape the bottom of the skillet every minute or so until the eggs are cooked to your liking. Season with salt and pepper, to taste. Remove from heat.
At this point, you can place the chorizo and the scrambled eggs in separate containers and refrigerate until ready to prepare one or more huevos rancheros wraps.
When ready to eat, place some of the scrambled eggs and chorizo across the center of a tortilla. Then add some cheese. Roll it up, place it on a plate, and microwave until the wrap is warmed and the cheese is melted. Serve with salsa spooned over the top. Feel free to add on any of the optional ingredients and toppings, as desired.
Notes
from a farmgirl's dabbles
Nutrition Information:
Yield: 8
Serving Size: 1
Amount Per Serving:
Calories: 674
Total Fat: 33g
Saturated Fat: 13g
Trans Fat: 0g
Unsaturated Fat: 17g
Cholesterol: 249mg
Sodium: 1036mg
Carbohydrates: 62g
Fiber: 7g
Sugar: 3g
Protein: 31g
Nutrition information is automatically calculated by Nutritionix. I am not a nutritionist and cannot guarantee accuracy. If your health depends on nutrition information, please calculate again with your own favorite calculator.
America's egg farmers launched the Good Egg Project to educate Americans about where eggs come from and encourage people to eat good and do good every day. They are proud to provide Americans with affordable and nutritious food.
Since 2009, the Good Egg Project and America's egg farmers have partnered with quality organizations such as Sesame Street, Discovery Health and Feeding America to help educate Americans on the farm to table process. Please visit the Good Egg Project to learn more about where America's eggs come from.
This post is sponsored by the American Egg Board. I am happy to be partnering with them again this year, bringing you delicious new recipes powered by eggs. All opinions are 100% my own. Thank you for supporting the brands that help make this site possible!