5-Ingredient Honey Mustard Grilled Chicken Breasts + 5 Tips for Tender, Juicy Grilled Chicken Breasts
These 5-Ingredient Honey Mustard Grilled Chicken Breasts are a family favorite. We also share our top 5 Tips for Tender, Juicy Grilled Chicken Breasts. Banish tough, dry grilled chicken breasts from your life forever!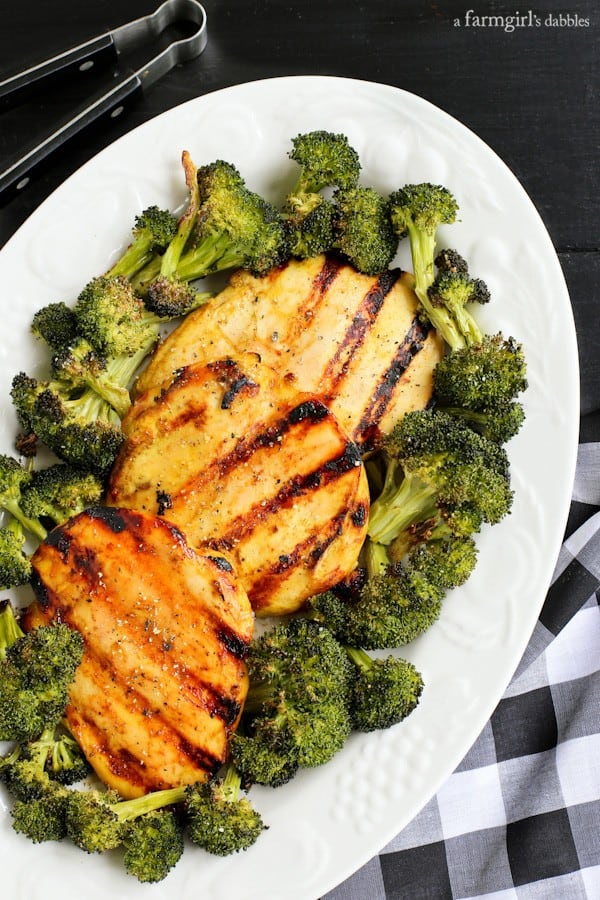 It's summertime, and meals from the grill flavored with a little smoky char keep my family happy and nourished every single day. Without much effort, we can have a super tasty meal before us in no time at all. Especially with a recipe as easy as this 5-Ingredient Honey Mustard Grilled Chicken Breasts. Our daughter, who just turned 13 years old, can have this honey mustard marinade whipped up in less time than it will take you to read this post, guaranteed. Read on for the recipe, plus our best 5 Tips for Tender, Juicy Grilled Chicken Breasts.

* This post is sponsored by Gold'n Plump Chicken.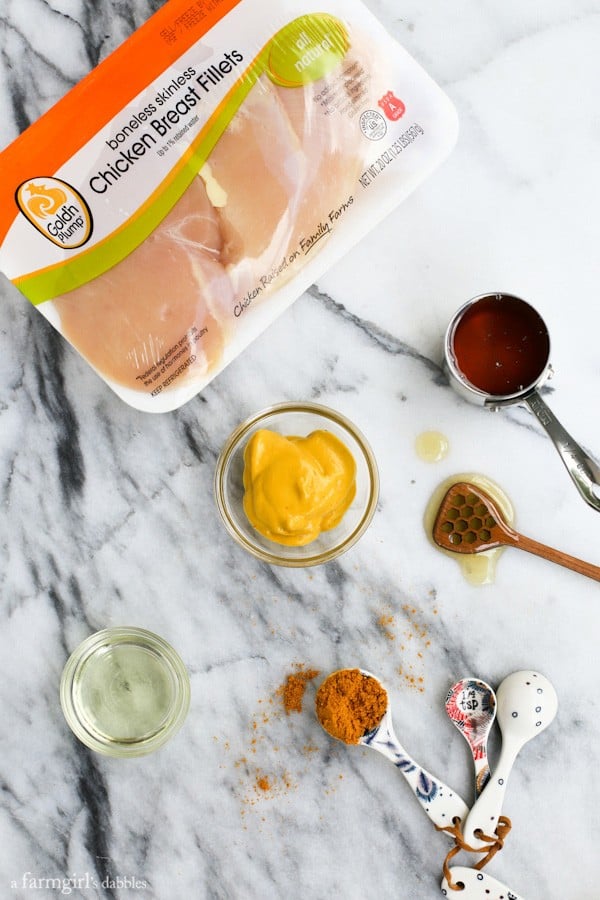 The ingredient list for this recipe is a short one; you'll only need five easy-to-find ingredients (plus salt and pepper) to make this meal reality:
Gold'n Plump Boneless Skinless Chicken Breast Fillets
vegetable oil
honey
prepared mustard
curry powder
At Gold'n Plump, good chicken is their mission. And I continue to be impressed with every package of Gold'n Plump chicken breasts that my family eats. The breasts are a nice medium size, with barely any fat at all. This means less prep time for me, plus I'm not paying for that extra weight that I will cut off and discard anyway. I also very much appreciate that the chicken is all-natural, without any injected solutions and sodium.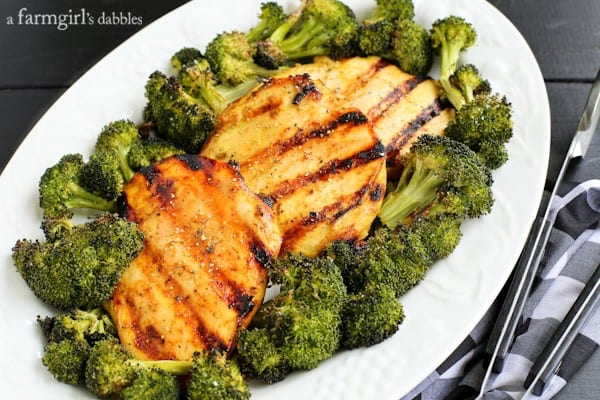 I like to use marinades to add flavor to chicken breasts. Plus, the oil in the marinade helps to seal in moisture while the chicken is cooking on the grill.
The honey mustard marinade in this recipe is sweet with honey, pungent with mustard, and warmed by the beauty of curry. It's one of my family's favorite flavor combinations. The recipe is adapted from a super simple one shared by a friend many years ago who brought us a meal of oven baked honey mustard chicken breasts shortly after our second daughter was born. What a gift it is to receive a hot, home cooked meal from a friend after just coming home from the hospital!
We continue to find new ways to incorporate this wonderful marinade into our meals, and these grilled chicken breasts are our latest adventure.
Be sure to also check out this recipe for Honey Mustard Chicken and Vegetables, a meal made all in one pan!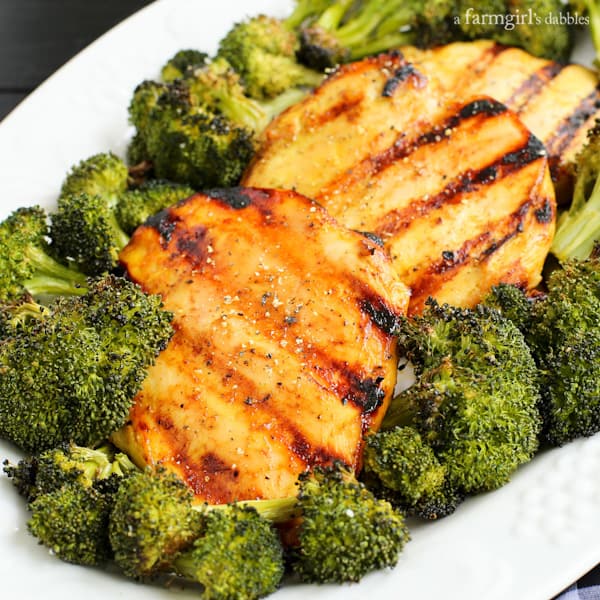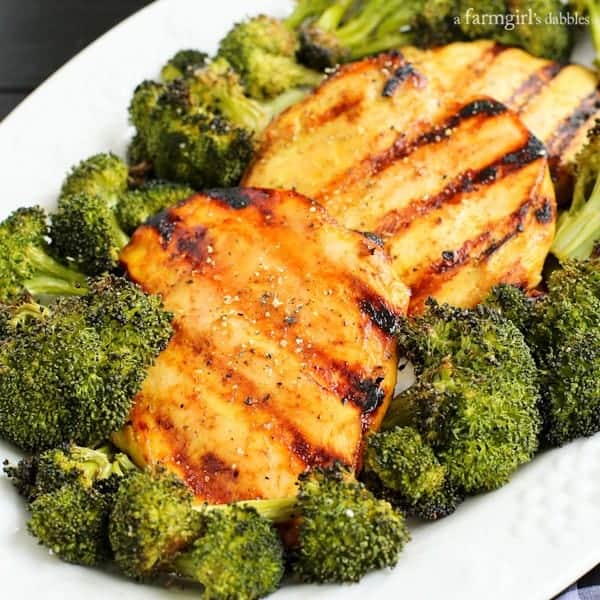 I like to serve these honey mustard grilled chicken breasts with a green veggie.
Sometimes you'll find green beans on our table. Other times you'll see asparagus or a fresh salad.
For this post, I feature the chicken with roasted broccoli. To do the same, drizzle some olive oil over florets from a large head of broccoli and toss to combine. Then sprinkle the broccoli florets with coarse salt and freshly ground black pepper and spread them out on a roasting pan. Pop the pan into the oven at 375°F for about 40 minutes, stirring halfway through. You could also grill the broccoli using a grill pan. The broccoli is done when it's just tender, with some nicely browned, crispy edges.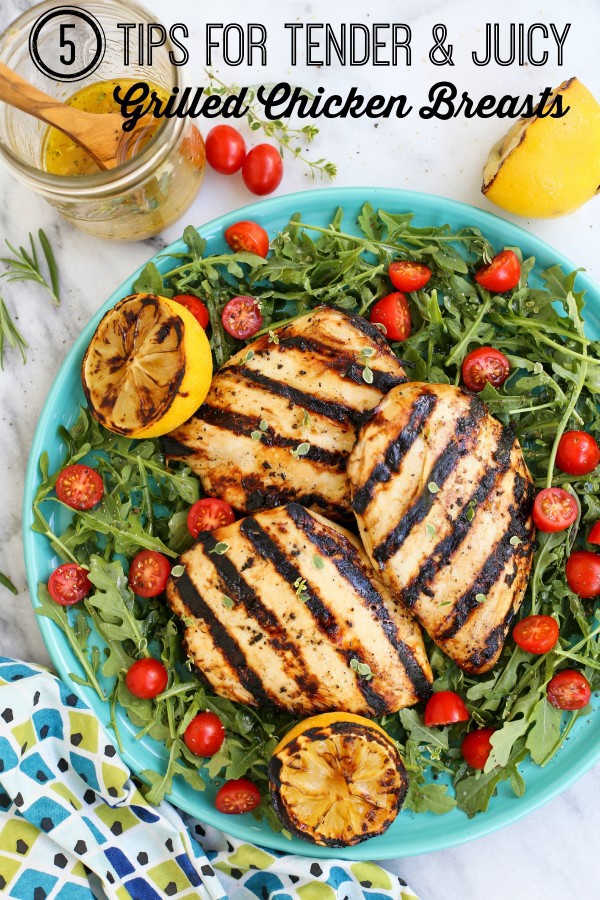 And now, the grill skill that everyone needs to conquer. How to achieve tender, juicy grilled chicken breasts…every single time. Read on to learn how to banish tough, dry grilled chicken breasts forever from your life!
.
1. Prepare the grill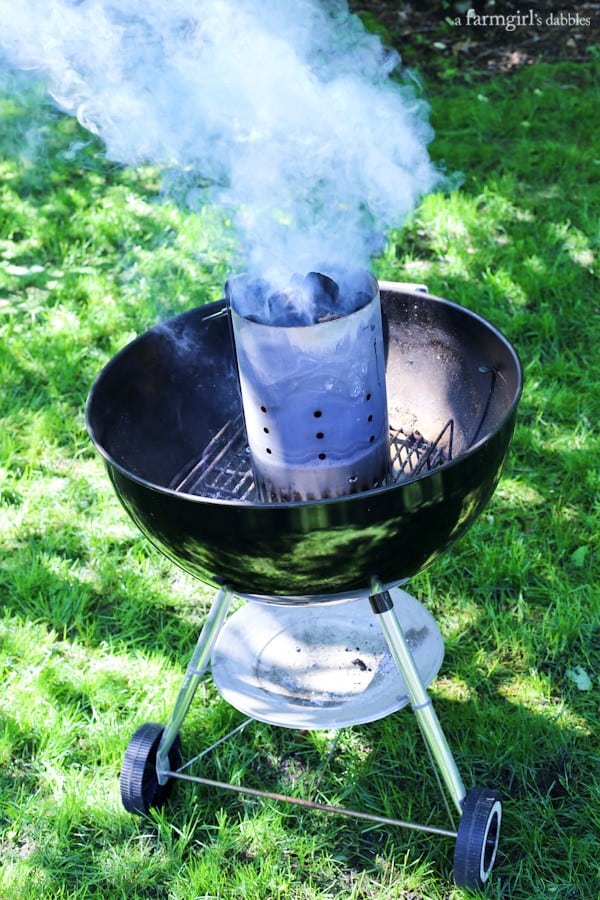 My husband is great at grilling, alternating between a Weber kettle grill, a Weber gas grill, and a Big Green Egg. And he has mastered the art of grilling chicken breasts, gifting us with tender, juicy meals every single time. Blake insists that preparing the grill, whatever kind of grill you choose, is the most important thing you can do for great results. To minimize sticking while maximizing flavor and grill marks, here are his grill prep rules:
Keep the grill hot. Heat your grill to a high temperature, about 400°F.
Keep the grill grates clean. After the grill reaches high heat, get the grates good and clean by scrubbing them with a stiff wire grill cleaning brush. Scrub until all debris is removed to minimize sticking.
Keep the grill grates lubricated. Oiling the grill grates will help to prevent sticking and allow great looking (and tasting!) grill marks. Here's Blake's method. Add some canola oil or olive oil to a small bowl. Then fold a heavy paper towel a few times to make a smaller square. With a tongs, grasp the folded paper towel and dip it into the oil until the paper towel is drenched. Then run the paper towel over the grates, repeating until all grill grates are thoroughly oiled. Now you are ready to grill!
.
2. Use a marinade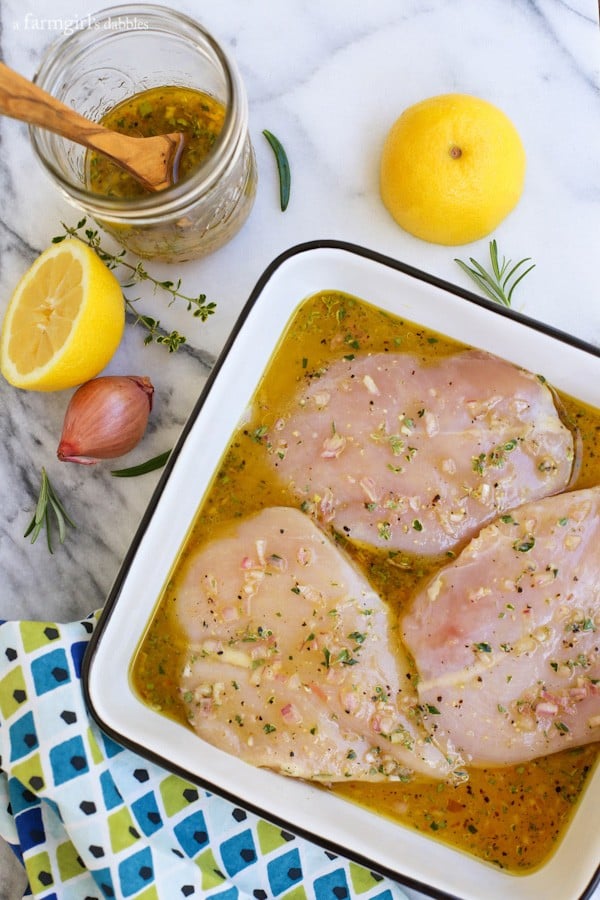 By using a marinade, you can up the flavor profile of chicken breasts without sacrificing the lean quality. Marinades are super easy to accomplish, with endless flavor profiles. The marinade shown above is actually an Herby Lemon Vinaigrette recipe I have fallen hard for this summer. It's composed of fresh lemon juice, honey, Dijon mustard, olive oil, and some fresh chopped herbs. The oil helps form a barrier around the chicken to deter moisture loss.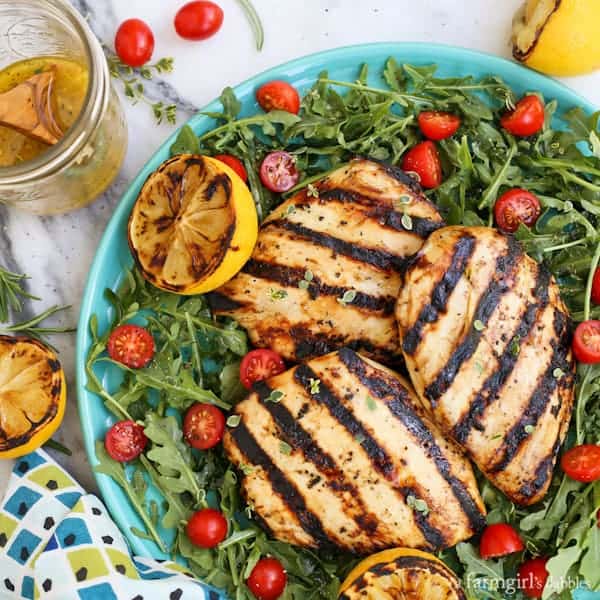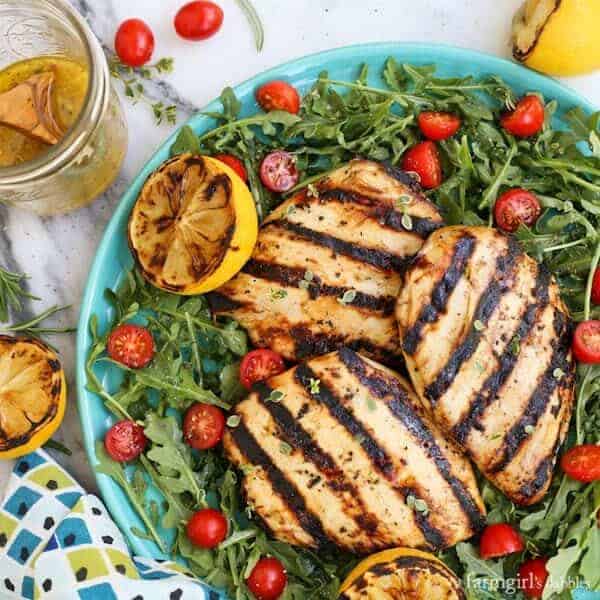 That marinade made for a beautiful dish – this Herby Lemon Grilled Chicken Breast Salad, bursting with gorgeous flavor and color.
.
3. Use a glaze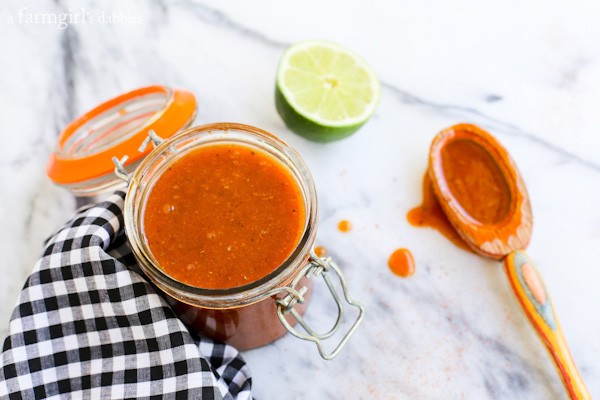 Glazes and barbecue sauces add fast flavor while also locking in moisture and giving chicken breasts a pretty glazed appearance. Glazes are usually comprised of a syrupy mixture that has some element of sweetness to it, so are generally brushed on the chicken toward the end of the grilling process to avoid flame-up scorching and burnt meat from the sugars. The glaze shown above is one of my favorite Mexican salad toppings, my Honey and Chipotle Vinaigrette. Do you see a pattern here with my use of vinaigrettes? They are good for more than just salads!
.
4. Pound the chicken breasts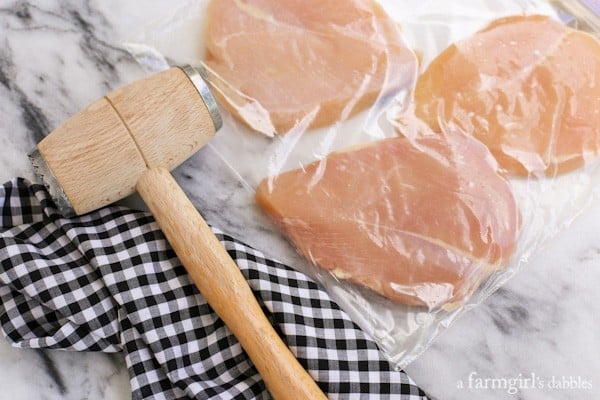 The next time you're feeling frustrated, try pounding some chicken breasts. It's a great stress reliever!
This is probably my favorite tip, mostly because I like an evenly cooked chicken breast. Gold'n Plump chicken breasts are sized more consistently, so I don't have as much concern about uneven cooking. But pounding the breasts to an even thickness makes it much easier to guarantee that the chicken will be cooked evenly. I like to place several chicken breasts in a large resealable bag, and then squeeze out the excess air and seal it up tight. Then I raise my kitchen mallet and pound away, until the breasts are at an even thickness. I aim for about a half inch thick.
.
5. Use a brick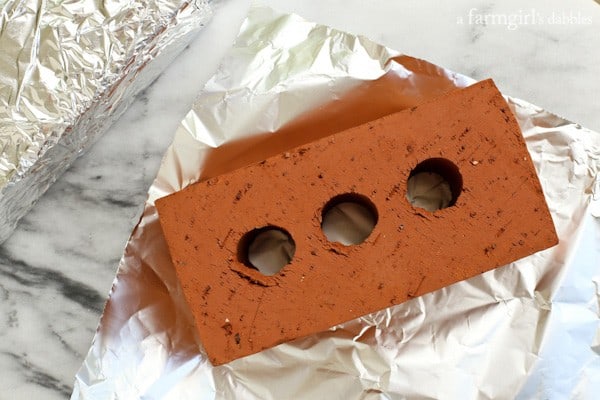 Do you like drama? Well grilling chicken breasts under foil-wrapped bricks is one of the best backyard shows around. This technique not only compacts the meat, giving it better texture and awesome beautiful grill marks, but it also helps keep moisture locked in and speed up cooking time. It's also pretty darn fun!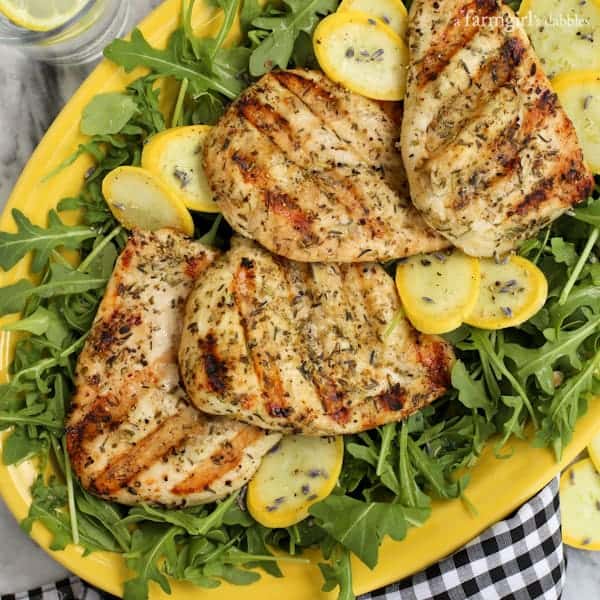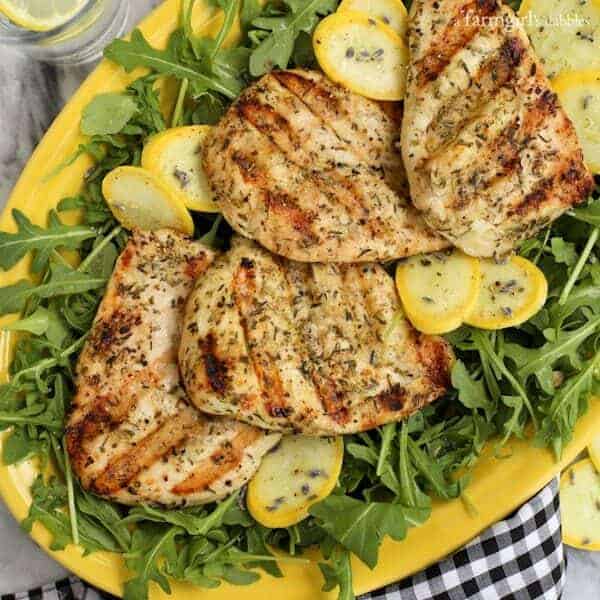 We use this method of grilling with this killer delicious dish for Herbs de Provence Chicken Breasts Grilled Under a Brick. Our girls absolutely love this super flavorful recipe. Wrap up a few bricks and join in on the delicious fun!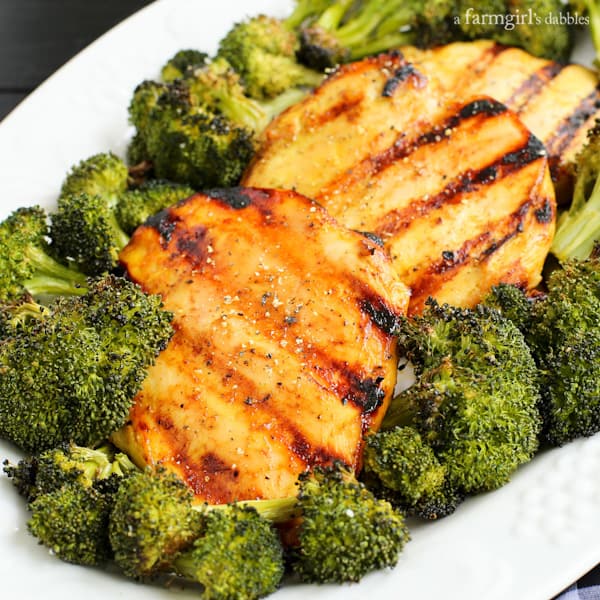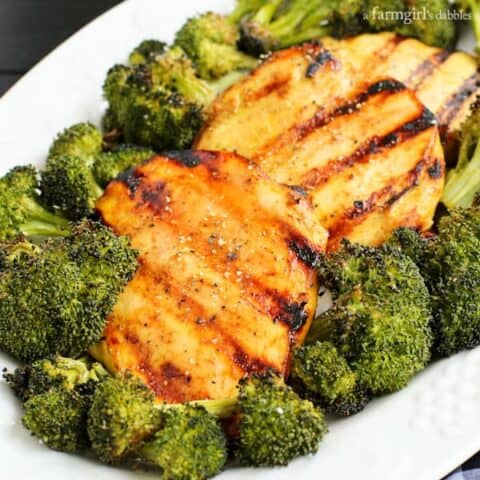 5-Ingredient Honey Mustard Grilled Chicken Breasts
Yield: 4 servings
Prep Time: 2 hours 15 minutes
Cook Time: 8 minutes
Total Time: 2 hours 23 minutes
Only 5 ingredients, for this delicious grilled chicken meal!
Instructions
Pat chicken breasts dry and place in a large resealable plastic bag. Press excess air out of the bag and seal the bag tight. Pound the chicken gently, but firmly, with the smooth side of a kitchen mallet, until individual pieces of chicken are at an even thickness. About 1/2" thick is perfect. Set bag of chicken aside.
In a small bowl, whisk together oil, honey, mustard, and curry powder. Open up bag of pounded chicken breasts and pour honey mustard mixture over chicken. Again, press out the air in the bag and seal it tightly. Turn the bag several times to get the honey mustard mixture all over the chicken breasts. Place bag of chicken in the refrigerator to marinate for 2 to 4 hours.
Remove chicken from refrigerator. Heat grill to medium-high heat, about 385° to 400° F. Make sure grill grates are scrubbed clean and then oiled. (To oil the grates, add some canola oil or olive oil to a small bowl. Then fold a heavy paper towel a few times to make a smaller square. With a tongs, grasp the folded paper towel and dip it into the oil until the paper towel is drenched. Then run the paper towel over the grates, repeating until all grill grates are thoroughly oiled.)
Place marinated chicken breasts on the pre-heated and oiled grates. Grill for about 3 to 4 minutes on the first side, or until nicely charred. Flip chicken and grill for another 3 to 4 minutes on the second side, until nicely charred and an instant read thermometer reaches 160°F. Then pull the chicken off the grill, to a platter to rest for a few minutes and continue to cook to 165°F. This will help to ensure that your chicken doesn't dry out from over cooking it. Serve while still warm.
Notes
from a farmgirl's dabbles
Nutrition Information:
Yield: 4
Serving Size: 1
Amount Per Serving:
Calories: 288
Total Fat: 8g
Saturated Fat: 1g
Trans Fat: 0g
Unsaturated Fat: 6g
Cholesterol: 96mg
Sodium: 243mg
Carbohydrates: 18g
Fiber: 1g
Sugar: 17g
Protein: 36g
Nutrition information is automatically calculated by Nutritionix. I am not a nutritionist and cannot guarantee accuracy. If your health depends on nutrition information, please calculate again with your own favorite calculator.
This post is sponsored by Gold'n Plump, a chicken brand based out of St. Cloud, Minnesota. I am partnering with them again this year to bring you delicious new chicken recipes from our kitchen and backyard grills. All opinions are 100% my own, as always. Thank you for supporting the brands that help make this site possible!