Honey Mustard Chicken and Vegetables (One Pan)
Honey Mustard Chicken and Vegetables is a flavorful comfort meal that cooks up in one pan. A rich honey mustard sauce nestles in with the potatoes, greens beans, and crispy-skinned chicken for a complete meal!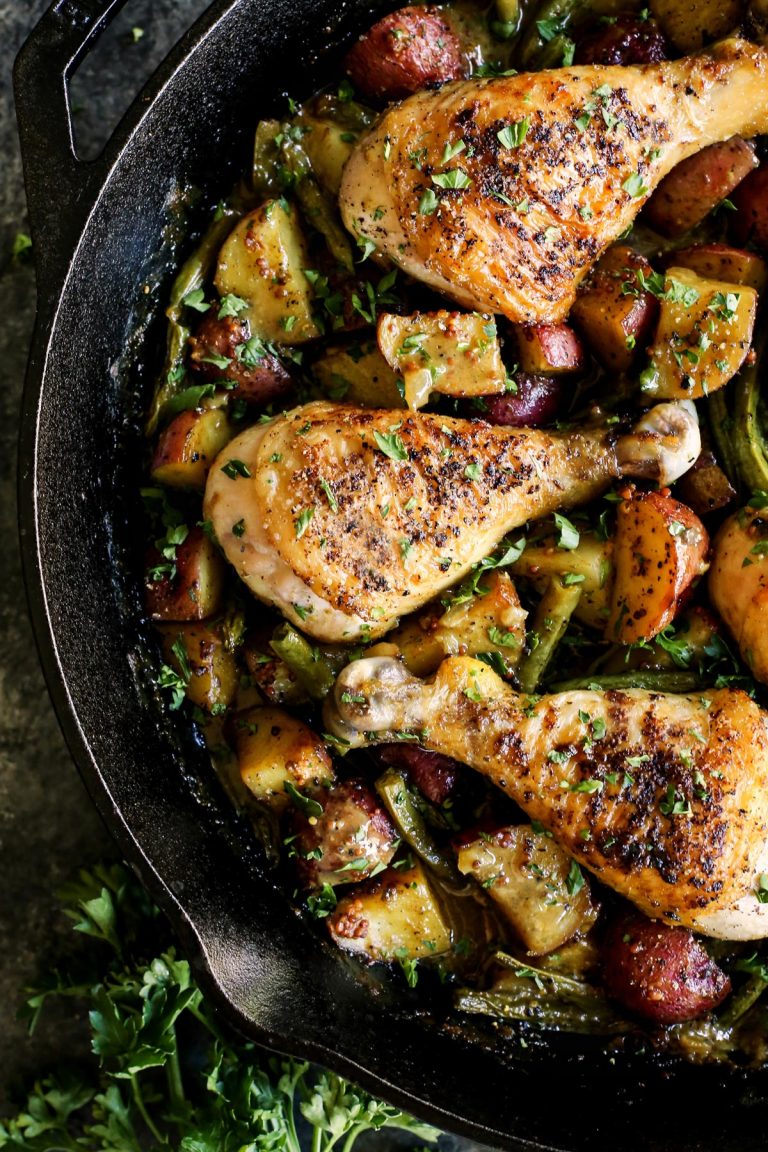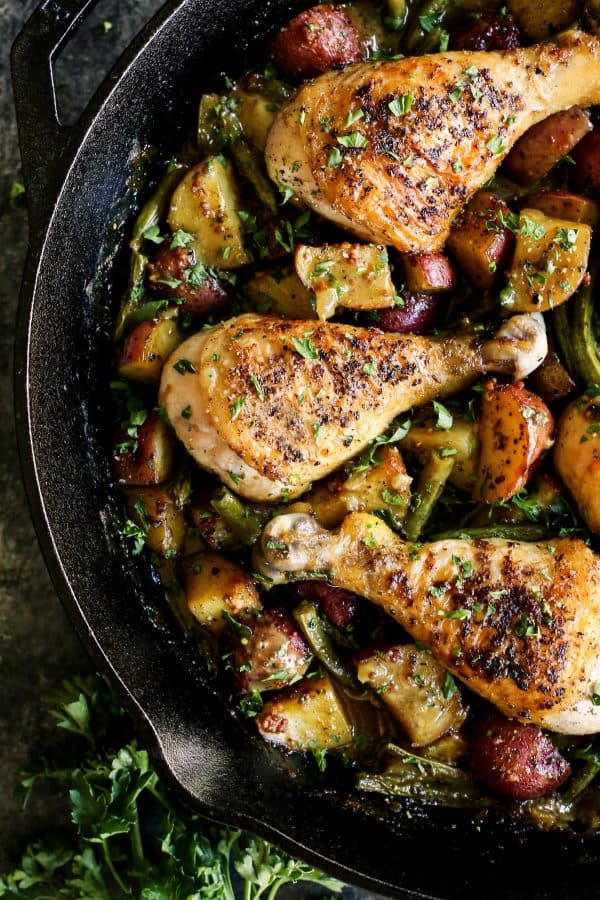 With almost three weeks of school under our belts, we are gaining a new rhythm for our family once again. Earlier to bed, earlier to rise. Packing lunches. Checking off homework assignments. Sports and music practices. A part-time job for our oldest (a junior in high school)…on top of a mountain-high pile of homework that includes three AP classes.
It's hectic. There's no way around it.
When I'm able to slip in a coffee date with a friend, it truly feels like a gift.
During the busy school season, it's more important than ever to make sure I have a line-up of easy dishes to set on the table for our family. This Honey Mustard Chicken and Vegetables comes together easily, and dirties just one pan. It's a meal that's big on flavor and comfort, perfect for this season.
* This is a sponsored post, created in partnership with Gold'n Plump®.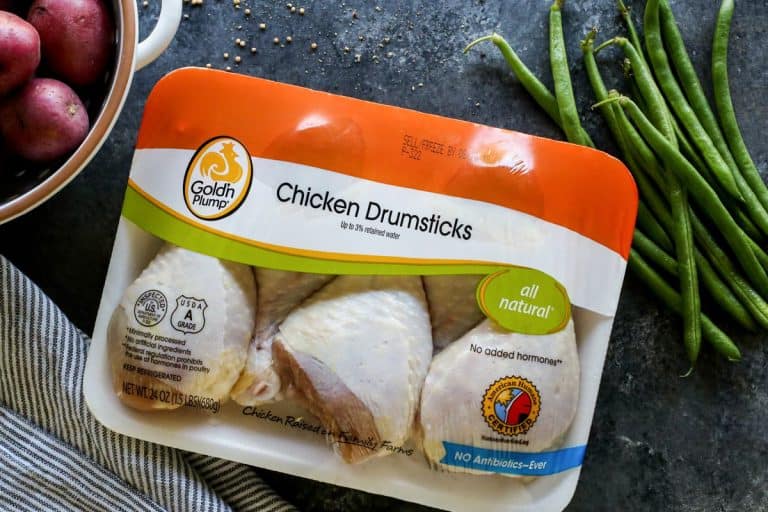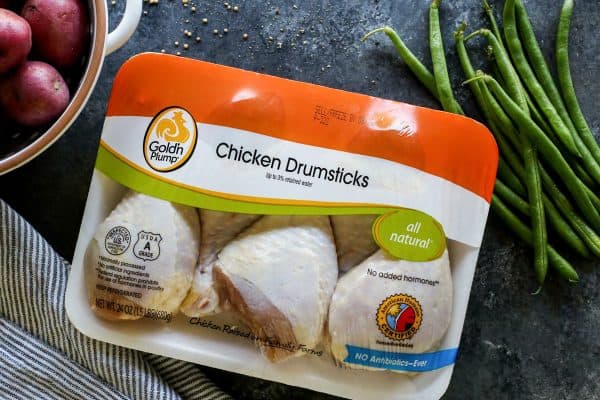 I like to keep Gold'n Plump Chicken Drumsticks in the freezer for easy meals. Thighs are also a favorite. I've always preferred the more flavorful dark meats.
For easy meals during the grilling season, we simply brush the drumsticks with olive oil, sprinkle with salt and pepper, and grill until they're mostly cooked. Then we slather on some barbecue sauce and finish up the grilling, waiting for the skin to get perfectly crispy and the sauce darkened and caramelized. It's one of my favorite simple grilled meals.
This honey mustard chicken recipe brings the drumsticks back into the kitchen, a great dish for the cooler months ahead.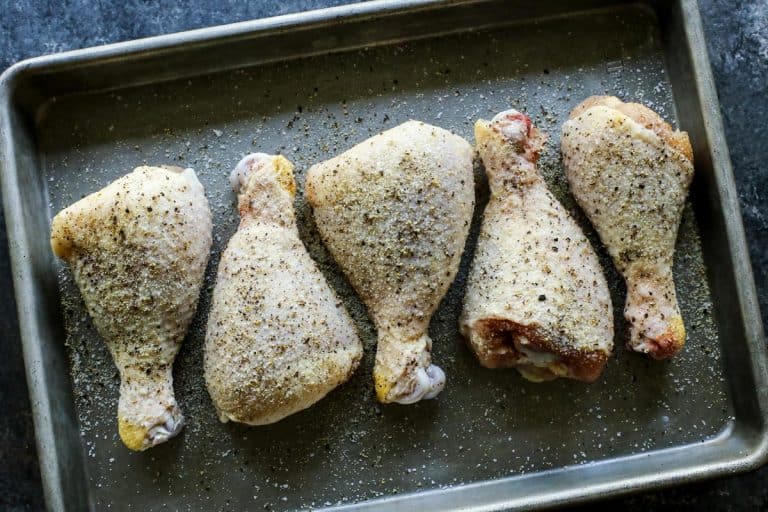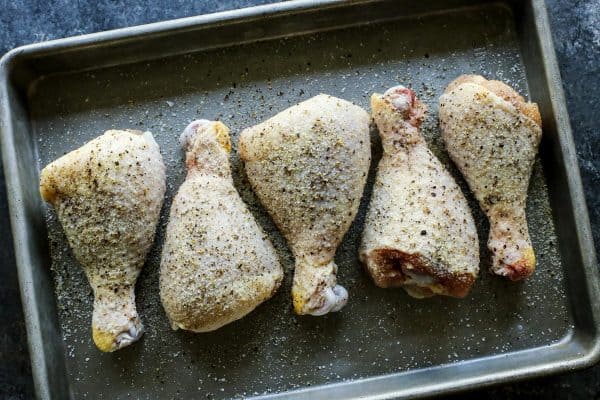 Honey Mustard Chicken
I like that the drumsticks from Gold'n Plump are hearty, with a good amount of meat. And they are highly trimmed by hand – which means less prep work for me.
To start, I brush each of the drumsticks with just a bit of olive oil. And then I sprinkle them with garlic powder, kosher salt, and freshly ground black pepper.
Then the drumsticks hit the hot skillet, to brown and crispify the skin.
A rich honey mustard sauce (I love to include a touch of sweet curry!) nestles the potatoes and green beans in with the browned chicken drumsticks. And then it all cooks in the oven together in one skillet. This is a wonderfully flavored honey mustard recipe.
When the potatoes are fork-tender, and the chicken is fully cooked with an irresistible crispy skin, the skillet is ready to set on the table.
Like this honey mustard chicken recipe? Pin it!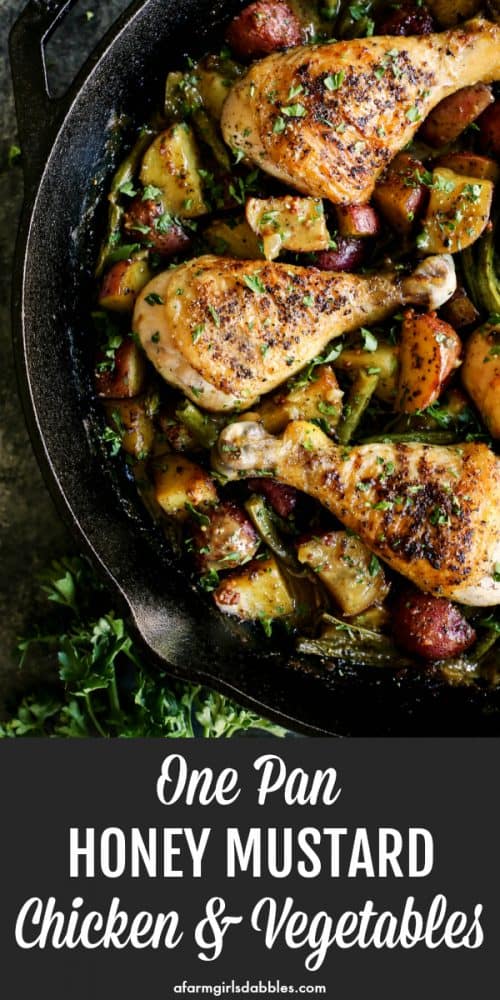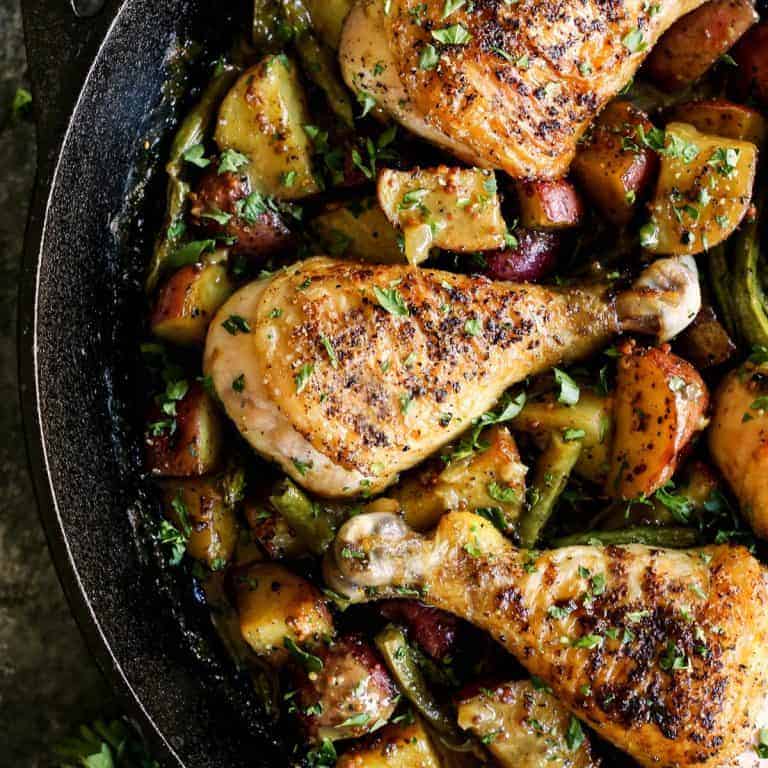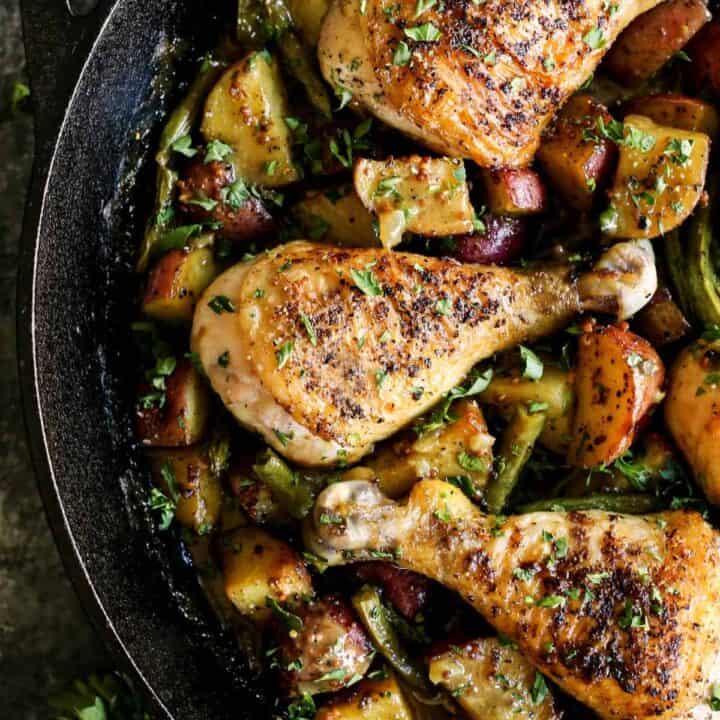 One Pan Honey Mustard Chicken and Vegetables
Yield: 4 servings
Prep Time: 10 minutes
Cook Time: 1 hour
Total Time: 1 hour 10 minutes
A rich honey mustard sauce nestles in with potatoes, greens beans, and crispy-skinned chicken for a complete meal, all cooked in one skillet.
Ingredients
1 package (1.5 lbs.) Gold'n Plump® Chicken Drumsticks
1 T. olive oil, plus a bit more for brushing drumsticks
1 tsp. garlic powder
kosher salt
freshly ground black pepper
2 large cloves garlic, minced
1/4 c. finely chopped yellow onion
1/4 c. honey
2 T. apple cider vinegar
2 T. Dijon mustard
1 T. stone ground mustard
1 T. yellow prepared mustard
1/2 tsp. sweet or mild curry powder
1/8 tsp. cayenne pepper (omit if you don't like heat)
1 lb. baby red potatoes, cut into 3/4" pieces
6 oz. green beans, trimmed and cut in half
fresh parsley, minced
Instructions
Preheat oven to 400° F.
Brush drumsticks very lightly with olive oil, and then season with garlic powder and a generous sprinkling of kosher salt and freshly ground black pepper. In a 12" cast iron skillet over medium-high to medium heat, warm the tablespoon of olive oil. Once oil is shimmering, add drumsticks. Sear 2 to 3 minutes per side, until skin is golden and crispy. Remove drumsticks to a plate.
Using same skillet, turn heat down to medium. If skillet is fairly dry, add a bit more olive oil. Add garlic and onion, and stir to combine. Sauté until fragrant, about 2 to 3 minutes, stirring occasionally.
Add honey, apple cider vinegar, Dijon mustard, stone ground mustard, yellow prepared mustard, sweet curry powder, and cayenne pepper. Stir to combine and turn heat up to medium-high. Once mixture starts to bubble, fold in potatoes. Sprinkle a bit more salt and pepper over it all. Then nestle the drumsticks into the potatoes and sauce, leaving the chicken skin exposed (do not cover in sauce).
Transfer skillet to hot oven and bake for 30 minutes. Remove skillet from oven and add in the green beans, snuggling them into the sauce. Return skillet to oven and bake for 20 minutes more, or until chicken is completely cooked through and potatoes are fork-tender. Serve hot.
Notes
from a farmgirl's dabbles
Recommended Products
As an Amazon Associate and member of other affiliate programs, I earn from qualifying purchases.
Nutrition Information:
Yield: 4
Amount Per Serving:
Calories: 481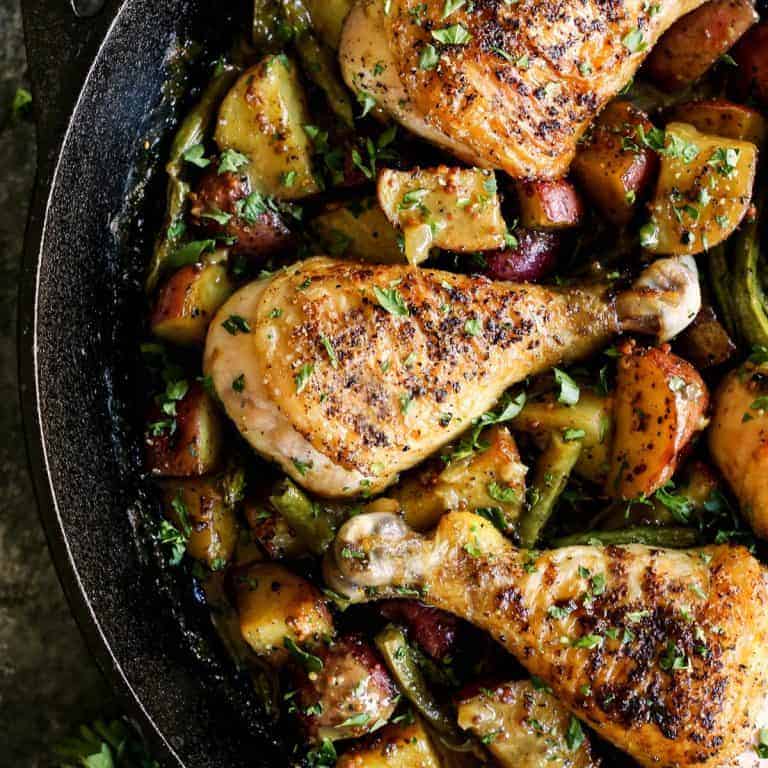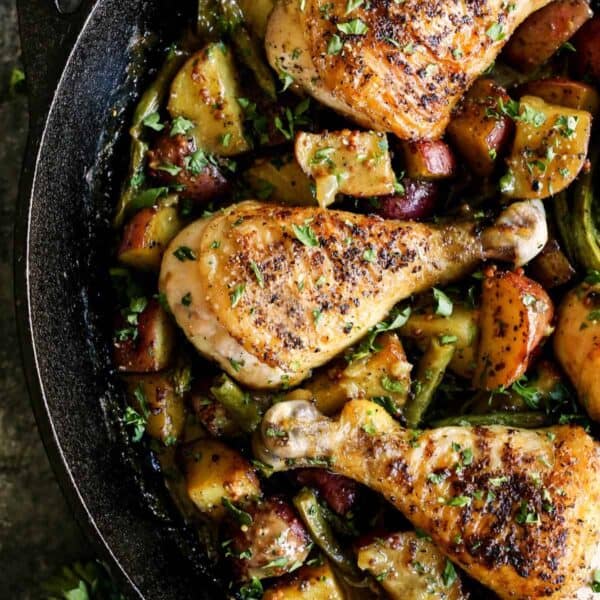 Be sure to check out a few more chicken recipes I've created for Gold'n Plump:
And a few more recipes using chicken drumsticks, with inspiration from my friends:

At Gold'n Plump, good chicken is their mission. Raised on family farms in Minnesota and Wisconsin, Gold'n Plump chickens are cared for with fresh, filtered water and locally sourced nutritious feed. Their chickens are raised with No Antibiotics-Ever.
Connect with Gold'n Plump on their website and social media channels: Facebook, Twitter, Instagram, and Pinterest.
This post is sponsored by Gold'n Plump. I am honored to partner with them again this year to bring you delicious new chicken recipes from our kitchen and backyard grills. All opinions are 100% my own, as always. Thank you for supporting the brands that help make this site possible.