Grilled Hawaiian Chicken Chili Kebabs
Grilled Hawaiian Chicken Chili Kebabs include the perfect heat + sweet flavor combination!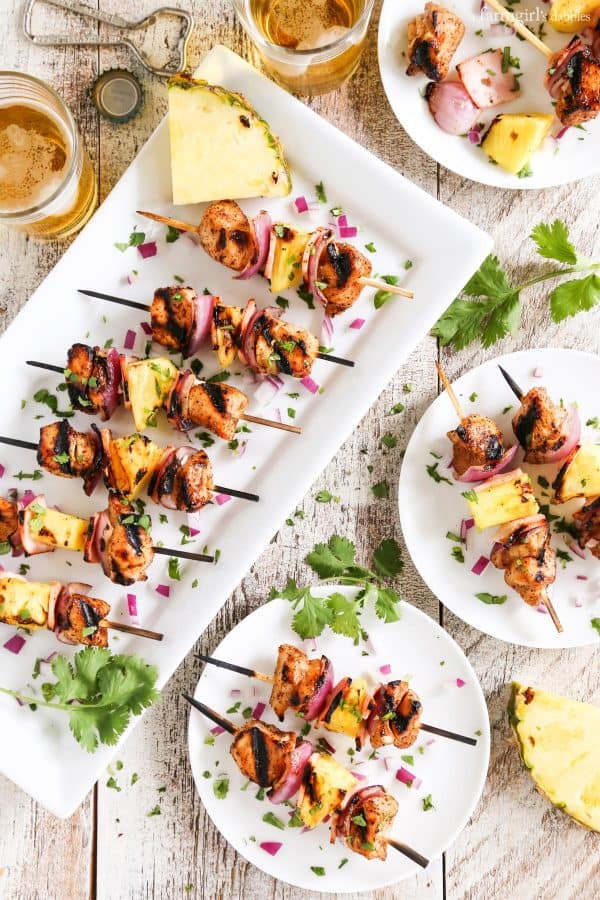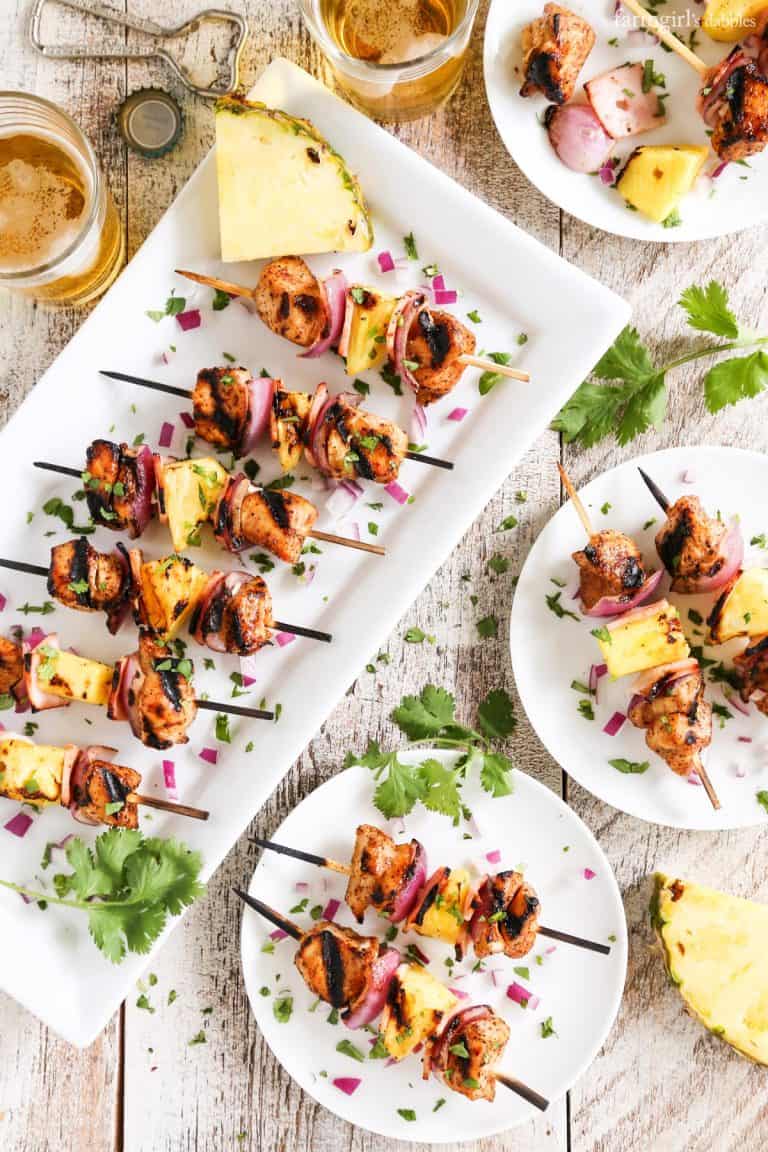 Summer is waning. Are you feeling it, too?
We're back-to-school clothes shopping (Just HOW do our daughters' pants not fit after a few short months off from school?!), picking up class schedules and supply lists, and cramming in dental and vision check-ups before our calendars are consumed by school and all of its related activities. We have a 9th grader and a 4th grader this year. Time is going by so fast. Too fast!
And while we still have a couple solid months of good-weather grilling ahead of us here in Minnesota, I'm also feeling the pull to enjoy every meal possible from the grill. These Grilled Hawaiian Chicken Chili Kebabs have made for fun appetizers and tasty main entrees this summer. Light the grill and give this recipe a try!
* This post is sponsored by Gold'n Plump®.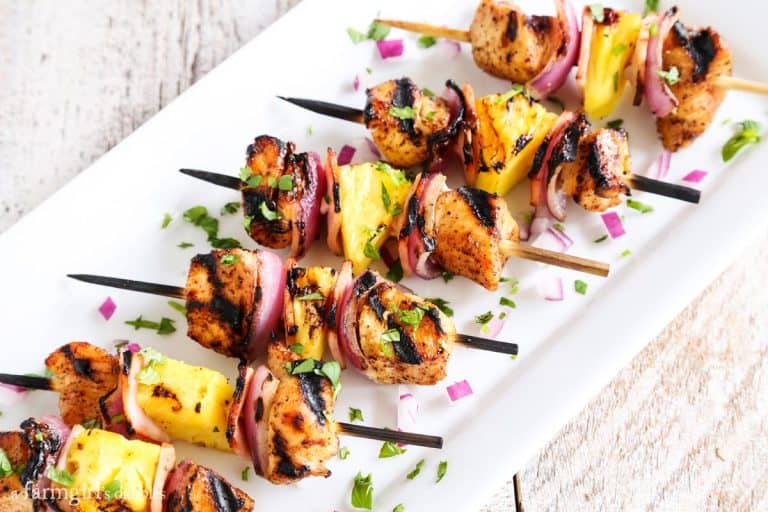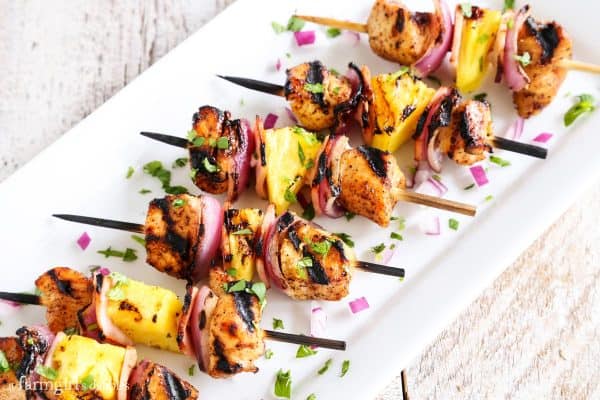 If you're familiar with the grilling archives here, you know that I'm just a little bit obsessed with kebabs. The inspiration for this latest recipe comes from one of my family's favorite pizza topping combinations: Hawaiian with Canadian bacon and pineapple. I also added some red onion to the kebabs, because I believe that every grilled skewer is made better by a little caramelized onion love.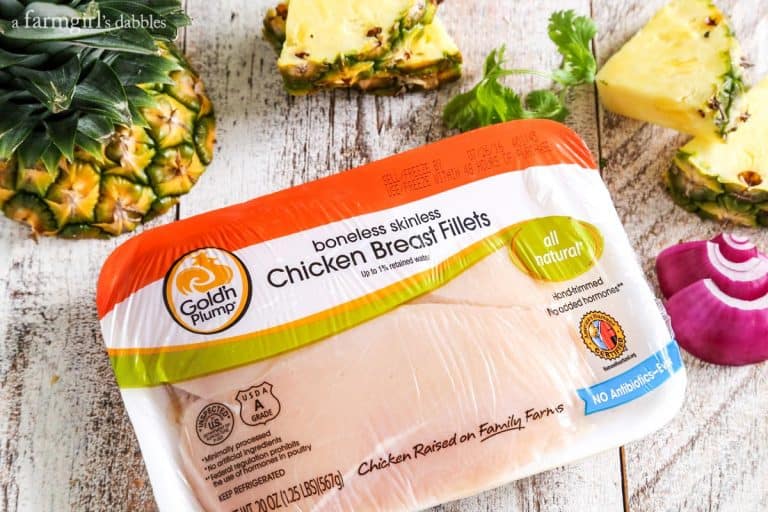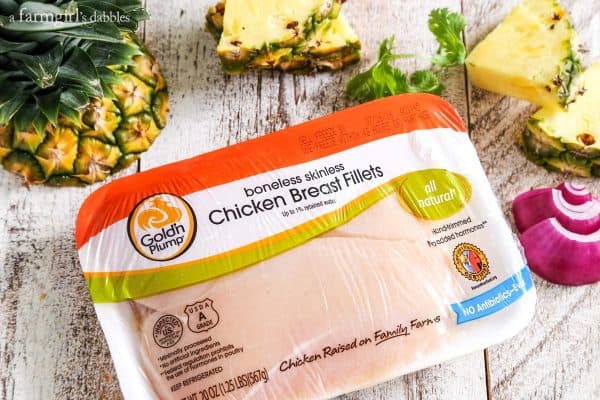 I'm happy to purchase Gold'n Plump® Boneless Skinless Chicken Breast Fillets to feed my family. The chicken breasts are hand-trimmed so well that I never have to cut any fat from them, and I like that they never include sodium solution injections.
I have been partnering with Gold'n Plump, a local chicken brand based out of St. Cloud, Minnesota, for the past 3 years. Gold'n Plump chickens are raised by family farmers who are committed to high quality, wholesome, good chicken. Good chicken is their mission, and they are proud to add two new attributes to their All Natural chicken products: No Antibiotics-Ever and the American Humane Certified™ farm program seal.
If you are confused by chicken product labeling, be sure to take a look at this Chicken Checklist. Gold'n Plump created it to help consumers decipher chicken labels while grocery shopping. It's a super quick and informative little read.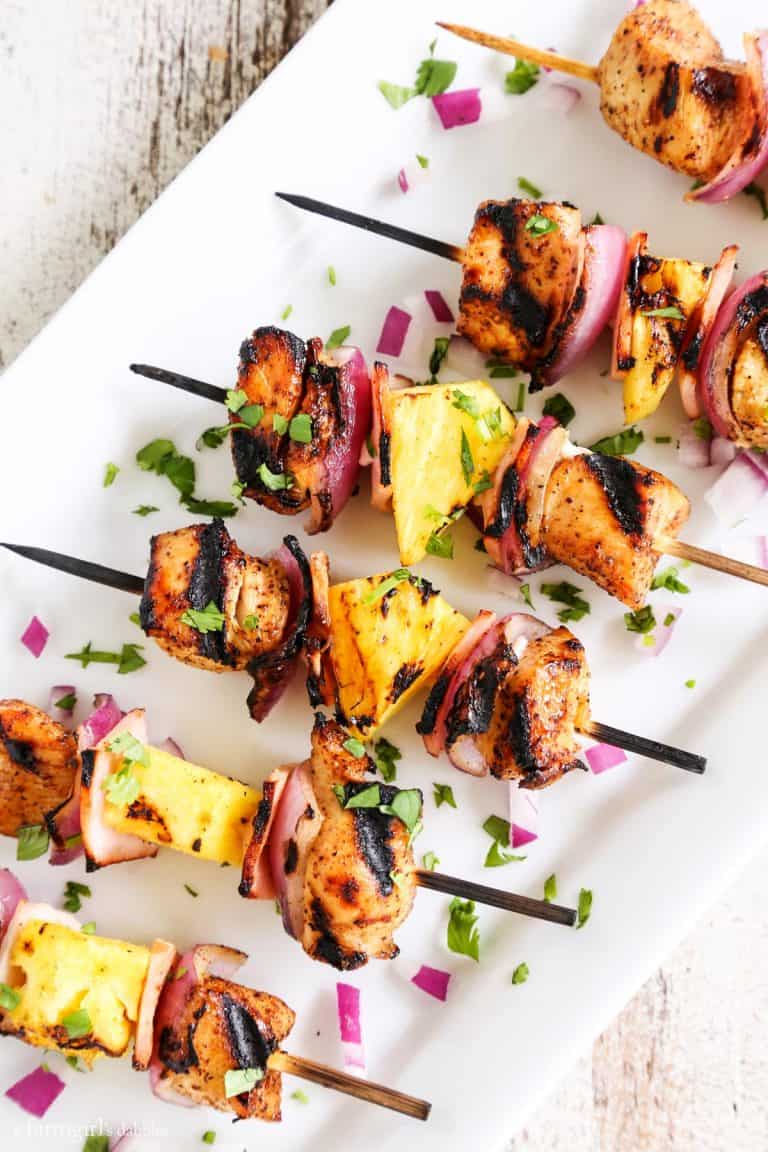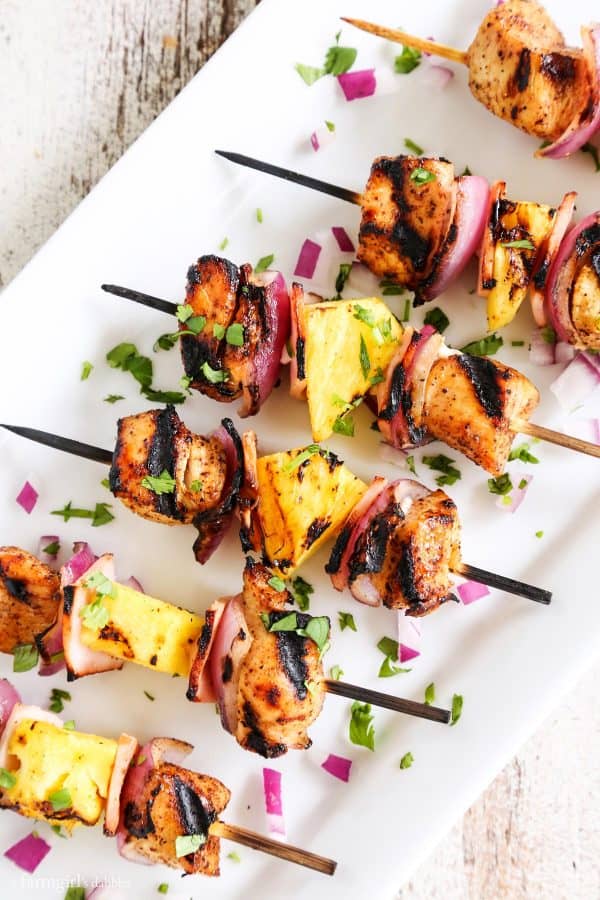 I suppose I could have gone with a more Italian tomato-based seasoning for these grilled Hawaiian chicken chili kebabs, to keep with the Hawaiian pizza theme. But I was up for a little different flavoring combination. I wanted some sweet heat. So the tender chunks of chicken are flavored with a mixture consisting mostly of brown sugar and chili powder. And it's wonderful. I love the kick of chili with the fresh, sweet pineapple.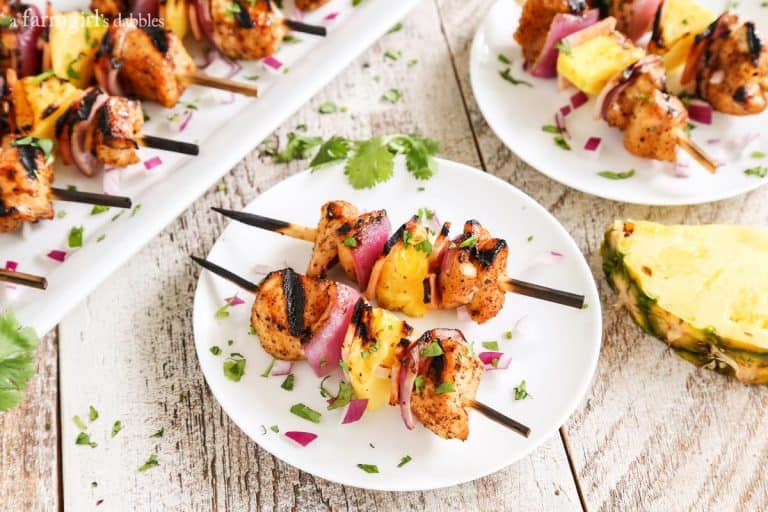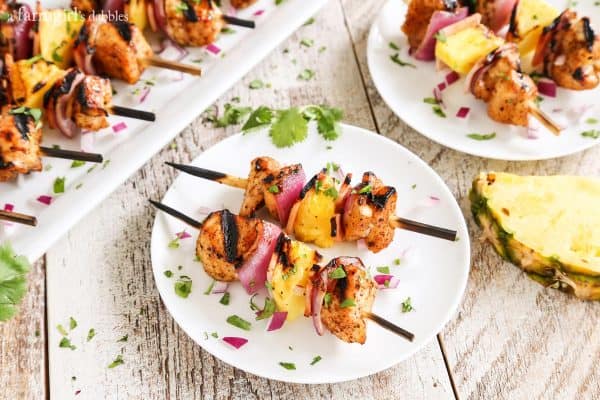 I created these kebabs with shorter skewers that are perfect for appetizer-sized portions. You could still serve these shorter skewers as a main entree or opt for the more traditional longer skewers. Kebabs are casual fare. Do whatever fits your fancy. Just promise me you'll make these kebabs!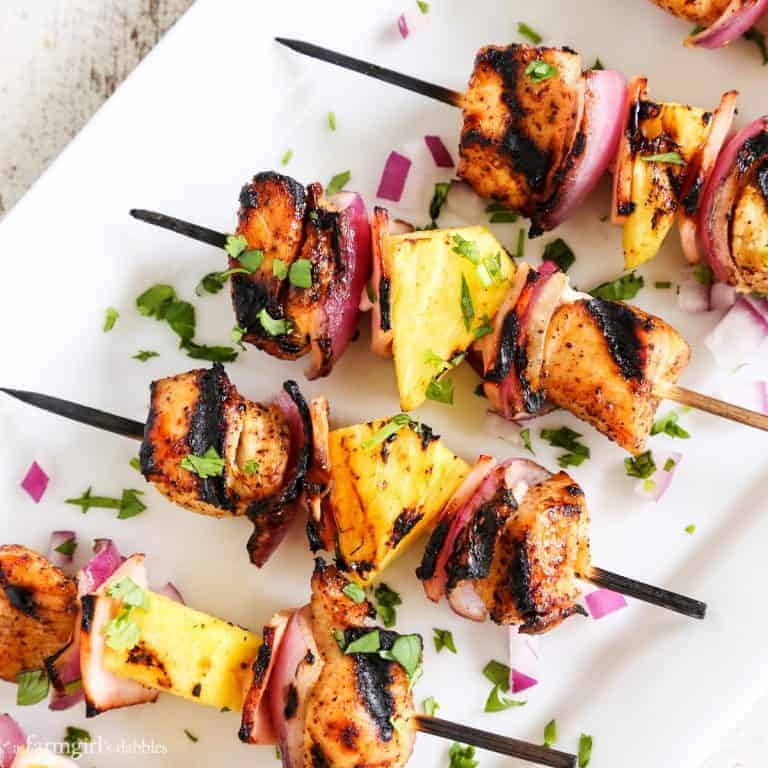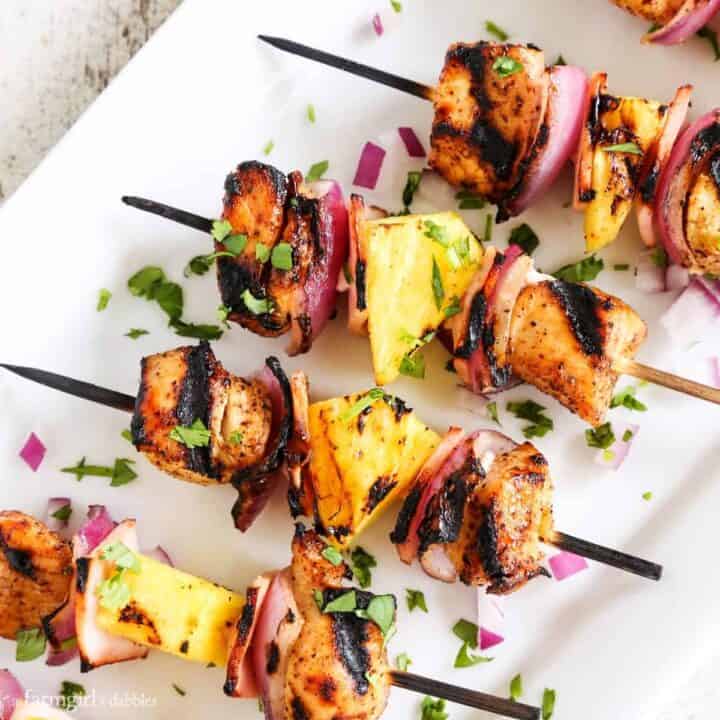 Grilled Hawaiian Chicken Chili Kebabs
Yield: 8 to 12 appetizer sized portions or 4 main servings
Prep Time: 1 hour 15 minutes
Cook Time: 15 minutes
Total Time: 1 hour 30 minutes
Grilled Hawaiian Chicken Chili Kebabs include the perfect heat + sweet flavor combination!
Ingredients
1.25 pounds Gold'n Plump® Boneless Skinless Chicken Breast Fillets, cut into 1" to 1-1/2 inch pieces
1/2 T. olive oil
1/4 c. brown sugar
1/2 T. chili powder
1/2 tsp. kosher salt
1/2 tsp. freshly ground black pepper
1/8 tsp. garlic powder
1/8 tsp. ground ginger
Canadian bacon slices, cut into 1.5 inch pieces
Half of a large yellow onion, cut into 1.5 inch pieces
Fresh pineapple, cut into 1.5 inch pieces
Instructions
If using wooden skewers, soak them in water for at least a couple hours before grilling. This will help them to not burn as much. I used shorter skewers for this recipe, good for either appetizer size portions or as a main entree. Use longer skewers if desired.
In a medium bowl, drizzle oil over chicken and stir to coat evenly. In a small bowl, combine brown sugar, chili powder, salt, pepper, garlic powder, and ginger. Sprinkle over chicken and stir to coat evenly. Cover and refrigerate for one hour.
To skewer, alternate chicken, Canadian bacon, onion, and pineapple. Sprinkle with additional salt and pepper, if desired.
Heat grill to medium to medium-high heat. Make sure grates are scrubbed clean and then oiled. (To oil the grates, add some canola oil or olive oil to a small bowl. Then fold a heavy paper towel a few times to make a smaller square. With a tongs, grasp the folded paper towel and dip it into the oil until the paper towel is drenched. Then run the paper towel over the grates, repeating until all grill grates are thoroughly oiled.)
Place chicken kebabs on hot grill grates and let cook until beautifully charred. Turn the kebabs and continue to cook until charred again. The chicken should be cooked through after about 12 to 15 minutes of total grill time, depending on the grill heat and size of chicken pieces. Serve hot.
Notes
from a farmgirl's dabbles
Nutrition Information:
Yield: 8
Serving Size: 1
Amount Per Serving:
Calories: 159
Total Fat: 4g
Saturated Fat: 1g
Trans Fat: 0g
Unsaturated Fat: 2g
Cholesterol: 61mg
Sodium: 231mg
Carbohydrates: 8g
Fiber: 0g
Sugar: 7g
Protein: 23g
Nutrition information is automatically calculated by Nutritionix. I am not a nutritionist and cannot guarantee accuracy. If your health depends on nutrition information, please calculate again with your own favorite calculator.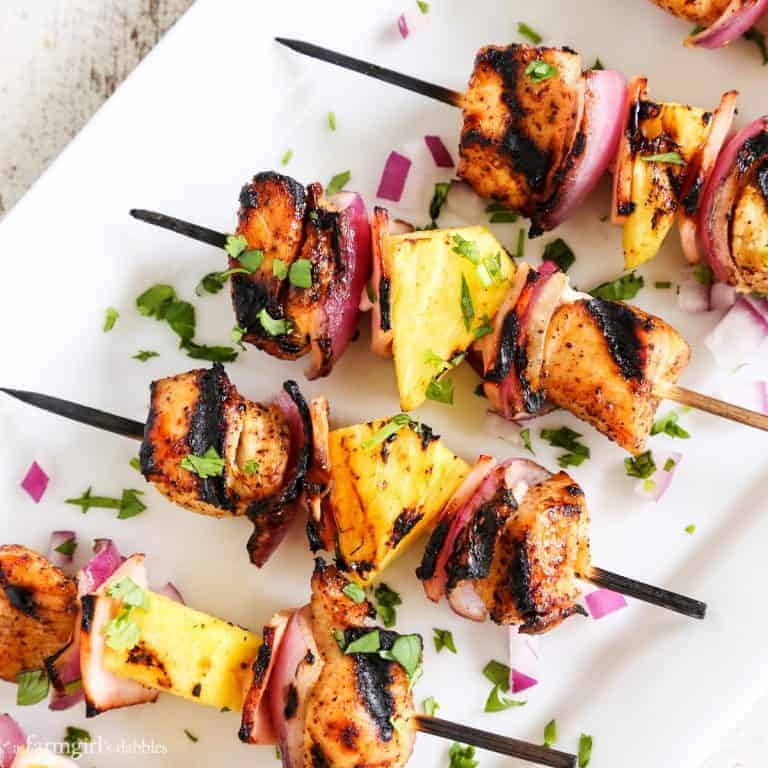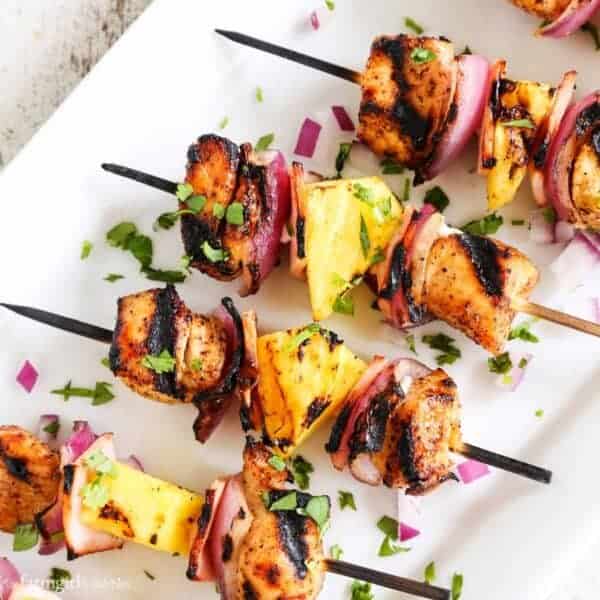 .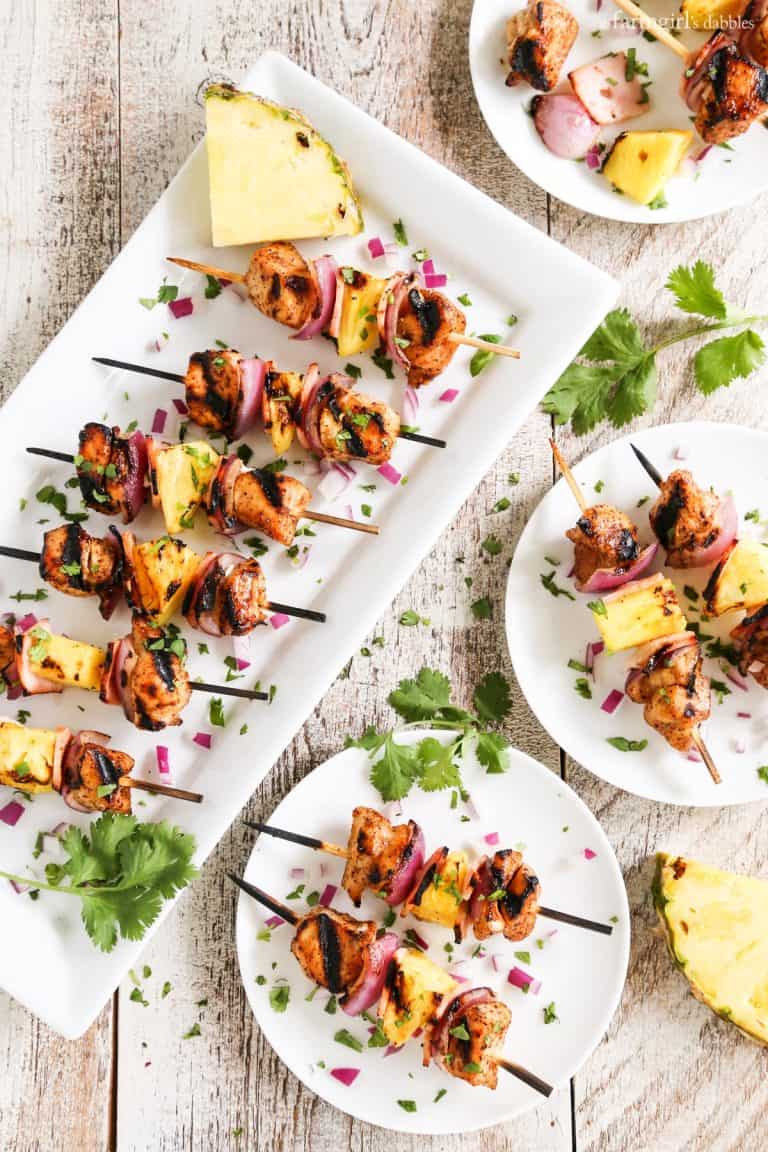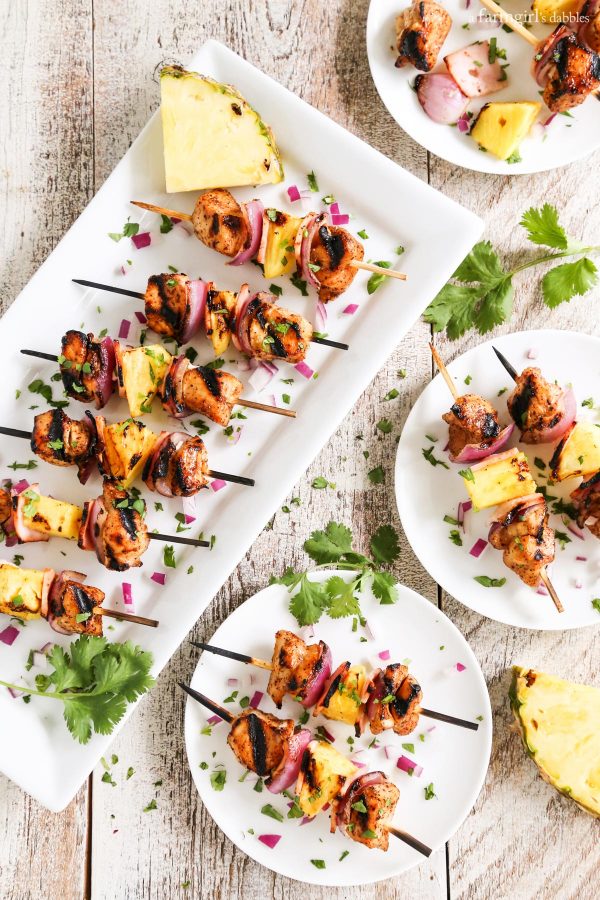 Here are a few more chicken kebab recipes you might enjoy:
This post is sponsored by Gold'n Plump, a local chicken brand based out of St. Cloud, Minnesota. I am partnering with them again this year to bring you delicious new chicken recipes from our kitchen and backyard grills. All opinions are 100% my own, as always. Thank you for supporting the brands that help make this site possible!