Herby Grilled Chicken Kebabs with Grapes and Shallots
This post may contain Amazon or other affiliate links. As an Amazon Associate I earn from qualifying purchases.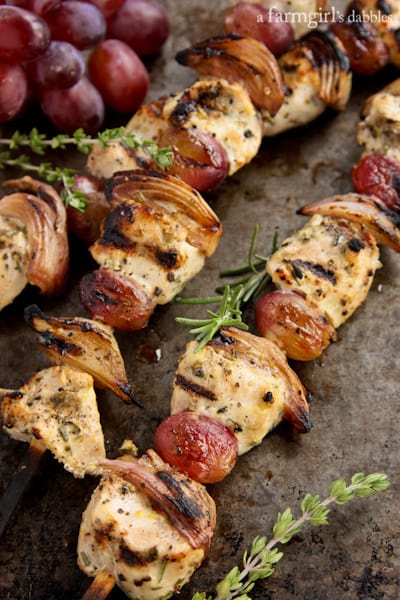 My husband wowed me with a beautiful meal a couple weekends ago. I had been ultra busy all week, trying to keep up with deadlines, plus a couple yard and home projects that seemed all but a game of ridiculous phone tag. I was stressed and tired, and in need of a good home cooked meal. But I didn't have the time to plan it or to make it. So I suggested to Blake, "Wouldn't a smoked turkey be good this weekend? I think we still have one in the freezer." Lucky for me, he had a recipe saved for that frozen bird. In no time at all, the turkey was thawing and I was on my way to a home cooked meal.
As the Big Green Egg curled up its glorious smoke, slow cooking that bird to perfection all Sunday afternoon, our oldest daughter helped Blake put the finishing touches on the meal. She helped to prepare a red wine gravy and a pan of roasted red grapes and shallots to accompany the carved slices of smoked poultry. I wish you could have smelled our kitchen that afternoon, with fragrant smoke wafting by the open window and all the sweet goodness going on over the fire on the stovetop. And I wish you could have had just one bite of that heavenly meal. I tried to get a little piece of everything onto every forkful; the flavors were amazing together. And when I saw how much our whole family enjoyed that meal (our girls loved the pan roasted grapes!), I knew I had to get those flavors back together, in a whole new and wonderful way. And soon!
These Herby Grilled Chicken Kebabs with Grapes and Shallots did the trick. You simply must give this recipe a try!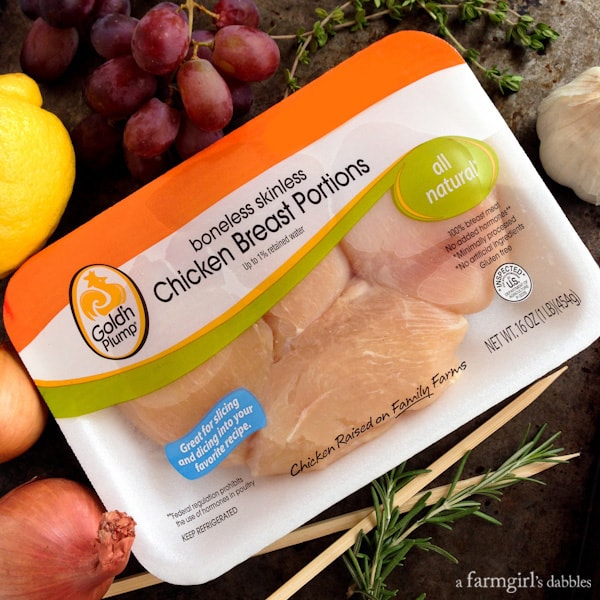 I'm happy to be teaming up with Gold'n Plump this year to bring you a few new chicken recipes from our kitchen and backyard grills. Gold'n Plump chicken is produced by GNP Company, which is based out of St. Cloud, Minnesota, about 90 miles northwest of where we live, right along the way we travel back to South Dakota and North Dakota to visit our families.
At Gold'n Plump, good chicken is its mission. Their Boneless Skinless Chicken Breast Portions have no injected solution and are highly trimmed of fat. All you're paying for is chicken. Already cut into smaller pieces, they make meal preparation ultra convenient. For these kebabs, I simply cut each portion into about 6 smaller pieces. It was quick and easy prep, especially with no fat to trim. These chicken breast portions would work beautifully in a quick stir-fry or pasta salad. And we love to grill the portions whole, after chilling in a simple marinade for an hour or two. This one-pound package is the perfect size for our family of four, providing a quick and healthy weeknight meal solution.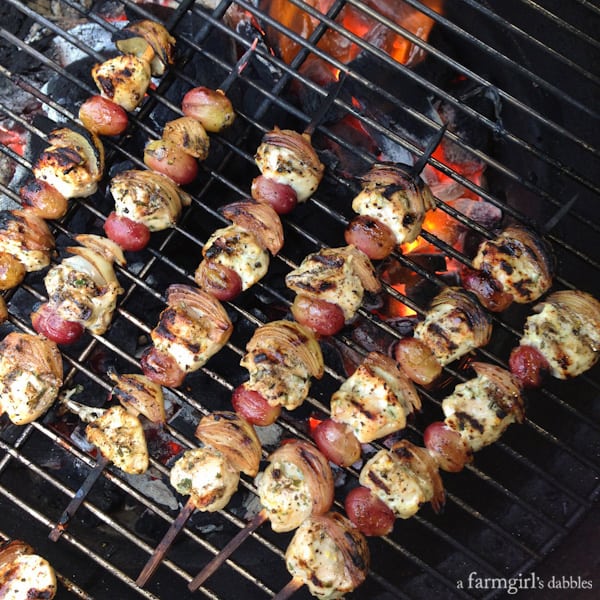 Not many meals are more fun than those served on a stick. You should see the amount of goodness on a stick that my family can put away when we visit the Minnesota State Fair for a day!
But grilled kebabs can be enjoyed all year long. They are a common, but always special, meal that our family loves. Check out our sweet and spicy Honey Chipotle Chicken Kebabs and our Honey Mustard Chicken Kebabs with a touch of curry. They are a couple of our favorites.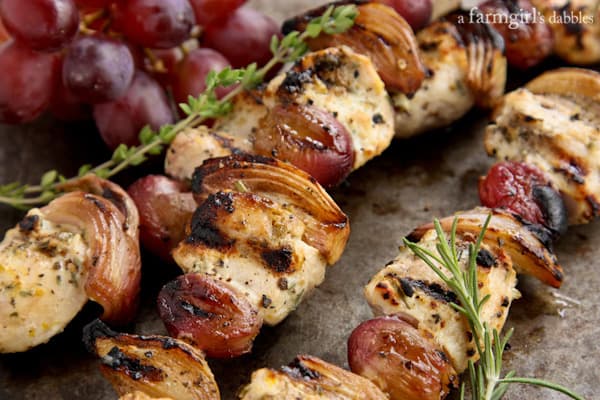 The chicken portions in these kebabs grill up juicy and flavorful after marinating in an herby yogurt sauce, bright with lemon. Paired with shallots bathed in a syrupy mixture of honey and balsamic vinegar, plus juicy sweet grapes, it's a flavor combination that was truly worth the repeat.
And so I'll leave you with just one tip. If your family is anything like mine, you'd be smart to throw in a few extra grapes (or a whole big cluster!). A bit charred and blistered, with some even popping open, the grapes are like some kind of crazy fruit candy after they've hit the fire. They disappear fast. Trust me on this one.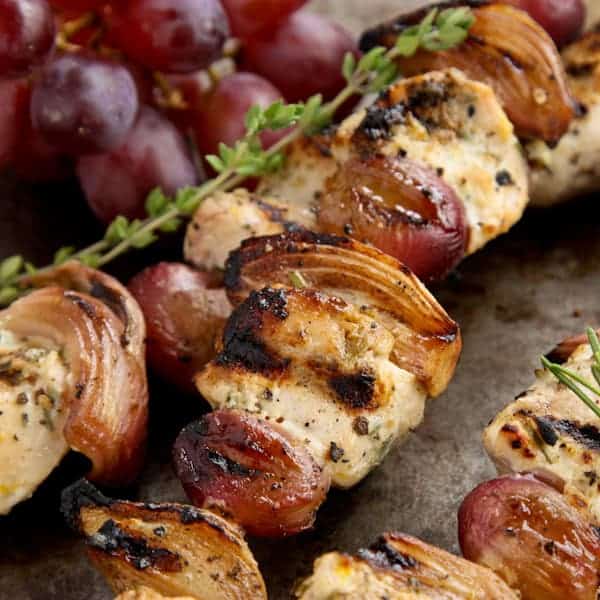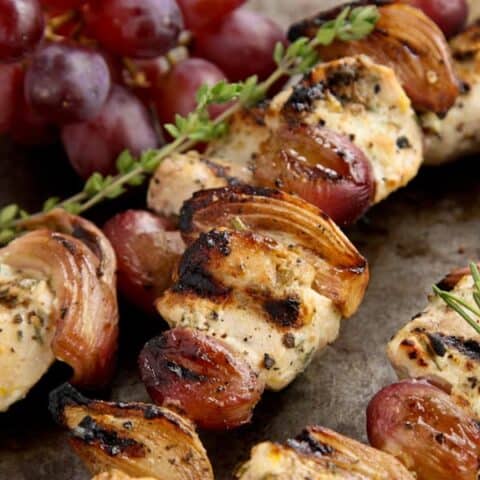 Herby Grilled Chicken Kebabs with Grapes and Shallots
Yield: 4 to 6 servings
Cook Time: 15 minutes
Total Time: 15 minutes
These Herby Grilled Chicken Kebabs with Grapes and Shallots did the trick. You simply must give this recipe a try!
Ingredients
1/2 c. plain Greek yogurt
3 T. olive oil, divided
4 large cloves garlic, minced
juice and zest of 1 large lemon
2 tsp. fresh minced thyme
2 tsp. fresh minced rosemary
1 lb. Gold'n Plump® Boneless Skinless Chicken Breast Portions, cut into 1" to 1-1/2" pieces
2 T. balsamic vinegar
1 T. honey
3 to 4 large shallots, peeled, root ends removed, and quartered
20 large red grapes
kosher salt and freshly ground black pepper, to taste
Instructions
In a medium bowl, combine yogurt, 2 tablespoons of the olive oil, garlic, lemon juice and zest, thyme, and rosemary. Add chicken and fold to combine. Cover bowl and place in refrigerator to marinate for at least two hours, and up to six. If using wooden skewers, place them in a shallow pan of water to soak. This will help them to not burn up as much on the grill.
In a small bowl, whisk together balsamic vinegar, honey, and remaining tablespoon of olive oil. Peel each quartered shallot into 2 pieces and add to the balsamic mixture. Fold gently to combine. Cover bowl and place in refrigerator until chicken is done marinating.
Thread chicken onto wood or metal skewers, alternating with grapes and shallots. Sprinkle with salt and pepper.
Heat grill to medium to medium-high heat. Make sure grates are scrubbed clean and then oiled. (To oil the grates, add some canola oil or olive oil to a small bowl. Then fold a heavy paper towel a few times to make a smaller square. With a tongs, grasp the folded paper towel and dip it into the oil until the paper towel is drenched. Then run the paper towel over the grates, repeating until all grill grates are thoroughly oiled.)
Place chicken kebabs on hot grill grates and let cook until beautifully charred. Turn the kebabs and continue to cook until charred again. The chicken should be cooked through after about 12 to 15 minutes of total grill time. Serve hot.
Notes
from a farmgirl's dabbles
Nutrition Information:
Yield: 6
Serving Size: 1
Amount Per Serving:
Calories: 273
Total Fat: 10g
Saturated Fat: 2g
Trans Fat: 0g
Unsaturated Fat: 7g
Cholesterol: 65mg
Sodium: 142mg
Carbohydrates: 20g
Fiber: 2g
Sugar: 14g
Protein: 27g
Nutrition information is automatically calculated by Nutritionix. I am not a nutritionist and cannot guarantee accuracy. If your health depends on nutrition information, please calculate again with your own favorite calculator.
This post is sponsored by Gold'n Plump, a chicken brand based out of St. Cloud, Minnesota. I am partnering with them this year to bring you delicious new chicken recipes from our kitchen and backyard grills. All opinions are 100% my own, as always. Thank you for supporting the brands that help make this site possible!
We participate in the Amazon Services LLC Associates Program, an affiliate advertising program designed to provide a means for us to earn fees by linking to Amazon.com and affiliated sites. See our
disclosure policy
for more info.