Grilled Chicken Kebabs with Meyer Lemon Salsa
This post may contain Amazon or other affiliate links. As an Amazon Associate I earn from qualifying purchases.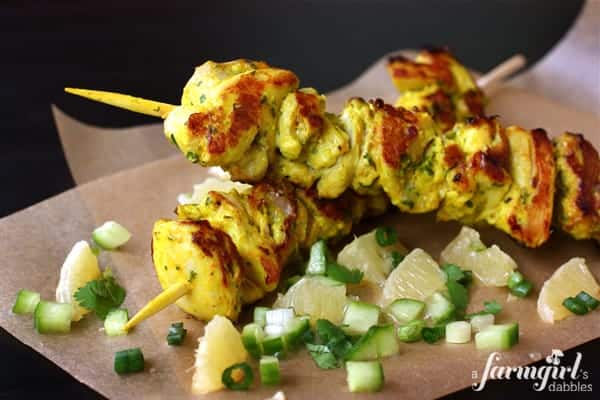 I had eyed the bags of perfectly gorgeous (almost to the point of fake-looking) Meyer lemons at the store for a few weeks before I finally set one in my cart. Never having actually used this particular citrus myself, I just wasn't sure what to do with them.
Until I opened up my January edition of bon appetit. There it was. The recipe that was going to kick my butt over the Meyer lemon hurdle.
Grilled Chicken Kebabs with Meyer Lemon Salsa.
My family could not get enough of these kebabs. Even while I was grilling them, big and little bodies kept wandering into the kitchen asking about the delicious and unfamiliar smell. The chicken was tender, perfectly flavorful, and charred to perfection.
Blake and I also liked the bright and tart contrast that the Meyer lemon salsa brought to the dish. It was unlike anything we had ever eaten before. But in all honesty, the salsa was just too much for the kids. It packed a very powerful punch, one that some might actually call overpowering if they aren't especially fond of lemons. I plan to play around with the salsa ingredients a little more to find a compromise that will satisfy our whole family.
If you're a lemon fan, I do hope you'll try this complete recipe. And if you're not a lemon fan…please, please, pleeeeeeease at least make the chicken kebabs. They're outrageously good and have been stamped with the highest seal of approval from each and every family member here.

If you're not familiar with the Meyer lemon, this dark yellow citrus fruit is one I encourage you to get friendly with. A cross between a lemon and a sweet orange, it has sweeter juice, a thinner smooth-skinned peel, and less acid than other lemons. And now is the time to find them at their peak.
So what will be my next delicious Meyer lemon galavant?
Here are just a few enticing things calling my name:
Lemon Rosemary Shortbread – from Stephanie of fresh tart
Meyer Lemon Vinaigrette – from Aggie of Aggie's Kitchen
Meyer Lemon Sweet Rolls – from Brooke of cheeky kitchen
Meyer Lemon Pudding Cake – from Maria of two peas & their pod
Mini Meyer Lemon Bundt Cakes – from Julie of the little kitchen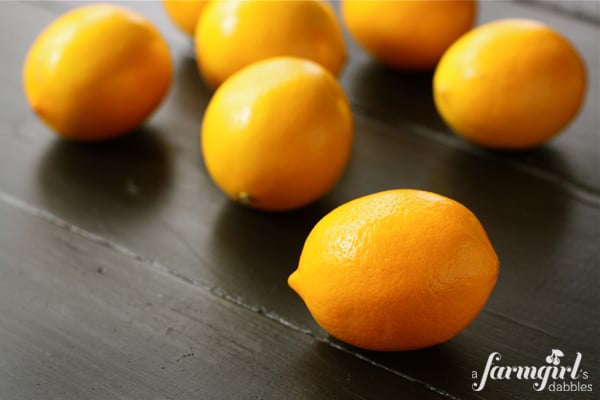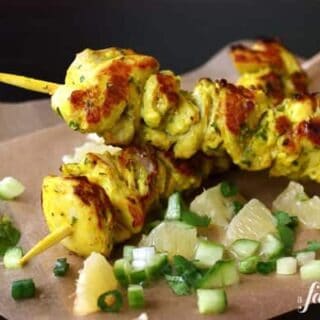 Grilled Chicken Kebabs with Meyer Lemon Salsa
Yield: 6 servings
Prep Time: 15 minutes
Cook Time: 8 minutes
Additional Time: 20 minutes
Total Time: 43 minutes
Grilled Chicken Kebabs with Meyer Lemon Salsa are a fantastic flavor combination of smoky, grilled chicken and tangy lemon. These juicy chicken kebabs have become one of my favorite ways to prepare chicken!
Ingredients
FOR THE MEYER LEMON SALSA:
5 Meyer lemons
1/2 c. finely chopped English cucumber
3 T. thinly sliced scallions, divided
1 serrano chile, finely chopped (seeds removed)
1/4 tsp. sugar (add more if your lemons are particularly tart)
kosher salt, to taste
FOR THE CHICKEN KEBABS:
1-1/2 lbs. skinless, boneless chicken thighs, cut into 1-1/2″ pieces
kosher salt, to taste
freshly ground black pepper, to taste
1/4 c. plus 2 T. chopped fresh cilantro
1/4 c. plain whole-milk yogurt
1 T. vegetable oil
2 garlic cloves, coarsely chopped
1 tsp. cracked coriander seeds
1 tsp. turmeric
kosher salt and freshly cracked black pepper, to taste
Instructions
With a sharp knife, cut all the peel and white pith from the lemons and discard. Working over a medium bowl, cut between the membranes to release the lemon segments in to the bowl. You want only the membranes remaining. Squeeze juice from the membranes into the bowl and discard the membranes. Strain juice into another bowl to remove seeds. Here's a great little tutorial from bon appetit, if you've never done this before.
Combine lemon segments, 1 tablespoon strained lemon juice (reserve the rest for another use), cucumber, 2 tablespoons scallions, and chile in a small bowl. Mix well. Stir in sugar and salt and set aside.
Place chicken in a medium bowl and season with salt and pepper. In a mini processor or blender, puree 1/4 cup cilantro, yogurt, vegetable oil, garlic, coriander, and turmeric. Pour marinade over chicken and toss to coat. Let marinate at room temperature for 20 minutes. (The marinade can be made 1 day ahead. Just cover and chill until you're ready to marinate the chicken.)
Heat outdoor grill or stove top grill pan to medium-high heat. Thread chicken onto 6 skewers. I used 9″ long sturdy wood skewers that I soaked in water for 30 minutes before grilling. Sprinkle with kosher salt and freshly cracked black pepper, to taste. Place chicken kebabs on grill until you see nice char marks and then rotate them. Continue to rotate until all sides are nicely browned and the chicken is cooked through. This should take about 8 minutes or so. Transfer kebabs to plates. Spoon the Meyer lemon salsa over the chicken or serve it alongside. Garnish with remaining 2 tablespoons cilantro and 1 tablespoon scallions.
Nutrition Information:
Yield: 6
Serving Size: 1
Amount Per Serving:
Calories: 342
Total Fat: 17g
Saturated Fat: 5g
Trans Fat: 0g
Unsaturated Fat: 11g
Cholesterol: 199mg
Sodium: 577mg
Carbohydrates: 11g
Fiber: 3g
Sugar: 3g
Protein: 42g
Nutrition information is automatically calculated by Nutritionix. I am not a nutritionist and cannot guarantee accuracy. If your health depends on nutrition information, please calculate again with your own favorite calculator.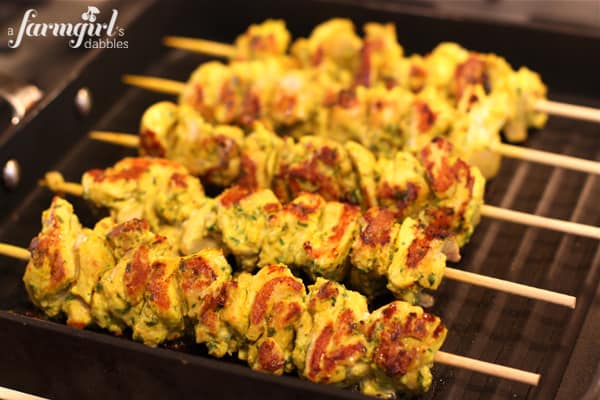 We participate in the Amazon Services LLC Associates Program, an affiliate advertising program designed to provide a means for us to earn fees by linking to Amazon.com and affiliated sites. See our
disclosure policy
for more info.