Grilled Charmoula Pork Kabobs with Yogurt Mint Sauce
These Grilled Charmoula Pork Kabobs with Yogurt Mint Sauce are packed with flavor, a perfect family meal from the grill.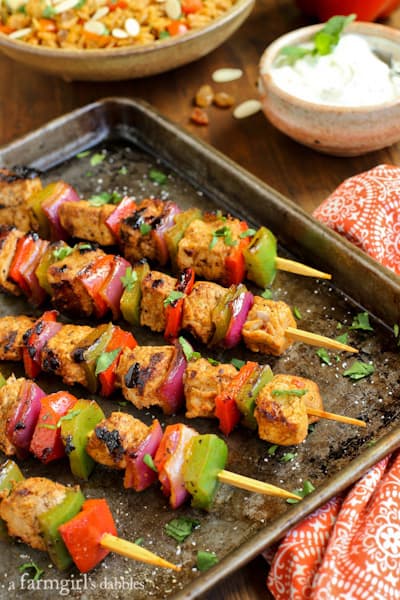 Remember that fresh cauliflower salad I shared with you a couple weeks ago, the one with the North African charmoula dressing? Well I just can't get enough of its flavor packed goodness. It's great as a main course salad or as a smaller side. And now I've found another way to enjoy its warm and spicy flavors, as a marinade for the cubes of pork in these beautiful grilled kebabs. Grilling season is upon us, my friends. Give these Grilled Charmoula Pork Kabobs with Yogurt Mint Sauce a try!

I created this new recipe on behalf of my partnership with the National Pork Board (NPB), to share with you the versatility of pork. Recently, I made a super tasty appetizer using America's top-mentioned pork product on social media. You guessed it. Bacon. My recipe combines amazing thick-cut, double-smoked bacon with goat cheese, honey, corn, and jalapeño, all in one neat and tidy appetizer package. It's a great example of how delicious a mashup of different flavors and textures can be, the perfect illustration of what the NPB's recent exploration of 30 million social media posts found to be true. To learn more about the NPB's social media findings of trends in flavors, ingredients, and pairings, go here, plus read this recent post of mine.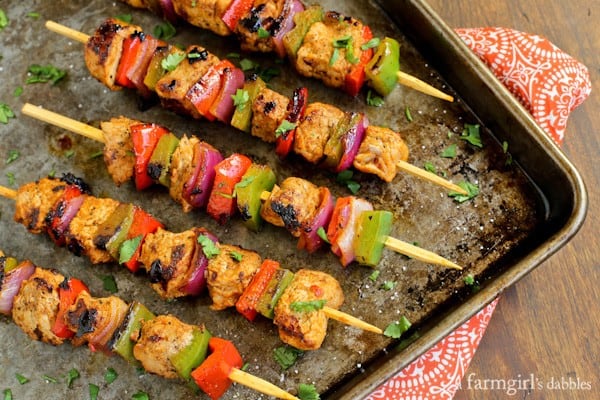 When it comes to showcasing a food's versatility, pork has it made in the shade. My family enjoys pork so many different ways, and these grilled kebabs have been a welcomed addition to our recipe box.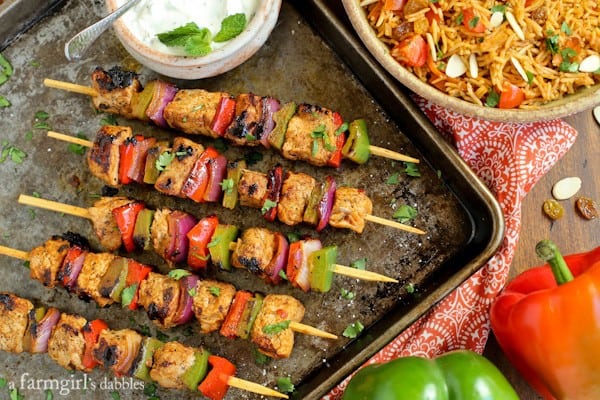 The charmoula marinade that packs this pork with so much flavor comes from the North African region, where it's used as a seasoning for grilled meat, fish, and vegetables. There are different versions of charmoula, but at the heart is a blend of spices such as coriander and cumin and fresh chilies, mixed with herbs, garlic, fresh lemon juice, and olive oil. My recipe is heavy on paprika, giving the pork a pretty red-spiced hue, plus lovely heated flavor.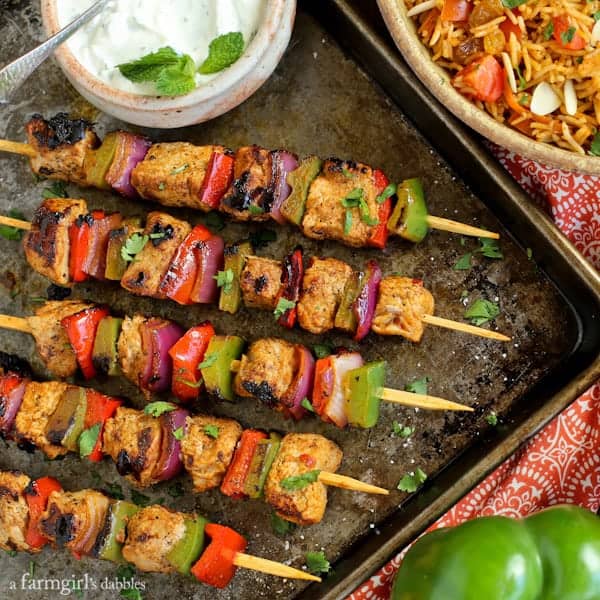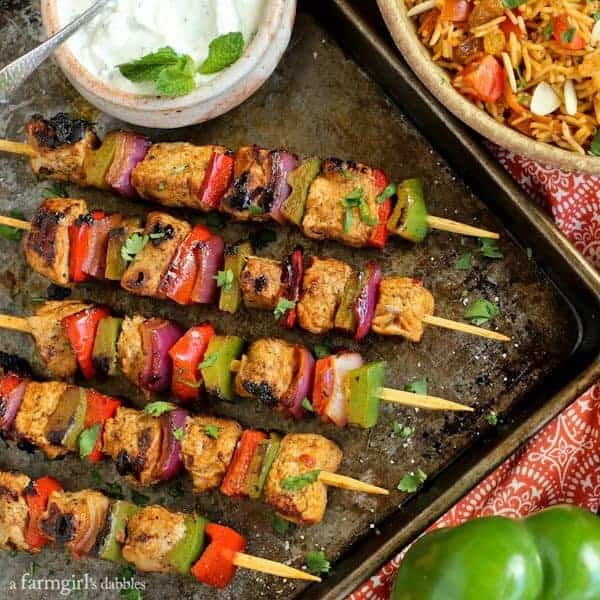 To contrast with the marinade's heat, serve these grilled charmoula pork kebabs with easy-to-make yogurt mint sauce. It's so creamy and minty wonderful, you'll be dreaming up new reasons to whip up another batch!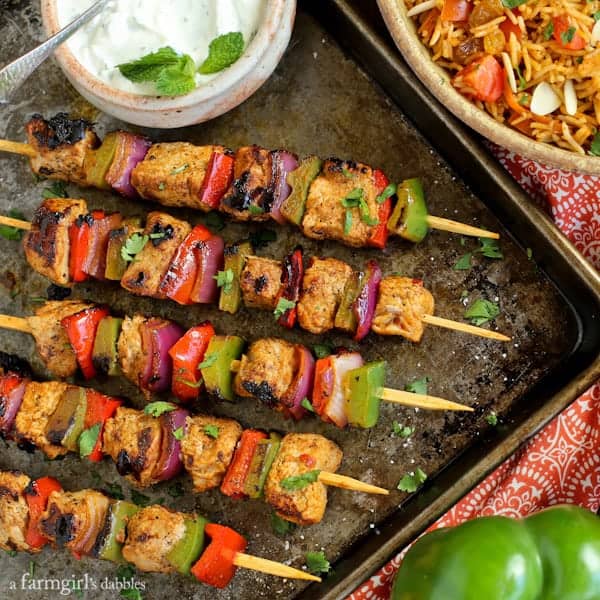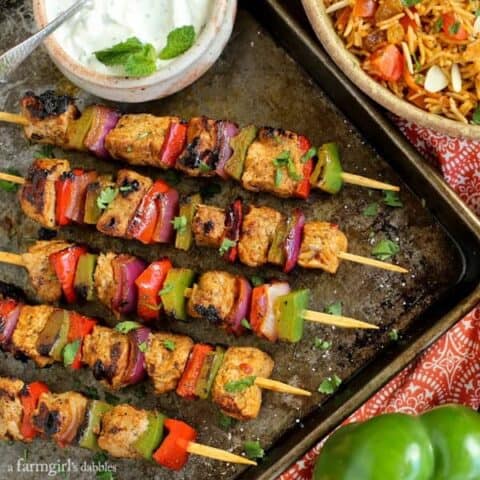 Grilled Charmoula Pork Kabobs with Yogurt Mint Sauce
Yield: 4 servings
Prep Time: 6 hours 20 minutes
Cook Time: 10 minutes
Total Time: 6 hours 30 minutes
These Grilled Charmoula Pork Kebabs with Yogurt Mint Sauce are packed with flavor, a perfect family meal from the grill.
Ingredients
for the kabobs:
1¼ to 1½ pounds pork loin or tenderloin, trimmed of any excess fat, cut into 1" pieces
charmoula dressing, without the fresh cilantro mixed in
1 large red bell pepper, seeded, cut into 1" pieces
1 large green bell pepper, seeded, cut into 1" pieces
1 medium red onion, peeled into single layers, cut into 1" pieces
1 tablespoon olive oil
kosher salt
freshly ground black pepper
chopped fresh cilantro, optional garnish
for the yogurt mint sauce:
1 cup plain Greek yogurt
2 tablespoons minced fresh mint
1 tablespoon freshly squeezed lime juice
1 large clove garlic, minced
½ teaspoon cumin
Instructions
For the kabobs: Place pork in a medium bowl and pour charmoula dressing over the top; fold to incorporate. Cover and let marinate in the refrigerator for 6 hours or overnight.
Place red pepper, green pepper, and onion into a medium bowl. Drizzle with olive oil and fold to coat evenly.
Thread the marinated pork, peppers, and onions onto skewers. Sprinkle with a bit of salt and freshly ground black pepper on all sides, to taste.
Heat grill to medium-high. Make sure grates are scrubbed clean and then oiled (see Notes).
Place kabobs on hot grill grates. Grill for 10-12 minutes total, turning every few minutes, until pork reaches 145° with an instant read thermometer. Total time will depend on grill temperature and size of pork pieces.
Remove kabobs from the grill to a serving platter, and let rest for 3 minutes. Sprinkle with optional chopped cilantro and serve with yogurt mint sauce.
For the yogurt mint sauce: In a medium bowl, stir together all ingredients for the yogurt mint sauce. This can be made up to a day in advance, stored covered in the refrigerator until ready to use.
Notes
If using wood skewers, be sure to soak them in water for a couple hours before assembling skewers.
To oil the grates, add some vegetable oil to a small bowl. Then fold a heavy paper towel a few times to make a smaller square. With a tongs, grasp the folded paper towel and dip it into the oil until the paper towel is soaked. Then run the paper towel over the clean, hot grates, repeating until all grill grates are thoroughly oiled.
Nutrition Information:
Yield: 4
Serving Size: 1
Amount Per Serving:
Calories: 422
Total Fat: 19g
Saturated Fat: 5g
Trans Fat: 0g
Unsaturated Fat: 11g
Cholesterol: 139mg
Sodium: 181mg
Carbohydrates: 10g
Fiber: 1g
Sugar: 5g
Protein: 52g
Nutrition information is automatically calculated by Nutritionix. I am not a nutritionist and cannot guarantee accuracy. If your health depends on nutrition information, please calculate again with your own favorite calculator.
Disclosure: This post is sponsored by the National Pork Board. Thank you for supporting the brands that I carefully choose to work with, that help make this site possible. All opinions are 100% my own.