North African Cauliflower Salad with Charmoula Dressing
This North African Cauliflower Salad with Charmoula Dressing is packed with wholesome ingredients and is huge on flavor. It's an easy to make salad recipe that's both filling and healthy!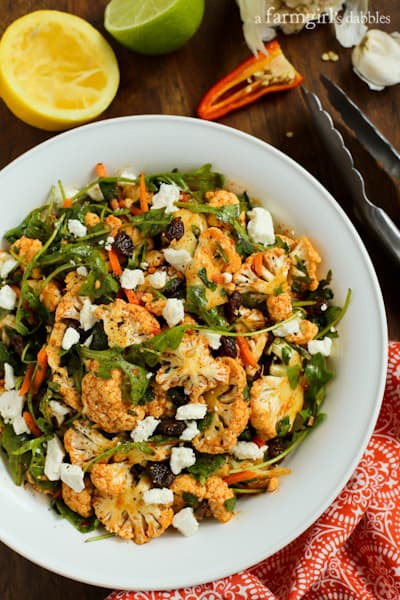 This Cauliflower Salad Is Perfect For Family Meals
You know that I am a huge advocate of family meals – the whole shebang…shopping for groceries together, preparing the meal side by side in the kitchen, sitting down and saying grace before lifting our forks, and then cleaning up the dishes. All of us, together. We do this routine most every day. But I'll readily admit that I look forward to a great meal out – breakfast, lunch, dinner, coffee, cupcakes – whatever. It doesn't always have to cost a lot of money or be an over-the-top experience. Dining out, for me, just needs to be not ordinary (there are very few chain restaurants that I frequent), and worthy of my time and money. Because life is too short to eat bad food, and my wallet does not come with an unlimited supply of cash. I have to be choosey.
This North African Cauliflower Salad with Charmoula Dressing is my copycat version of a fabulous salad from a great local pizza restaurant, Black Sheep Pizza. A girlfriend requested to celebrate her birthday at this pizza place a couple years ago, and my family has been going back ever since. We can't get enough of their awesome coal fired pizzas and tasty salads!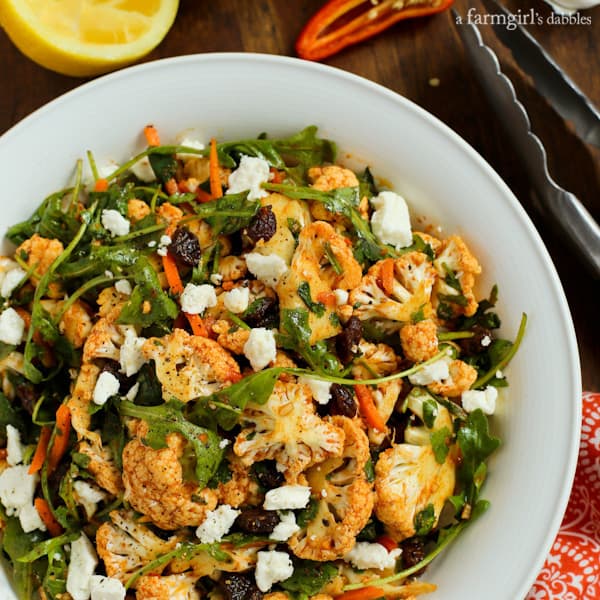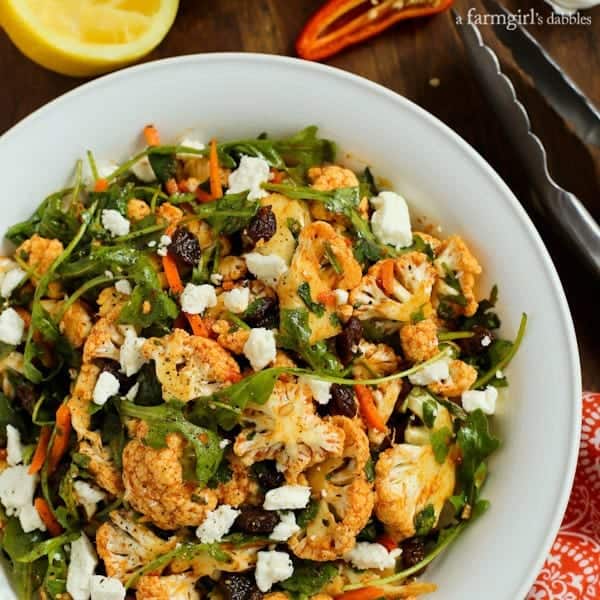 Whenever we visit Black Sheep, Blake and the girls have to order the House Salad. And that's saying something for three people who very rarely touch a salad when dining out. It comes to the table in a stainless steel bowl, with a set of tongs, enough for our family of four. The greens are always cold and crisp and fresh. But I know for my three amigos, it's really all about how the salad is dressed, with a super tasty, creamy Italian dressing. It's delish.
North African Cauliflower Salad Ingredients
I sometimes venture out of the House Salad realm and order one of Black Sheep's daily Market Salads. They're always inventive and flavorful. Take, for instance, this North African cauliflower salad with charmoula dressing…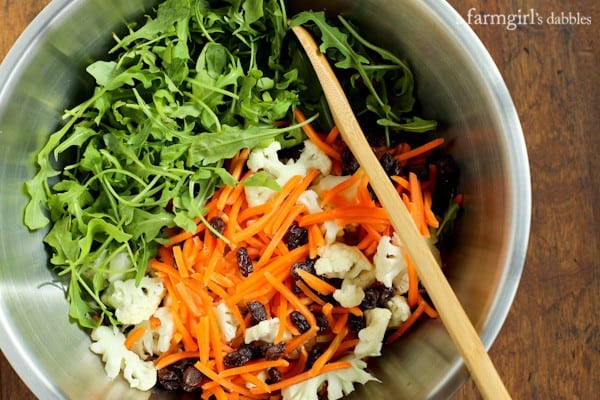 At the base is a hearty mix of sliced fresh cauliflower florets and shredded carrots. Raisins add a chewy, sweet-tart bite, and arugula is folded in for bright and peppery green.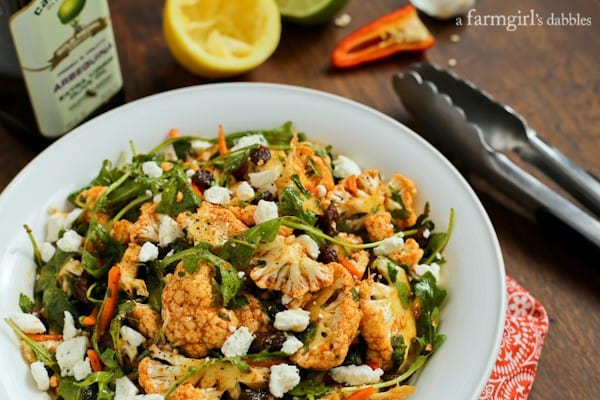 What Is Charmoula Dressing?
Then comes the flavorful charmoula dressing. When I saw the word "charmoula" on the menu, I had to look it up. This sauce/marinade was born in Morocco and has spread throughout the North African region, a seasoning for grilled meat, fish, and vegetables. I found many different versions, but at the heart of charmoula is a blend of spices like coriander and cumin and fresh chilies, mixed with herbs, garlic, fresh lemon juice, and olive oil. Black Sheep's salad was heavy on paprika and sprinkled with salty feta, and that's what you'll find with mine, too.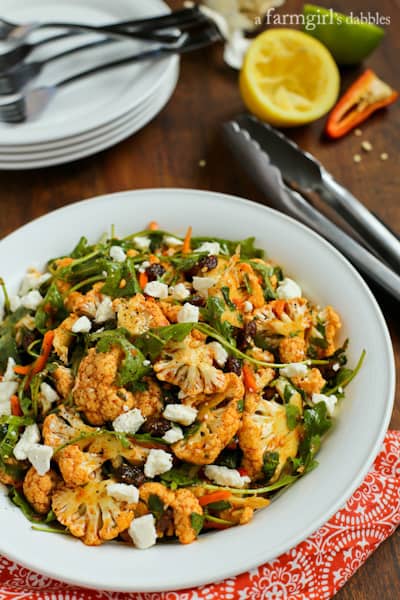 This Cauliflower Salad Makes A Filling And Healthy Lunch
This salad is on my regular at-home lunch agenda. It's packed with great wholesome ingredients and is huge on flavor. HUGE. I can easily do away with this bowl of cauliflower salad in two or three lunch sittings, no problem.
See how eating out works? So many times, it's total inspiration for what we eat at home later. That, in and of itself, makes the dollars well spent.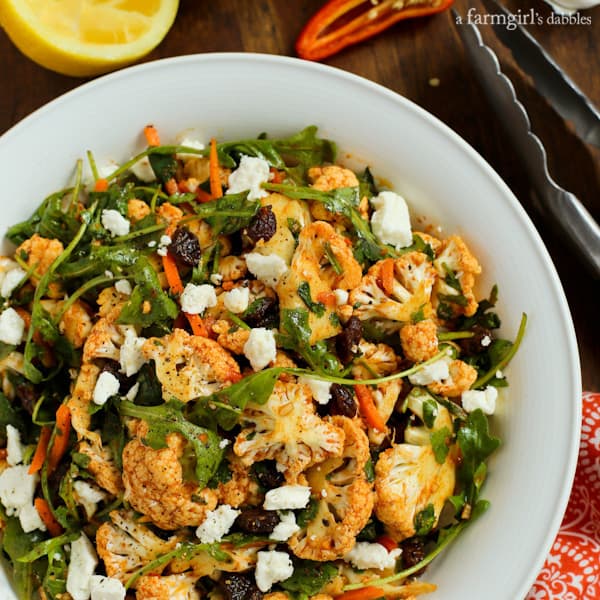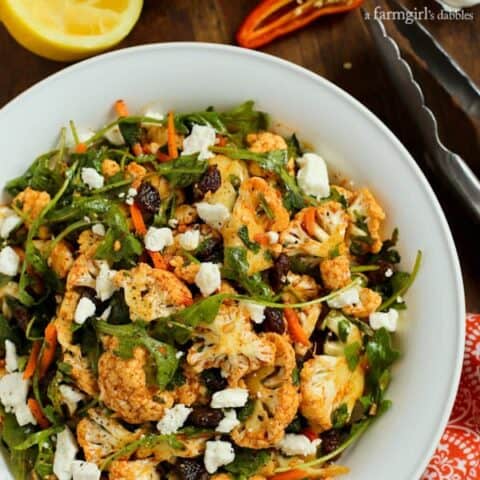 North African Cauliflower Salad with Charmoula Dressing
Yield: 2 to 3 lunch-sized servings or 4 to 6 side-size servings
Prep Time: 20 minutes
Total Time: 20 minutes
This North African Cauliflower Salad with Charmoula Dressing is packed with wholesome ingredients and is huge on flavor. It's an easy to make salad recipe that's both filling and healthy!
Ingredients
for the charmoula dressing:
½ cup olive oil
3 tablespoons freshly squeezed lemon juice
1 tablespoon freshly squeezed lime juice
3 large cloves garlic, minced
2 teaspoons minced red fresno chili, without seeds (use more if you like a lot of heat!)
1 tablespoon smoked paprika
½ tablespoon sweet paprika
1½ teaspoons ground cumin
1 teaspoon ground coriander
1 teaspoon Morton kosher salt
¼ teaspoon cayenne
¼ teaspoon black pepper
1 cup chopped and loosely packed fresh cilantro
for the cauliflower salad:
1 small head cauliflower
1 cup shredded carrots
½ cup raisins
3 cups loosely packed arugula
Morton kosher salt
freshly cracked black pepper
¼ cup crumbled feta
Instructions
For the charmoula dressing: In a medium bowl, stir together the olive oil, lemon juice, lime juice, garlic, chili, smoked paprika, sweet paprika, cumin, coriander, salt, cayenne, and black pepper.
Fold in the cilantro and set aside.
For the cauliflower salad: Core the cauliflower and separate into florets. Starting at the stem end, slice florets into ¼"-thick pieces. Place cauliflower in a large bowl. Add carrots and raisins, and fold to combine.
Drizzle the charmoula dressing over the top and fold to combine. Fold in arugula. Taste and sprinkle with additional kosher salt, if needed.
Turn salad out onto a serving platter and sprinkle with freshly ground black pepper, followed by the feta. Serve immediately.
Notes
This salad makes great leftovers, except for the arugula. If you don't think you'll eat all of the salad on the same day you make this, only add arugula to what you think you'll eat that same day. When ready to eat the cauliflower salad the following day, simply fold arugula into the salad right before eating. Or serve the cauliflower salad directly over a bed of arugula.
Nutrition Information:
Yield: 4
Serving Size: 1
Amount Per Serving:
Calories: 374
Total Fat: 30g
Saturated Fat: 5g
Trans Fat: 0g
Unsaturated Fat: 24g
Cholesterol: 9mg
Sodium: 528mg
Carbohydrates: 26g
Fiber: 5g
Sugar: 15g
Protein: 5g
Nutrition information is automatically calculated by Nutritionix. I am not a nutritionist and cannot guarantee accuracy. If your health depends on nutrition information, please calculate again with your own favorite calculator.