Moroccan Orange Couscous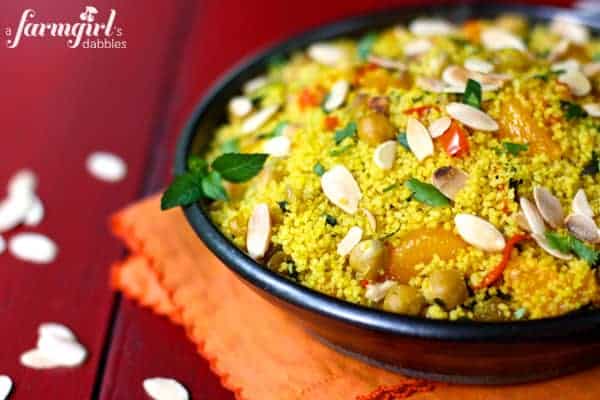 Our oldest daughter has acquired a special little liking for lamb, ever since we visited my sister's family in Cairo, Egypt almost 2 years ago. Hatti had eaten lamb in gyros in Greek restaurants before, and liked it. But there was just something exhilarating and out-of-this-world-memorable about a meal of freshly shaved shawarma (the Arab term for meats stacked on a vertical spit that are grilled and then shaved – see this post for a photo from our meal), eaten on the sidewalk of a bustling Cairo street. The scene was chaotic. Crowded. Dirty. But the lamb was perfectly spiced and tender. Hatti was hooked.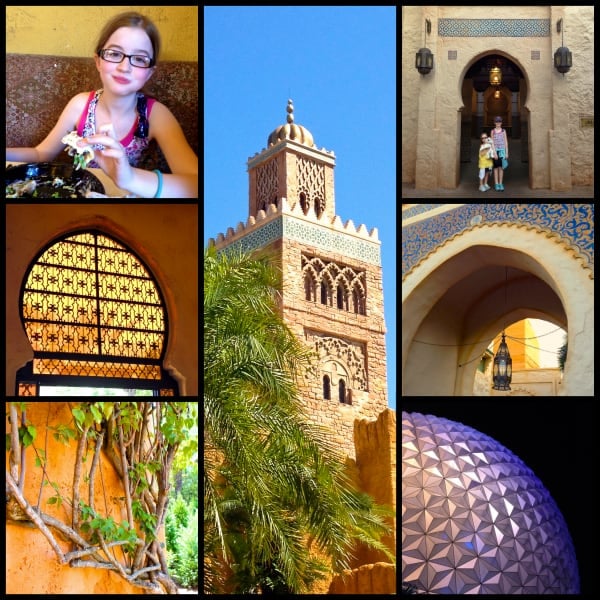 So when we visited Epcot this past April, and Hatti learned that Morocco was in the World Showcase…well, there was no getting around enjoying a meal of lamb. There was plenty that she was looking forward to that day at the Disney park, but honestly, it was all about that spiced meat spinning on the spit. She was in heaven (upper left photo) as we shared a meal of lamb, with warm fresh pita bread, hummus, tabbouleh, and a fabulous couscous salad with orange.
Recreating memorable dishes from our travels is something I love to do. It makes the awesome memories last even longer. This recipe for Moroccan Orange Couscous has a beautiful way of tying together two unforgettable trips our family has taken over the past couple of years. It's gently spiced, sweetened by golden raisins and mandarin oranges, and bulked up by garbanzo beans. When served with a squeeze from a fresh orange slice, and if I close my eyes and slowly inhale the spicy citrusy scent, I'm suddenly in an exotic land far, far away.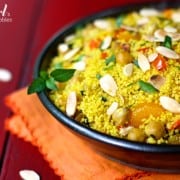 Moroccan Orange Couscous
Yield: 8 to 10 servings
Cook Time:16 minutes
Ingredients:
1/2 c. sliced almonds
2 tsp. ground cumin
1 tsp. ground ginger
1/4 tsp. ground cloves
1/4 tsp. cinnamon
1/4 tsp. turmeric
pinch cayenne pepper
1/4 c. olive oil
1-1/2 c. finely chopped red onion
1 red bell pepper, chopped
1 yellow bell pepper, chopped
5 large garlic cloves, minced
1/2 c. golden raisins
1 tsp. kosher salt
1 14.5-oz. can garbanzo beans, rinsed and drained
1-1/2 c. chicken broth
zest and juice from 2 large oranges (keep the zest and juice separated)
2 c. couscous
1 11-oz. can mandarin oranges, drained
1/4 tsp. freshly ground black pepper
1/4 c. chopped fresh mint
1/2 c. chopped fresh cilantro
fresh orange slices, to squeeze over individual portions
Directions:
In a large saucepan over medium heat, toast the almonds, stirring frequently, just until lightly browned and fragrant. Remove to plate to cool.
Return saucepan to medium heat. In a small bowl, combine the cumin, ginger, cloves, cinnamon, turmeric, and cayenne. Add mixed spices to the saucepan and gently toast until fragrant, only about 30 to 60 seconds. Take care to not let the spices scorch. Stir in oil, onion, red and yellow peppers, and garlic, and cook until softened, about 8 to 10 minutes. Stir in raisins, salt, garbanzo beans, chicken broth, and orange juice. Turn heat to high and bring to a boil. Then stir in the couscous and remove saucepan from heat. Cover saucepan with lid and let stand 5 minutes. Fluff with a fork. Let cool to room temperature, fluffing periodically, and then stir in orange zest, mandarine oranges, black pepper, mint, and cilantro. Refrigerate 1 to 2 hours or overnight. Serve with fresh orange slices, to be squeezed over individual portions.
Inspired by a meal at the Tangierine Cafe, at the Morocco Pavilion in Epcot – Orlando, Florida.
©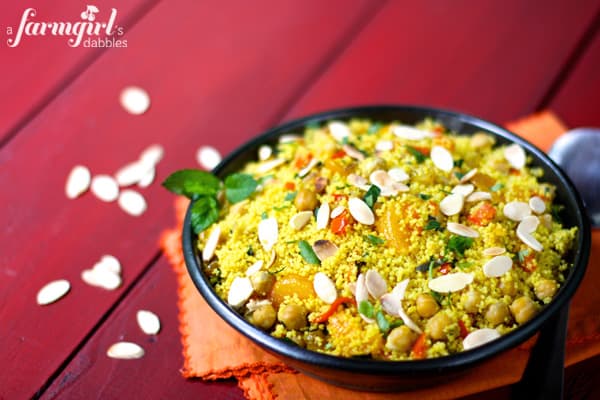 We participate in the Amazon Services LLC Associates Program, an affiliate advertising program designed to provide a means for us to earn fees by linking to Amazon.com and affiliated sites. See our disclosure policy for more info.