Baked Chicken Nuggets with Dilly Ranch Dip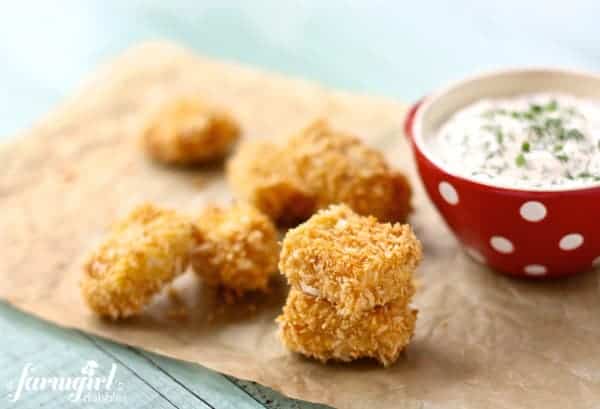 Chicken nuggets, tenders, fingers…whatever you want to call them…are a whole lotta fun to eat. Even for us big kids. Who doesn't love to dip crispy little chicken bites into their favorite sauce?!
But I haven't encountered many chicken nuggets that I've actually felt good about eating. In my adulthood, that is. I won't talk about all those McNuggets I happily downed as a kid.
Homemade baked chicken nuggets is a meal I've been meaning to create for our family for a number of years, but I was only recently inspired to give it a shot after reading an interesting article in last month's issue of Cooking Light. Their healthy recipe makeover amped up the flavor and texture of chicken nuggets by first brining the chicken in tart pickle juice, a method rumored to be used by Chick-fil-A, and buttermilk, which helps to tenderize. I was intrigued. So I tried their recipe.
And then I had to go back in for Round 2, because the recipe needed a little help. While I absolutely loved the pickle juice and buttermilk soak, the breaded exterior was something less desirable. Not crunchy. Not flavorful. I forged on.
After another try, I'm happy to share this deliciously crispy Baked Chicken Nuggets recipe. My family thinks it's great, especially when served with homemade Dilly Ranch Dip. The dip is creamy and full of flavor, with a garlicky zip that we can't get enough of. This meal is a whole lotta tasty fun, I think you'll agree.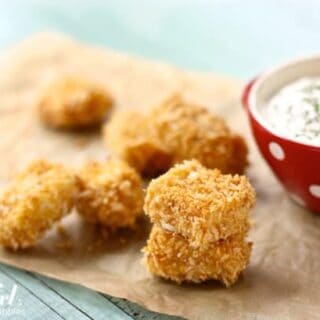 Baked Chicken Nuggets with Dilly Ranch Dip
Yield: 4 to 6 servings
Prep Time: 1 hour 15 minutes
Cook Time: 20 minutes
Total Time: 1 hour 35 minutes
Chicken nuggets, tenders, fingers…whatever you want to call them…are a whole lotta fun to eat.
Ingredients
for the baked chicken nuggets:
4 boneless, medium-large skinless chicken breasts, cut into 1" x 2" pieces
1/3 c. buttermilk
1/3 c. dill pickle juice
2 c. panko (Japanese breadcrumbs)
1/3 c. grated Parmesan
1/2 tsp. kosher salt
1 T. canola oil
1 c. all-purpose flour
3 large eggs, beaten until combined
kosher salt and freshly ground black pepper, to taste
for the dilly ranch dip:
1/2 c. plain Greek yogurt
1/2 c. mayonnaise
1 garlic clove, very finely minced
2 tsp. garlic powder (not garlic salt!)
1 T. chopped fresh dill
1 T. chopped fresh chives
big pinch kosher salt
Instructions
for the baked chicken nuggets:
Combine chicken pieces, buttermilk, and pickle juice in a wide shallow bowl and cover with a lid. Or just put all ingredients in a large zip-lock plastic bag. Marinate in refrigerator for 1 hour.
Preheat oven to 400° F.
Spread panko on a rimmed baking sheet and bake until golden brown, 5 to 8 minutes. Transfer to a shallow dish and stir in Parmesan and salt. Drizzle with oil and stir well to distribute. Place flour and eggs in separate shallow dishes.
Increase oven temperature to 450° F.
Set a wire rack inside the same rimmed baking sheet and lightly coat the rack with cooking spray. In batches, coat chicken pieces in flour, then dip in egg, and lastly coat evenly with panko, pressing to adhere. Place on oiled rack. Sprinkle with desired amount of salt and pepper.
Bake until chicken is thoroughly cooked, about 12 minutes. Serve hot out of the oven with homemade dilly ranch dip.
for the dilly ranch dip:
Combine all ingredients in a small bowl and stir well. Can be made 1 day ahead of time. Store in the refrigerator
Nutrition Information:
Yield: 6
Serving Size: 1
Amount Per Serving:
Calories: 538
Total Fat: 27g
Saturated Fat: 5g
Trans Fat: 0g
Unsaturated Fat: 20g
Cholesterol: 138mg
Sodium: 1259mg
Carbohydrates: 48g
Fiber: 2g
Sugar: 7g
Protein: 24g
Nutrition information is automatically calculated by Nutritionix. I am not a nutritionist and cannot guarantee accuracy. If your health depends on nutrition information, please calculate again with your own favorite calculator.