Pumpkin Snickerdoodle Latte Cupcakes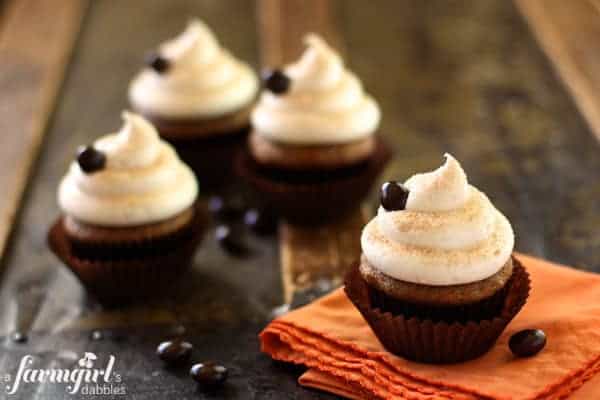 I have a couple kinds of scrumptiously fun cupcakes to share with you!
They were the morning brunch treat for a group of lovely ladies who gathered for a baby shower last weekend. The mama-to-be is a sweet family friend, also the wife of our pastor and piano teacher of our oldest daughter. We're blessed to know Stephanie and are awaiting the birth of their precious firstborn. It was an absolute honor to create these cupcakes to celebrate this joy filled event in their life.
I wanted to provide a little flavor variety for the baby shower, so I came up with two different cupcakes, both falling into a coffee theme. Because a group of ladies gathered for brunch just screams coffee. Right?!?!
The first recipe I'll be sharing with you is the Pumpkin Snickerdoodle Latte Cupcakes. These individual portions make for just the perfect fall treat, and would be a fun Thanksgiving dessert, too! The cake itself has some espresso powder mixed in, which provides grown-up depth, but not enough to deter any non-coffee lovers. Just ask our youngest daughter, who begged me not to take these cupcakes to the baby shower because she loved them so much! I'm sure it had absolutely nothing to do with the lofty swirl of cream cheese frosting and sprinkle of snickerdoodle-esque cinnamon and sugar. Tessa did, however, forgo the chocolate covered coffee beans. Which I can't say I'm sad about, as they just got passed along to me.  :wink:
(Stay tuned for a future post featuring the Salted Caramel Mocha Cupcakes!)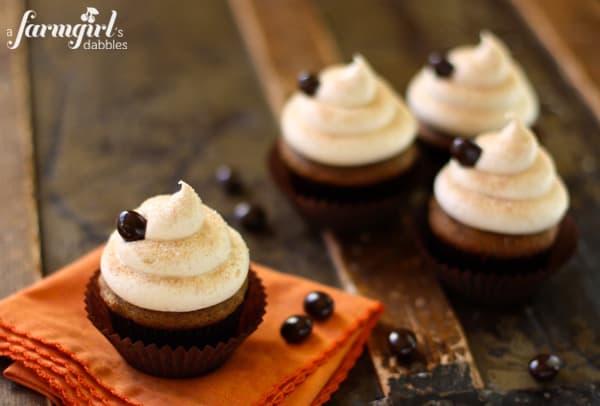 Pumpkin Snickerdoodle Latte Cupcakes
Ingredients
for the spiced pumpkin espresso cupcakes:

2-1/3 c. all-purpose flour
1 c. white whole wheat flour (or just use 1 c. additional all-purpose flour)
2 c. sugar
3 T. espresso powder
1 tsp. kosher salt
2 tsp. baking soda
1 tsp. baking powder
3 tsp. ground cinnamon
1-1/2 tsp. ground ginger
1/2 tsp. ground nutmeg
1/2 tsp. ground cloves
4 large eggs
1 15-oz. can pumpkin puree (not pre-spiced)
1 c. unsalted butter, melted
2 tsp. pure vanilla extract

for the cream cheese frosting:

16 oz. cream cheese, at room temperature
1 c. unsalted butter, at room temperature
2 tsp. pure vanilla extract
2 tsp. ground cinnamon
6 c. powdered sugar, sifted

for the finishing touches:

1 tsp. ground cinnamon
2 T. sugar
24 chocolate covered coffee beans
Preparation
for the spiced pumpkin espresso cupcakes:
Preheat oven to 350°. Line 2 standard muffin tins with 24 paper baking liners. Set aside.
In a medium bowl, sift together the flours, sugar, espresso powder, salt, baking soda, baking powder, cinnamon, ginger, nutmeg, and cloves. Make a well in the center of the flour mixture and set aside.
In another medium bowl, combine the eggs, pumpkin, melted butter, and vanilla. Add the pumpkin mixture all at once to the flour mixture. Stir until just moistened. Divide batter between the 24 prepared cups. Bake for 18-20 minutes, or just until a wooden toothpick inserted into centers of the cupcakes comes out clean. Do not overbake. Remove from pan to a wire rack to cool completely.
for the cream cheese frosting:
Using an electric mixer, beat cream cheese until completely smooth and creamy. Add butter and beat again for another minute or two, until the mixture is light and fluffy. Add vanilla and cinnamon and beat just to combine. Slowly add powdered sugar, one cup at a time, beating well after each addition.
Using a pastry bag fitted with a large plain round tip (I used Ateco No. 808), pipe frosting onto each cupcake.
for the finishing touches:
Mix together the cinnamon and sugar, and then sprinkle each frosted cupcake with this mixture. Press a chocolate coated coffee bean into the frosting of each cupcake.
Store cupcakes in the refrigerator. Let sit at room temperature for 20 to 30 minutes prior to eating.
Source
from a farmgirl's dabbles
I'm linking up with: