Salted Caramel Mocha Cupcakes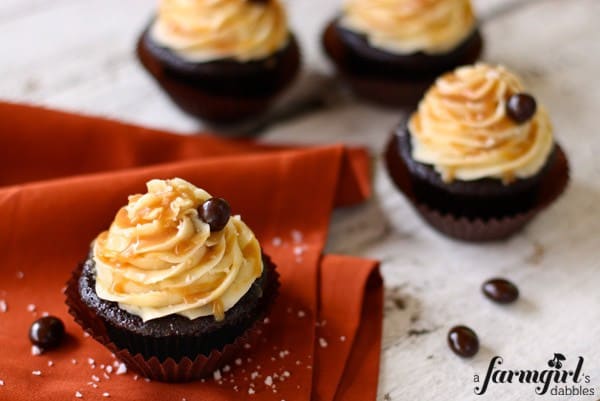 No, I haven't forgotten about sharing Cupcake #2 from our friend's baby shower!
A couple weeks ago, I baked two different kinds of coffee-themed cupcakes. They were the sweet bite at the end of a gorgeous brunch with lady friends. The Pumpkin Snickerdoodle Cupcakes were a hit. And so were these Salted Caramel Mocha Cupcakes!
At the base is Ina Garten's famous dark chocolate cake. With some brewed coffee added to the batter, the cupcakes are deliciously dark, yet not too dark to scare off my milk-chocolate-only-husband. But it's the salted caramel buttercream that is killer here. Flecked with vanilla beans, this frosting is silky smooth and not overly sweet. And, of course, the add-ons are nothing but pure fun…a drizzle of salted caramel sauce, a sprinkle of flaky sea salt, and a happiness-inducing chocolate covered espresso bean.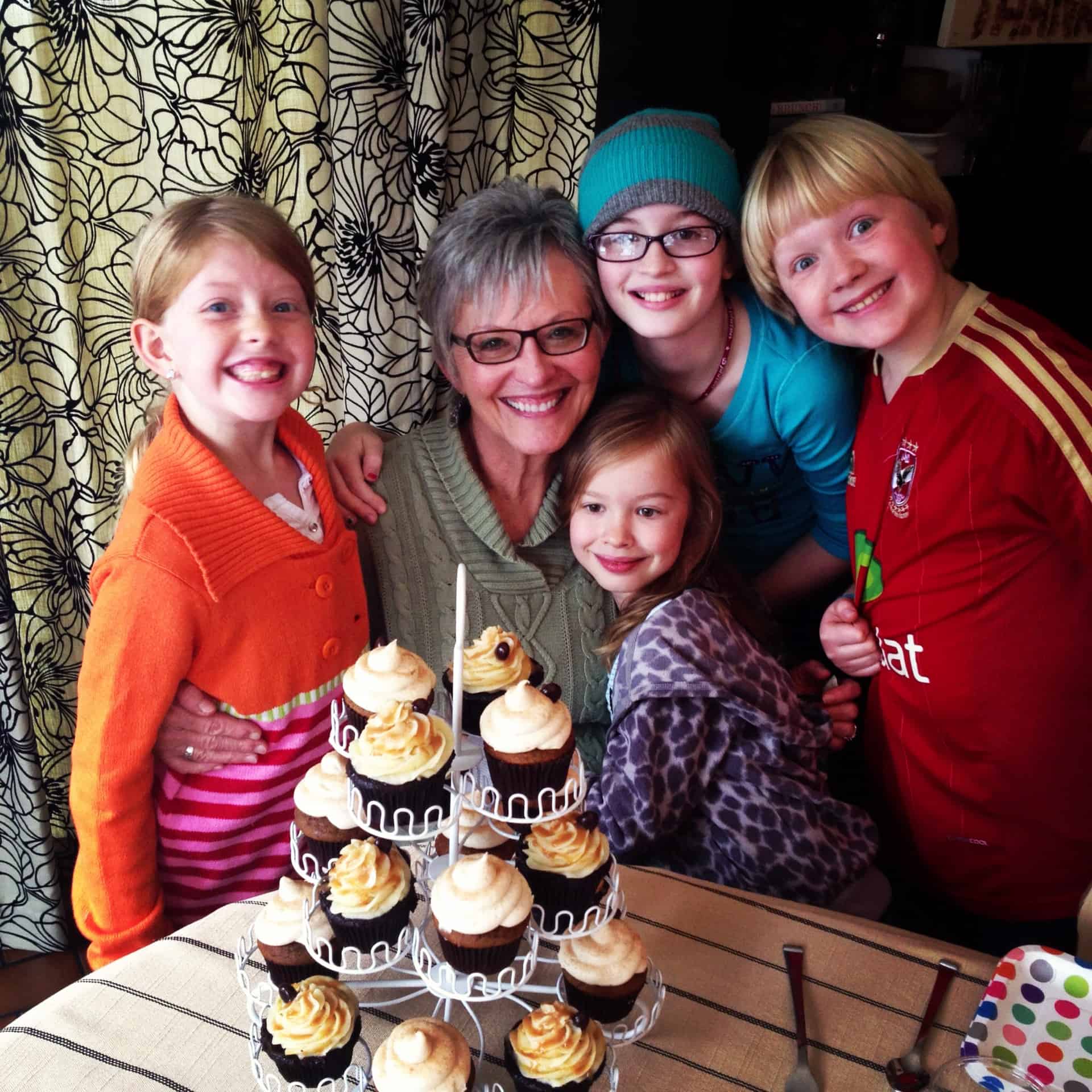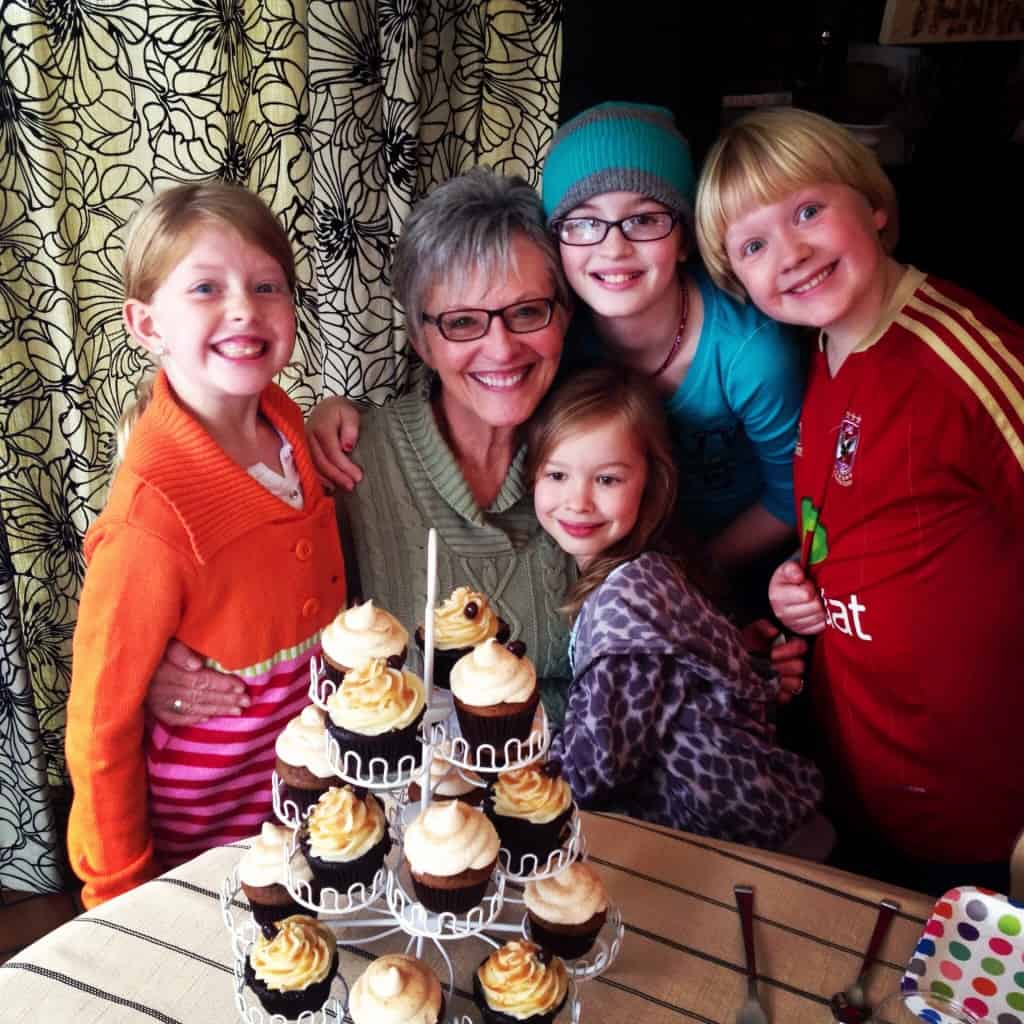 These two cupcake recipes got another workout when family was staying with us last week for Thanksgiving. My mom loves her coffee, so these sweet treats were just perfect for her.
TODAY is Mom's official birthday.
Happy Birthday to the most beautiful mom ever!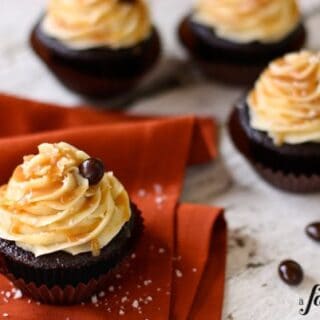 Salted Caramel Mocha Cupcakes
Yield: 24 cupcakes
Prep Time: 30 minutes
Cook Time: 20 minutes
Total Time: 50 minutes
Deliciously rich dark chocolate cupcakes topped with a swirl of silky caramel buttercream, a sprinkle of flaky sea salt, and a chocolate-covered espresso bean.
Ingredients
for the dark chocolate mocha cupcakes:
1.75 c. all-purpose flour, plus more for flouring the pans
2 c. sugar
3/4 c. cocoa powder
2 tsp. baking soda
1 tsp. baking powder
1 tsp. kosher salt
1 c. buttermilk
1/2 c. vegetable oil
2 extra-large eggs, at room temperature
2 tsp. pure vanilla extract
1 c. freshly brewed hot coffee
for the salted caramel sauce:
1.75 c. plus 2 T. heavy cream
1 vanilla bean, split lengthwise
1 c. sugar
1/4 c. light corn syrup
1/4 c. water
1/2 c. chilled unsalted butter, cut into 1/2″ cubes
1/2 tsp. kosher salt
for the salted caramel buttercream:
2.5 c. (5 sticks) unsalted butter, at room temperature
3 c. powdered sugar, sifted
1/4 c. heavy cream
1 tsp. pure vanilla extract
1.25 c. of the prepared salted caramel sauce, cooled
to finish the cupcakes:
24 chocolate coated espresso beans
flaky sea salt
remaining prepared salted caramel sauce
Instructions
for the dark chocolate mocha cupcakes:
Preheat oven to 350° F. Prepare 2 standard muffin pans by lining with 24 paper cupcake liners. Set aside.
Sift the flour, sugar, cocoa, baking soda, baking powder, and salt into the bowl of an electric mixer fitted with a paddle attachment and mix on low speed until combined. In another bowl, combine the buttermilk, oil, eggs, and vanilla. With the mixer on low speed, slowly add the wet ingredients to the dry. With mixer still on low, slowly and carefully add the coffee and stir just to combine, scraping the bottom of the bowl with a rubber spatula. The batter will be very loose.
This original recipe is for 2 round pans, and I found this amount to be just a bit too much for 24 cupcakes, so I remove about 1 cup of batter before dividing amongst the cupcake liners.
Bake for about 18 to 20 minutes, or until a toothpick comes out clean. Let cool in the pans for 15 minutes, then move to a cooling rack to cool completely.
for the salted caramel sauce:
Place cream in a small bowl. Scrape in seeds from vanilla bean and then also add the bean. Set aside.
Stir sugar, corn syrup, and water in a heavy saucepan over medium heat until sugar dissolves. Increase heat to medium-high and bring to a boil, occasionally swirling pan and brushing down sides with a wet pastry brush. It will thicken and turn deeper in color. After about 5 to 6 minutes, it should be deep amber in color. Don't let it get too dark. If it starts to smell burnt, immediately remove pan from heat.
Gradually add vanilla cream, while continuously whisking. The mixture will bubble vigorously. Whisk over medium heat until smooth and thick, about 2 minutes. Remove from heat and whisk in butter and salt. Strain into a heatproof bowl. Place in refrigerator to cool completely.
for the salted caramel buttercream:
In a stand mixer fitted with a paddle, beat the butter until creamy. At low speed, beat in the powdered sugar. Increase the speed to high and beat until fluffy, scraping down the side of the bowl, about 2 minutes longer.
At low speed, beat in the cream and vanilla. Then gradually beat in the 1-1/4 cup of cooled caramel sauce. Scrape down the side of the bowl and the paddle, increase the speed to medium-high and beat until light, 3 minutes longer.
Using a wooden spoon, vigorously beat the buttercream for 30 seconds to deflate any air bubbles.
to finish the cupcakes:
Fill pastry bag with a large star tip and pipe buttercream onto cupcakes. Drizzle over the top of each one a bit of the remaining salted caramel sauce. (Any leftover salted caramel sauce is wonderful over vanilla ice cream!)
Press a chocolate coated espresso bean into each swirl of frosting and then sprinkle lightly with sea salt.
Serve immediately or store in a container in the refrigerator. Remove from refrigerator about 30 minutes prior to serving
Notes
Dark chocolate mocha cupcakes adapted from "Beatty's Chocolate Cake" from Barefoot Contessa at Home. Salted Caramel Sauce adapted from bon appetit, September 2011, originally from Barbuzzo in Philadelphia. Salted Caramel Buttercream from a farmgirl's dabbles.
Nutrition Information:
Yield: 24
Serving Size: 1
Amount Per Serving:
Calories: 400
Total Fat: 15g
Saturated Fat: 6g
Trans Fat: 0g
Unsaturated Fat: 7g
Cholesterol: 37mg
Sodium: 409mg
Carbohydrates: 65g
Fiber: 2g
Sugar: 53g
Protein: 4g
Nutrition information is automatically calculated by Nutritionix. I am not a nutritionist and cannot guarantee accuracy. If your health depends on nutrition information, please calculate again with your own favorite calculator.