End of Summer Herby Chicken Chili Pot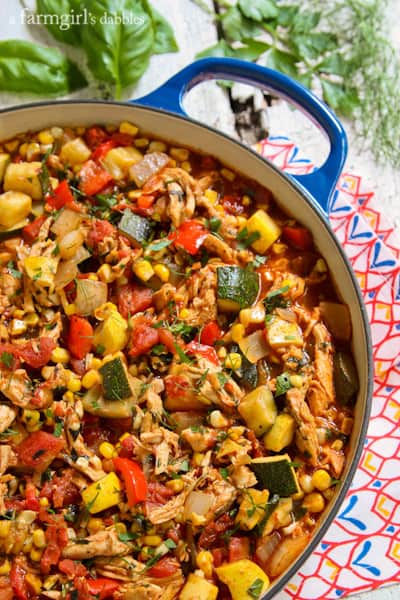 I always try to remind myself to keep my thoughts on the sunny side, especially when changes roll in that I'm not so excited about. Letting go of summer is one such instance that proves an excellent opportunity for me to put my money where my mouth is. Instead of lamenting the end of our warm and sunny weather, more relaxed schedules, and delicious fresh, local produce, I try to focus on the reasons why I also enjoy fall and winter. And this End of Summer Herby Chicken Chili Pot offers a wonderful segue to help me do just that.
[rss-cut]

The inspiration for this pot of chili comes from our herb garden, just a few steps out our back door. In this recipe, I used fresh parsley, dill, and basil (shown from left to right).
Our herb garden measures just 5′ x 3′, and truly is my most precious little piece of land. We use it almost daily from spring to fall. With just a few snips of this and a cutting of that, we are able to add lovely fresh flavors to every single meal and beverage.
I will admit that while I'm cleaning out the herb garden at the end of the season, it can be difficult for me to keep those sunny thoughts at the forefront!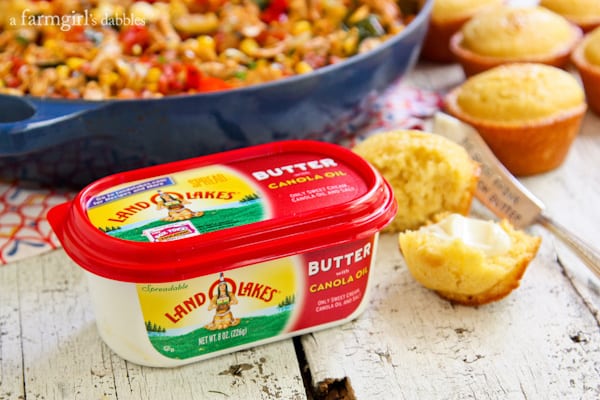 I created this recipe for Land O'Lakes and their Kitchen Conversations program, to share with you an easy and healthy recipe perfect for getting our families back into the swing of our fall routines.
Have you tried the Land O'Lakes tub butters yet? They really are the greatest thing. Our family has become quite smitten with all the tub butters and flavored spreads (the garlic and herb, cinnamon sugar, and honey varieties are so yummy!) since I started working with them this year. I used the Land O Lakes® Butter with Canola Oil for this recipe to sautée both the chicken and the veggies. And then I offer more at the table to schmear onto warm Honey Cornbread Muffins. The cornbread recipe is a family favorite and is the perfect compliment to this hearty pot of chili. A homemade beer bread would also be great with this chili pot!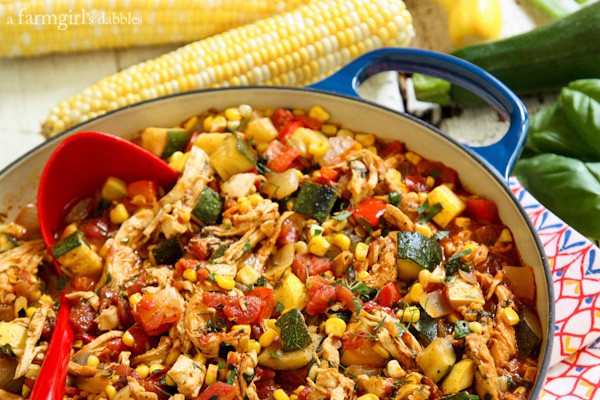 I purposely do not add beans to this pot of herby chicken chili because my kids are just not fans. However. I think a can of black beans would be a fabulous addition.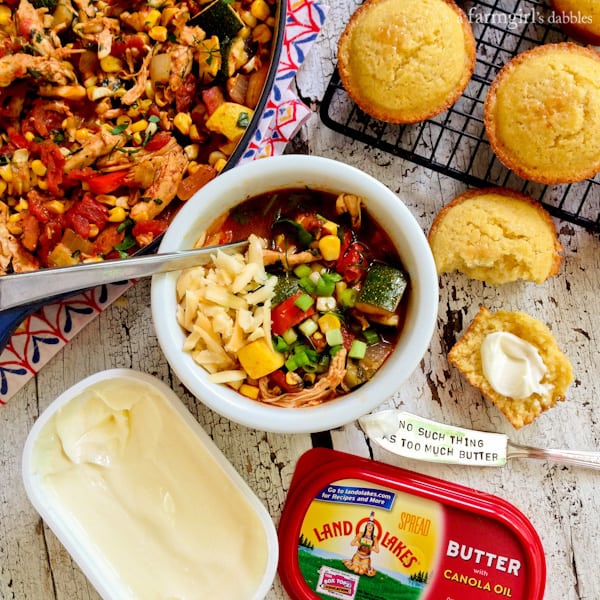 This chicken chili is a family pleaser. I've never seen our kids eat chili so readily. The dish is super flavorful and chock-full of fresh veggies found at the end of summer. My family especially likes the fresh sweet corn kernels that add fun pops of sweetness and texture.
And the smoked gouda. I can't forget to mention that. It's just the perfect cheese to serve with this chili. Try it. You won't regret it!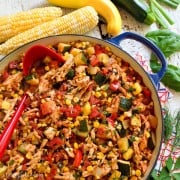 End of Summer Herby Chicken Chili Pot
Yield: 8 to 10 servings
Prep Time:20 minutes
Cook Time:40 minutes
Ingredients:
4 T. Land O Lakes® Butter with Canola Oil, divided
1 lb. of chicken breasts, lightly sprinkled on both sides with kosher salt and freshly ground black pepper
1 large yellow onion, chopped into 1/2″ pieces
1 large red bell pepper, chopped into 1/2″ pieces
4 large garlic cloves, minced
1 tsp. minced fresh jalapeno pepper
1 zucchini, chopped into 1/2″ pieces
1 yellow squash, chopped into 1/2″ pieces
corn kernels cut from 4 large ears of fresh sweet corn (do not cook the corn)
2  14.5-oz. cans diced fire roasted tomatoes (do not drain)
12 oz. beer or chicken broth
2 T. cumin
1 T. chili powder
1 tsp. sweet smoked paprika
juice and zest from 1 lime
1 c. chopped fresh herbs of your choice (I used 1/3 cup parsley, 1/3 cup dill, 1/3 cup basil)
optional goodies to offer alongside:
Directions:
In a large heavy duty soup pot or French oven, melt 2 tablespoons of the Land O Lakes® Butter with Canola Oil over medium to medium-high heat. Add chicken breasts and sautée until golden. Turn chicken over and sautée second side until golden. Then turn heat to medium, cover pan with lid, and cook just until chicken is no longer pink inside. Remove chicken to a cutting board and set aside.
Return same pot to stovetop and heat to medium-high. Add remaining 2 tablespoons of Land O Lakes® Butter with Canola Oil. Once butter has melted, add onion, pepper, garlic, and jalapeno. Sautée for 5 minutes, stirring occasionally. Add zucchini and yellow squash and sautée an additional 5 minutes. Add corn, tomatoes, beer, cumin, chili powder, and paprika. Stir to combine. Heat until bubbling and then reduce heat to medium-low and cook for 10 minutes. Using 2 forks, shred the chicken breasts and add to the pot, followed by the fresh lime juice and zest. Right before serving, stir in the fresh herbs. Adjust to taste with kosher salt and freshly ground black pepper.
To serve, offer plenty of goodies at your table. Smoked gouda is wonderful with this chili, and we always have cilantro, green onions, sour cream, and fresh limes. If you really want to offer something special with this chili pot, bake up a batch of fresh Honey Cornbread Muffins. They're a family favorite. You won't be sorry you put forth the effort!
from a farmgirl's dabbles
© a farmgirl's dabbles
Disclaimer:  A Farmgirl's Dabbles has partnered with Land O'Lakes for an exclusive endorsement of Land O Lakes® Butter for their Kitchen Conversations blogger program. This blog post is sponsored by Land O'Lakes. Thank you for supporting the brands I love that help make this site possible!
We participate in the Amazon Services LLC Associates Program, an affiliate advertising program designed to provide a means for us to earn fees by linking to Amazon.com and affiliated sites. See our disclosure policy for more info.