End of Summer Chicken Chili
This End of Summer Chicken Chili is chock-full of fresh summer vegetables and herbs. My family especially likes the fresh sweet corn kernels that add fun pops of sweetness and texture!
I always try to remind myself to keep my thoughts on the sunny side, especially when changes roll in that I'm not so excited about. Letting go of summer is one such instance that proves an excellent opportunity to put my money where my mouth is.
Instead of lamenting the end of our longer days of daylight, warm temperatures, more relaxed schedules, and delicious local fresh produce (so many wonderful things!), I try to focus on the reasons why I also enjoy fall and winter.
End of Summer Chicken Chili offers a wonderful segue to help me do just that.
This easy chicken chili recipe is chock-full of beautiful, fresh summer produce, plus herbs cut straight from our garden. And it leans into comfort food territory, one of the very best things about the fall and winter months ahead.

The inspiration for this pot of chili comes from our herb garden, just a few steps out our back door. In this recipe, I used fresh parsley, dill, and basil. And quite a bit of it!
Our herb garden measures just 5′ x 3′, and truly is my most precious little piece of land. We use it almost daily from spring to fall. With just a few snips of this and a cutting of that, we are able to add lovely fresh flavors to every single meal and beverage.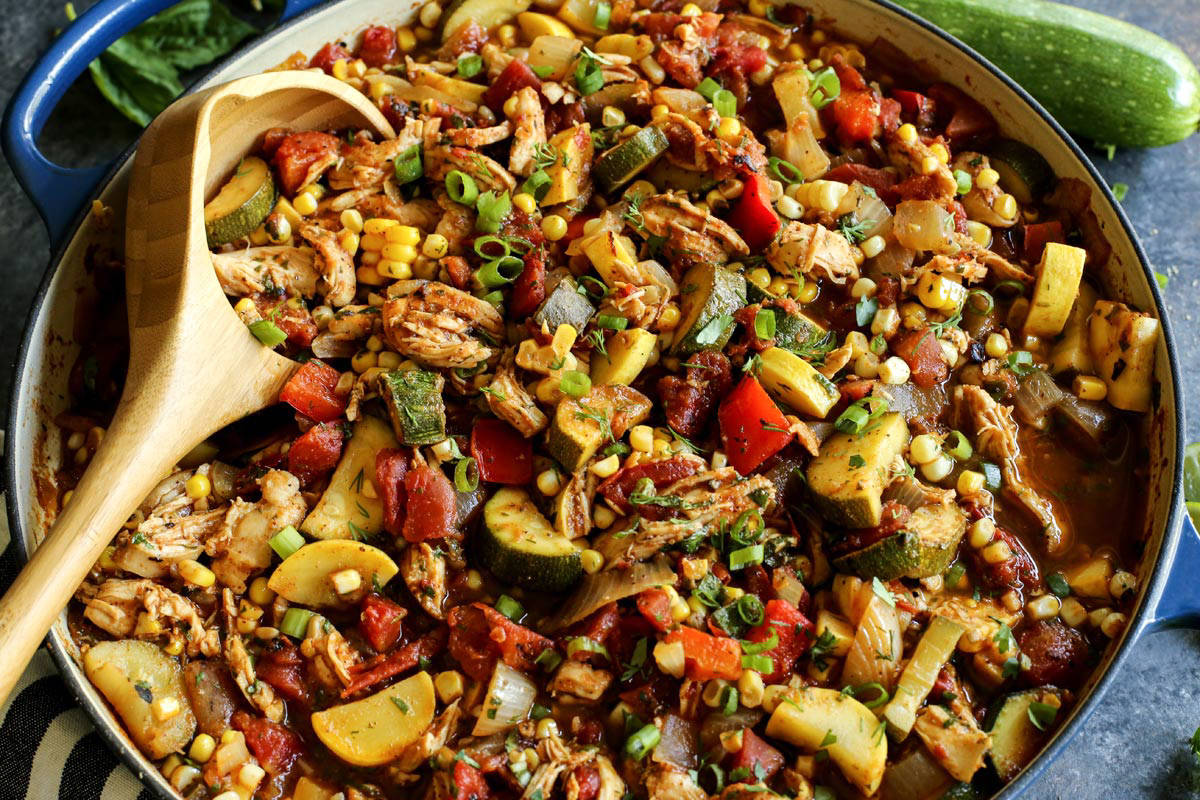 Summer Chicken Chili
This summer chicken chili is hearty with a good amount of lean shredded chicken.
But my very favorite part is how it's loaded with summer. There's zucchini, yellow squash, red bell pepper – and kernels of fresh sweet corn that add pops of sweetness and fun texture. This chili is the bounty of summer's harvest, spoonful after spoonful.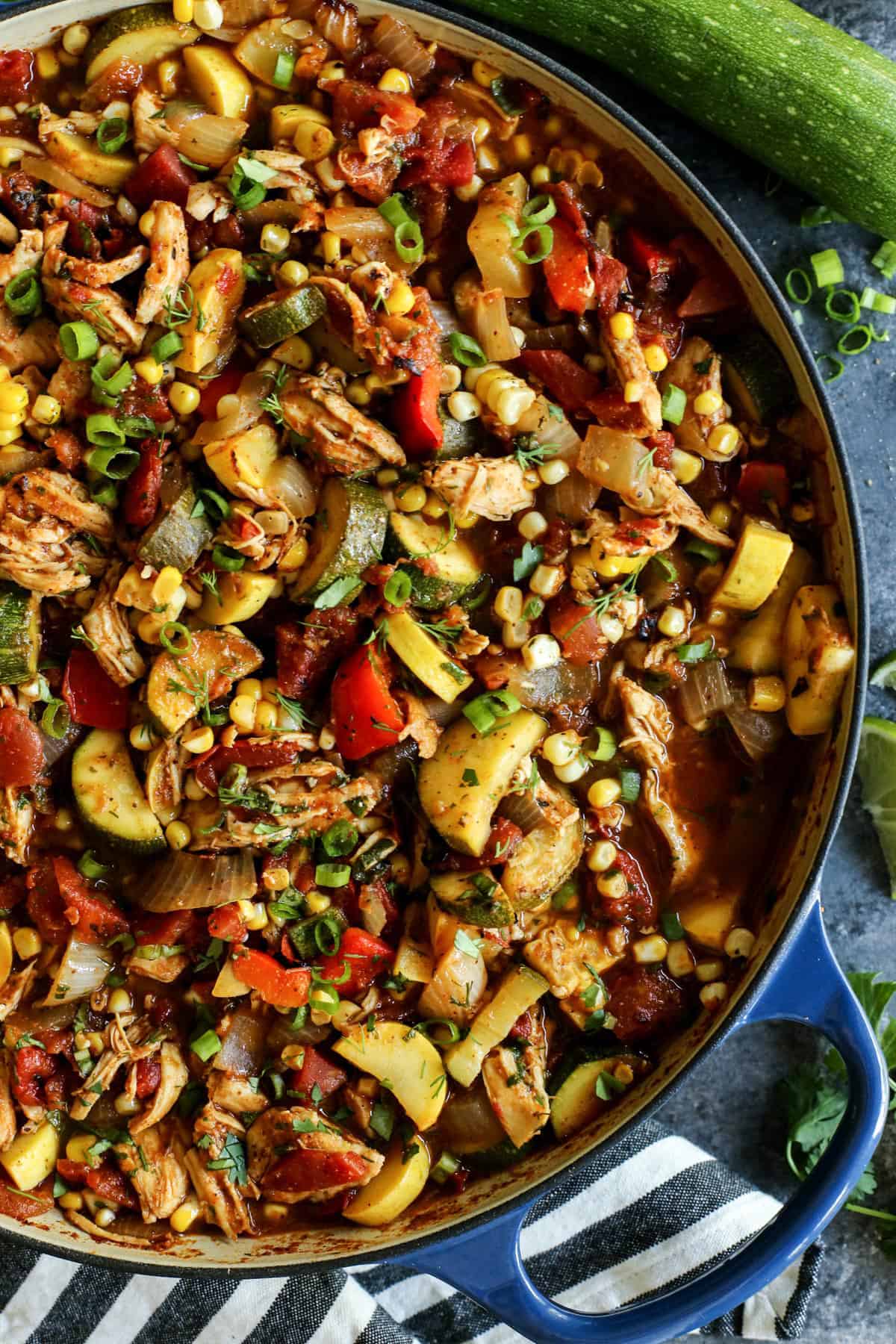 I purposely do not add beans to this summer chicken chili because our girls are just not fans.
However…
A can of black beans would be a fabulous addition to this recipe.
I'm hopeful that some day Hatti and Tessa will agree that beans are a good idea!
For a more traditional chili, be sure to try my family's favorite recipe: Slow Cooker Chili.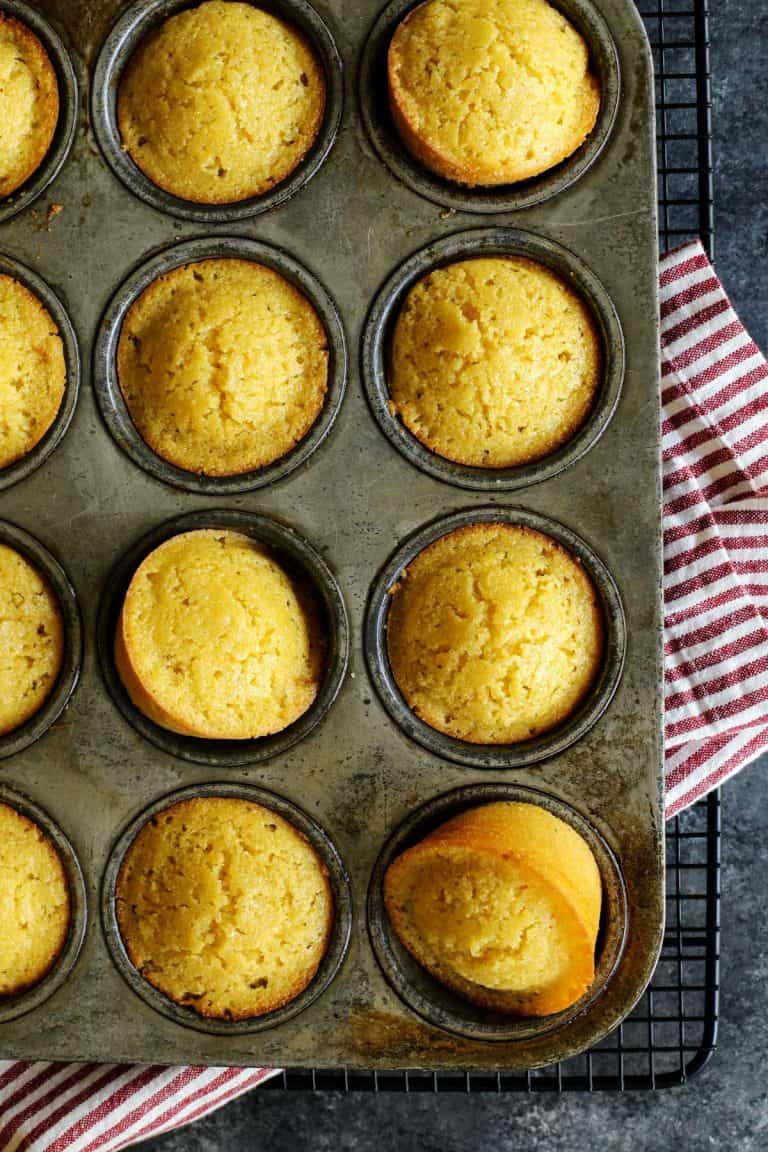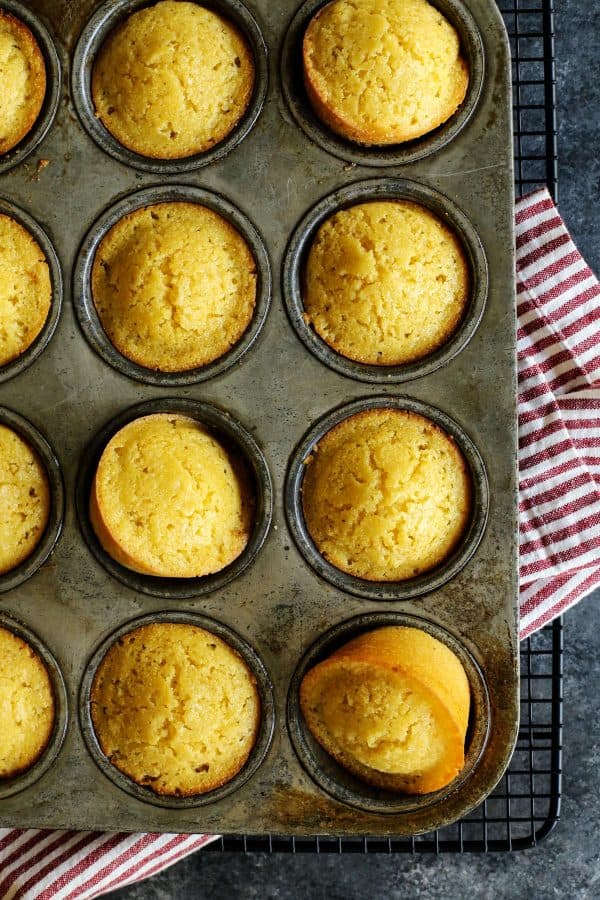 I know that part of the reason this chicken chili goes over so well with our family is that I always make a fresh batch of warm Honey Cornbread Muffins.
This cornbread recipe is a family favorite. It provides the perfect dunkable bites to compliment the chili. The muffins are moist and a bit sweet, with great cornmeal texture and flavor.
I think homemade beer bread would also be great with this chili. Or easy pretzel buns. Or peppery cheese bread. Blake likes plenty of crackers when he eats chili. Maybe that's your thing, too?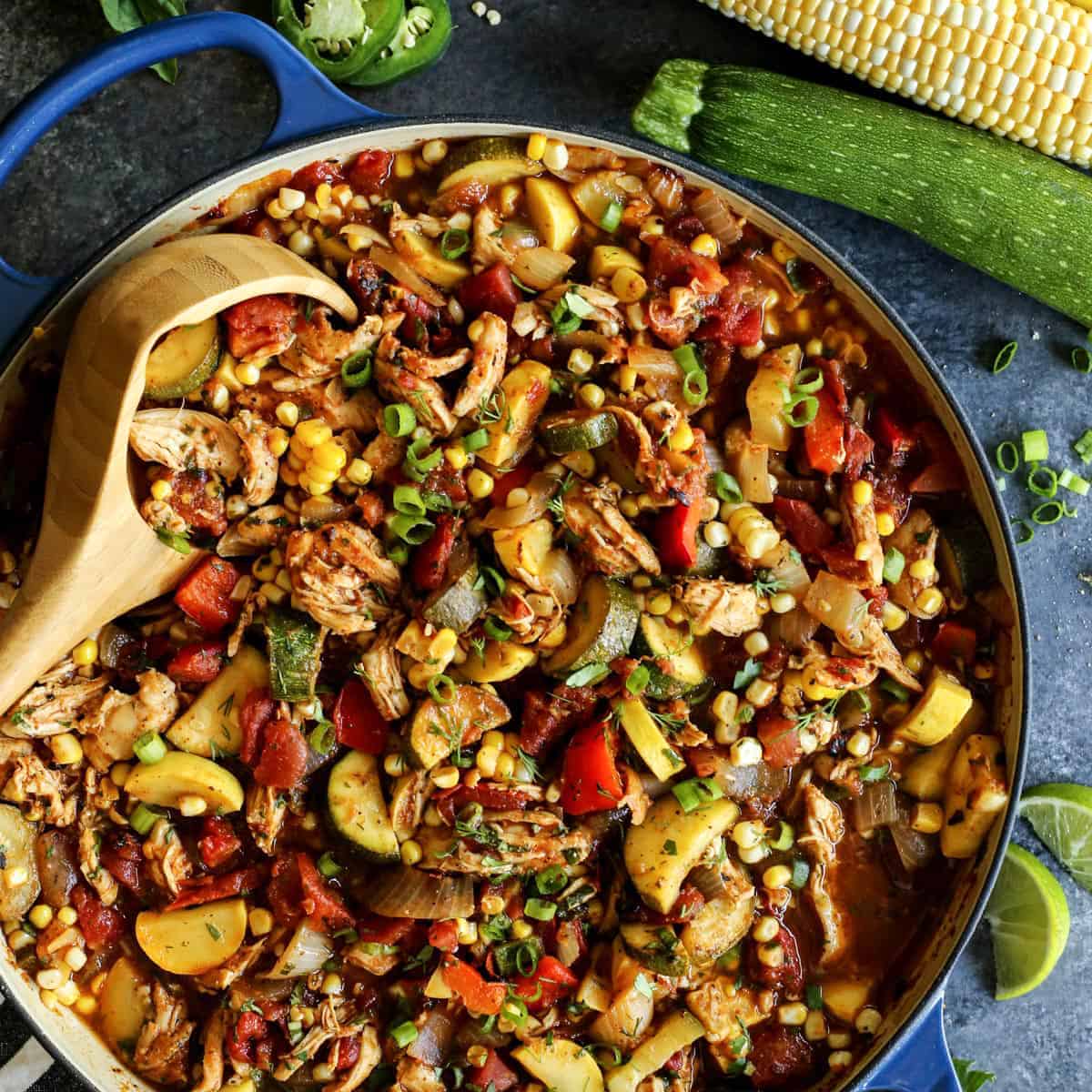 Until I made this particular chicken chili recipe, I could never get our daughters onboard about chili. But I've never seen our kids eat chili so readily, as they do with this end of summer chicken chili.
I think it's all about the pops of fresh sweet corn and brightness of fresh lime. Plus the shredded smoked gouda that's offered to sprinkle over the top, along with warm honey cornbread muffins.
So.
Much.
Goodness.
There's no way they could possibly resist!
Like this Summer Chicken Chili? Save it to Pinterest!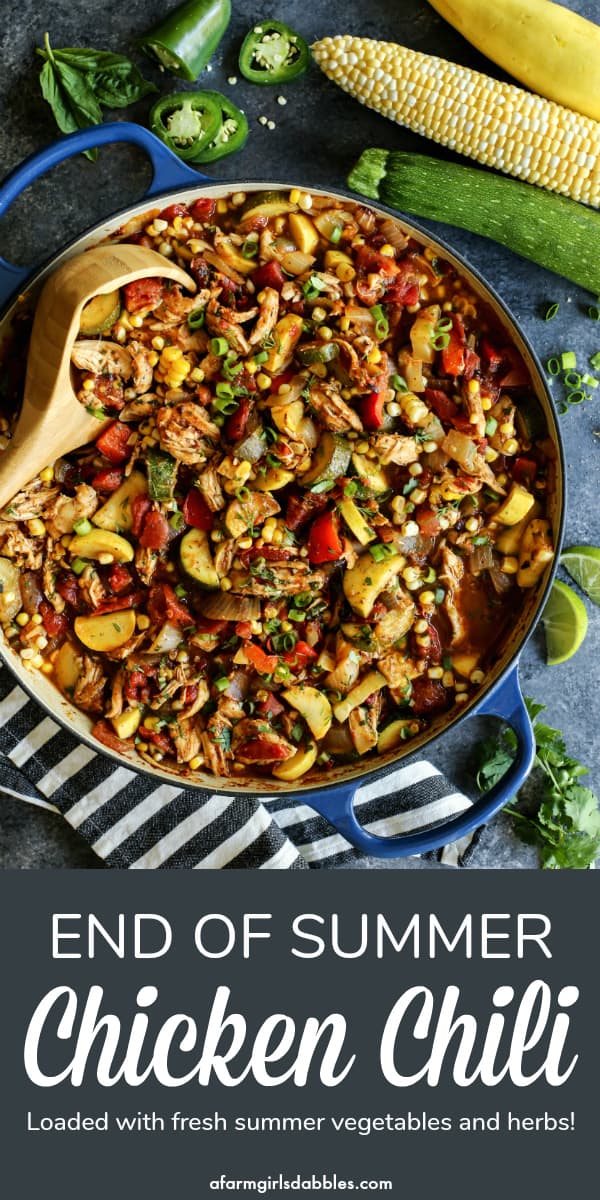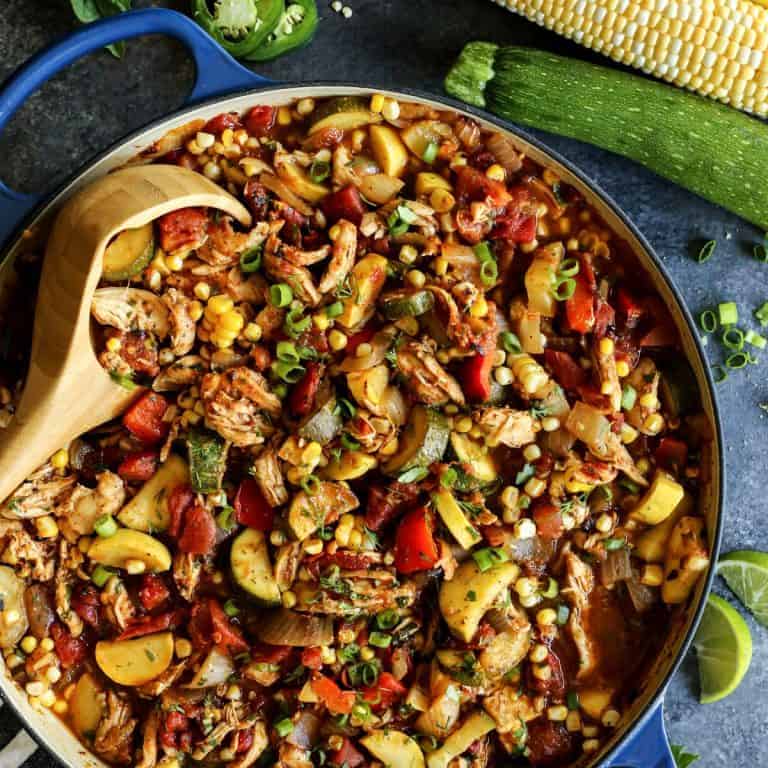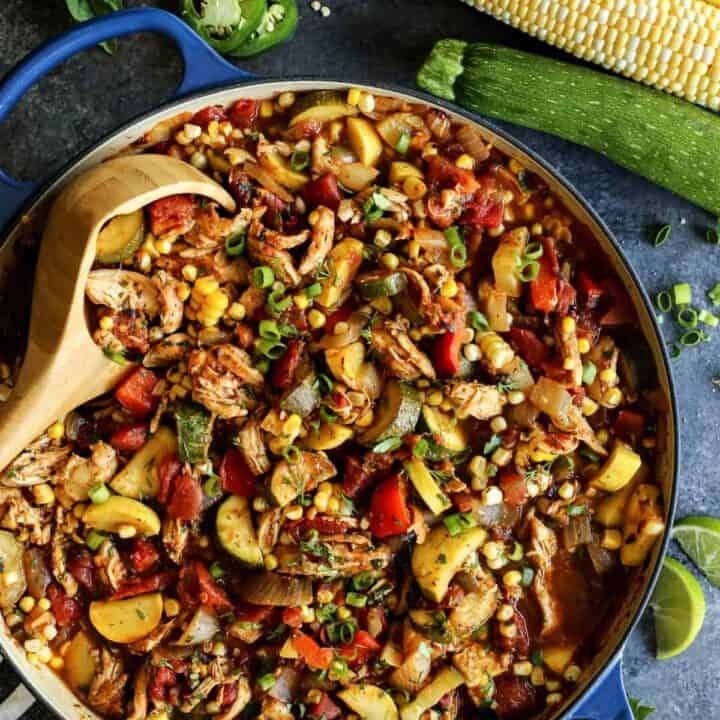 End of Summer Chicken Chili
Yield: 8 servings
Prep Time: 20 minutes
Cook Time: 40 minutes
Total Time: 1 hour
This easy chicken chili recipe is chock-full of fresh summer vegetables and herbs. My family especially likes the fresh sweet corn kernels that add fun pops of sweetness and texture!
Ingredients
4 T. unsalted butter, divided
1 lb. chicken breasts
olive oil
kosher salt
freshly ground black pepper
1 large yellow onion, chopped into 1/2" pieces
1 large red bell pepper, chopped into 1/2" pieces
4 large garlic cloves, minced
1 tsp. minced fresh jalapeno pepper (use more if you like heat)
1 large or 2 small zucchini, cut into 1/2" pieces
1 yellow squash, chopped into 1/2" pieces
corn kernels cut from 4 large ears of fresh, raw sweet corn
2 (14.5-oz.) cans diced fire roasted tomatoes or regular diced tomatoes
12 oz. beer or chicken broth
2 T. cumin
1/2 T. chili powder (use more if you like more heat)
1 tsp. smoked paprika
juice and zest from 1 lime
1 c. chopped fresh herbs of your choice (I use 1/3 cup parsley, 1/3 cup dill, 1/3 cup basil)
Instructions
In a large heavy duty soup pot, French oven, or braiser (shown in my photos), melt 2 tablespoons of the butter over medium to medium-high heat. Coat chicken lightly with olive oil and then sprinkle with kosher salt and freshly ground black pepper, fairly generously. Add chicken to pot and sautée until golden. Turn chicken over and sautée second side until golden. Then turn heat to medium, cover pan with lid, and cook just until chicken is no longer pink inside. Remove chicken to a cutting board and set aside.
Return same pot to stovetop and heat to medium-high. Add remaining 2 tablespoons of butter. Once butter has melted, add onion, pepper, garlic, and jalapeno. Sautée for 5 minutes, stirring occasionally. Add zucchini and yellow squash and sautée an additional 5 minutes. Add corn, tomatoes, beer, cumin, chili powder, and paprika. Stir to combine. Heat until bubbling and then reduce heat to medium-low and cook for 10 minutes.
Using 2 forks, shred the chicken and add to the pot, followed by the fresh lime juice and zest. Right before serving, stir in the fresh herbs. Adjust to taste with kosher salt and freshly ground black pepper.
To serve, offer plenty of goodies at your table. Smoked gouda is wonderful with this chili, and we always have cilantro, green onions, sour cream, and fresh limes. If you really want to offer something special with this chili pot, bake up a batch of fresh Honey Cornbread Muffins. They're a family favorite, and easy to make. You won't be sorry you put forth the effort!
Notes
optional goodies to offer alongside:
shredded smoked gouda cheese
chopped fresh cilantro
chopped green onions
sour cream
fresh lime wedges, for squeezing over the chili
fresh baked Honey Cornbread Muffins
from a farmgirl's dabbles
Recommended Products
As an Amazon Associate and member of other affiliate programs, I earn from qualifying purchases.
Nutrition Information:
Yield: 8
Serving Size: 1
Amount Per Serving:
Calories: 271
Total Fat: 11g
Saturated Fat: 5g
Trans Fat: 0g
Unsaturated Fat: 5g
Cholesterol: 64mg
Sodium: 340mg
Carbohydrates: 21g
Fiber: 4g
Sugar: 10g
Protein: 21g
This post was previously published in 2014. Photographs and some of the text were updated in 2018.