Ranch Water
This post may contain Amazon or other affiliate links. As an Amazon Associate I earn from qualifying purchases.
Made with just 3 ingredients – tequila, lime juice, and Topo Chico – this Texas Ranch Water is fabulously light and refreshing. It's perfect for cooling off on a hot summer day and comes together in just a few minutes. This promises to be your new favorite summer cocktail!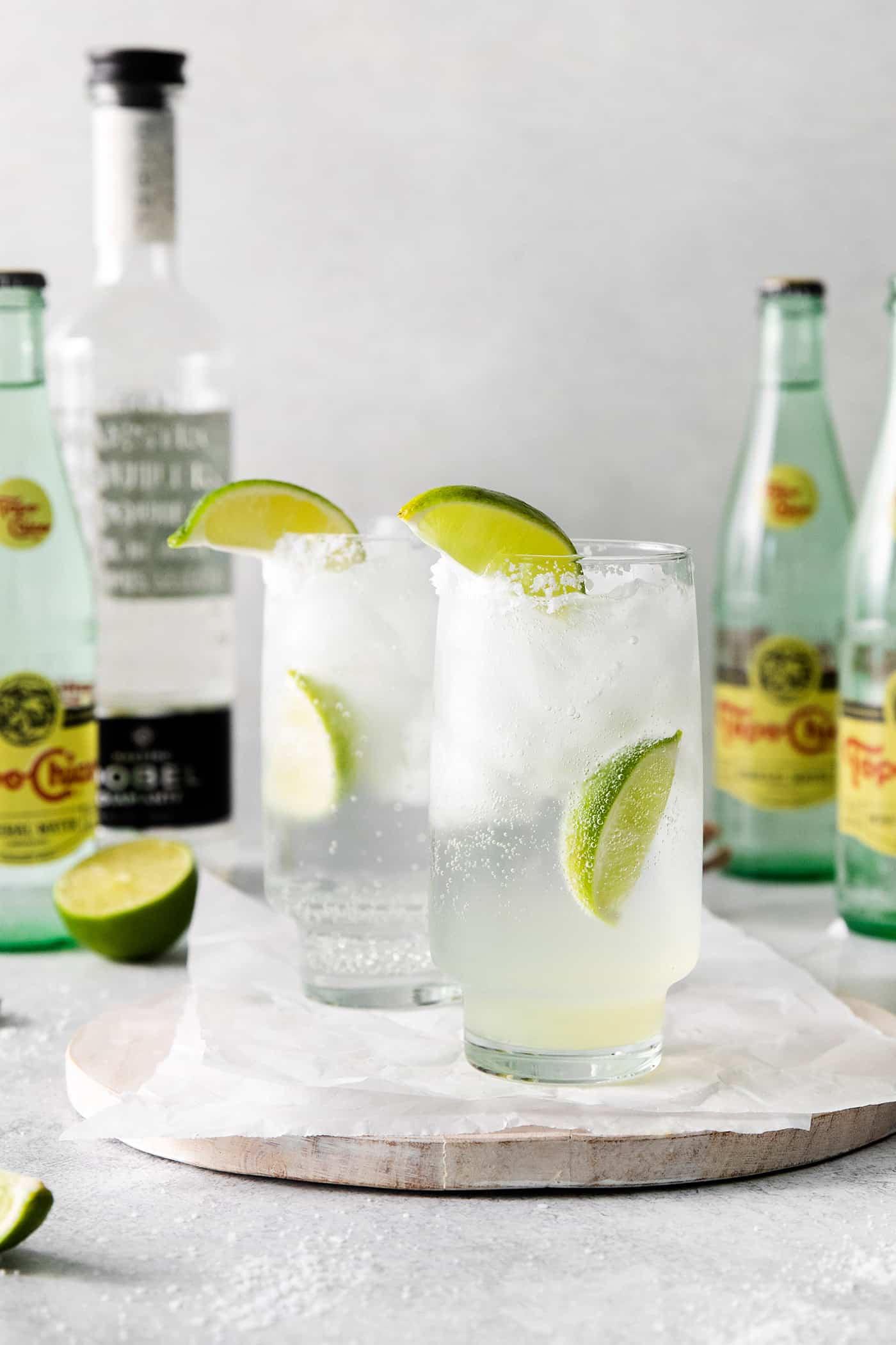 3 Ingredient Texas Ranch Water Cocktail
When it comes to refreshing summer cocktails, you absolutely cannot go wrong with Texas Ranch Water. This easy cocktail recipe is made with only freshly squeezed lime juice, your favorite tequila, and uber-bubbly Topo Chico sparkling mineral water. Without added sugars and other liqueurs, this drink could very well be called a "skinny margarita"!
It only takes a few minutes to make one – simply pour the 3 ingredients into a glass over ice, stir, and voila!, a cold and refreshing summer cocktail.
It really doesn't get any easier than that!
If you're a fan of the margarita or tequila mojito, you'll love ranch water. It's like a margarita, but much lighter – and with bubbles! For a tequila lover like me, it's the perfect quick & easy, light summer drink.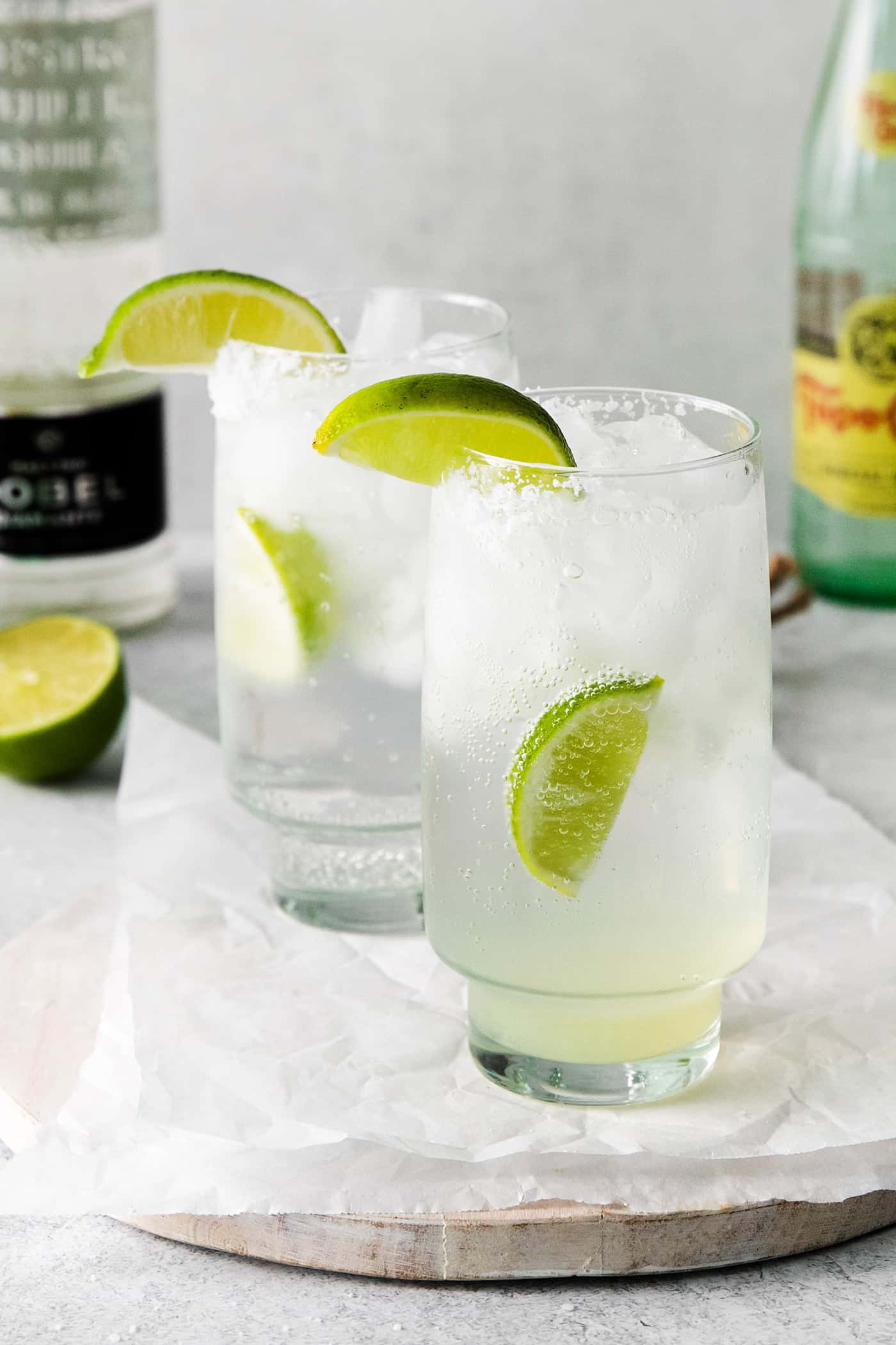 What Is Ranch Water?
Ranch Water is perhaps one of Texas' most famous drinks. It's a simple and refreshing 3 ingredient cocktail made with tequila, lime juice, and Topo Chico (affiliate link) sparkling mineral water. It's light and easy to make, perfect for summertime sipping.
How did it get its name? Well, no one knows exactly for sure. But speculation has it that this humble drink was first made on a ranch in West Texas. I'm positive this drink would hit the spot for me if I was a Texas cattle rancher out in the blazin' sun all day!
Ranch water had been a popular "word of mouth" cocktail for many decades, and then was made even more popular in 1998 when a bar in Austin featured it on their menu. The South Texas style ice house (basically an indoor-outdoor beer joint or dive bar) Bar 616 credits their late Founder for creating the "Original Ranch Water" cocktail that can now be found in honky tonks all across Texas.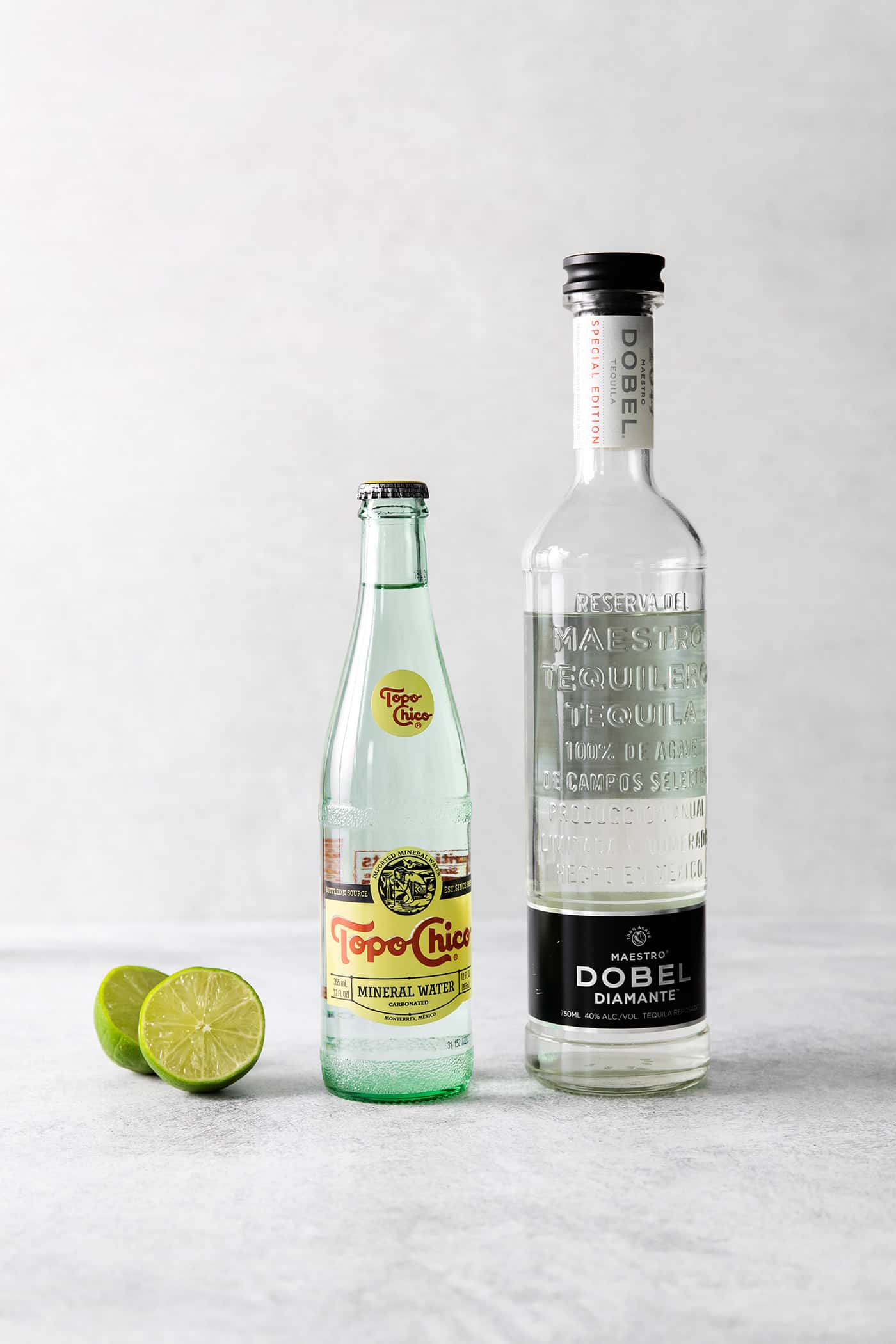 What You'll Need
You need just 3 ingredients to make Texas ranch water.
Tequila – Use a good blanco tequila. This drink is incredibly simple, so you want to be sure to use a quality tequila.
Limes – Add freshly squeezed juice to the drink, and then add a wedge for garnish.
Topo Chico – Be sure to chill this sparkling mineral water beforehand, for optimal refreshment.
Do you like a salted rim? Then by all means, add one to your glass! Run the cut edge of a lime wedge around the glass rim and then dip the rim into a small plate of course salt. Your super simple cocktail just got a teensy bit fancier!
Why Is This A Skinny Cocktail Recipe?
Sometimes I'd like to linger over a tall, refreshing mixed drink on a hot summer evening, but my brain says, "Stop! It's loaded with sugar and carbs, don't do it!" Does your brain ever say that to you?
So this is one of the great things about ranch water…
Notice that there are no added liqueurs or sweeteners in this cocktail, unlike most mixed drinks. Plus, tequila has 0 grams of carbs and 0 grams of sugar per shot. So this is a fabulous drink option for those who are looking for a lighter cocktail.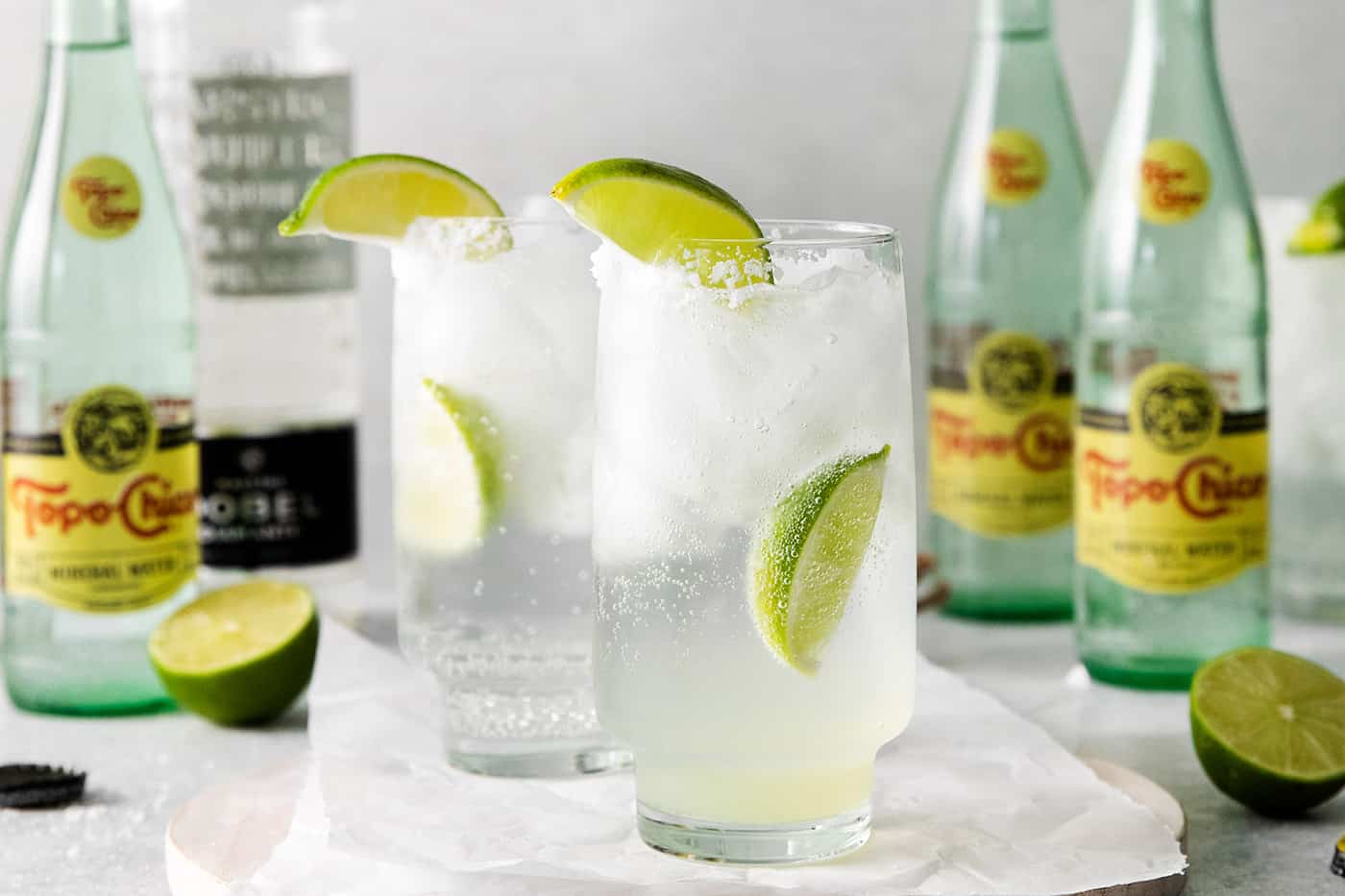 What is Topo Chico? Where Can I Find It?
Topo Chico is a Mexican sparkling mineral water that's super popular in Texas. If you're going to make ranch water the "real" way, Topo Chico is a must.
It's much bubblier than other mineral waters and when served cold, it's super refreshing.
If you can't find it at a store near you (I get it at our local Whole Foods or Total Wine), you can also easily order it online (affiliate link). I like to keep Topo Chico on hand, for whenever I want to make this easy tequila cocktail. I also use it in my paloma cocktail and splash it into to my margaritas.
And when we're enjoying family taco night, we simply pour Topo Chico over ice and squeeze in a couple fresh lime wedges – it's a great refreshing drink, without the alcohol!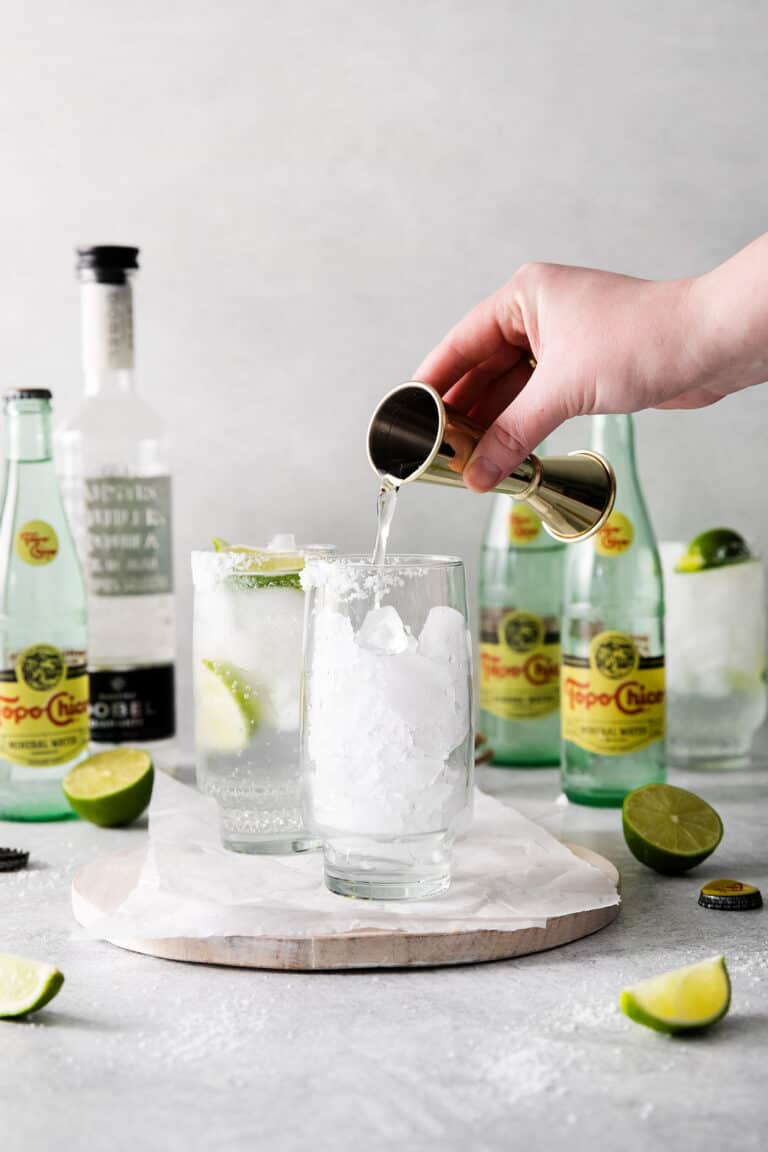 How to Make Ranch Water
This ranch water cocktail just might be the easiest drink you'll ever make!
Combine ingredients. Fill a glass with ice and add the tequila and lime juice. Top it off with cold Topo Chico and give it a stir.
Serve. Garnish with a fresh lime wedge and enjoy!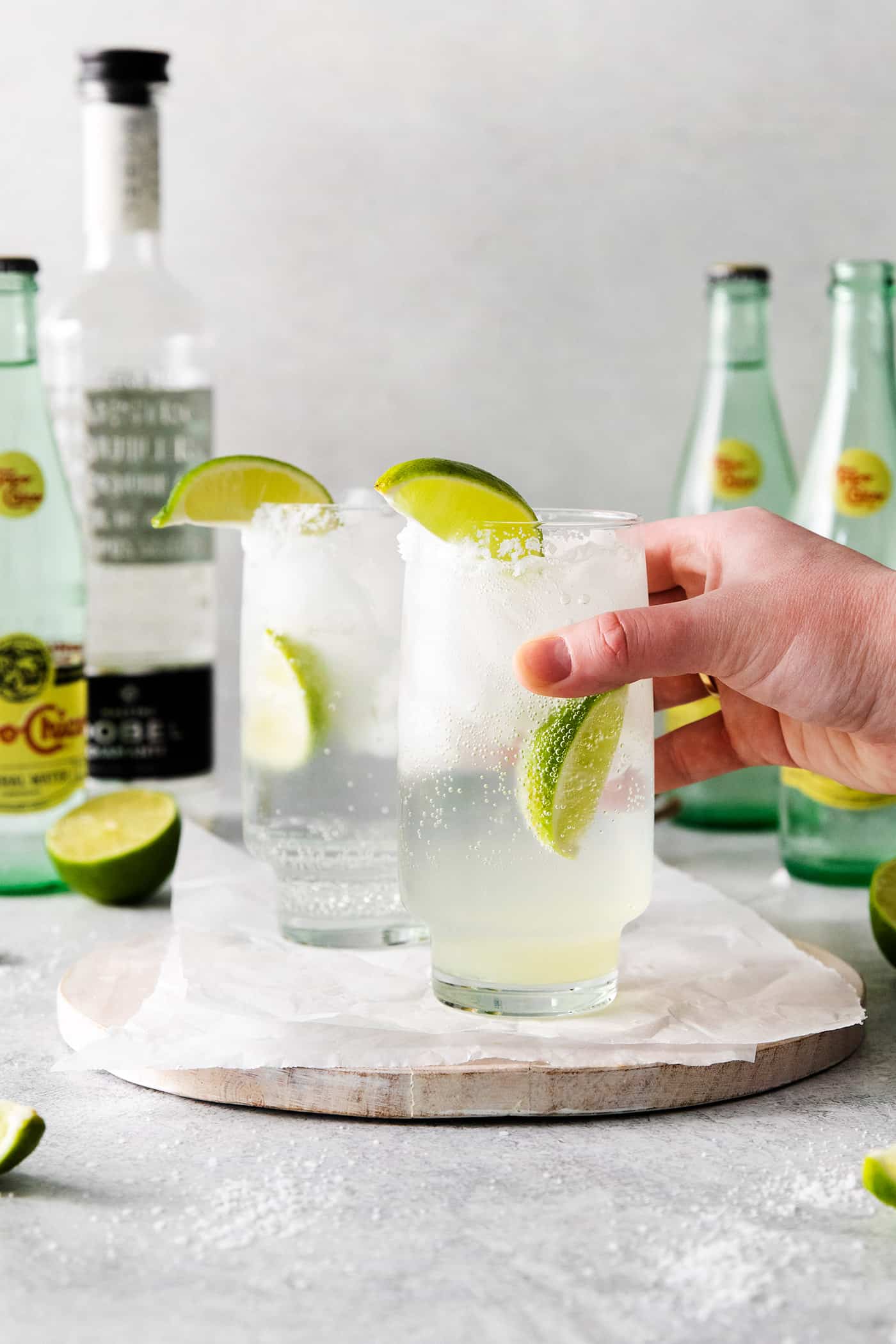 Tips & Variations
Making this easy tequila cocktail for the first time? Don't worry – here are some tips. I also included a few variations, for those who'd like to deviate from the authentic trio of tequila, lime juice, and Topo Chico.
Use a good tequila. The better the tequila, the better the drink! That said, no need to go crazy with a top shelf liquor…although I'd never pass up ranch water made with Patrón tequila! Some great tequilas for a reasonable price include: Espolon or Casamigos. You could also use a blended tequila such as Maestro Dobel.
Can I use tequila reposada? Sure. I prefer blanco for a super clean flavor, but reposada will give a nice (but different) flavor to the cocktail as well. If you like reposada more, use that!
Make a spicy ranch water. For a spicy version, just muddle one or two jalapeno slices in the drink.
Swap lime for lemon. Maybe you're not a fan of lime? Another simple variation is to use fresh lemon juice instead.
Chill the Topo Chico. You've heard me say this already, but using cold Topo Chico will elevate this drink with instant refreshing chill!
Change up the Topo Chico. Topo Chico has a couple flavor variations that would work great in this drink – one with grapefruit, one with lime.
Add some sweetness. This is a "dry" cocktail, meaning not sweet. If you prefer, add a little simple syrup, agave syrup, or honey – which will make this more like a margarita.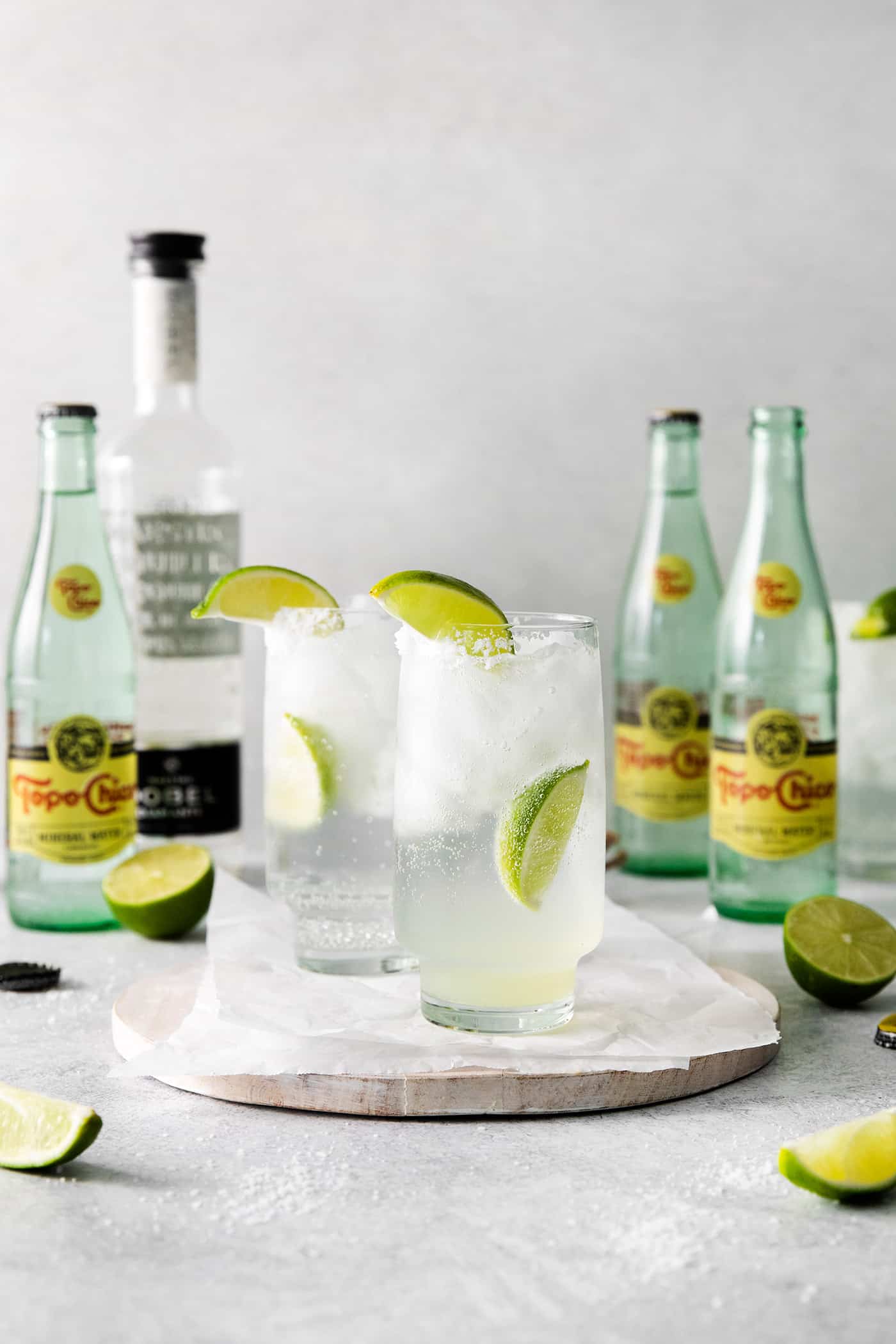 What To Serve With Ranch Water:
The fresh, tart lime juice in this cocktail makes it the perfect thirst-quenching drink for any Mexican or Tex-Mex meal. Of course, I have a few recipe suggestions for you:
Like this recipe? Save it to Pinterest!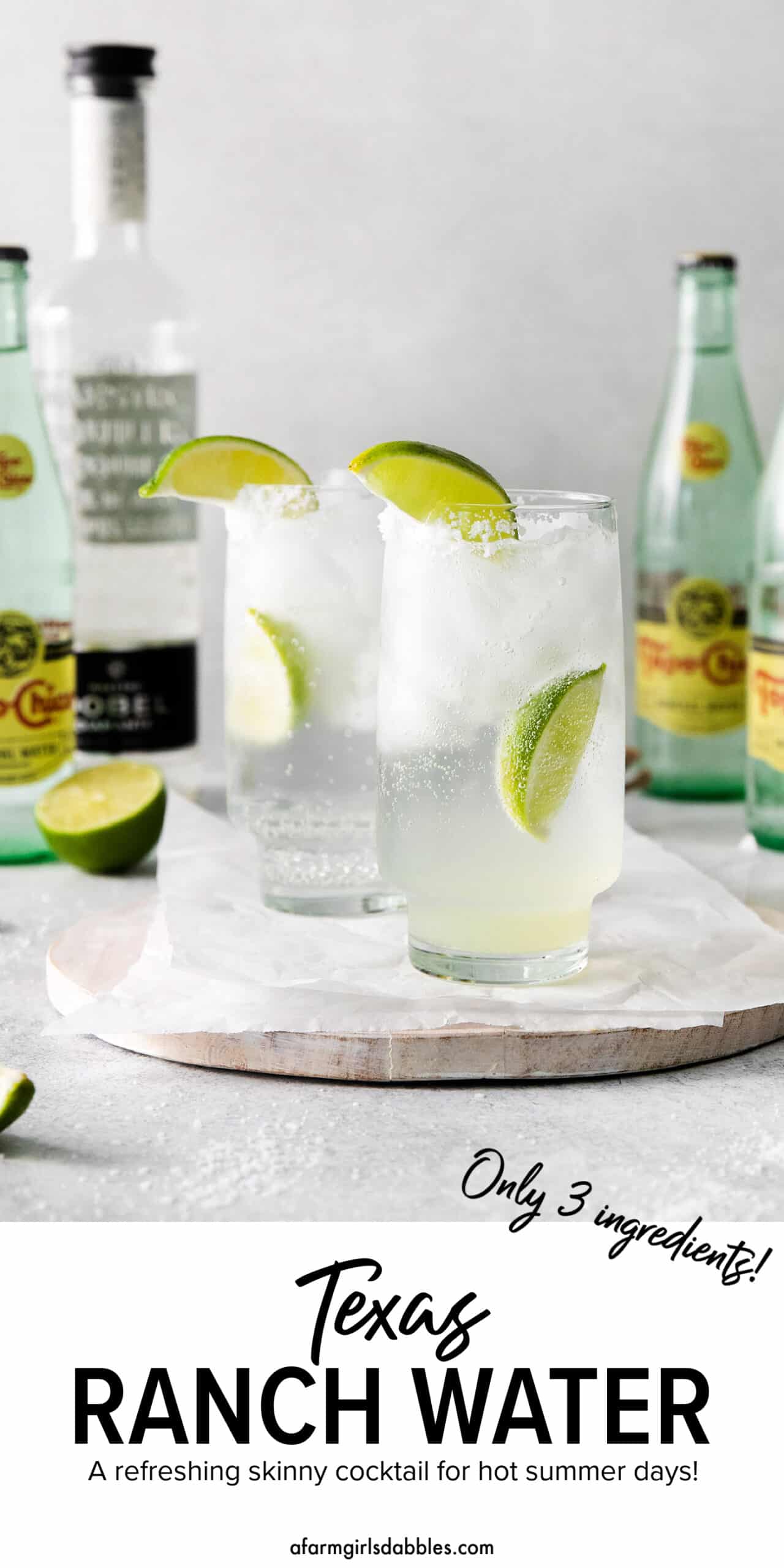 More Cocktail Recipes: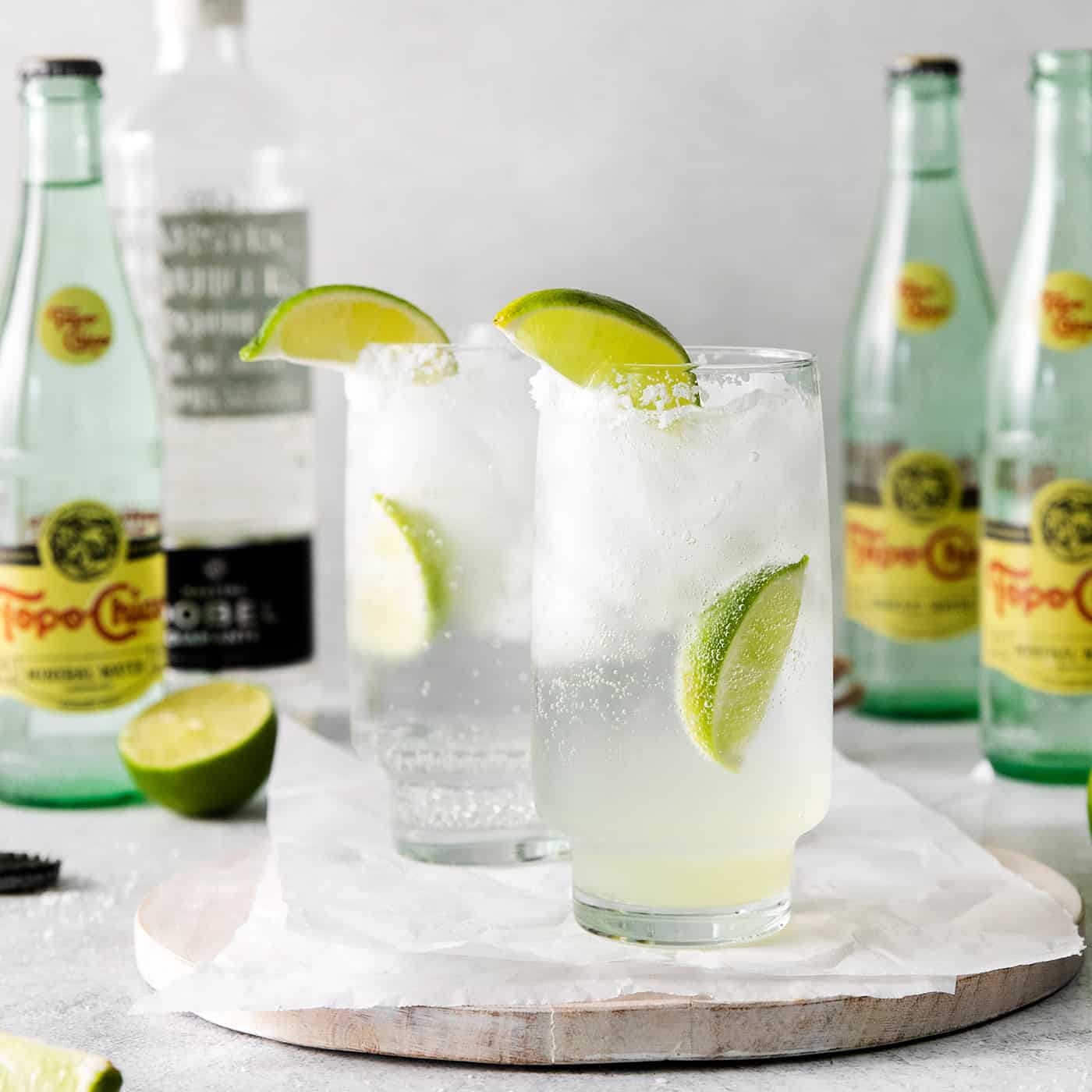 Ranch Water
Yield: 1 drink
Prep Time: 5 minutes
Total Time: 5 minutes
Made with just 3 ingredients - tequila, lime juice, and Topo Chico - this Texas Ranch Water is fabulously light and refreshing. It's perfect for cooling off on a hot summer day and comes together in just a few minutes. This promises to be your new favorite summer cocktail!
Ingredients
2 ounces blanco tequila
1.5 ounces freshly squeezed lime juice, plus a lime wedge for garnish
4 ounces Topo Chico, chilled
Instructions
Fill glass with ice. Add tequila and lime juice, then top it off with Topo Chico. Give a quick stir to combine and garnish with a fresh lime wedge.
Notes
If desired, salt the rim of your glass: run the cut edge of a lime wedge around the rim of the glass and then dip the rim into a small plate of course salt.
Nutrition Information:
Yield: 1
Serving Size: 1
Amount Per Serving:
Calories: 160
Total Fat: 0g
Saturated Fat: 0g
Trans Fat: 0g
Unsaturated Fat: 0g
Cholesterol: 0mg
Sodium: 3mg
Carbohydrates: 11g
Fiber: 2g
Sugar: 2g
Protein: 1g
Nutrition information is automatically calculated by Nutritionix. I am not a nutritionist and cannot guarantee accuracy. If your health depends on nutrition information, please calculate again with your own favorite calculator.
More Tequila Recipes To Enjoy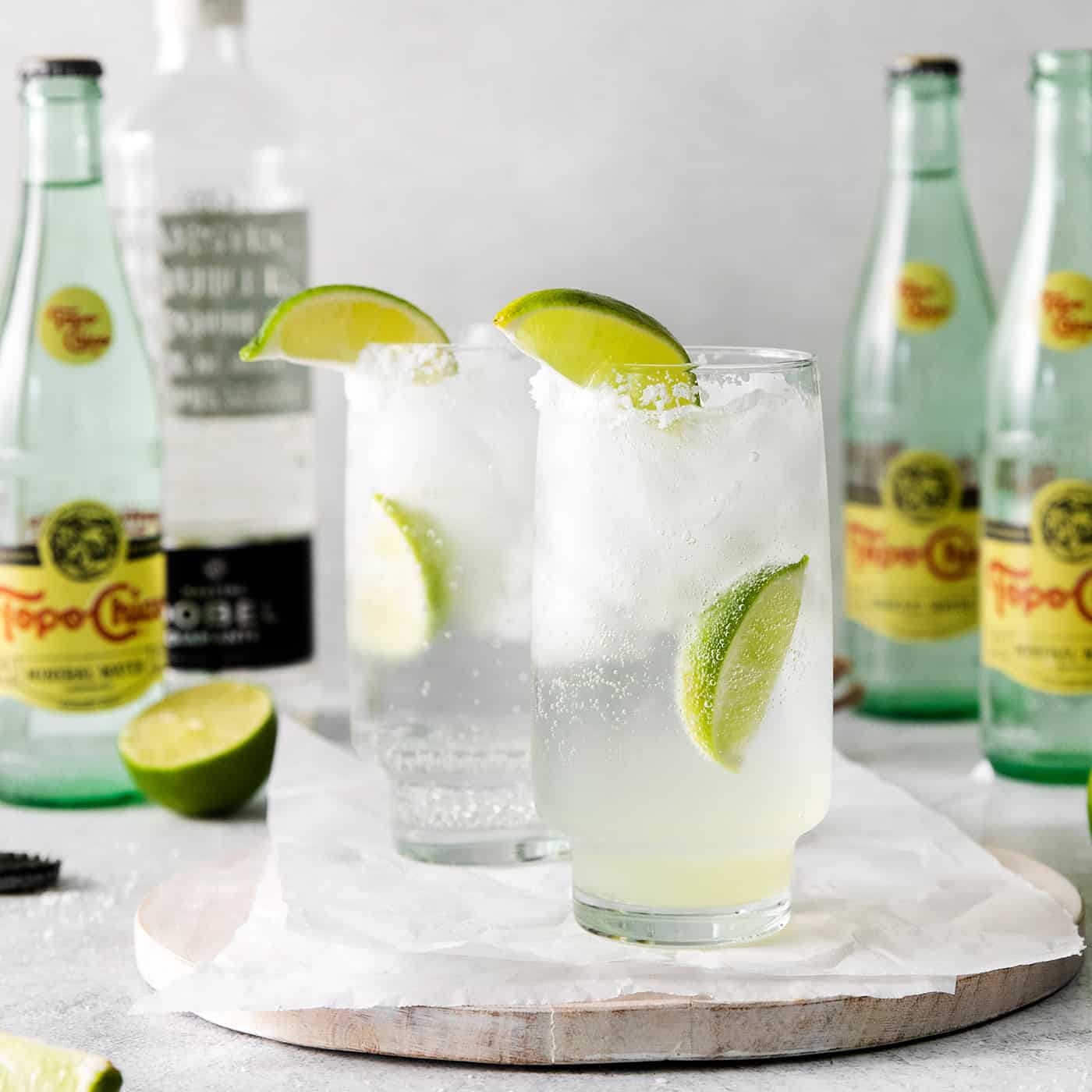 We participate in the Amazon Services LLC Associates Program, an affiliate advertising program designed to provide a means for us to earn fees by linking to Amazon.com and affiliated sites. See our
disclosure policy
for more info.