12 Easy Tequila Drinks You Must Try
Looking for the best Easy Tequila Drinks? From margaritas to palomas, I've got you covered. Plus learn the best brands of tequila and the difference between each type of tequila!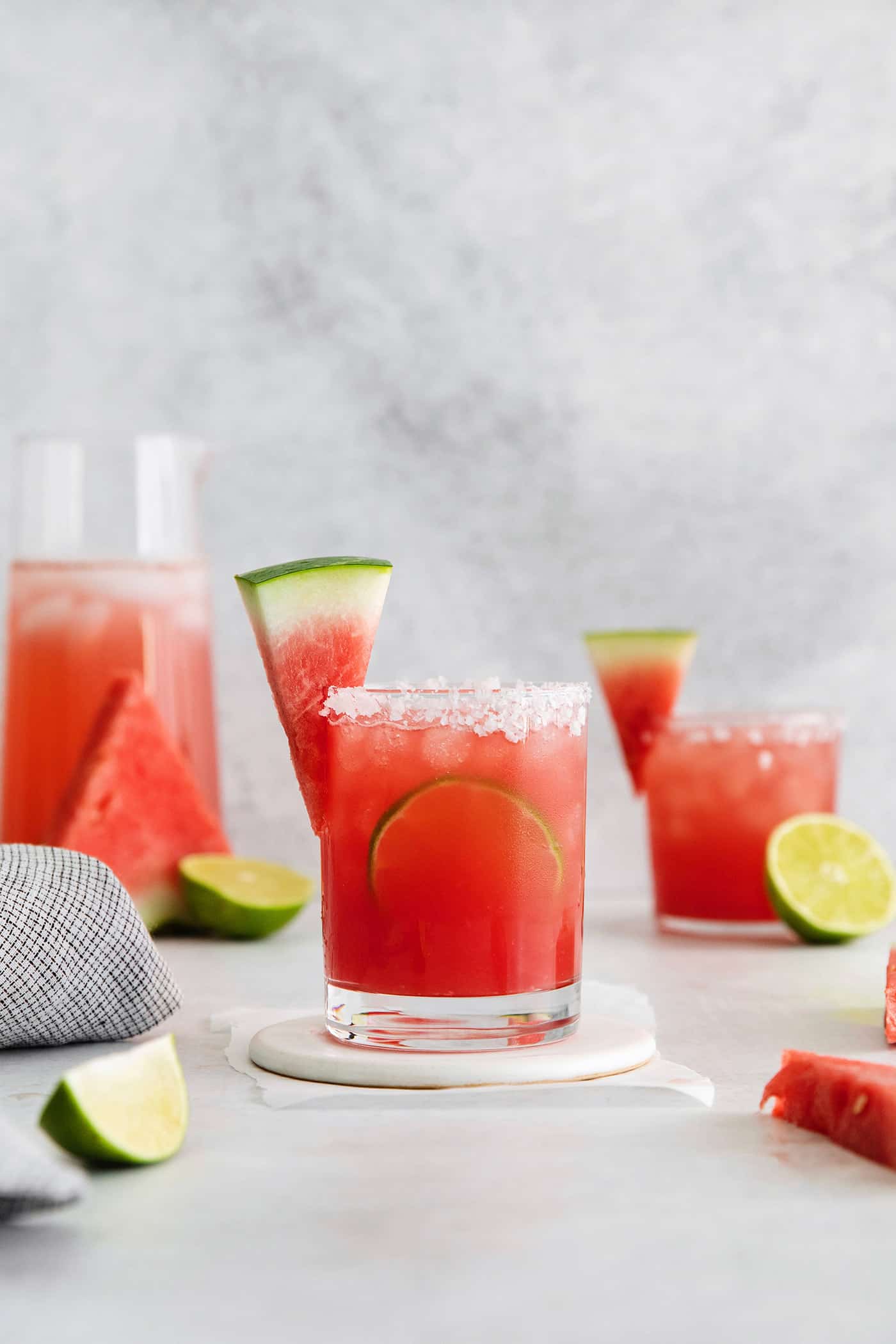 12 Tequila Cocktails to Try
When you flip through my cocktail recipes, you'll notice a common theme. Tequila. Yes, I'm a fan!
I like tequila's unique taste, plus it's crazy versatile. Whether you're craving fruity, earthy, or spicy, the options are endless. From margaritas to palomas to ranch water cocktails, I'm sharing my best Easy Tequila Drinks – just scroll down to the end of the post!
What is Tequila?
Tequila is a popular distilled liquor made from Mexican agave plants. To be considered tequila, it must be produced in the state of Jalisco or specific areas in Guanajuato, Michoacan, Nayarit, and Tamaulipas. It has a fairly high alcohol content, usually between 76-100 proof (38-50% ABV).
Flavor-wise, tequila has an agave taste that is earthy and very unique. Depending on the variety, common flavor notes are earthy, sweet, spicy, peppery, and sometimes fruity or toasty.
Tequila is most commonly used in margaritas, my all-time favorite cocktail. But there are many other ways to drink it too.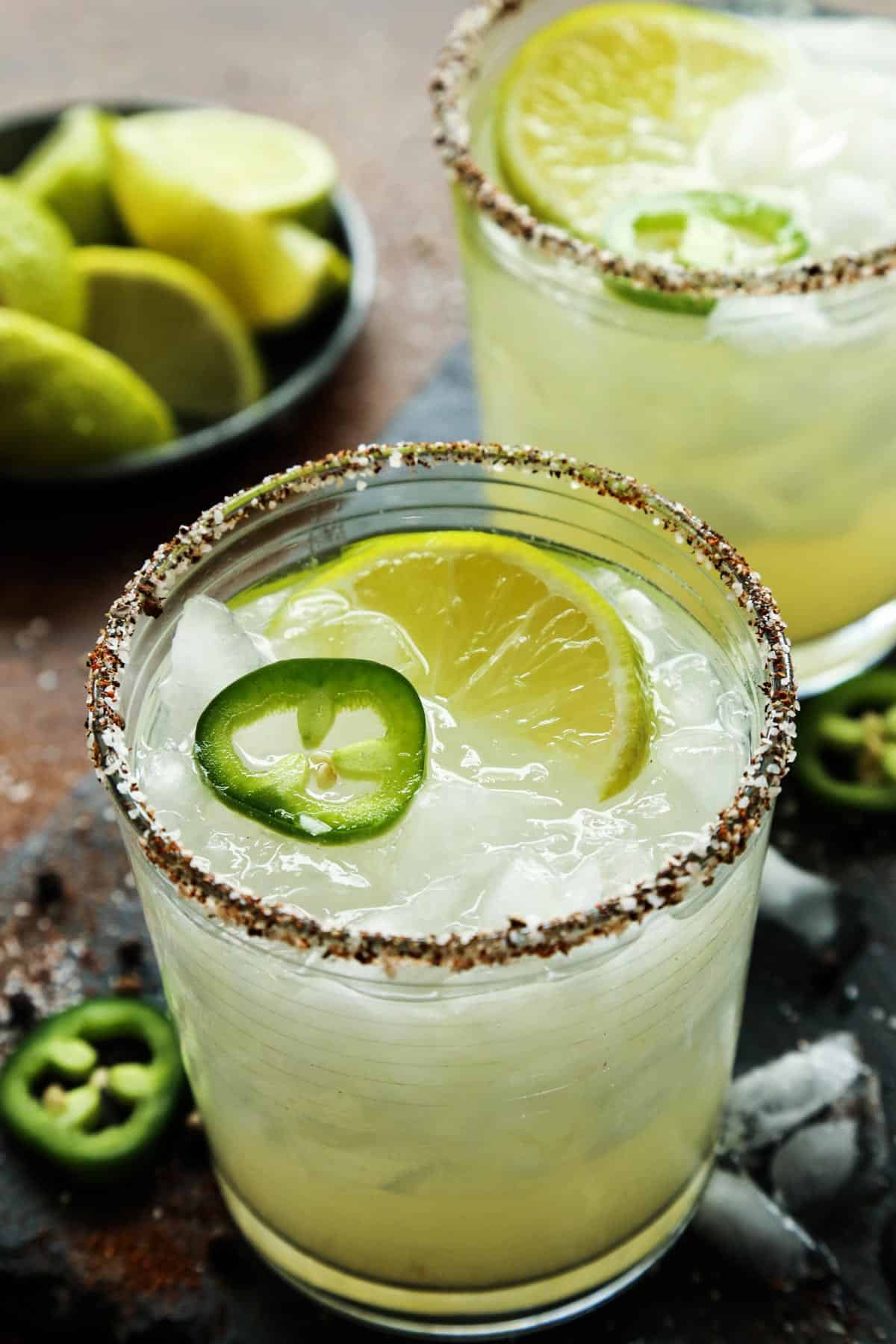 Mezcal vs. Tequila
Simply put, tequila is a type of mezcal but not all mezcal is tequila. Mezcal is the official name for any spirit made from agave across 9 different Mexican states, while tequila must be made from agave produced in the specific regions mentioned above.
There's also a difference in flavor, due to the way each liquor is produced. When making mezcal, the agave is "baked" in earthen pits, which gives it a noticeably smoky flavor. This smokiness adds another layer of aroma and flavor to drinks such as this jalapeno mezcal margarita – which I happen to love!
Types of Tequila
With the easy tequila drinks below, you'll notice that each recipe calls for a specific type of tequila, such as tequila blanco or reposado. But what's the difference between the different types of tequila? It's usually about how and for how long they're aged before bottling. Here's a quick guide:
Blanco Tequila. Also known as white or silver tequila, blanco tequila is clear and typically unaged. It's stored for no more than 60 days in a stainless steel or oak tank. This is the cheapest and most commonly used tequila, especially in margaritas and other mixed drinks.
Reposado Tequila. Reposado literally translates to "rest" and includes tequila that has been aged for at least 2 months, and up to 9 months. It has a light color and slightly "oaky" flavor, due to the time spent in an aged oak barrel. Enjoy reposado tequila straight, or in cocktails when you want that aged tequila flavor.
Joven tequila. Joven ("young") tequila, also known as oro ("gold") tequila is a combination of blanco and reposado tequilas. It may also contain additives to achieve a caramel color, especially if it's a cheap bottle.
Añejo Tequila. Añejo tequila, which translates to "vintage tequila", is tequila that has been aged for a minimum of one year, and up to 3 years. It's typically aged in French oak barrels or old bourbon barrels. It has more flavor than blanco tequila – usually some caramel or butterscotch undertones, depending on the barrel it was aged in.
Extra-Añejo Tequila. This category is for any tequila aged for more than 3 years. You might also see it labeled as "muy añejo" which translates to "very vintage". This type of tequila is usually smoother and sweeter, plus more expensive. It's not one you would add to cocktails, but rather enjoy straight.
Personally, I'd only buy an aged tequila to drink it neat or on the rocks, or if a specific cocktail's flavors would be enhanced by one that's aged. Otherwise it's not worth spending the extra money.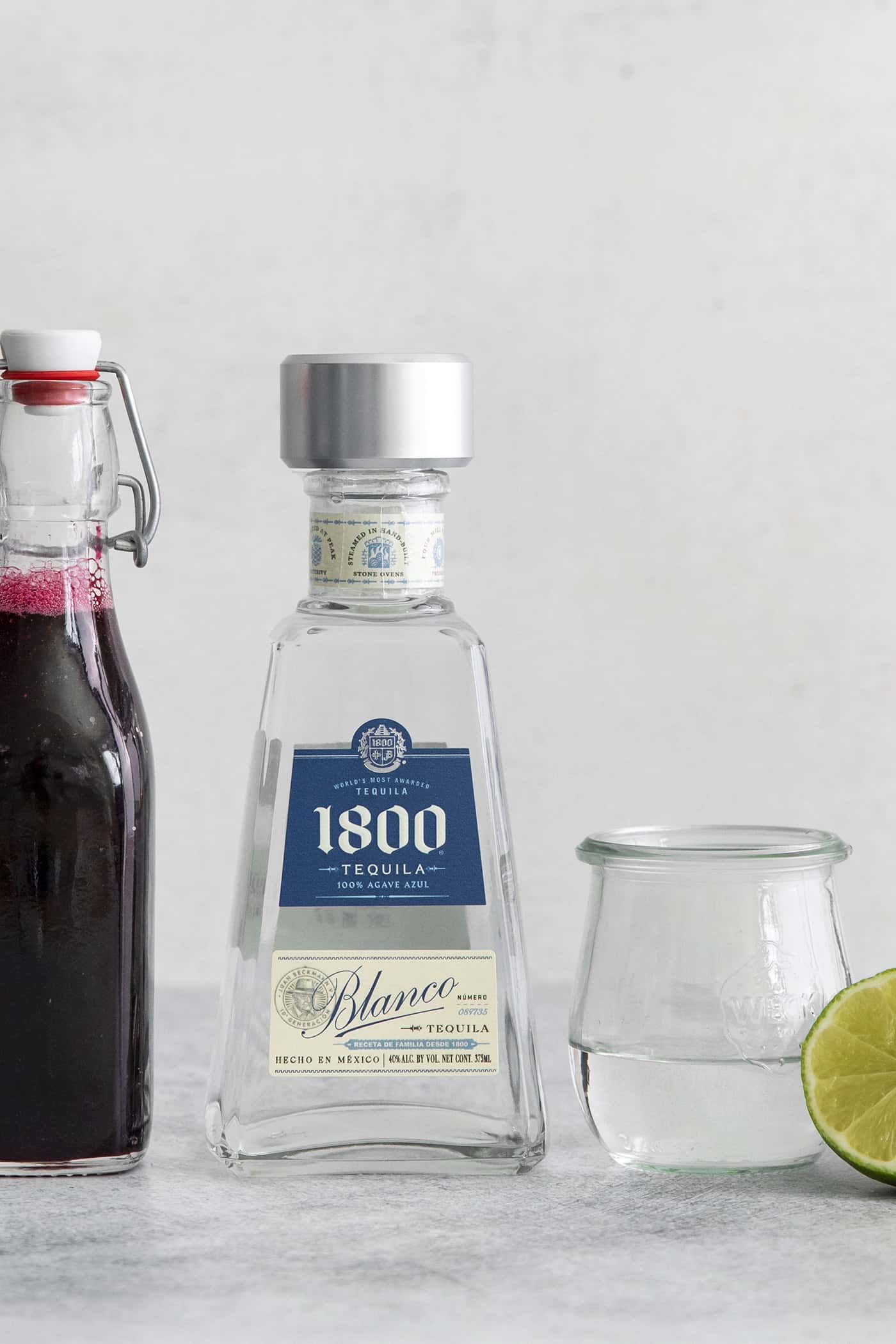 Is Tequila Expensive?
Well that depends. As with most things in life, there's often a wide range in pricing – it just depends on what you're looking for.
You can grab a bottle of cheap tequila for under $20 or you can buy an aged tequila from a luxury brand for hundreds or even thousands.
In general, though, you can definitely get a very good bottle of silver tequila for a reasonable price. In the next section I list a few tequilas that I personally enjoy, usually ranging in price between $20 and $45 per bottle.
What Are Some Popular Tequila Brands?
I often hear, "What's the best tequila to use in cocktails?" And the truth is, it should just be whatever tequila you personally enjoy drinking – as long as it's the type (ie – silver or reposado) mentioned in the recipe.
If you're still not sure what to look for, here are a few popular tequila brands:
Patrón Tequila
Patrón is a top-shelf tequila that doesn't break the bank, as you can find Patrón Silver for under $40. The tequila is smooth and sweet, with fruity, citrusy notes, plus a little pepper. I like to use Patrón when making cocktails for smaller dinner parties and special celebrations. In my opinion, you can never go wrong with Patrón – it's one of my favorites!
1800 Tequila
This brand dates back to 1800, hence the name. The tequila rests first in American oak, then in French oak. It's well balanced and smooth, great for a wide range of cocktails. It also has a nice mid-range price tag.
Espolòn Tequila Blanco
Not only is this a noteworthy mid-range tequila, but the bottle has a very fun label. If you have a bar cart, this bottle's a looker! This tequila is smooth, clean, and balanced, with hints of tropical fruit and lemon zest, plus a touch of pepper. Enjoy this tequila on the rocks or shaken into one of your favorite tequila cocktails.
Casamigos Blanco
Actor George Clooney owns this premium tequila brand. The tequila is distilled in copper-lined stills, then filtered and aged two months in stainless steel containers. It's crisp and clean with hints of citrus, plus subtle smooth vanilla notes. Enjoy it neat or on the rocks, as well as in cocktails. Makes me want to shake up a margarita and watch Ocean's Eleven! :)
Adictivo Tequila Plata (Silver)
Adictivo is a smaller producer that's been making tequila for over 100 years. They make it in French white oak barrels, for smooth flavor. Known for being a sweeter tequila, this is another top-shelf, higher priced choice.
Hornitos Plata Tequila
If you're looking for a good tequila that leans more to the affordable side, Hornitos is a solid choice. Their plata (silver) tequila is a lower mid-shelf bottle with herbal and citrus notes. It's clean and fresh, and will give you delicious tequila cocktails.
Is Tequila Stronger or Vodka?
Tequila and vodka have about the same ABV or alcohol content, at about 80 to 100 proof (40-50% ABV). One is not inherently stronger than the other – it just depends on the alcohol content of the specific bottle.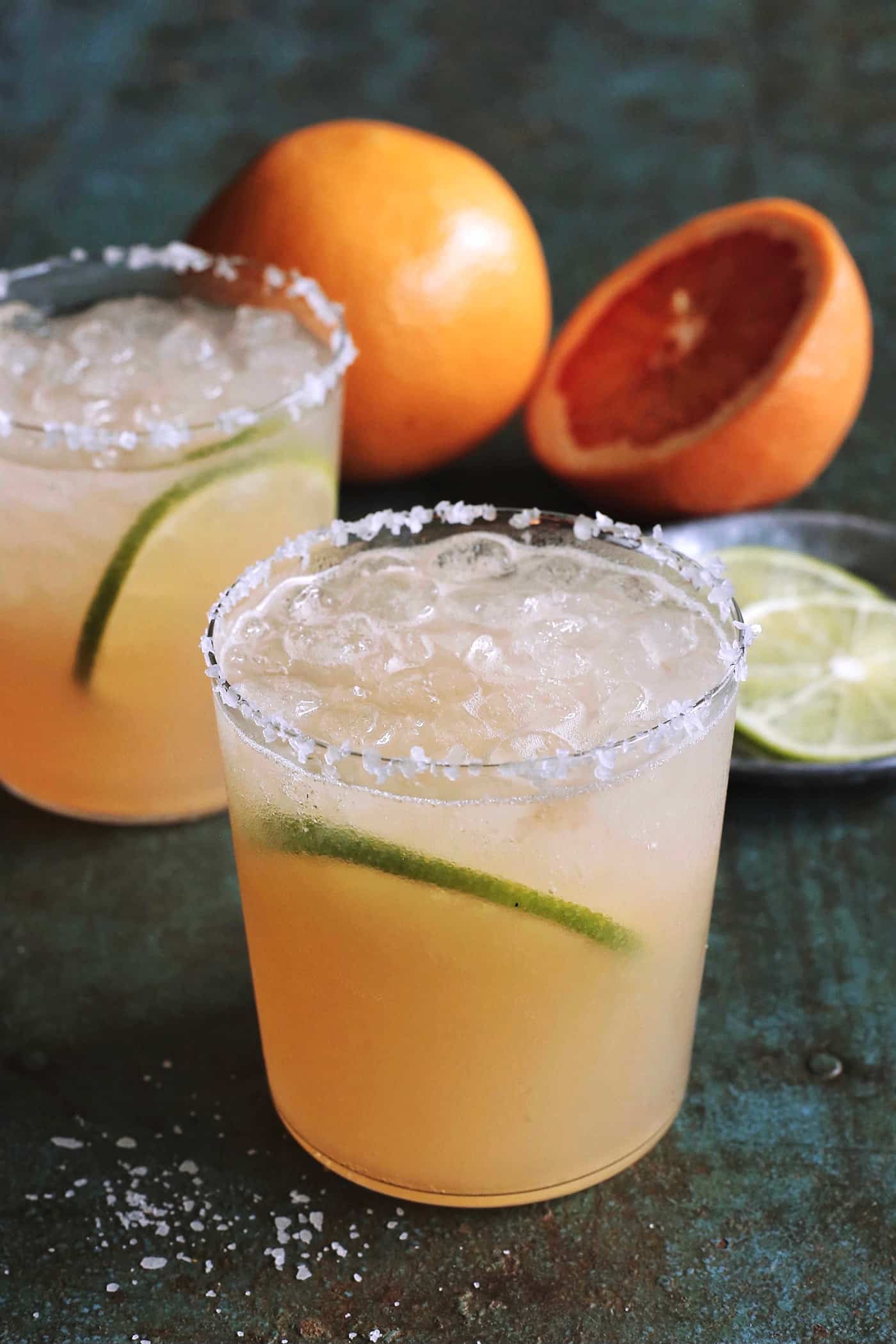 What Kinds of Drinks Are Made with Tequila?
There are so many easy tequila drinks out there! Here are a few of the most popular:
Margarita. You'll often see this listed as the most popular cocktail in the world. It's deliciously sweet and sour, and I adore a salted rim. But there are MANY variations! Make a traditional margarita with tequila, orange liqueur, and fresh lime juice – and some simple syrup, if you want a little sweetness.
Paloma. This is a popular tequila cocktail made with grapefruit soda (although I like to use fresh grapefruit juice and Topo Chico!).
Ranch Water. Make this super simple cocktail with bubbly Topo Chico, silver tequila, and lime juice. It's an awesome thirst quencher!
Mexican Mule. A twist on a Moscow Mule that swaps out the traditional vodka for tequila.
Tequila Sunrise. A popular drink made with tequila, orange juice, and grenadine.
Mixed drinks. There are endless mixed drinks you can make with tequila, including tequila soda, tequila tonic, and tequila pineapple.
And here we are, my favorite easy tequila drinks you have to try! ENJOY!!
12 Easy Tequila Drinks
Looking for the best easy tequila drinks? From margaritas to palomas, I've got you covered.!
Let's start out with the Classic Margarita, shall we? This is a traditional margarita recipe, fresh and tart and so very simple to make. It's the margarita recipe I turn to most often!
One of the more popular margarita variations is the Strawberry Margarita. This one is made with fresh strawberry puree (no funky fake syrups here!) and it's fruity, tart, and sweet. When summer strawberries are at their peak, you simply must give this a try!
This Blueberry Margarita gets its pretty color and fruity flavor from an easy-to-make blueberry simple syrup. It's another gorgeous, delicious riff on the classic margarita!
Quite possibly the quintessential margarita of summertime, say hello to this Watermelon Margarita! It's made with fresh watermelon juice, which gives sweet, fruity flavor and vibrant color. I especially like this drink with a salted rim!
The Cantarito is a classic Mexican cocktail that's made with tequila, bubbly grapefruit soda, and fresh grapefruit, orange, and lime juices. You don't need to serve these in their traditional clay mugs, but they do make this drink extra fun!
The Pink Lemonade Margarita is for those of you who prefer lemons over limes. This margarita swaps out the traditional limes to create the perfect pink lemonade cocktail. It's a light and fruity drink that's pretty in pink!
The Tequila Mojito is a twist on a classic mojito, swapping out rum for tequila. With fresh mint and bubbly club soda, it's basically a super refreshing minty margarita!
One of the easiest tequila drinks you can make, Ranch Water is made with only tequila, bubbly Topo Chico, and fresh lime. It's fabulously light and refreshing, perfect for cooling off on a hot summer day. I call it my "skinny margarita"!
Like a little heat? Then this tequila cocktail's for you! This Spicy Cucumber Margarita offers up the perfect balance of flavor, with spicy jalapenos and cooling cucumbers. It comes together in just minutes!
Here's a great tequila drink for the holidays. This Cranberry Margarita is tart and refreshing with cranberry and lime, perfect for Thanksgiving and Christmas entertaining!
I adore a grapefruit cocktail. This Paloma is made with tequila, fresh grapefruit juice, and sparkling water. It's super refreshing any time of year, especially wonderful during the citrus season!
We enjoyed Mexican Coffee on our first trip to Mexico - it was so good, we had to make a recipe when we got home! This drink is part cocktail, part dessert. Made with hot coffee, tequila, Kahlua, and whipped cream, it's a super fun tequila cocktail!
Like this Recipe? Save to Pinterest